Lemon Sheet Cake with Lemon Glaze
This Lemon Sheet Cake with Lemon Glaze is perfect for lemon lovers! A supremely lemony and MOIST cake, paired with a bright lemon glaze. It is perfect for summertime, or anytime! This recipe feeds a crowd and is super easy to make.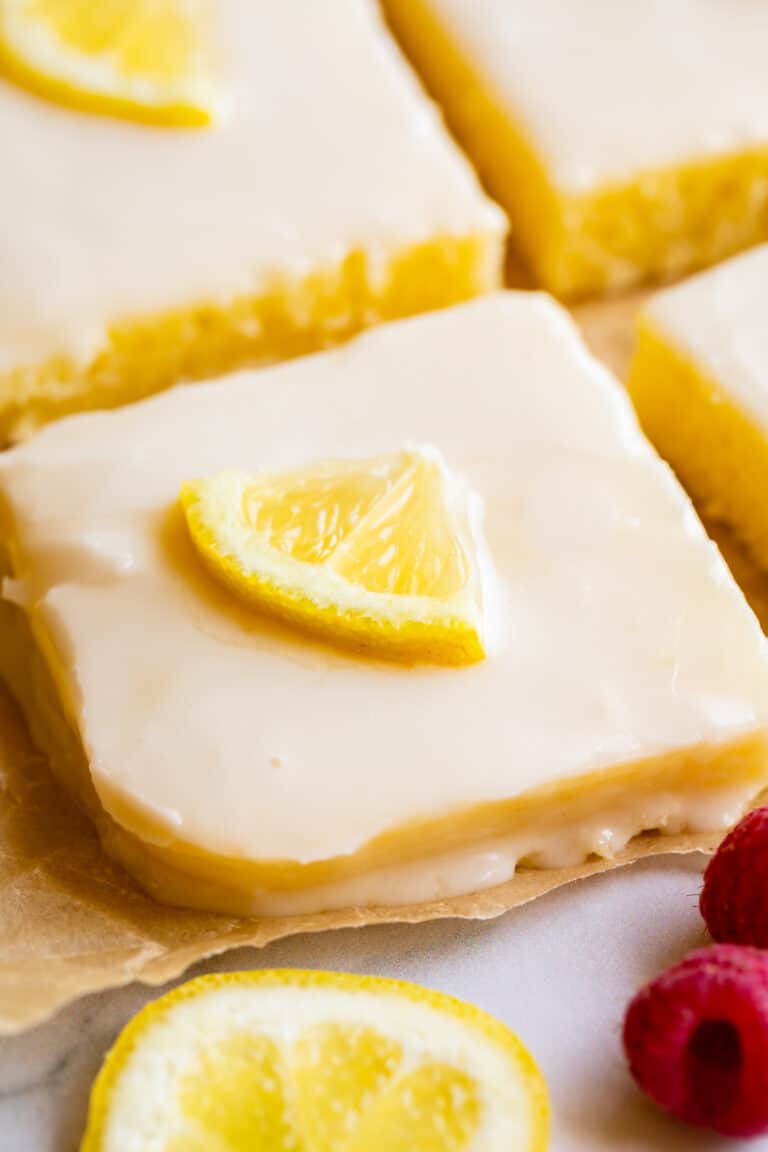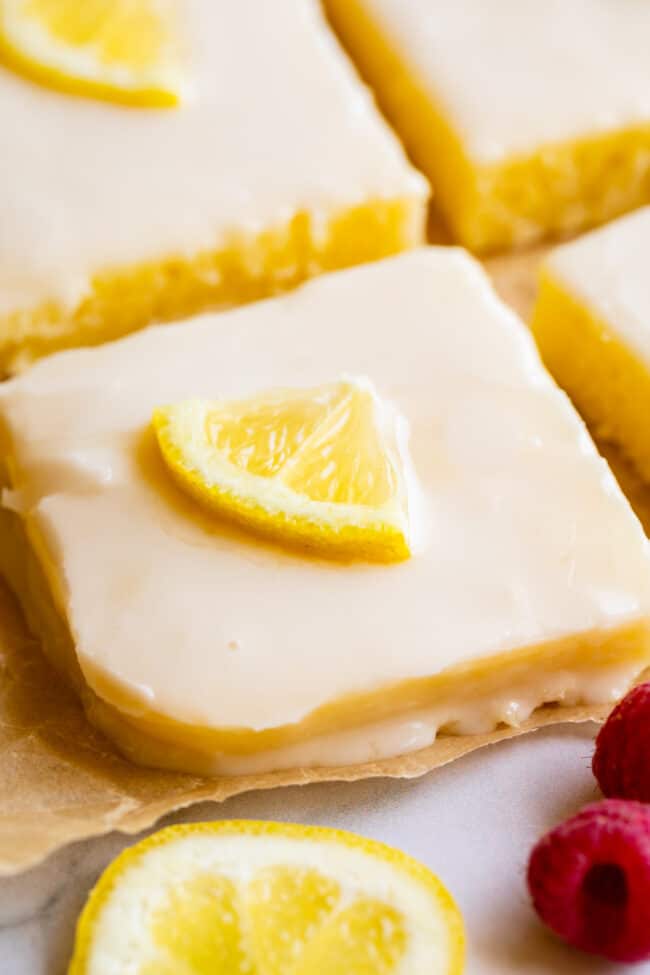 You know what is the best feeling? Coming back to your to do list like 3 days after you've made it and realizing everything is either 1) done or 2) completely moot. It's cross-off heaven! So satisfying! You are on top of the world with your accomplishments!
But wait, why am I even making to-do lists? It's quarantine time, yo. Our 2020 planners were the worst investment so far this year, amiright?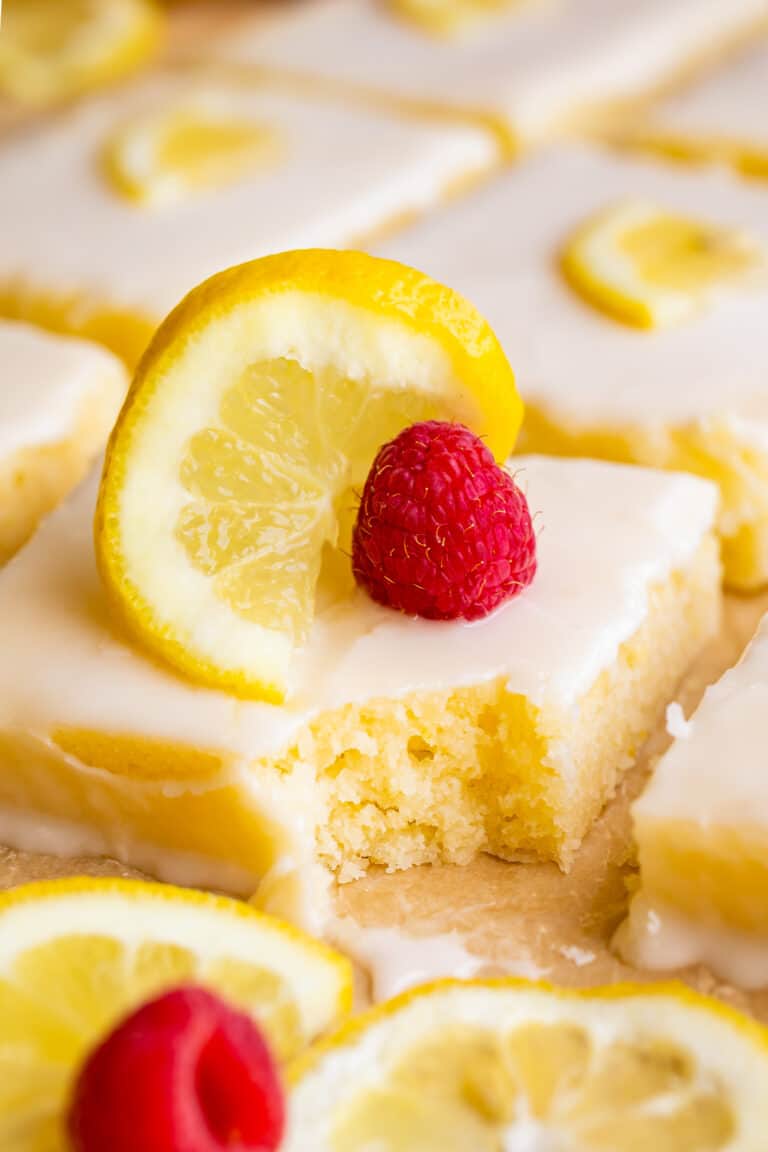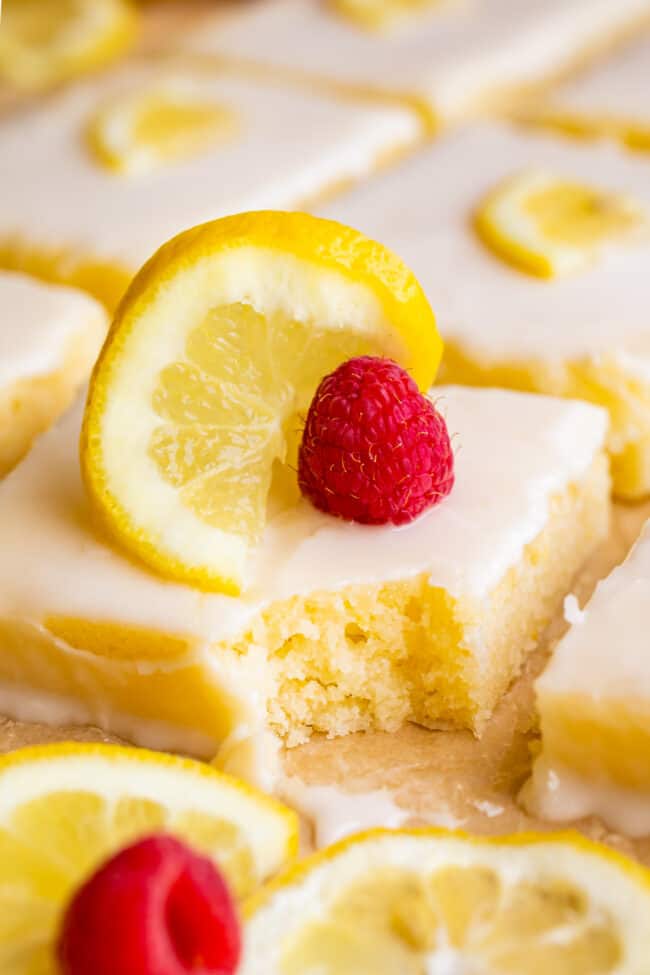 We just got back from a weekend getaway to the coast, where we partied with all the teenage spring breakers in tightly packed quarters. Ha! As if. The beach is a glorious place for a young family to avoid catching or spreading covid, if you ask me.
I mean when was the last time you got within sneezing distance of someone you didn't know while at the beach? I'm way too busy making sure my kids are not drowning, and trying to stop them from dumping bucketfuls of sand directly on top of my head. People take one look at the chaos and run in the opposite direction.(Why is it so impossible to remove sand from your scalp, even after a shower??)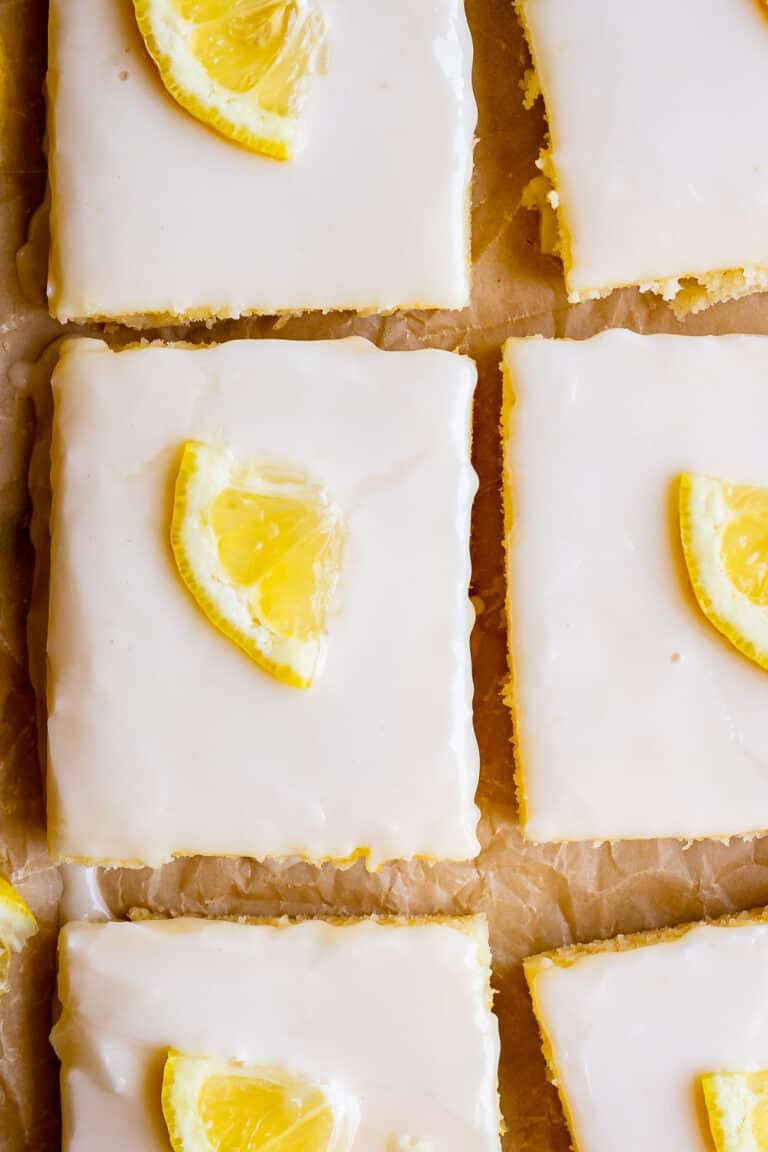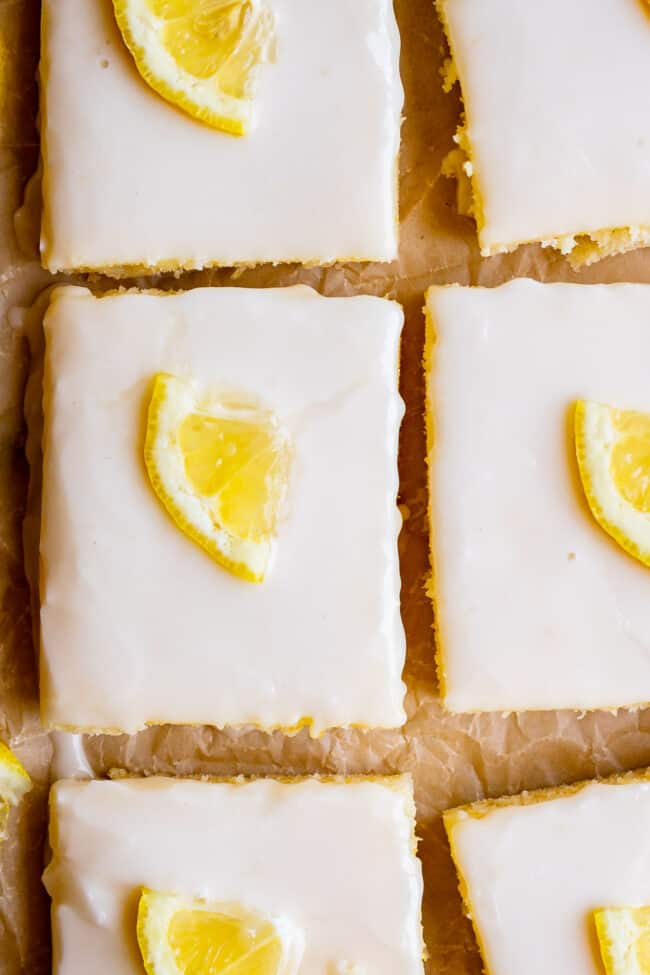 Before we went off to the beach I had a hankering for something super tart and lemony. Can anyone else feel the summer coming on? I made this Glazed Lemon Bread a few months ago and became a little obsessed. I wanted to turn my obsession into a full on cake (because let's face it, that "bread" is it's own kind of cake), and here we are!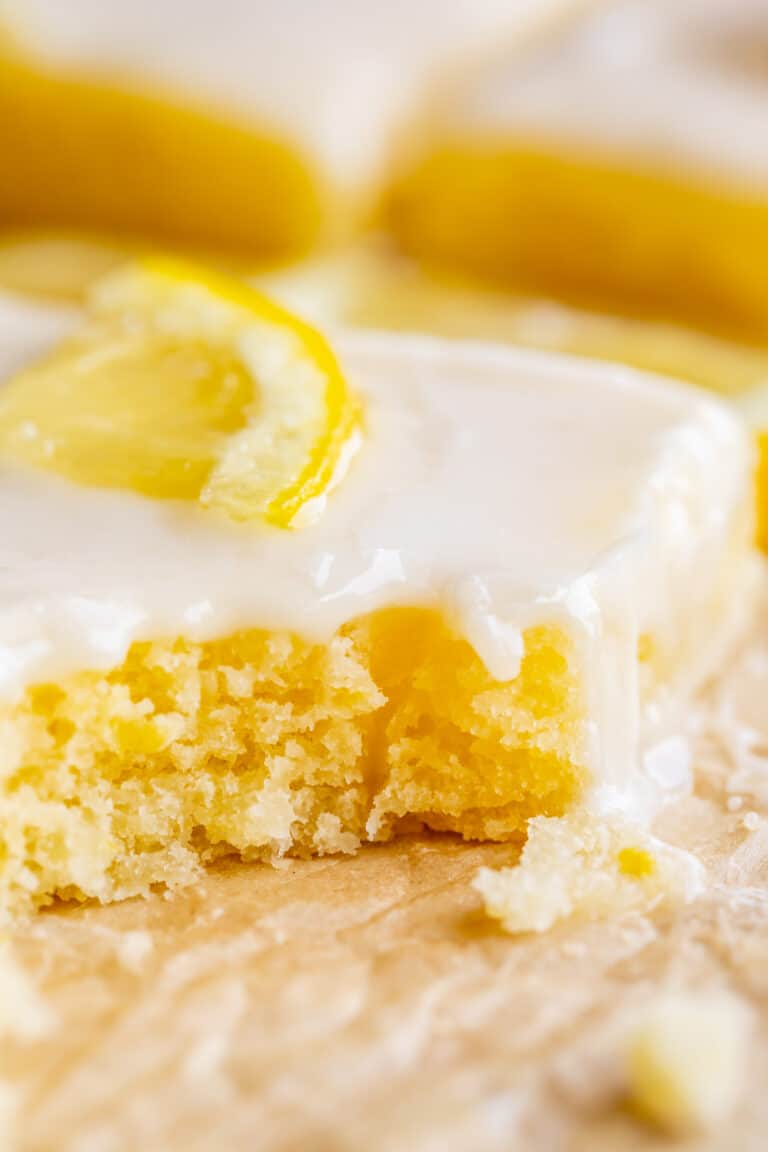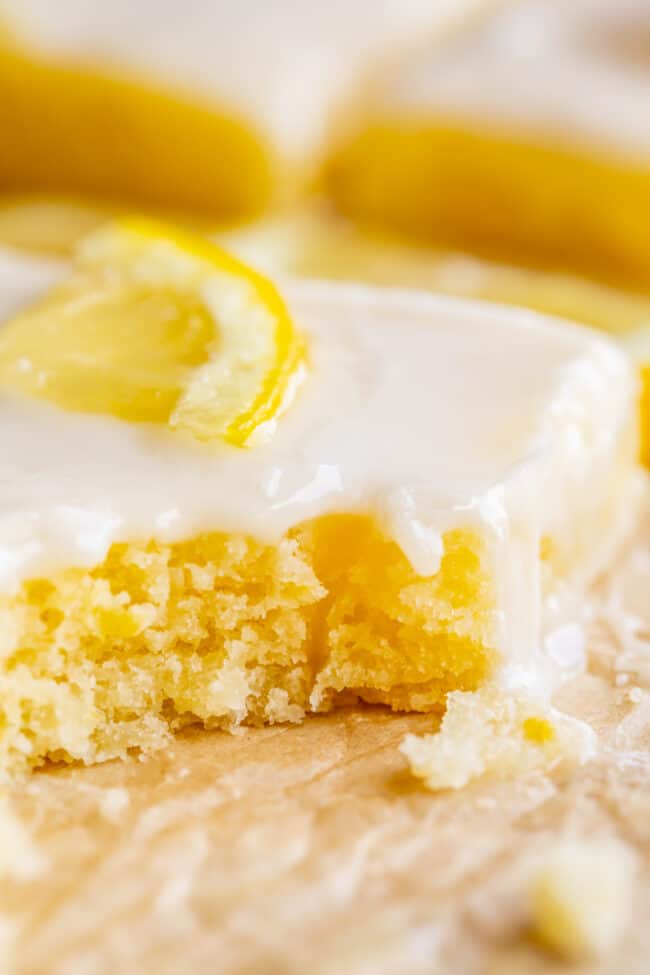 This Lemon Sheet Cake is SUPER lemony. It's got tons of zest (a powerhouse of flavor) and 3/4 cup juice in just the cake. Plus more in the lemon glaze. Lemon heaven! This cake is tart, and that is no apology. I even tried making the glaze with butter at first, because butter makes everything better right? Not so. It just diluted the bright lemon flavor. Get outta here butter. BRING ON THE TART.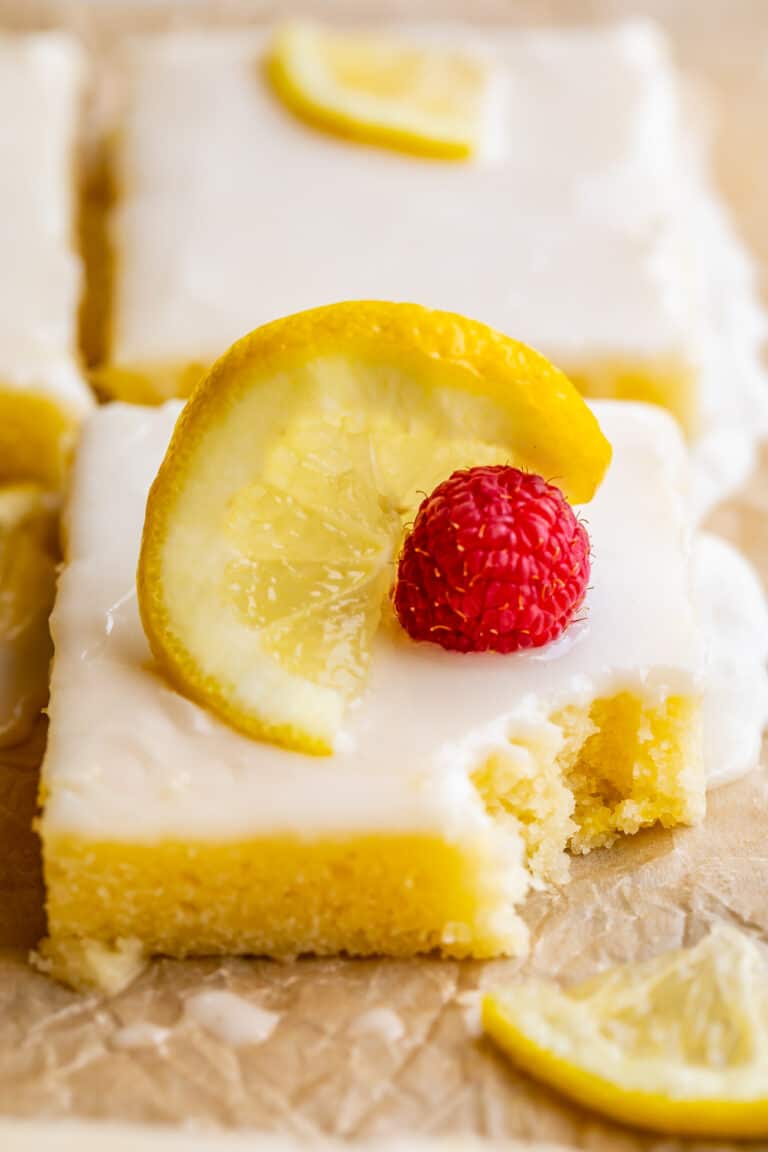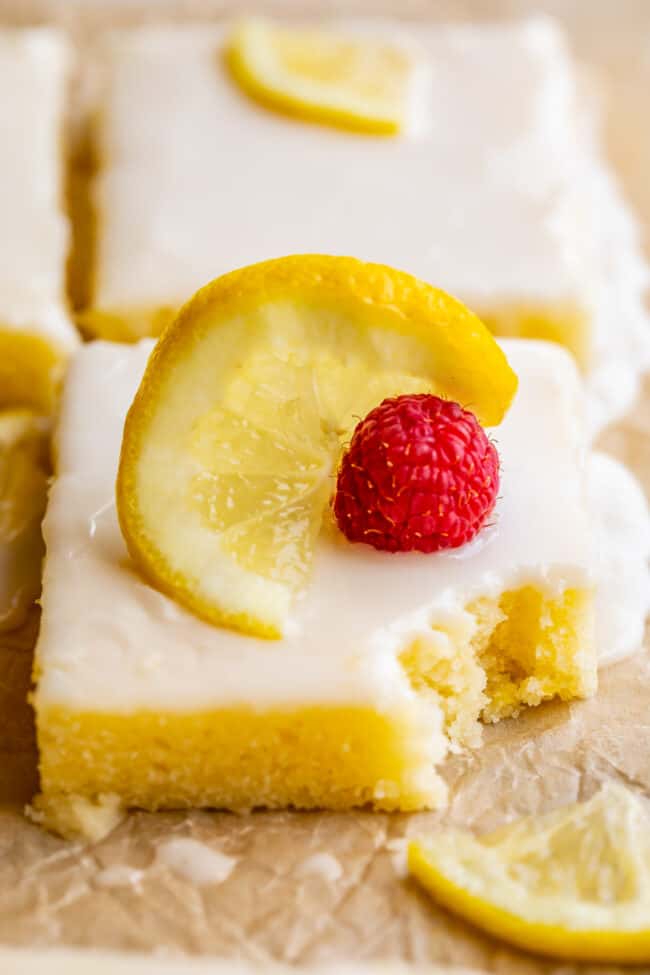 How to Make Lemon Sheet Cake
This cake is super easy to make! It takes just a few minutes. First mix together all your dry ingredients, and zest a few lemons into the bowl. Then juice a bunch of lemons. Look at this glorious liquid gold!


Then melt some butter on the stove with the lemon juice and a bit of water. Combine it, then add in some sour cream and eggs. And that's it! Sheet cakes are so fast. The batter is pretty thin, as you can see.
Bake it up in a half sheet pan (18×12 inches). You can also make it in a 9×13 inch pan or a 10×15 inch pan, but you will have to adjust the bake times (it will take a bit longer). I like my cake nice and thin; that way there is a better ratio of cake to icing.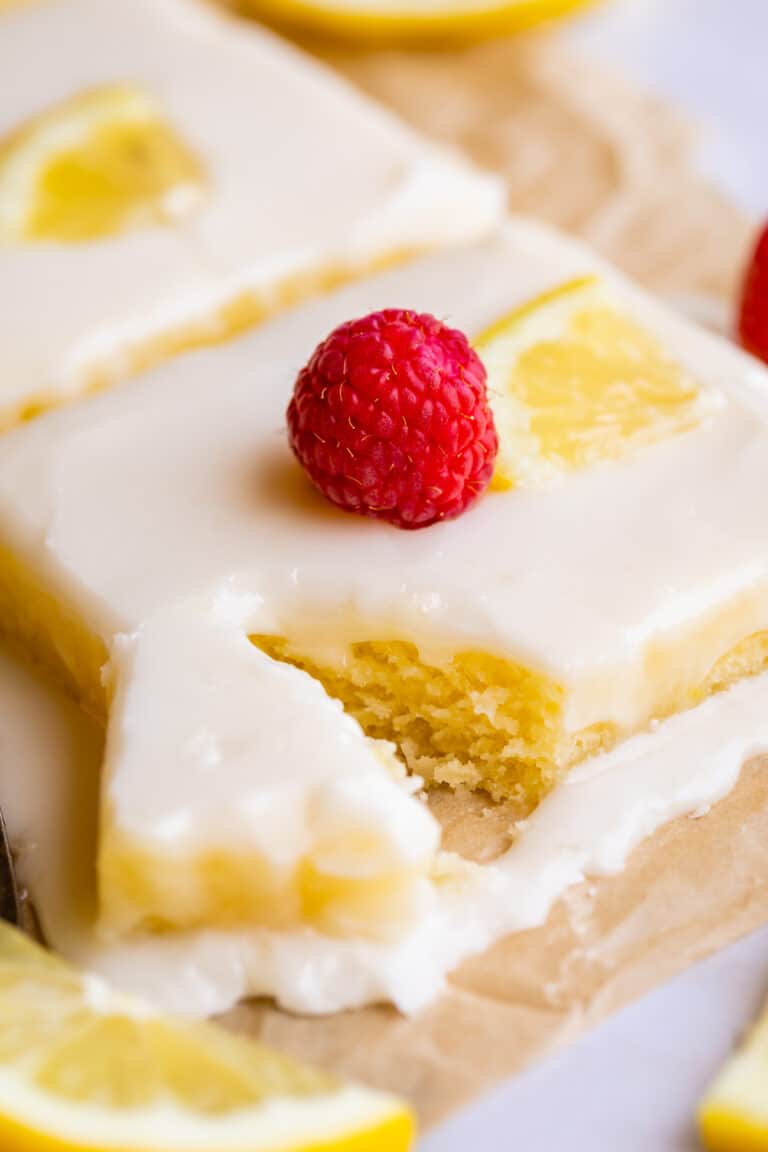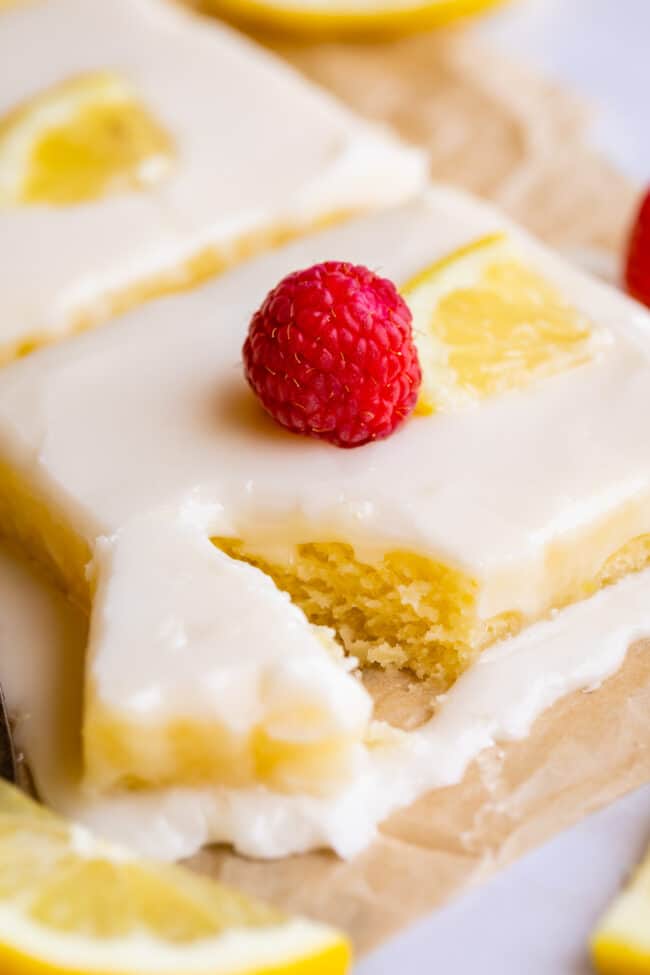 There are two tools that make any lemon dessert way faster: a microplane grater and an electric juicer. They are both pretty inexpensive, and if you love making citrus desserts, they are totally worth the investment.
How to Make Lemon Glaze for Cake
The lemon glaze is so easy. It's only 2 ingredients. Just lemon juice and powdered sugar. If you want an extra punch of flavor, you could add lemon zest to the glaze too, but I like a smoother, non-zesty consistency for my glaze. I feel like it's quite lemony without zest. But you do you, add a teaspoon or two if you want!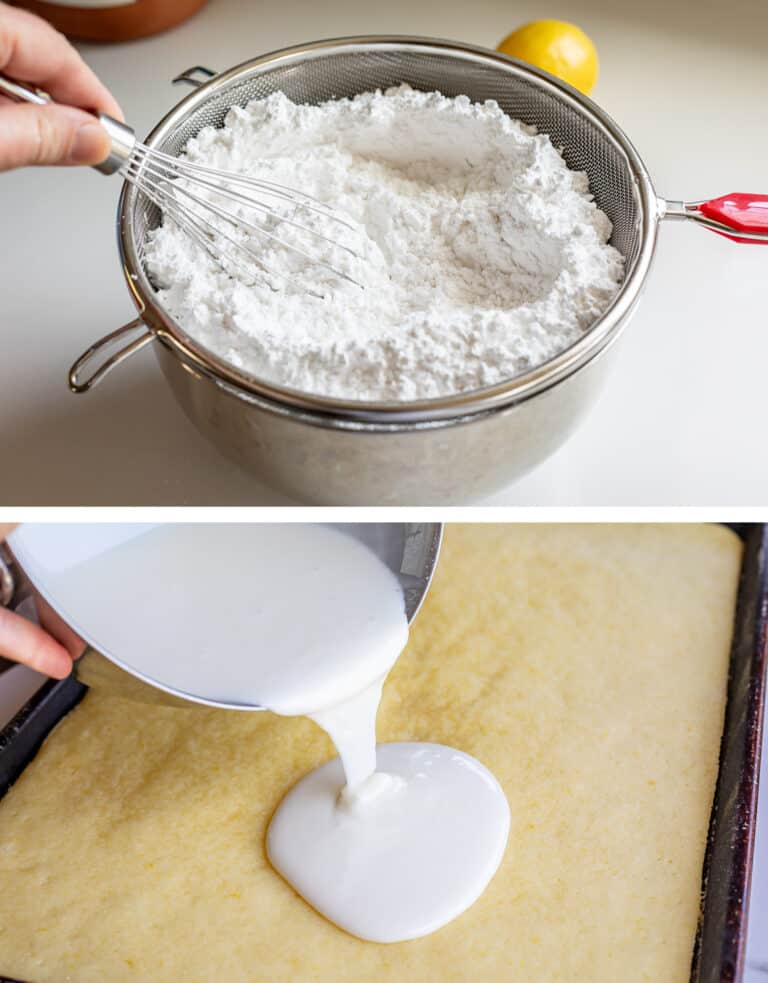 I like to sift my powdered sugar. This is especially helpful if you have particularly clumpy powdered sugar. It's much easier to whisk the glaze into a silky smooth texture if the powdered sugar is sifted.
Whisk in that lemon juice and drizzle over your cooled cake. You will be tempted to cut into it right away, but wait! Let it set up for an hour or so. The glaze hardens and gets crackly and delicious. It is the BEST.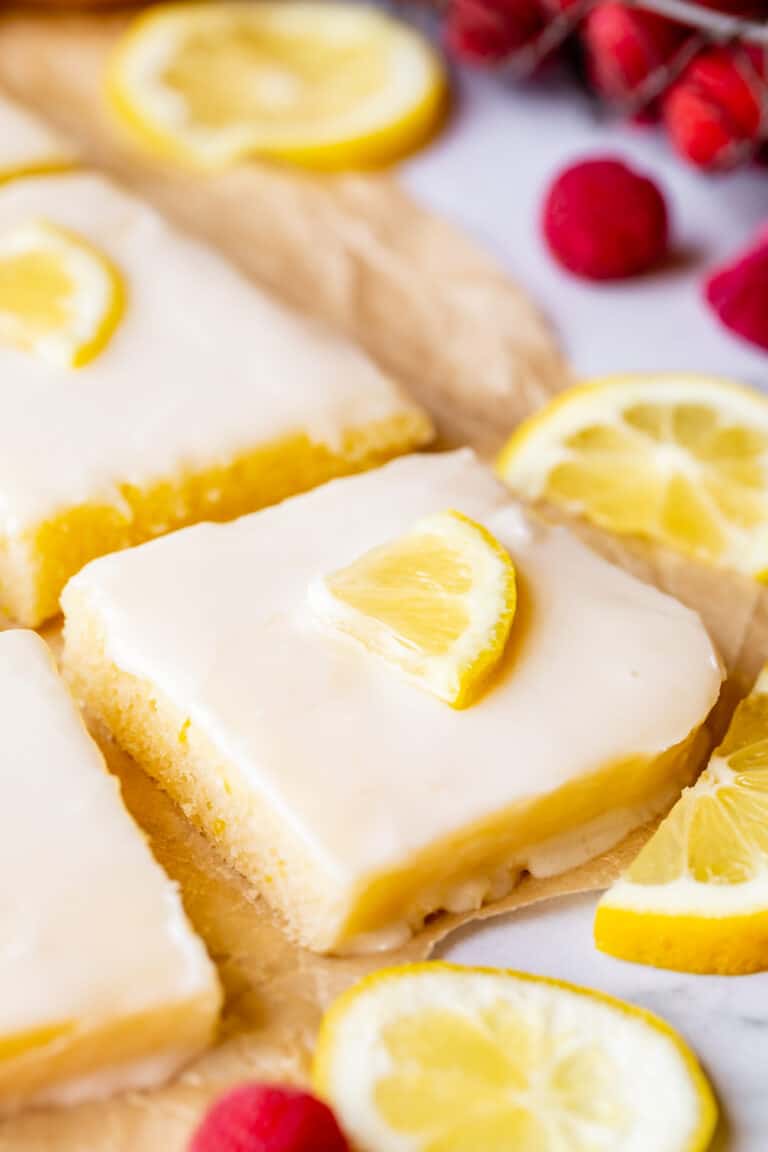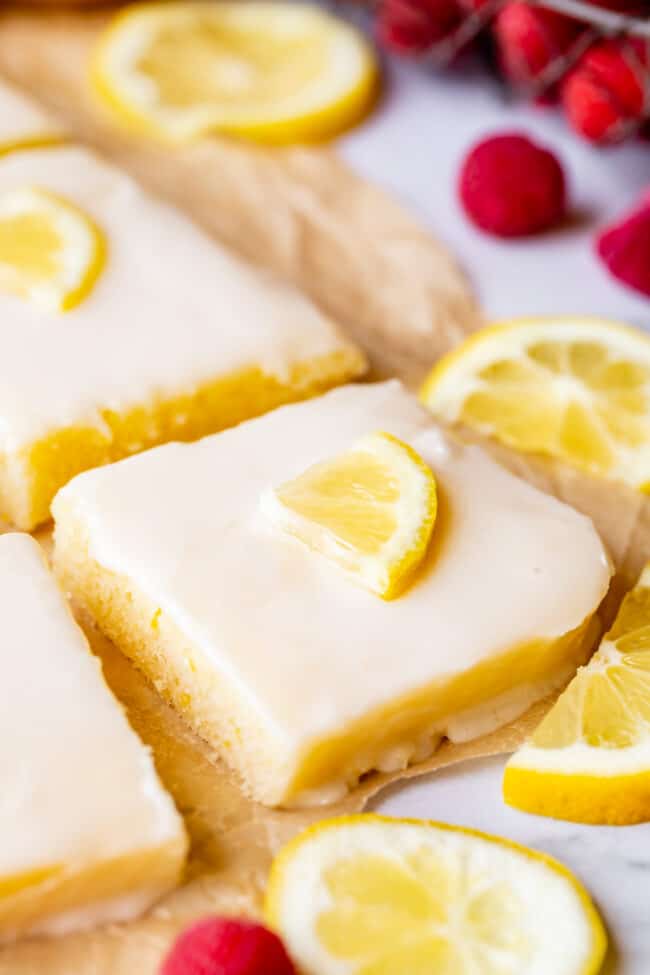 This cake is great because it feeds a crowd! You know, for all the crowding we do these days, thanks Covid. But sunnier days are ahead! Tuck this recipe in your binder for when you're having your next BBQ, or make it now and freeze some of it. That's what I did! This cake freezes well, hallelujah!
More lemon recipes!
More sheet cakes you are going to love so much!
Facebook | Pinterest | Instagram
Lemon Sheet Cake with Lemon Glaze
This Lemon Sheet Cake with Lemon Glaze is perfect for lemon lovers! A supremely lemony and MOIST cake, paired with a bright lemon glaze. It is perfect for summertime, or anytime! This recipe feeds a crowd and is super easy to make. 
Ingredients
For the cake
2

cups

all-purpose flour

,

spooned and leveled

1 & 3/4

cups

granulated sugar

1

teaspoon

baking soda

1/2

teaspoon

kosher salt

2

tablespoons

lemon zest

,

from 4 lemons

3/4

cup

lemon juice

,

from the same 4 lemons

1/4

cup

water

1

cup

butter

,

(2 sticks)

1/2

cup

sour cream

2

large

eggs
For the glaze
4 & 1/2

cups

powdered sugar

,

sifted

1/2

cup

lemon juice

,

from about 2-3 lemons

lemon slices

,

quartered (to garnish)

raspberries

,

to garnish
Instructions
In a large bowl or stand mixer, add the dry ingredients: 2 cups flour, 1 and 3/4 cup sugar, 1 teaspoon baking soda, 1/2 teaspoon kosher salt. Whisk together, then use

a microplane grater

to zest 4 lemons into the dry ingredients. You should get about 2 tablespoons. Whisk the zest into the dry ingredients and set aside.

Juice 4 lemons (I love to use

an electric juicer

), or as many as you need to get to 3/4 cup. Add it to a small saucepan with 1/4 cup water.* Add 1 cup (2 sticks) butter to the saucepan and set over medium high heat. Stir occasionally until the butter melts and the mixture comes to a boil, with bubbles all across the top.

Pour the wet ingredients into the dry ingredients and stir or beat until combined.

Add 1/2 cup sour cream and 2 large eggs. Beat until thoroughly combined, making sure to scrape the bottom and sides of the bowl.

Pour the batter into the prepared pan, and spread to the edges. Bake at 375 for 12-14 minutes until the edges are light brown and have started to pull away from the edges of the pan. A toothpick inserted into the center of the cake should come out with no wet batter on it.

Let the cake cool completely on a wire cooling rack.

When the cake is completely cool, make the glaze. Sift 4 and 1/2 cups of powdered sugar into a medium bowl. Add 1/2 cup lemon juice and whisk until completely smooth. Add more powdered sugar to get the consistency you like.

Drizzle the glaze over the top of the lemon cake and spread to the edges. Let the glaze set up for about an hour or two, until hardened on top.

Slice and serve! Top each slice with a quarter of a lemon slice and a raspberry, if desired.

Store on the counter for the first 2-3 days, then store in the fridge.
Notes
*If you have slightly less than 3/4 cup lemon juice, that's okay. Just make sure you add a bit more water so that the total liquid amount (lemon juice + water) is one cup.
This cake is perfect for freezing! Seal it well and then let it thaw on the counter when you are ready to eat, in the sealed container.
*The size of your jelly roll pan is a matter of debate. You can make this cake in a 9x13 inch cake pan (thick cake), a 10x15 inch jelly roll pan (thinnish cake) or an 12x18 inch half baking sheet (thinnest cake). I prefer the 12x18. It gives you the perfect ratio of cake to frosting in my opinion.
The thicker your cake is, the longer you will have to bake it. You will have to use your best judgment! The toothpick test works great.
Nutrition
Serving:
1
g
,
Calories:
322
kcal
,
Carbohydrates:
55
g
,
Protein:
2
g
,
Fat:
11
g
,
Saturated Fat:
7
g
,
Polyunsaturated Fat:
1
g
,
Monounsaturated Fat:
3
g
,
Trans Fat:
1
g
,
Cholesterol:
46
mg
,
Sodium:
207
mg
,
Potassium:
49
mg
,
Fiber:
1
g
,
Sugar:
45
g
,
Vitamin A:
348
IU
,
Vitamin C:
7
mg
,
Calcium:
16
mg
,
Iron:
1
mg
We are a participant in the Amazon Services LLC Associates Program, an affiliate advertising program designed to provide a means for us to earn fees by linking to Amazon.com and affiliated sites.