Happy Friday everyone! I'm ready for a slice of pie, how bout you? Or maybe the entire pie. Has it been one of those weeks for anyone else?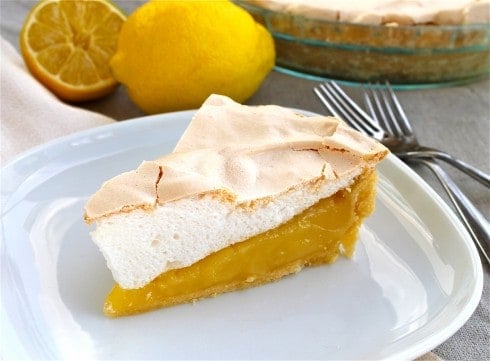 I'm still in reaction mode for most of my day. Baby cries. Sit down to feed baby. Toddler wakes up. Set down baby to change toddler's diaper. Baby cries. Toddler wants milk. Pick up screaming baby. Get milk. Sit down to feed baby. Toddler hugs baby to near suffocation. Baby cries. Toddler wants food: "I want oatmeal I want oatmeal I want oatmeal!!" Baby wants food. I want food. Nobody is getting what they want fast enough. Eric asked me what I did today when he got home from work. I said, we slept and ate, and nothing else. And I am exhausted!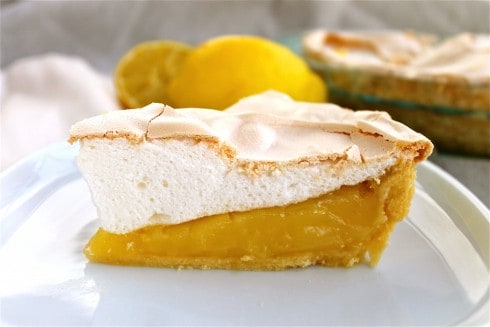 Don't think that I am one of those people complaining about my busy life but somehow I still had time to make an elaborate pie. Uh uh. This awesomeness happened before my mom left, when there was still some sanity around here. Lemon Meringue Pie has royalty status at our house. My mom has probably made 100 of them. No joke. They are huge in my family. We make them every Thanksgiving, every Christmas. There are so many of us that we usually have to make two of them, and we are still fighting over the last piece.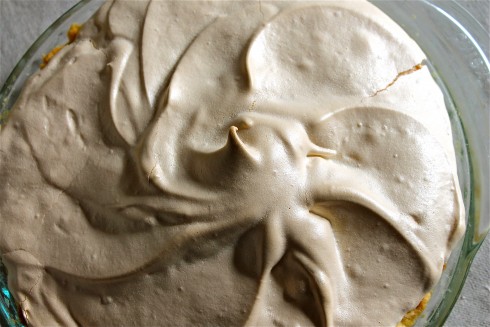 We decided to experiment with the meringue this time around. We baked it longer at a lower temperature. At first I was dismayed to realize that the meringue had formed a crackly shell on top. I thought it was ruined. But then I tasted it…my mom and I both agree that this is the best Lemon Meringue Pie we have ever eaten. I found myself sneaking off little bits of the crackly topping for days. I will never go back. If this doesn't sound appealing to you, never fear, I have instructions down there for a traditional meringue as well. But you really should try it.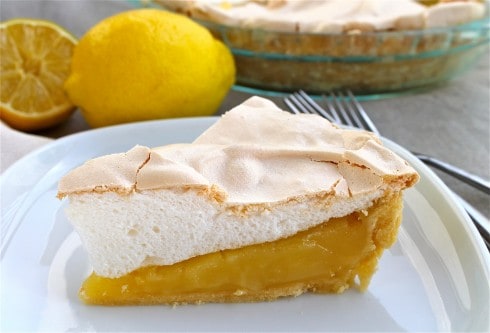 One more thing about this pie: I call it Lemon Meringue Pie for Lemon Lovers for a reason. I don't mess around when it comes to tartness. This pie might just make your nose fall off. If you're not into that, then replace some of the lemon juice with water, and reduce the amount of lemon zest.
I know this recipe is like 10 years long. Lemon Meringue Pie is a little finicky, but it's really not hard, I promise. I just wanted to provide lots of detail for you. Happy weekend everybody!

Lemon Meringue Pie for Lemon Lovers
I call it Lemon Meringue Pie for Lemon Lovers for a reason. I don't mess around when it comes to tartness. This pie might just make your nose fall off.
Ingredients
For the pie crust: (You can of course use a pre-made crust if you like)
¼

cup

very cold water

2

cups

flour

3/4

cup

+ 2 tablespoons butter-flavored shortening

1 & 1/2

tablespoons

sugar

1

teaspoon

salt

½

beaten egg
For the meringue:
3

egg whites

,

at room temperature

1/4

teaspoon

cream of tartar

1/2

teaspoon

vanilla

1/2

cup

plus 2 tablespoons caster sugar

,

if you have it; regular sugar will work fine too
For the lemon filling:
1 & 1/2

cups

sugar

3

tablespoons

cornstarch

3

tablespoons

flour

dash salt

1

cup

hot water

1/2

cup

fresh squeezed lemon juice

3

egg yolks

,

slightly beaten (reserve whites)

2

tablespoons

butter

4

teaspoons

lemon zest

,

or to taste

1/3

cup

fresh squeezed lemon juice
Instructions
Get 3 eggs out of the fridge. Separate them: Put the whites in your stand mixer or another metal bowl. Put the yolks in a small bowl. Set aside.
For the crust:
Measure out the 1/4 cup water and stick it in the freezer. Mix flour, sugar, and salt in a medium bowl. Using a pastry cutter or fork, cut in shortening until mixture is the consistency of fine crumbs. Crack an egg into a small bowl, beat thoroughly and divide in half (just eyeball it. You can save the other half or toss it.)

Take the 1/4 cup water out of the freezer and mix it in with the 1/2 egg. Add the egg mixture to the flour mixture and combine until it forms a ball. Use your hands to knead it together once or twice. Divide the dough in half. Put one half in the freezer and use it in 3 days when you decide that you need to make this pie again.

Lay the dough onto a very floured surface. Dust the top with flour and carefully roll the dough into a circle. Get out your 8 or 9 inch pie pan to see how big you need to make it. Keep in mind that you need to account for the edges as well as have enough for a crust.

Once you have rolled out the dough to the size you need, carefully roll the dough up onto your rolling pin and transfer to the pie pan. This may take practice. Alternatively you could fold it into quarters and then unfold it in your pan, but I prefer rolling to ensure there are no cracks. Just remember that if you mess up, you can just smoosh it all into a ball again, beat it into the counter a few times to vent your frustration, and roll it out again. Isn't baking fun?? I promise though, you will get the hang of it.

Cut out a circle of aluminum foil or parchment paper that is about the size of the bottom of your pie. Place it on the bottom and then cover the foil with spare change, dry beans, marbles, rice, or anything that won't be bothered in the oven. This step is to make sure you don't get any air bubbles. Bake at 425 for 8 minutes. Remove from the oven, take off the foil and weights, and bake for another 5 or 6 minutes, or until the edges are golden brown. Set aside until you need to put the filling in. It doesn't matter if the crust has cooled or not.
For the meringue:
Note: You have to make the meringue before you make the lemon filling. It's important to put the meringue on top of the filling when the filling is super hot; that way it starts cooking the meringue immediately, and helps avoid shrinking.

Remember the 3 egg whites sitting in your stand mixer? They should be room temperature by now. Add the vanilla and cream of tarter to the bowl. Use the whisk attachment and beat on medium-high speed until soft peaks form. Then gradually add the 1/2 cup plus 2 tablespoons of sugar (caster sugar if you have it). Beat until stiff and glossy peaks form and all sugar is dissolved. Scrape down the sides of the bowl, and set aside.
For the lemon filling:
In a saucepan, combine 1 1/2 cups sugar, cornstarch, flour, and salt. Stir in hot water and 1/2 cup lemon juice. Cook over high heat, stirring constantly, until the mixture comes to a boil. Reduce heat to medium low (or whatever will keep it boiling without spattering yourself with burning liquid) and stir for 2 minutes. Remove from heat.

Now we need the egg yolks you separated earlier. Add a few tablespoons of the lemon mixture to the bowl with the yolks and whisk together. Add the tempered yolks to the pot with the filling, whisking to combine. Bring the mixture back to a boil, then cook for 2 minutes, stirring constantly. Remove from heat. Stir in butter and lemon zest. Slowly stir in the 1/3 cup of lemon juice.

Pour the lemon filling into the baked pie crust. Immediately spread the meringue over the filling: use a spoon to dollop small portions evenly across the filling, then spread smooth.

For a traditional soft meringue: bake at 350 for 12 to 15 minutes, or until golden. For a meringue that has a crisp shell on the top, like the one I have in the photos, bake at 325 for 25-30 minutes, or until it is a light tan color.

Let cool at room temperature for at least 2 hours. Cut with a sharp knife dipped in cold water. This pie is best served the day it is made. Store leftovers on the counter with an inverted bowl covering it. Don't store it in the fridge, or the meringue will start to weep.
Nutrition
Serving:
1
slice
|
Calories:
639
kcal
|
Carbohydrates:
90
g
|
Protein:
6
g
|
Fat:
30
g
|
Saturated Fat:
9
g
|
Polyunsaturated Fat:
7
g
|
Monounsaturated Fat:
12
g
|
Trans Fat:
3
g
|
Cholesterol:
87
mg
|
Sodium:
351
mg
|
Potassium:
111
mg
|
Fiber:
1
g
|
Sugar:
59
g
|
Vitamin A:
196
IU
|
Vitamin C:
11
mg
|
Calcium:
22
mg
|
Iron:
2
mg