Sea Foam Salad (Creamy Pear Jello)
This creamy Sea Foam Salad recipe is perfect for the holidays! It combines pears, jello, cream cheese, and fresh whipped cream to make a light and spongey, perfectly-1950s jello side dish. The recipe is straight from my great-grandma Doris, and we've made it at every Thanksgiving, Christmas, and Easter dinner for as long as I can remember!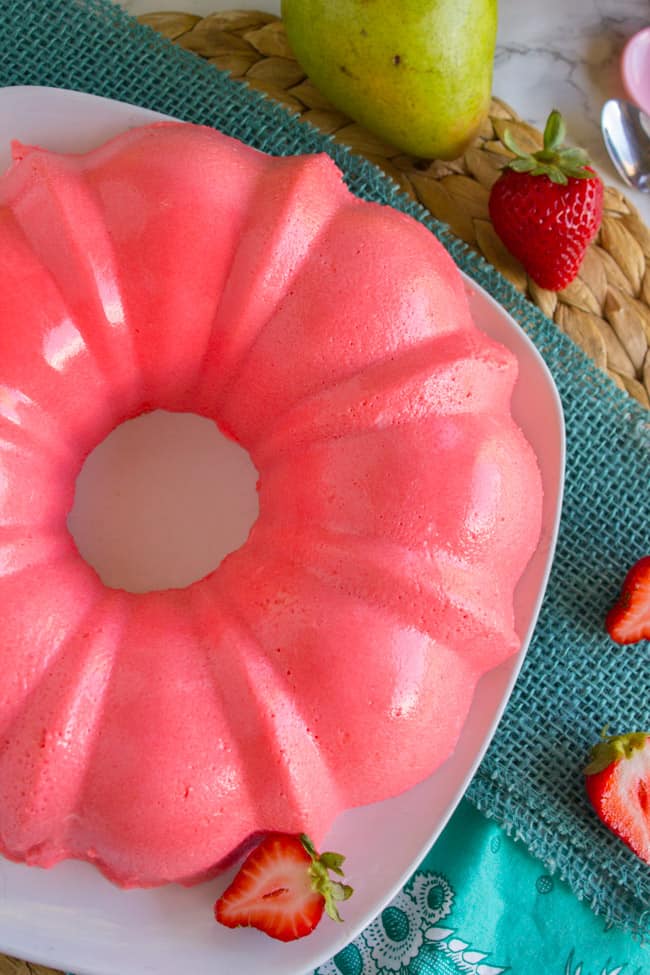 When the first of us kids left for college, my mom typed up a recipe book so we wouldn't starve to death on our own. She called it "Some of My Favorite (and Easy) Stuff to Make and Eat," and she updated it every time another one of us left for school. Here's what she put at the bottom of the entry for Sea Foam Salad: "This was a recipe my grandma made, and we still make it every Christmas, Thanksgiving, Easter, and whenever else we can find an excuse." It's definitely a family classic.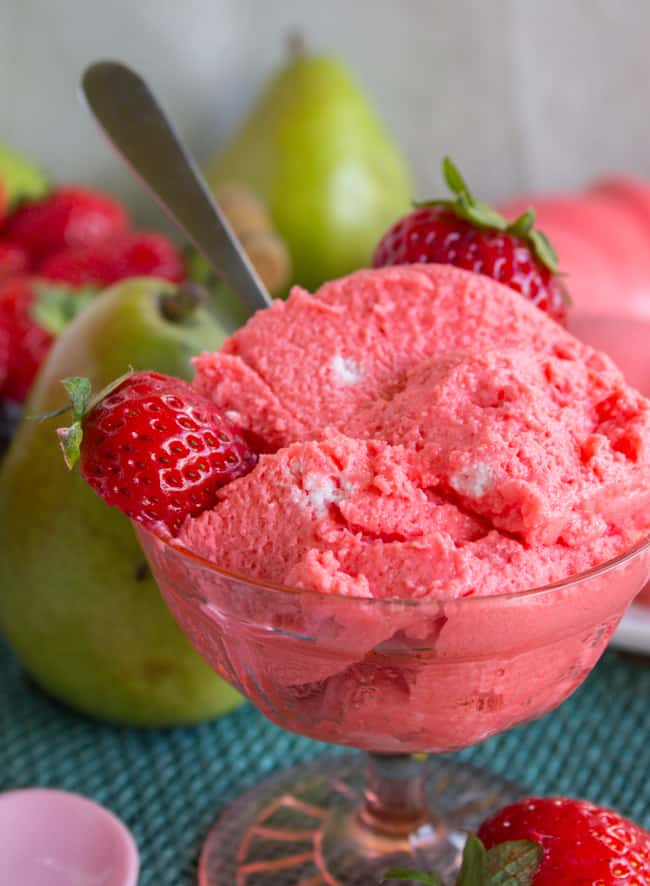 I asked my extended family how they would describe Sea Foam Salad, and got these responses:
Laura said, "Part of my favorite food group, the semi-solid food group. Ice cream, pudding, mashed potatoes, sea foam salad, jello. All the good stuff."
Sandi said, "Sea foam salad is a study in paradox. Light and dense. Unhealthy with just enough fruit you can fool yourself. Pretty and unappealing. You find yourself pondering these seemingly impossible attributes until one question breaks through the haze: how have I eaten so much??"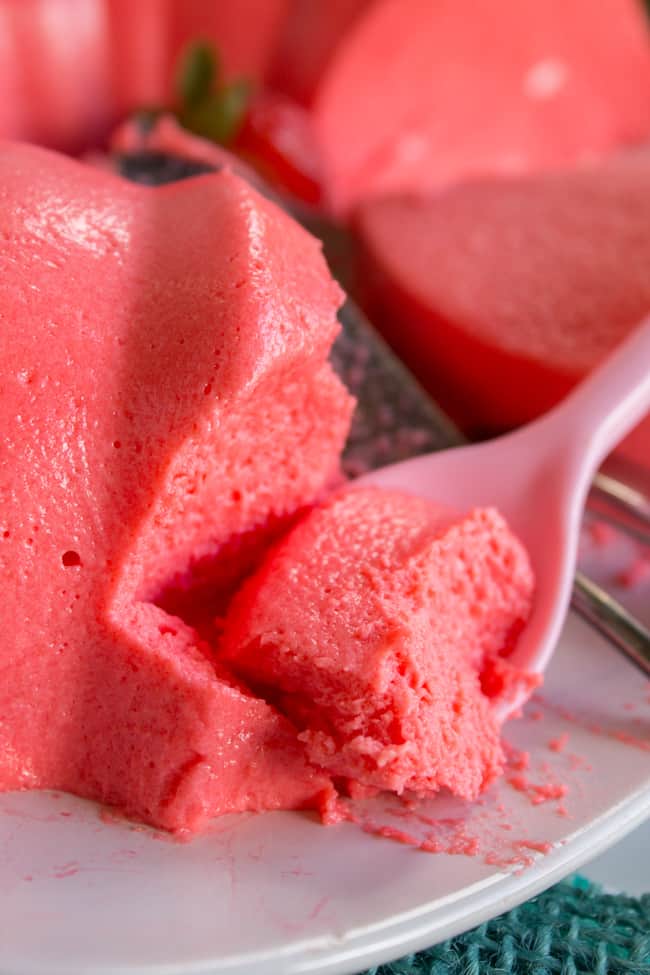 Nikki said, "I was going to say, 'It looks like it'll taste like raspberries and mostly does. Oh, it's not tart, though.' That sounded so dumb, I refused to type it until just now." [You can see the jello-haze taking it's effect on Nikki, and she was only trying to describe it.]
April said, "Maybe we could call it 'Guilty Pleasure,' or 'Pink Shame,' or 'Dazed and Confused…'"
So there you have it my friends. Sea Foam Salad, nicknamed "Pink Shame" because you will never understand how you have eaten so much of it, on Thanksgiving day no less.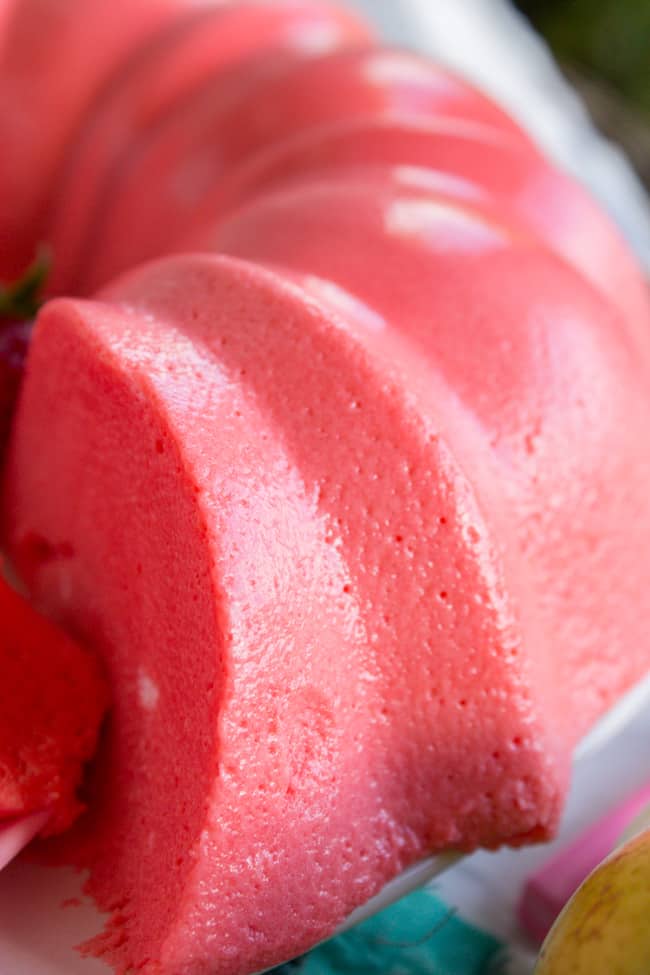 Jello salad seems so old-fashioned, yet I don't know anyone who turns it down. It's just so delicious. Also, can I get a round of applause over here for doing my part to keep the jello-salad-side-dish tradition alive. Somehow our grandmother's generation was duped into thinking that jello salad was meant for the turkey plate and not the dessert plate, and I'm so totally okay with that. Don't let the Paleo generation get you, guys. Embrace the jello-is-salad movement.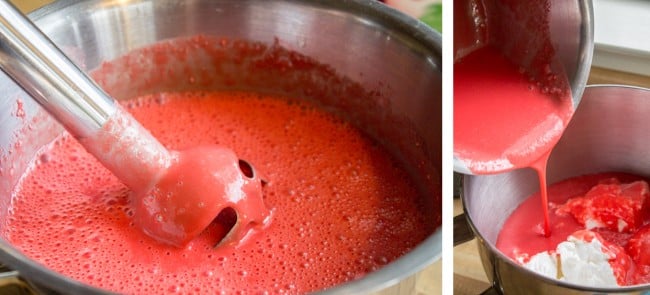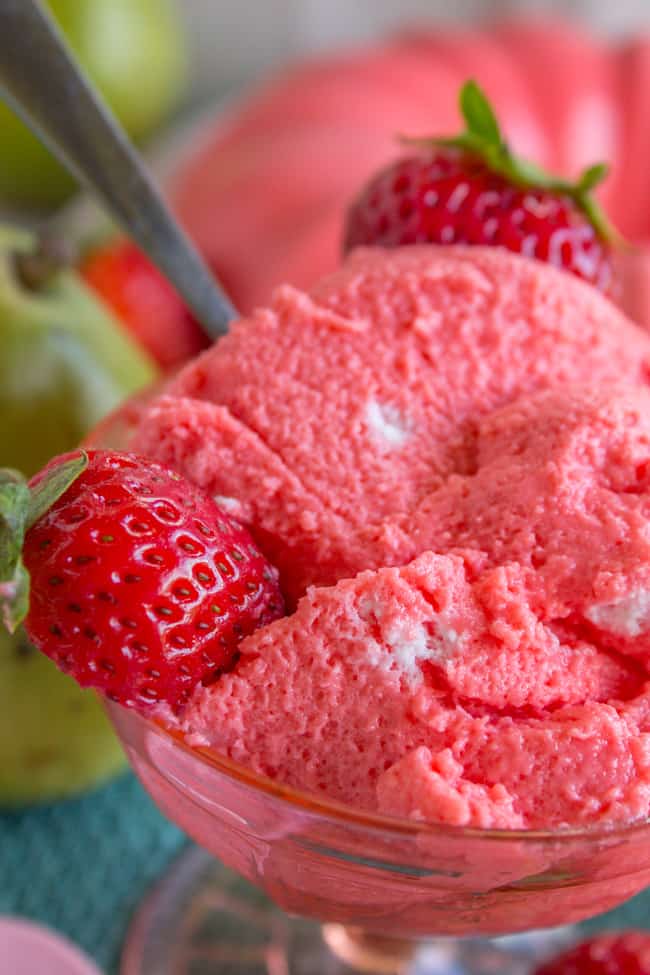 Thanksgiving is just around the corner! Check out my Thanksgiving Board on Pinterest for menu ideas. Have a great weekend!!
Facebook | Pinterest | Instagram | Twitter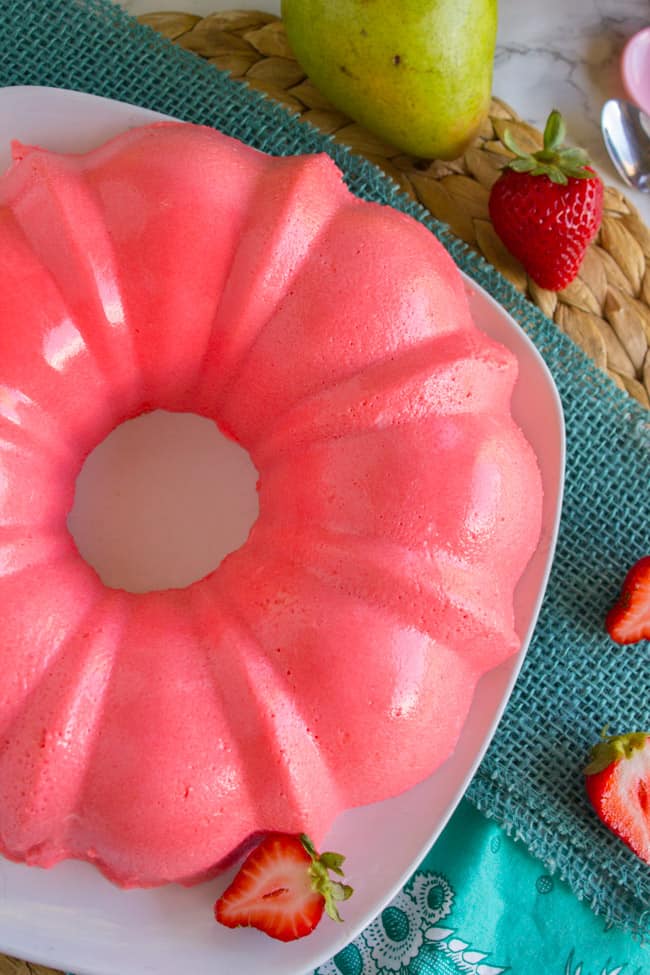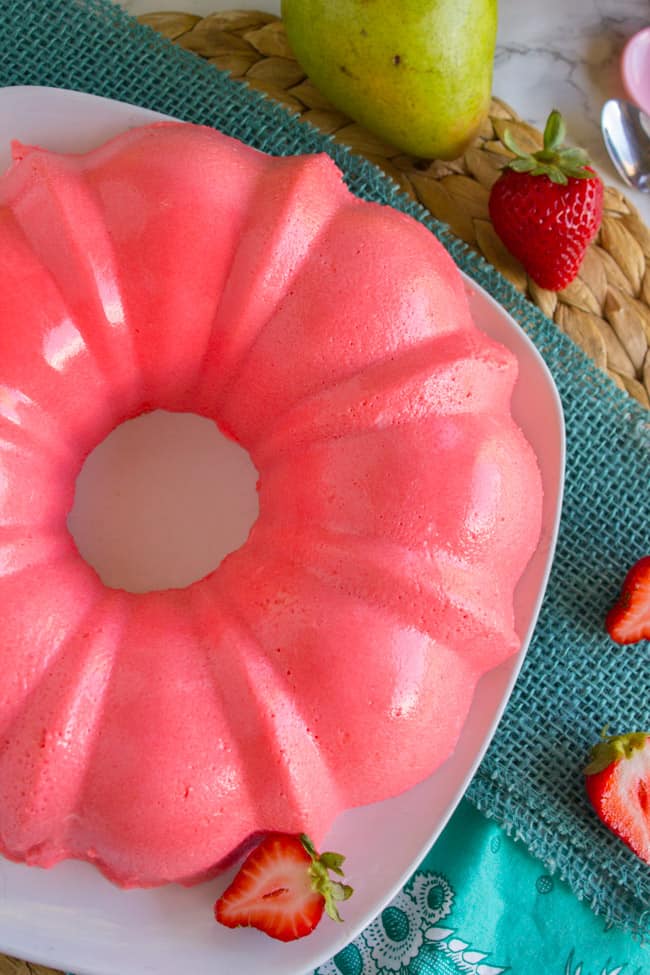 print
Did you make this recipe?
Leave a review »
Sea Foam Salad (Creamy Pear Jello)
Serves 12
adjust servings
Ingredients
1

(29 ounce) can pears, in heavy syrup

1

(6 ounce) package green or red jello*

1

(8 ounce) package cream cheese, softened

1

cup heavy cream
Instructions
Open the can of pears and use the lid to drain the liquid into a medium saucepan. Set pears aside.
Bring the liquid to a boil over high heat.
Remove from heat and use a whisk to stir in the package of dry jello powder. Stir constantly until the jello is dissolved.
If you have an immersion blender: add the cream cheese and the pears to the saucepan and blend well until smooth.
If you are using a blender: Add the jello mixture, pears, and cream cheese to your blender and blend until smooth.
Meanwhile, in a large bowl or stand mixer, beat the cream on high speed until stiff peaks form. It should take about 1-2 minutes. Do not over beat.
Fold the cream into the blended jello mixture. It's okay if there are a few streaks of cream.
Pour the mixture into a jello mold, bundt pan, 9x13 pan, or a large bowl. If you use a bundt pan or jello mold (or anything you plan to invert), spray the pan with cooking spray before pouring it in.
Cover and refrigerate for several hours or overnight.
If you used a mold or bundt pan and need to invert the jello, dip the bottom of the pan into a large bowl of hot water for several seconds before turning it onto your serving plate. This will help loosen the edges. If it doesn't work, you may need to use a knife to loosen the edges (but try the hot water method first)
by The Food Charlatan

If you make this recipe,
share it on Instagram
 using the hashtag
#TheFoodCharlatan
so I can see it!
Here a few other Jello ideas I love! Thanksgiving ain't Thanksgiving without some Jello I say. 
Creamy Strawberry Banana Jello << this one uses sour cream for a little tang!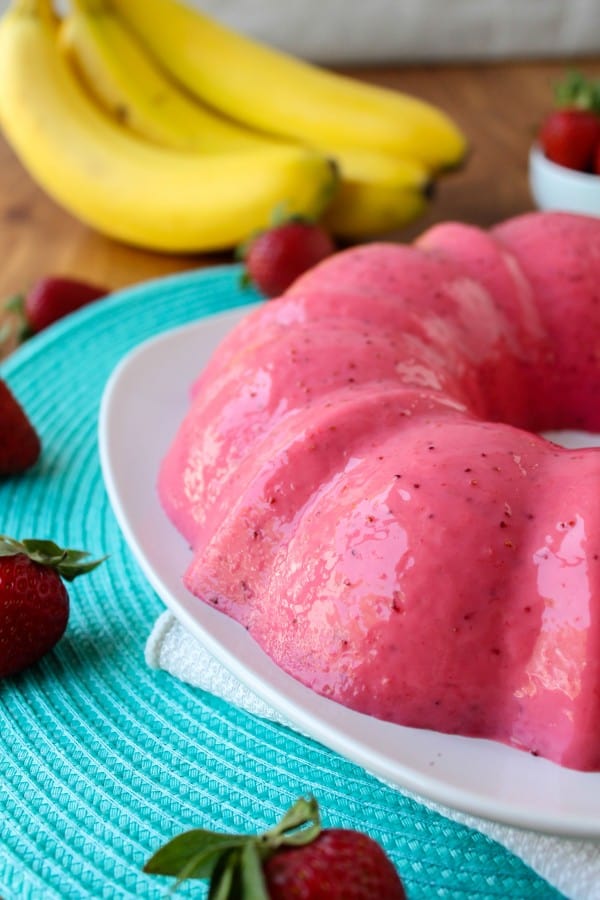 Coca-Cola Jello Salad with Cherries << the flavors in this one are so fun.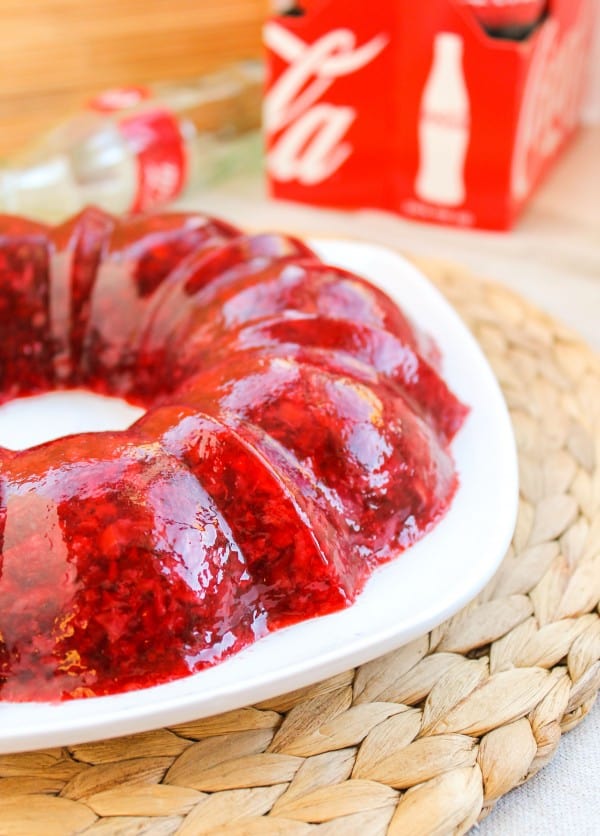 Strawberry Jello Pretzel Salad << There is a Pretzel crust on the bottom. It's so good!!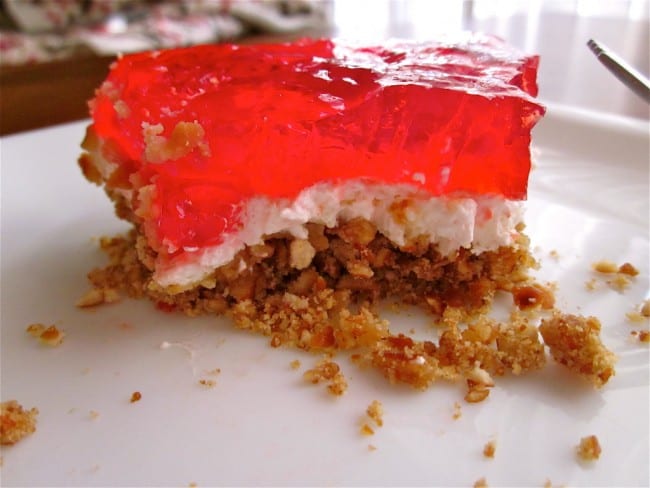 Here are some other Jello ideas from the blogosphere!
Polly's Pink Stuff from Lana's Cooking, read about Lana's grandma Polly. Cool story.
Red Hot Jello from Gimme Some Oven–it really does have Red Hot candy in the jello! So fun!
Cherry Fluff from Mom on Timeout, or better yet her Ambrosia Salad. They both look amazing!
We are a participant in the Amazon Services LLC Associates Program, an affiliate advertising program designed to provide a means for us to earn fees by linking to Amazon.com and affiliated sites.