Lemon Strawberry Shortcake
The lemon in this Lemon Strawberry Shortcake adds so much amazing tartness to this delicious classic dessert! Nothing provides more fresh spring zing than lemon zest with sweet strawberries on crumbly morsels of shortcake, all with fresh whipped cream on top. I LOVE the mix of sweet and citrus. Tender shortcake is ready FAST because they are baked in a pan and not individually. Originally posted July 1, 2014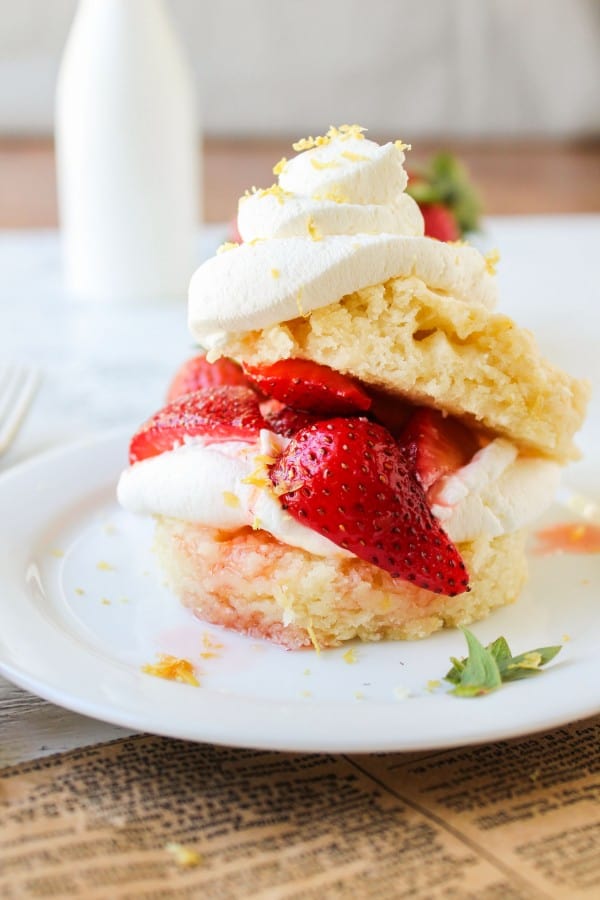 I'm pretty sure that 3-year-old Charlotte is officially going on 13. Usually when she earns a time out, I take her to her room and shut the door. But the tables have turned. Now when she acts up, she runs to her room and slams the door in my face. It's not dramatic at all or anything.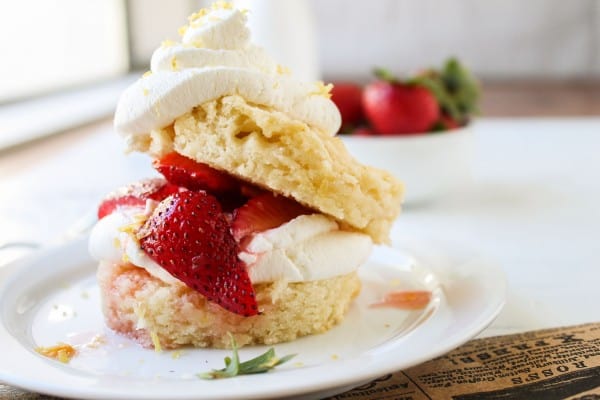 And the other day I started making cookies and asked if she wanted to help and SHE SAID NO. To cookies. To mother-daughter bonding time. What is going on?? Send help.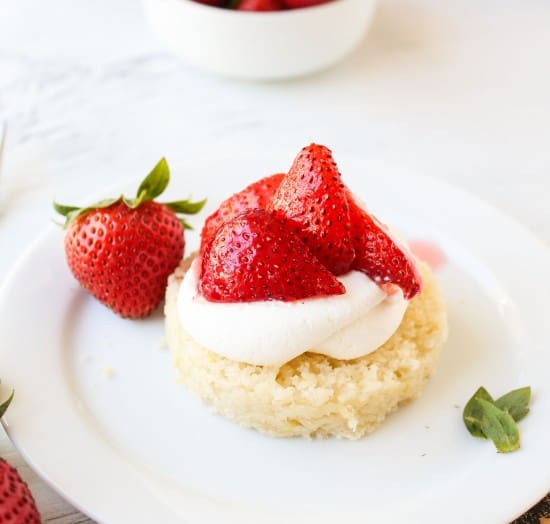 Update in 2020: Charlotte is an amazing baker and LOVES spending time in the kitchen! Of all our kids she has a real sweet tooth and at 9 years old can take on any basic recipe on her own. She never says no to cookies these days. Whew! I guess I didn't go too wrong.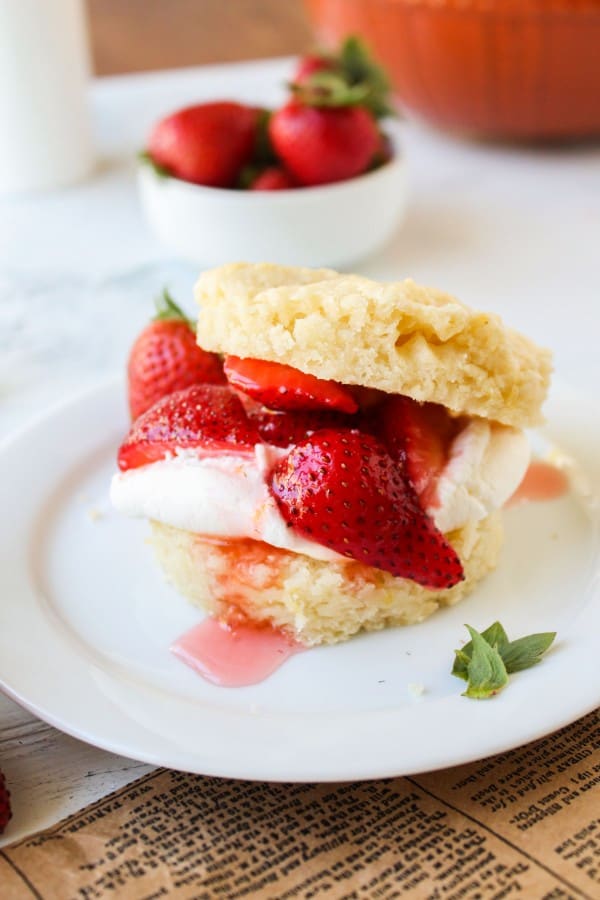 How to make Lemon Strawberry Shortcake
Aren't strawberry and lemon just the best combo? Seems natural to add it to shortcake. Especially since I've still got some crazy determined lemons hanging around on my tree outside. Seriously guys, it's July, I'm picking peaches and plums, and you lemons are still thinking that this citrus party is rockin on.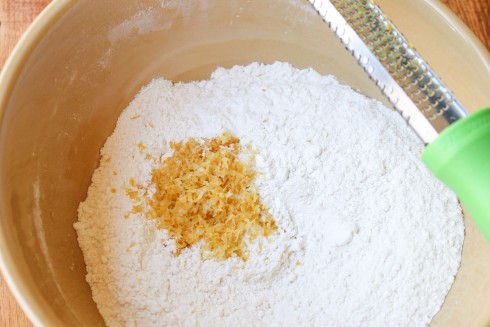 Well I'm all for it actually. Never enough lemons. Especially when it comes to Strawberry Lemon Shortcake. I love this recipe because it's soooo easy. There is no butter. As much as I love you, dear butter, you are annoying to cut into flour. All you have to do for this shortcake is get the dry ingredients together and stir in some cream and lemon juice with a fork, then spread it in a pan. Easy peasy.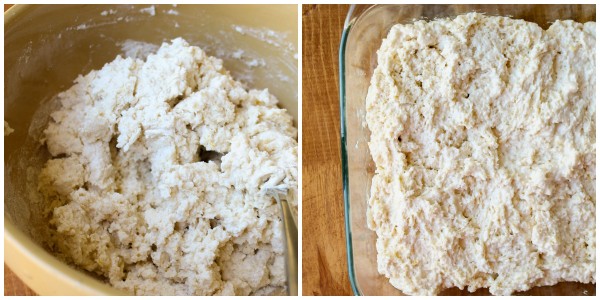 And then you bake it in a pan instead of rolling it out and cutting it, or dropping it onto a pan. You bake it all together and cut it afterward. So much faster. Also, so much softer. If you're not into a soft shortcake recipe, this isn't the one for you.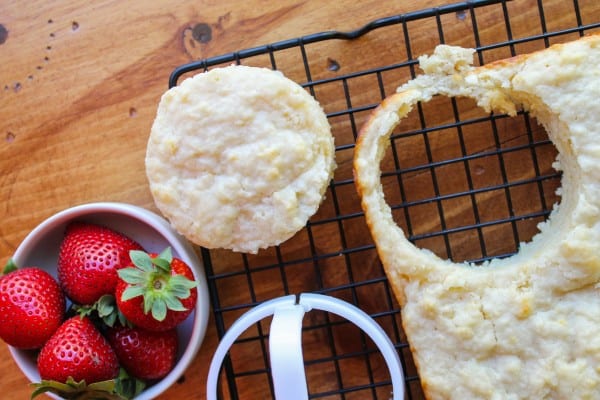 And did I mention the lemon whipped cream? Lemon. whipped. cream. Watch out, 4th of July BBQ. I'm ready for you.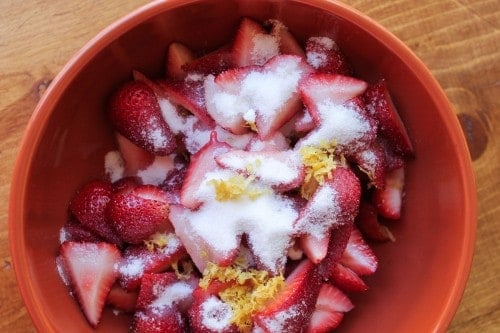 Zestify that lemon. Add more!! I definitely add it in with the strawberries. You can see that I don't really hold back when it comes to my citrus. I've said it before: If I'm not sweating, you haven't put in enough lemon!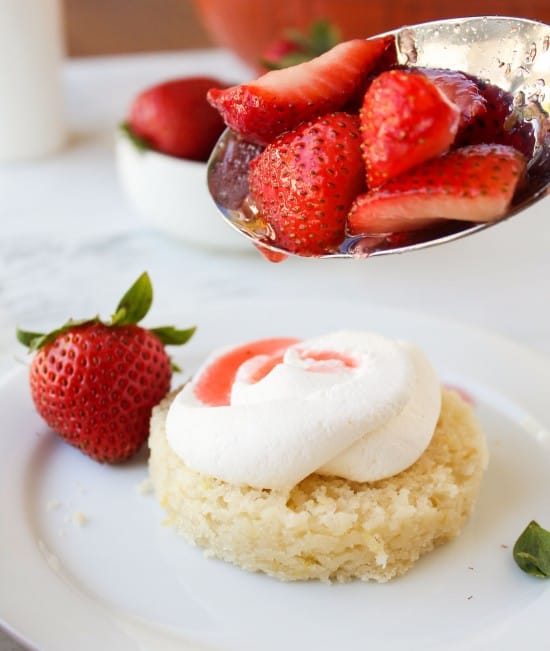 Strawberries + lemon zest = BFF. We do it in lemonade! Why not on shortcake? In fact, I can't really think of anytime you would use strawberry where a little bit of lemon wouldn't sparkle up the flavor nicely. Give it a try!
More great fresh fruit desserts to try!
Easy Strawberry Lemon Shortcake
The lemon in this Lemon Strawberry Shortcake adds so much amazing tartness to this delicious classic dessert! Nothing provides more fresh spring zing than lemon zest with sweet strawberries on crumbly morsels of shortcake, all with fresh whipped cream on top. I LOVE the mix of sweet and citrus. Tender shortcake is ready FAST because they are baked in a pan and not individually.
Ingredients
For the strawberry topping:
4

cups

strawberries

,

hulled and sliced

1/2

cup

sugar

1-3

teaspoons

lemon zest
For the shortcake:
2

cups

all purpose flour

,

spooned and leveled

1/4

cup

sugar

1

tablespoon

baking powder

1/2

teaspoon

salt

zest from 1 lemon

1 & 1/4

cups

heavy cream

1/4

cup

lemon juice

,

fresh
For the Lemon Whipped Cream:
2

cups

heavy whipping cream

,

cold

1/4

cup

granulated sugar

2

tablespoons

lemon zest

4

teaspoons

lemon juice

,

fresh
Instructions
Preheat your oven to 400 F. If there is room in your fridge or freezer, chill your stand mixer bowl or another large bowl, and the beaters you will use to whip the cream later. (don't fret too much if you don't have room.)

In a medium bowl, sprinkle the sliced strawberries with 1/2 cup sugar and 1 teaspoon (or more) lemon zest. Mix and refrigerate while you prepare the shortcake.

In another medium bowl, whisk together flour, 1/4 cup sugar, baking powder, salt, and lemon zest. Use a fork to stir in the cream--do not over mix. While there are still some flour-y spots, add the 1/4 lemon juice. Continue to combine until it has just come together, just a few turns.

Grease an 8x8 inch baking dish with nonstick spray. Spread the batter into the pan.

Bake at 400 F for about 18-20 minutes, until golden brown around the edges and a toothpick comes out clean. Let cool for 10 minutes.

Carefully lift the shortcake from the pan and let sit on a wire rack to cool some more.

Cut the shortcake into 6 pieces and then split each piece in half horizontally. (You can use a biscuit cutter if you want to do circles.)

Make the lemon whipped cream. Take your empty mixing bowl out of the fridge. Add the heavy cream and beat on high. Gradually add in the sugar, lemon zest, and lemon juice. Continue to beat on high until stiff peaks form.

To assemble, place the bottom half of a shortcake on a plate. Top with strawberry topping, lemon whipped cream, and then the other half of the shortcake. Top with more whipped cream. Enjoy!
Nutrition
Serving:
1
slice
,
Calories:
761
kcal
,
Carbohydrates:
78
g
,
Protein:
8
g
,
Fat:
48
g
,
Saturated Fat:
30
g
,
Polyunsaturated Fat:
2
g
,
Monounsaturated Fat:
14
g
,
Cholesterol:
177
mg
,
Sodium:
457
mg
,
Potassium:
307
mg
,
Fiber:
3
g
,
Sugar:
39
g
,
Vitamin A:
1909
IU
,
Vitamin C:
65
mg
,
Calcium:
227
mg
,
Iron:
3
mg
We are a participant in the Amazon Services LLC Associates Program, an affiliate advertising program designed to provide a means for us to earn fees by linking to Amazon.com and affiliated sites.