I will show you just how easy it is to make a balsamic reduction at home! It only requires one ingredient: balsamic vinegar. A syrupy balsamic reduction is one of my favorite superpower condiments to have on hand in my fridge. It is an easy way to take a regular meal or appetizer (or dessert!) from average to elegant! Originally published April 2, 2020.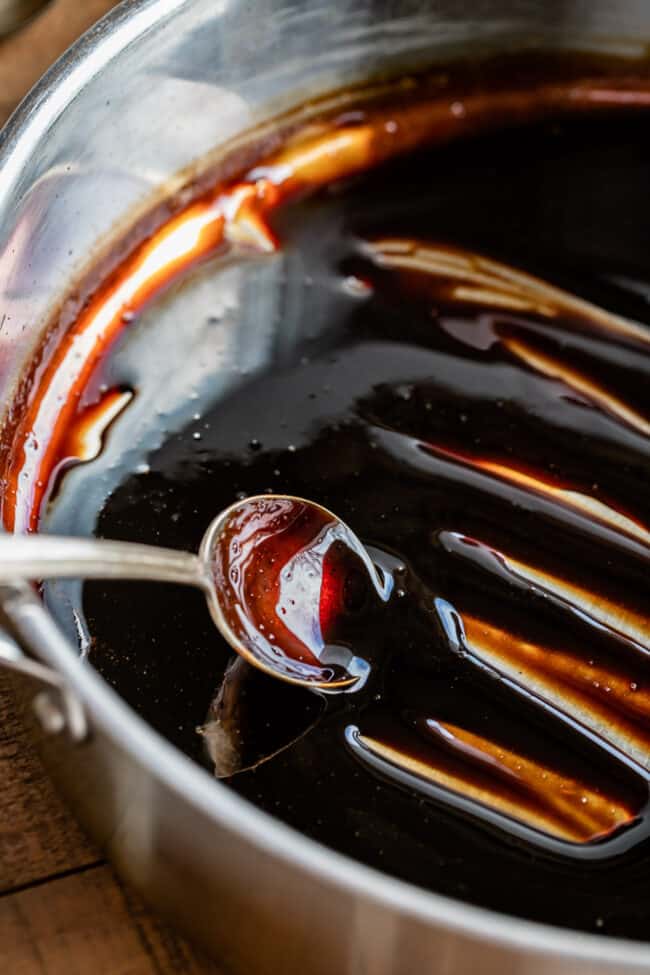 Table of Contents
You guys, I'm alone in my house. I repeat, ALONE in my house. I live in a rather small house, at least it feels small when it's quarantine day one thousand for a family of 6. What will I do with all this freedom and solitude?
Okay well maybe "alone" is a stretch. Technically the baby is here with me. And Eric is working in the other room.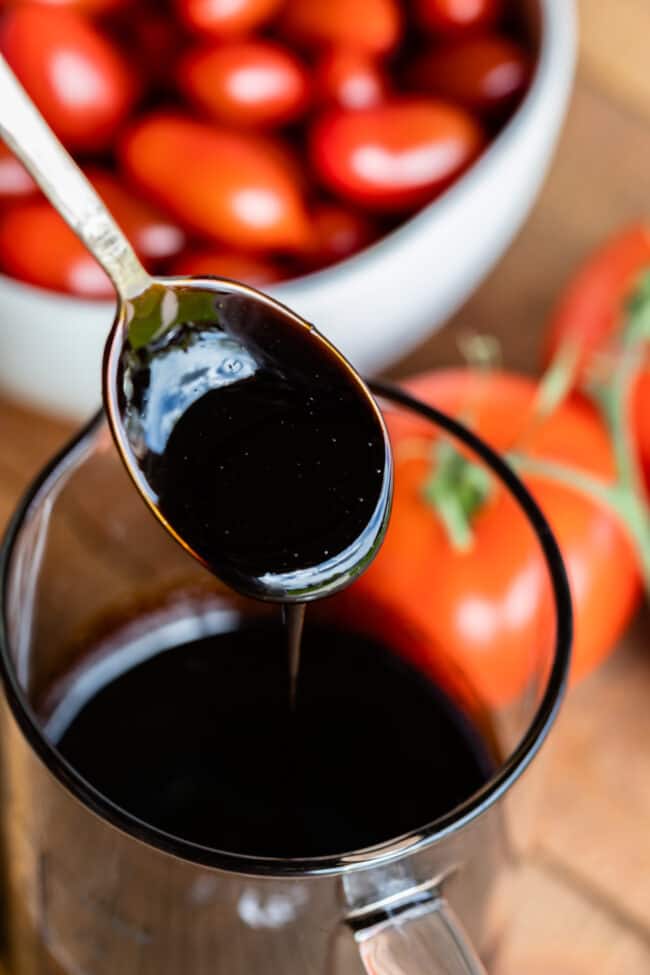 But other than the occasional baby sneeze, I could hear a pin drop. (This baby sneezes more than anyone I know, it's hilarious. 3-month-old baby sneezes are funnier than regular sneezes, for sure.)
I know it won't last long. All the kids are either outside biking or backyard-ing. If they are fighting, I can't hear them, and that's all I care about.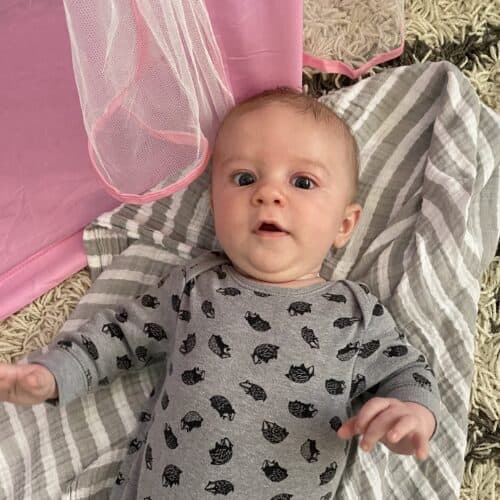 (Look at this double chin!! That's his sister's princess tent that has been set up in my living room for the last 2 days. It is so massive that it takes up the entire floorspace. I'm not annoyed by this at all, why do you ask?)
How's quarantining going for you? Have you lost your mind yet? The most exciting thing to happen lately was last night when the 3-year-old locked us all out of the bathroom right at bedtime, and we didn't have the proper screwdriver to unlock it. It was complete pandemonium: you parents know all too well that eerie nighttime phenomenon when all children turn into wild animals.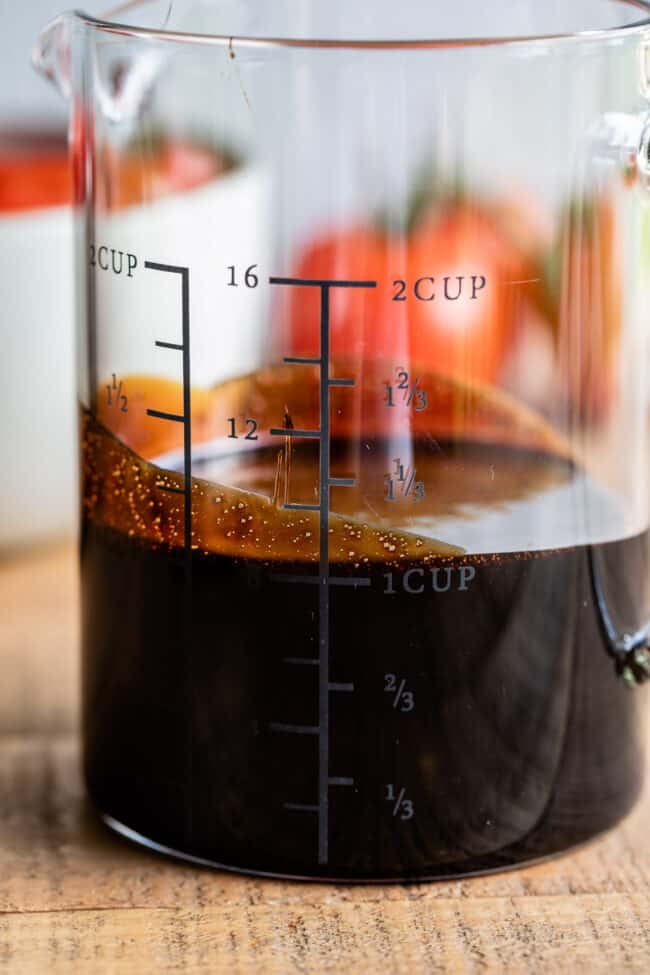 Eric is in the hall trying to ram paper clips and bobby pins into the doorknob to get it open, the baby is crying, all the kids are running around like cavemen, eventually I reach my breaking point, and in an effort to move the bedtime routine forward I yell at everyone to brush their teeth for crying out loud, and that's when they gleefully remind me that the bathroom door is locked, and we go around in circles again.
The climax of the evening happened when we broke quarantine to borrow the correct screwdriver from our neighbors. Then we locked them all in their bedroom for the rest of the night. The kids, not the neighbors. And I'm only kidding. But we were this close. I'm going to tell them to lock themselves in the bathroom next time, at least then I will get some peace and quiet.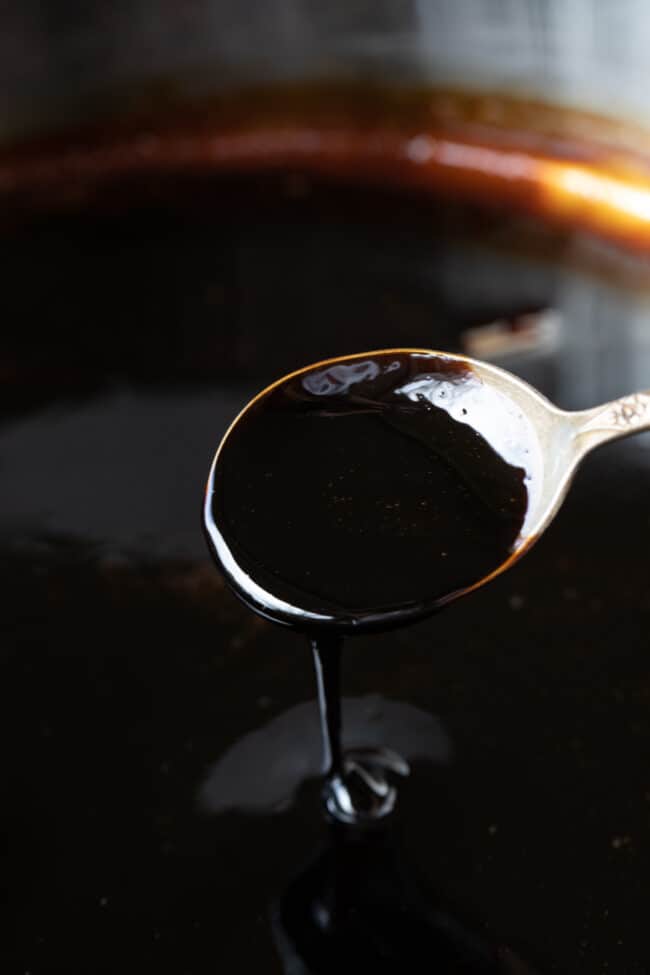 Are you using any of your quarantine time to do some fun cooking? If so, I have the easiest condiment for you to try out: balsamic reduction. It's my latest favorite thing to add to everything!
What is a Balsamic Reduction?
Balsamic reduction is simply balsamic vinegar that has been cooked on the stove for a while until it reduces a bit. It eventually turns into a delightful syrupy glaze that is perfect for drizzling over your salad, your dinner, your dessert, and tons of stuff in between. It is one of my favorite condiments to have on hand in my fridge! It's so good.
How to make Balsamic Reduction
Here's a basic overview of how to make a balsamic reduction (see the recipe card below for complete instructions and measurements).
Add balsamic vinegar to a saucepan.
Simmer the vinegar until it has reduced by at least half and coats the back of a spoon.
Remove from the heat and let cool.
Above, you can see the level of simmering we're going for. Just lightly bubbling, no more than that. You can see here how it will coat the back of a spoon when it's ready.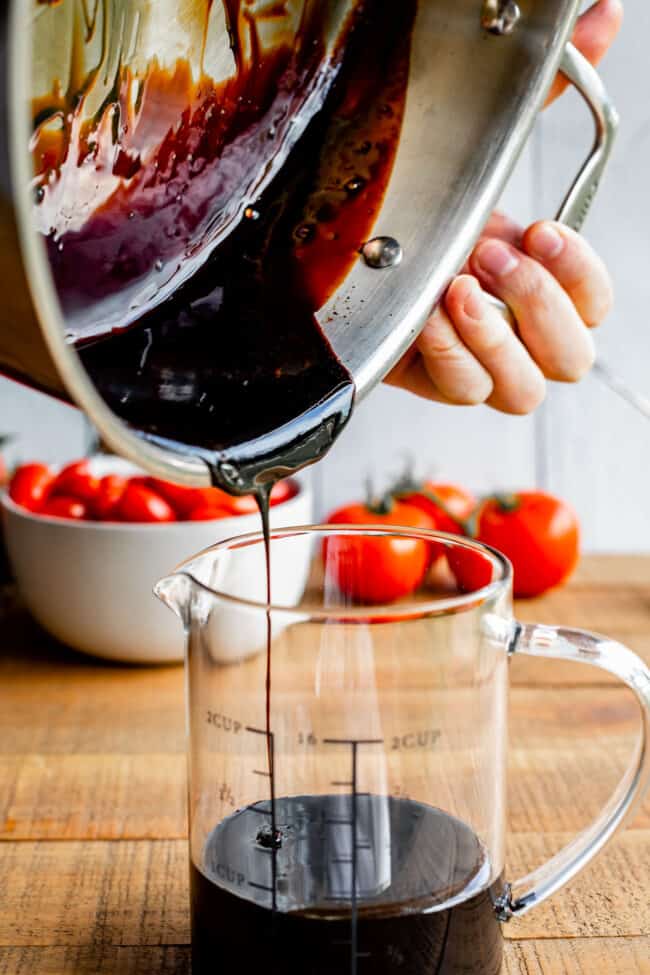 Balsamic Reduction Ingredients
Here's a quick shopping list to help you gather your ingredients. See the recipe card below for the full instructions!
Optional sweetener (choose from sugar, brown sugar, honey, or maple syrup)
How to use Balsamic Sauce
The possibilities are endless. Once you have it tucked away in your fridge, I promise you will be adding it to everything you can think of. Here are some suggestions:
Savory ideas
Fresh sliced tomatoes. I'm not even a tomato person and I love it plain like this.
Caprese salad.
Margherita pizza. Or any cheese pizza.
Top a green salad. I like it plain, you could also add a drizzle of olive oil.
Green vegetables: asparagus, green beans, broccoli, zucchini, sky's the limit here.
More veggie ideas: Brussels sprouts, cauliflower, sautéed spinach, sautéed mushrooms, fresh cucumbers or sweet peppers, etc.
It's really good on root vegetables. Think roasted potatoes, roasted sweet potatoes, carrots, etc.
Drizzle over any kind of grilled meat or vegetable. It would be good on these Sausage and Broccoli Kebabs.
More meat ideas: Drizzle over pork tenderloin. Grilled or pan seared salmon, or any white fish. Top a juicy steak.
Drizzle over avocado toast. (Ask me the story some time about when my brother had my parents over for brunch one day and served them avocado toast. My mom was so confused. Millennials, amiright? or is it actually #okboomer? haha! )
Serve as a compliment to a charcuterie board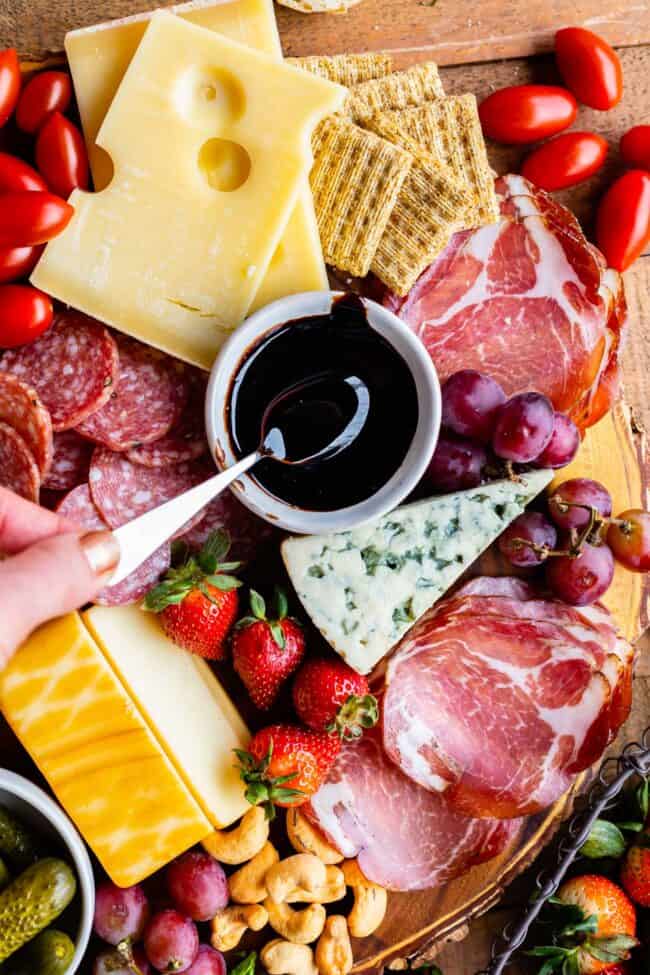 It's especially delicious with parmesan cheese
Or Swiss cheese. Or Gruyere. Or Brie. Basically you can't go wrong in the cheese department.
Drizzle over spaghetti.
Drizzle over a fancy grilled cheese sandwich (think brie + peaches, or white cheddar + pear).
Drizzle over Crostini or Bruschetta.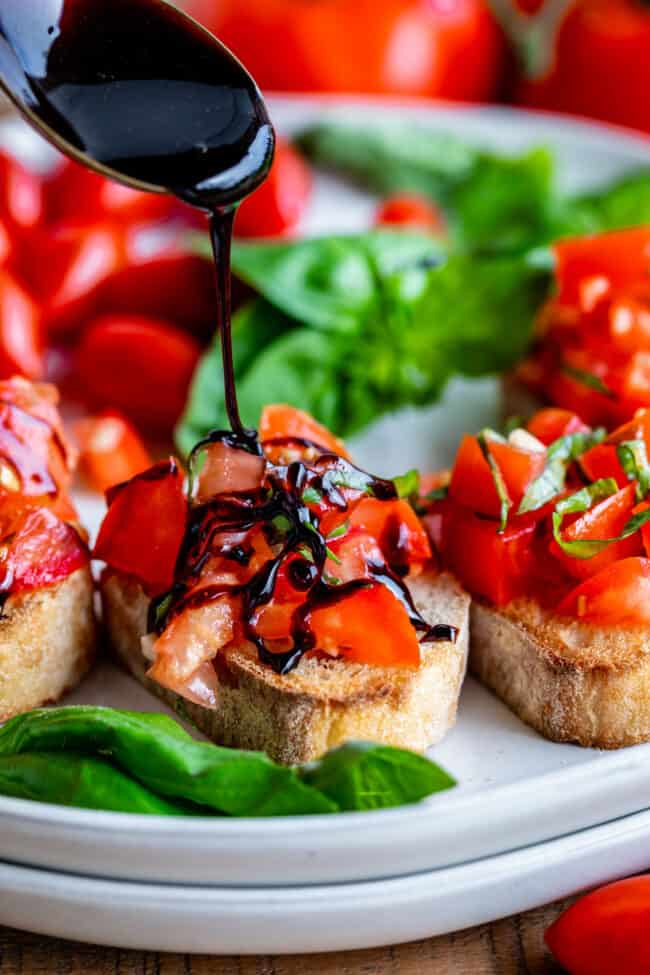 Sweet ideas
See the next section for a tip on how to make your balsamic reduction even sweeter if you are serving it with dessert:
Dip strawberries in it, or drizzle on top and serve with whipped cream.
Drizzle over vanilla ice cream.
Drizzle over grilled or fresh peaches.
Top a cheesecake, with fresh strawberries.
Mix a little bit into your jam or jelly and spread on toast.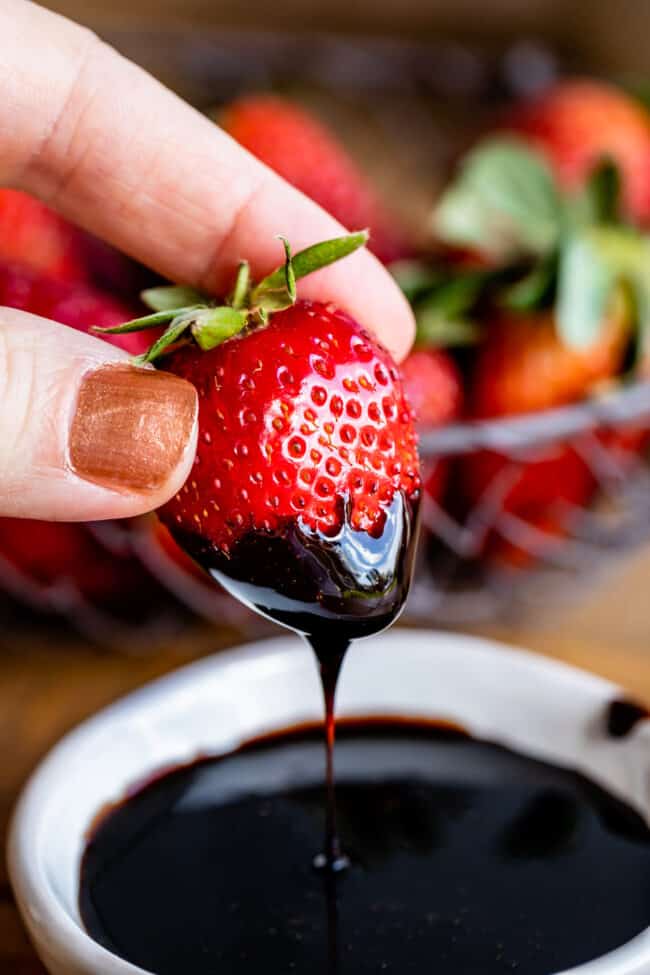 Balsamic Reduction Recipe Sweeteners
If you are serving your balsamic reduction to go with something sweet, like to top ice cream or to dip strawberries in, you might want to consider adding a sweetener to your balsamic reduction.
sugar
brown sugar
honey
maple syrup
A simple balsamic reduction made just from the vinegar is still pretty sweet, but adding a bit of sugar is a good idea for some recipes, especially if you're adding it to a dessert. You can really add as much sweetener as you like, but a good rule of thumb is to use about 6 tablespoons of sweetener (honey, sugar, etc.) per 1 cup of balsamic vinegar that you are reducing.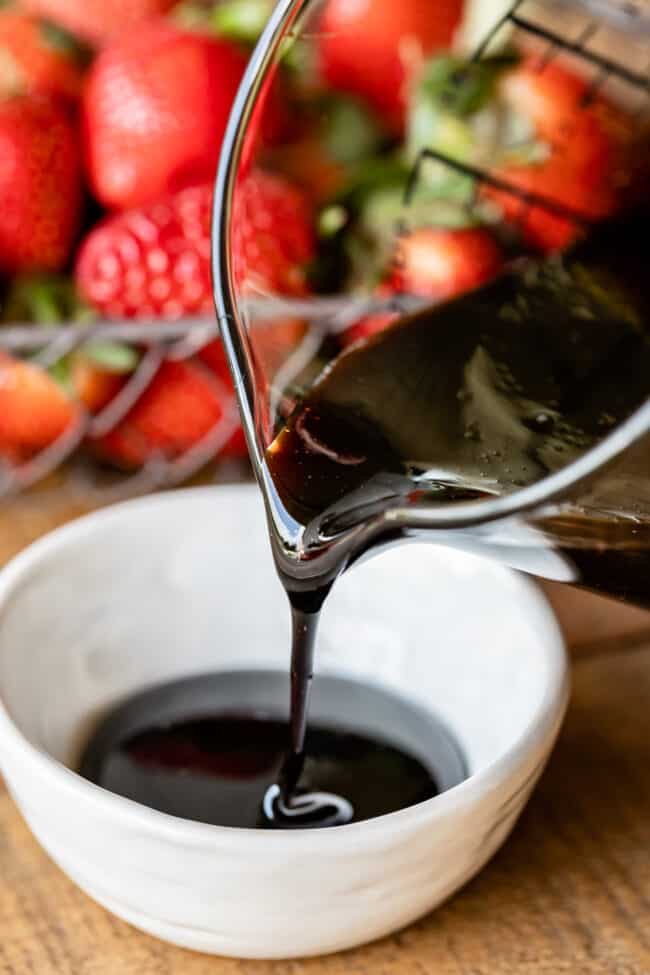 Add it to the vinegar immediately, and stir until any grains are dissolved. You can also add less sweetener than this too of course, if you want, if you just want a little hint of sweet.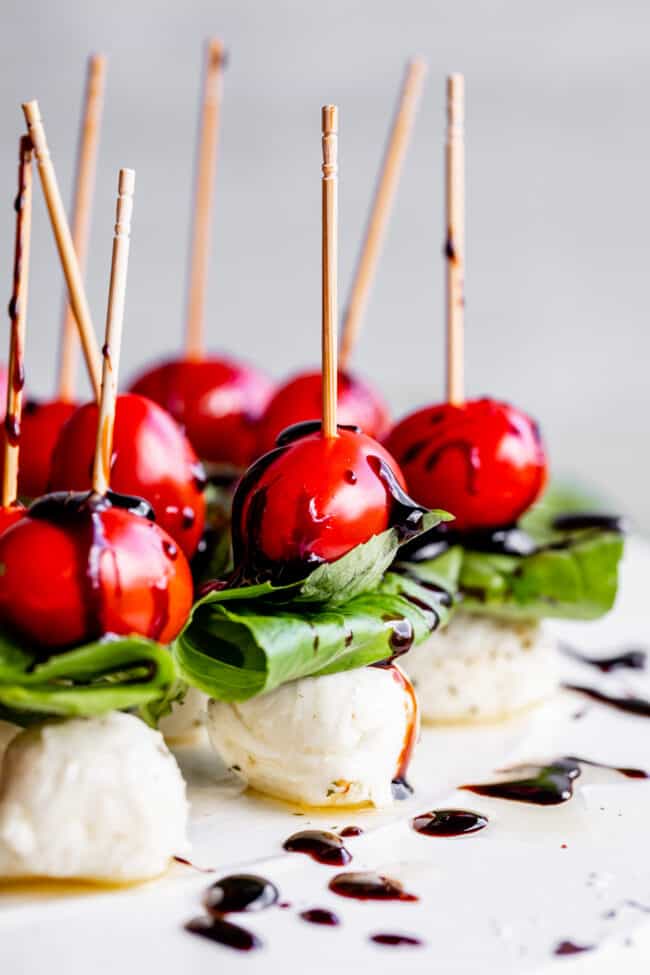 Stay tuned for the recipe for these Caprese Bites, coming soon! My new favorite appetizer!
(Update: here they are, Caprese Salad Skewers Appetizer!)
Storing Balsamic Vinegar Reduction
A balsamic vinegar reduction should be kept in the fridge, covered. It will last for up to 3 months.
I don't recommend freezing it (not like you really need to when it lasts so long in the fridge). The acid levels can change in frozen vinegar, and you don't want to mess up the taste.
Balsamic Reduction FAQ
Balsamic vinegar vs glaze?
Balsamic vinegar can be bought at any grocery store. It's a dark, sweet, intensely flavored vinegar, but it's completely liquid. It's great to use as an ingredient in things like salad dressings.
Balsamic glaze, on the other hand, is a reduced, much thicker form of balsamic vinegar with a lot of the liquid evaporated out of it. It's syrupy, drizzle-able, and perfect for putting on grilled meats, salads, and even desserts.
What does balsamic glaze taste like?
Balsamic glaze has an intense taste. It's intensely tangy, fruity, sweet, and complex. A little goes a long way, and the taste lingers after you've enjoyed it.
How long is balsamic glaze good for?
Balsamic glaze lasts for up to three months in the refrigerator, so you can keep it on hand to use it whenever the mood strikes.
More condiment ideas!
More ideas for using balsamic reduction!

Balsamic Reduction Recipe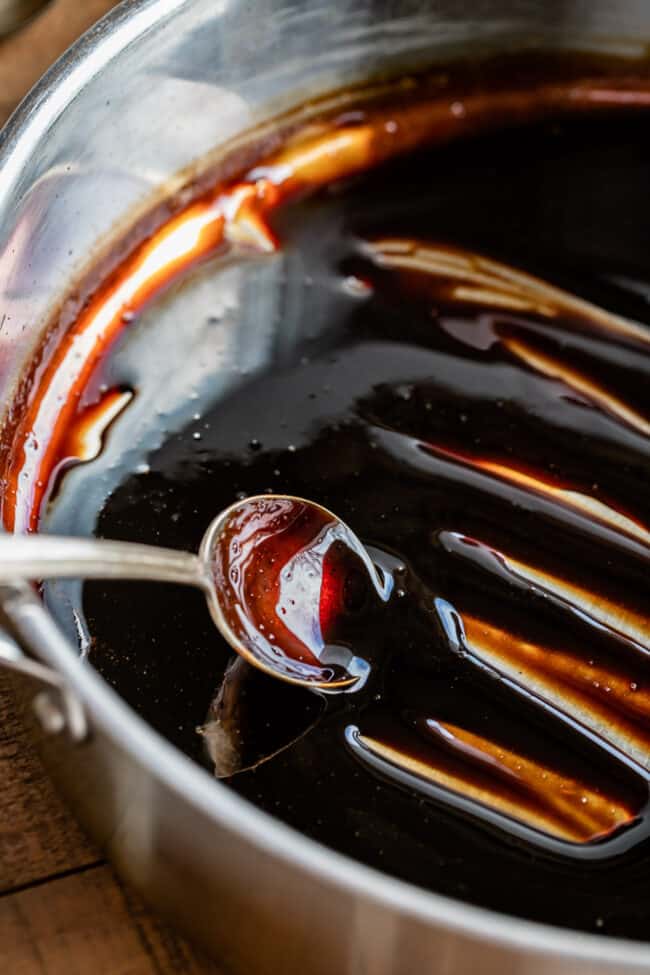 I will show you just how easy it is to make a balsamic reduction at home! It only requires one ingredient: balsamic vinegar. A syrupy balsamic reduction is one of my favorite superpower condiments to have on hand in my fridge. It is an easy way to take a regular meal or appetizer (or dessert!) from average to elegant!
Ingredients
1

cup

balsamic vinegar

optional: sugar, honey, maple syrup, etc
Instructions
Add 1 cup balsamic vinegar to

a saucepan

. The wider your saucepan, the faster it will reduce.

Turn the heat to medium. Stir occasionally until the mixture starts to lightly bubble from the center, then adjust the heat to maintain a very low simmer. Continue stirring occasionally for about 15-25 minutes, or until the mixture has reduced by half.

How long it takes depends on how powerful your burner is, how high you set the heat, and how wide your pan is.

You can continue reducing the balsamic until it reaches about 1/3 of the original volume (rather than half), but don't go more than that. For example, for this photo shoot I simmered 3 cups of balsamic vinegar until I had about 1 cup of reduction. You will know the reduction is done when it has a syrupy, glaze-like consistency and coats the back of a spoon. Keep in mind that it will continue to thicken a bit as it cools.

Remove from heat and let cool slightly. Transfer to

a mason jar with lid

or other container with a lid and let cool completely. Store in the fridge. Balsamic reduction lasts in the fridge for several months! Tuck it in the door of your fridge and pull it out whenever you want to add a little something special to your meal!
Optional variation:
Add sweetener to your balsamic vinegar if you are using it for dessert. Add up to 6 tablespoons of sweetener of your choice (or less) for every 1 cup of balsamic vinegar you are reducing. (For example, if you are reducing 3 cups of vinegar, that would be 18 tablespoons sweetener, which is 1 cup + 2 tablespoons.) You can use sugar, brown sugar, honey, maple syrup, etc.

Stir in the sweetener at the beginning and make sure you stir until any granules are dissolved. Then continue with the recipe as described.
Nutrition
Calories:
224
kcal
|
Carbohydrates:
43
g
|
Protein:
1
g
|
Sodium:
59
mg
|
Potassium:
286
mg
|
Sugar:
38
g
|
Calcium:
69
mg
|
Iron:
2
mg