This 4 ingredient balsamic steak recipe is perfect for grill nights. Bonus: the goat cheese and balsamic reduction make you feel super fancy. 
So my husband Eric is a major U2 fan. I wouldn't say he's the biggest fan in the world, but that's only because there are some real freaks out there. (For example, there is someone out there managing a database that records every "snippet" ever played during a live concert. A snippet is a song by someone else, like if they sing "Amazing Grace" as a lead into "Where the Streets Have No Name.") Like, for real? How did your life regress to the point that you're the snippet database guy? Then I remember how much time I spend on Pinterest looking at food I'm never going to eat, and the world evens out just a little. Anyway, Monday night we're hanging out with my extended family and the topic turned to the new iPhone 6 keynote that was going to happen the next day. At the mere mention of Apple Eric burst out, "There's going to be some big news from U2 soon!!" And we all laughed at him, shaking our heads, because what the heck does U2 have to do with Apple. Eric and his crazy U2 obsession. He got his comeuppance the next day. In case you haven't heard, Apple paid U2 to gift their new album to all (500 million) iTunes users. I think Eric texted every single person on his contact list. "Have you listened to it yet??" Needless to say, we've been having a lot of U2 dance parties around here lately.
How to make balsamic steak with goat cheese
Do you remember that picture up there of the steak? Here's another one.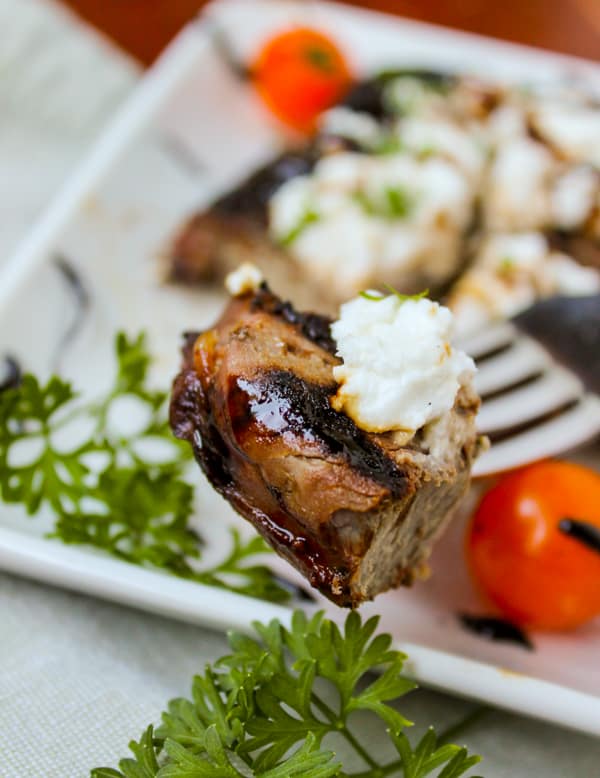 You know you want it. I'm guest posting today for my friend Rachel from Rachel Cooks (whose blog is fabulous, by the way!) but you can also find the recipe below!
Facebook | Pinterest | Instagram
More great recipes that will impress!

Goat Cheese Steak with Balsamic Glaze
This 4 ingredient steak recipe is perfect for grill nights. Bonus: the goat cheese and balsamic reduction make you feel super fancy. 
Ingredients
1

batch

balsamic reduction

4

steaks

,

about 5-7 ounces each

1

tablespoon

kosher salt

1

teaspoon

black pepper

4

ounces

goat cheese

1

pound

cherry tomatoes

,

optional, for serving

chopped parsley

,

to garnish, optional
Instructions
Preheat grill to high heat.

Generously salt and pepper both sides of each steak.

Add the steaks to the grill and cook for 2-3 minutes. Flip and cook for another 2-3 minutes. Add the goat cheese for the last minute of grill time, so that it melts slightly. (The times will depend on the size of your steaks and how well done you like them.) See my Ribeye Steaks post for more info about grilling steaks!

Remove from the grill and tent with foil. Let rest for about 3 minutes before serving.

Drizzle each steak with balsamic reduction and top with chopped parsley.

Serve with fresh cherry tomatoes on the side!
Nutrition
Calories:
623
kcal
|
Carbohydrates:
16
g
|
Protein:
52
g
|
Fat:
38
g
|
Saturated Fat:
18
g
|
Polyunsaturated Fat:
2
g
|
Monounsaturated Fat:
17
g
|
Cholesterol:
151
mg
|
Sodium:
1993
mg
|
Potassium:
939
mg
|
Fiber:
1
g
|
Sugar:
13
g
|
Vitamin A:
884
IU
|
Vitamin C:
26
mg
|
Calcium:
88
mg
|
Iron:
6
mg