These Caprese Salad Skewers are going to be your new favorite appetizer to bring to every party! Cherry tomatoes are paired with marinated mozzarella and fresh basil. Drizzle with Balsamic Reduction! Everyone loves these, and they are a welcome change from carb-heavy party food.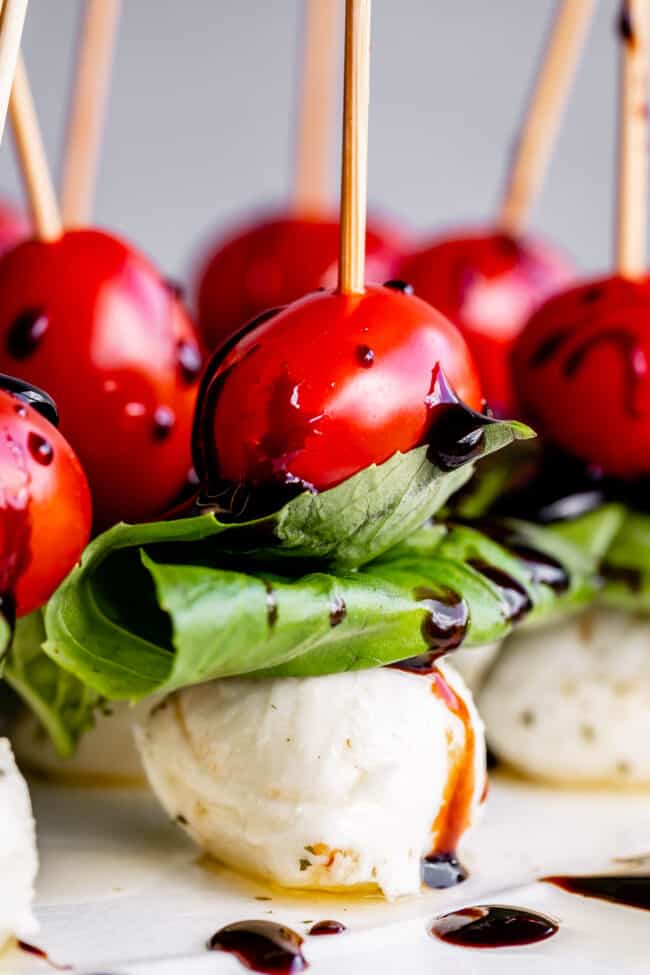 So I decided to start my diet the day the world shut down. No, seriously, it was mid March, that one Thursday-Friday a few weeks ago when Disneyland and the NBA shut down and everybody lost their freaking minds buying toilet paper and Lysol when we all simultaneously figured out that this thing was really going down.
I didn't want to get in the diet trap of "Oh, my diet starts tomorrow" or in this case, oh, my diet starts when quarantine is over (whenever THAT is!!), so I'm plugging away over here. Pandemic, schmandemic.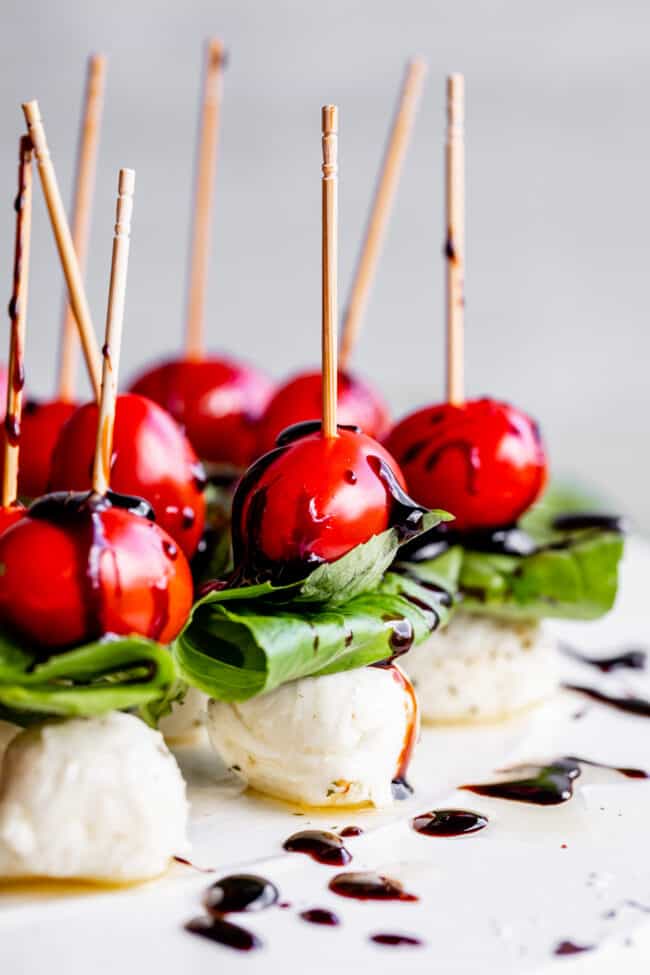 I'm 100% addicted to sugar (Hi, I'm Karen and I'm a sugarholic) so instead of going Keto or doing a Whole 30, I'm just counting calories. (I'm using the My Fitness Pal app, highly recommend.) I've never dieted this way before. But once I figured out that if I skip breakfast every day I still have enough calories to eat 2/3 cup ice cream at night, I was all in. See, healthy choices you guys. That's what gets you to the finish line.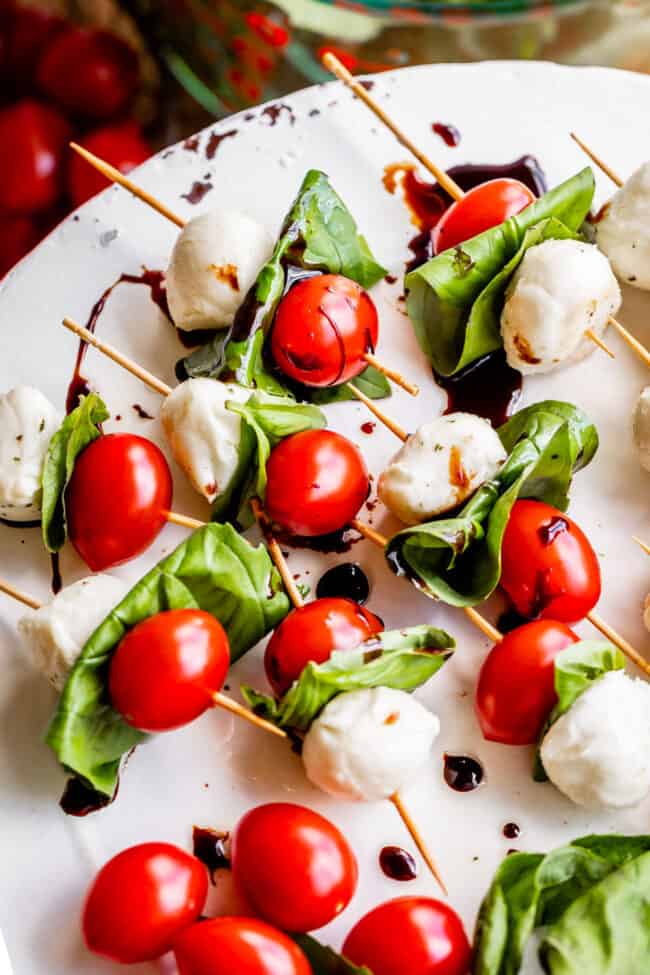 Also, every time I tell someone I'm on a diet they scoff and say I don't need to be on a diet, I look fine. Which is nice, but also kinda funny. People only think you need to go on a diet if you are fatter than them. I'm not super overweight, but I just had my fourth baby. I'm 10 pounds heavier than I was this time last year before I got pregnant, and 17 pounds heavier than I was before the first baby 9 years ago. I want to lose at least that 10 pounds before it gets any worse! It's a slippery slope, right? Although I get why it would be super annoying to have all your "skinny" friends complain about their diets all the time. Body image is hard in America these days, amiright?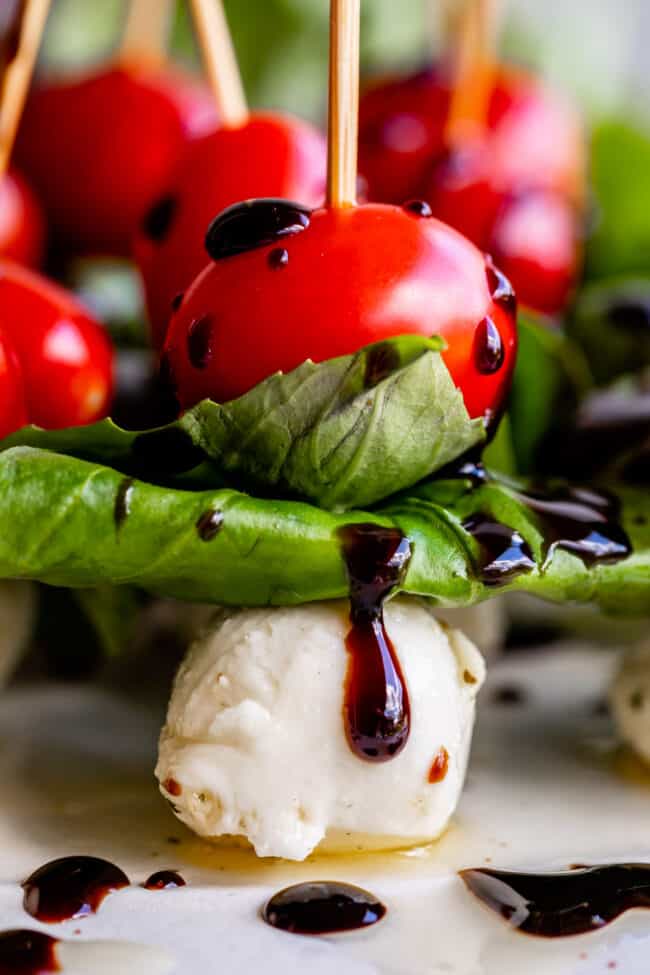 I'm 6 days in and have lost 1.4 pounds. Not bad, right? Only 16 weeks to go! Which doesn't sound bad until I realize that's the end of July. Hold me.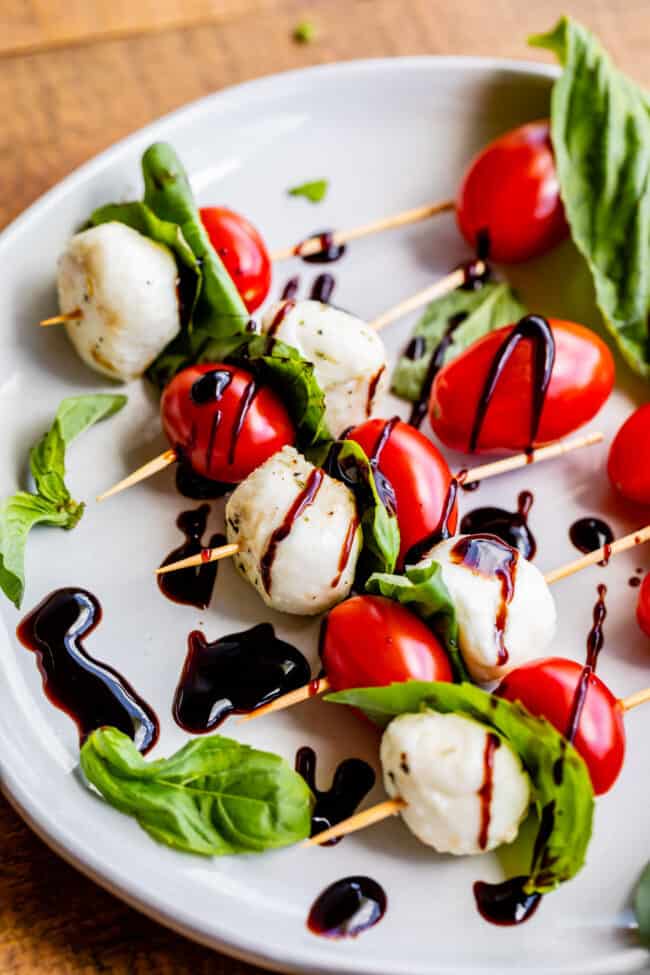 Caprese Skewers
Today I'm sharing the recipe for these super easy caprese bites! I know, I know, how dare I send out a party appetizer idea when no one is having parties?? So rude. But actually I think these would be a fun appetizer to make for your family for Easter Sunday. It's easy to tailor this recipe to however many people you have.
But once this quarantine is over, this will be a great appetizer to have on hand for parties (large or small) because it can be made ahead of time and served room temperature. You can assemble it all in advance and then don't have to think about it again. Then you can enjoy the party instead of stressing about the food!
How to Pronounce Caprese
"Caprese" is pronounced "cap-ray-zay." I will not tell you how many years I called this a Capreeze salad. It is an Italian word that describes "a salad consisting of tomatoes, mozzarella, and basil." Simple!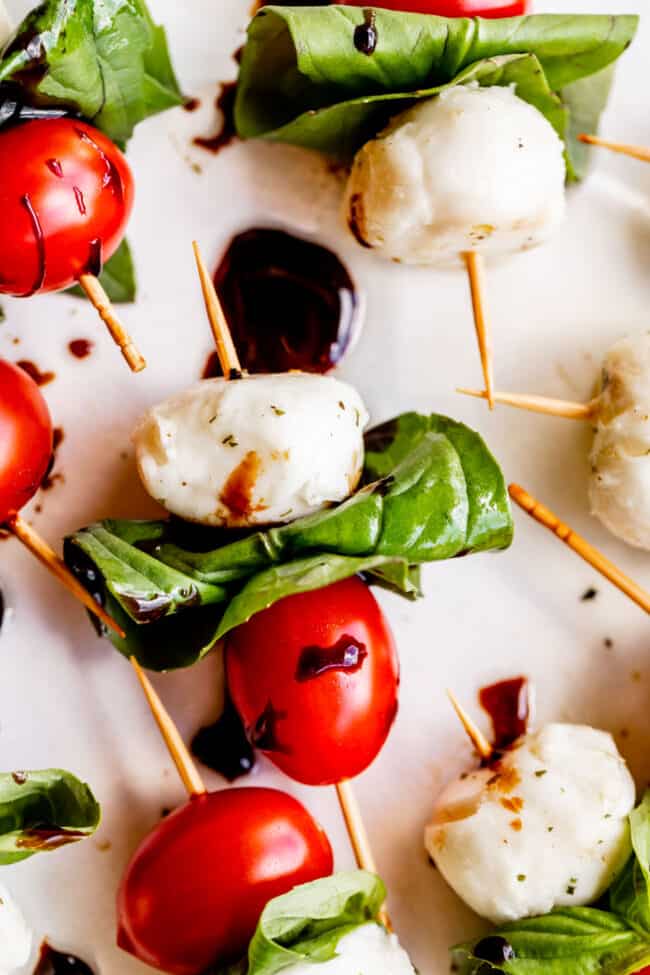 How to make Caprese Salad Skewers
These caprese bites are really the easiest appetizer ever. You can see all the components in the pictures: a cherry tomato, a basil leaf, a store bought marinated mozzarella ball, and a super simple balsamic reduction glaze, which you can make at home or buy at the store. It really doesn't get any easier than this!
The combination of these flavors is just phenomenal. There is a reason there is a whole word dedicated to this trio. The sweet tart of the tomato, combined with the freshness of the basil, and the soft subtle bite of the mozzarella combine to make a truly amazing party in your mouth. The balsamic reduction adds this amazing acidic sweetness that puts it over the top. So good!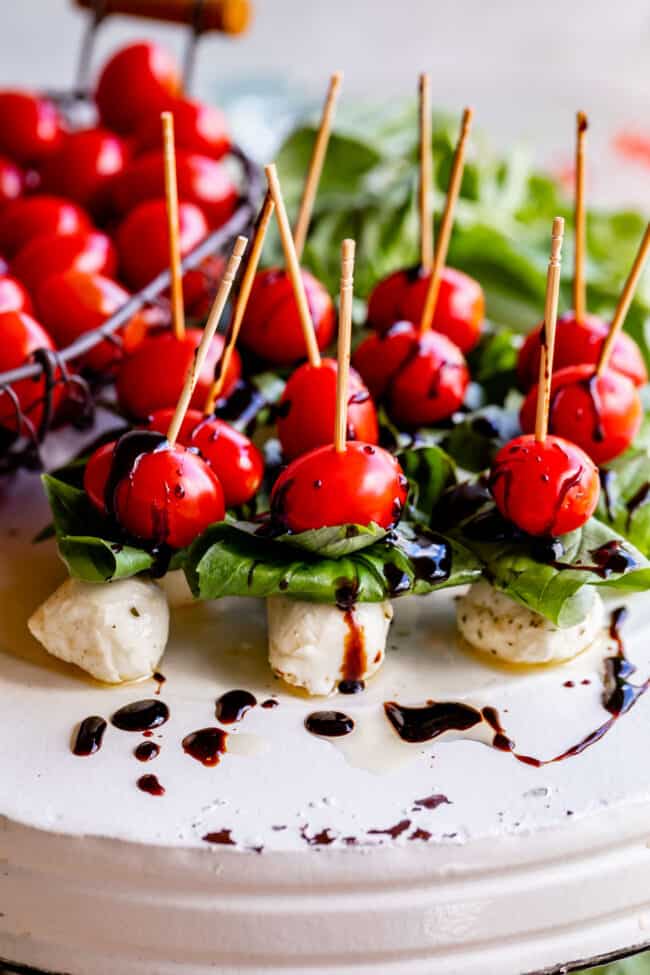 You can make these tomato mozzarella basil skewers a few hours in advance and keep them covered until ready to serve. I wouldn't do them more than a few hours in advance, or you risk the basil getting wilty and the cheese drying out. Keep covered and chilled. Drizzle on the balsamic glaze just before serving.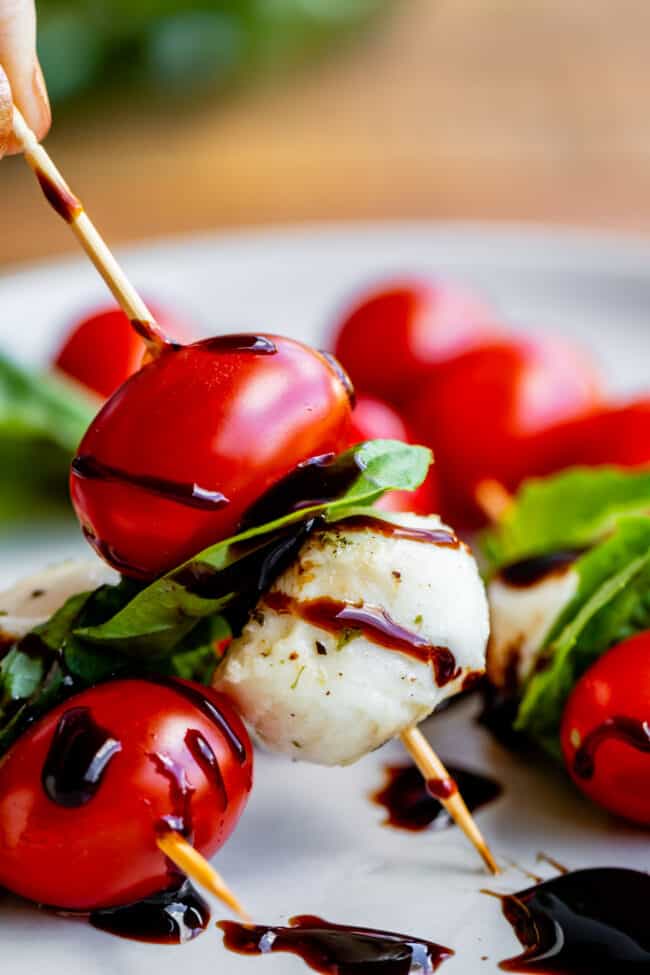 I hope you're still planning to party it up on Easter with the ones you're with at home! No need to stop celebrating the Resurrection of Jesus, even if our numbers are few. We are planning on having a small Easter celebration, just our family, complete with roasted ham and cheesy Funeral Potatoes and Sea Foam Salad. And an egg hunt to boot. And definitely these caprese salad skewers as our appetizer!
Have a wonderful Holy Week everyone! I'll be back later this week with a recipe for small batch of skillet dinner rolls, so you don't have to make 36 rolls on Easter for the 5 people in your family!
More appetizer ideas you are going to love!

Caprese Salad Skewers Appetizer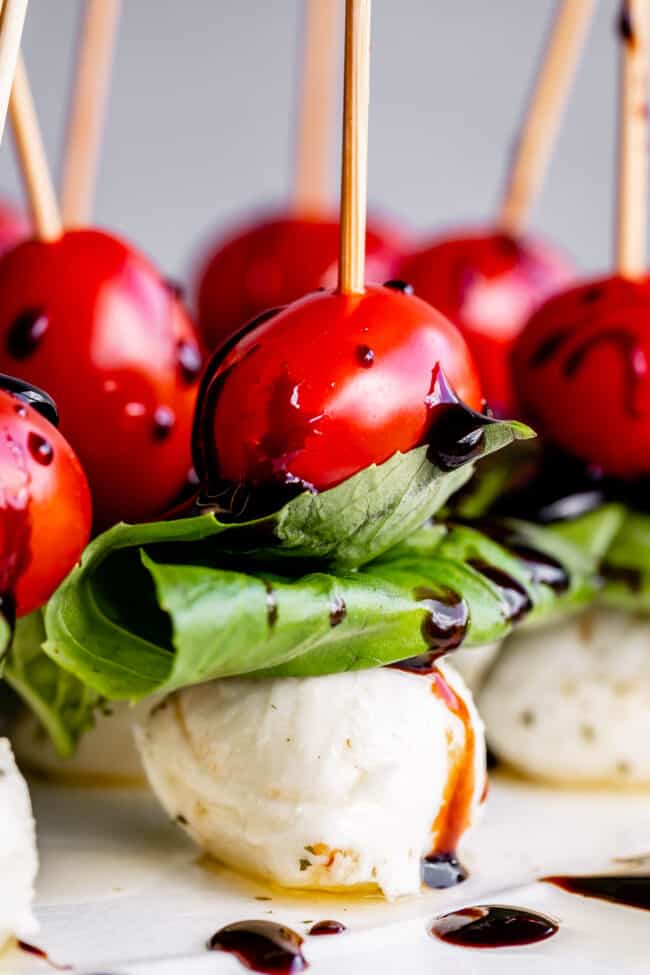 These Caprese Salad Skewers are going to be your new favorite appetizer to bring to every party! Cherry tomatoes are paired with marinated mozzarella and fresh basil. Drizzle with Balsamic Reduction! Everyone loves these, and they are a welcome change from carb-heavy party food.
Ingredients
16-18

cherry tomatoes

16-18

fresh basil leaves

1 (12-oz)

tub

marinated mozzarella balls

homemade balsamic vinegar reduction

16-18

toothpicks
Instructions
Add 1 cherry tomato to a toothpick.

Fold a basil leaf in half or into thirds. Place on the toothpick below the cherry tomato.

Add a mozzarella ball on the end. If you would like to serve the appetizers vertically (so the toothpick is sitting on your platter straight up and down), place the mozzarella ball on the platter and move it around so that it looks like it's in the most stable position and won't roll much. Then pierce the toothpick into the top.

Just before serving, drizzle with

homemade balsamic reduction

. Serve with the remaining balsamic reduction on the side for guests to add more if they like.

Store any leftovers in the fridge!
Notes
You can buy pre-made balsamic glaze at the grocery store to make this appetizer even easier! Check the condiments aisle. It's cheaper to make it at home usually. But hey sometimes you're in a hurry, I get it!
Variations: I've seen these made with salami or prosciutto in the mix. Or a tortellini. A fried gnocchi would also be amazing.
Nutrition
Serving:
1
g
|
Calories:
78
kcal
|
Carbohydrates:
5
g
|
Protein:
4
g
|
Fat:
5
g
|
Saturated Fat:
2
g
|
Polyunsaturated Fat:
1
g
|
Monounsaturated Fat:
1
g
|
Cholesterol:
8
mg
|
Sodium:
25
mg
|
Potassium:
143
mg
|
Fiber:
1
g
|
Sugar:
4
g
|
Vitamin A:
304
IU
|
Vitamin C:
13
mg
|
Calcium:
87
mg
|
Iron:
1
mg