Easy weeknight grill dinner: these sausage and broccoli kebabs come together in about 30 minutes. Low-carb and freakishly delicious.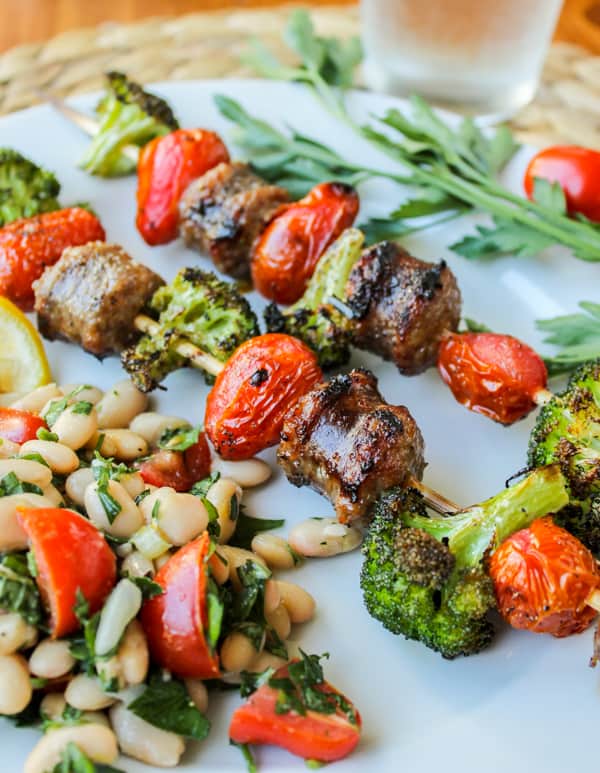 LOOOOK! I made my family dinner. I know, nothing new. But still, it's something, you know? Sometimes I wish every frazzled mom out there could have some pretty pictures of the meals she made her kids. To make art out of something ordinary.
Because sometimes being a mom is a pretty thankless job. Sometimes you get through the day and think, what did I even DO today? Nothing I guess. And then you feel all empty inside.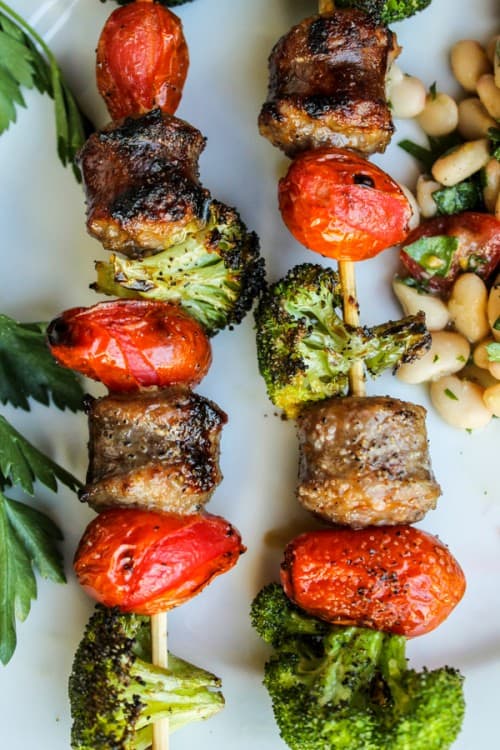 My sister Nikki has 5 kids. One time her 2-year-old got a hold of some butter and smeared it all over the house. (E.v.e.r.y.w.h.e.r.e.) She spent hours cleaning it up. Her husband was outside that day building a shed. What did he have at the end of the day? 1 shed. What did she have? 1 butter-free couch. The day ended exactly the way it started. No butter on the couch.
Sometimes it's hard to feel creative when all you are doing is hosing down the fire.
"All great works of art are trophies of victorious struggle."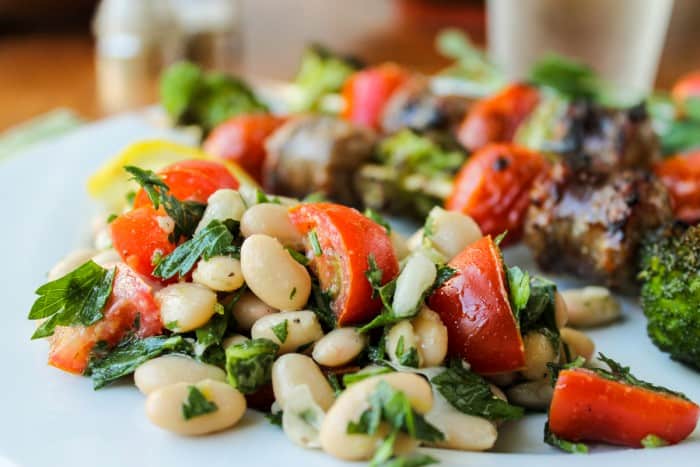 That's a quote by Julius Meier-Graefe, found on this awesome blog post about the relationship between struggle and art.
I think it could definitely be argued that children are works of art. Art from God, that we have a tiny bit of understudy influence over, because let's be real, these kids have got minds of their own. Can you imagine if we really could shape them the way we wanted? Awful thought. I think our species would have died out by now.
I've been working on this blog post for about 3 hours now (not including making/photographing the food). That may sound kind of crazy, but this is my hot air balloon, so to speak. Oh wait, I haven't told you about that part yet: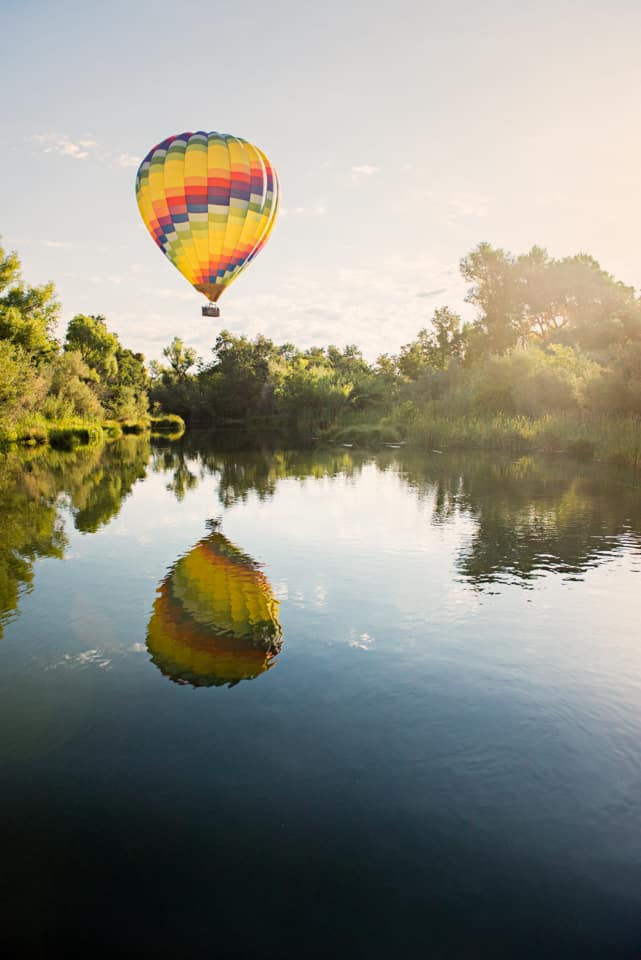 My sister-in-law Sandi took that picture. It is the result of years of practice and hundreds of hours of mindlessly boring editing. Art, from massive struggle. Isn't it breathtaking?
I'm writing to remind myself that sometimes being a mom is a massive struggle. Being a mom who runs a food blog can be a massive struggle. And I'm really just starting out, so what can I expect? A perfect hot air balloon? No. I get a butter-free couch. But I'm hoping that all those butter-free couches will add up to something extraordinary. A mosaic of clean things that will eventually unravel into a breathtaking life.
I edit Meier-Graefe's quote: Beautiful, victorious lives are trophies of massive struggle, and yes, tediousness.
What do you guys think? Is struggle prerequisite to beauty? I'd love to hear your thoughts on this.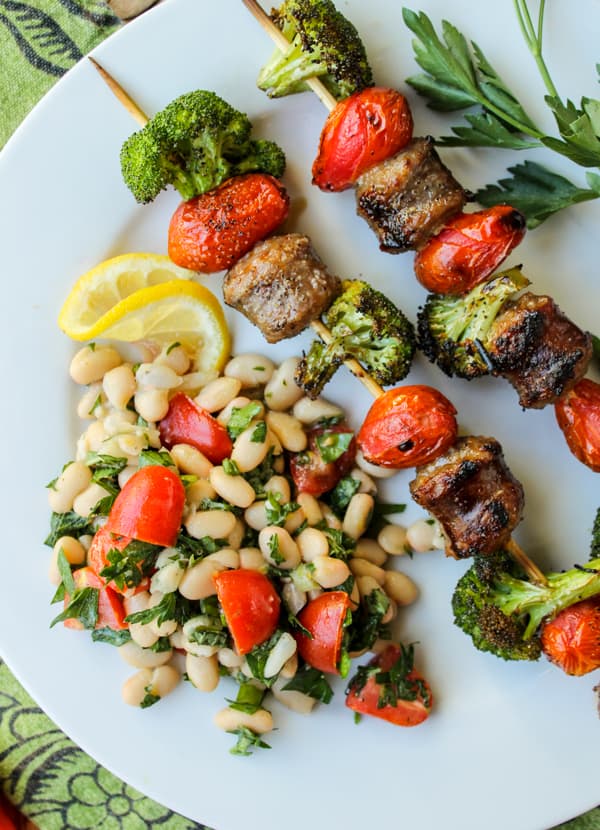 Real quick–these Easy Sausage and Broccoli Kebabs. It's a great weeknight meal. Buy good quality sausage. Why have I never grilled broccoli? It masks the terrible broccoli flavor. Perfect for me! Don't skip the roasted tomatoes, they are to die for! The White Bean Salad is quick and bright from the lemon zest. Change it up and add cilantro if you want, or all basil.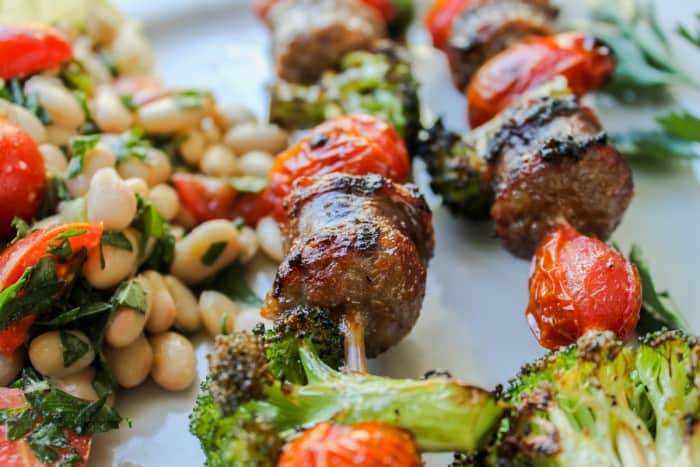 Do you guys give up? Or are you thirsty for more?
Facebook | Pinterest | Instagram | Twitter

Easy Sausage and Broccoli Kebabs with White Bean Salad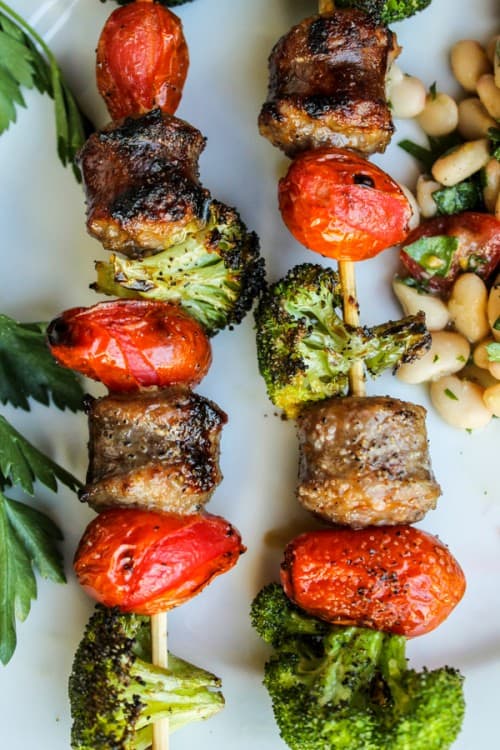 Easy weeknight grill dinner: these sausage and broccoli kebabs come together in about 30 minutes. Low-carb and freakishly delicious.
Ingredients
For the white bean salad:
2

10-oz packages

cherry tomatoes

1

lemon

,

zest and juice

1

tablespoon

olive oil

2

15-oz cans

cannellini beans

,

drained and rinsed

1/4

cup

flat-leaf parsley

,

fresh, roughly chopped

1/4

cup

basil leaves

,

fresh, roughly chopped

1

green onions

,

chopped

1/2

teaspoon

salt

1/2

teaspoon

pepper
For the kebabs:
2

teaspoons

olive oil

1/4

teaspoon

salt

1/4

teaspoon

pepper

1

pound

sweet Italian sausages

,

cut into bite-size pieces

12

ounces

broccoli

,

cut into large florets

8-10

skewers

,

soaked if they are made of wood
Instructions
Start by heating your grill to medium-high.

Roughly chop 1 package of the cherry tomatoes for the bean salad. You don't have to add all of them to the salad. Grill whatever you don't use. (Leave the ones for the grill whole).

Use a fine grater to zest about 2 teaspoons of lemon peel into a medium bowl. Squeeze the juice from the lemon in with the zest; about 3 tablespoons, give or take. Add 1 tablespoon olive oil and stir together.

Add the chopped tomatoes, beans, parsley, basil, and chopped green onions. Add 1/4 teaspoon each salt and pepper. Set aside.

In a large bowl, add 2 teaspoons olive oil and 1/4 teaspoon each salt and pepper. Toss in the sausage, broccoli, and whole tomatoes. Divide the meat and vegetables onto the skewers. (I actually just brushed the already-made kebabs with oil and sprinkled with salt and pepper.)

Grill for about 4 minutes, covered. Flip them and continue to grill for another 3-4 minutes.

Serve with the white bean salad.
Notes
You can add any herb you like to the white bean salad. All basil would be good, or cilantro.
Source: Woman's Day
Nutrition
Serving:
1
skewer
|
Calories:
269
kcal
|
Carbohydrates:
14
g
|
Protein:
20
g
|
Fat:
16
g
|
Saturated Fat:
5
g
|
Polyunsaturated Fat:
2
g
|
Monounsaturated Fat:
7
g
|
Cholesterol:
60
mg
|
Sodium:
1521
mg
|
Potassium:
569
mg
|
Fiber:
4
g
|
Sugar:
6
g
|
Vitamin A:
1129
IU
|
Vitamin C:
131
mg
|
Calcium:
83
mg
|
Iron:
12
mg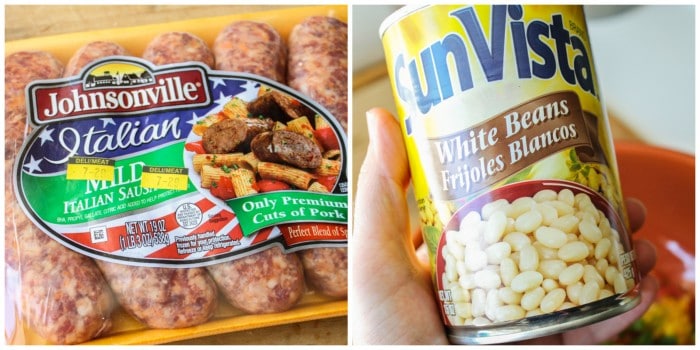 Use any kind of sausage you like. I think kielbasa would be good. Any kind of white bean will do.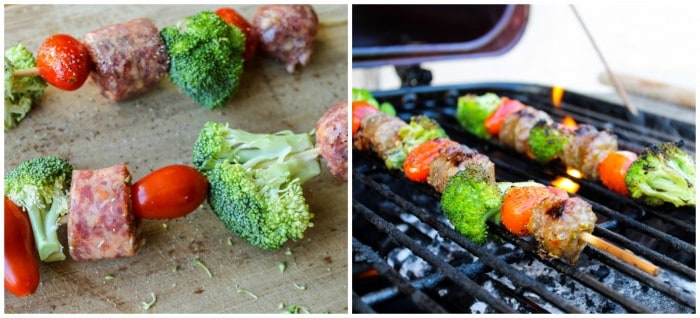 The broccoli stems tend to split when you put them on the skewers. None of mine fell off though, so don't stress about it.
More easy dinners: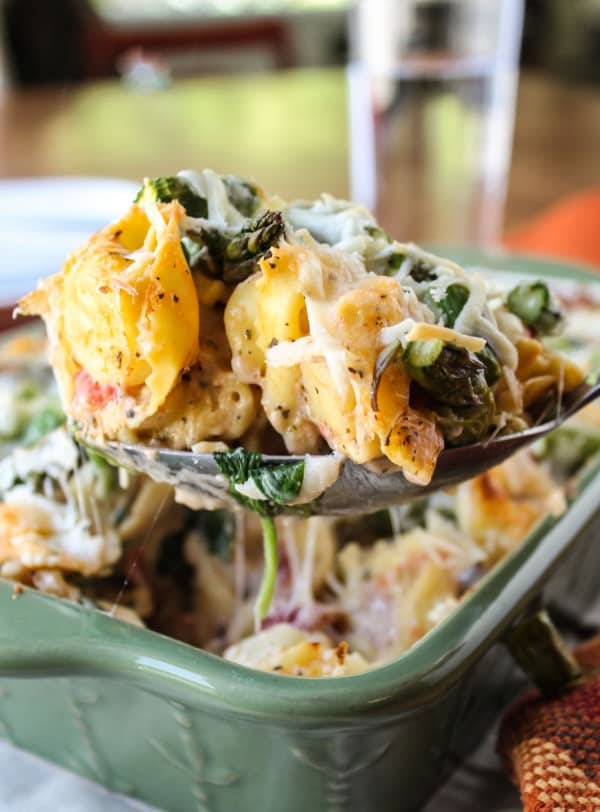 Easy Cheesy Asparagus Tortellini Bake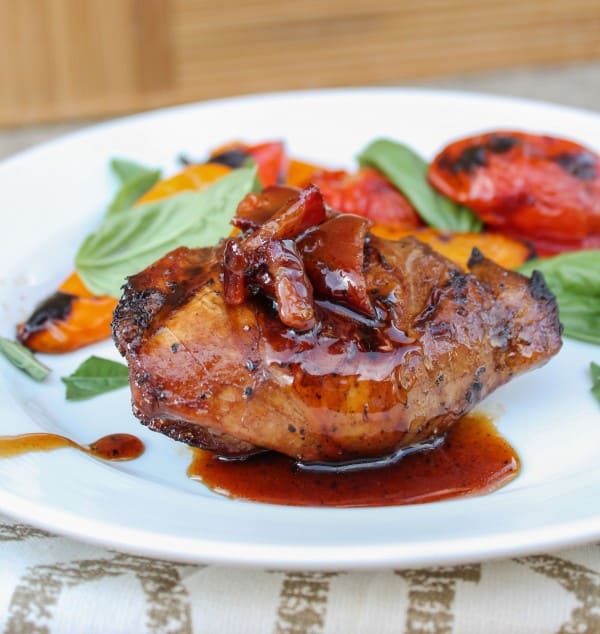 Balsamic Grilled Chicken with Spicy Honey Bacon Glaze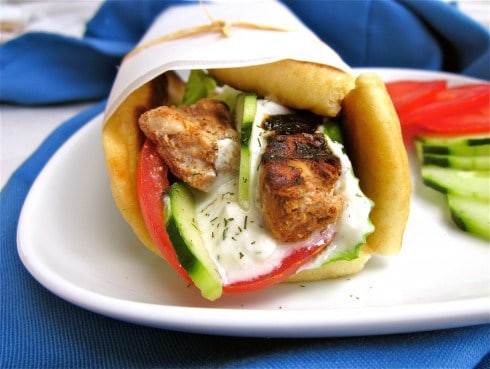 Chicken Shawarma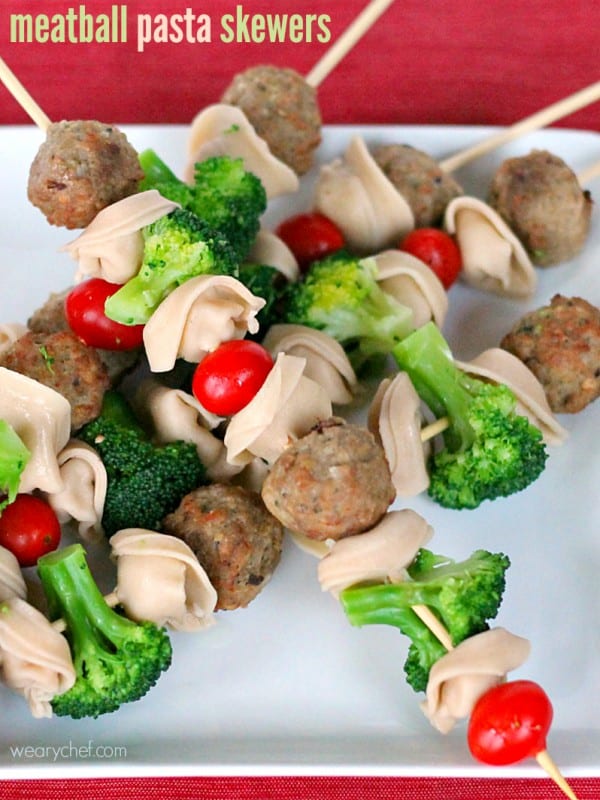 Check this one out by my friend Andi over at The Weary Chef–it's pretty similar to today's recipe. Great minds cook alike! :) Meatball and Pasta Skewers