This Citrus Herb Sheet Pan Salmon is paired with creamy scalloped potatoes and fresh asparagus to make a super easy, pretty healthy, and DELICIOUS one pan meal. Don't you just love sheet pan dinners?? They are so easy and there's only ONE DISH to wash! Originally posted December 29, 2017.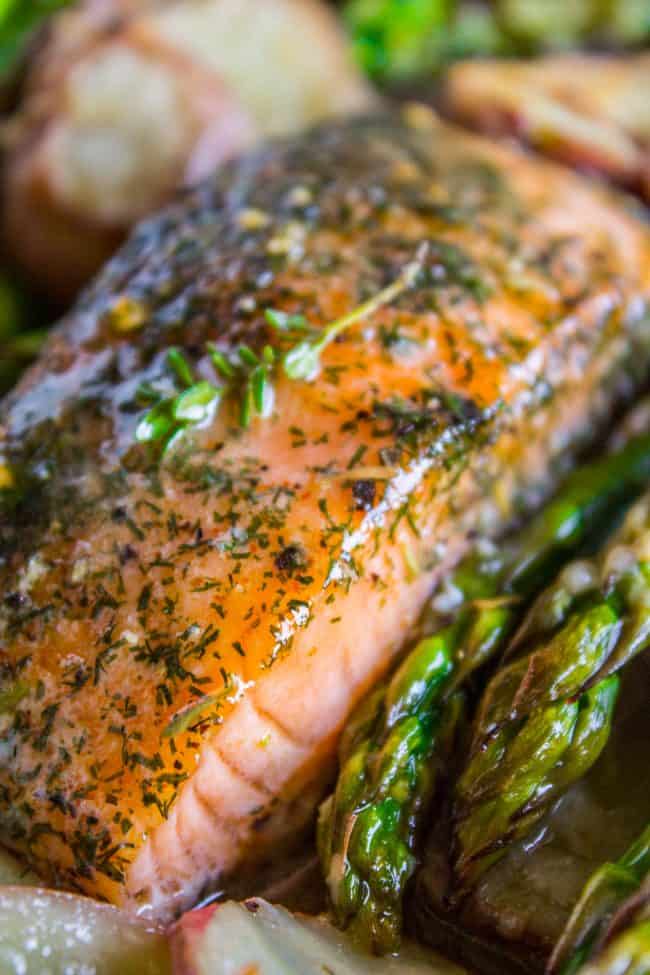 Yeah, that's right, I said "pretty healthy." I was going over the list of ingredients in this recipe to see if I could claim it as a healthy one (I do make an effort to keep you guys fitting in your underwear) when I saw the 1 and 1/4 cups cream. I asked Kris, my mother-in-law, who was sitting next to me, if I could call a recipe healthy when it has that much cream. She said, cream is real food! No preservatives! Unprocessed! That's totally healthy!
Guys. I'm taking it.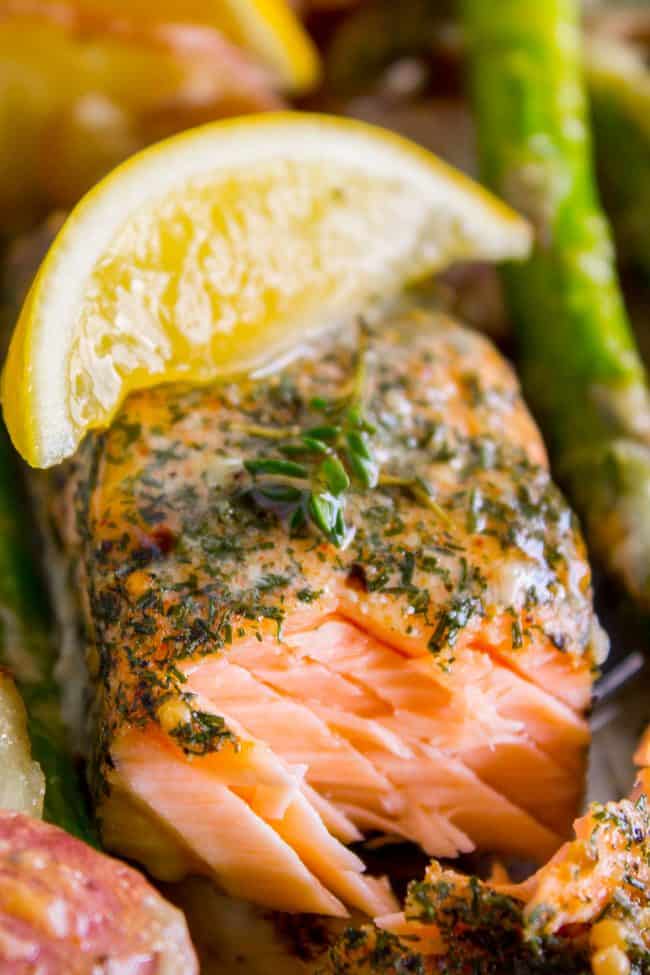 One of my friends said last week that they were on a diet–a cookie diet–and it was going rather well, thank you very much. Well I guess I was on the same diet, and it also went pretty well.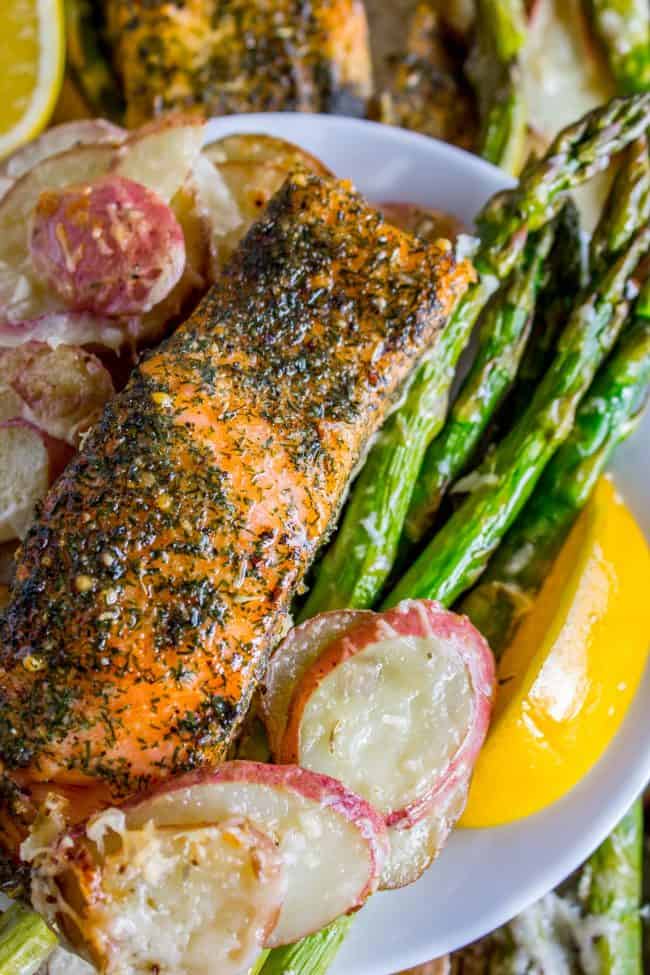 We spent the holidays with my in-laws Kris and Chip, up in Montana (I like to call it The Land of Perpetual Cold and Wind.) One night it got down to -23 at night. NEGATIVE, GUYS. With a wind chill that made it feel like -35. Not that I do any of the feeling. I made it my life mission to not leave the house. I usually do fairly well, and have to chide myself for yelling at people for opening the doors to go in or out of the house, even when they are making essential trips, like buying milk for my own children.)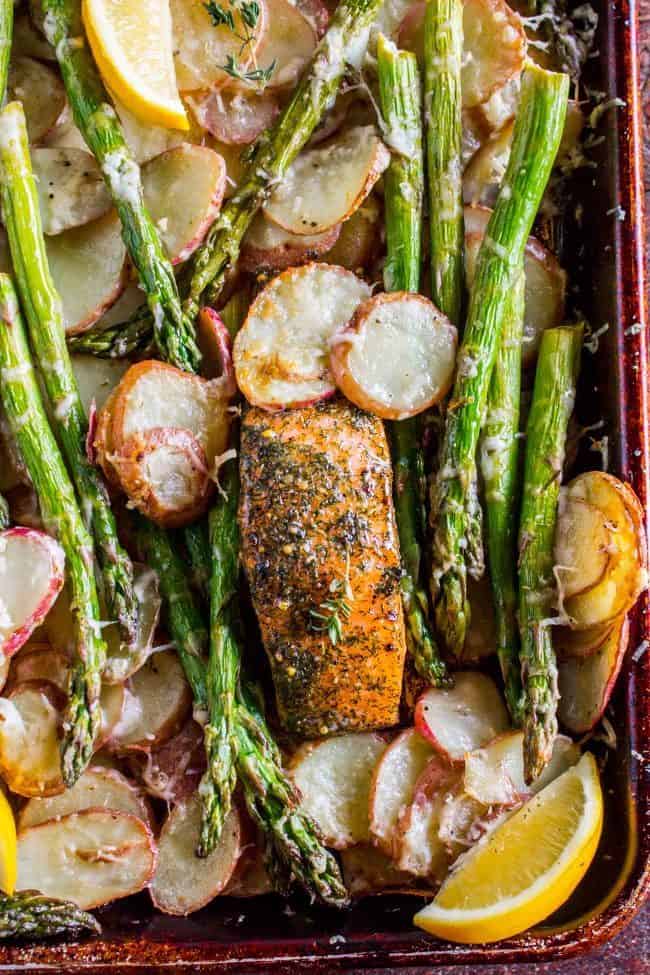 Anyway. Back to the cookie diet. We made 18 different kinds of cookies. Eric's family is Swedish and they do NOT mess around when it comes to cookie plates. We pass around the cookie plate and make hot chocolate every night after dinner, and eat them intermittently throughout the day…because it's always a good time for a cookie when you're on the cookie diet.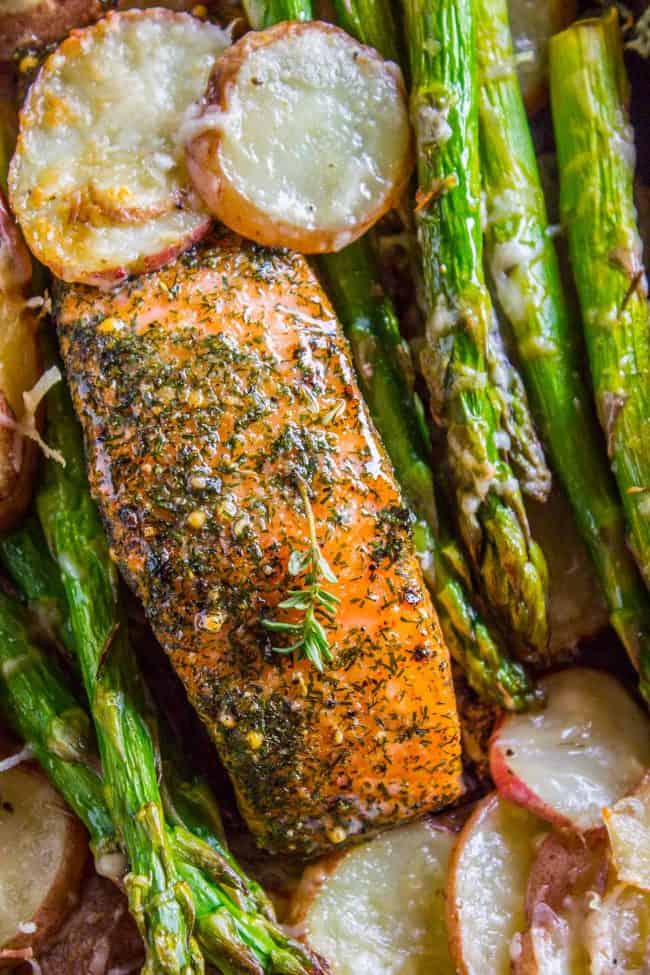 But the cookie diet's over. Now it's time for the healthy diet! With 1 and 1/4 cups cream! Because cream has no preservatives!
How to make Sheet Pan Salmon with Asparagus and Potatoes
In all honesty though, you can feel pretty good about this as a healthy recipe. Salmon is total brain food, right? And asparagus, hello. It's even green. I really loved this dinner. The combination of the salmon with the creamy-cheesy potatoes was killer, and rounded out perfectly with the asparagus. Sometimes I feel like sheet pan dinners can be a bit dry, so I made a Citrus Glaze to pour on after it's done baking (you also use it to prep the asparagus.) It was so good! You don't have to use all the citrus glaze….but I did.
How to prep scalloped potatoes
You want your potatoes sliced thin, like 1/8 inch, so that they cookie fast. <<(look at what I just typed. I meant to say cook fast. You can see we haven't quite recovered over here.)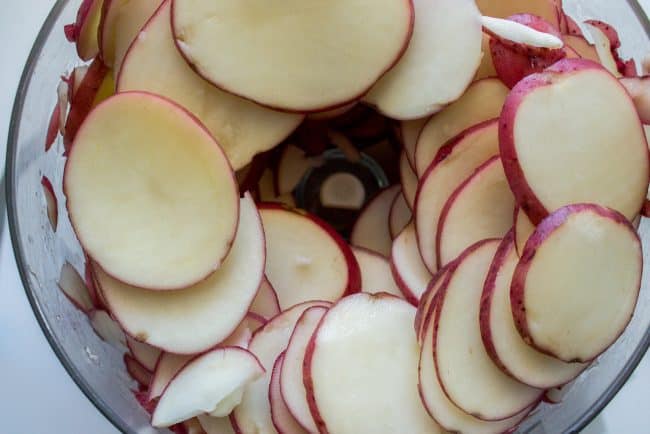 I think this is my new favorite way to prepare scalloped potatoes. Don't you always feel like scalloped potatoes take forever to bake? Here's my favorite recipe: Gruyere-Crisped Potatoes Au Gratin. I tweaked the recipe a bit, the main change being that I baked it on a sheet pan so it's done in 20 minutes instead of an hour. Awesome, right? No more waiting for creamy cheesy goodness!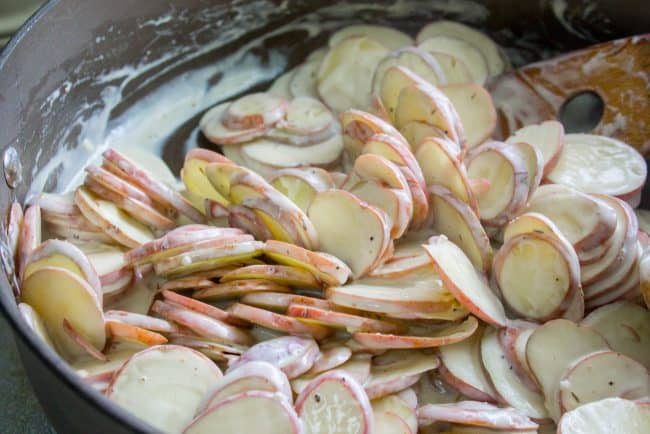 Par bake the potatoes.
Tips for this sheet pan salmon dinner recipe
I'm working with Sea Cuisine for this post! Their salmon is baked from frozen, and it is SO good. Plus it skips the pesky thawing step, my least favorite part of any recipe. I love the Citrus Herb Rubbed Salmon they have. Tons of flavor!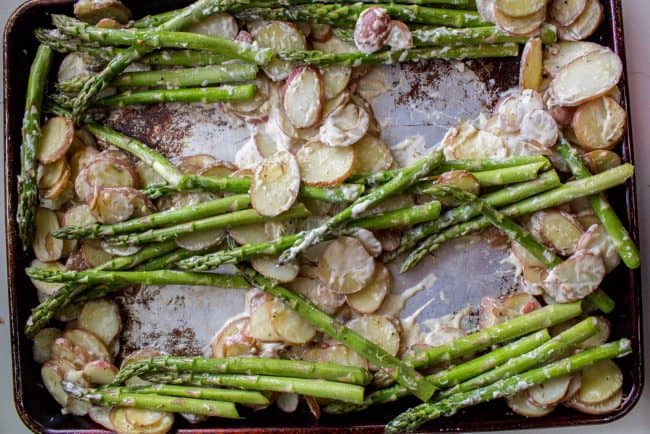 Make little wells for the salmon.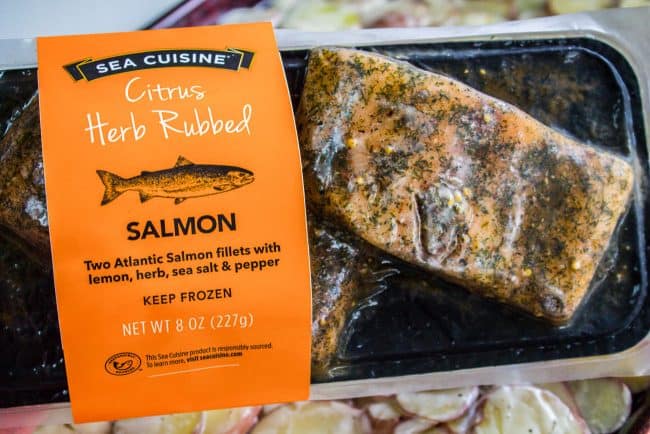 If you can't find Sea Cuisine, that's totally okay! Use regular frozen salmon and sprinkle generously with salt and pepper. You can also sprinkle with a little dried dill and parsley too, if you're feeling extra. But I promise, the citrus glaze will carry you through on flavor, even without the herbs.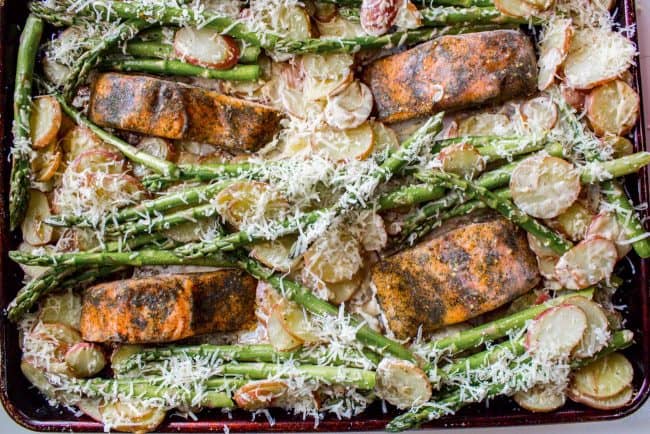 Then pop it in the oven.
If you can't justify buying asparagus right now, make this with a winter vegetable that roasts well, like broccolini, cauliflower, carrots, or Brussels sprouts. Look up the roasting time for the vegetable you are using and adjust the recipe accordingly. The salmon ought to be in the oven no more than 20 minutes.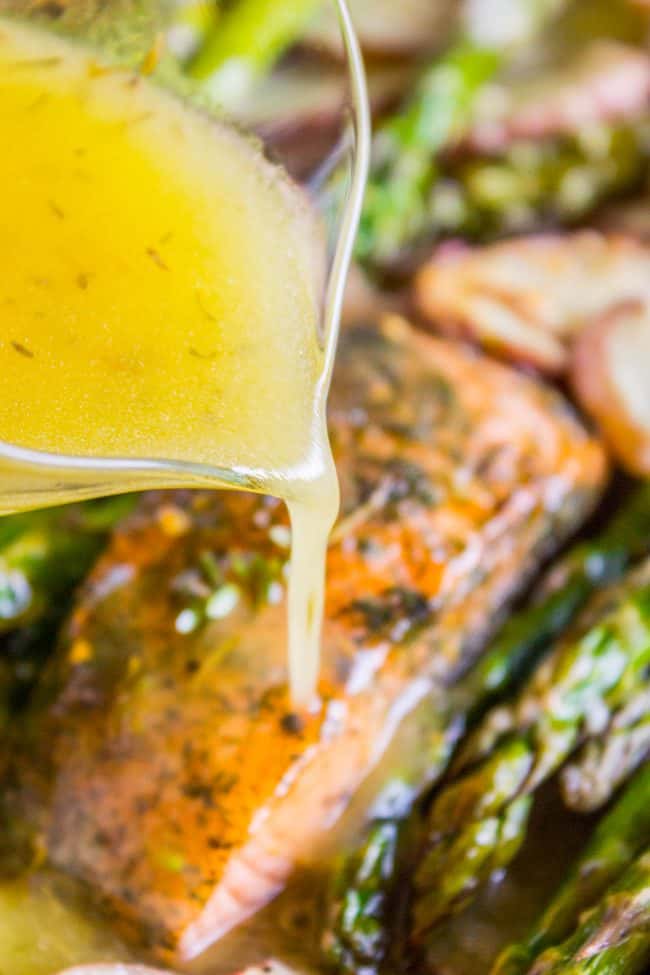 This post is sponsored by Sea Cuisine. Thanks for supporting the brands that keep The Food Charlatan chugging along! You guys are the best!
More salmon recipes you will love!
Sheet Pan Asian Salmon with Broccoli, Carrots, and Rice Noodles <<this one is so good!
Sheet Pan Honey Chipotle Crusted Salmon with Cauliflower Rice << this is a great January meal! Looove that cauliflower rice.
Honey Salmon with Browned Butter Lime Sauce: this recipe is insanely good.
Roasted Potatoes, Asparagus, and Salmon from Saving Room For Dessert
Easy Oven Baked Salmon from Foodness Gracious
Facebook | Pinterest | Instagram

Sheet Pan Salmon with Creamy Scalloped Potatoes and Asparagus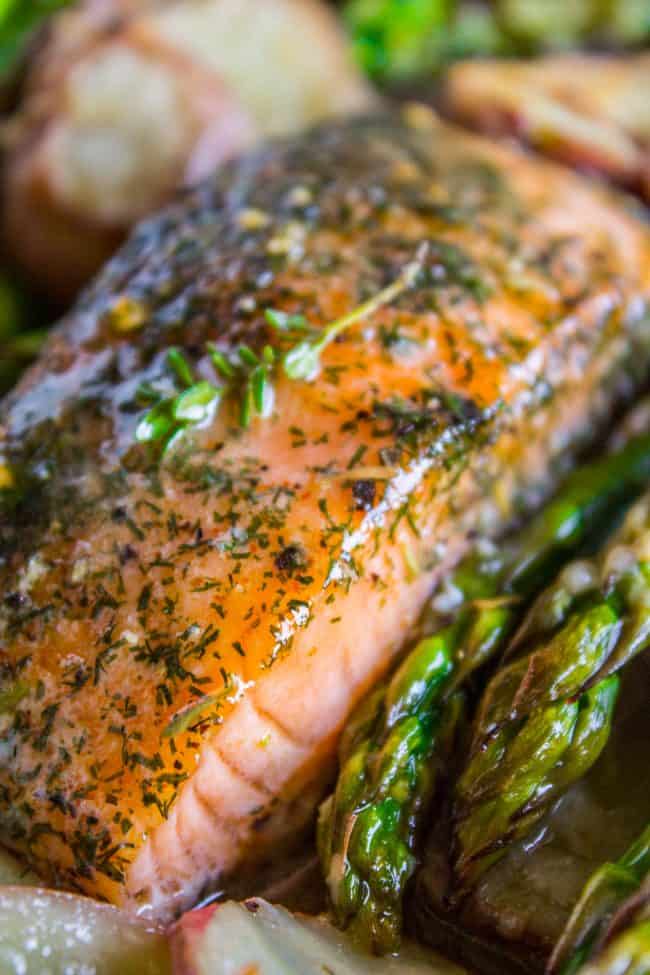 Don't you just love sheet pan dinners?? They are so easy and there's only ONE DISH to wash! This Citrus Herb Salmon is paired with creamy scalloped potatoes and fresh asparagus to make a super easy, pretty healthy, and DELICIOUS one pan meal.
Ingredients
For the potatoes
2

pounds

baby red potatoes

,

sliced thin

1 & 1/4

cups

cream

1/2

teaspoon

thyme

1/8

teaspoon

cayenne pepper

1/8 to 1/4

teaspoon

black pepper

1

teaspoon

salt

1

teaspoon

minced garlic
2

bunches

asparagus

,

2 lbs, trimmed
For the citrus glaze
1/4

cup

lemon juice

,

meyer* 1 large lemon

1/4

cup

orange juice

,

fresh, half a large orange

1/3

cup

olive oil

1/4

teaspoon

salt

black pepper

,

to taste

1/8

teaspoon

thyme

1-2

teaspoons

honey
1/2

cup

parmesan cheese

,

grated

16

ounces

Sea Cuisine Citrus Herb Rubbed Salmon

,

two packages, see note if you can't find this brand
Instructions
Wash the potatoes and slice them thin. (No need to peel) I use

my food processor

for this (the slicing attachment) and it takes about 1 minute. You could also

use a mandoline

if you have one.

Add the potatoes to a large skillet with the cream, 1/2 teaspoon thyme, 1/8 teaspoon cayenne pepper, black pepper, 1 teaspoon salt, and 1 teaspoon minced garlic (I just used the kind in the jar.)

Bring to a low boil over medium to medium high heat. Once it starts bubbling, lower the heat a bit and let it lightly simmer, stirring occasionally for about 2 minutes, until the cream has thickened. (The potatoes will still be hard.)

Add the potatoes and cream to the prepared baking sheet. Spread them out into an even layer and bake at 400 for 10 minutes.

Meanwhile prepare the asparagus. Wash the asparagus and snap off the tough ends. Set aside.

Now prepare the citrus glaze. In a medium bowl, add the lemon juice and the orange juice. Add the olive oil in a thin stream while whisking constantly. (This is called emulsifying. If you dump the oil in all at once, it will keep separating on you.) Add the 1/4 teaspoon salt, pepper, 1/8 teaspoon thyme, and honey to taste. Whisk it up.

Add the asparagus to the citrus glaze and make sure they all get coated (I used my hands).

When the potatoes have baked 10 minutes, take them out of the oven and lift the asparagus onto the pan.

(Don't add the citrus glaze. Transfer the glaze to a small serving dish with a pour spout, if you have one. Or a small bowl and ladle will do.)

Use a spoon or spatula to shift the potatoes and asparagus around so that some of the asparagus is touching the pan, and some of the potatoes are on top of the asparagus (see photos).

Sprinkle with parmesan cheese.

Make 4 "wells" or empty spots where you can fit the salmon. If the pan looks dry, spray the 4 salmon spots with nonstick spray.

Bake at 400 degrees for 20 minutes. You will know it's done with the potatoes are tender, the asparagus is crisp tender, and the salmon flakes easily.

Serve with the citrus glaze spooned over the top of the salmon, potatoes, and asparagus.
Notes
 *You can use a regular lemon! You may want to add a bit more honey. 
If you can't find Sea Cuisine salmon, you can use regular frozen salmon! Make sure to sprinkle with salt and pepper. You can even add your own herbs if you like (dill, parsley), but the citrus glaze has you covered on flavor pretty well. 
Nutrition
Serving:
1
g
|
Calories:
741
kcal
|
Carbohydrates:
28
g
|
Protein:
35
g
|
Fat:
56
g
|
Saturated Fat:
23
g
|
Polyunsaturated Fat:
6
g
|
Monounsaturated Fat:
24
g
|
Cholesterol:
173
mg
|
Sodium:
1024
mg
|
Potassium:
1474
mg
|
Fiber:
6
g
|
Sugar:
9
g
|
Vitamin A:
3016
IU
|
Vitamin C:
34
mg
|
Calcium:
278
mg
|
Iron:
7
mg