These Traditional Tejano Pinto Beans are the perfect blend of Southern and Mexican pinto beans styles. Tenderly slow cooked with a ham hock and jalapeños, the lime adds a little twist. Perfect for a burrito, these beans will make you feel like you are in Texas, and really, what more could you ask for? Originally posted February 20, 2015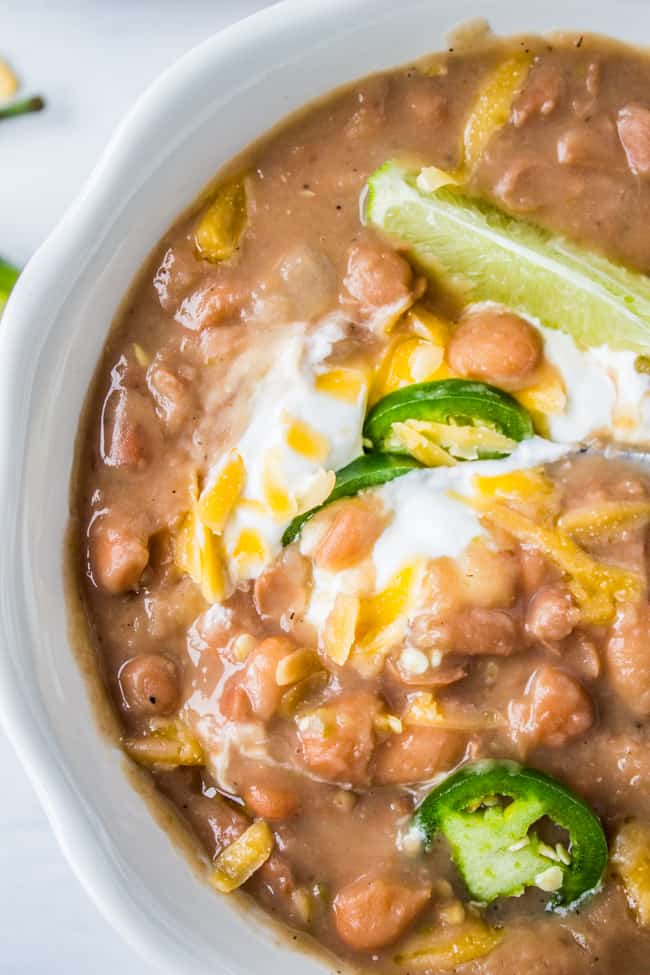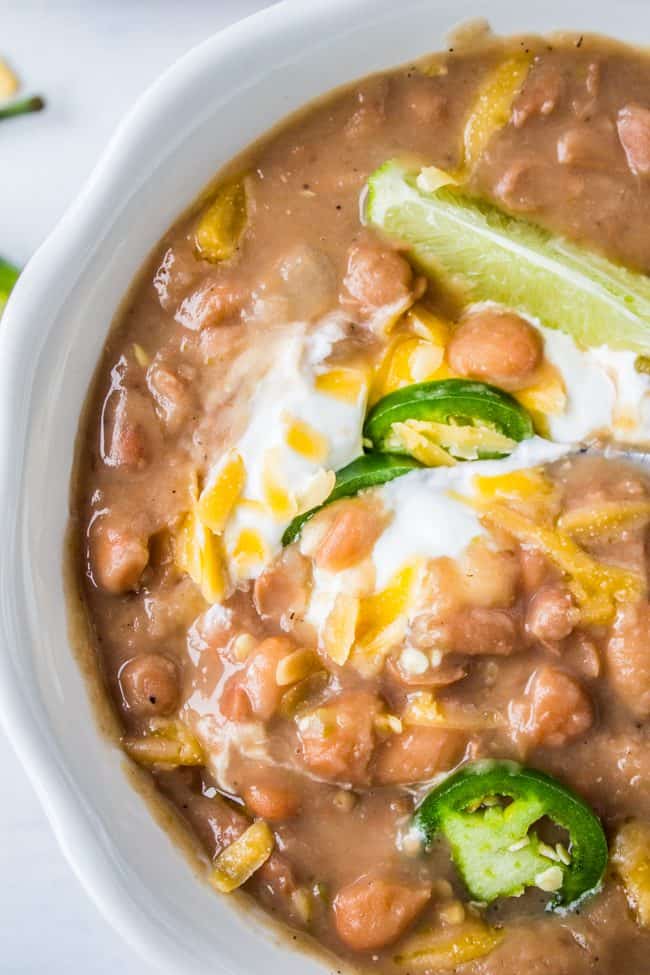 Table of Contents
On Monday Eric and I brought the kids to Muir Woods in the Bay Area with his parents who are visiting. We went on a beautiful hike in the Redwoods, and pretended we were Luke and Leia blasting Stormtroopers with Ewoks. I mean, Redwoods are great, but Redwoods + Star Wars? Better. Definitely better.
For being a scrawny 4-year-old little girl, Charlotte is a pretty hardcore hiker. She did the whole 3-4 mile hike on her own, with no meltdowns and only minimal candy bribing. In other words, a complete success.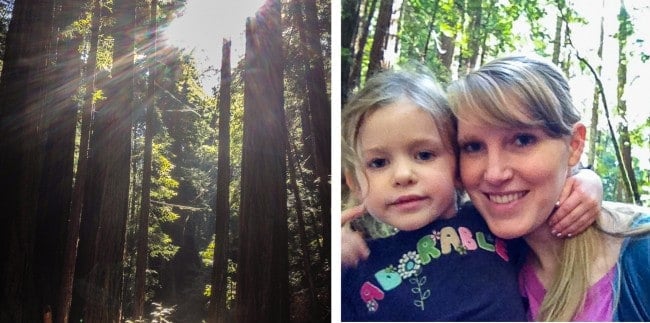 Actually, the only time she cried was when I squirted her in the face with a blast of cold water. Gotta keep these kids in line…oh my gosh, I'm joking. It was an accident, I swear! I was trying to let her sip from my Camelbak. The minute I took the cap off it blasted her in the face. Of course I started busting up laughing and I had to hide my face while she sobbed into my shoulder. Such a sympathetic mother. Seeing someone get squirted in the face is funny, ok? Even if they are 4.
Traditional Tejano Pinto Beans
Eric's family is Swedish, and it's been really fun to get into their food traditions over the years. Swedish Meatballs, Butter Pecans, Spritz cookies…so much good stuff. My sister Laura married into a family from southern Texas, and the only reason I'm not jealous is because she shares all their awesome Tejano recipes with me. (Tejano meaning Mexican-American-Southern-Texan cuisine.)
Over Christmas, my whole family got together at my parents house for a couple weeks…all 25 of us. On my sister Laura's night to cook, she made us this awesome dinner with this Carne Guisada, guacamole, rice…and these beans. These amazing, delicious beans. We could not stop talking about them.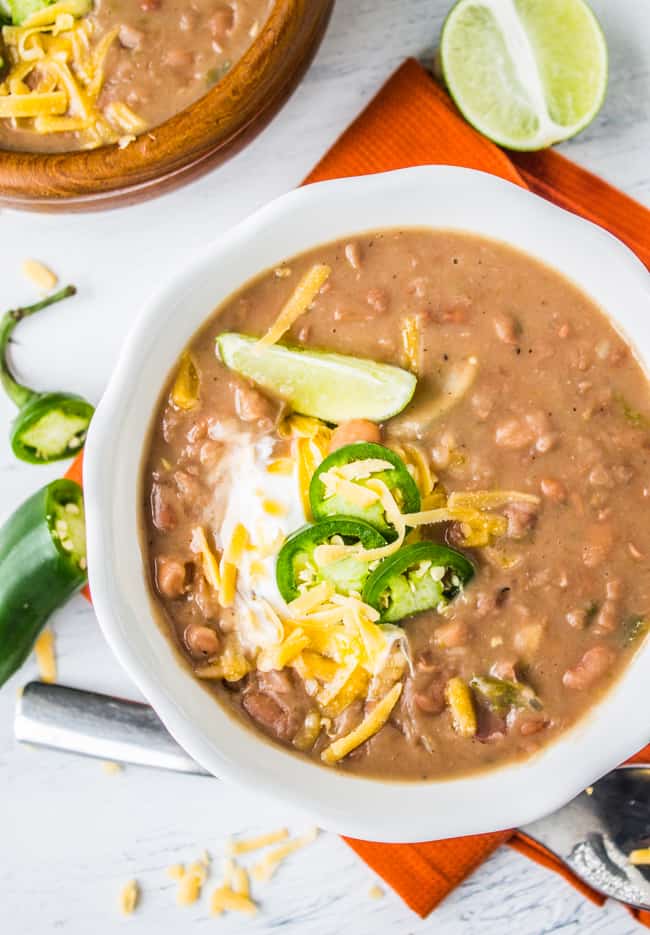 What are Tejano Beans?
Tejano beans are Mexican-American-Southern-Texan beans. They're a mashup of Mexican-style pinto beans and Southern-style pinto beans…and they're SO good.
Ingredients for Mexican Pinto Beans
Scroll down to the recipe card below for the full recipe!
Dry pinto beans
Garlic (fresh garlic or garlic powder)
Onion
Sugar
Chicken bouillon
Jalapeños
Ham bone (or ham hock)
Salt and pepper
Limes (optional)
How to Cook Pinto Beans Mexican Style
The recipe is from my brother-in-law Adam's grandma, who came from a long line of Tejanos, so it's about as authentic as you can get. His whole family lovingly calls them "Grandma's Beans." I'm a little bit obsessed with them. The ham bone gives it that rich Southern pork-and-beans feel, but then you add the jalapeno, garlic, and lime wedges and it gives it this great Mexican twist.
They are meant to be a side dish, but if you want to slap them in a tortilla I won't judge you. (I personally eat them with a shovel.) Hopefully you can tell from the photos that these beans are meant to be more wet than dry. They're not the same consistency as refried beans. Adam's family calls it "bean gravy."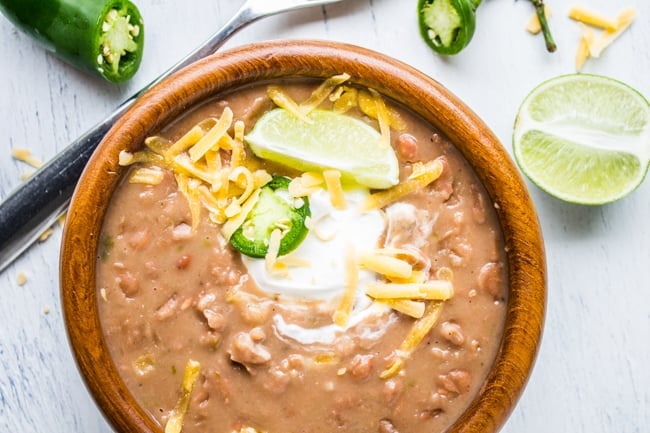 These beans are easy to make, and there is very minimal chopping, but they do take a while. There's just no getting around the fact that beans take a while to cook, and using canned beans as a substitute just doesn't give the same flavor. They are already cooked, and so there is no way for them to soak up the other flavors in the pot. I've provided 3 cooking methods below: stovetop, crock pot, and quick crock pot.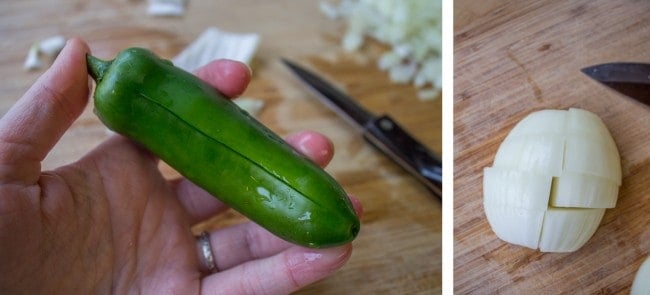 To add the heat, you don't need to chop the jalapeño, just slit it on both sides like this and toss it in whole. Don't fuss about dicing the onion, just slice it a few times. It will cook down.
Pair these with the Carne Guisada recipe I mentioned–best burritos of my life! (Special thanks to Laura for putting up with my incessant texting the day I made this. You rock. Way to share the Tejano wealth.)
Mexican Pinto Beans Crock Pot Tips
Be kind to your body. If you have had intestinal issues in the past from beans, then I recommend soaking them overnight (and discarding the soak water), OR boiling them and simmering for 30 minutes as described in the "Quick" slow cooker method below.
Wait to add salt. Adding salt after all of the flavor from the ham hock and jalapeños has cooked into the beans means you can add just the right amount. "Salt to taste" is the idea here.
Check the beans for doneness. Don't settle for hard or chalky beans! If they need more time, keep them simmering. On the other hand, don't cook them down until they're the consistency of refried beans. These aren't meant to be a homogenous mass, but delicious beans in equally delicious bean gravy.
How to Store this Mexican Pinto Beans Recipe
These Mexican beans will last in the fridge for up to 4 days. To reheat them, warm them on low on the stove (or in the microwave) until heated through.
FAQs for this Pinto Beans Recipe Mexican Style
Can I use canned beans?
Sure you can use canned beans, if you hate flavor! Sorry not sorry guys. Canned beans are already cooked, and there's no way for the amazing flavors of ham, jalapeños, onions, and garlic to soak in. Also, they would be complete mush before you can say "Tejano." The fastest way to cook this recipe is on the stovetop and takes 2-3 hours, but it's definitely worth it.
Are pinto beans and refried beans the same?
No. Refried beans are a recipe that is traditionally made using pinto beans, but pinto beans are an actual variety of bean that can be used in a number of different ways. Not the same thing!
Are there different types of pinto beans?
Yes. As with most beans, there are a few different varieties of pinto beans. However, all serve the same purpose in this recipe.
Are frijoles the same as pinto beans?
"Frijoles" is the Spanish word for "beans." In Spanish, pinto beans are called "frijoles pintos". There are many varieties of "frijoles" since "frijoles" just means beans.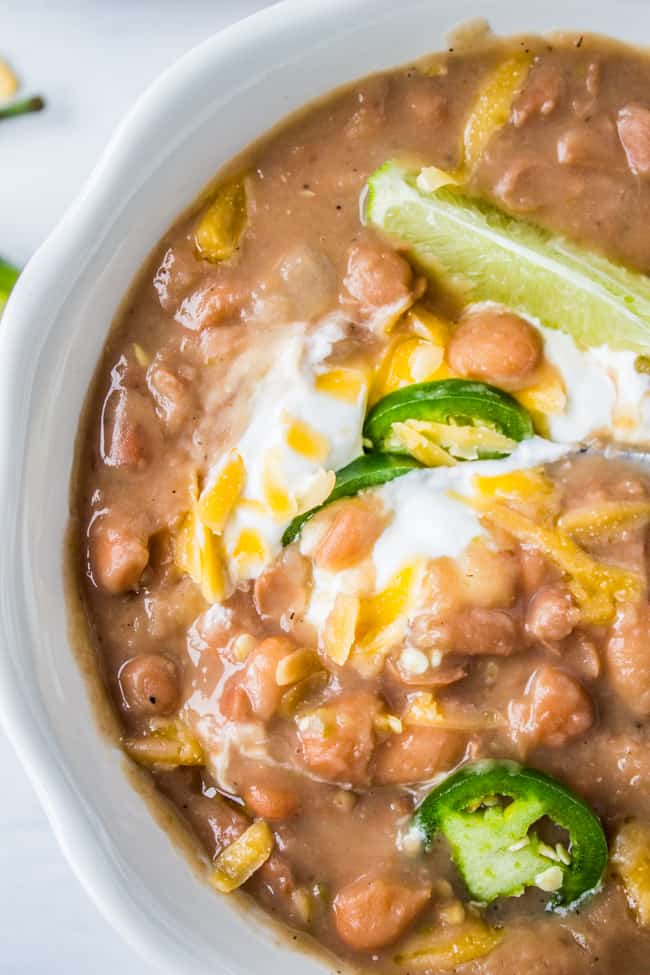 More great south of the border style recipes you will love:
Beans, Beans, and more Beans!
Facebook | Pinterest | Instagram

Traditional Tejano Beans (Mexican Pinto Beans)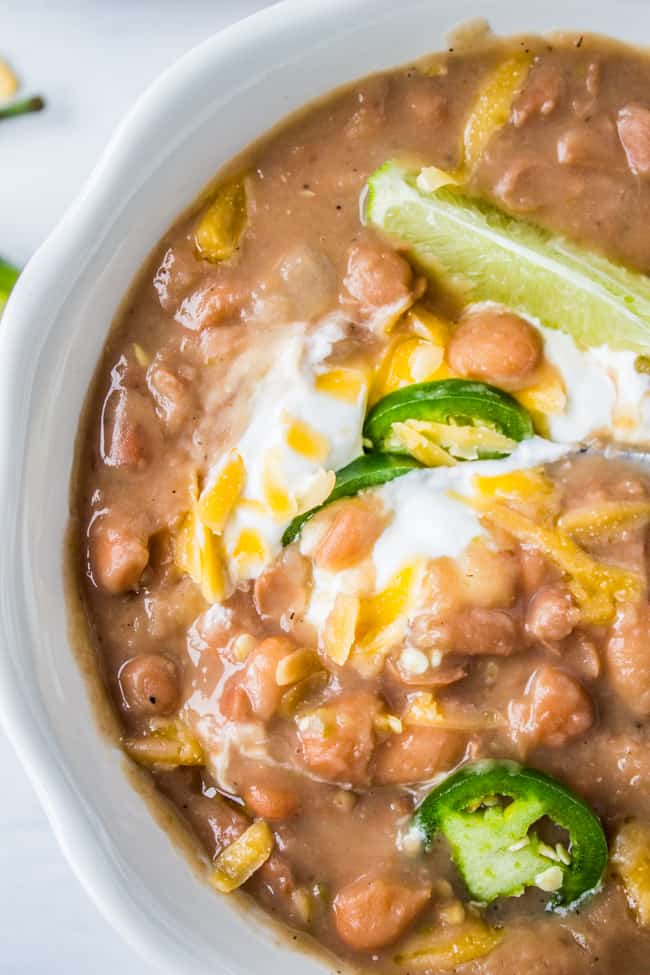 These Traditional Tejano Pinto Beans are the perfect blend of Southern and Mexican pinto beans styles. Tenderly slow cooked with a ham hock and jalapeños, the lime adds a little twist. Perfect for a burrito, these beans will make you feel like you are in Texas, and really, what more could you ask for?
Ingredients
4

cups

dry pinto beans

12

cups

water

,

12 cups for stovetop version; see crock pot instructions for water amounts

2

cloves

garlic

,

peeled and smashed (or 1 tablespoon garlic powder)

1

medium

onion

,

very roughly chopped

1

tablespoon

sugar

1

teaspoon

chicken bouillon

,

good quality

1

jalapenos

,

left whole, but with a slit cut on two sides

1

ham bone

,

or ham hock*

Salt and pepper

,

to taste

lime wedges

,

fresh, to garnish
Instructions
Stovetop Instructions:
Rinse the dry beans in a colander. Put them in a large stock pot and add 12 cups water.

Bring to a boil, then turn down the heat to a medium-low simmer.

Add the garlic, onion, sugar, chicken bouillon, jalapeno/s, and ham bone. Bring to a boil again and then reduce the heat to medium low.

Simmer on medium low with the lid on but vented. (Tilted so that it's not sealed) Stir occasionally.

Cook for 2-3 hours. After about an hour and a half, add salt so that it can absorb into the beans as they finish cooking. I added somewhere between 2-3 teaspoons, but taste as you go. The beans will continue to absorb the salt as they finish cooking, so be cautious.

Continue cooking until the beans are tender. Taste them ; if the beans are still hard or chalky, keep simmering. Don't wait until the liquid has cooked off so much that they look like refried beans–you want plenty of bean gravy.

Remove the ham bone and discard (if there is any meat on it, chop it and add it to the pot).

Add salt and pepper to taste. Garnish with fresh limes.
Slow cooker instructions:
Rinse the dry beans in a colander.* Add to a crock pot, then fill the pot with water until it reaches 2 inches above the beans. Add all the other ingredients except the salt.

Cook on low for 6-8 hours. Start checking at 6 hours and taste. Add the salt for the last hour of cooking.

Remove the ham bone and discard (if there is any meat on it, chop it and add it to the pot).

Garnish with limes.
Quick Slow Cooker Instructions:
Fill your crock pot about 1/3 of the way with water. Turn the crock pot to high and put on the lid. Set aside.

Put the rinsed beans in a large stock pot and add water 1 and 1/2 inches above the beans.

Bring to a boil, then turn down the heat to medium and simmer for about 30 minutes.

Pour the beans into a colander and strain well.

Add the beans to the crock pot with the heated water. Add the rest of the ingredients, excluding the salt. When all the ingredients are added, check the water level. The water should be about 1 and 1/2 inches above the beans. Add or remove water accordingly.

Cook on high for 4-5 hours, adding the salt for the last hour or so.

Remove the ham bone and discard (if there is any meat on it, chop it and add it to the pot).

Season with pepper to taste, garnish with limes.
Notes
If you are in a pinch you can use 6-8 slices of bacon (not chopped) instead of the ham bone/hock. Discard when the beans are done.
This makes a HUGE pot of beans, so 1 jalapeno does not make them very spicy, even left whole with the ribs and seeds. It just lends great flavor with enough spice to keep it interesting. 2 would definitely make it spicy.
*If you have had intestinal issues in the past from beans, then I recommend soaking them overnight (and discarding the soak water), OR boiling them and simmering for 30 minutes as described in the "Quick" slow cooker method.
Nutrition
Serving:
1
bowl
|
Calories:
278
kcal
|
Carbohydrates:
51
g
|
Protein:
17
g
|
Fat:
1
g
|
Saturated Fat:
1
g
|
Polyunsaturated Fat:
1
g
|
Monounsaturated Fat:
1
g
|
Sodium:
26
mg
|
Potassium:
1097
mg
|
Fiber:
12
g
|
Sugar:
3
g
|
Vitamin A:
15
IU
|
Vitamin C:
8
mg
|
Calcium:
100
mg
|
Iron:
4
mg