This flavorful Asian salad features shredded cabbage, green onions, cilantro and the best part of all: a crispy fish shortcut. Top it all off with a tangy dressing and a mixture of dry ramen noodles, almonds, and sesame seeds baked in butter until super crunchy.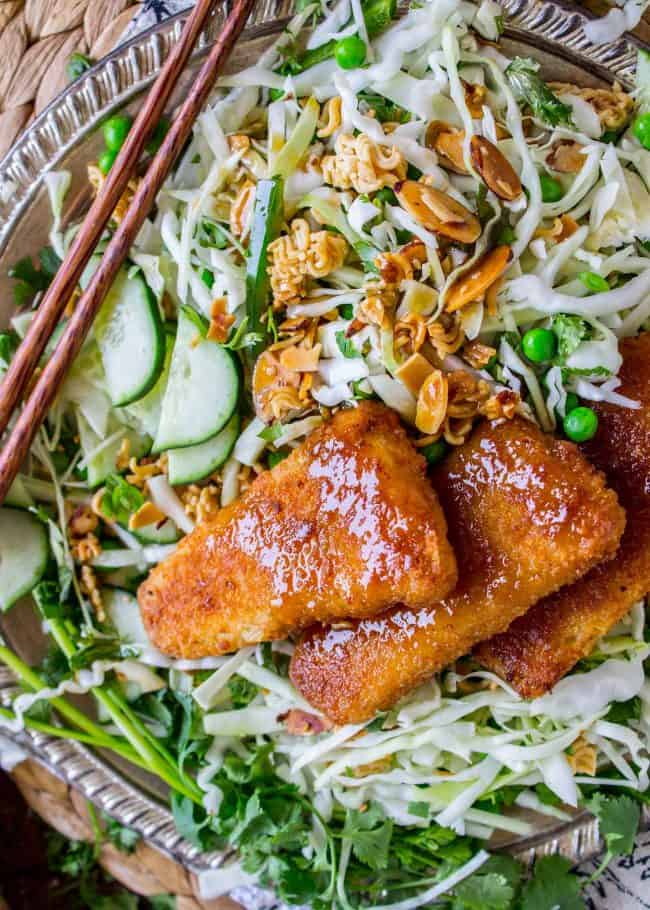 Eric and I went out for Japanese the other night. When they brought out the food, I had to ask the waiter for a fork, hanging my head in shame. Chop sticking is hard, okay??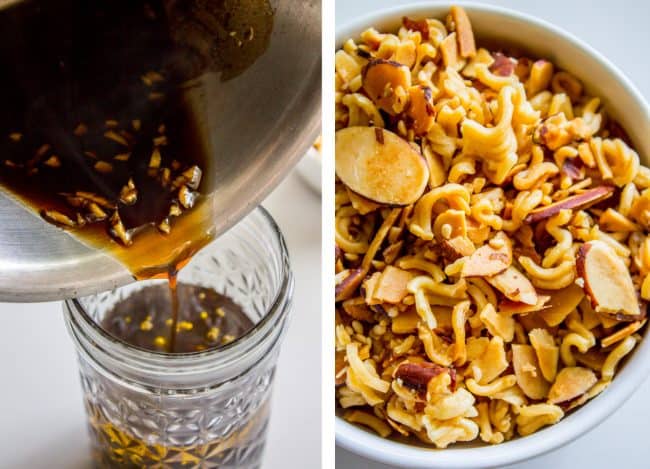 Do you like Japanese food? Eric's been begging me to go. I am just not into it. Sushi to me feels like I'm eating a giant eel that's hard to chew, and all I can think while I'm chewing is, I could be eating pizza right now.
I didn't even order sushi, that's how lame of a Japanese restaurant attendee I am. I ordered Tonkatsu on a friend's recommendation, and I didn't love it. I know, I know, what a lame friend, right? (Just kidding Sarah.) Sarah loves Japanese food. Which is perfect for her, because she just moved to Japan (for real, her husband's in the military).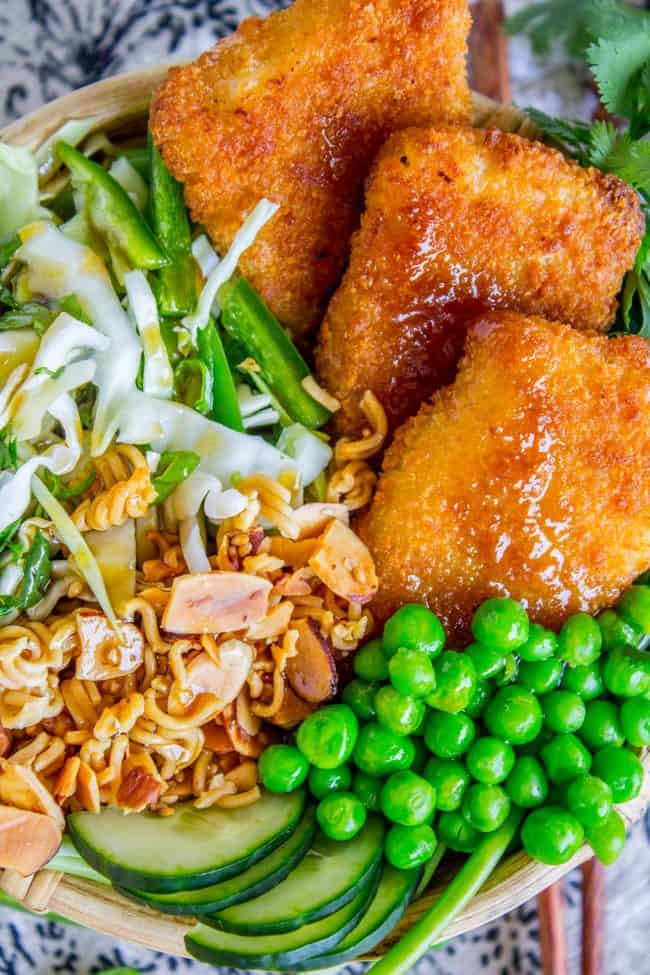 The chopsticks in these photos are a total sham, of course. Basically they exist in my house only so that my kids can steal them out of the drawers every now and then to sword fight with them. Then I make them put them back for the next time we eat sushi. Just kidding. They will stay there until the next time they feel inclined to have a mini sword fight, or the next time I want to try to make my Asian salad look more authentic. Because sushi never happens at our house. I like my fish fried breaded and baked thankyouverymuch. Like this: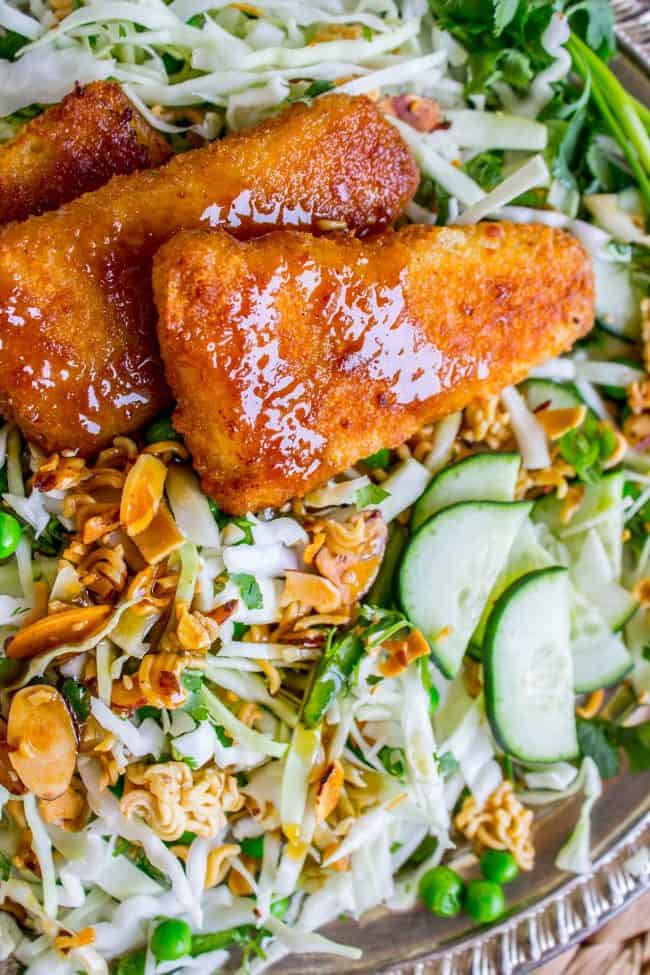 I'm not claiming this salad as Japanese food, by the way. And I'm not even sure calling this an Asian salad justifies the use of chop sticks. (Am I that annoying American who doesn't know anything? Kind of like how the president played "Edelweiss" for the Austrian ambassador one time, only to find out that that's not even an Austrian song, it was just written for the Sound of Music? Yup, I think that's me.)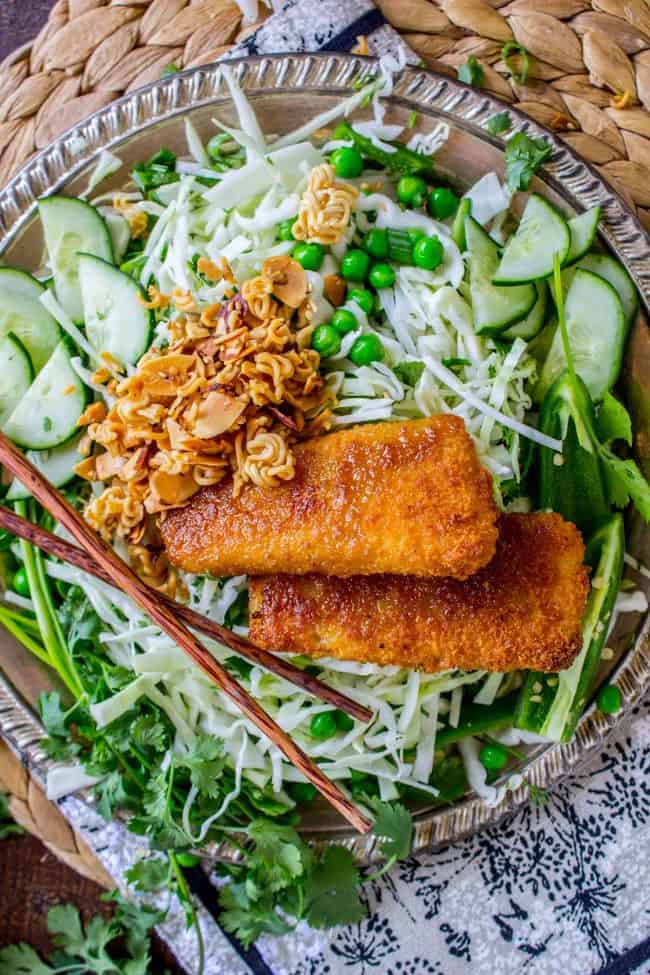 What I DO know is that this salad is amazing in every single way, no matter how many forks or mini swords you use to eat it. I've talked before about how much I don't love salad, but today is a huge, glorious exception. Delicious crispy fish paired with crunchy cabbage, tons of cilantro and some peas to round it out.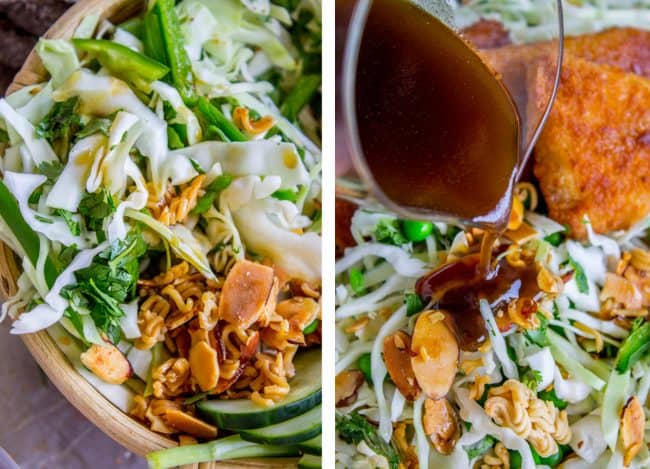 The best part are the crunchies though. You take some dry ramen noodles, mix it with almonds and sesame seeds, and bake it in some butter. It's sooo good and I could eat it all by itself. But it's even better with everything all mixed together and topped with a tangy 5-ingredient dressing. Here's a quick refresher on how to shred cabbage. You could totally buy a bag of angel hair cabbage at the store too, to make this even faster!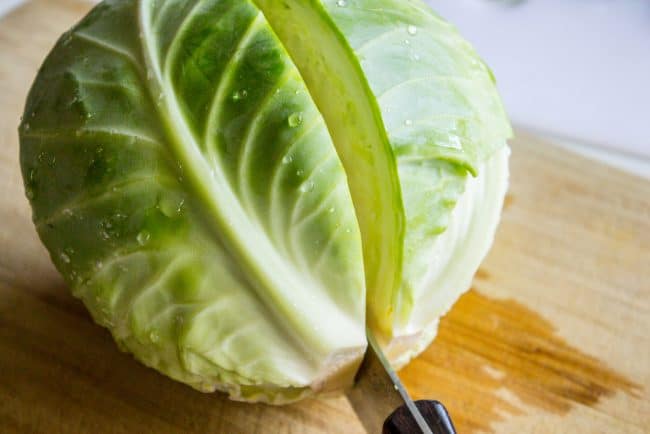 I love using Gorton's filets as a quick short cut for dinner. (I'm all about the shortcuts lately!) They are SO good and so fast, and an easy way to get more fish in our diet. I always have some in the freezer for last minute dinners. Click here and here for some other recipe ideas using Gorton's!
Facebook | Pinterest | Instagram | Twitter

One year ago: My Favorite Caramel Sauce <it's the best.
Two years ago: Cream Cheese Pumpkin Puffs
Three years ago: Curried Chicken Salad Sandwiches with Naan

Crunchy Asian Cabbage Salad with Crispy Fish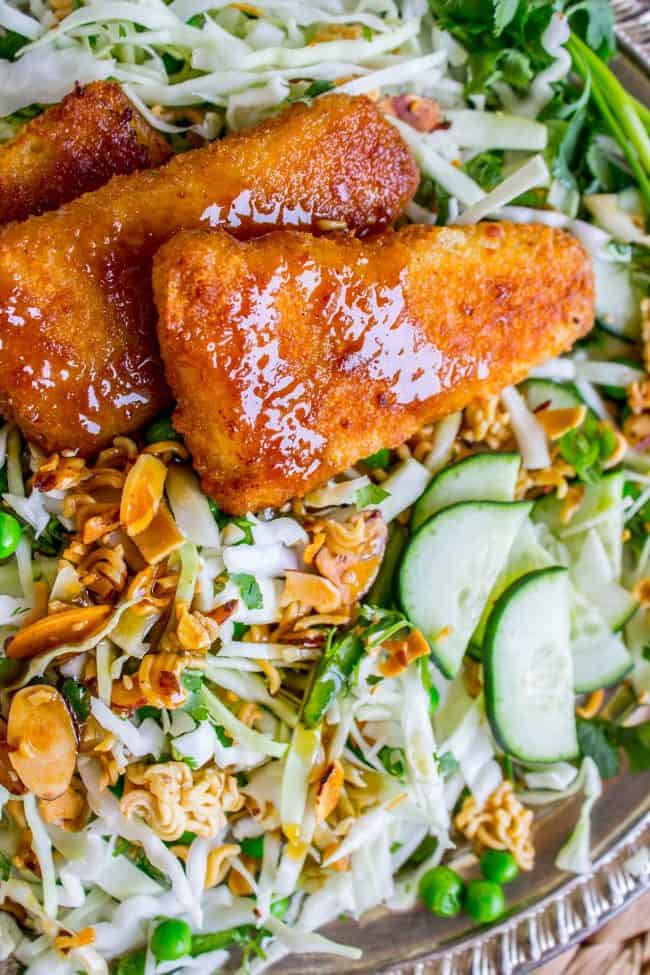 This flavorful Asian salad features shredded cabbage, green onions, cilantro and the best part of all: a crispy fish shortcut. Top it all off with a tangy dressing and a super crunchy mixture of dry ramen noodles, almonds, and sesame seeds baked in butter.
Ingredients
For the dressing
1/4

cup

apple cider vinegar

3/4

cup

olive oil

1/2

cup

white sugar

2

tablespoons

soy sauce

1

teaspoon

minced ginger

,

optional
For the crunchies
1/3

cup

butter

2 (3-oz)

packages

Ramen Noodles,

broken into small pieces but not pulverized

1

cup

sliced almonds

2

tablespoons

Sesame Seeds
To assemble
1 (19-oz)

package

Gorton's Crunchy Breaded Fish Fillets

1

head

Napa cabbage

,

shredded

1

small bunch

cilantro

,

chopped

1

small bunch

green onions

,

chopped

1-2

jalapenos

,

seeded and sliced into strips

1

small

cucumber

,

sliced

1 to 2

cups

frozen peas

,

thawed
Instructions
Preheat your oven to 350 degrees F. Now is a good time to get the peas out of the freezer so they can thaw out.

Start with the dressing: In a small pot over high heat, stir together the apple cider vinegar, olive oil, sugar, and soy sauce. Once the mixture has come to a boil, cook for about 30 seconds until the sugar has dissolved. Add the minced ginger and then remove from heat. Transfer to a mason jar or tight tupperware, and store in the fridge until cool.

Make the crunchies: Melt the butter in the same pot you made the dressing in, or melt in a medium mixing bowl in the microwave.

Use your hands to break up the ramen noodles BEFORE you open the package. You want small chunks, it shouldn't be crushed to a powder or anything. Open the package and throw away the spice packet that is usually inside.

Add the dry ramen noodles, sesame seeds and almonds into the pot with the melted butter and stir. Spoon the mixture onto a baking sheet and spread out into one layer. You can line the pan with foil for easy cleanup if you want.

Bake the ramen noodles and almonds for about 5 minutes. Open the oven and use a spatula to stir the pan. Bake for another 2 minutes, then stir again. Repeat until the noodles and almonds are slightly toasted and light brown. The total time in the oven is about 10-12 minutes. Be careful and keep an eye on it, it can go from browned to burned real quick. Transfer the noodles to a bowl and set aside.

Turn the oven up to 400 degrees F. Lay the frozen fish filets in a single layer on the same pan (making sure you get all noodle and almond remnants off, you don't want them to burn.)

Bake the fish according to package instructions (12 minutes on one side, then flip and cook another 10-12 minutes.)

Meanwhile, prep the salad. Shred the cabbage into thin strips (see photos). Chop the cilantro, green onions, jalapenos, and cucumber. Combine cabbage, cilantro, green onions, jalapenos, cucumbers, and thawed peas in a large bowl.

If you are pretty confident that you will eat all of the salad right away, then toss the ramen noodles and almonds in with the salad. Toss with dressing. (You don't have to use all the dressing). Top each plate of salad with 1-2 fish filets.

If you think you will have leftovers, let each guest top their own salad with ramen and dressing individually. (Otherwise it gets soggy.)

Store crunchy ramen in a tupperware on the counter. Store the dressing and leftover salad in the fridge.
Nutrition
Serving:
1
g
|
Calories:
1336
kcal
|
Carbohydrates:
80
g
|
Protein:
50
g
|
Fat:
95
g
|
Saturated Fat:
22
g
|
Polyunsaturated Fat:
14
g
|
Monounsaturated Fat:
55
g
|
Trans Fat:
1
g
|
Cholesterol:
108
mg
|
Sodium:
1601
mg
|
Potassium:
1652
mg
|
Fiber:
14
g
|
Sugar:
34
g
|
Vitamin A:
1733
IU
|
Vitamin C:
82
mg
|
Calcium:
417
mg
|
Iron:
7
mg
This post is sponsored by Gorton's Seafood, but all opinions are my own of course! Thanks for supporting the amazing brands that keep The Food Charlatan chugging along. You can follow Gorton's on Facebook, Pinterest, Twitter and Instagram!
More salads to love!
Black Bean and Couscous Salad << this would be another great salad to top with Gorton's filets.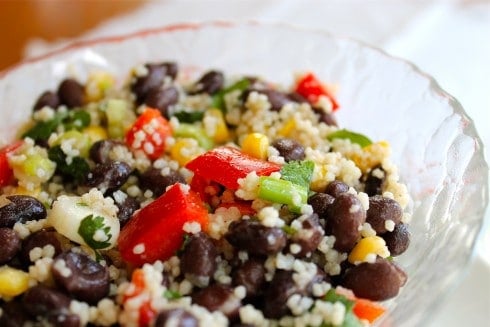 Beer-Battered-Fish Burrito Bowl with Orange Avocado Salsa: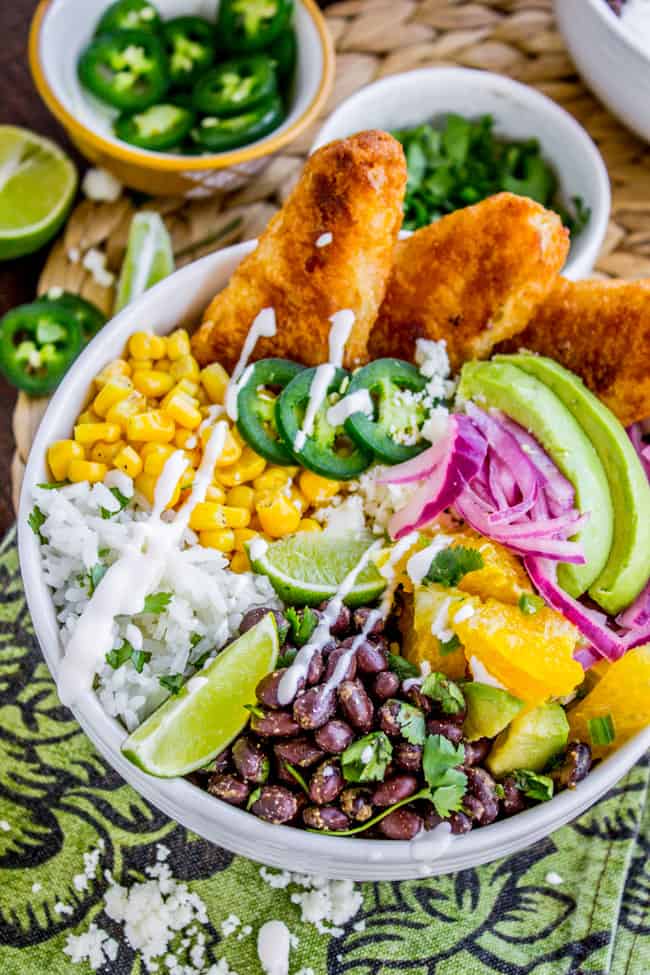 Easy Fishstick Tacos: I know these are ugly but I promise they're delicious. I've been making these for years!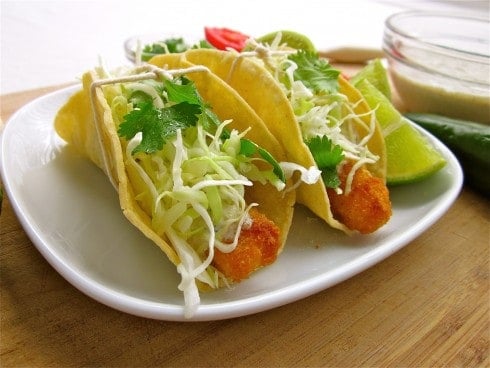 More delicious fish salads:
Korean Miso and Honey Glazed Cod from Foodie with Family
Ahi Tuna Poke and Mango Salad from FoodieCrush
Blackened Fish Taco Salad from Chef de Home