If you have never heard of Funeral Potatoes, you are in for a treat! Potatoes mixed with sour cream, butter, white sauce (or a can of soup – I include instructions for both), and tons of cheddar cheese, then baked to perfection with a crunchy corn flake topping. It doesn't get any better than cheesy potato casserole for holidays! Embrace your middle American roots! Originally posted April 2, 2019.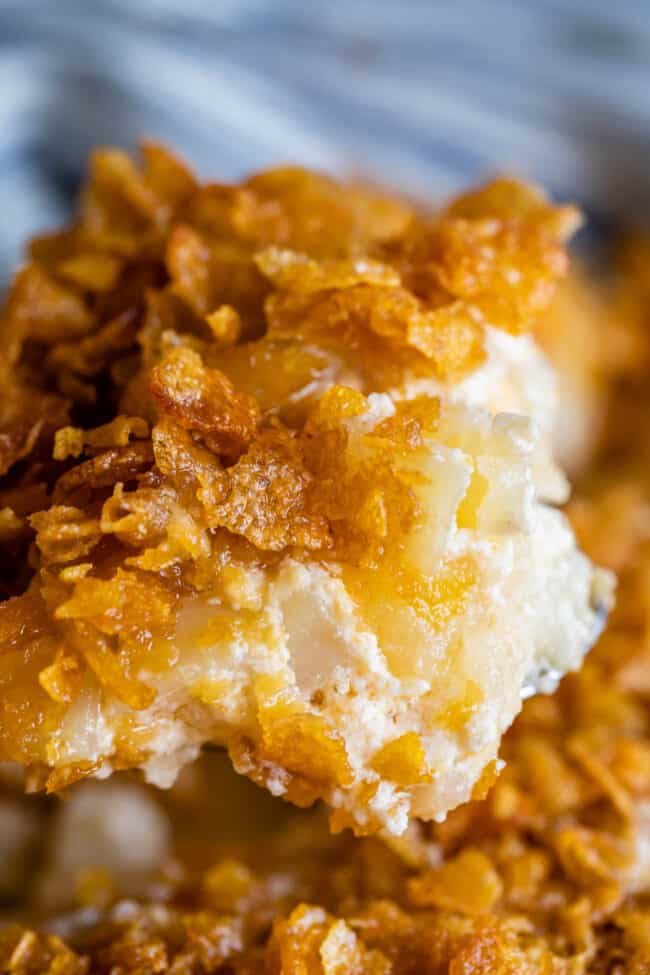 For no good reason, I didn't make it to the gym a single time last week. So last night I was determined to set everything up to make it easier for me to get out of bed in the morning. I laid out my exercise clothes, my shoes, my earbuds. I set my alarm for 5am…and 5:01, 5:02, 5:03, 5:04, and 5:05, just to make sure.
Then I woke up when it was dark, convinced that my alarm was about to go off any minute (does that ever happen to you? It's kind of amazing how our bodies are like clockwork sometimes.) We don't have a clock in our room, I always set the alarm on my phone and put it in the bathroom to charge so that I have to get out of bed when it goes off.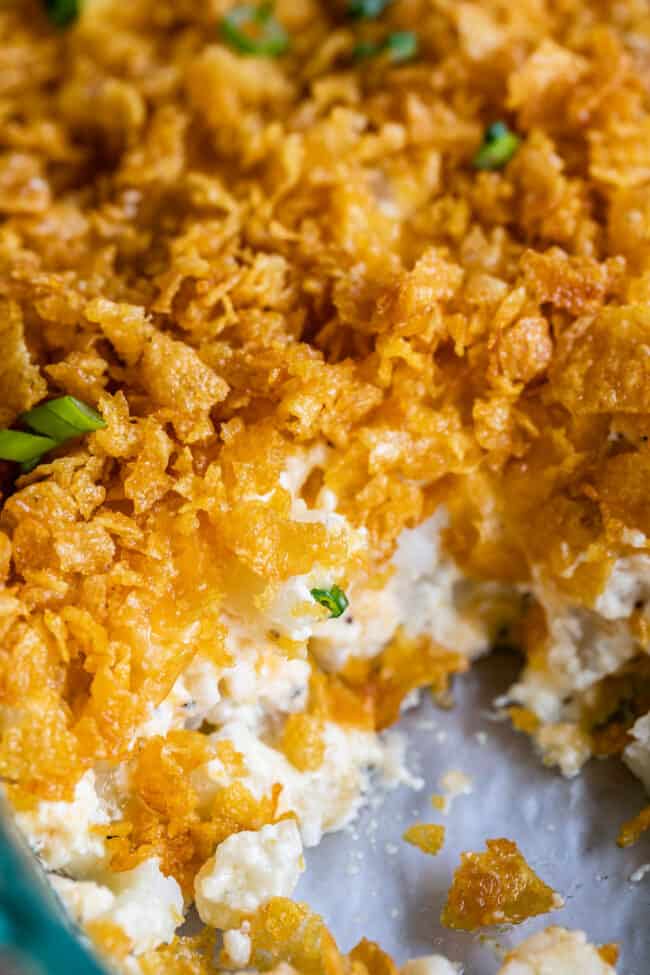 So I'm lying awake in the dark, expecting my alarm to go off any minute. And I'm waiting. And waiting. And waiting. Finally I get up to go see if maybe I forgot to set it in the first place, and my phone says that it's 2 in the freaking morning.
I think I gave myself anxiety about not missing my alarm so my body woke me up 3 hours early. Just to make sure we didn't miss anything. Thanks a lot body??
Why are they called Funeral Potatoes??
I saw a while back that some company started selling pre-packaged Funeral Potatoes that you can buy in the frozen section of the store. Half their customers rejoiced (who could say no to an easier version of already the easiest side dish ever??) And the other half of the population revolted in disgust because they have no idea what they are. FUNERAL potatoes?? What does that even MEAN?? And your brain starts going weird weird places. Well come on now brain. Get a hold of yourself!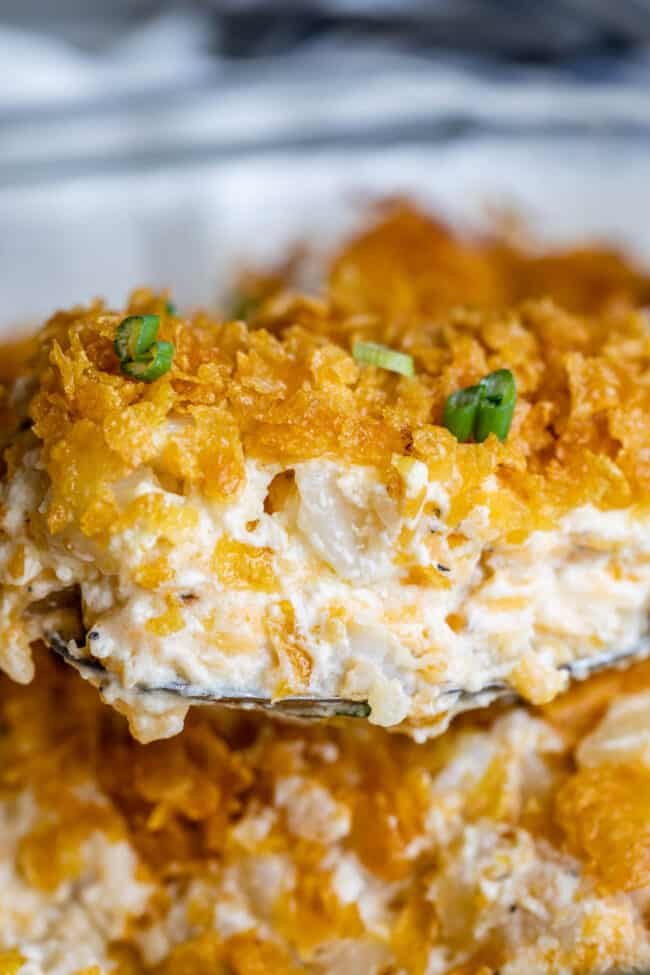 They are just cheesy potatoes, nothing more nefarious than that. They are a classic side dish to bring to funerals when you need to feed a lot of hungry sad people. Hungry sad people could definitely use some cheesy potatoes, I mean right? Also it is stupid easy, super fast to put together, feeds a ton of people, and is cheap to make.
I don't know if it's true that Funeral Potatoes originated from women who belong to the Church of Jesus Christ of Latter Day Saints, but that's how the story goes. There's even a significant number of people searching for "Mormon potatoes" on Google everyday, funny right?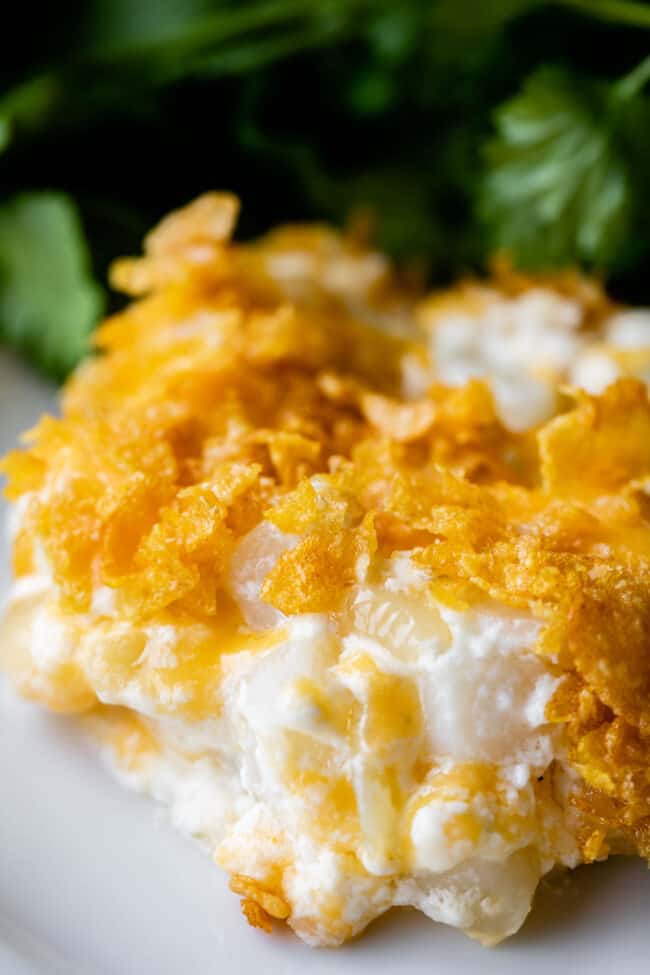 I definitely got this recipe from my Aunt Shirley, so I suppose that seals it. Plus I've been eating this dish at church activities since I was a kid. It makes perfect sense that it would come from us. The women's organization in my church (The Relief Society) is very good at taking care of things like funerals. (What I really mean is that we're good at taking care of each other 🖤) Who doesn't want to be taken care of by method of cheesy potatoes?
Funeral Potato recipe ingredients
This is an overview, full recipe found below! If you're using a can of soup, you don't need all this stuff. See recipe notes!
Hash browns
Butter
Cheddar cheese (shred your own cheese for the best texture!)
Sour cream
Onion
Garlic
Flour
Chicken broth
Milk
Kosher salt and pepper
Corn flakes
How to make Funeral Potatoes
Funeral potatoes are basically frozen hash browns, sour cream, cheddar, butter, and cream of chicken soup. Mix it all up and bake with some buttered corn flakes on top. You will be in crunchy cheesy heaven. (OR if you prefer, you can skip the condensed soup and make your own white sauce. I've included both recipes below.)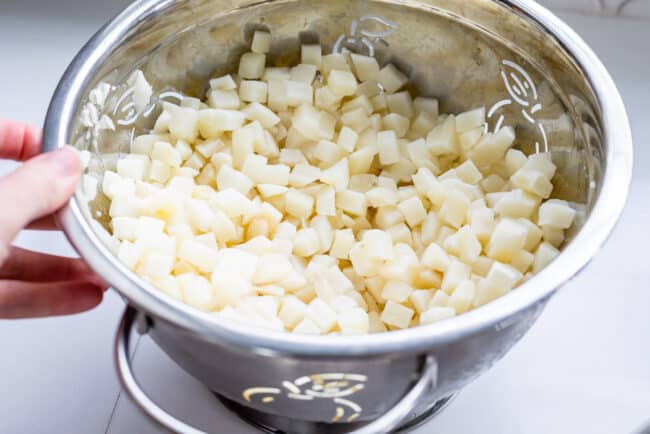 Just look at these dreamy potatoes from the frozen section, all ready to go. I'm so glad I didn't have to peel, chop, and parboil you. I prefer the texture of Funeral Potatoes when the time has been taken to thaw the potatoes for a couple hours, but you can skip thawing if you want. See recipe for more notes.

I don't really have a problem with cream of chicken soup, (have you ever tried Poppyseed Chicken Casserole?? It's legit) but it's true that I usually don't have in on hand. I always have the ingredients for a simple white sauce though, which is basically what cream of chicken soup is. Using canned soup definitely makes it easier to throw together, and if you are making several batches for a funeral (or any huge group) I would say that's the way to go.

(It took all of my willpower not to pour milk into this bowl and dig in. When was the last time you had a bowl of corn flakes??)
If you are feeding a smaller bunch for Easter (like your family) and you want your meal to be a little more gourmet, take the time to make your own white sauce. Both versions taste pretty similar, to be honest. I made several people taste test them and they could barely tell. It kind of just depends on how you feel about the flavor and ingredients of condensed soup. I've included details for both recipes below.
Once you have your potatoes in the casserole dish, top with the buttery corn flakes and bake it up! That's it!
How long does it take to make funeral potatoes?
You can have this ready to go in about 1 hour and 5 minutes from start to finish. Just 20 minutes to prep, 45 minutes in the oven, and you will have arrived at carb heaven.
Serving suggestions for Easy Funeral Potatoes
These easy funeral potatoes are the perfect contribution to a gathering, party, potluck, you name it. They also make the perfect simple side dish next to a so many holiday or weeknight entrees. Here are just a few ideas:
Funeral Potatoes Substitutions
While I love this recipe as-is, there are a few ways you can switch things up!
Can you put cream cheese in funeral potatoes?
You definitely can! I prefer to use sour cream since the subtle tangy flavor offsets the other much richer flavors in the potatoes. BUT if you do love extra rich funeral potatoes, feel free to use all cream cheese or a combination of the two.
Can I use shredded potatoes?
Totally! Shredded potatoes will work great in this recipe. Keep in mind that the texture will be different and they may require a slightly lower cooking time. Otherwise the recipe should be the same.
Can I use frozen potatoes?
Yes! You can either use fully frozen hash browns or you can thaw them for 2-4 hours. I prefer to thaw them to get a slightly softer texture, so if you have time I recommend doing that. Frozen potatoes will be more firm but they still taste great.
What can I use instead of corn flakes for funeral potatoes?
I love the crispy, crunchy texture of the corn flakes, but they can easily be swapped out for Panko breadcrumbs, crushed Ritz crackers, or crushed potato chips. I mean, we're going all in here, right?? Bring on the Lays! Potatoes all the way down.
Can you use cream of mushroom soup?
Yep! Pretty much any canned cream soup will work. Cream of mushroom soup is a great way to keep this recipe vegetarian. Cream of celery soup would be a great second choice.
Storing and reheating
Funeral potatoes are best right away while the cornflakes are nice and crispy. However, leftovers will last in an airtight container in the fridge for 3-5 days.
To reheat, warm in the oven or microwave until heated through.
Can you freeze cheesy funeral potatoes?
Yes! Just don't add the cornflake topping beforehand. Make it in a disposable pan so that your kitchenware isn't being held hostage in the freezer. Cover well (I use plastic wrap and then foil.) and freeze for up to 2 months. Remove from the freezer and let thaw on the counter for a couple hours before adding a fresh cornflake topping and baking as directed. (Bake times will vary, but plan for at least an hour in the oven.)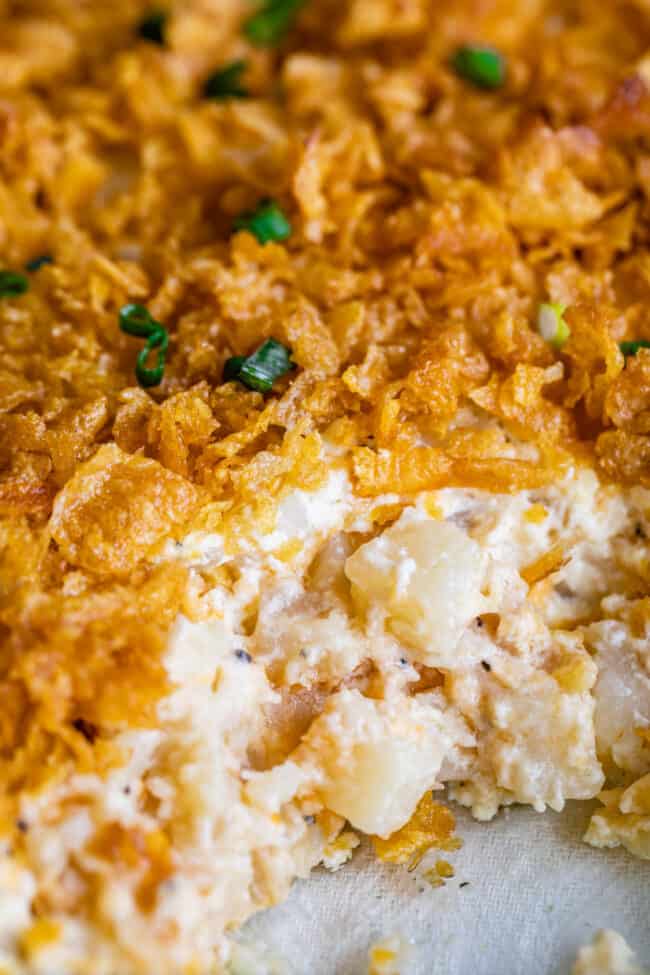 Have you guys started planning your Easter menu yet? Check out my Easter recipes board on Pinterest for some ideas! You could also check out all my Easter content on the blog here.
I'll be back tomorrow with an AMAZING recipe for Roasted Lamb! (Update, it's live!) If you have never roasted lamb before, this is your year. Do it for Easter and wow all your family! It is so good! Make today's cheesy potatoes to go with it, yum.
More cheesy side dishes you are going to love!
Facebook | Pinterest | Instagram

Funeral Potato Recipe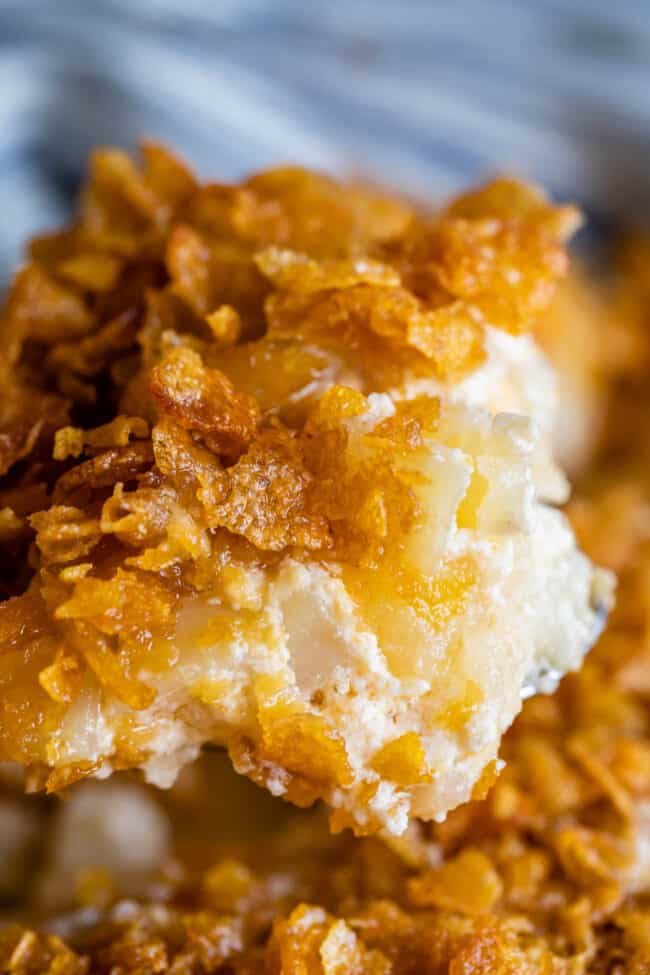 If you have never heard of Funeral Potatoes, you are in for a treat! Picture this: diced potatoes mixed together with sour cream, butter, white sauce (or a can of soup – I include instructions for both), and tons of cheddar cheese, then baked to perfection with a crunchy corn flake topping. It doesn't get any better than cheesy potatoes for holidays! Embrace your middle American roots!
Ingredients
32

ounces

frozen cubed hash browns

1/4

cup

butter

,

(half stick)

2

cups

sharp cheddar cheese

,

shredded

1 & 1/2

cups

sour cream
For the white sauce
1/4

cup

butter

,

(half stick)

1/2

medium

onion

,

chopped

2

teaspoons

garlic

,

minced

1/4

cup

flour

1/2

cup

chicken broth

1/2

cup

milk

1

teaspoon

kosher salt

1/2

teaspoon

pepper
For the topping
1/4

cup

butter

,

(half stick)

3

cups

corn flakes
Instructions
Note: The following recipe is for the homemade version making your own white sauce. If you want the recipe using a can of cream of chicken soup, see notes below!

If you have time, open your package of frozen hash browns and put it in a colander over the sink. Let the potatoes thaw for 2-4 hours. If you let them thaw, the potatoes will turn out slightly softer. If you are in a hurry, you can add the potatoes to this dish completely frozen (I tried it both ways). The potatoes will be slightly more firm but they still taste great. I do recommend thawing if you have time.

Preheat your oven to 350 degrees F. Spray

a 9×13 inch pan

with nonstick spray, or rub with butter.

In a large bowl, melt 1/4 cup butter. Add the potatoes (thawed or frozen) and stir together to coat with butter.

Add 2 cups of cheddar cheese (pack it well) and 1 and 1/2 cups sour cream.

Make the white sauce: In a medium skillet, melt 1/4 cup butter over medium heat. Add 1/2 an onion, chopped. Let the onion saute in the butter for about 3-5 minutes, until they are starting to look translucent.

Add 2 teaspoons garlic and saute for 1 more minute, until fragrant.

Add 1/4 cup flour a little bit at a time, stirring constantly. (Incorporate the flour into the butter by stirring, then add a bit more, etc.) Once all the flour is added, continue to cook over medium heat for about 1 minute to cook out the "raw" flour taste.

Slowly add 1/2 cup chicken broth, using the same method as before. Add a little bit while stirring constantly, and once it is incorporated, at more. Do the same thing with 1/2 cup milk.

Stir the mixture until all the liquid has been absorbed. You should have a thick white sauce.

Season with 1 teaspoon salt and 1/2 teaspoon pepper.

Add the white sauce to the potato mixture. Stir it all together.

Add the potatoes to the prepared 9×13 inch pan. Spread evenly.

In a medium bowl, melt 1/4 cup butter.

In a small bowl, add 3 cups corn flakes. Use your hands to crush them a little bit. It doesn't have to be perfect, some larger flakes is okay. Dump the corn flakes into the bowl with the melted butter (and wipe out the small bowl and put it back in the cupboard.) You could also crush the corn flakes in a ziplock bag if you prefer.

Coat the corn flakes with butter and spread evenly on top of the potatoes

Bake (do not cover) at 350 for about 40-50 minutes, until some of the corn flakes are starting to brown and it looks bubbly around the edges.
Notes
To make this recipe using a can of cream of chicken soup:
32 ounces frozen cubed hash browns (see notes about thawing above) 
1/2 cup (1 stick) butter, melted
2 cups sharp cheddar cheese, shredded and packed
2 cups sour cream
1 (10 ounce) can cream of chicken soup
1 teaspoon kosher salt
1/2 teaspoon pepper
1/2 teaspoon garlic powder (or to taste)
1/2 teaspoon onion powder (or to taste)
Combine all these ingredients in a large bowl. You will also need:
1/4 cup (half stick) butter
3 cups corn flakes
Continue with step 13 in the recipe above (adding to a casserole dish, topping with cornflakes, and baking)
How to freeze:
Follow instructions for either recipe, but skip the cornflake topping. Make it in a disposable pan so that your kitchenware isn't being held hostage in the freezer. Cover well (I use plastic wrap and then foil.) and freeze for up to 2 months. Remove from the freezer and let thaw on the counter for a couple hours before adding the cornflake topping and baking as directed. (Bake times will vary, but plan for at least an hour in the oven.)
Nutrition
Serving:
1
g
|
Calories:
339
kcal
|
Carbohydrates:
24
g
|
Protein:
8
g
|
Fat:
24
g
|
Saturated Fat:
15
g
|
Polyunsaturated Fat:
1
g
|
Monounsaturated Fat:
6
g
|
Trans Fat:
1
g
|
Cholesterol:
66
mg
|
Sodium:
543
mg
|
Potassium:
323
mg
|
Fiber:
1
g
|
Sugar:
2
g
|
Vitamin A:
865
IU
|
Vitamin C:
9
mg
|
Calcium:
194
mg
|
Iron:
3
mg