Oven-Roasted Cranberry-Dijon Glazed Ham
Ain't nothin better than an oven-roasted homemade ham glaze I say. This recipe uses fresh cranberries, meaning it's perfect for the holiday season! I love the zing that the dijon mustard adds too. This recipe that shows you how to glaze a ham is super easy to throw together! 
Out of sheer laziness, Eric and I have managed to convince our kids that "milk-water" is a thing. Like if they finish their milk at dinner and want some water, we don't rinse out the cup. Tonight I poured Charlotte's water for her and she goes, "It looks like a swamp!" Why yes dear. Yes it does. Drink up.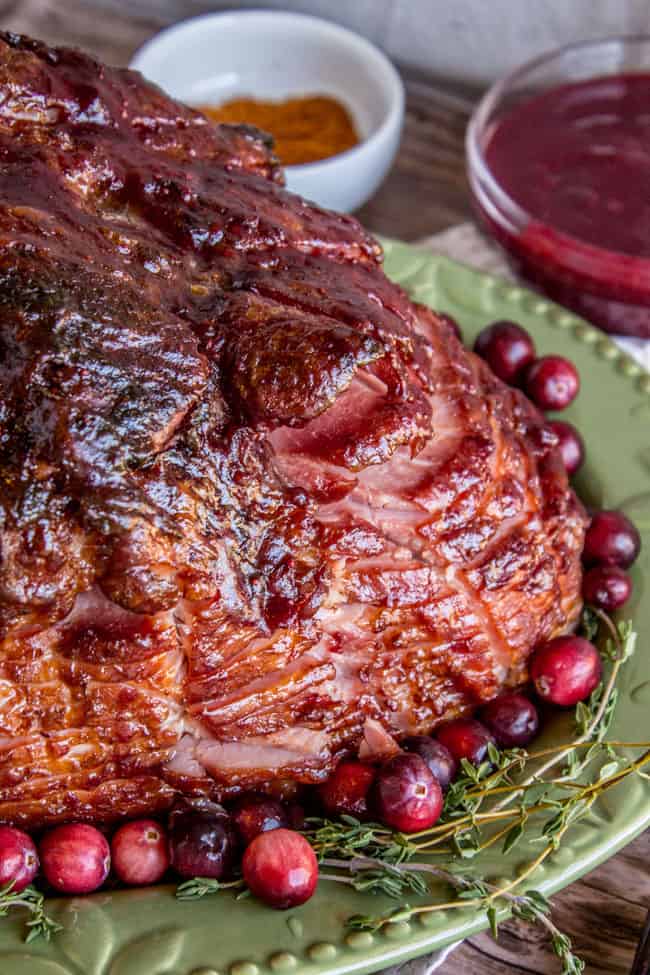 My parental neglect is only going to get more pronounced over the next few months. I just had my 3rd kid a few days ago, which means that I'm slowly morphing into an extension of my couch (because all I do is nurse the baby.) Ain't nobody got time for cup rinsing. Or bathing children. Or taking them to school. Just kidding, I swear Charlotte makes it to school every day.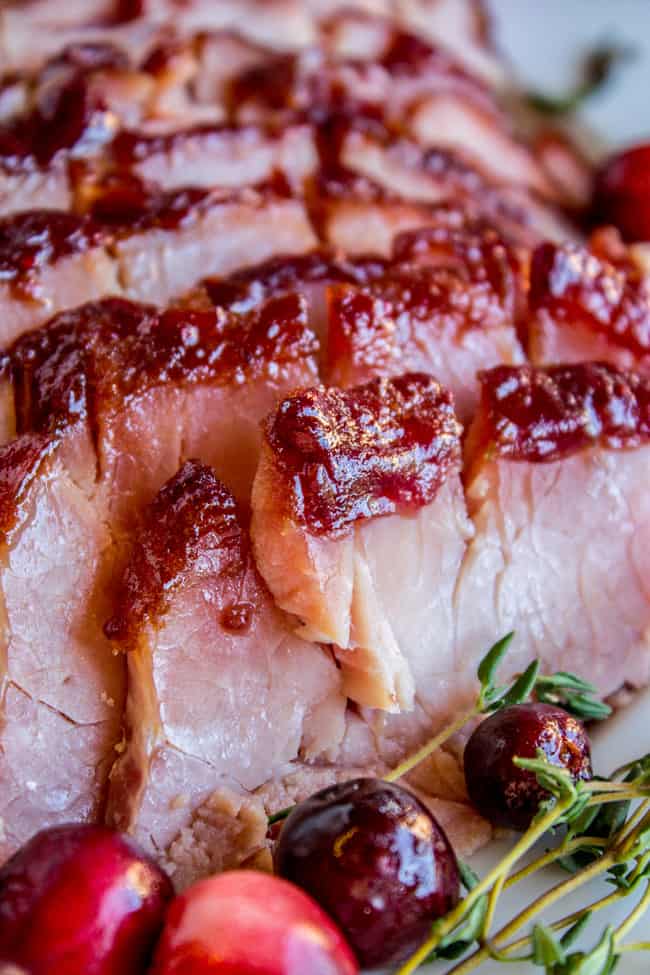 Mostly because my mom is here helping us out. Thanks mom! My friends keep asking me if having a third is way harder, and I say no way, Eric's home from work and my mom is here to wait on me hand and foot. All I have to do is sit on the couch and never get any sleep. No prob. Ask me in 6 months how it is having 3 kids. Right now it's a cinch.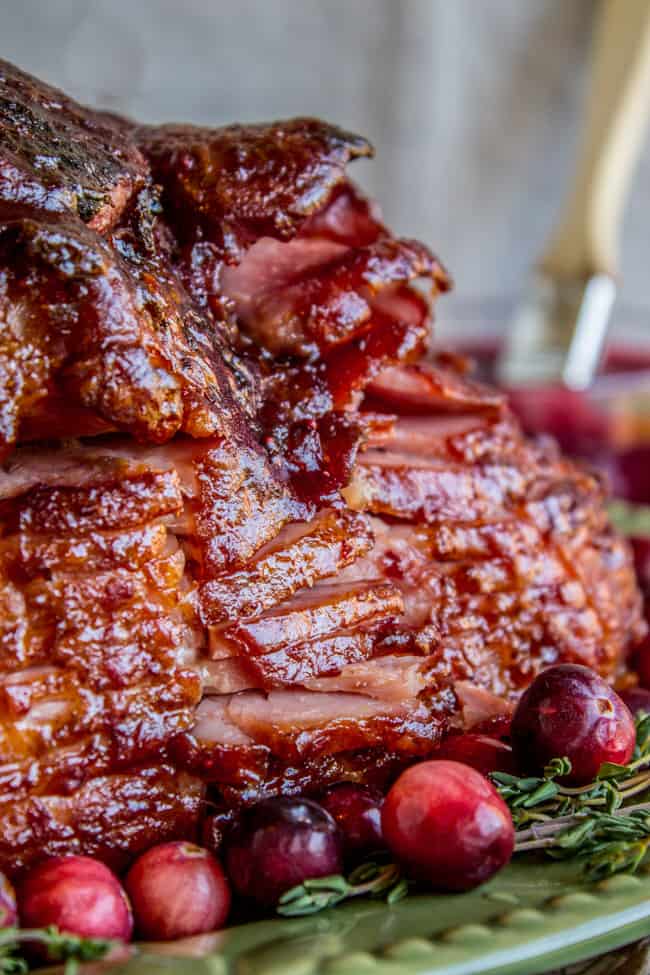 So are you guys getting your menus together for Thanksgiving?? I'm super excited for the holidays. Eric surprised me with a little Christmas outfit for Valentine the other day and I thought I would explode. I get a baby, plus I get to dress her up in Christmas clothes??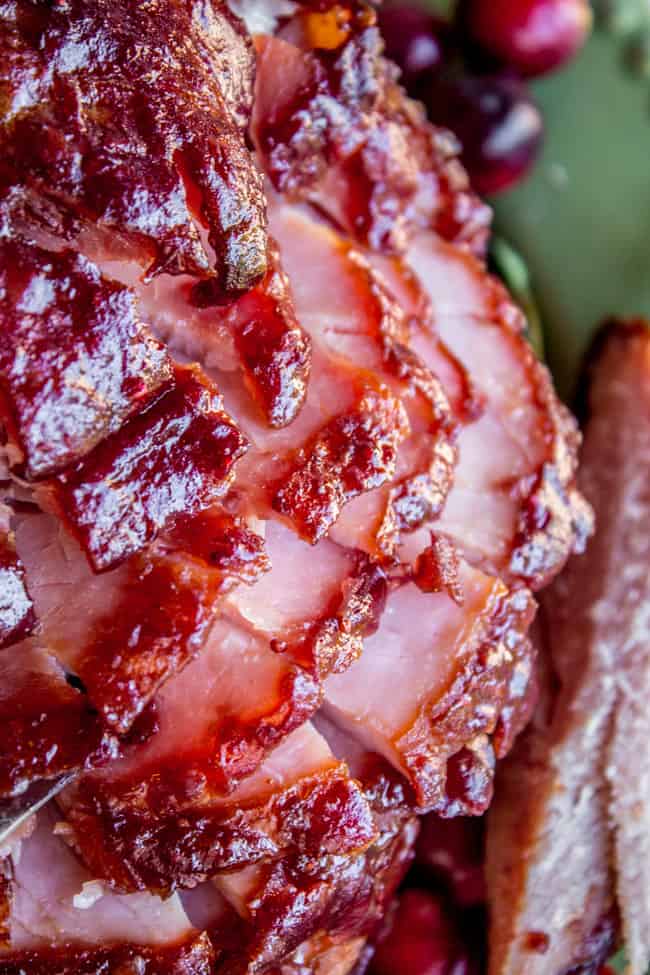 Okay sorry, back to Thanksgiving. Do you always cook a turkey? Do you make ham, roast, lamb, something else? If your family loves ham this recipe is for you! It starts with fresh cranberries on the stove which are cooked and pureed with dijon mustard and some brown sugar. The sauce is super quick to make, and then all you have to do is get the ham in the oven and brush it a few times. Easy peasy. There is some cayenne pepper in the recipe, which gives it a fun little kick (reminiscent of this Raspberry Chipotle Glazed Ham).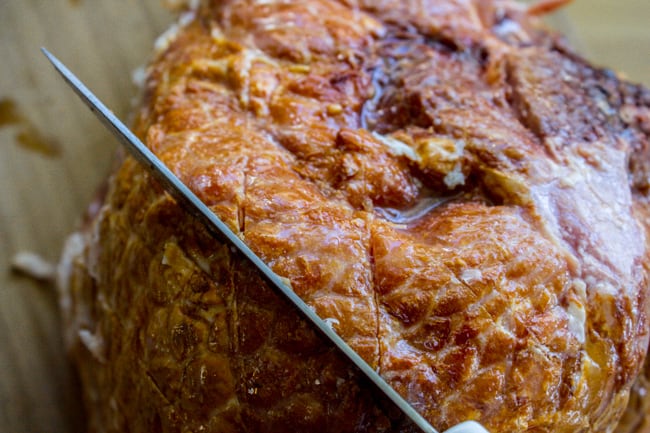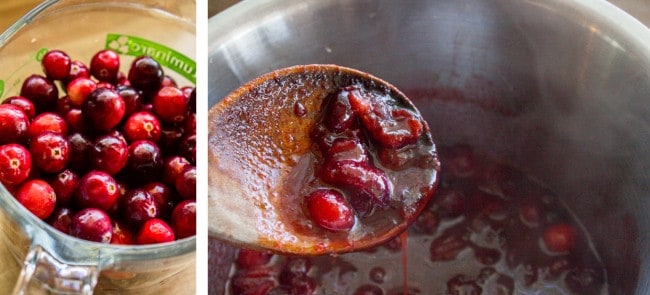 Score the ham with a sharp knife so the sauce seeps into the ham through the skin. If you don't have an immersion blender to puree the glaze, you can use a regular blender no problem.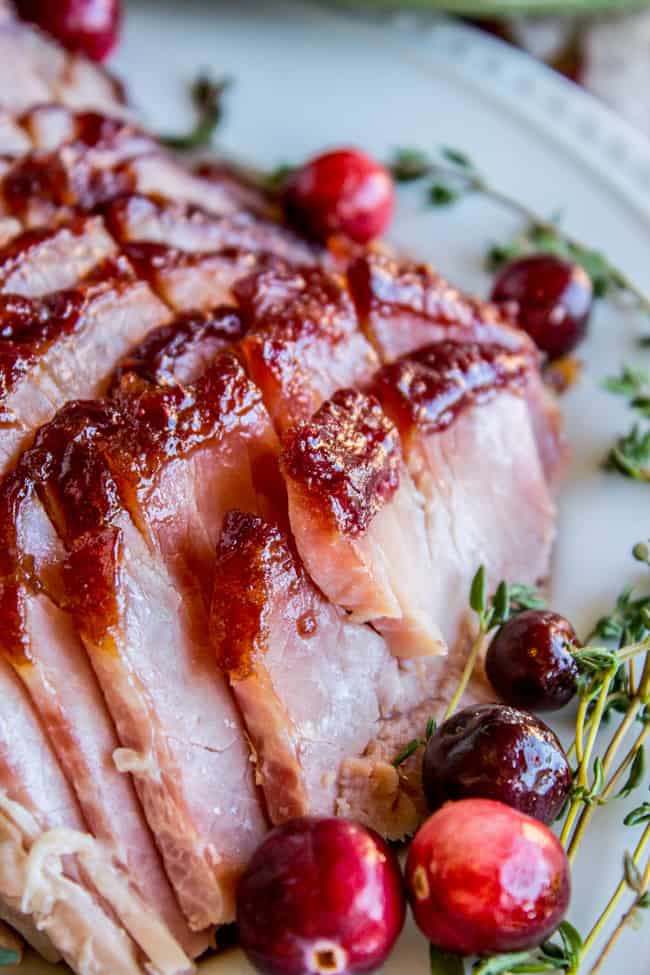 Check out some other Thanksgiving ideas below the recipe!
Facebook | Pinterest | Instagram | Twitter
print
Did you make this recipe?
Leave a review »
Oven-Roasted Cranberry-Dijon Glazed Ham
Serves 16-20
adjust servings
Ingredients
2

cups fresh cranberries

1/4

cup water

1/4

cup honey

2

tablespoons dijon mustard

1/4

cup apple cider vinegar

1/2

cup brown sugar

1/2

teaspoon cayenne pepper

5-6

pound cooked ham (I used a sliced spiral ham)
Instructions
Combine cranberries, water, and honey in a medium saucepan. Set over medium heat.
Stir occasionally for about 4-5 minutes, until most of the cranberries have popped.
Add dijon mustard, vinegar, brown sugar, and cayenne pepper.
Continue to cook for another 3-5 minutes until the sauce has thickened some and is syrupy. Remove from heat.
If you have an immersion blender, use it to puree the sauce. (If you don't, transfer the mixture to a regular blender. Leave the top of the blender vented (to allow steam to escape) and cover with a towel. Blend it up until smooth.)
Preheat your oven to 325 degrees F. Prepare a roasting pan with a roasting rack so that the ham doesn't cook in it's own juices (you want a nice crispy bottom, no soggy ham bottoms please.)
Place the ham on the roasting rack and use a sharp serrated knife to score the ham diagonally.
Use a brush to coat the ham all over with the cranberry sauce. (You will repeat this process once more about 20 minutes before the ham is done.)
Place the pan in the oven and roast for 1 and 1/2 to 2 and 1/4 hours, or until a thermometer registers 135 degrees F. (About 20-25 minutes per pound). (You don't need to worry about the temperature too much since the ham is already cooked. You just want to make sure it's hot all the way through.
20 minutes before you think it will be done, brush with sauce one more time.
Serve the ham with the remaining glaze (Warm it up in the microwave or on the stove since it will be cool by now.)
by The Food Charlatan

If you make this recipe,
share it on Instagram
 using the hashtag
#TheFoodCharlatan
so I can see it!
Source: This one's from The Food Network, you know those inserts they have in the magazine sometimes? This one was called 50 Things to Make with Cranberries. The recipe's not on the link though, I can't find it online.
Here are some other ham recipes you will love!
Raspberry Chipotle Glazed Ham << this is an old favorite of mine! It's actually very similar to today's recipe, just with raspberry and a chipotle kick. It's good!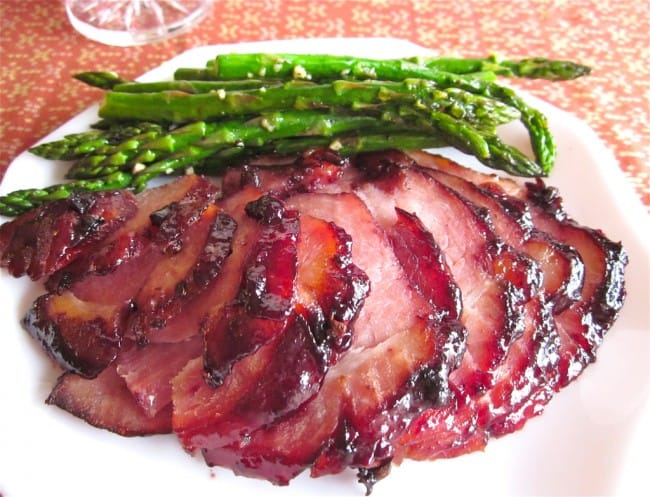 Easy Sriracha Ham (Slow Cooker, 3 Ingredients): << It seriously does not get any easier than this recipe.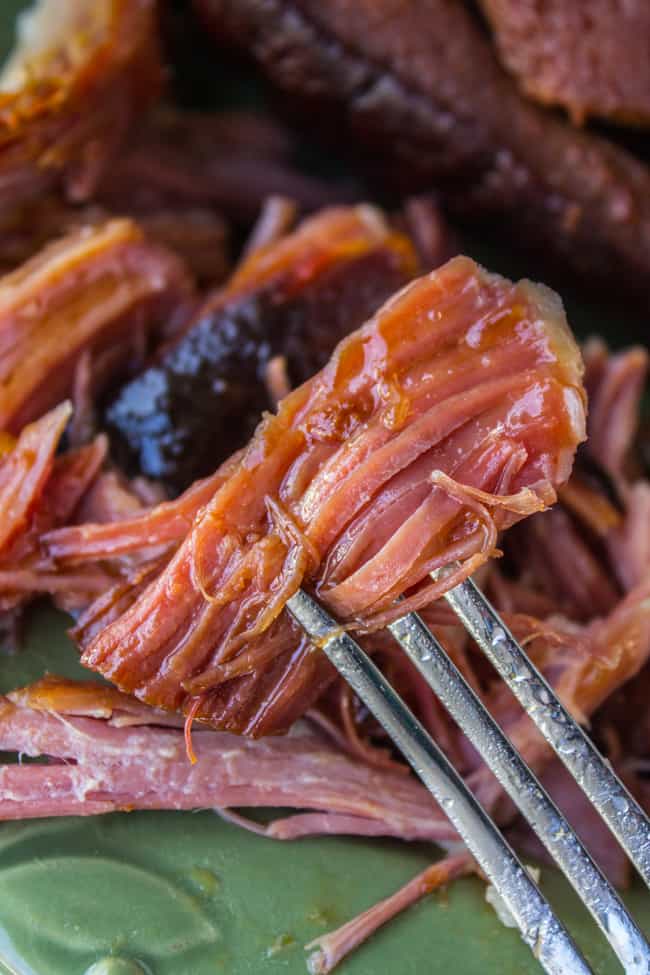 Cuban Mojo Marinated Pork: << This is the TOP recipe on my site. With good reason! Look at that crust!!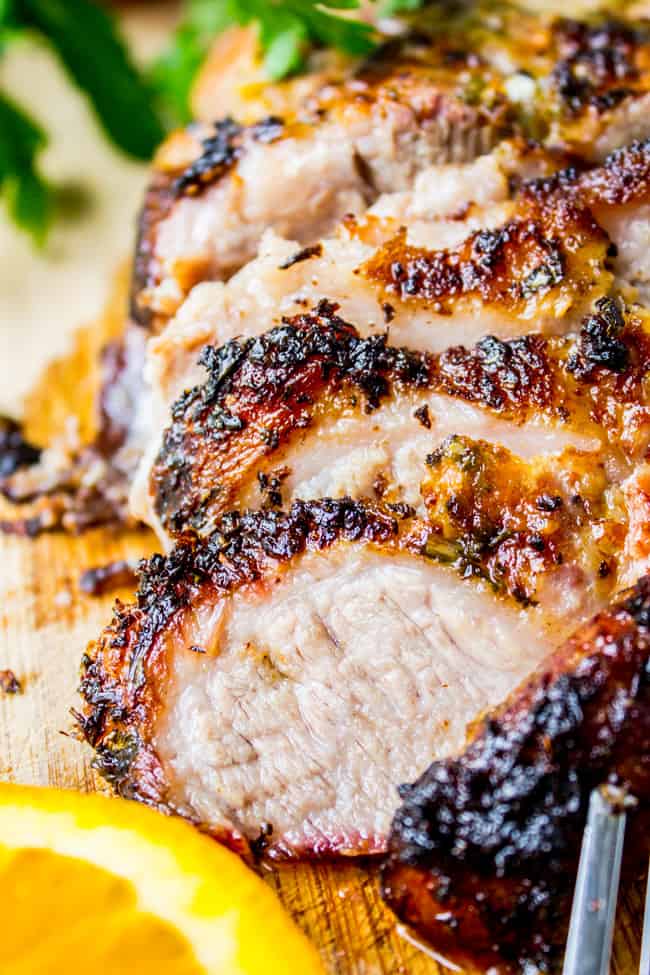 A few other ham recipes from awesome bloggers!
Pineapple Honey glazed Ham from Wonky Wonderful
Baked Ham with Brown Sugar Glaze from A Spicy Perspective
Slow Cooker Honey Glazed Ham from Wholefully
This post was originally published on November 9, 2016.
We are a participant in the Amazon Services LLC Associates Program, an affiliate advertising program designed to provide a means for us to earn fees by linking to Amazon.com and affiliated sites.