Can anybody say "crowd-pleaser"? That's exactly what this recipe is. I've never met anyone who doesn't like this Poppyseed Chicken; there is a reason that there are about 900 variations floating around the internet. This is down-home, no-fuss comfort food.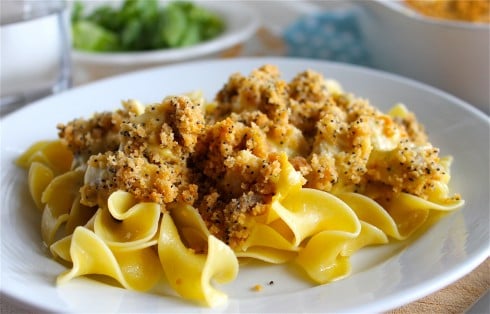 I am officially in casserole-mode over here. With only a month left til my little bun is born, I just want to freeze everything I make recently in preparation for The Event. I'm so nervous about having 2 kids. I kind of feel like a wuss because Charlotte is such an easy toddler, relatively speaking. (I'm talking relative to the ones that have off the chart decibel levels and take off running whenever you take their leash off let go of their hand, or who are fond of streaking in public.) What if I were having a second baby and already had a hooligan child? Yes, some people have it much worse.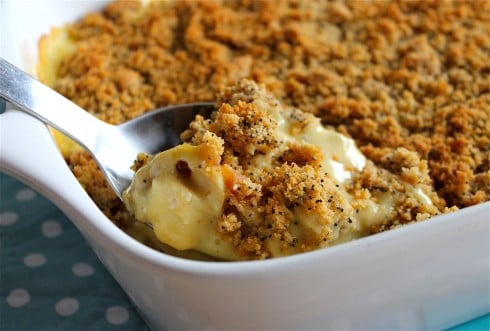 At least I can rest assured that I will have plenty of frozen casseroles to help me with the transition. Just a freezerfull of casserole helps the medicine go dooooown….or something like that.
Poppyseed Chicken Casserole

Source: this one's all over the internet, but my sister Laura gave me the recipe.
Serves 6-8
Note: This is a fancy-fied version. You can leave out all the spices if you want. I just like to jazz it up a bit. Or season it to your taste. Don't not make this because you are missing the garlic or something. Leave it out or replace it with something else. This recipe is pretty forgiving. Also, since most kids love this stuff, it might be a good idea to throw in some veggies if you have a hard time getting your kiddos to eat healthy. I'm thinking peas or broccoli.
2 10-oz. cans cream of chicken soup
1 1/2 cups light sour cream
1 1/2 teaspoons lemon juice
1 1/2 teaspoons worcestershire sauce
1 1/2 teaspoons minced garlic
3/4 teaspoon onion powder
3/4 teaspoon lemon pepper
3/4 teaspoon seasoning salt
1/8 teaspoon cayenne pepper, or to taste (This doesn't make it spicy, it just adds great flavor.)
5 cups cooked chicken, shredded or cubed
2 stacks Ritz crackers (about 2 cups crushed)
1 1/2 tablespoons poppyseed
3/4 cup (1 1/2 sticks) melted butter
1 lb egg noodles (or any pasta, really), cooked according to package directions
In a large bowl combine the first 10 ingredients (soup through chicken). Spread this mixture into a 9×13 inch dish. Set aside.
In a food processor, blend the 2 stacks of Ritz crackers with the poppyseeds until they are fine crumbs. (You can do this the old fashioned way too, of course. But don't bang on the crackers while they are still in the plastic or one of the ends might explode on you, resulting in crackers crumbs all over your kitchen…transfer to a ziplock first. We can thank my sister Laura for this valuable information.) Once the crackers are crumbs and you have added the poppyseeds, add the melted butter and pulse in the food processor until thoroughly combined. (Or mix it up in a bowl.)
Sprinkle the cracker mixture evenly over the chicken and sauce. Bake at 350˚ for about 35 minutes, until bubbly and the top starts to brown. I turned my broiler on for the last minute or so because I like my casseroles extra crunchy on top. (Just make sure you keep an eye on it!)
Serve over hot egg noodles.