It's like Jalapeño Poppers and cheesy bread got married! What could be more delicious than the cream cheesy filling spread on top of french bread and baked to perfection? Wait, don't forget the bacon!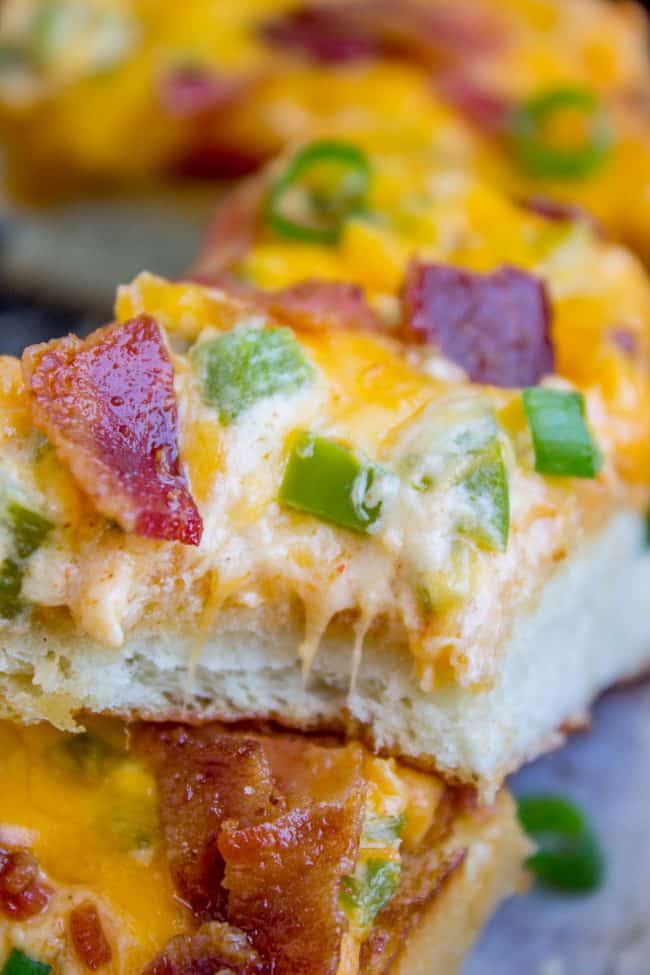 My sister Nikki is literally one of the smartest people I know but she can't spell to save her life. (Remember when she spelled "quiche" "keich"? She's the best.)
Back in high school she was the Key club president, and one year they did a fundraiser selling pizzas. She was on the phone with a customer and they asked what toppings were available. She listed them off: pepperoni, Canadian bacon, sausage, jaw-lop-a-nose, mushrooms, bell peppers…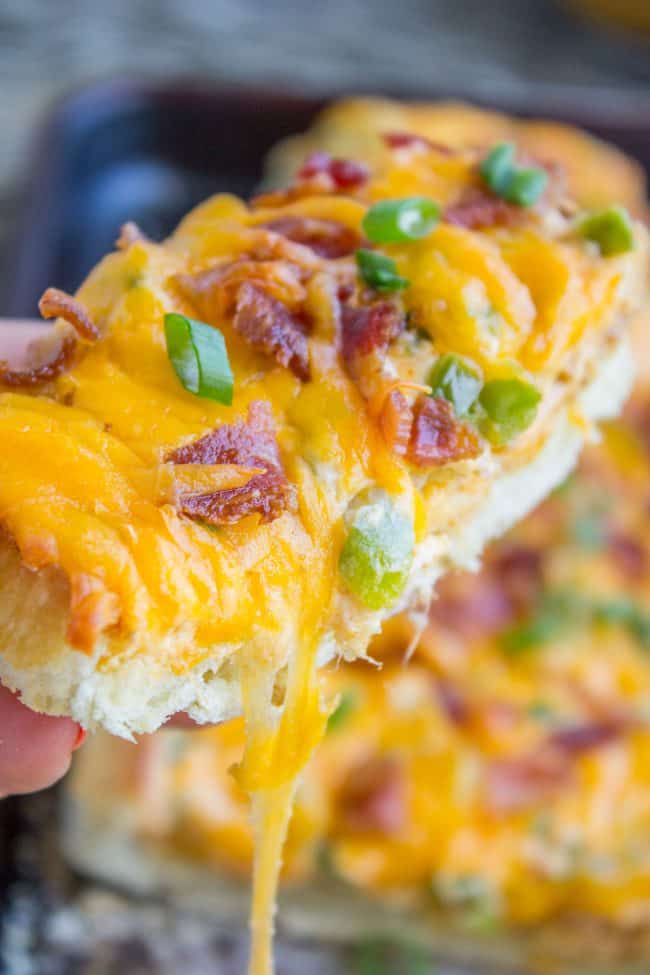 And that was when she realized that she had absent-mindedly pronounced "jalapeños" like "jaw-lop-a-nose." This still cracks me up whenever I think of it. Did I mention that she had been taking Spanish classes for 4 years at that point? I love you, Nikki.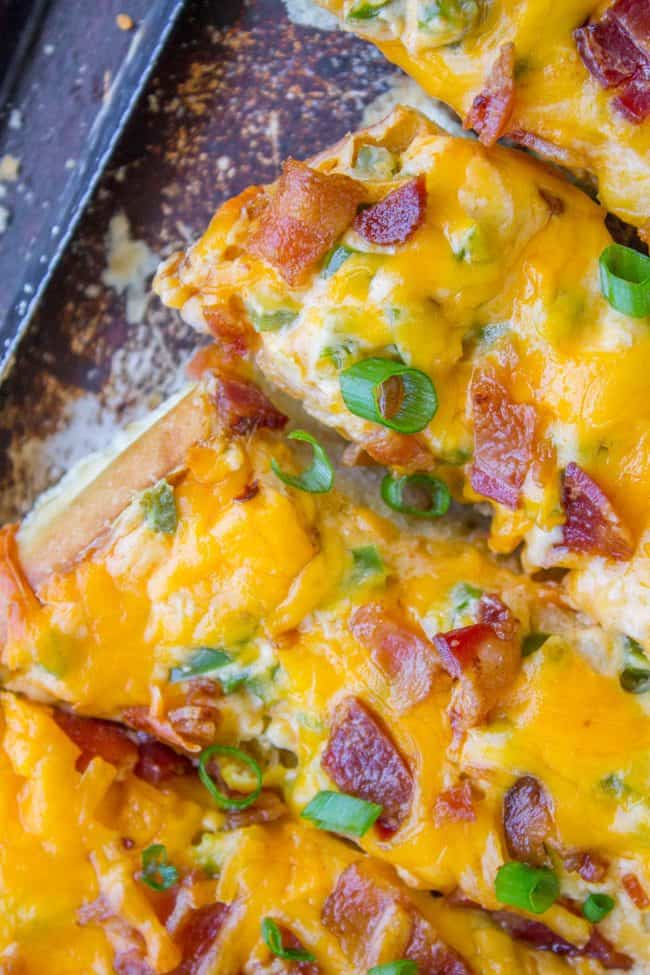 Today we're making Jawlopano Popper Cheesy Bread. With bacon. Because bacon is life. Have you guys ever made cream cheese stuffed jalapeño poppers wrapped in bacon? They are SO SO good. Sally's recipe is my favorite. She adds a little smoked paprika to the cream cheese, which is a game changer.
I turned it into cheesy bread. You get the same delightful popper flavor, plus a ton more carbs, which is what I'm into when it comes time for football season. (Which, for me, is Cheesy-Carby-Appetizers season.)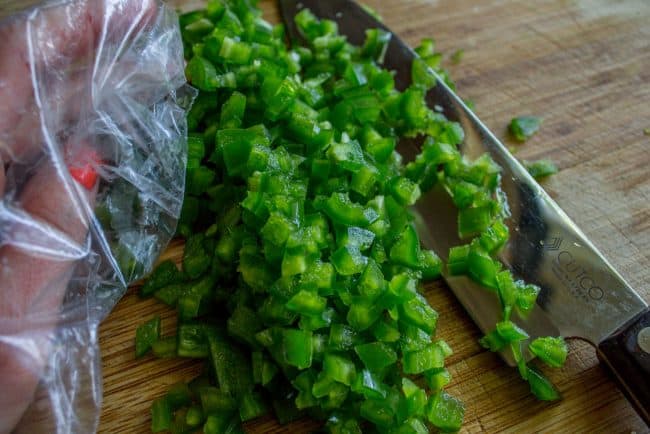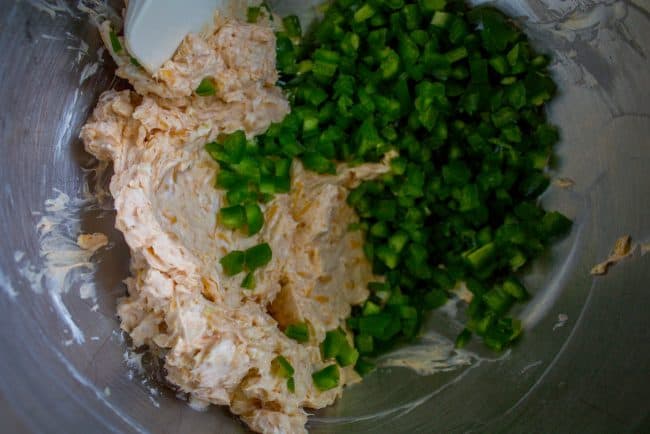 (What, you guys don't put sandwich bags on your hands when you chop jalapeños? This is totally normal. (Note to self: add kitchen gloves to the shopping list, Karen.) Make sure you cover your hands with something, folks. I just read a bunch of stories online about people chopping jalapeños and then trying to take their contacts out. GAH!!)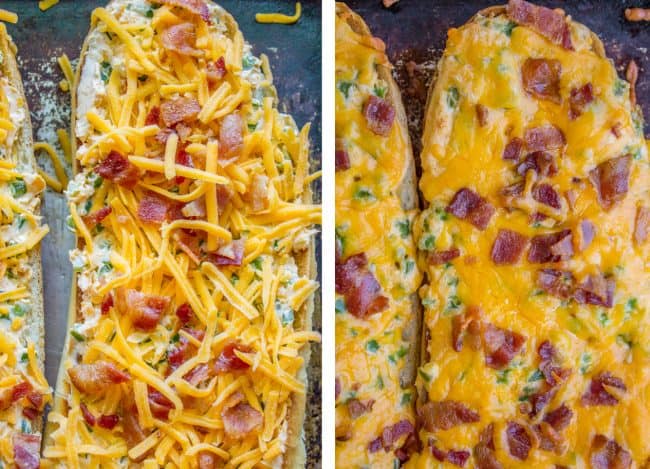 Are you guys into football? I still don't understand it. Like, I mean, I get the hype and that it's a fun game and team spirit and woo-woo! But even after watching 8 whole seasons of Friday Night Lights I still couldn't tell you exactly what a first down was. You'd think that would have worked, right??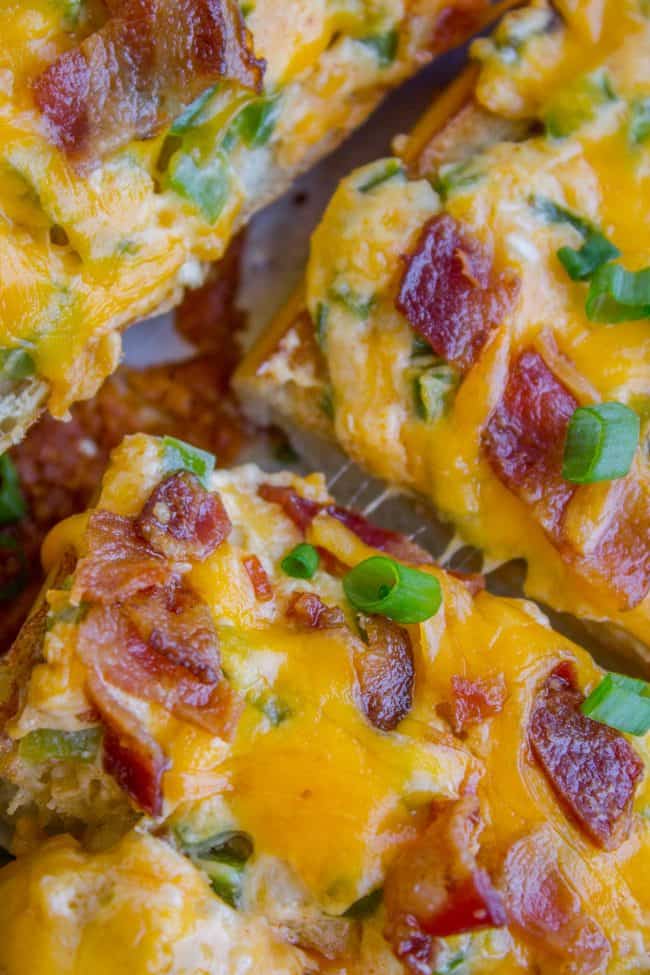 Eric used to not care about football but now he's REALLY into BYU football (where we met!) so there's always an effort to watch those games. And when I say effort, I mean Eric texting random family members for passwords to get access to their network accounts. You don't pay for cable TV just for 11 games of football people. You bum off your family and make desperate Facebook pleas.
Technically this is an appetizer recipe, but if you want to serve it to your kids for dinner I won't tell anyone.
Facebook | Pinterest | Instagram | Twitter

One year ago: Texas Cowboy Cookies
Two years ago: Cauliflower Rice Skillet with Zucchini and Kielbasa
Three years ago: Coconut Layer Cake

Jalapeño Popper Cheesy Bread with Bacon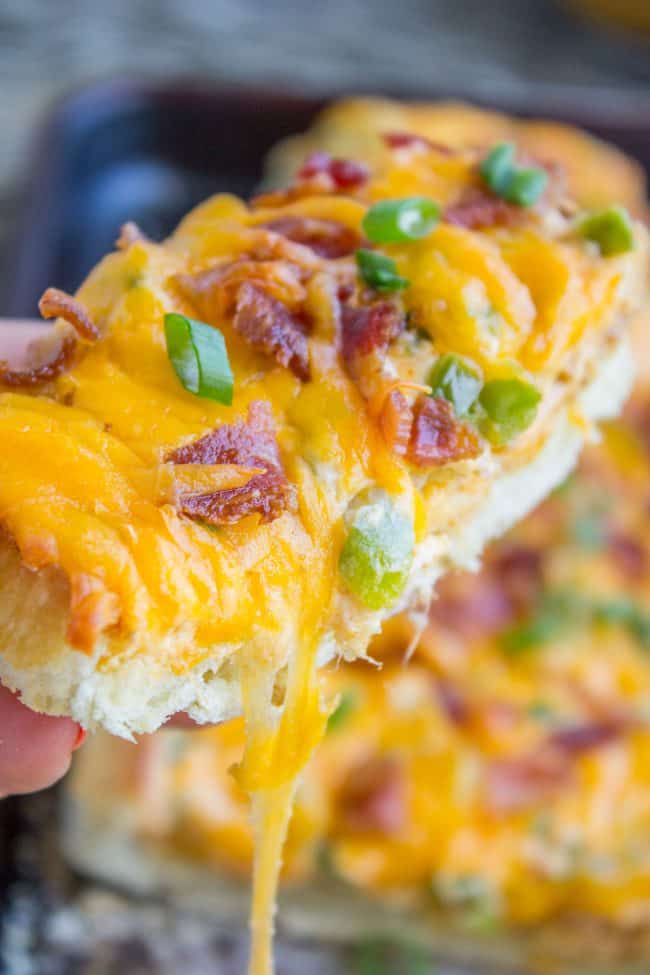 It's like Jalapeño Poppers and cheesy bread got married! What could be more delicious than the cream cheesy filling spread on top of french bread and baked to perfection? Wait, don't forget the bacon!
Ingredients
4

slices

of bacon,

baked

1

loaf

French bread,

here's a homemade recipe

1 (8-oz)

package

cream cheese

,

softened

5-6

jalapeños

,

seeded and chopped

1/2

teaspoon

smoked paprika

1

clove

garlic

,

smashed and minced

1

cup

cheddar cheese

,

shredded

1/4

teaspoon

garlic powder

1/4

teaspoon

salt

more cheese

,

to top (optional)
Instructions
First

bake your bacon

. Lay 4 strips of bacon on a foil-lined baking sheet and follow the instructions for baking on

this post

. You can also fry it in a pan if you like, but you have to turn the oven on to broil the bread anyway, so you make as well bake it and save your face from getting splattered with grease.

Remove the cooked bacon from the pan and discard the foil. Line the pan with a new sheet of foil. Crumble the bacon into pieces.

In a large bowl or stand mixer, beat the cream cheese until it is smooth.

Chop the jalapeños. See photo. Make sure you get rid of all the seeds and membranes.

Add jalapeños, smoked paprika, garlic, cheddar cheese, salt, and garlic powder to the cream cheese. Mix it together.

Split the French bread in half horizontally. Spread the cream cheese mixture evenly on each half of the bread. Top with more cheese if you like. Sprinkle with bacon.

Preheat the broiler and line a baking sheet with foil.

Place the bread halves on the foil and broil for 6-9 minutes, until it is as melty as you like. Keep an eye on it and always set a timer! Food goes from browned to burned very fast under a broiler.

Slice and serve warm!
Notes
*You can honestly use as many jalapeños as you want. I like to 5-6, not because it makes it super spicy, it just gives lots of flavor. If you do a good job getting all the seeds and membranes out, it won't be very spicy, I promise.
Source: I kind of mashed up Sally's Bacon Wrapped Cheesy Stuffed Jalapeños with Trish's Cheesy Bacon Ranch Bread.
Nutrition
Serving:
1
g
|
Calories:
278
kcal
|
Carbohydrates:
24
g
|
Protein:
10
g
|
Fat:
16
g
|
Saturated Fat:
8
g
|
Polyunsaturated Fat:
1
g
|
Monounsaturated Fat:
5
g
|
Trans Fat:
1
g
|
Cholesterol:
43
mg
|
Sodium:
465
mg
|
Potassium:
133
mg
|
Fiber:
1
g
|
Sugar:
2
g
|
Vitamin A:
546
IU
|
Vitamin C:
8
mg
|
Calcium:
123
mg
|
Iron:
2
mg
French Bread Pizza, 3 Ways << I called this post a Back to School dinner so I'm pretty sure that means today's bread counts as dinner too. Right?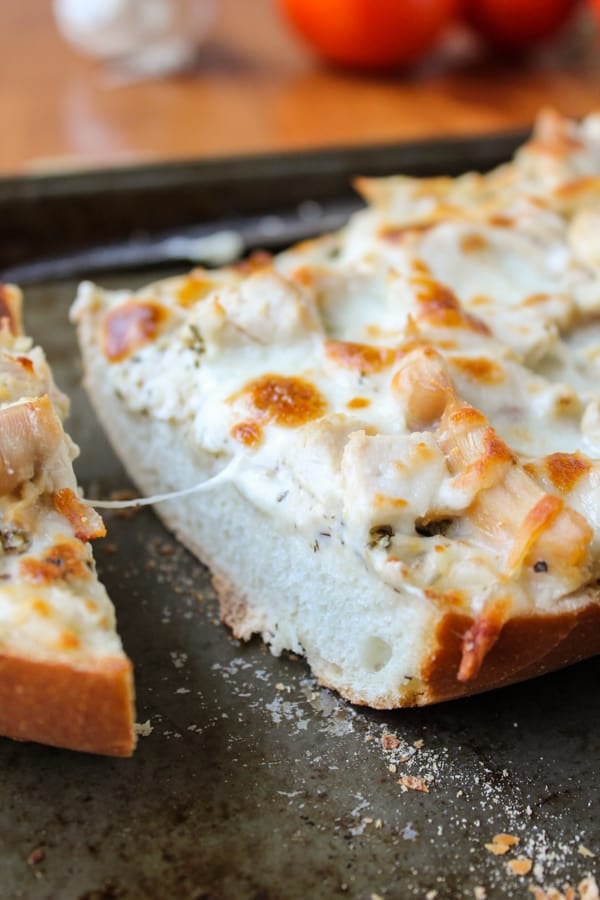 Bacon and Pepper Jack Stuffed Crescent Rolls: < now this is some good game day food.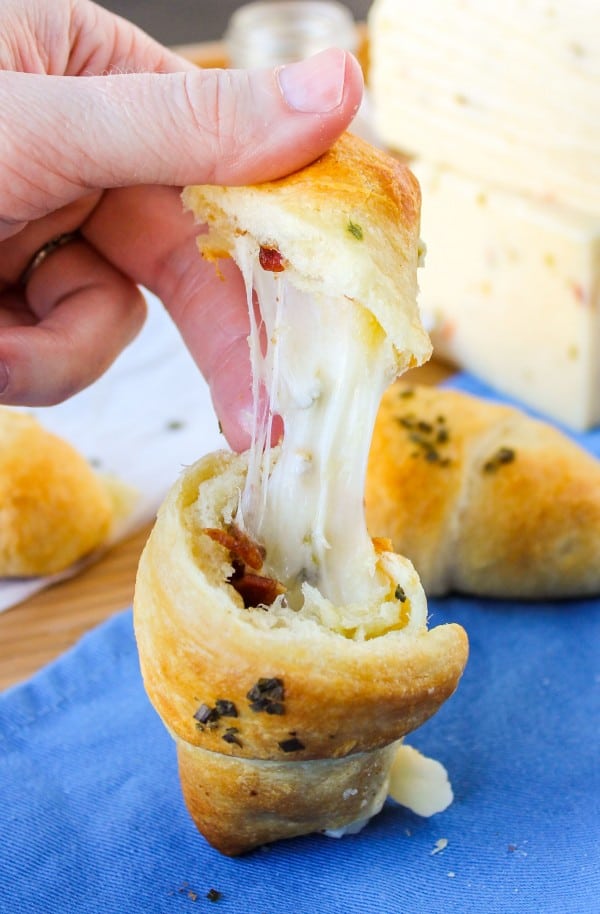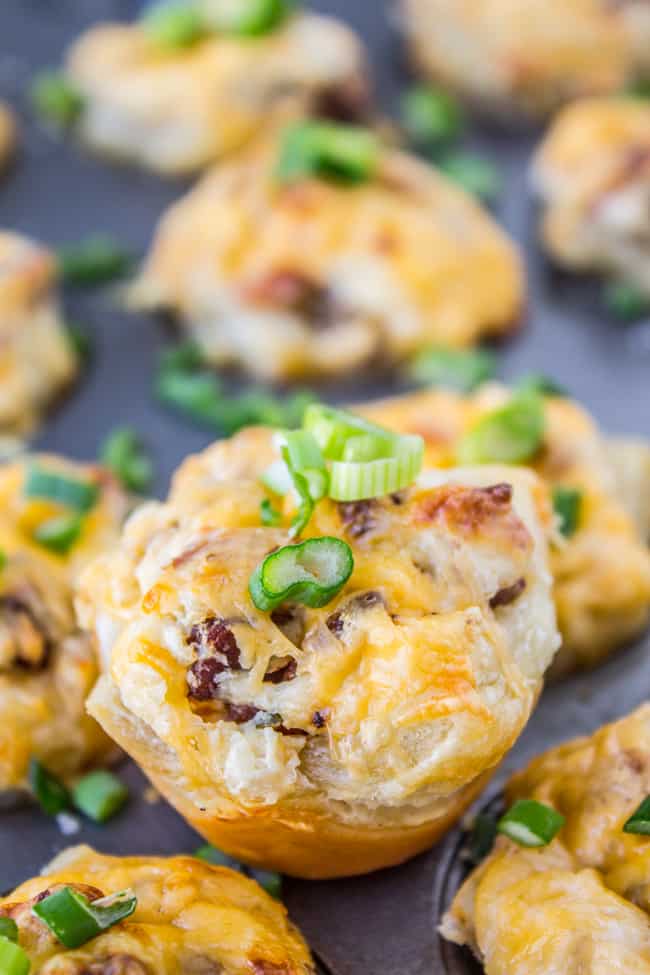 More cheesy bread from blogger friends!
Cheesy Bacon Ranch Bread from Mom on Timeout
Italian Chicken Cheesy Bread from Crunchy Creamy Sweet
Black Angus Cheesy Garlic Bread from CopyCat Recipes