Why stress last minute when you could make dreamy creamy mashed potatoes ahead of time for the holidays? This recipe is easy and ultra cheesy (thanks to goat cheese and Parmesan). It is a perfect side dish for Easter, Thanksgiving, or Christmas!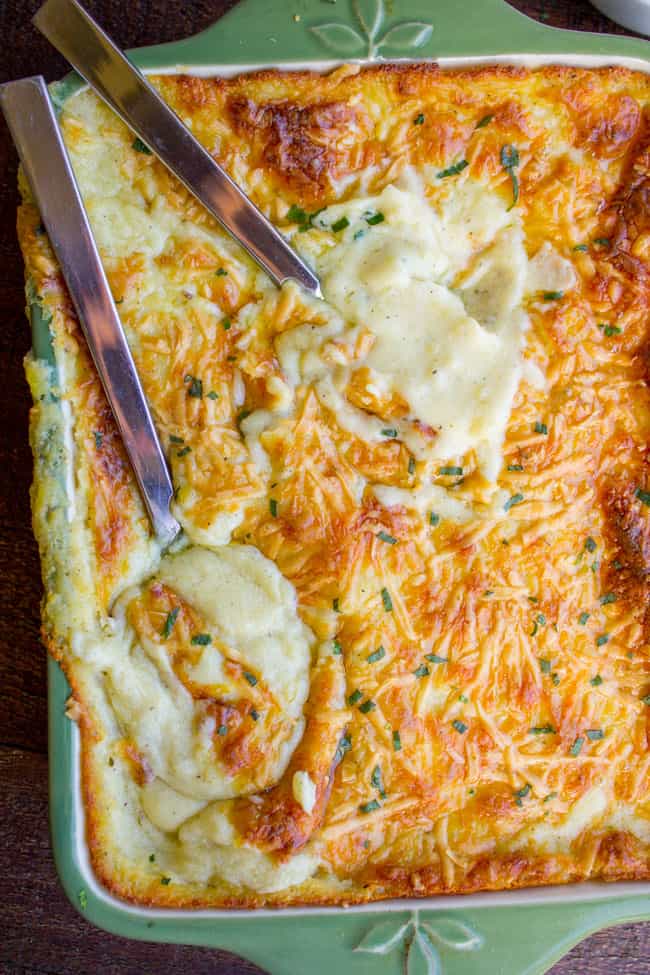 Late night laundry session. These are the glamorous days of our lives. It's midnight and Eric is folding all the laundry (MOUNDS AND MOUNDS) that I have been shoving back and forth from on top of the bed to the floor for several days now. (Because if there is laundry all over my bed, I have to fold it before I can get in, right? Until I remember that I have no problem dumping clean clothes on the floor.)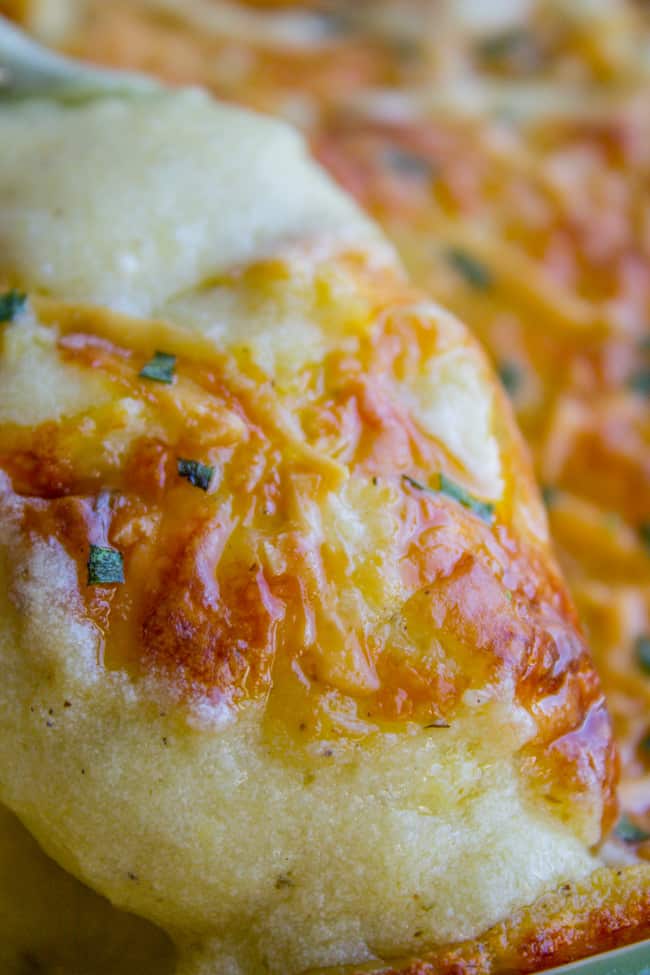 While folding, he turned on a show that Netflix suggested he watch. It's about a Japanese man who just retired and has decided to explore food. Or something like that. I keep looking up from my computer to see an old man contemplating his sandwich. ("He's hungry for ramen, but the popular places are too crowded!") I can't imagine anything more boring. (Eric: "It was a pleasant episode about a guy just learning to enjoy life.")
Eric is way more open minded when it comes to TV shows and especially film. In fact he's kind of a film freak. The other night I texted him that I was going out with some girlfriends later and he said, "Artsy depressing movie for me then tonight!" (I'm more of a cheesy happy-ending kinda girl.)
He even gifted our sister-in-law a "Movie club" this year for Christmas, wherein he researches and assigns her an artsy movie to watch every month and they discuss it afterward. I think I married up. Eric is like 100x more classy then I am. He does his best to educate me, but it's a failing effort. I'm still over here shoving Creamy Mashed Potatoes in my mouth and binge watching whatever rom-com is currently trending on Netflix.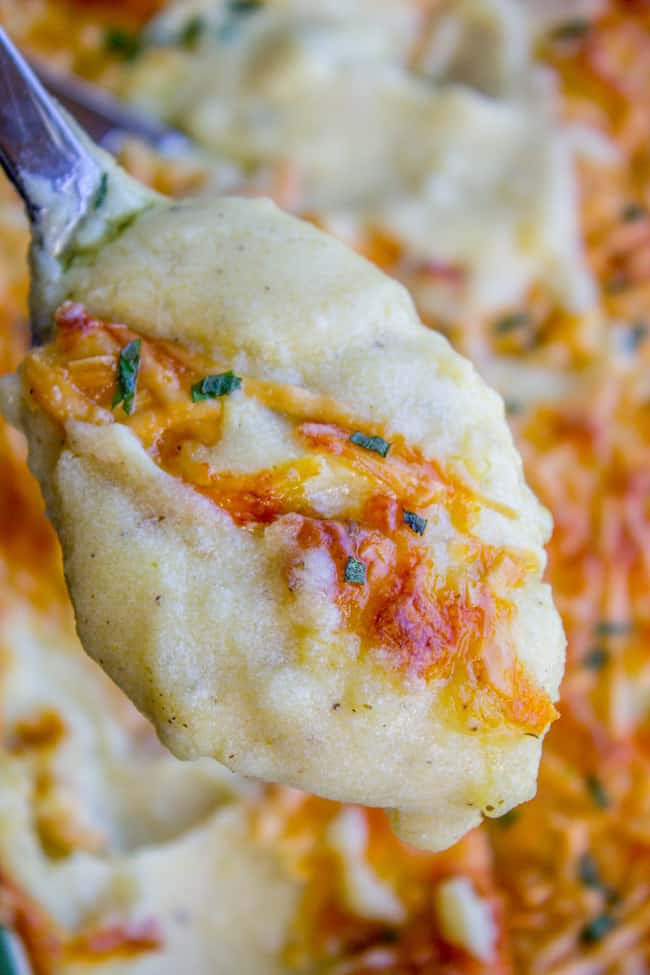 EASTER is coming guys! I'm here to solve a problem for you: Mashed potatoes at the holidays can be a pain. If you make them a few hours ahead of time, they get dry and chalky. They will taste better if you make them last minute, but that's assuming you don't accidentally triple the salt because you're so distracted with last minute meal preparations. Coordinating a hot meal for a large group is tricky business.
Make ahead for the win! I love cooking ahead for holiday meals, like this recipe for Make Ahead Roasted Sweet Potatoes and Brussel Sprouts, or this Make Ahead Turkey Gravy. It makes life so much easier.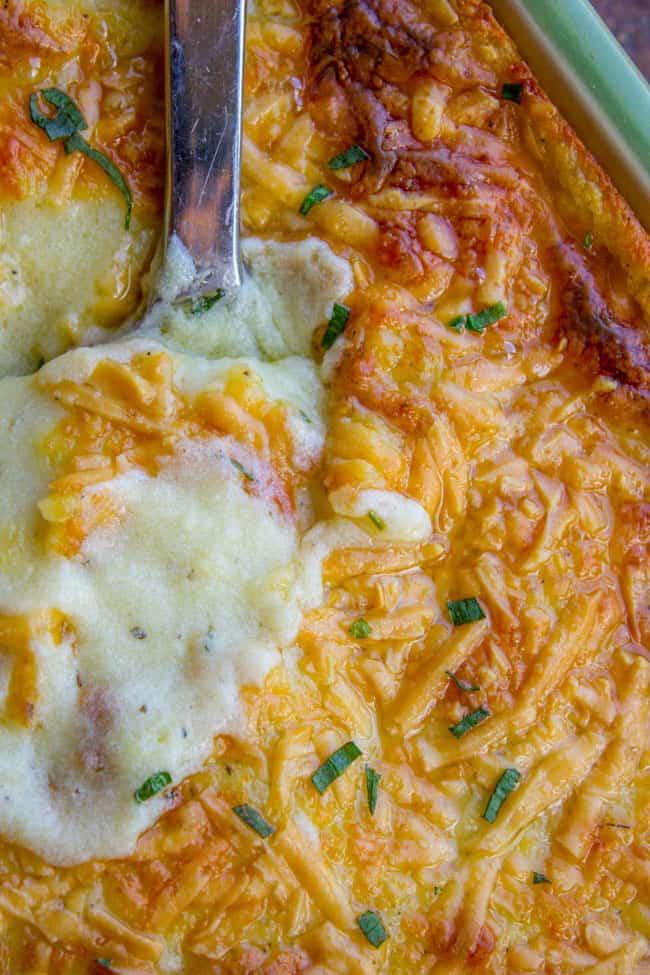 This recipe is baked, but I PROMISE you these mashed potatoes won't dry out in the oven. The recipe calls for 1 and 1/2 cups of sour cream for 3 pounds of potatoes. THAT'S A TON GUYS. I mean don't get me wrong, I love sour cream and I've definitely had people raise their eyebrows at me in the past for the amount of butter and sour cream I add to my potatoes (reckless abandon, people.) But even I've never added that much for 3 pounds. But I think this is the trick for make-ahead-and-then-bake mashed potatoes.
The baking step does something magical to them. I actually wouldn't recommend this recipe if you're skipping the baking step. There is too much liquid in the recipe if you're not going to bake; you will see what I mean after you add in all that goat cheese, sour cream, and half and half. It's not quite the right texture. But then you bake it and it loses some of it's moisture in the oven. By then it has a great texture, plus the crispy Parmesan layer on top.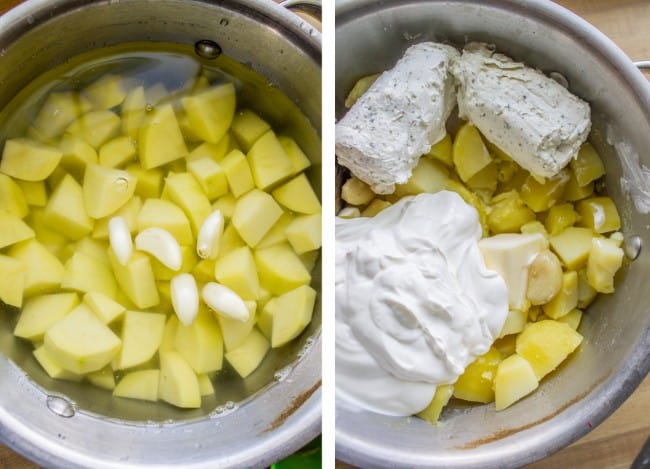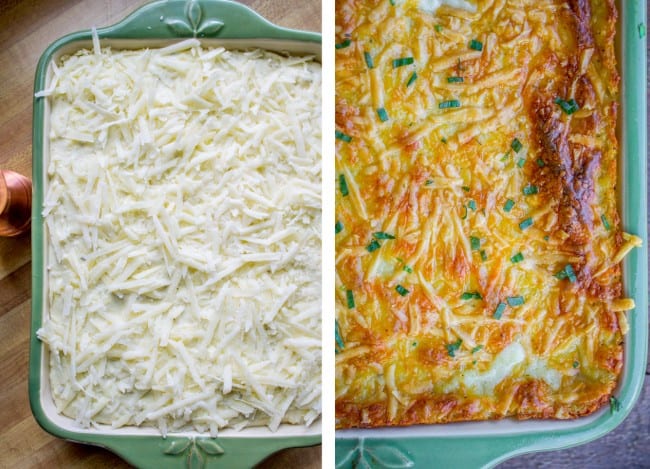 If you don't love goat cheese, I would still try it. If you don't love Parmesan, first of all, you're a freak, and second, you can still make this but don't top it with Parmesan. Choose a different cheese. (Cheddar would be good!) If you really, REALLY don't love goat cheese, leave it out and add an 8 ounce block of cream cheese instead. It will be delicious! Throw in some dried parsley and a sprinkle of thyme and/or chives to make up for the "herbed" part of the goat cheese called for.
This is another genius recipe from the lovely Ina Garten. It's from her Make It Ahead Cookbook. I don't have the book, but the recipe is available on Food Network, which is where I found it. I saw "make-ahead" and my eyes lit up. (Check back on the blog later this week for a make-ahead green beans recipe I'm putting together. I'm pretty excited about it!)
If you make any of my recipes, share it on Instagram using the hashtag #TheFoodCharlatan so I can see it! I love that.
Facebook | Pinterest | Instagram | Twitter
One year ago: Sautéed Carrots and Shallots with Thyme
Two years ago: Bacon Wrapped Potatoes
Three years ago: Greek Lentil Tacos with Cucumber Pico de Gallo

Ultra Creamy, Cheesy, MAKE AHEAD Mashed Potatoes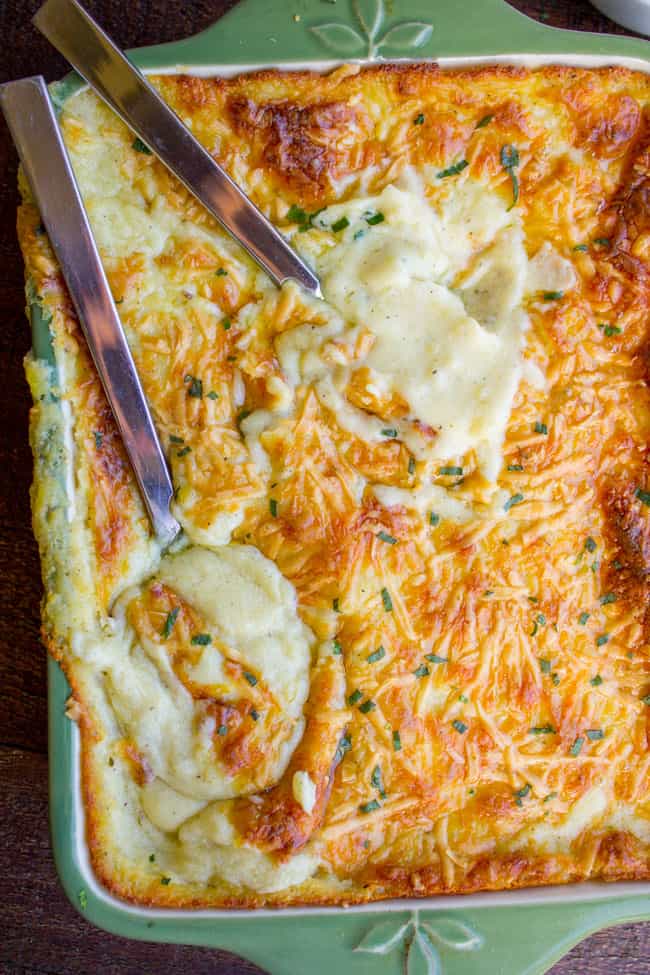 Why stress last minute when you could make dreamy creamy mashed potatoes ahead of time? This recipe is easy and ultra cheesy (goat cheese and Parmesan).
Ingredients
3

pounds

Yukon gold potatoes

,

peeled and cut into 1 to 2 inch chunks

5

large

garlic cloves

,

peeled

7 to 8

ounces

garlic-and-herb goat cheese*

4

tablespoons

butter

,

(1/2 stick)

1 & 1/2

cups

sour cream

1/2

cup

half-and-half

,

or milk is fine

2

teaspoons

kosher salt

3/4

teaspoon

black pepper

,

or to taste

1/2

cup

freshly grated Parmesan cheese
Instructions
Fill a large pot with water, cover, and set it on the stove over high heat.

Peel all the potatoes, then chop into 1-2 inch pieces. Add the potatoes to the heating water.

Smash 5 cloves of garlic and remove the peels. Add the garlic to the water.

Bring to a boil, then reduce so that it doesn't boil over. Boil the potatoes for about 20-25 minutes, until very tender. You should be able to easily crush a potato with a fork.

Preheat the oven to 375 degrees F.

Drain the potatoes and return to the pot. If you have one,

use a food mill

to process the potatoes. (Who actually has a food mill??) If not, use an electric mixer or an old fashioned masher. Make sure you stir in the boiled garlic well.

Stir in the goat cheese, butter, sour cream, half and half, 2 teaspoons salt, and pepper.

Pour the potatoes into a 2 quart dish. (No need to grease the dish) You want a dish that is about 2 inches deep and fairly wide so that you can evenly distribute the Parmesan. I use an 8x11 inch dish.

Top the potatoes with grated Parmesan cheese.

At this point you can cover the dish tightly and refrigerate for up to 3 days.

To bake on the same day: Place dish on a baking sheet in case it bubbles over. Bake at 375 for about 35 minutes, or until the Parmesan is golden brown.

To bake after refrigerating: remove the dish from the refrigerator and let it come to room temperature, at least an hour. Uncover, place on a baking sheet, and bake at 375 for about 40-45 minutes, or until the cheese is golden brown.
Notes
*You can use regular goat cheese if you like, if that's all you can find. You could throw some dried herbs in the potatoes to make up for it. Parsley, chives, and thyme would be good.
If you are not a goat cheese lover, you can substitute an 8-ounce package of cream cheese for the goat cheese.
Source: This is a recipe from Ina Garten, available on The Food Network and also in her Make It Ahead Cookbook.
Nutrition
Serving:
1
g
|
Calories:
506
kcal
|
Carbohydrates:
43
g
|
Protein:
16
g
|
Fat:
31
g
|
Saturated Fat:
19
g
|
Polyunsaturated Fat:
1
g
|
Monounsaturated Fat:
8
g
|
Trans Fat:
1
g
|
Cholesterol:
80
mg
|
Sodium:
1159
mg
|
Potassium:
1097
mg
|
Fiber:
5
g
|
Sugar:
4
g
|
Vitamin A:
1083
IU
|
Vitamin C:
46
mg
|
Calcium:
259
mg
|
Iron:
3
mg
If you love crispy cheese, you will also love this recipe: Gruyere Crisped Potatoes Au Gratin. So good!
Mashed Potatoes (From Heaven) << This is the classic recipe that my mom taught me. I blogged the recipe years ago after getting lots of requests for the "recipe."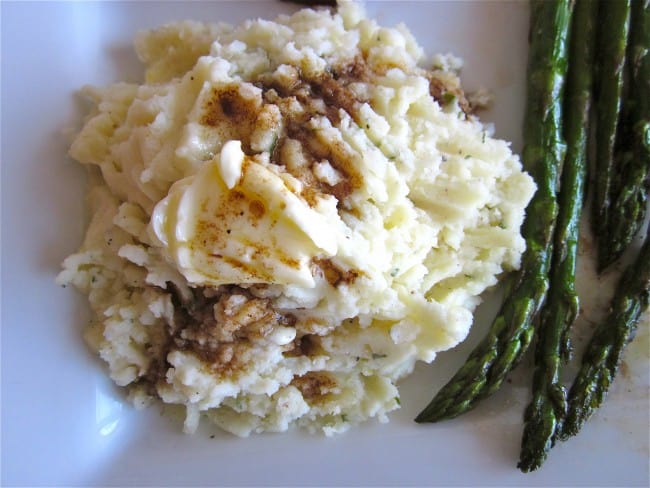 Browned Butter Mashed Potatoes << Guys. Brown butter ALL THE THINGS.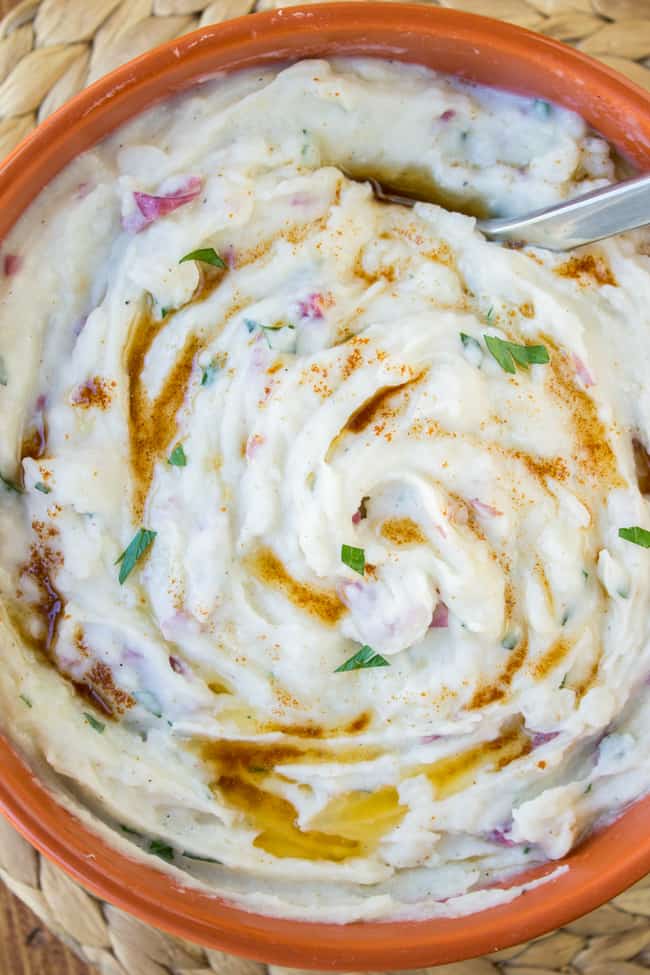 Slow Cooker Buttermilk Mashed Potatoes << if you don't have enough oven space for today's recipe, try this one in the crock pot.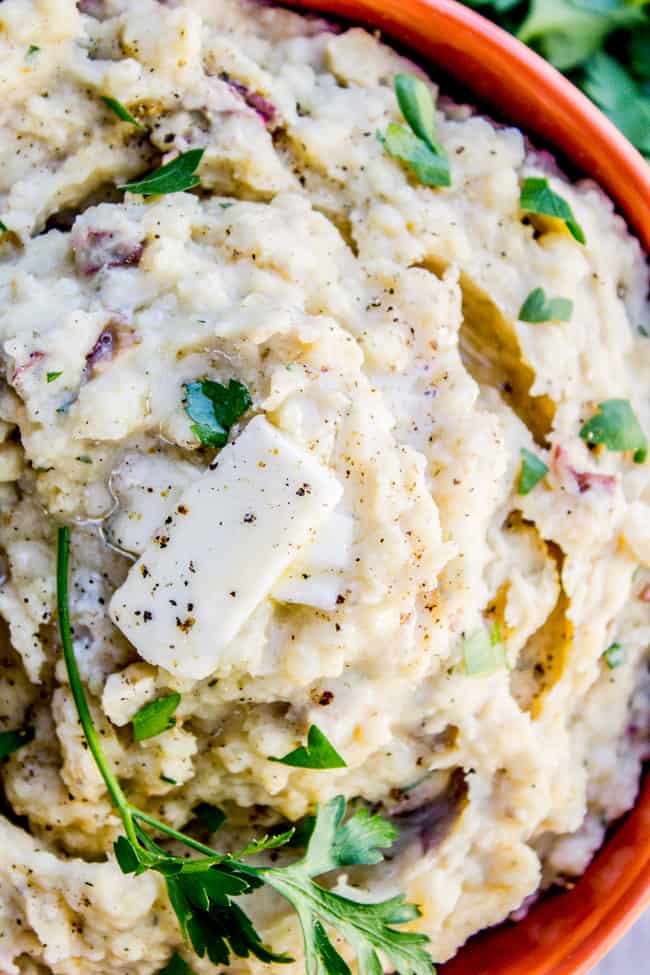 Other mashed potato recipes from friends!
The Best Mashed Potatoes from Wonky Wonderful
Cheesy Brown Butter Buttermilk Mashed Potatoes from Noble Pig
Thyme Mashed Potatoes from Barefeet in the Kitchen
Mashed Potato Casserole from The Reluctant Entertainer
Slow Cooker Mashed Potatoes from Recipe Boy
This post contains affiliate links. Thanks for your support!