Make ahead mashed potatoes are perfect for holiday meals! These Creamy Italian Mashed Potatoes are packed with flavor and so easy to throw together. After whipping the potatoes, you put them in a casserole dish and bake til crispy. It's so good!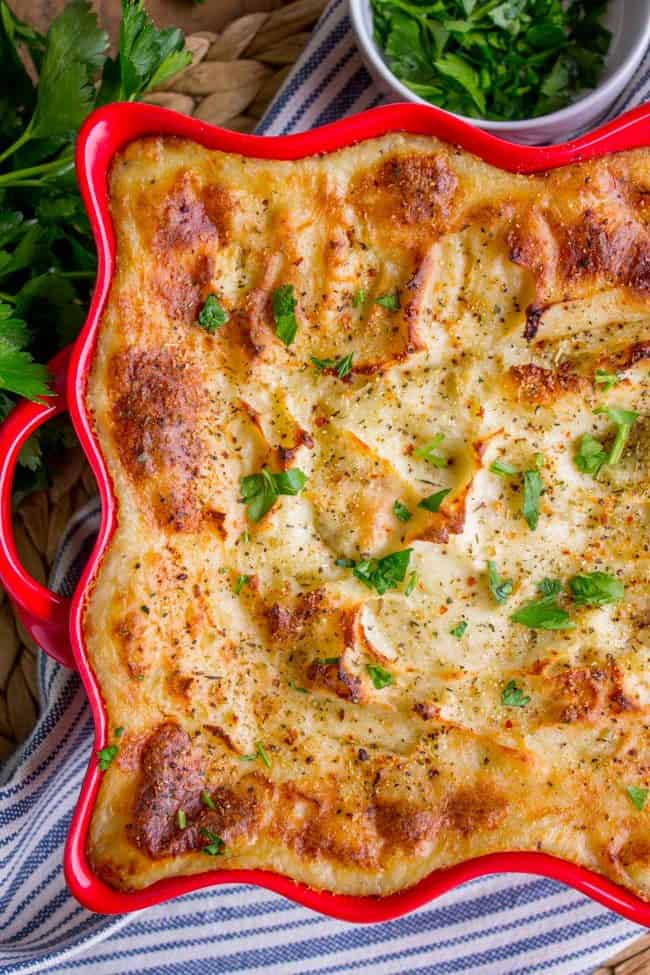 Saturday afternoon, Eric and I piled everyone into the car to head to my niece and nephew's joint baptism ceremony. We even managed to get the usual Saturday night bath in early, so everyone was looking particularly spiffy. (Well. Except Valentine. She napped through the bath and looked like a baby Einstein.) But never mind that, most of us looked great.
That is, until we were about halfway there, and I looked down and realized that below my long maxi skirt I was wearing fuzzy socks and Eric's 3-year-old moccasin slippers.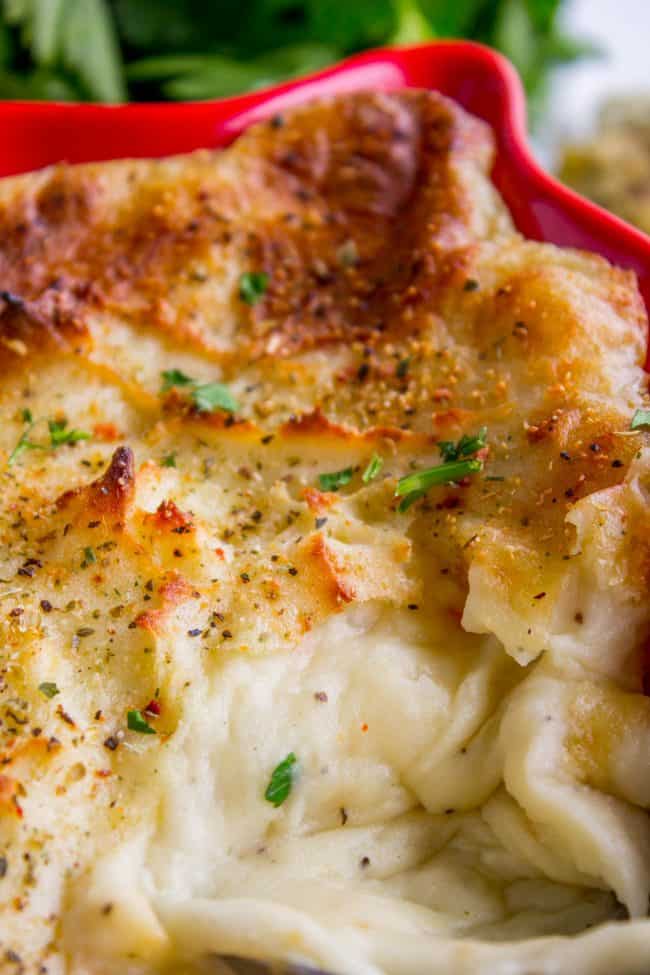 It was too late to go back. We would miss the ceremony. I was panicking. I can't walk into the church wearing SLIPPERS!!!
Eric's said, "They look fine! Just take off the socks."
Thanks Eric. Thanks a lot.
I suppose this is karma for stealing Eric's slippers all the time. My house is cold, okay?! Seriously though, it has been raining nonstop this week. It's like California finally got the memo that it's supposed to be winter, just in time for spring.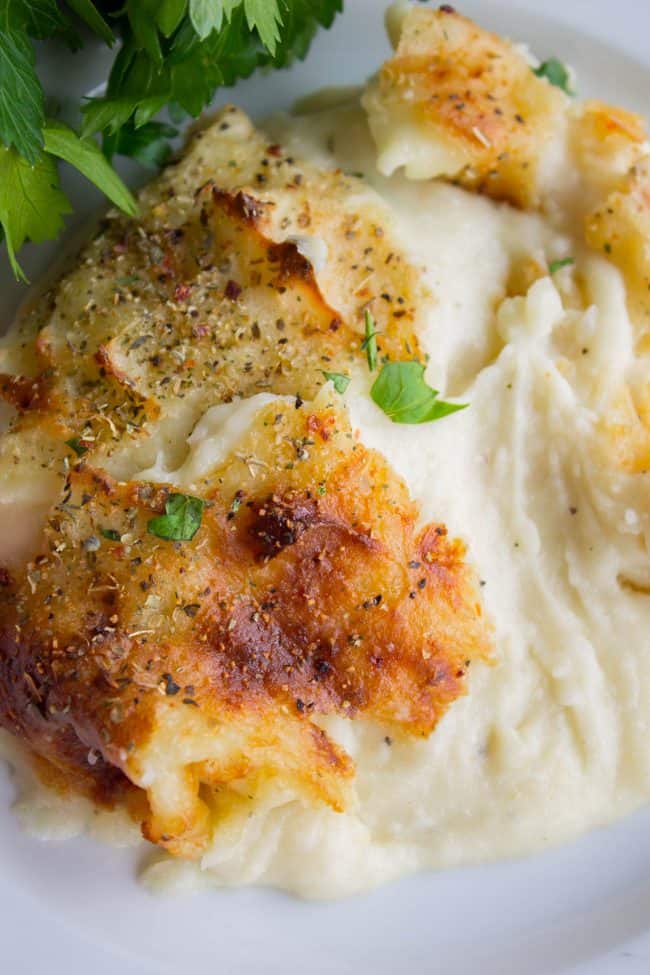 Speaking of spring, did you know that Easter is only in eighteen days?? How did this happen?? Early Easters always throw me off!
How to make Creamy Italian Make Ahead Mashed Potatoes
I've got you covered for mashed potatoes! This recipe is one that I've been meaning to try out for years. A reader left a comment on this Mashed Potatoes recipe that her grandma used to make creamy mashed potatoes with cream cheese and dry Italian dressing mix. Then she would bake them til crispy. It sounds amazing, right?? It is. We absolutely loved these potatoes.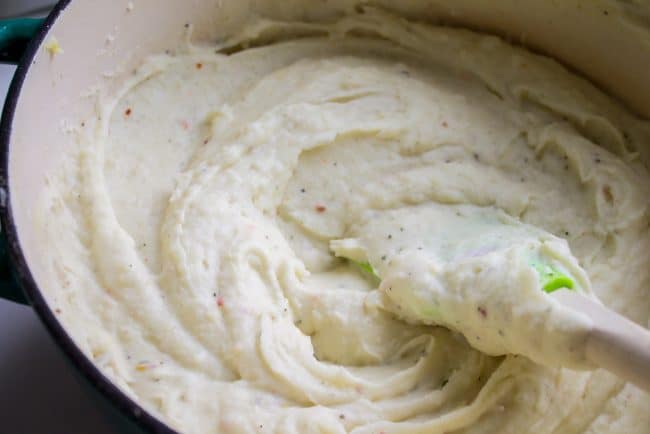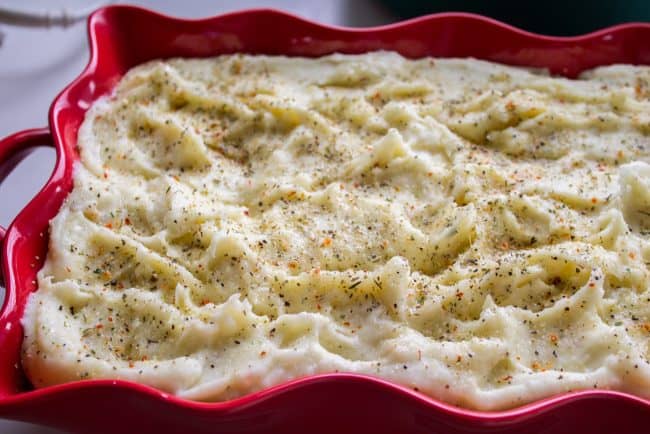 I love that they are baked, because you still get super creamy mashed potatoes underneath the crispy topping, but you can make them up to a day in advance. I am slowly learning over the years just how much finesse it takes to pull off a perfect holiday meal where everything is still warm but nothing is dried out. It's tough! I'm still not there! But dishes like these make ahead mashed potatoes make it a lot easier. At least you don't have to worry about dried out (or stone cold!) mashed potatoes! Just leave them in a warm oven until it's time to eat.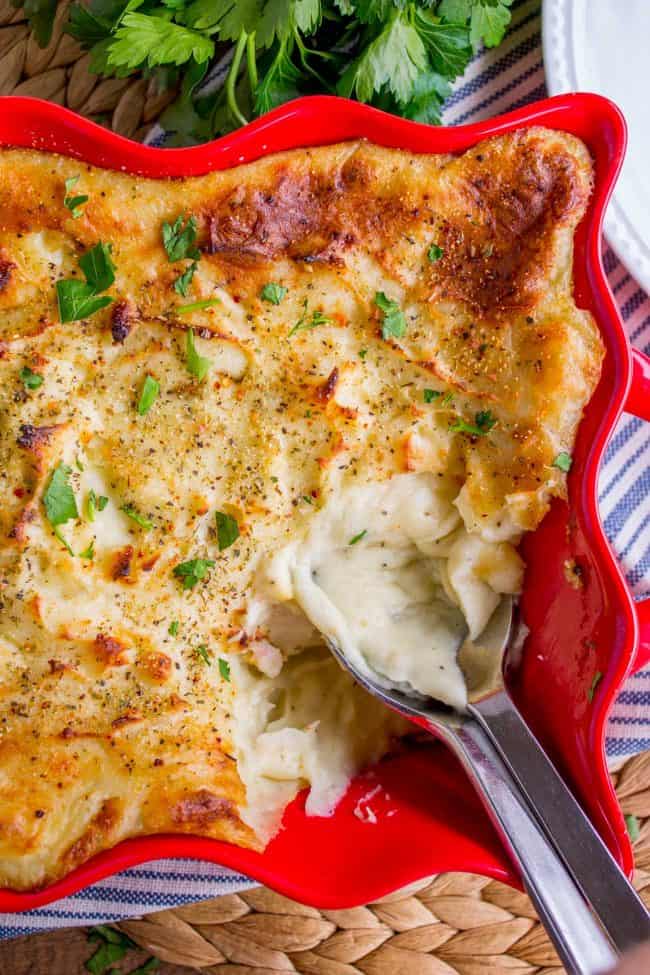 Check out my Easter Flavors board on Pinterest for more holiday meal ideas!
Facebook | Pinterest | Instagram | Twitter
Other potato recipes to make for Easter this year!
Aunt Shirley's Famous Creamy Mashed Potatoes <<legit.
Funeral Potatoes << I made this classic for you to try :)
Mashed Potatoes from my mom :) I have some really great mashed potato makers in my family, guys, what can I say.
Ultra Creamy, Cheesy, Make Ahead Mashed Potatoes: (this one's from Ina!)
Italian Roasted Smashed Potatoes from Wine and Glue
Garlic Mozzarella Mashed Potatoes from Southern Plate
Make-Ahead Garlic Herb Mashed Potatoes from Valerie's Kitchen

Make Ahead Creamy Italian Mashed Potatoes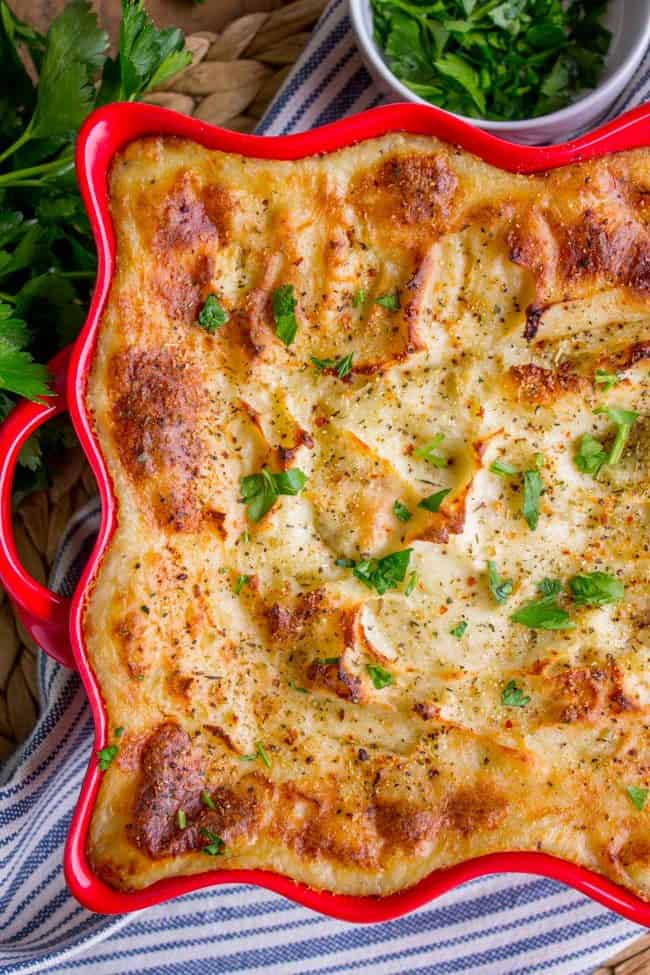 Make ahead side dishes are perfect for holiday meals! These Creamy Italian Mashed Potatoes are packed with flavor and so easy to throw together. After whipping the potatoes, you put them in a casserole dish and bake til crispy. It's so good!
Ingredients
5

pounds

russet potatoes

,

peeled and chopped

1

medium onion

,

chopped

4-5

cloves

of garlic

,

smashed and minced

1

8 ounce package cream cheese

1/2

cup

salted butter

,

1 stick

2

.7 ounce packets dry Italian dressing mix

1

teaspoon

Better Than Bouillon Chicken Base

1

tablespoon

dry Italian dressing mix

,

for topping

1-3

teaspoons

Italian seasoning

,

for topping
Instructions
Bring a large pot of water to boil over high heat while you peel and chop the potatoes. Chop them into 1 or 2 inch chunks.

Chop the onion and the garlic.

Add the potatoes, onion, and garlic to the water, even if it's not boiling yet. Leave the heat on high until the water starts boiling, then reduce to a medium simmer.

Boil for about 15-20 minutes until the potatoes are very tender.

Preheat the oven to 400 degrees F.

Drain well.

Add the cream cheese, butter, 2 packets of Italian dressing mix, and Chicken Base.

Use a hand mixer to beat the potatoes. This should only take about 2 minutes.

Taste the potatoes and see if you want to add any salt and pepper.

Pour the potatoes into a 3 quart casserole dish. (Any size will do. 9x13 works great, and then you get lots of crispy topping.)

Use your spoon to create wave and divets on the surface of the potatoes.

Sprinkle with 1 tablespoon additional dry Italian dressing mix. If you don't have another packet, or think it's annoying to have an open package in your cupboard, then skip it and just sprinkle on some Italian seasoning. I did both!

Bake at 400 degrees F for about 20-30 minutes, until the top has developed a layer that is as crispy as you like it.

Serve immediately.
Make ahead:
Follow instructions through step 12 (put the potatoes in the casserole dish and top with seasoning). Cover tightly and refrigerate for up to 24 hours. When you are ready to bake, remove the cover and bake at 400 for 30-45 minutes, until hot and the top has become crispy.
Notes
I got the idea for this recipe from a reader comment on these Mashed Potatoes. Thanks, Snarkie! :)
Nutrition
Calories:
365
kcal
|
Carbohydrates:
56
g
|
Protein:
11
g
|
Fat:
12
g
|
Saturated Fat:
8
g
|
Polyunsaturated Fat:
1
g
|
Monounsaturated Fat:
3
g
|
Trans Fat:
1
g
|
Cholesterol:
34
mg
|
Sodium:
401
mg
|
Potassium:
1294
mg
|
Fiber:
4
g
|
Sugar:
4
g
|
Vitamin A:
377
IU
|
Vitamin C:
18
mg
|
Calcium:
150
mg
|
Iron:
3
mg