This is my favorite baked ham recipe! It's so easy to put together, and the Raspberry Chipotle Ham Glaze (made with raspberry preserves) is the perfect combo of sweet and tart, with a bit of a smokey kick from the chipotle. It not only makes a super juicy, tender ham, but the leftovers are AMAZING when added to soup or a pot of beans.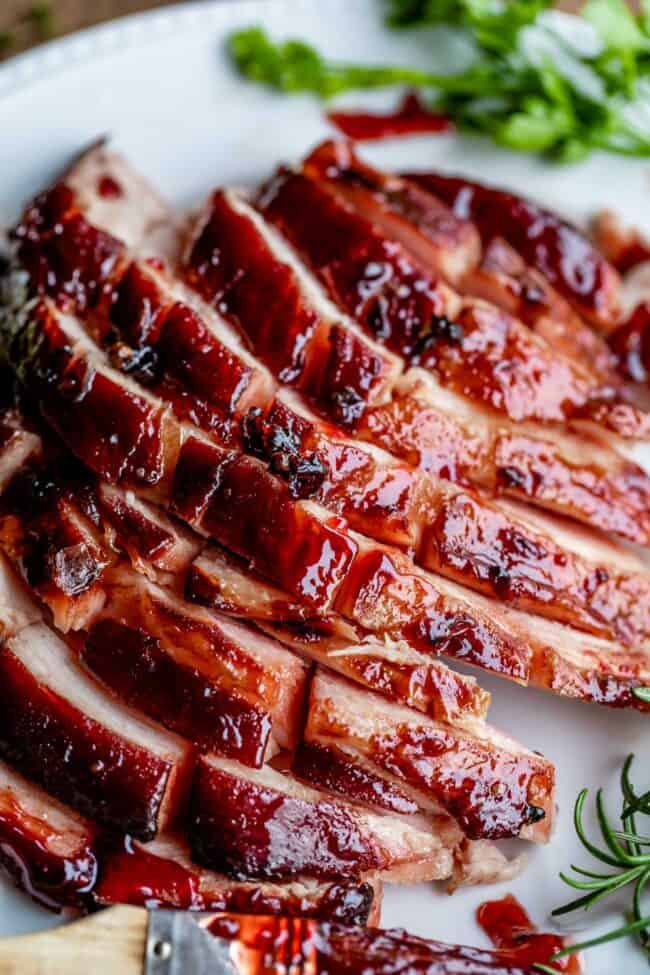 Originally posted April 2, 2012.
Last Friday, Eric texted me, "Gaaaaahhhhh new Star Wars Trailer!!!!!" and then he came home that night and discovered that I had not immediately navigated to Youtube to watch it. So he sat our entire family down in the living room, pulled it up on the TV, and we watched it together. When it was over his eyes were wide and he said, "Karen, didn't you get CHILLS?? I have chills. Let's watch it again."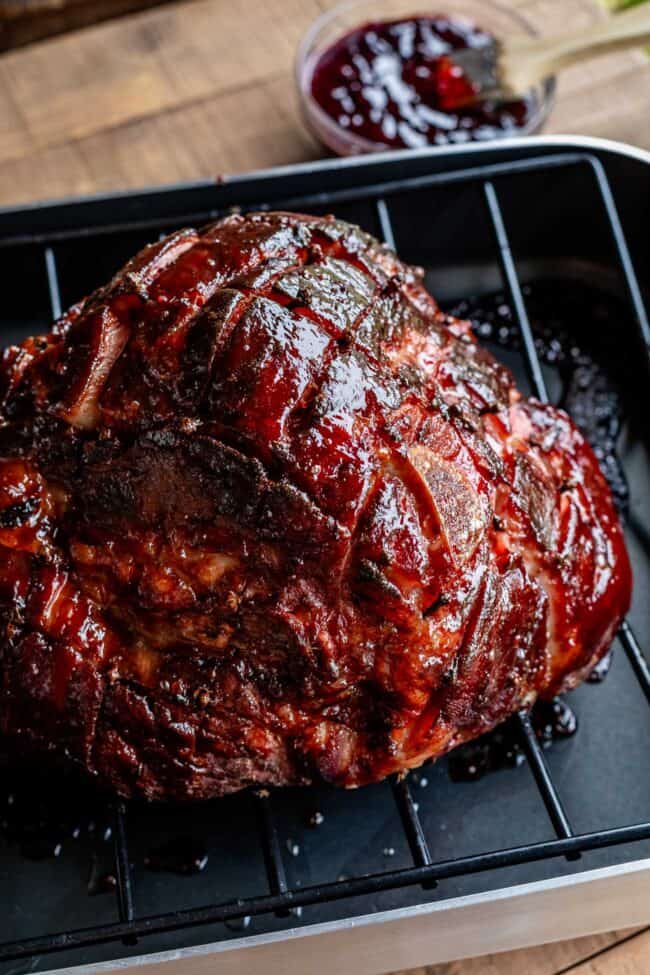 Needless to say, I did not get chills. (Either the first or the second time we watched it.)
Are you guys Star Wars fans? I'd give myself maybe like a solid B- in my enthusiasm for Star Wars in general. Mainly because if we're grading on a bell curve, well let's be real, there are some pretty legit Star Wars freaks out there, so there's no way I could be considered anything more than a moderate fan.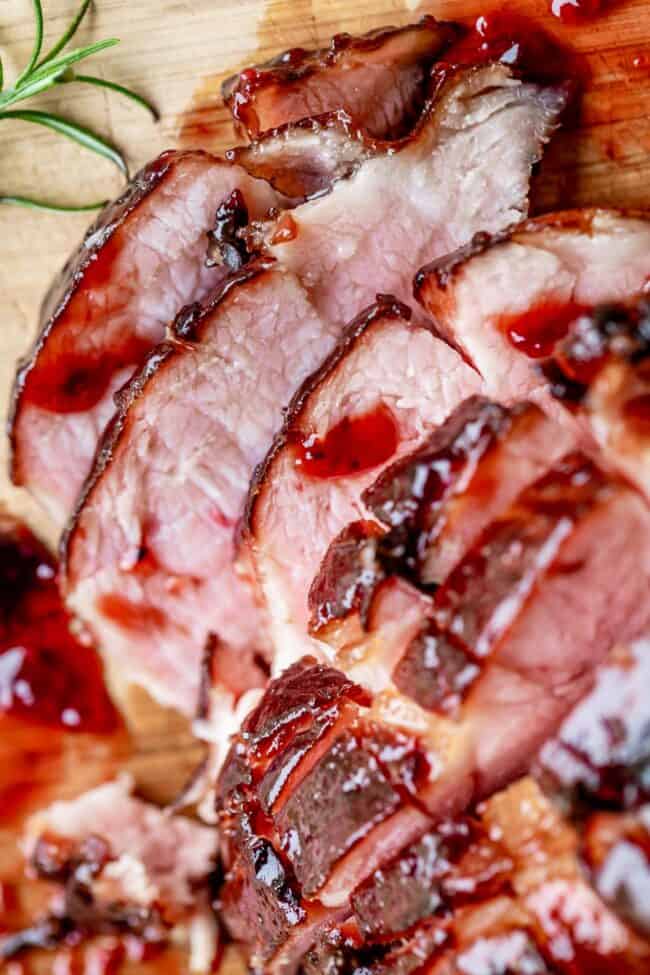 And that's even coming from a family that bought original Millennium Falcon toys in the 70s, collected all the Taco Bell figurines when Episode I came out, displayed a 10 foot painting of the Death Star on one of the bedroom ceilings, and I'm pretty sure there is still a life-size Chewbacca cut-out tucked away in that same bedroom in my parents house to this day.
Sometimes I realize that even being a moderate fan, I still sound like a crazy person to all non-fans out there. My brother Nate sent this to me and Eric: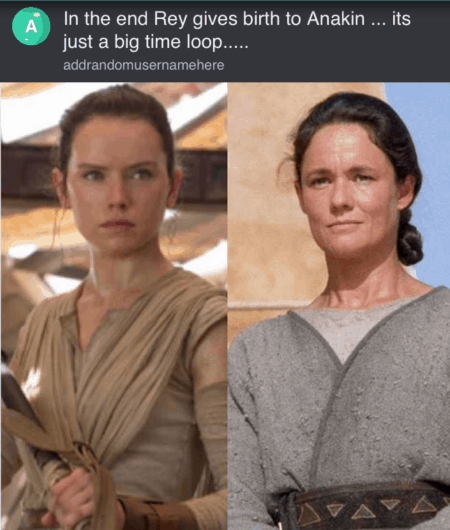 I mean…right??
I excitedly told a couple of my friends about this theory, and they both had to pretend to be interested until I remembered that both of them hate Star Wars. This is how you get a reputation, my friends. (Unless you're Eric. Then you get a reputation because you unabashedly display "Star Wars: The Essential Guide to Weapons and Technology" on the bookshelf. It's like we're advertising our own geekiness.)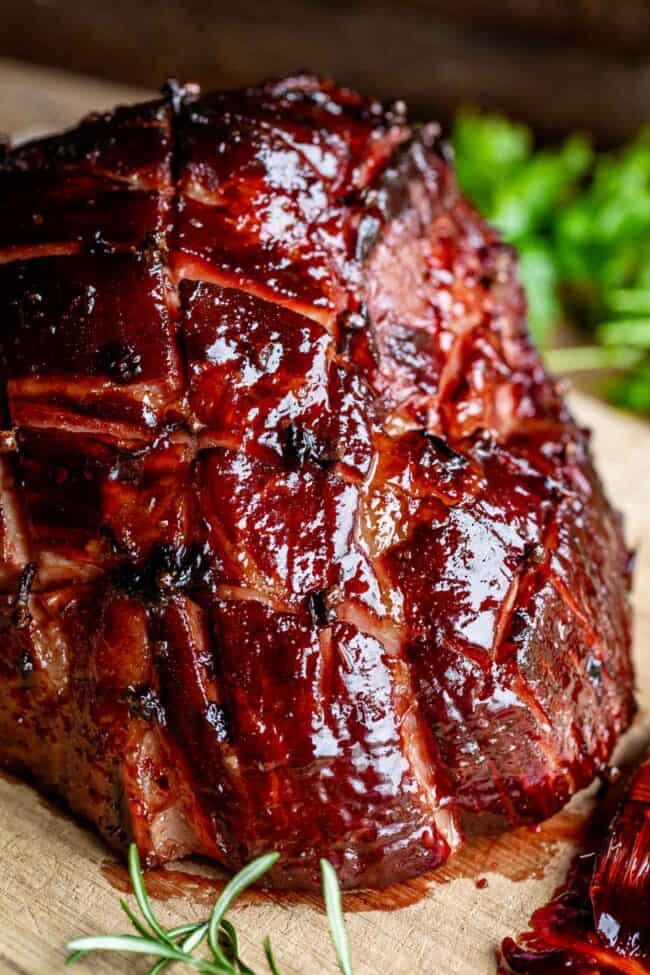 Well even if we can't all appreciate Star Wars, I'm pretty sure we can all appreciate a nice and juicy oven roasted ham! If you have not picked your ham recipe for Easter Sunday yet, PICK THIS ONE!! Sorry I'm yelling, but I have strong feelings about this Raspberry Chipotle Glazed Ham. It was one of the first hams I ever made on my own, and clearly it made a lasting impression.
The recipe is from The Better Homes and Garden's Cookbook, it's one of the "alternate flavors" where they add a little tiny extra paragraph that is an entire different recipe than the ham featured in the picture. I love digging into those tiny paragraphs. Because sometimes you come up with a glaze like this!!
Here's one of the original photos from when I posted this ham recipe back in 2012. Here's what 24 year old Karen had to say about it:
"This ham is da bomb. It is nice and sweet, just like an Easter ham should be, but has a little kick from the chipotle. I think the flavor is fabulous. I may never bother to make another baked ham recipe because I love this one so much. You can sub any kind of seedless preserves that you want, I've used both blackberry and plum. Happy almost Easter! (Come back on Wednesday for my awesome mashed potatoes that go perfectly with…anything. Including this ham.)"
I think it was the same day I made Oven Roasted Asparagus with Balsamic Browned Butter, another post that I recently updated. And also the day I made and shot these  Heavenly Mashed Potatoes, which are really quite delicious, but have since been replaced in my regular rotation with Aunt Shirley's Famous Creamy Mashed Potatoes, which are even creamier.
How to Cook Ham

Baked ham is ridiculously easy to make. It is already pre-cooked (smoked) when you buy it. Smoked ham is so flavorful! For this recipe you want to get a rump half or shank portion. You can buy a spiral-cut one, or slice it yourself. (I sliced the one you see in the photos myself.) It's not hard to do.
I like to score my ham with a diamond pattern and stud with cloves. It's totally optional! I love the earthy flavor it adds.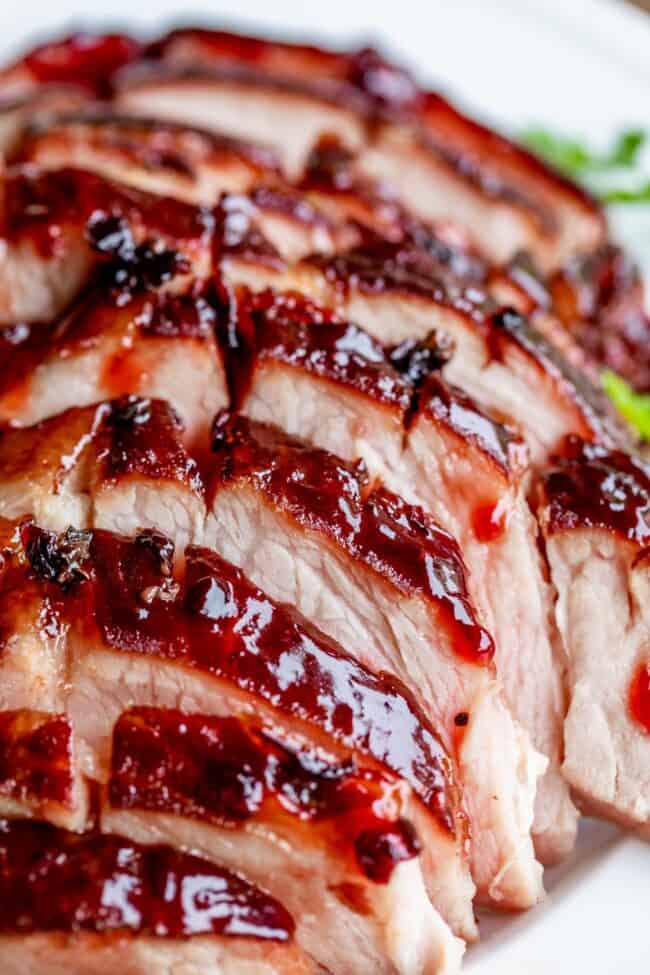 Then all you have to do is make a ham glaze (any kind you like!) and simmer until thickened. Once you've got the glaze nice and glaze-y, brush it on the ham before baking (I like to bake uncovered, but either way works), and then brush once again about 20 minutes before it's done. It thickens into this beautiful crust on the outside of the baked ham. Yum!
How to Make Glaze for Ham
Glaze for ham is ridiculously easy to make. Most glazes call for a heck ton of brown sugar and some salt and call it good, but that's not really my favorite. Too bland. I need some more flavor punches. For this recipe, we are using seedless raspberry preserves, which provides all the sweetness that you need but also tons of flavor that contrasts so nicely with the ham. (I've also tried this recipe with blackberry preserves and red plum preserves. You can't go wrong!)

All you have to do is simmer together the preserves, white vinegar (any kind will do, apple cider vinegar would be good!), garlic, and some chopped up chipotle peppers.
You can find a can of chipotle peppers in the Latin foods aisle at the market. Chipotle peppers are usually packed in adobo sauce. It's smokey and delicious and compliments a smoked ham so well. (did you know that chipotles are smoked jalapenos? So good.)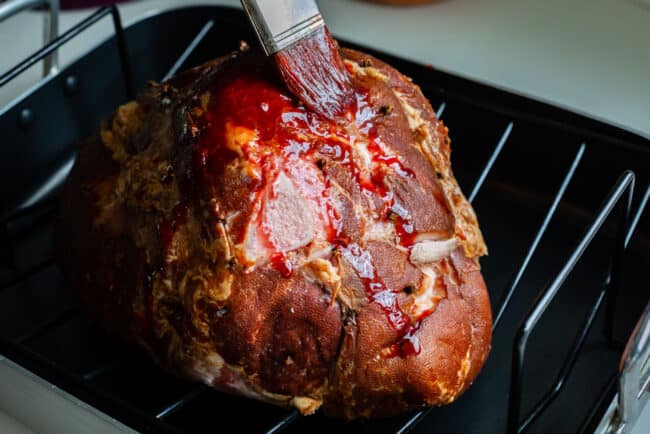 You almost never need an entire can of chipotle peppers (or at least I don't!) You're usually only using one or two. So I always package the rest up in a ziplock and save them for later. I pulled out the peppers I needed for today's baked ham from the freezer, just chopped them up from frozen and tossed it in the pot. Easy peasy.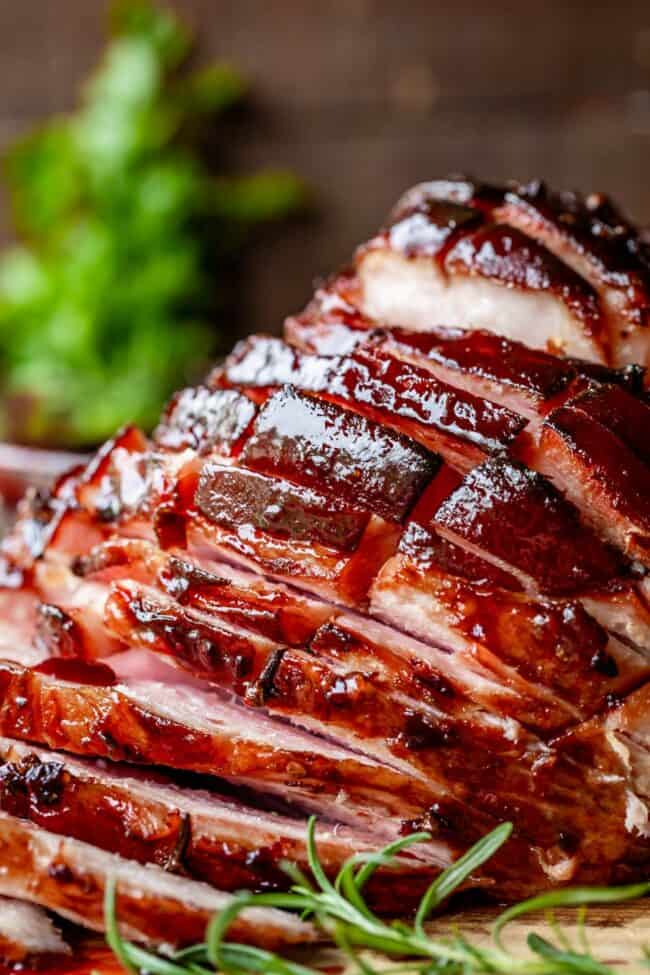 My parents are out of town (they are spending the Holy Week in various Central American countries, seeing all the Easter parades and festivities, fun right?), so we are few in numbers this Easter. Eric's mom and sister are in town visiting, and we were just talking about our menu. I think we're having: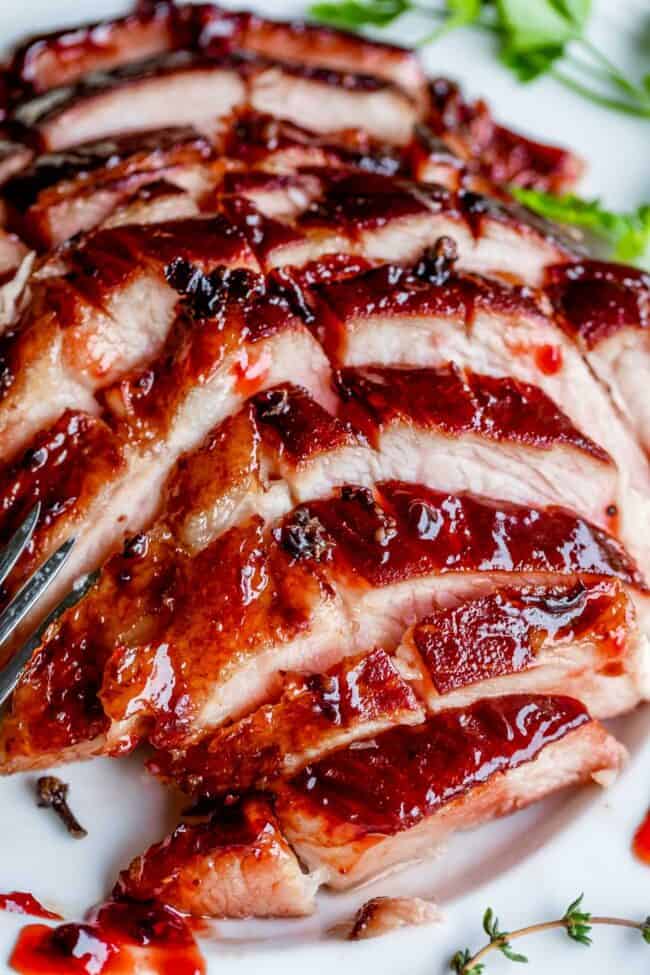 Whatever you make, I hope you and your family have a lovely Easter!! I'm hoping to be back here later this week to get you one more recipe before Sunday, so stay tuned!
More Easter main dishes you will enjoy!
Oven Roasted Cranberry Dijon Ham << this is my other favorite ham recipe! It's delicious!
Roast Leg of Lamb with Blackened Honey Dijon Crust << if you are not feeling the ham this year, make lamb!! It's so good.
Easy Sriracha Ham (Slow Cooker) << this recipe only has 3 ingredients, and it's delicious! This recipe uses the traditional brown sugar, but the sriracha totally changes the flavor profile.
Herby Ham Salad from A Farmgirl's Dabbles
Easy Orange Honey Ham from Honey and Birch
Grilled Pineapple Ham Kebabs Recipe from She Wears Many Hats
Facebook | Pinterest | Instagram

Baked Ham with Raspberry Chipotle Ham Glaze Recipe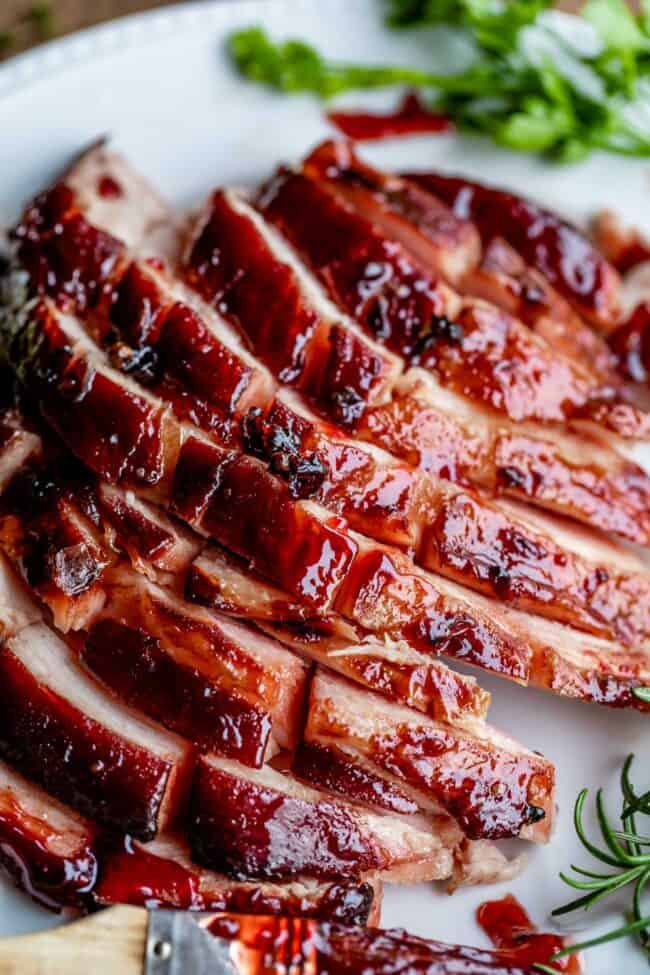 This baked ham recipe is so easy to put together, and the Raspberry Chipotle Ham Glaze is the perfect combo of sweet, tart, and smoky flavors. It not only makes a super juicy, tender ham, but the leftovers are AMAZING when added to soup or a pot of beans. 
Ingredients
1 & 1/2

cups

seedless raspberry preserves

2

tablespoons

white vinegar

2

chipotle peppers in adobo sauce

,

canned, chopped small

3

cloves

garlic

,

smashed and minced

6

pound

cooked ham

,

rump half or shank portion

24

whole cloves

,

for studding ham (optional)
Instructions
Preheat the oven to 325 degrees F.

In a small saucepan combine raspberry preserves, vinegar, chipotle peppers and garlic. (If you are nervous about it being spicy, start with one chipotle and taste it. Add more if you like.)

Cook and stir over medium high heat just until boiling. Reduce heat to medium and bring to a simmer. Cook, uncovered, about 10 minutes more. It will start to thicken up. (You will have about 1 and 1/2 cups glaze.) Set aside.

Set a rack inside of

a large roasting pan

. If you don't have a roasting pan, set a large oven-safe cooling rack over a

half baking sheet

with raised edges. You want to keep the ham lifted from the liquids that will pool in the pan.

Cut open the packaging on your ham and throw away the glaze packet than probably came with it. We have loftier plans for this ham.

Set your ham flat side down on the rack.

Use a sharp serrated knife to score the ham by making diagonal cuts in a diamond pattern. See photos. Make the cuts about a half inch deep.

If you want, stud your ham with cloves. Push one clove into the crosses of the diamond cuts you made. I love the earthy undertones cloves add! But it's totally up to you and it will still be a great ham if you skip the cloves. I've done it both ways.

Brush the ham generously with the glaze you made. Don't use all of it, we need to brush again later too.

If you have an

oven-safe meat thermometer

, insert it into the center of the ham. The thermometer should not touch the bone. (Or use an instant-read one later.)

Bake in a 325 degree oven for 1 and 1/2 to 2 and 1/4 hours or until thermometer registers 135 degrees F. (About 20-25 minutes per pound). Remember, the ham is pre-cooked, so you are just getting it nice and warm for serving, and crisping up the outside.

About 20 minutes before your ham is going to be done, remove it from the oven and brush with more glaze. Return to the oven.

When the ham reaches 135 degrees, remove from the oven and cover with foil until ready to serve. Serve with remaining glaze.

Use your leftover ham bone to make

Split Pea Soup

! The chipotle flavor from the ham slays in this soup!
Nutrition
Calories:
276
kcal
|
Carbohydrates:
18
g
|
Protein:
26
g
|
Fat:
10
g
|
Saturated Fat:
2
g
|
Polyunsaturated Fat:
1
g
|
Monounsaturated Fat:
4
g
|
Trans Fat:
1
g
|
Cholesterol:
99
mg
|
Sodium:
1600
mg
|
Potassium:
406
mg
|
Fiber:
1
g
|
Sugar:
12
g
|
Vitamin A:
75
IU
|
Vitamin C:
34
mg
|
Calcium:
16
mg
|
Iron:
1
mg