Mashed potatoes are already the best side dish of all time. (I only speak the truth.) But add browned butter and parmesan and a little horseradish? Go ahead. Get yourself named Queen Thanksgiving.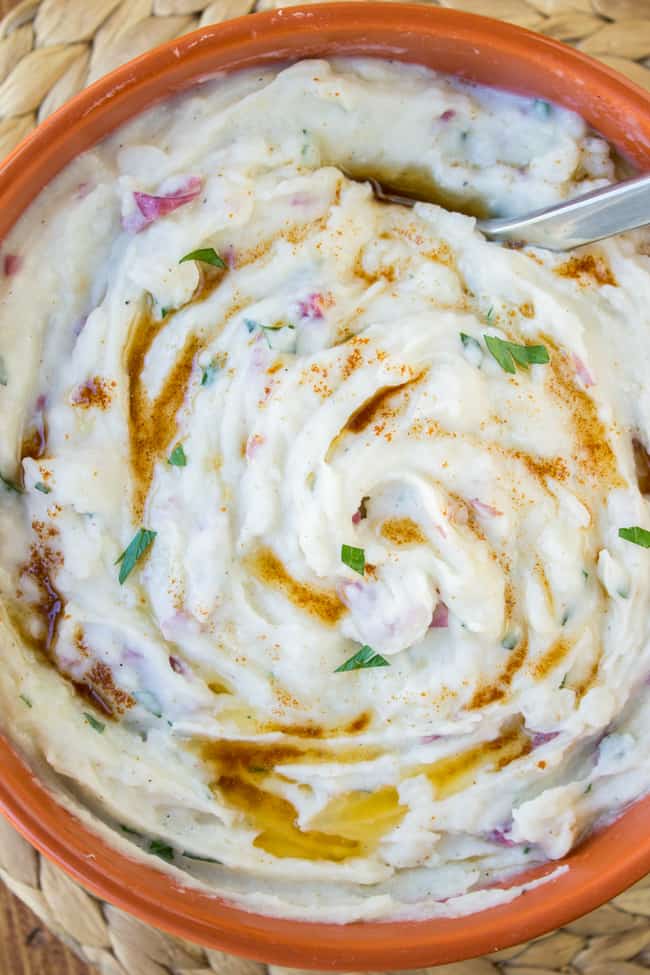 Eric just decided that it was time for some late-night popcorn RIGHT AFTER I decided that it was time to brush my teeth. He decided that he wanted it spicy so he squeezed on some lime juice and dumped half a bottle of cayenne pepper on top. I decided that this might taste exactly like the popcorn version of Hot Cheetos so I ate half the bowl and now my mouth has actual flames bursting out of it. REAL ONES YOU GUYS.
Tonight was fun, despite the inferno. Eric and I went to see a friend play her violin at a Classical-music quiz at a coffee house downtown. They would play an excerpt, then ask questions like "What color is this piece described as?" (I'm not kidding). Or some questions were like, "Who said, 'Listening to  Vaughan Williams is like staring at a cow for 45 minutes?"
Everything is funnier when the guy trying to get you to describe orchestra music as yellow or purple is wearing a Mozart wig, white knee-highs, and buckled shoes. (We all thought the music was distinctly red, but it turned out to be bright blue. (??) Still tied for second place though! Woot!)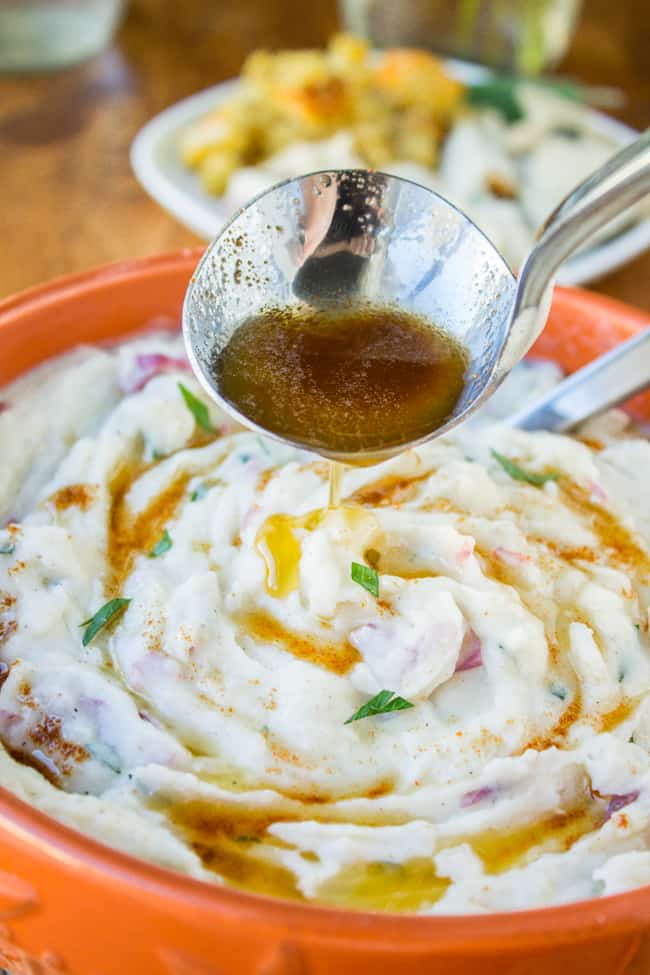 Can you SEE these potatoes. Guys, that is Browned Butter. Who needs gravy when you've got this glorious stuff??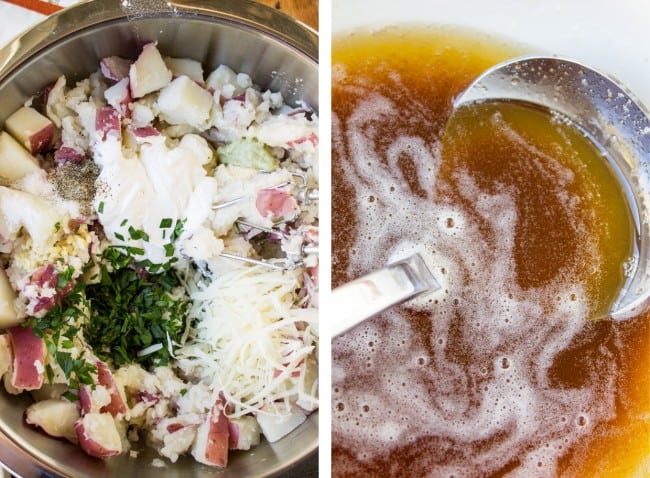 Mashed potatoes was my favorite food growing up. It's still pretty high up there. Adding browned butter to food (any food!) makes it 1000x better than it was to begin with, so brown butter mashed potatoes seems like a pretty logical step. I mean,  how often do you get to drizzle straight up butter. The Parmesan adds that perfect bite. The horseradish sauce is not overwhelming; it is not meant to be spicy. It just adds great flavor.
I made these 3 times because I couldn't get the photos looking right. 3 times! I know. But they are so bafflingly awesome that none of us minded eating 15 pounds of potatoes. Browned butter, people. Where it's at. Make these for Thanksgiving! This is your chance to become a mashed potato legend my friends.
Do you guys give up? Or are you thirsty for more?
Facebook | Pinterest | Instagram | Twitter

Brown Butter Mashed Potatoes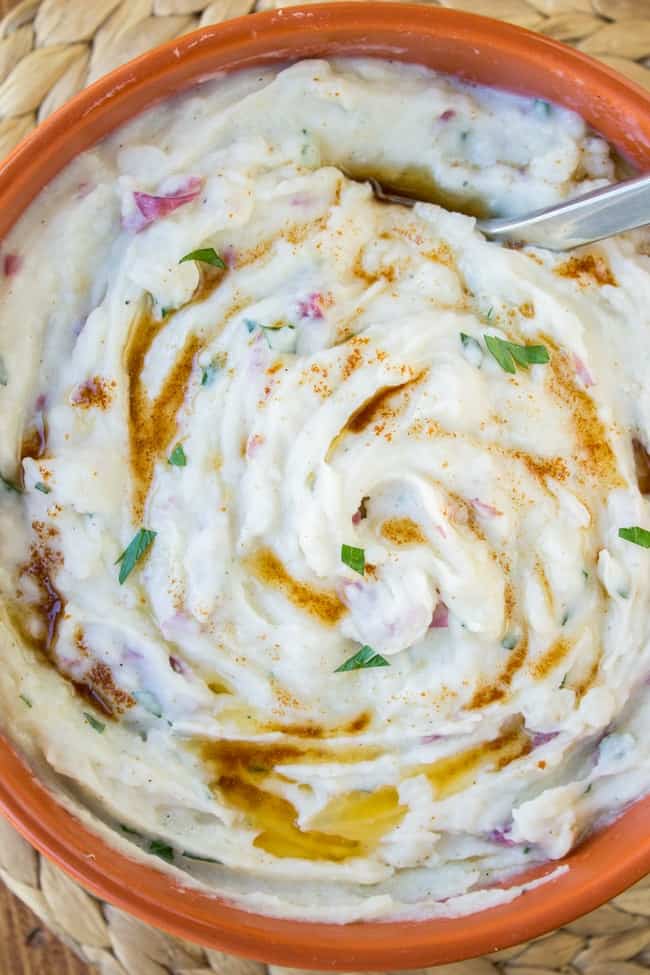 Mashed potatoes are already the best side dish of all time. (I only speak the truth.) But add browned butter and parmesan and a little horseradish? Go ahead. Get yourself named Queen Thanksgiving. 
Ingredients
5

pounds

red potatoes

,

chopped into equal size pieces

1/3

cup

milk

,

more as needed

1/2

cup

sour cream

1 & 1/2

teaspoons

salt

3/4

teaspoon

pepper

2

cloves

garlic

,

minced

1 & 1/2

teaspoons

onion powder

2-3

tablespoons

parsley

,

fresh, chopped (or 2 teaspoons dried)

1/3

cup

Parmesan

,

grated

1 to 5

teaspoons

horseradish sauce,

taste it!

3/4

cup

butter
Instructions
Bring a large pot of water to boil.

Scrub the potatoes clean and chop them. The smaller they are, the faster they will boil. I do mine in about 1-2 inch pieces.

Add the potatoes to the pot and bring to a boil. Lower the heat to medium and simmer for 20-35 minutes, depending on the size of your potatoes.

When they are fork-tender, drain the water and return the potatoes to the pot, or to a large bowl.

Add the milk, sour cream, salt, pepper, minced garlic, onion powder, parsley, and Parmesan.

Mash the potatoes with a potato masher or with a hand mixer. Add some horseradish sauce and mix it in. Taste it to see if you want more.

Add the butter to a pot or skillet. Turn the heat to medium. Cook, stirring every 1-2 minutes with a wooden spoon. After a couple minutes, the butter will start to foam. Keep watching it. Eventually the butter will turn brown and you will see tiny brown specks. The smell will turn nutty. You might not be able to see the color under the foam very well, which is part of the reason you need to stir. Once it is brown and it looks silty at the bottom, it is done. Pour it into a bowl to stop the cooking process.

At this point you can either add all the butter to the potatoes and mix it in, or let people spoon it over each serving. I prefer the latter. Because how often do you get to DRIZZLE BUTTER.
Notes
Even if you don't like spicy food, don't skip the horseradish sauce. Or add cayenne if you like. Just enough to make it interesting, not spicy. It's a game changer.
Source: adapted from Chin Deep; food styling inspired by Creme de la Crumb
Nutrition
Serving:
1
cup
|
Calories:
540
kcal
|
Carbohydrates:
63
g
|
Protein:
10
g
|
Fat:
29
g
|
Saturated Fat:
18
g
|
Polyunsaturated Fat:
1
g
|
Monounsaturated Fat:
7
g
|
Trans Fat:
1
g
|
Cholesterol:
76
mg
|
Sodium:
967
mg
|
Potassium:
1799
mg
|
Fiber:
7
g
|
Sugar:
6
g
|
Vitamin A:
1034
IU
|
Vitamin C:
35
mg
|
Calcium:
154
mg
|
Iron:
3
mg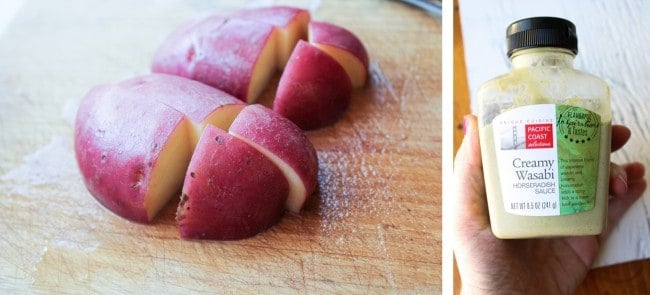 Here's how I chopped my potatoes. Any way you slice it though… And here's the hot sauce I used. It doesn't really matter what kind you use, as long as it's something with a kick. My sister makes awesome mashed potatoes and she told me a few years ago that her secret is cayenne pepper. Not enough to make it spicy, just enough to make it interesting. Same idea here. If you don't have horseradish use cayenne, or crushed red pepper, or good ol tobasco. Just not too much.
POTATOES!
Mashed Potatoes with Cream Cheese. This is my go to, every day recipe: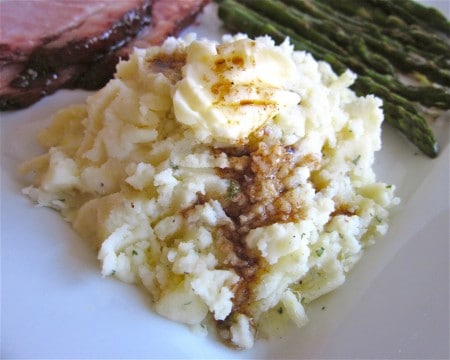 Gruyere-Crisped Potatoes Au-Gratin: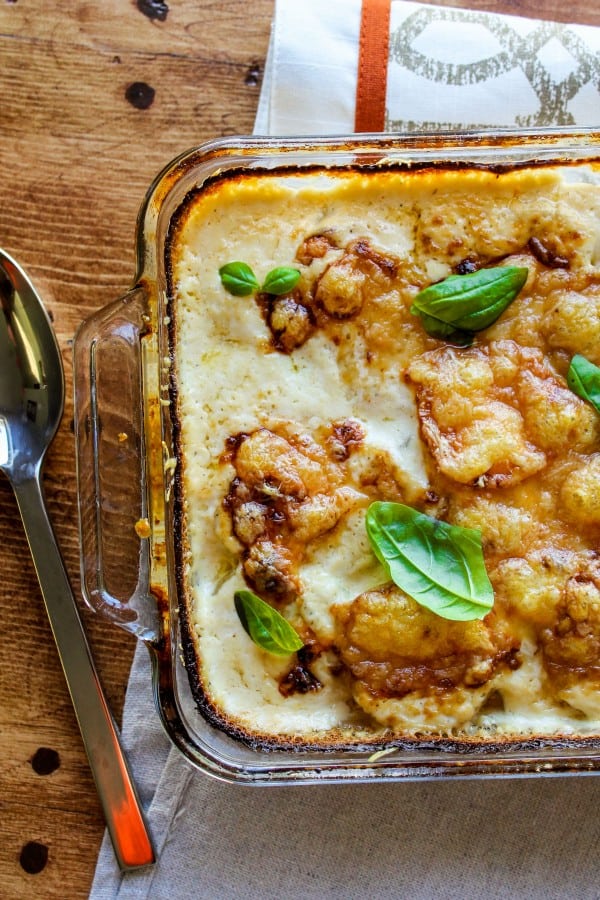 Oven-Roasted Potatoes with Bacon and Parmesan. <— These are so good: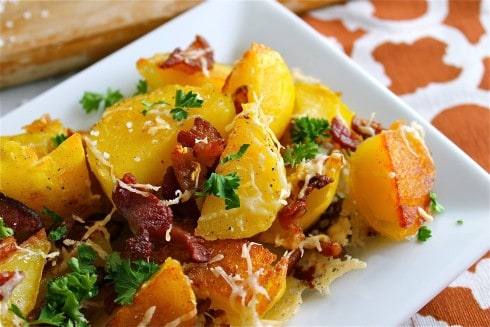 More potatoes to enhance your life in general:
Creamy Parmesan Garlic Mashed Potatoes from Simply Scratch
Brown Butter and Bacon Mashed Potatoes from Tracey's Culinary Adventure
Loaded Mashed Potato Bake from Foxes Love Lemons