Chocolate Stuffed Snickerdoodle Truffles
Cinnamon spiced ganache stuffed inside a smashed Snickerdoodle bar, then dipped in chocolate! Confused? Stick with me here. They taste like a cake pop but with brownies instead of cake. And not brownies, snickerdoodle bars. Just scroll down to the recipe already.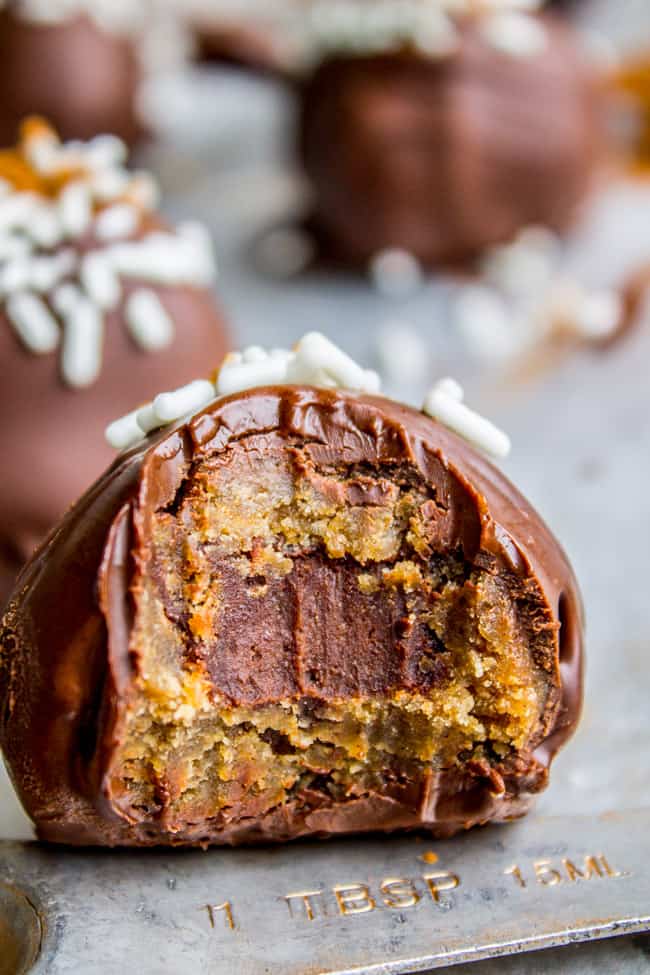 A few weeks ago, Eric randomly says to me, "Karen, you're almost 30 years old. You're the same age as U2's Joshua Tree Album. Just a few months younger." He ponders for a moment. "I knew there was a reason I liked you."
We celebrated our 9th anniversary yesterday. I'm really glad we have U2 to keep our marriage in perspective. I mean, how else would we keep the love alive?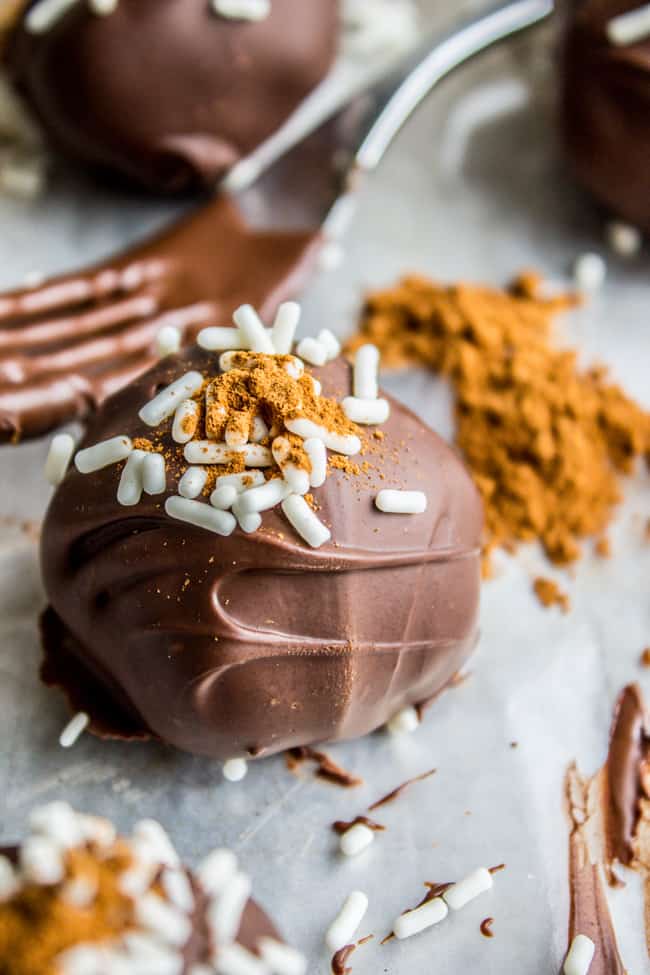 We went to see U2 live last week. I always think Eric is the biggest U2 nerd, until I go to a U2 concert. After you meet over a dozen people standing in line who have seen the band in concert over 50 times (not kidding) and can name their first concert from the 80s, you realize that your husband's obsession is extremely tame. Hashtag blessed.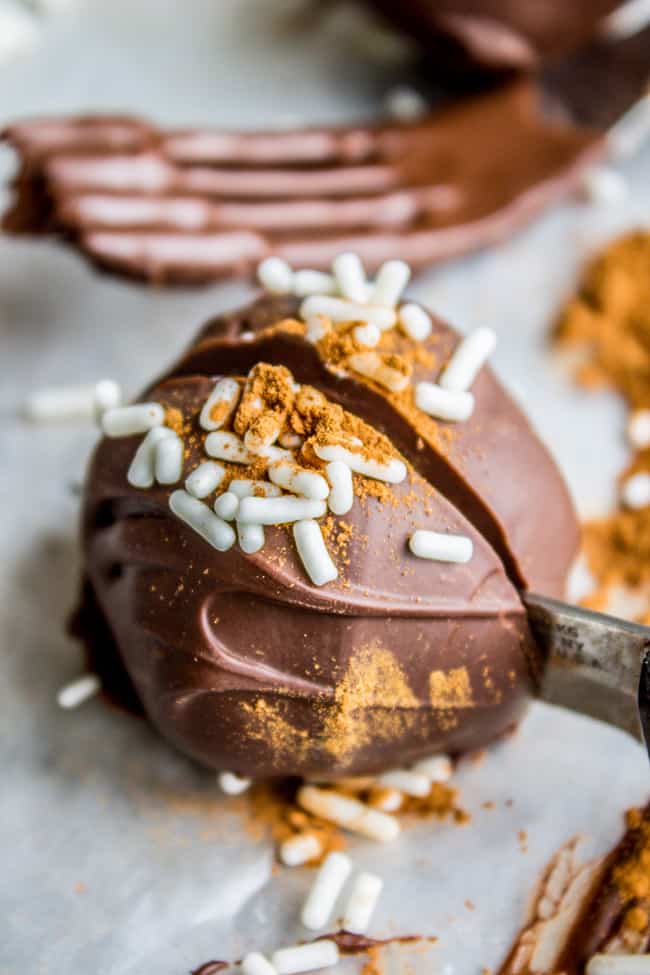 The concert was super fun though. It's a 30 year anniversary tour for The Joshua Tree album, which is all of their best stuff. (Name the first U2 song you can think of. I bet it's from Joshua Tree.)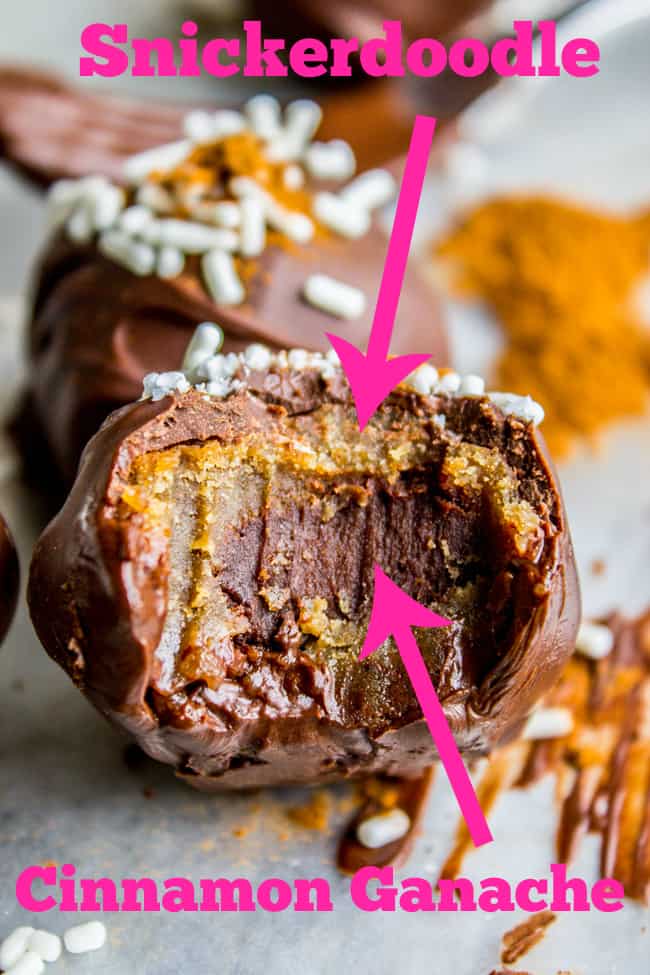 Okay, so these trifles need some explaining. They sound complicated but I swear they're not. You make these Snickerdoodle Blondies. Cut them into squares. Take a square and SMASH. Then wrap it around a ball of frozen ganache. Then dip it in chocolate. See that's not so bad right??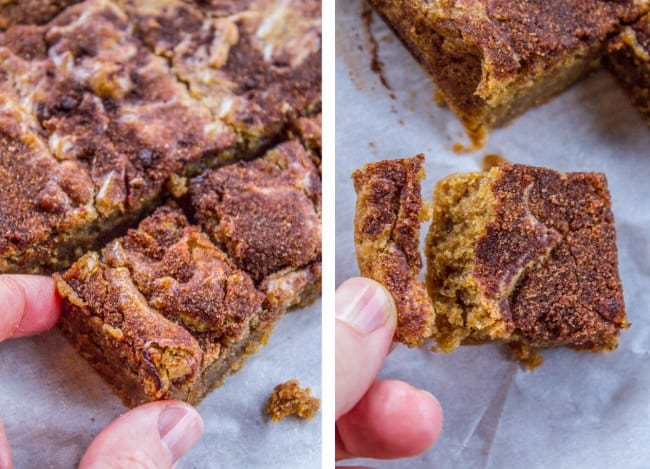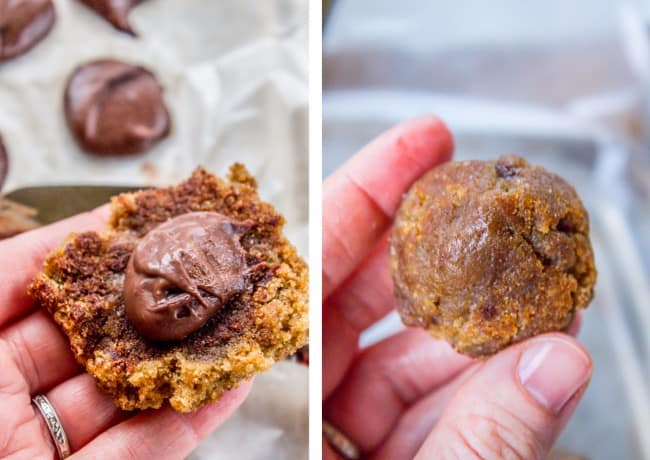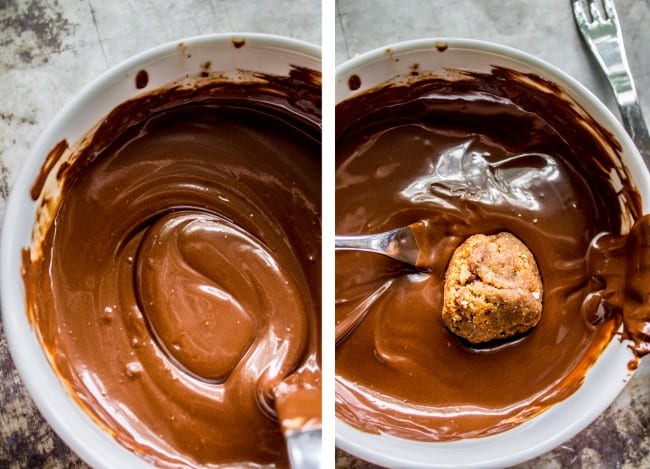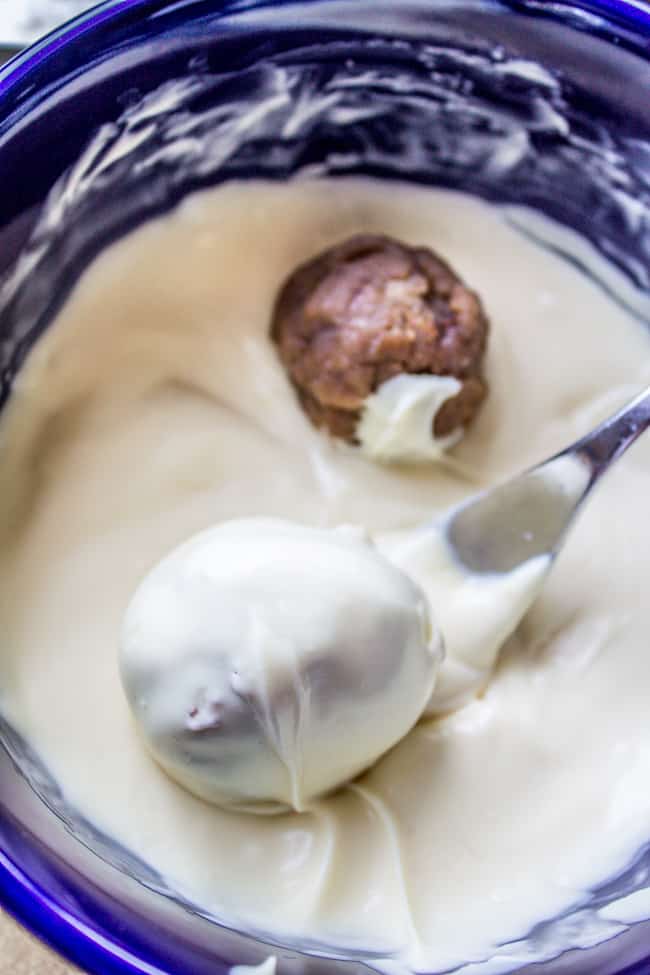 (These are also good with white chocolate!)
I got this idea from Hayley over at Domestic Rebel and Jocelyn at Inside BruCrew Life. They both have recipes for brownie bites/bombs that use the idea of wrapping a baked brownie around a something (Rolo, cookie dough, etc.) and then dipping in chocolate. I've had them before, they are amazing! My sister Laura and I were talking about them once and she suggested I try using these Chewy Brown Sugar Snickerdoodle Blondies and stuffing it with cinnamon ganache. Like to get a Mexican hot chocolate thing going on.
These are delicious room temperature, but being a warm-cookie-person at heart, I had to throw one in the microwave, just to see.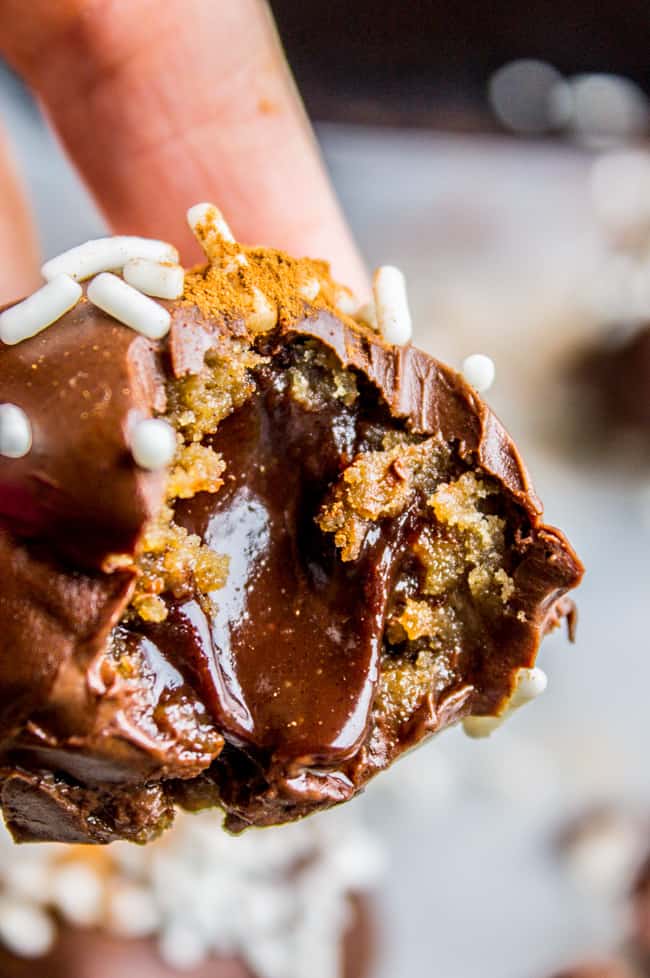 Oh yeah. Melty chocolate wins every time!
These are a fun make-ahead treat you could make for your Memorial Day parties this weekend!
If you make this recipe, share it on Instagram using the hashtag #TheFoodCharlatan so I can see it! I love that.
Facebook | Pinterest | Instagram | Twitter

Two years ago: Fresh Blackberry Glacé Pie
Three years ago: Raspberry Nocciolata Grilled Sandwich
Five years ago: Chicken Crepes with Jalapeno cheese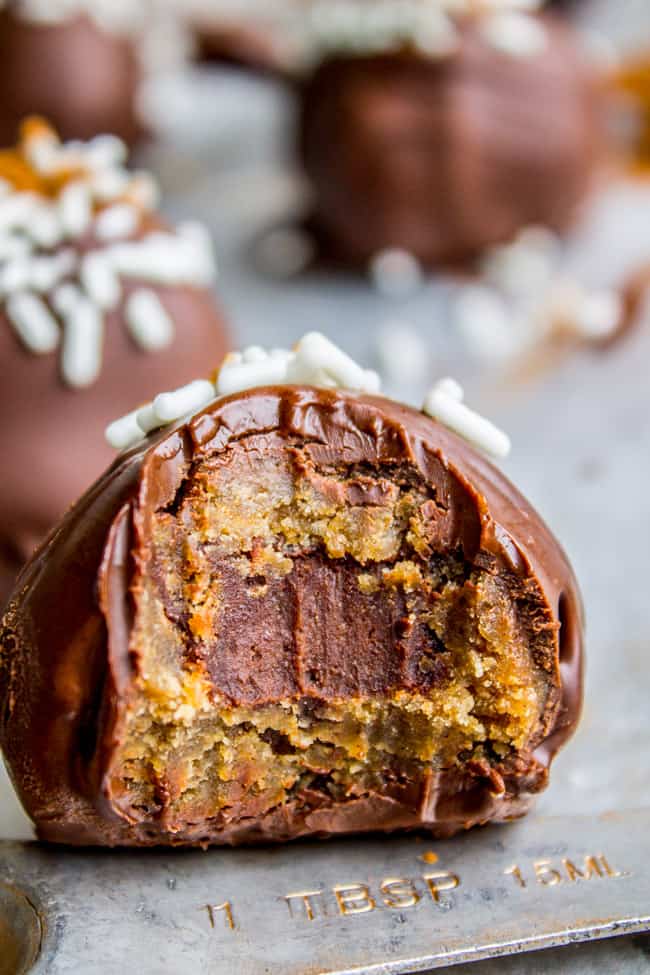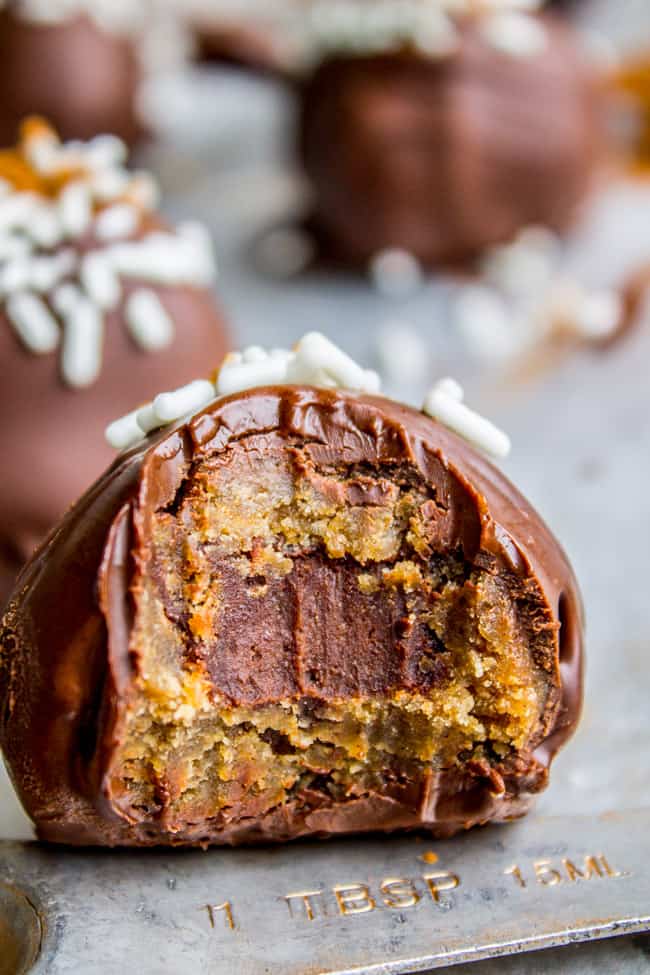 print
Did you make this recipe?
Leave a review »
Chocolate Stuffed Snickerdoodle Truffles
Makes 30-35 truffles
adjust servings
Ingredients
For the ganache
3/4

cup cream

1

cup semi sweet chocolate chips

1

and 1/4 teaspoon cinnamon

1

recipe Snickerdoodle Blondies, baked and cooled
For dipping
2

cups semi sweet chocolate chips*

2

tablespoons coconut oil*

sprinkles, optional
Instructions
Start by prepping the ganache. In a smallish bowl, heat the cream in the microwave for about 1 minute, or until bubbles start to appear on the edges. Add the chocolate chips and cinnamon and stir until it is smooth.
Line a baking sheet with wax paper. Use a small spoon to dollop 1-2 teaspoons on the baking sheet. Continue until you have 30-35.
Freeze or refrigerate for 1-2 hours until solid.
Bake the snickerdoodle bars according to the instructions. Do NOT over bake. Let cool, then cut into small squares (about 35 square roughly). Use your fingers to gently break off the tougher edges of the blondies (see photos. This makes it easier to flatten out.)
Use your hands to flatten out a square of blondie. Wrap it around one of the frozen ganache balls. Smooth it with your hands into a ball, then place back on the baking sheet. Continue with the rest of the Snickerdoodles.
Refrigerate or freeze the balls for 30-60 minutes, until chilled.
In a medium sized, microwave safe bowl, add the chocolate chips and coconut oil. Microwave in 20-30 second intervals, stirring each time, until the chocolate is melted but still has lumps. Stir until the lumps are gone.
Dip each snickerdoodle ball in chocolate and lift out with a fork. (I wish I had these chocolate dipping tools!)
Line another baking sheet with wax paper. Let the truffles cool on the baking sheet until solid. You can refrigerate or freeze to speed this up.
These make a great gift! Throw some in a mason jar and tie a ribbon on top.
by The Food Charlatan

If you make this recipe,
share it on Instagram
 using the hashtag
#TheFoodCharlatan
so I can see it!
More desserts to love!
Chewy Brown Sugar Snickerdoodle Blondies << These are the blondies that are smashed up inside of today's truffle recipe. They are SO good with ice cream and Caramel Sauce!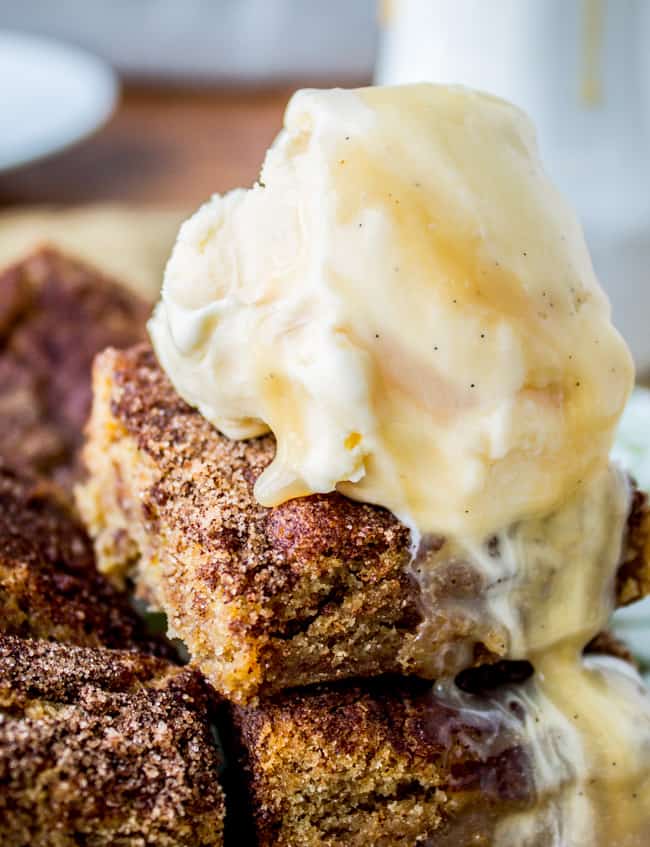 Cinnamon Caramel Swirl Bars << these are an old favorite of mine!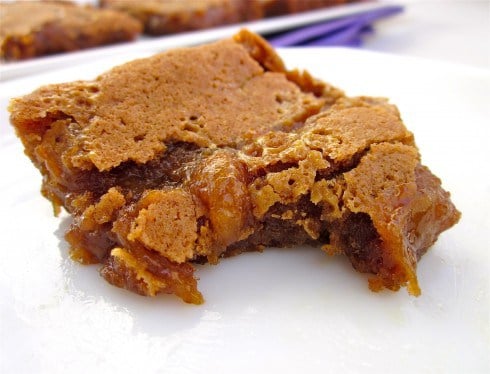 Strawberry Truffle Cake << so decadent!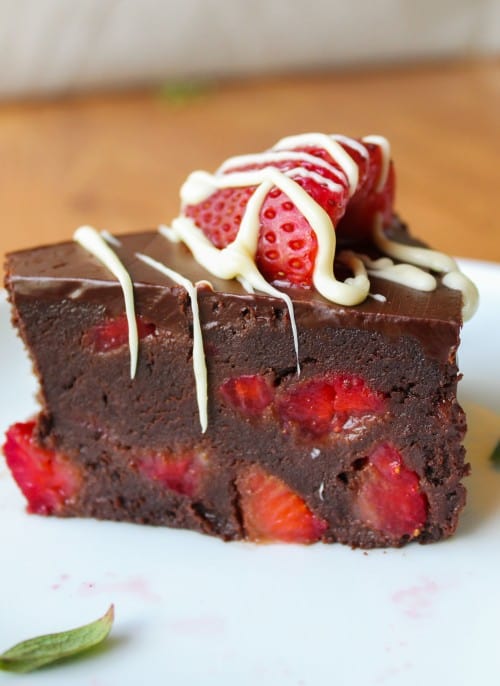 More truffle ideas from friends!
Chocolate Chip Cookie Dough Brownie Bombs from The Domestic Rebel
Nutella Pretzel Truffles from Brown Eyed Baker
Snickerdoodle Cookie Dough Truffles from Shugary Sweets
Salted Caramel Brownie Bites from Inside BruCrew Life
We are a participant in the Amazon Services LLC Associates Program, an affiliate advertising program designed to provide a means for us to earn fees by linking to Amazon.com and affiliated sites.