So have any of you jumped on the paleo train? My sister Laura started doing it back in August and lost 25 pounds in 4 months. She started with the Whole 30, which is basically 30 days of really strict paleo eating. After that she branched out a little bit, but still mostly stuck with the paleo regime: lots of veggies and meat, no sugar, little or no grains (carbs). (Here is a great little visual on eating paleo if you want more details on that.) She loves it and is still going with it because she's awesome. (The force is strong with this one.)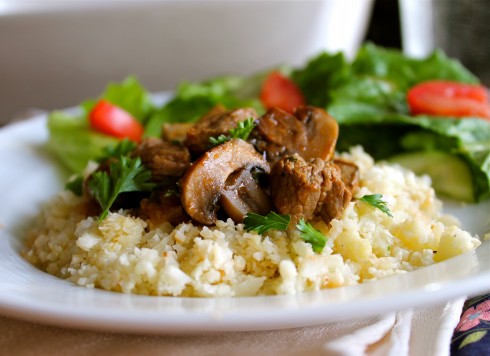 My siblings and I have had 12 kids in the last 8 years, so Christmas traditions back at Mom and Dad's house have changed quite a bit from what they used to be. We still get together every other year (which is insane) but it is so much fun. We were joking a few weeks ago that our tradition now is that our traditions change every year. One thing that has stuck though is the food. Each member of the family takes a night to cook for the rest of us. It's awesome because A) all of us are pretty awesome cooks, 2) we like to eat ethnic/new food, and D) we all want to impress each other with amazing recipes. (Please tell me someone just caught that Home Alone reference.)
So Laura of course wanted to do a paleo meal for us. This is what she made. It is so dang good. I thought I was not a mushroom fan…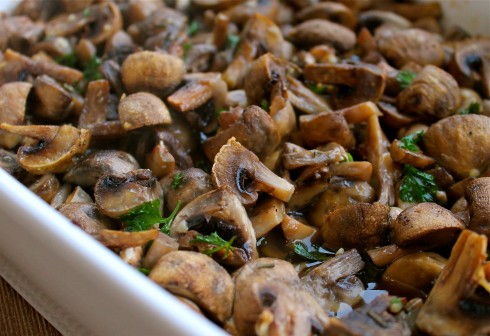 …but I was wrong. And don't even get me started on the cauliflower rice. It does not taste like rice; (of course not, it's cauliflower) but it is so tender and delicious that you don't feel like you're eating a vegetable.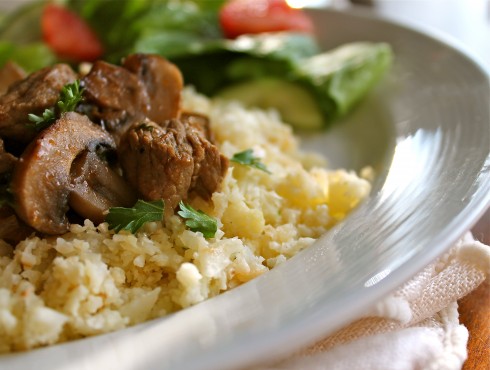 It is my new favorite thing. You could use that cauliflower as a base for a million other things. It could replace pasta, couscous, rice of course. And it's really easy.
This recipe as written is not strictly paleo, but it is really close. You could easily make it more exact by switching out the butter for coconut oil, etc.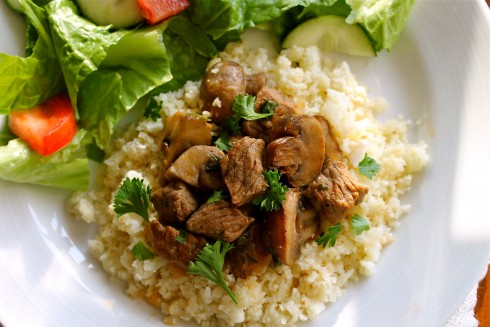 Roasted Balsamic Mushrooms and Beef with Cauliflower Rice

Source: Mushroom recipe from Italian Food Forever; my sister Laura made up the rest
Serves 8-10.
Notes: This recipe as written is not strictly paleo, but is easily adapted. Review these paleo guidelines if you want to change it up. Also, this recipe is easily halved, so unless you are cooking for a ton of people you might want to do that.
2 lbs roast (I used a top round roast because that's what was on sale)
salt
pepper
2 tablespoons olive oil
2 cups water
2 bullion cubes (or replace this and the water with beef stock)
2 tablespoons tomato paste
1 medium diced onion
1/4 cup chopped fresh parsley
2 pounds mixed fresh mushrooms
2 garlic cloves, chopped
1/2 cup olive oil
Salt & pepper
1 teaspoon chopped fresh rosemary
1 teaspoon chopped fresh sage
1/4 cup chopped fresh parsley
1 teaspoon balsamic vinegar
2 heads of cauliflower
about 1/4 cup butter, divided
salt and pepper to taste
For the Beef:
Cut the meat into bite size pieces, no bigger than an inch or so. Salt and pepper to taste. In a large stock pot or a deep skillet, heat the olive oil on medium-high. Add the seasoned meat and sear. When most of the meat is browned on the outside, add the water, bullion, and tomato paste. Add the diced onion. Once this boils, lower the heat to a little below medium. Simmer 1-2 hours, or until meat is tender. I kept an eye on it and eventually turned the heat to low because I didn't want any more liquid to boil off. You want the liquid level to be a little below the top of the meat.
For the Mushrooms:
Preheat the oven to 350 degrees. Rinse your mushrooms and trim off the end of the stems, the part that is all hard and makes you feel like you're eating a tree stump. Slice the mushrooms into pieces no larger than 2 inches in size.
Mix the olive oil with the garlic, herbs, and seasonings in an ovenproof casserole dish large enough to fit all of the mushrooms. I used a 9×13 ceramic dish.
Add the mushrooms and mix well, coating them with the flavored oil. Bake for about 30-35 minutes, or until cooked through. (Mine were done in 30) Remove from the heat, and drizzle with the balsamic vinegar.
THEN…are you ready for this?? Pour your beef mixture into the mushroom dish and mix it up. So good!
For the Cauliflower Rice:
Wash your cauliflower. Cut it in half straight down the center, then cut the halves in half. Take each half and hold it so the stem is vertical on your cutting board, floret side up. Slice down diagonally to remove all the florets. You can pull the florets apart with your hands or chop them roughly.
Working in batches, place your chopped cauliflower into a food processor. (I did about a half head at a time). Pulse in one second intervals until the cauliflower is about the size of grains of rice, give or take. It won't be uniform, obviously.
In a large skillet, heat about 2 tablespoons of butter. Add about a head of cauliflower. Saute until tender, about 4-5 minutes, and salt and pepper to taste. Remove from skillet and repeat process with the second head. (If you don't have a very large pan, you can do this in 4 batches: 1 tablespoon of butter per half head of cauliflower.) I know this part sounds labor intensive, but it seriously only took me 15 minutes start to finish.
Top the cauliflower rice with the beef-mushroom mixture, and sprinkle with additional chopped parsley, if desired. YUM!