Hot dogs are good. Hot dogs wrapped in bacon? BETTER. Add some sautéed onions and peppers on top, all the fixins, and a crispy grilled bun, and you are well on your way to summer perfection.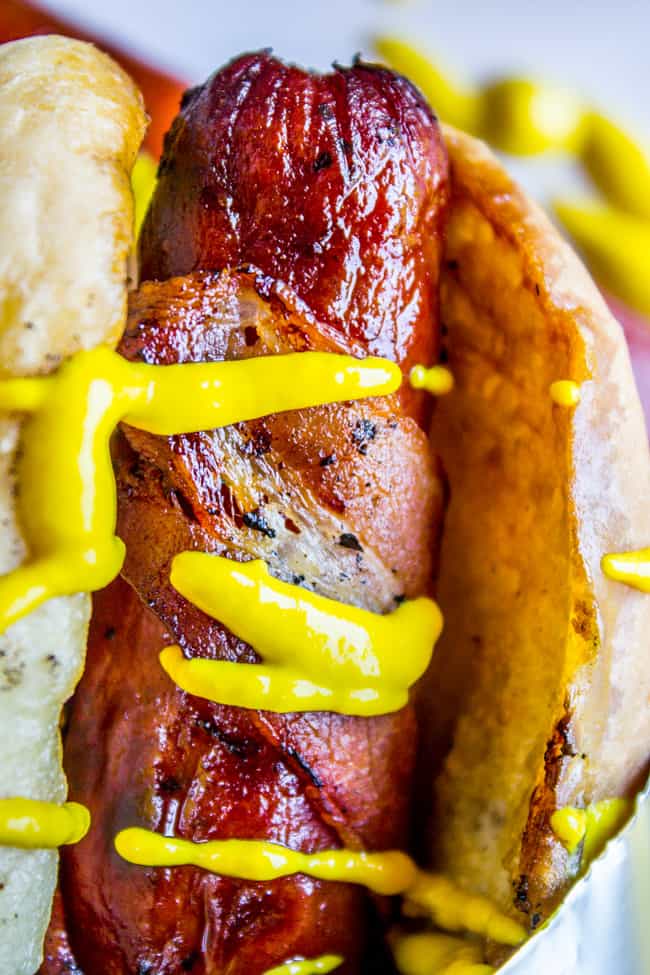 The other day I sent this text to my sisters: "Oh, you thought you were in a good mood? Take 4 minutes to do this and you will be in a WAY BETTER ONE."
After several minutes of zero response I looked at it again and realized that it totally looks like some weird spam message. I have no idea when I got so gimmicky.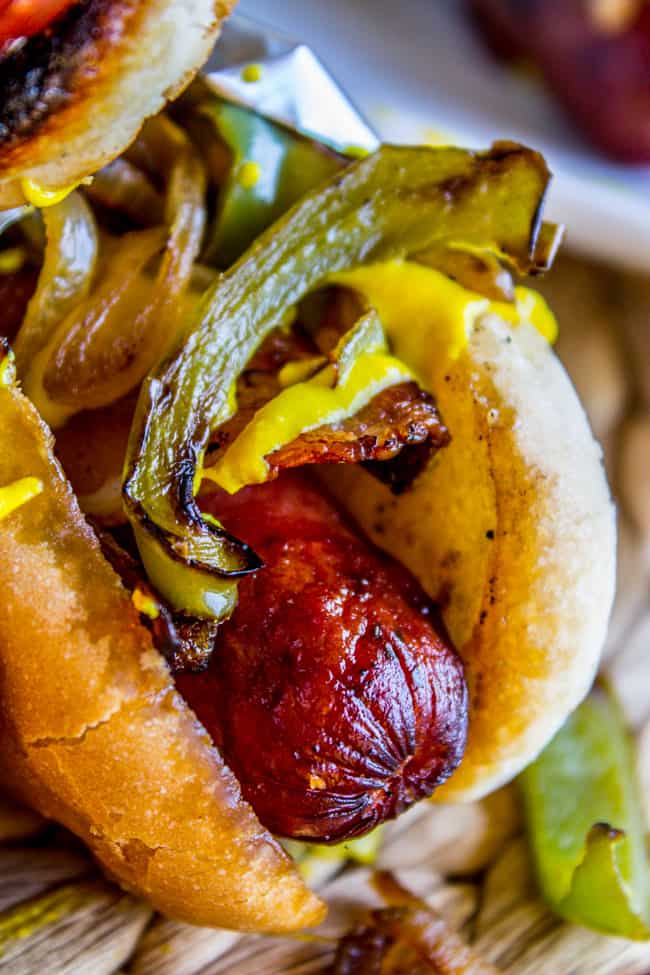 But guys. Seriously. Have you heard of The Fitness Marshall?? He is AWESOME. Totally my new favorite at-home workout, or 3-minute bad-mood-killer. Think Zumba, but it's hip hop, and with a dude who has way more moves than most girls dream of.
I'm obsessed with learning his dance to JT's Can't Stop the Feeling. (<<Normally he has girl back up dancers. But in this one he has two guys who are kind of not that great and it's hilarious. I like to pretend that I look like The Fitness Marshall when I'm dancing, but I'm pretty sure I look more like that guy on the left.)
I need to practice this song to burn calories every time I eat one of these: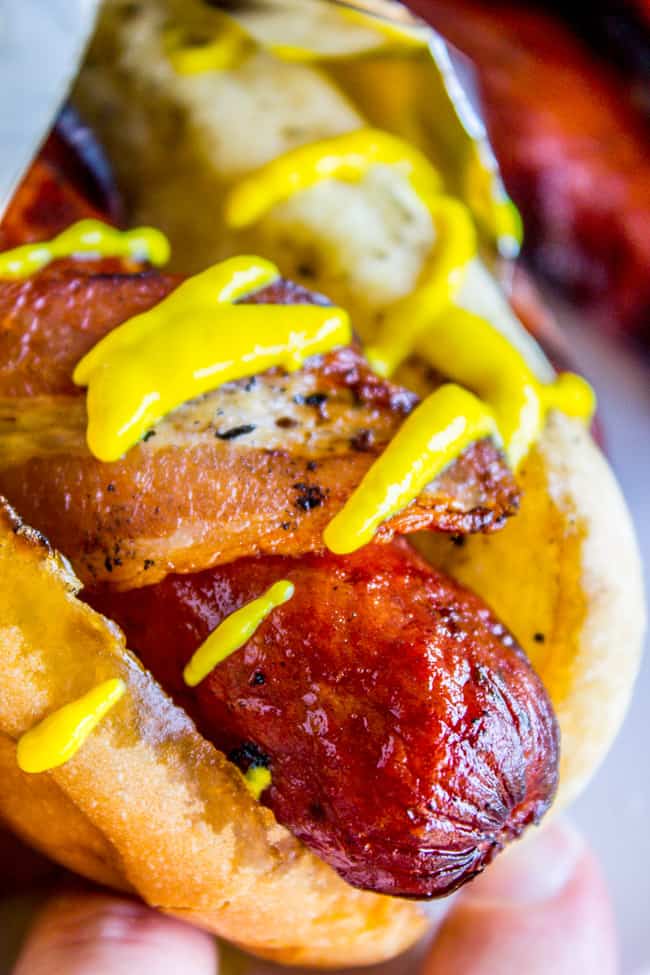 Last year Eric and I went to a U2 concert. Let me try that again. Last year, Eric and I went to the same U2 concert, two days in a row. I don't think I'll ever look back on this experience without rolling my eyes, but in the kind of way that you might roll your eyes (but smile indulgently) when your kid says he wants a bed made out of Legos for Christmas.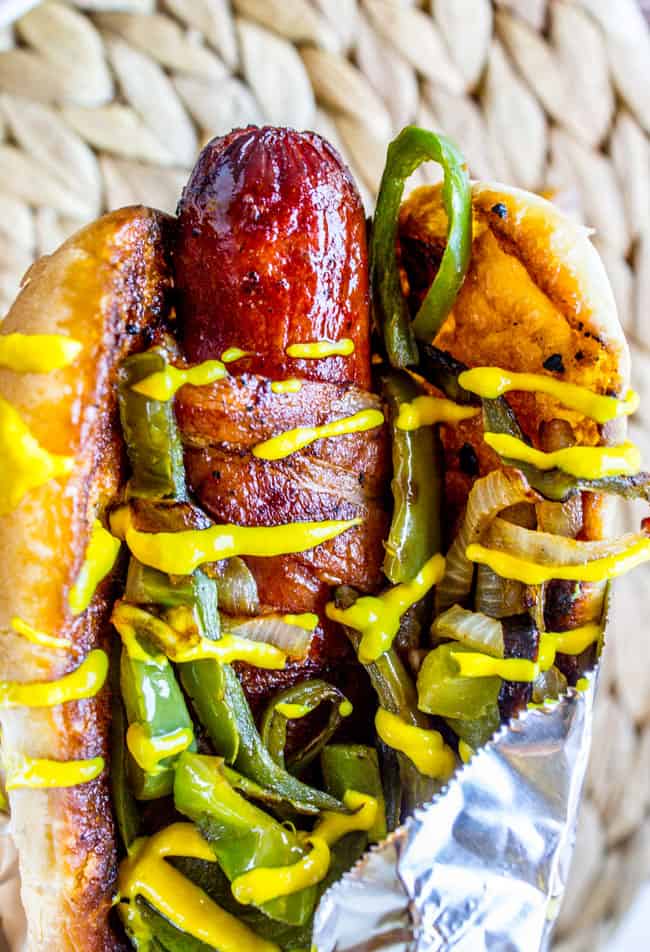 We had a lot of fun at the concerts but the part that is lodged in MY long-term memory has nothing to do with Bono and everything to do with bacon-wrapped hot dogs. Both nights the show got out around midnight, and thousands of people have to get to their cars and navigate out of the massive parking lot. Of course it takes forever.
BUT. Instead of being sad that you are stuck in a parking lot, you can be happy, because you are surrounded by tiny grill-carts selling the most amazing bacon-wrapped hot dogs with all the fixins. SO GOOD. I vowed immediately that I would recreate them at home, and here you have it. They definitely lived up to my memories. The jalapeno gives it a little kick and it is just perfect.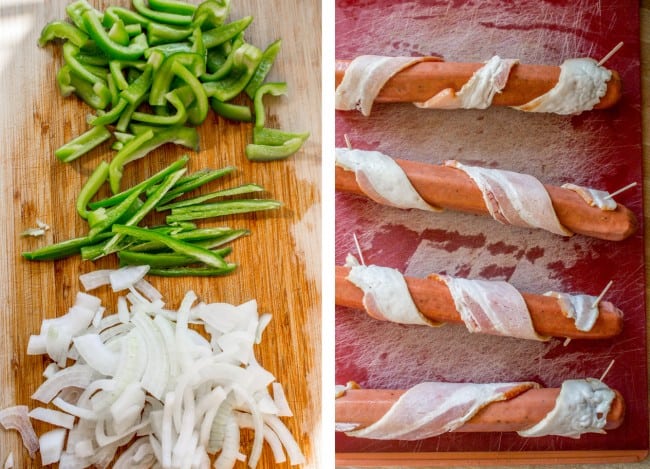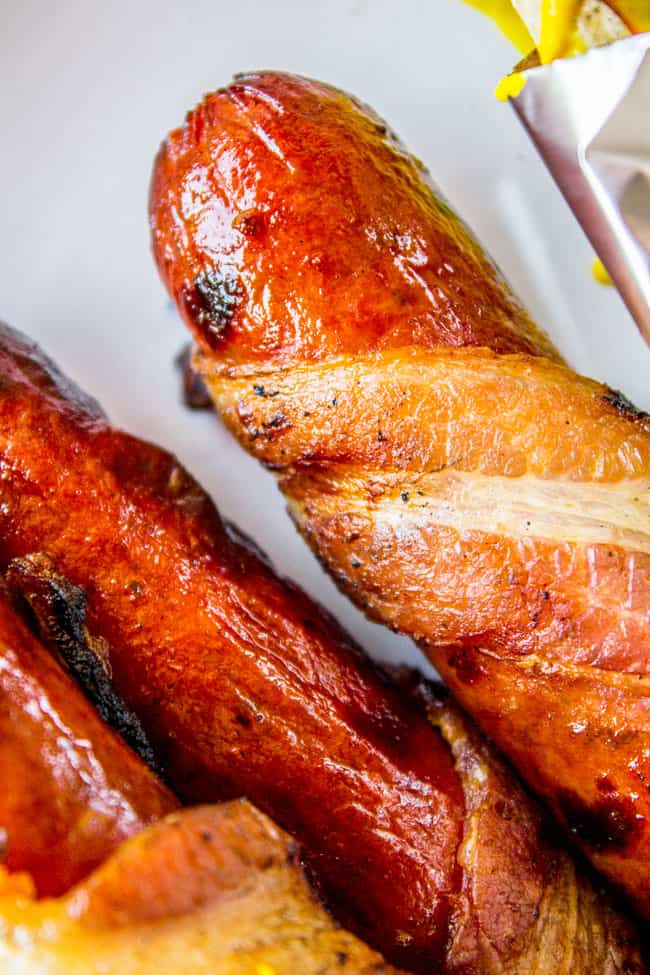 Word to the wise before you make this (or anything  grilled actually…): clean your grill. My hot dogs kept lighting on fire because the grill was in a bit of a state. End of summer, you know? We grill a lot. Good news? Burnt hot dogs are DELICIOUS. Win.
Facebook | Pinterest | Instagram | Twitter

Bacon Wrapped Hot Dogs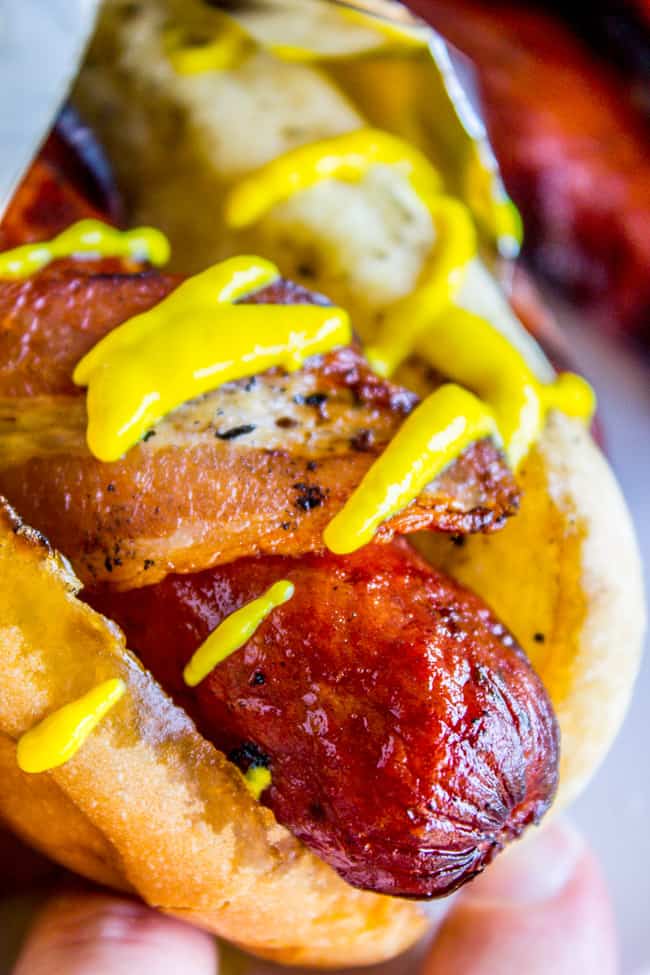 Hot dogs are good. Hot dogs wrapped in bacon? BETTER. Add some sautéed onions and peppers on top, all the fixins, and a crispy grilled bun, and you are well on your way to summer perfection. 
Ingredients
6

hot dogs

,

*

6

slices

bacon

toothpicks

6

buns

butter or mayonnaise

,

for grilling the buns

all the fixins

,

ketchup mustard, mayo, etc.
For the onion topping:
1

tablespoon

butter

1

half onion

,

sliced

1

green pepper

1

jalapeno

salt and pepper to taste
Instructions
Heat your grill to low heat.

Wrap one slice of bacon around each hot dog. Use 2 toothpicks per hot dog to secure them on the ends. (Push the toothpicks in as far as you can so they don't burn.)

Grill the hot dogs on low heat for several minutes, turning every couple minutes to cook all the bacon. This should take about 8-10 minutes, depending on how crispy you like your bacon.

When they are almost done, spread your buns with either mayonnaise or butter. Grill cut-side-down for about 1-3 minutes, until they have some nice grill marks on them.

Meanwhile, make the topping. Slice the onions. Slice the green peppers into bite-size strips. Slice the jalapeno thinly, discarding the membrane.

In a large skillet, heat the butter over medium heat until it is hot and melted. Add the vegetables and saute for about 6-8 minutes, until they are as done as you like them.

Top each hot dog with onion mixture, ketchup, mustard, mayonnaise, etc.
Notes
*The hot dogs in the photos are Costco hot dogs, so they are huge. 1 slice of bacon wraps around a regular hot dog perfectly.
Nutrition
Serving:
1
hot dog
|
Calories:
367
kcal
|
Carbohydrates:
44
g
|
Protein:
15
g
|
Fat:
15
g
|
Saturated Fat:
5
g
|
Polyunsaturated Fat:
2
g
|
Monounsaturated Fat:
5
g
|
Trans Fat:
1
g
|
Cholesterol:
39
mg
|
Sodium:
938
mg
|
Potassium:
189
mg
|
Fiber:
2
g
|
Sugar:
6
g
|
Vitamin A:
157
IU
|
Vitamin C:
20
mg
|
Calcium:
25
mg
|
Iron:
12
mg
More summer cookout recipes you will love!
The Best Hot Dog You Will Ever Eat << now this claim has a contender. (I mean come on. BACON.)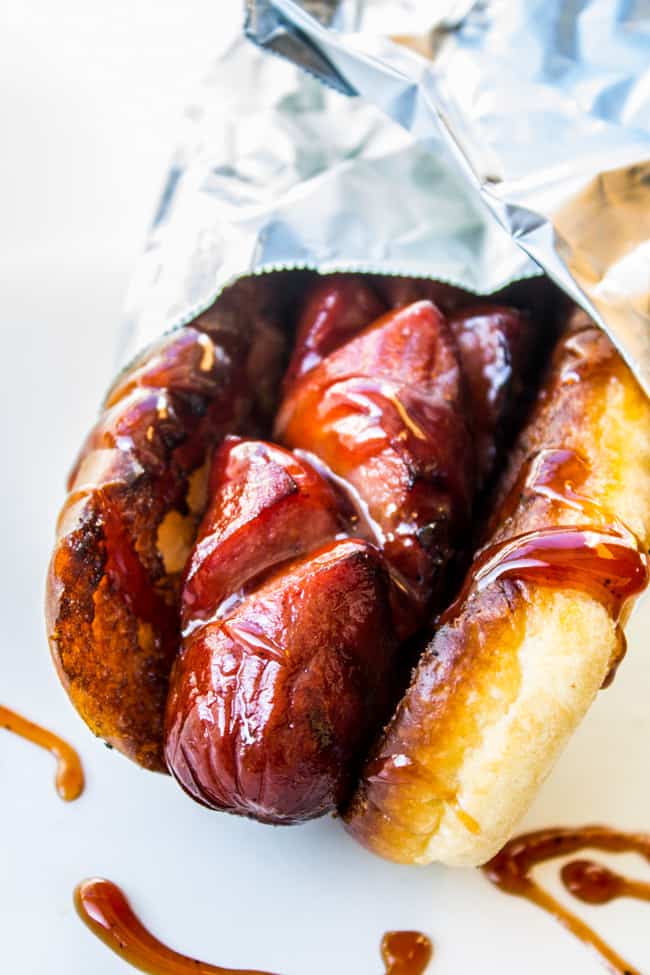 Homemade Pretzel Dogs << if you haven't tried these you are totally missing out!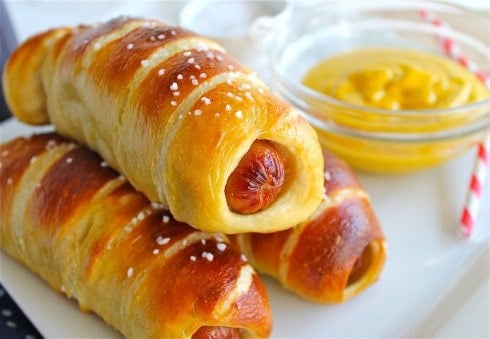 Bacon and Goat Cheese Aioli Burger with Crispy Onions: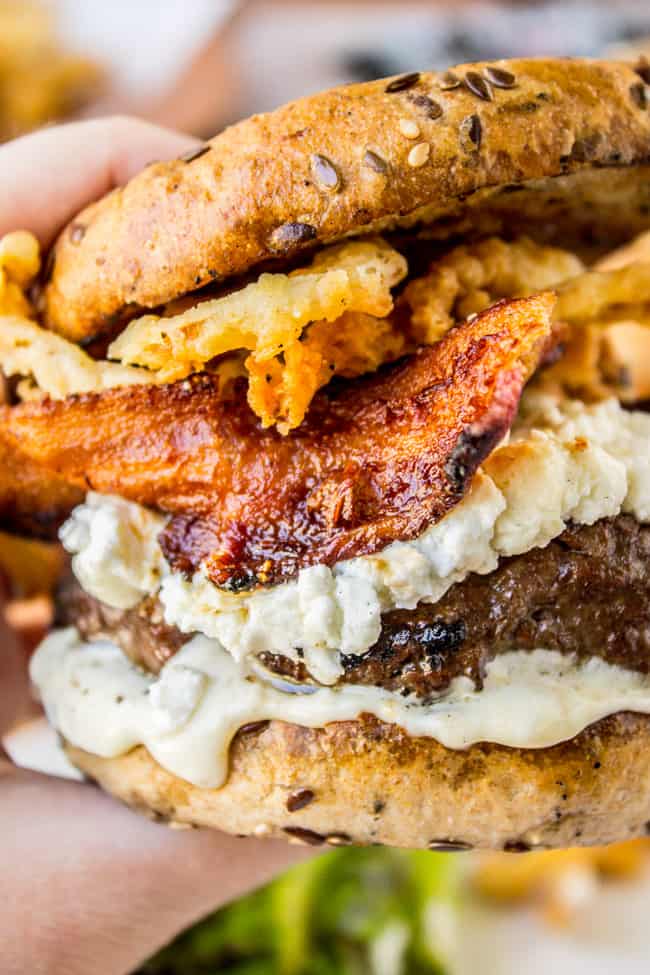 Other hot dog recipes from friends:
BBQ Bacon and Crispy Onion Hot Dogs from Will Cook for Smiles
Bacon-Wrapped Sonoran Hot Dog from Damn Delicious
Grilled Bacon Wrapped Hot Dogs from Foodie with Family