Gingerbread Pancakes with Lemon Syrup
Spiced with traditional cinnamon, ginger, cloves, and nutmeg, these fluffy Gingerbread Pancakes are drizzled with a fresh lemon-buttermilk syrup. Christmas morning, I got your back.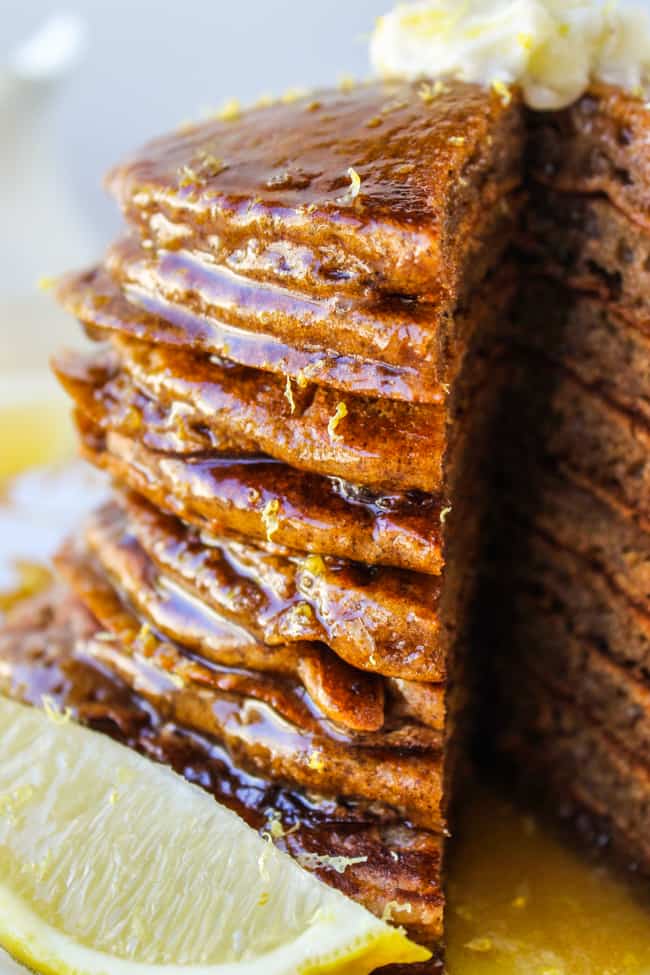 Yesterday Eric gently shook me awake. I looked up at him, bleary-eyed, and he says to me, "Karen, something amazing has happened."
So, tell me, if your spouse woke you up (after too little sleep) and said this, what would you guess in the few seconds before you found out? You know how fast your brain can think of  stuff like this. To quote Han Solo, "I can imagine quite a bit."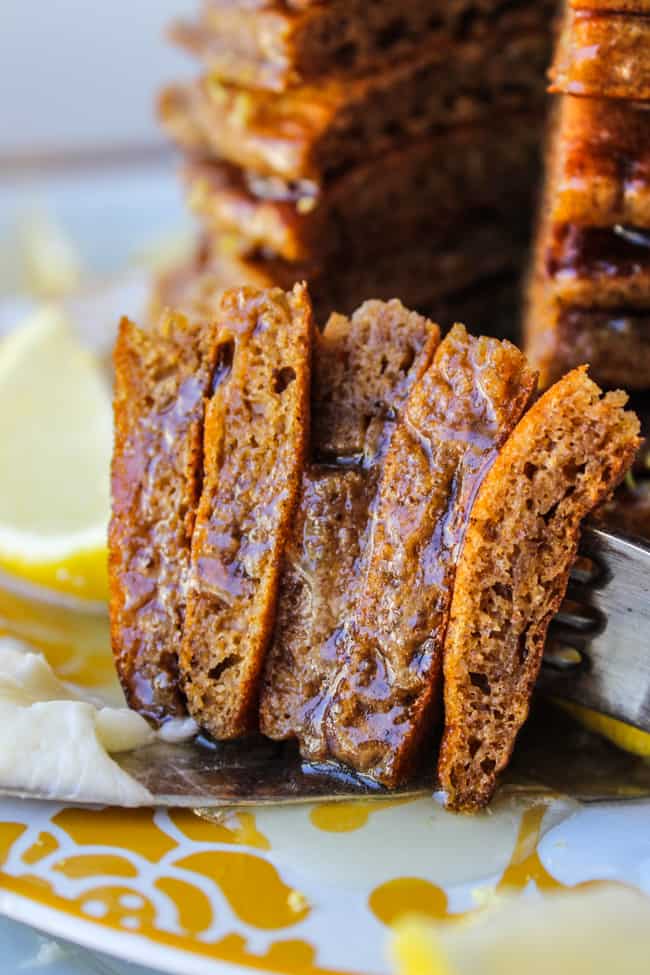 "U2 is going on tour next year, and I can buy tickets a day early!!"
It is, of course, a question of WHEN we will buy tickets, not if. Eric's U2 obsession devotion love knows no bounds. His face looked exactly like Charlotte's when I tell her that it's okay to jump in the puddles as hard as she can.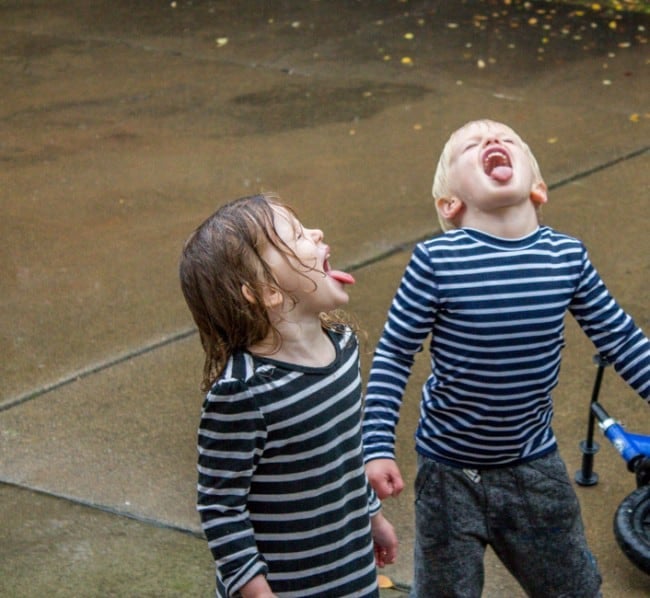 I swear I did not coordinate their shirts, by the way. She and her cousin just have excellent taste, and serendipitous tendencies.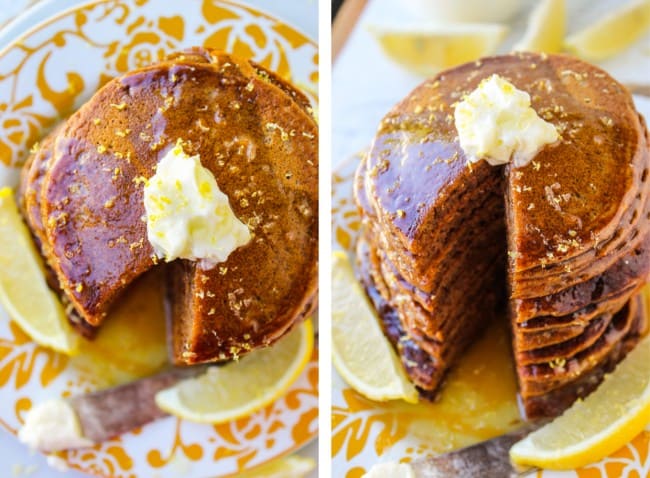 Here's my last post for gingerbread week! We started on Monday with these craaaazy awesome Frosted Peppermint Gingerbread Bars, then on Wednesday I shared these Nutella Stuffed Gingerbread Cookies. Never enough gingerbread! Represent.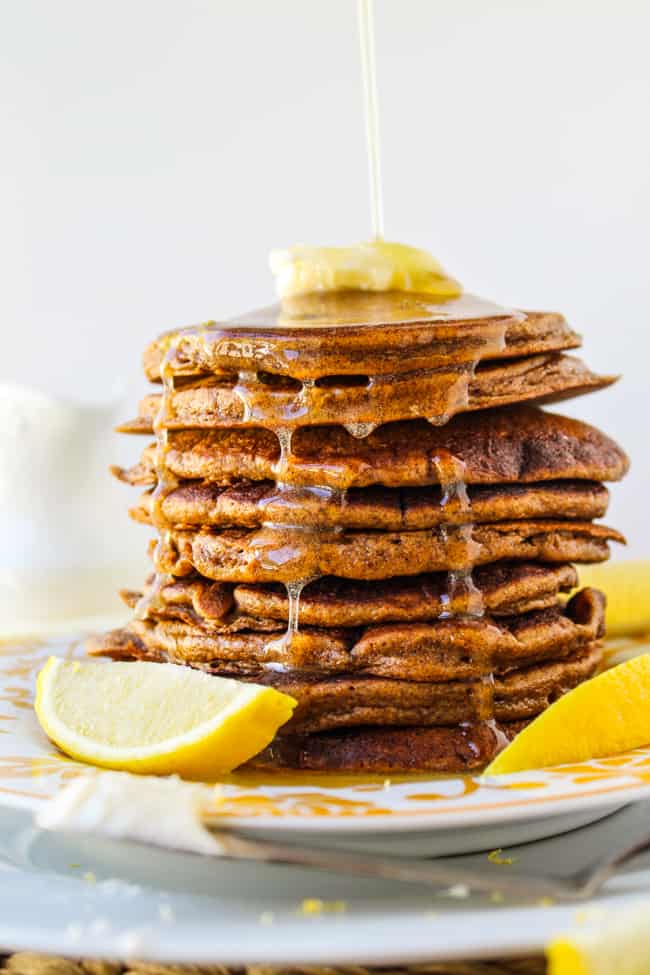 Today we're talking breakfast. I made these pancakes for the first time a few weeks ago, and that day my nephew requested them for his birthday party that weekend. My friend Kate tried them, and needed the recipe to make them for her in-laws who were visiting.
So this recipe officially falls under the "I literally can't wait until you post" category. I get a text, "When are you posting X recipe?" "Uh I don't know a couple weeks probably." "You have to email it to me. Now." That's when you know you've found a winner.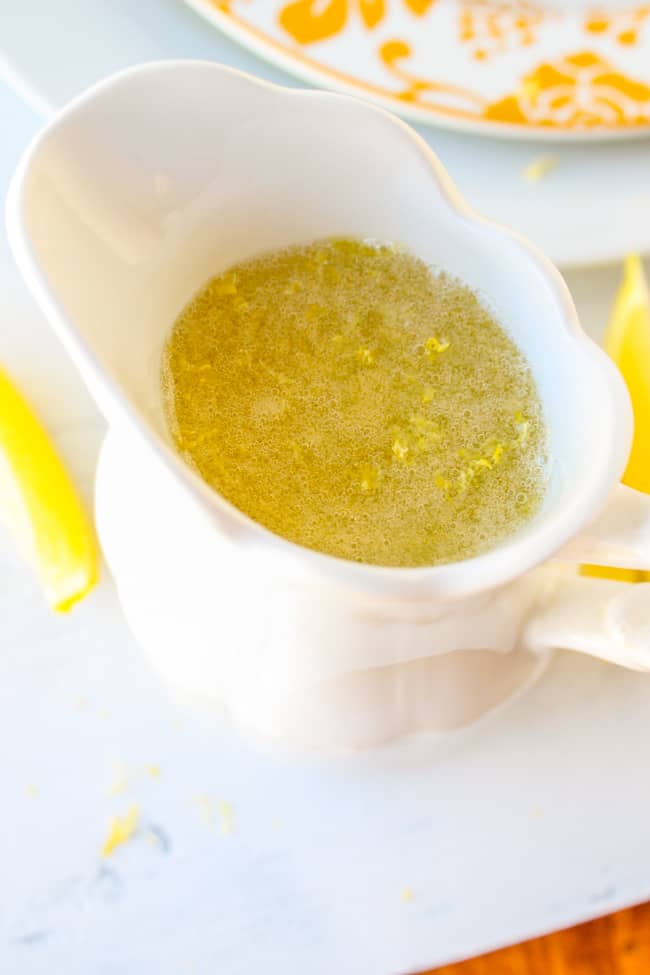 These gingerbread pancakes WIN. And the lemon-buttermilk syrup. Ooooh, the lemon-buttermilk syrup. I'm kind of regretting not dedicating an entire post to that recipe. Stuff of DREAMS you guys.
Do you guys give up? Or are you thirsty for more?
Facebook | Pinterest | Instagram | Twitter


print
Did you make this recipe?
Leave a review »
Gingerbread Pancakes with Lemon Syrup
Makes about 15 pancakes
adjust servings
Ingredients
For the lemon syrup
1

cup (2 sticks) salted butter

2/3

cup fresh lemon juice (buy 2 lemons)

1/2

cup buttermilk

1

and 1/2 cups granulated sugar

1

and 1/2 teaspoons baking soda

3-5

teaspoons lemon zest, plus more for garnish
For the pancakes
1

and 1/2 cups flour, spooned and leveled

5

tablespoons brown sugar

1

and 1/2 teaspoons baking powder

3/4

teaspoon baking soda

1/4

teaspoon salt

2

teaspoons cinnamon

1

teaspoon ground ginger

1/4

teaspoon cardamom

1

teaspoon ground nutmeg

1/2

teaspoon ground cloves

1

and 1/2 cups buttermilk

1/4

cup molasses

1

large egg + 1 egg yolk

3

tablespoons melted butter

1

teaspoon vanilla

butter or nonstick spray, for frying
Instructions
Start with the lemon syrup: In a 2-quart saucepan melt butter over medium heat.
Add lemon juice, 1/2 cup buttermilk, and sugar. Stir occasionally over medium heat until the sugar is dissolved, 3-5 minutes.
Remove from heat and immediately stir in 1 and 1/2 teaspoons baking soda. The mixture will bubble up and foam like a science experiment (this is why you need a larger pot).
Add the lemon zest and stir. It will take a few minutes for the foam to calm down, just stir it every now and then. Let rest while you get the pancakes ready, or keep it on low.
For the pancakes: In a medium bowl whisk together flour, brown sugar, baking powder, 3/4 teaspoon baking soda, salt, cinnamon, ginger, cardamom, nutmeg, and cloves. In a separate medium bowl, whisk together buttermilk, molasses, egg + yolk, butter, and vanilla.
Add the dry ingredients to the wet ingredients and stir until combined.
Heat your griddle or skillet to medium. (350 on my griddle)
Grease the pan with butter or nonstick spray, just enough to coat it.
Use a 1/4 cup measuring cup to form the pancakes. Cook for 2-4 minutes, until bubble have formed all over the top. Then flip with a spatula and cook until light brown, another 2 minutes or so.
Serve with warm lemon syrup. Sprinkle each serving with lemon zest.
by The Food Charlatan

If you make this recipe,
share it on Instagram
 using the hashtag
#TheFoodCharlatan
so I can see it!
Use about a 1/4 cup per pancake. Mmm.
Pancaaaaaakes: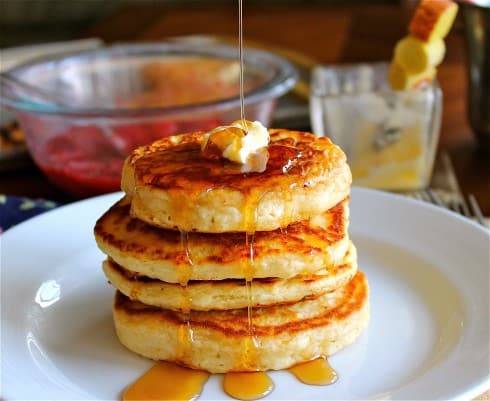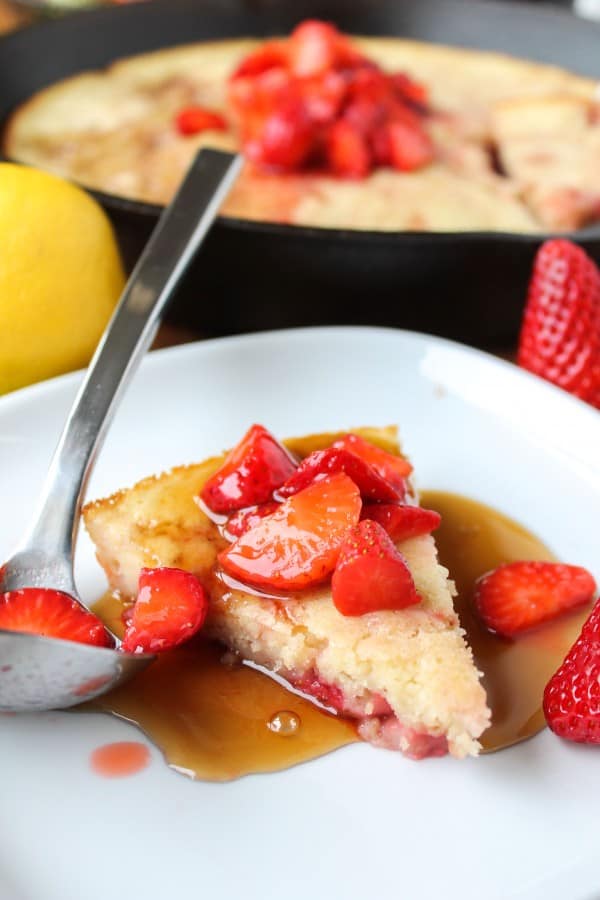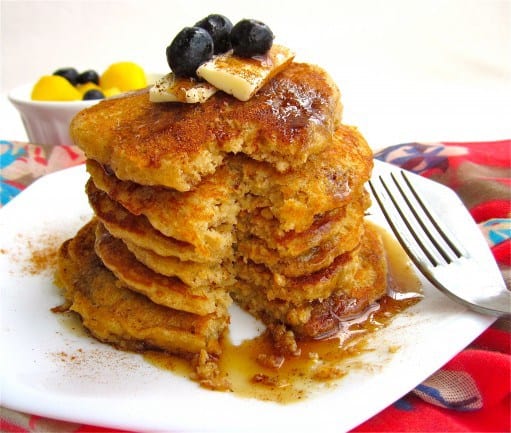 Lemon Poppyseed Pancakes from Picky Cook
Chocolate Chip Oatmeal Cookie Pancakes from Minimalist Baker
Lemon Buttermilk Pancakes from Becky Bakes
We are a participant in the Amazon Services LLC Associates Program, an affiliate advertising program designed to provide a means for us to earn fees by linking to Amazon.com and affiliated sites.