No Bake Pumpkin Cheesecake with Pecan-Graham Crumble
This easy recipe for No Bake Pumpkin Cheesecake is smooth, creamy, and perfectly pumpkin-y. There is never enough crispy crust in most cheesecake situations. I solve this problem by adding extra Pecan Graham Crumble and sprinkling it on top as a garnish! Add a drizzle of caramel sauce and you will be in fall dessert heaven. Make this ahead of time for Thanksgiving!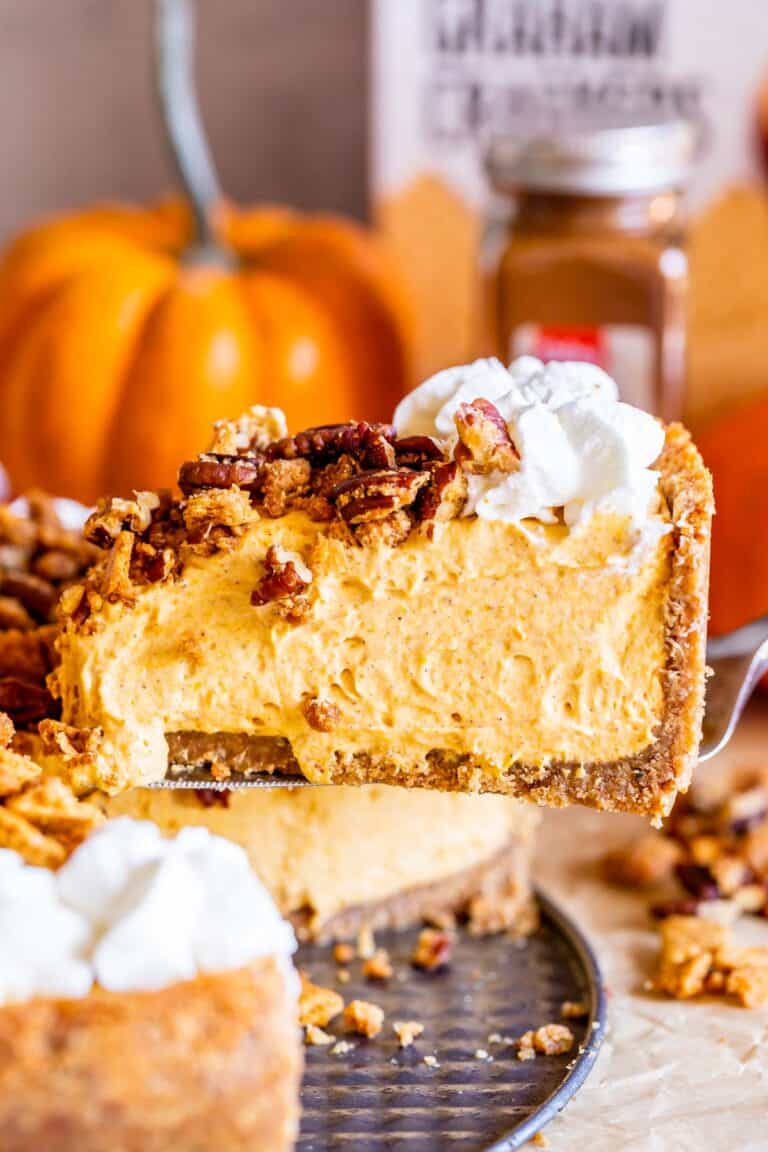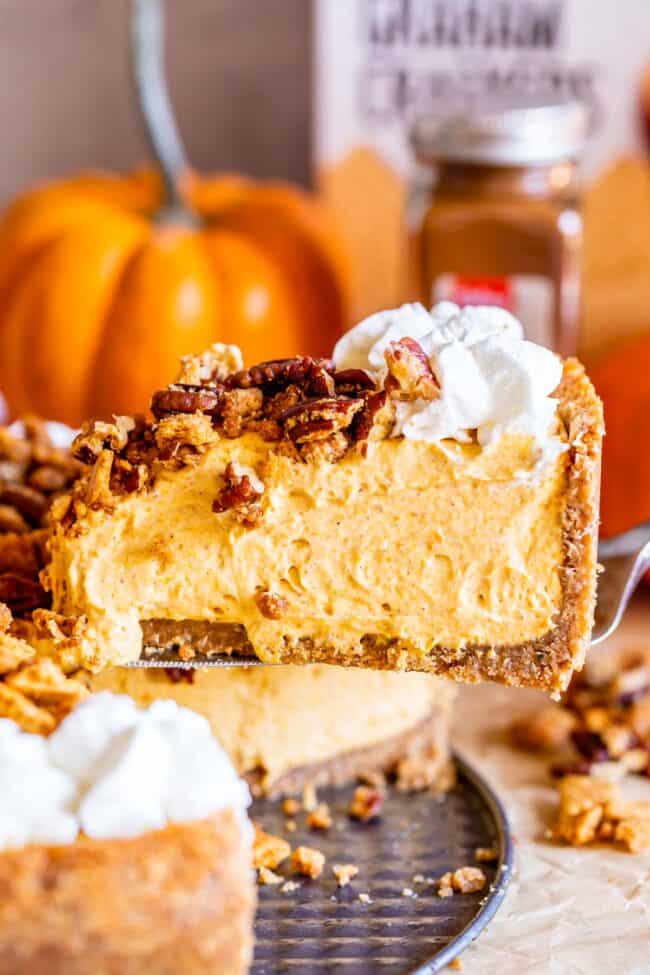 This post is sponsored by Raley's, but all opinions are my own of course! Thanks for supporting the amazing brands that keep The Food Charlatan going.
A Tony Bennet Christmas song came on while we were in the car the other day, and Valentine yelled from the back, "I want to listen to REAL Christmas songs!" Ha! It was a station called "Swinging Holidays" and had kind of a jazzy feel. I'm guessing that since she didn't hear any Chipmunks squealing or direct references to Santa Claus, it didn't qualify as Christmas.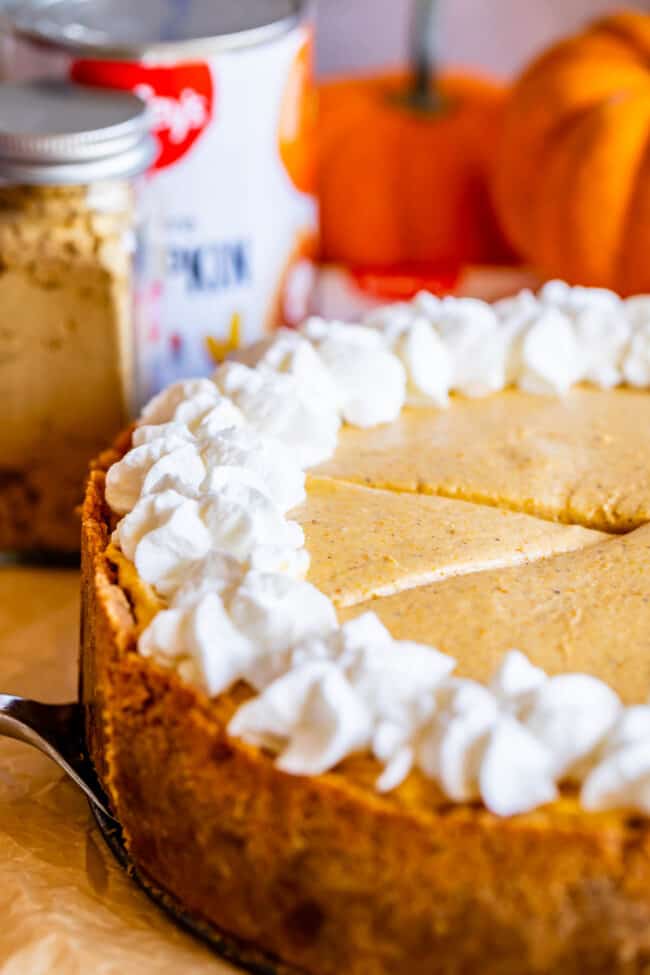 My kids started writing their letters to Santa yesterday. I have no idea how I came up with my Christmas lists when I was little, but my kids are OBSESSED with the Target and Amazon catalogues that they sent out a few weeks ago. Truman has literally gone through it page by page and circled nearly every item, with a giant "T" marked next to it. I asked him if he found anything he really wanted, more than anything else, and he said, "Well, to make it easier I just circled the whole page most of the time." Um, yeah, you're dreamin' kid.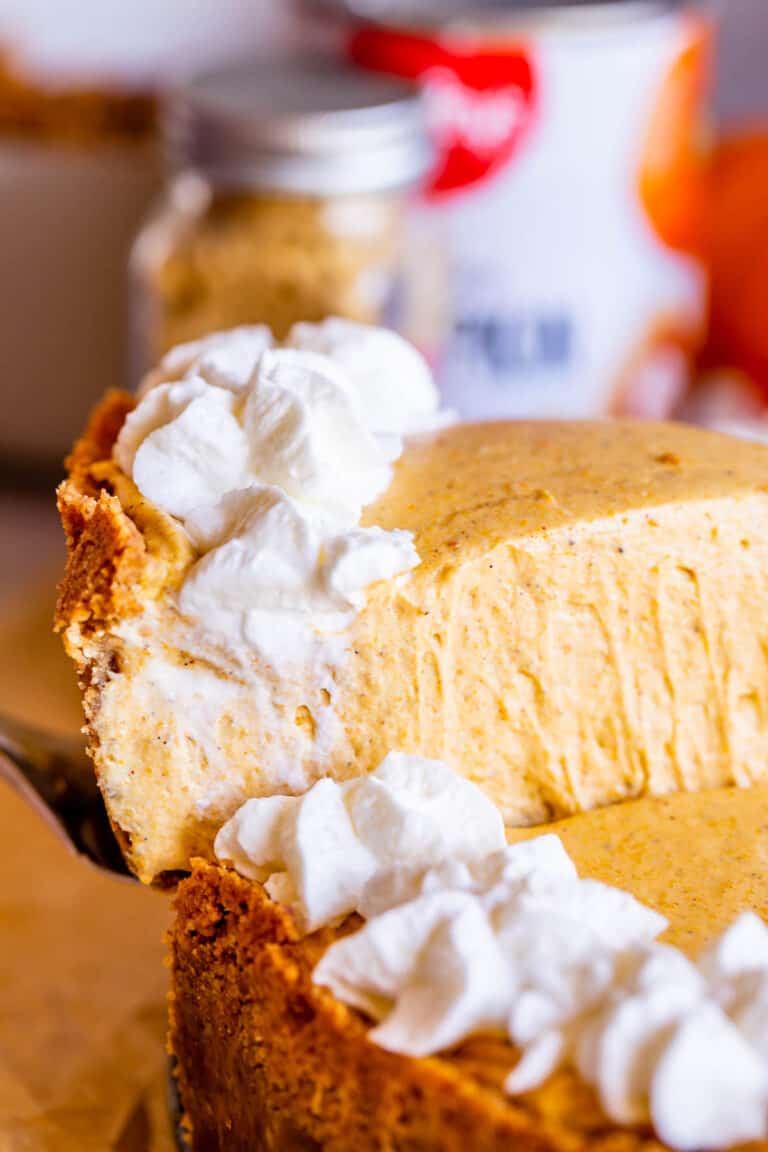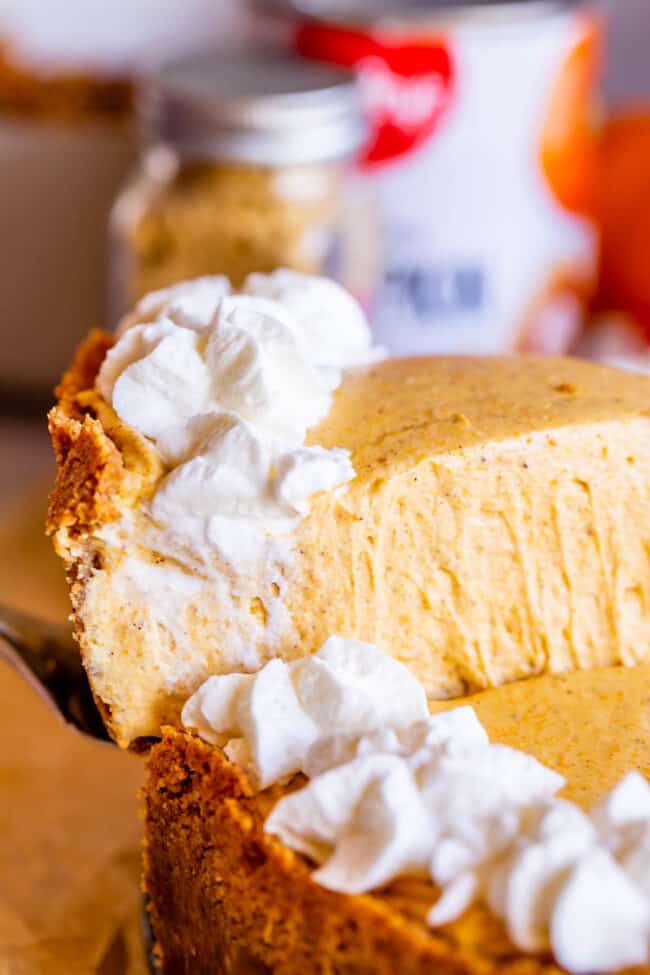 I know I'm not the only one who's kids are obsessed. On a neighborhood Facebook group I'm in, one mom posted that she was willing to buy someone's catalogue; they had lost theirs and her kid was devastated. A high prized commodity indeed!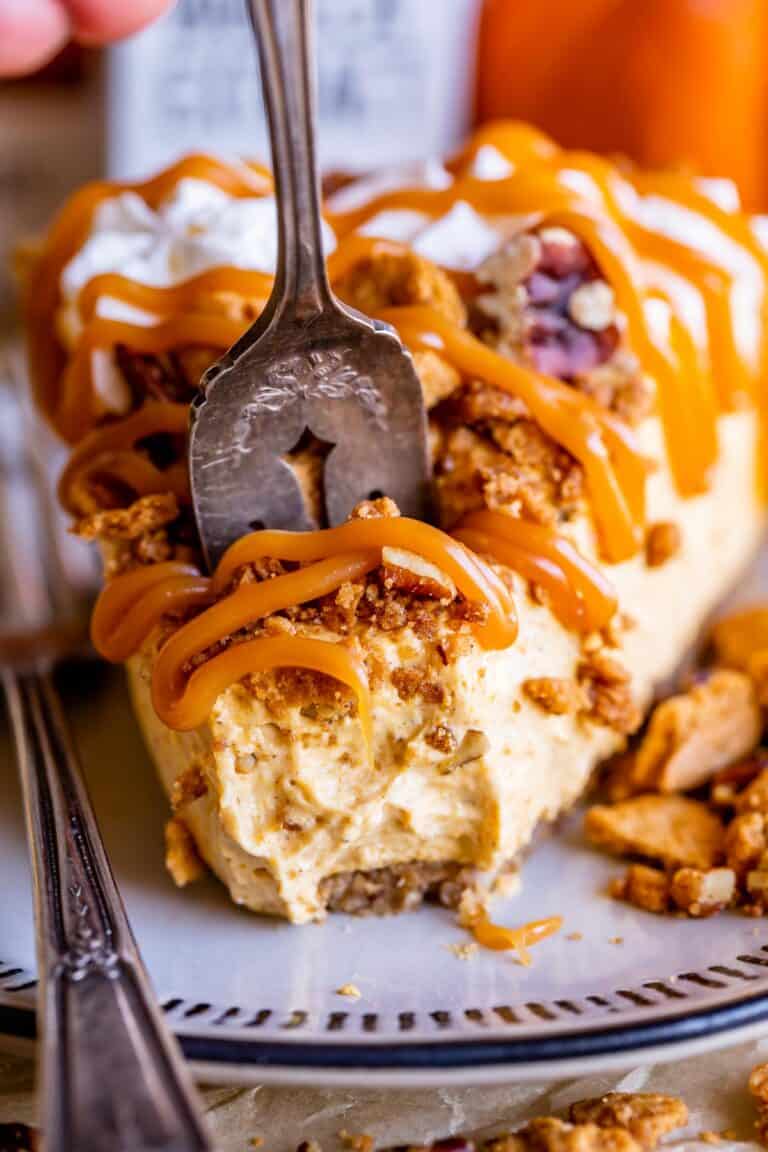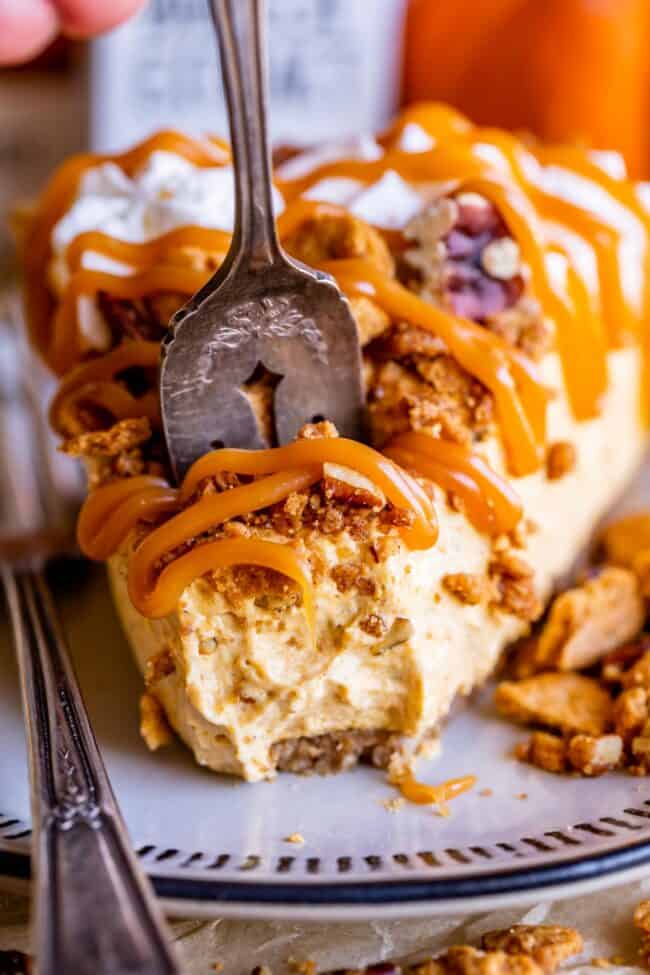 Guys, Thanksgiving is next week!! Do you still need a dessert recipe? I've got you covered.
Let's talk cheesecake. I HAVE STRONG FEELINGS. Are you ready?
No bake cheesecakes vs baked cheesecakes
Today's recipe is a no bake pumpkin cheesecake. I love me some no bake cheesecakes. They are smooth and creamy, light and airy. They are a cinch to put together. Literally takes 10 minutes. A baked cheesecake, on the other hand, takes forever to make, requires way more baking technique, has eggs, is much heavier and denser, and is a totally different texture experience. They are not the same dessert!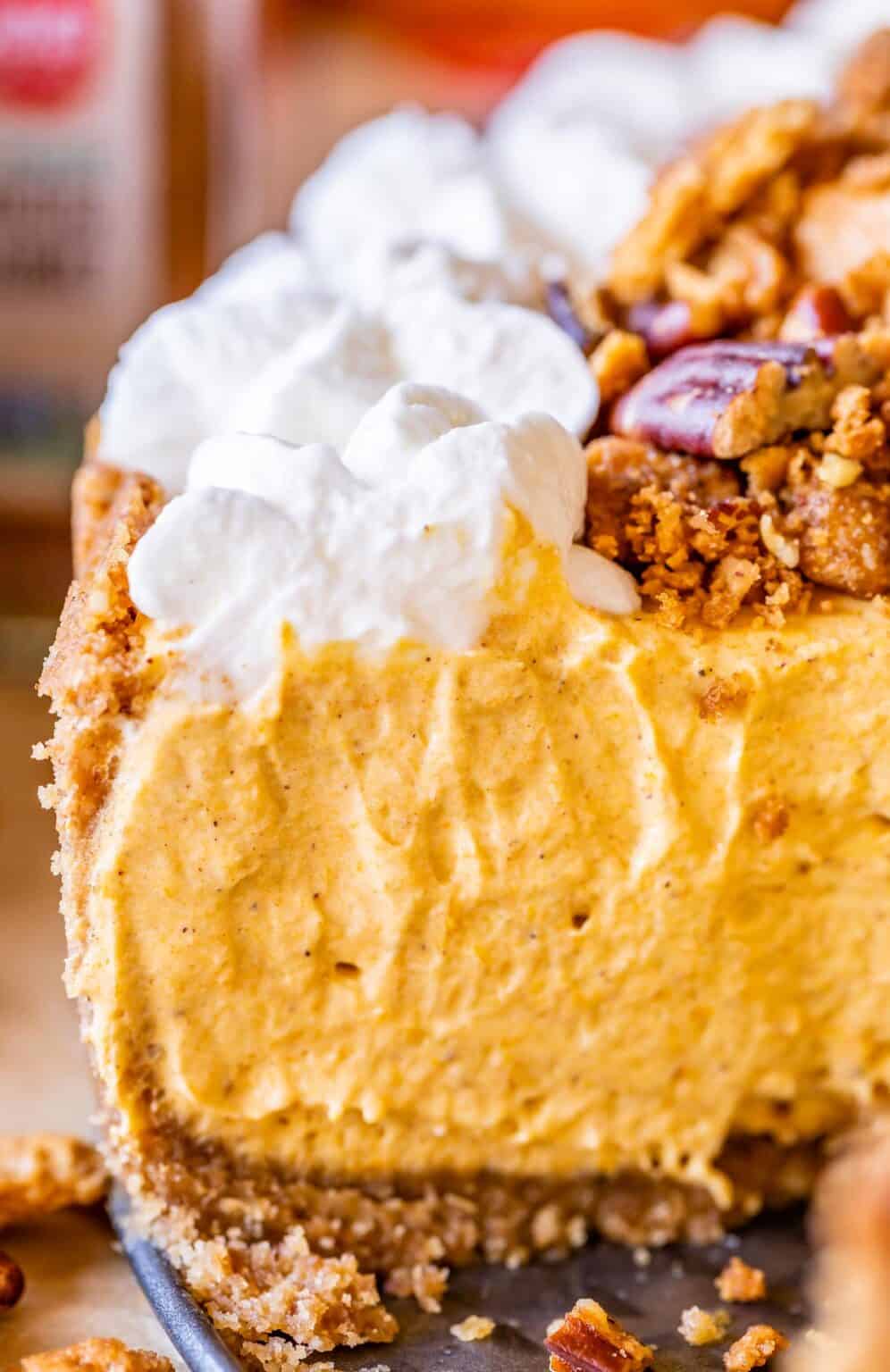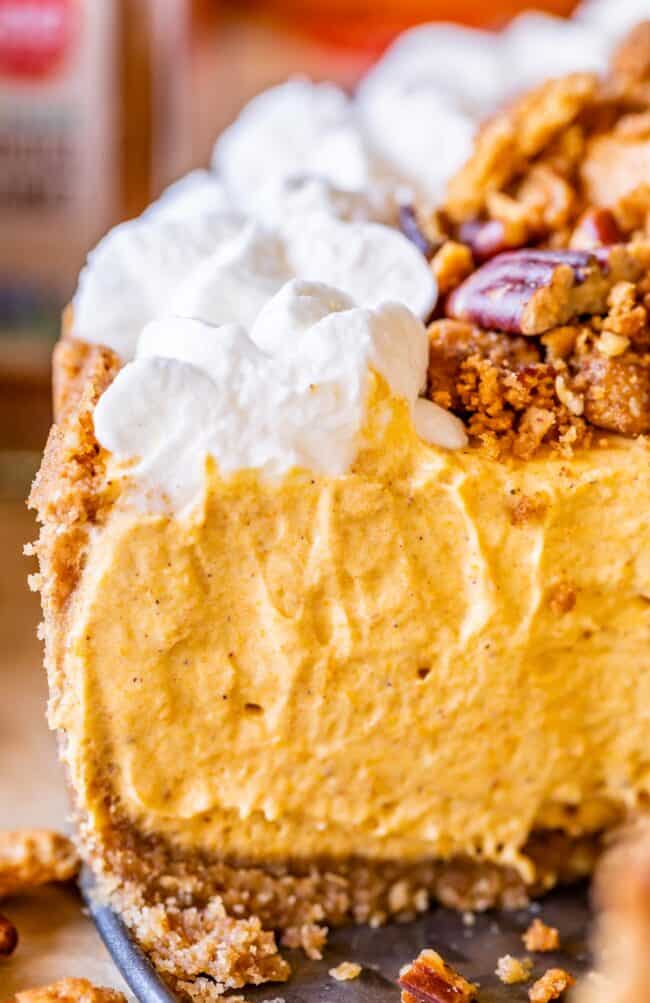 The No Bake Debate
A true no bake cheesecake recipe means that you don't have to turn your oven on at all. You make your crust and chill it in the fridge to help it hold its shape. It's perfect for summertime when you just can't even imagine turning on the hot oven.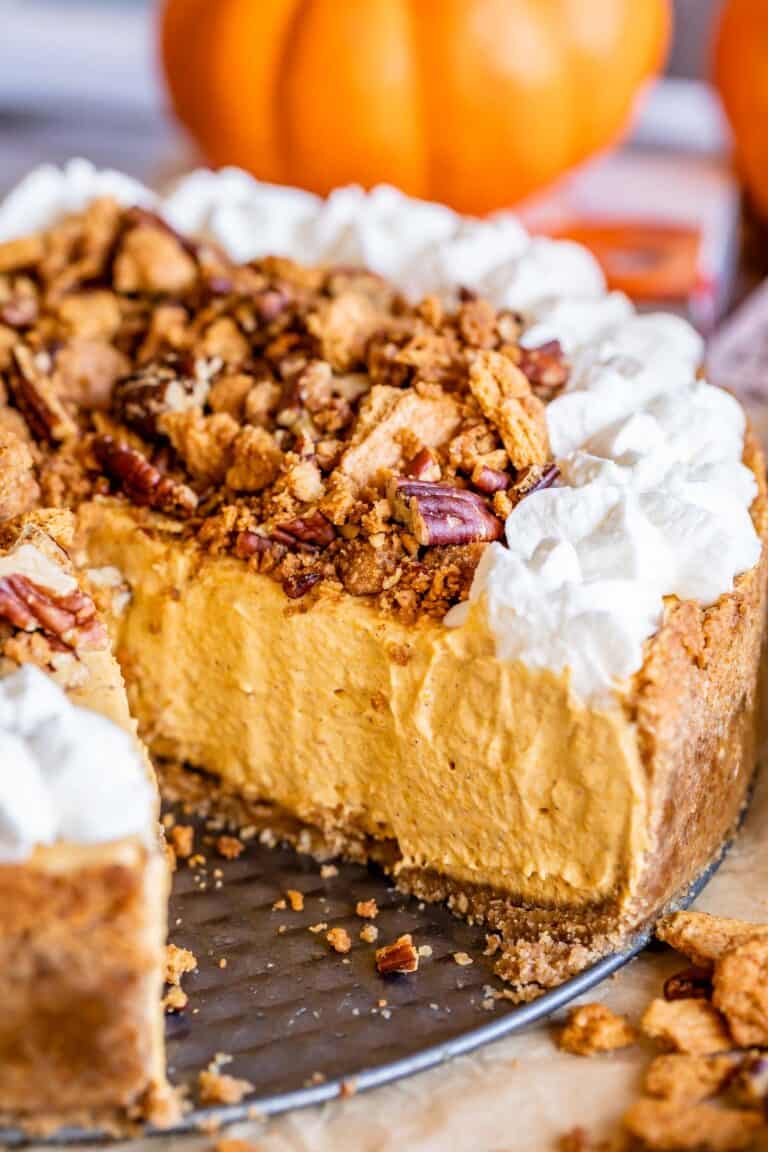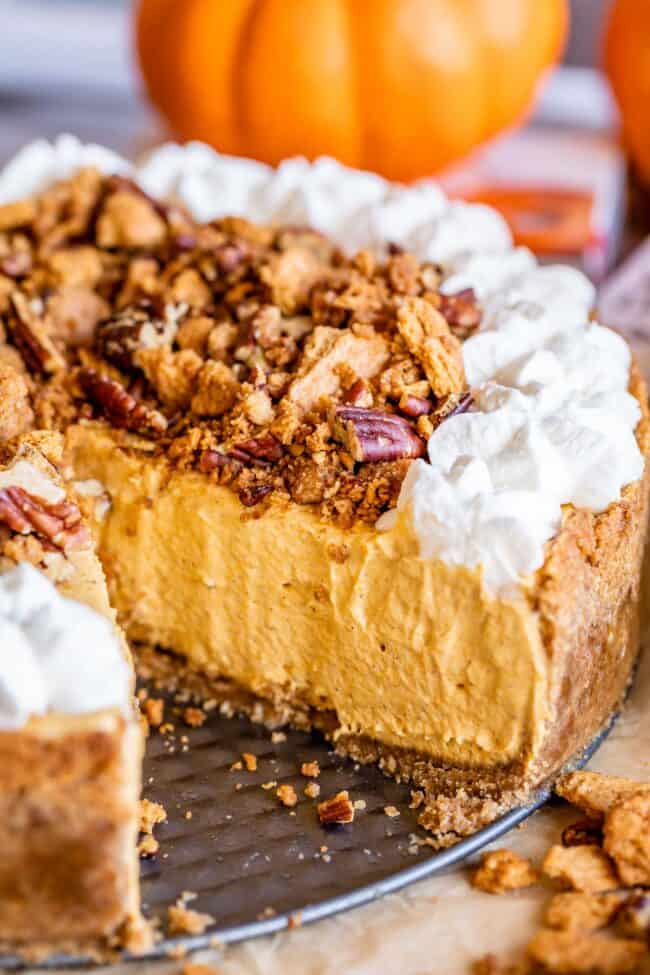 But…I just don't love the unbaked crust. I think that refrigerated crusts end up kinda soft and sad and soggy. I know this is a personal preference thing! So many people love it. And if you make me a no bake crust, I will definitely eat it. I just prefer a crispy crust. Am I the only one here? It is the perfect foil to a light, smooth, creamy no bake cheesecake!
And that is exactly what today's recipe is. A perfectly pumpkin-y version of that dreamy, creamy no bake texture you love. With a non apologetically crispy baked crust. (Okay, okay, I included instructions for how to do both, don't worry.)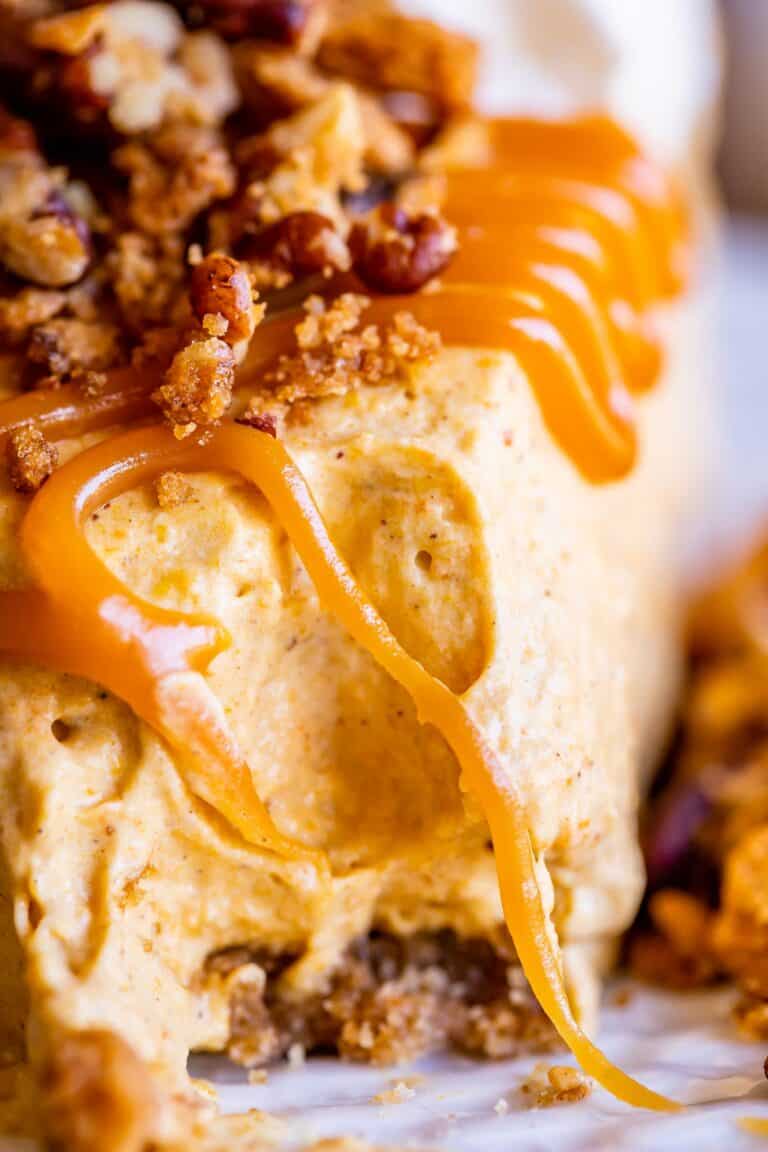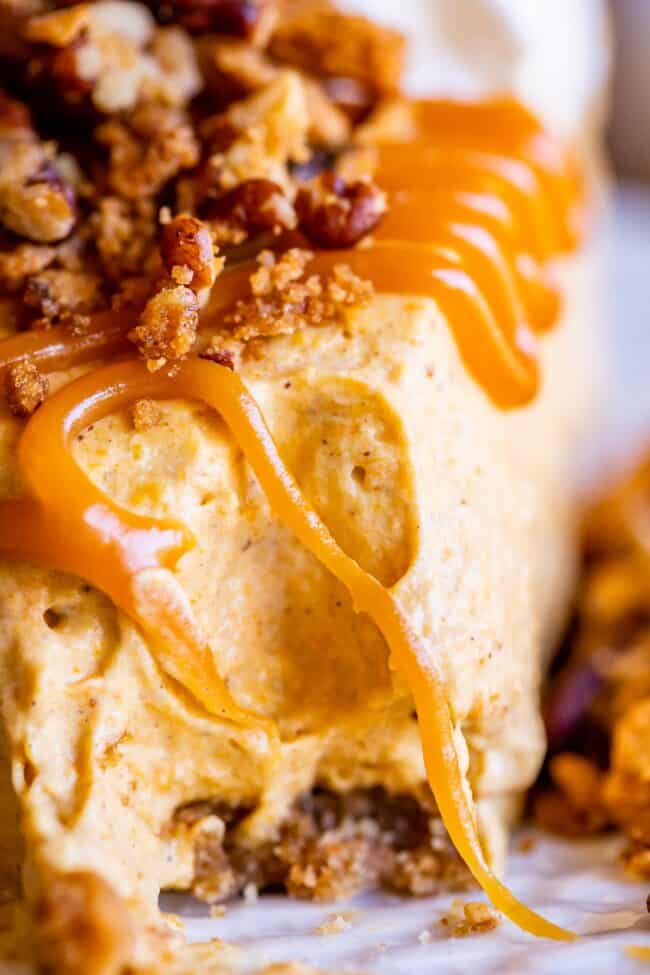 I love this recipe because it doesn't skimp on flavor. You know those pumpkin desserts that are definitely orange but don't taste remotely like pumpkin? This recipe is not that. It BRINGS IT in the pumpkin department. And it is the perfect light texture after a heavy meal.
This no bake pumpkin cheesecake would be such a great dessert to make for Thanksgiving. You can make it up to two days in advance. One more thing you can get out of the way before the big day! Let's make it!
How to make No Bake Pumpkin Cheesecake
First up…the crust! In the recipe below, I've included instructions for both a no bake crust and a baked crust, so all the sticklers out there won't be able to actually pitchfork me.
The ingredients and amounts are the same. Grind up a bunch of graham crackers and about 1/2 cup chopped pecans.I love adding crunchy nuts to my crust! Adds such a great flavor dimension. If you are chilling the crust, take a couple minutes to toast your pecans on the stove until fragrant. It makes all the difference!
If you bake your crust, use a spoon to reshape and press it back into shape a bit after it comes out of the oven. The pecans make it puff a little.


Now for the filling! Whip up some cream with a bit of powdered sugar, and toss in the fridge. We will fold it in later.
Then beat your softened cream cheese until there are NO lumps. If there are lumps, you will taste them in your cheesecake! We want that ultra smooth and creamy texture. Add in a buncha brown sugar.


Add in some vanilla and spices and mix it all together. I love to add cinnamon, nutmeg, ginger, and a little bit of cardamom and cloves. You can leave those last two out if you want, but I love the depth of flavor they add! You long time readers out there know how obsessed I am with cardamom. It's delightful, I'm telling you.


After beating the cream cheese into submission and swirling in the pumpkin, it's time to add in that cream you already whipped. Don't go too crazy, you don't want to deflate it. Mix until just barely combined.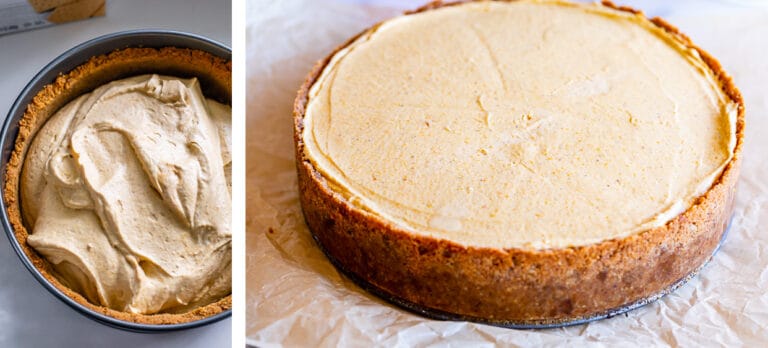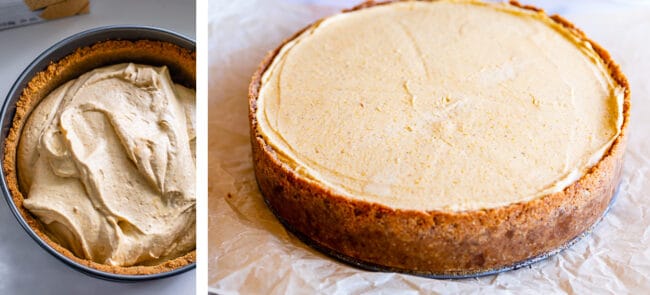 Use an offset spatula to smooth out the top. If you have a little tiny bit of extra filling that mounds in the middle instead of giving you a perfectly flat cheesecake, well then I guess you will just have to scrape it into a little bowl and eat it with a spoon right then and there. I would say I'm sorry, but I'm not.
Pecan Graham Crumble
Since I've already been convicted (of a misleading no-bake cheesecake title), I figured I may as well commit the crime, whole hog. I couldn't just bake the crust. NoOoOo. I had to bake up some extra graham crackers and pecans to sprinkle on top.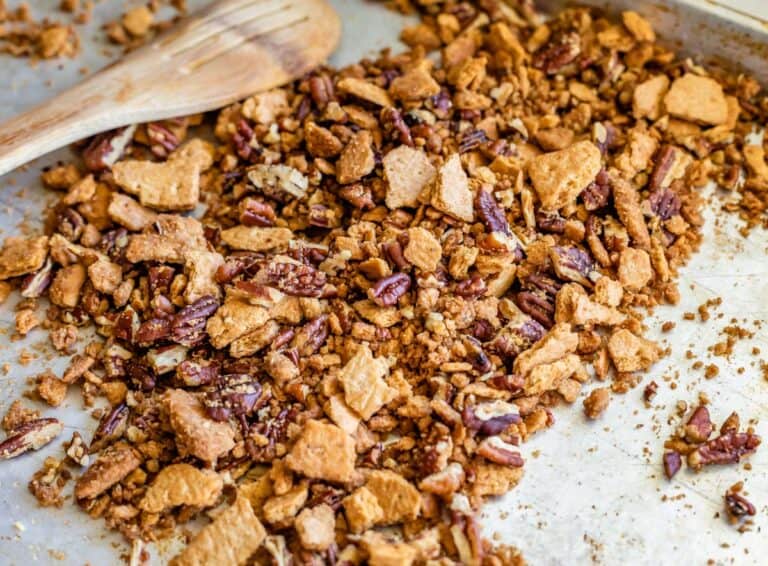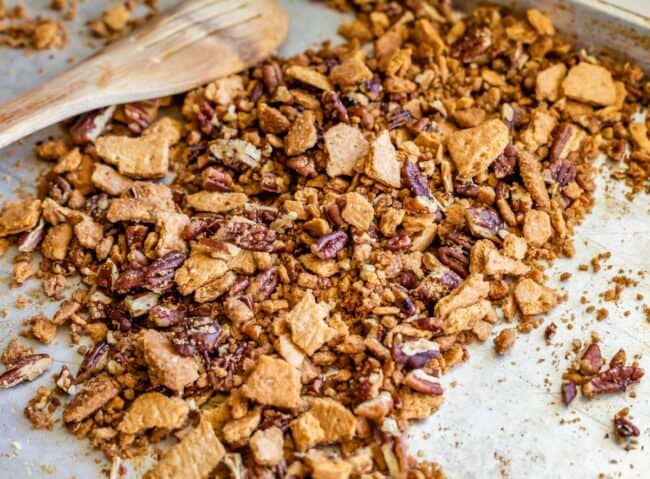 Have you ever done this?? I might be a little obsessed with graham cracker crusts, especially when it comes to a thick and super rich cheesecake. I always want a higher ratio of crust to cheesecake. The answer? Add it on top as a perfectly crispy garnish! It's so good.
I'm working with Raley's for this post! I've been going to Raley's since I was a kid. It was just down the street from us and my mom did all her shopping there. Living really close to a grocery store totally spoils you. Instead of planning ahead you just end up running to the store every other day! We practically lived there.
Raley's revamped their private label program last year, and they have basically everything! I was doing a normal shopping trip for our family's groceries at the same time that I picked up the products I needed for this no bake pumpkin cheesecake, and almost everything I needed to buy was under the private label. Why would I buy the expensive name brand products when I can get a really high quality private label product that is a fraction of the price? I saved tons of money by buying the Raley's brand for everything I needed. And it's really high quality! Sometimes you don't know what you're going to get with a generic brand, but I trust Raley's. Everything I bought was just as good if not better than the name brand.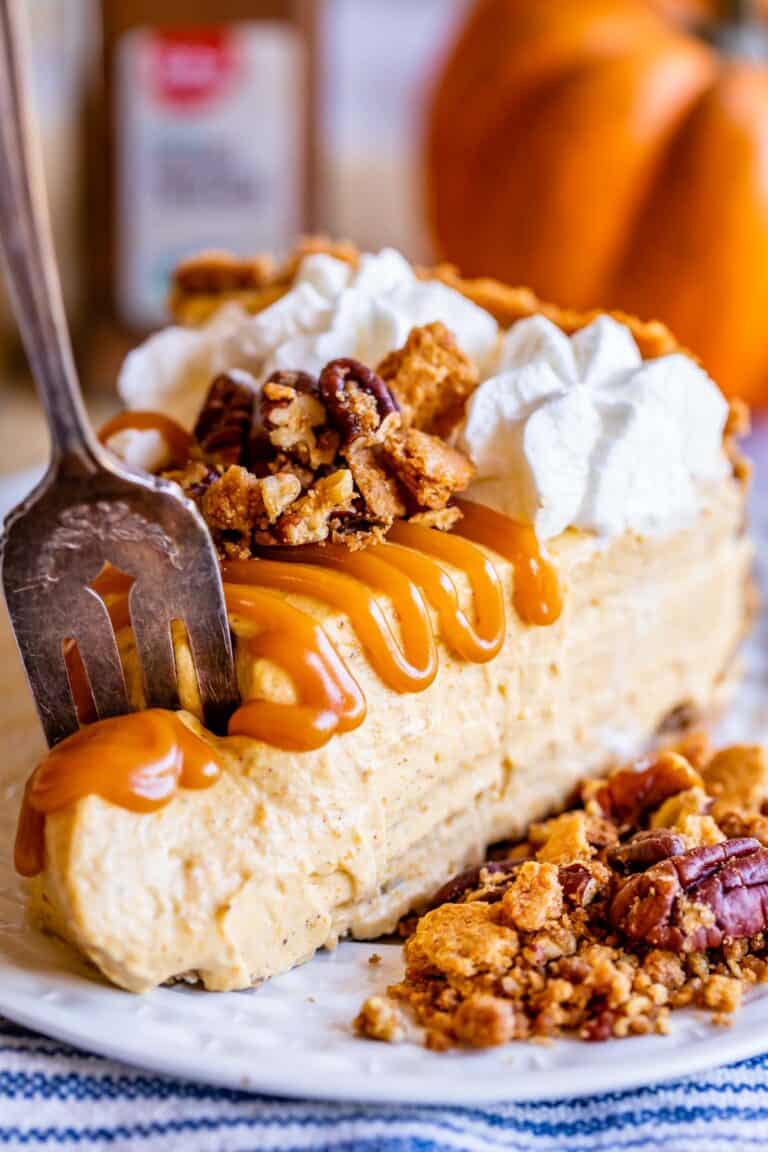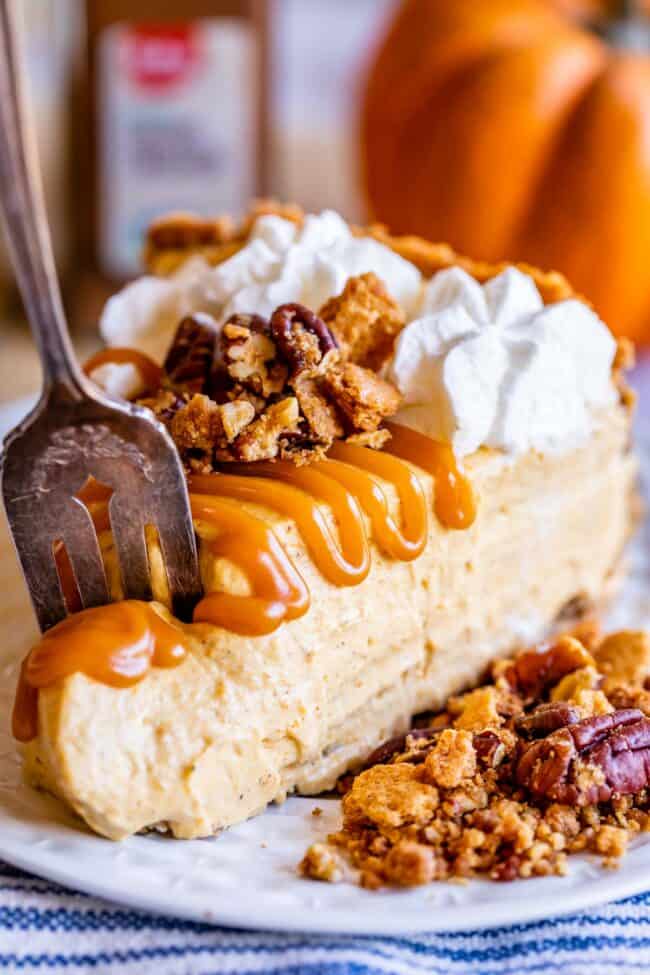 Raley's even ordered 20% more of their private label products this quarter, in anticipation of the holiday rush that always happens. Have you ever tried to shop for Thanksgiving on Wednesday?? Sometimes the shelves are cleaned out! You will get flashbacks to empty toilet paper shelves like we had in March! But Raley's is prepared so you're good to go. They even offer online ordering for same-day pick up and delivery. I like to pretend that I would use this because of the pandemic, but really it's just because I'm lazy. Grocery delivery for the win!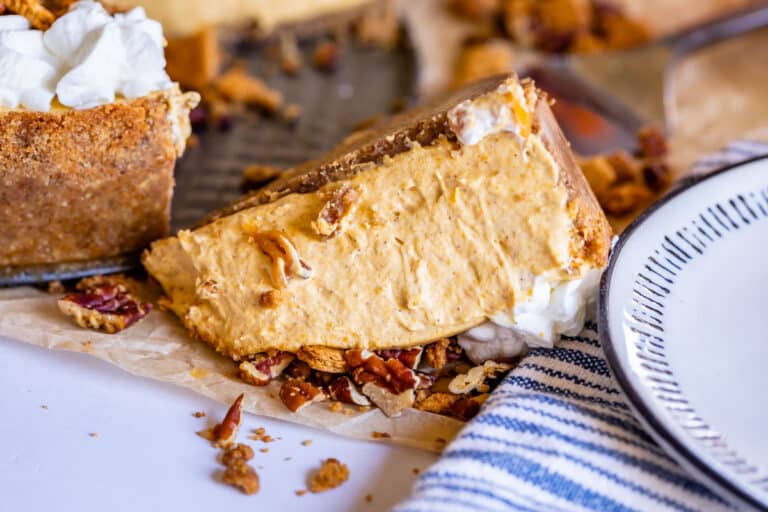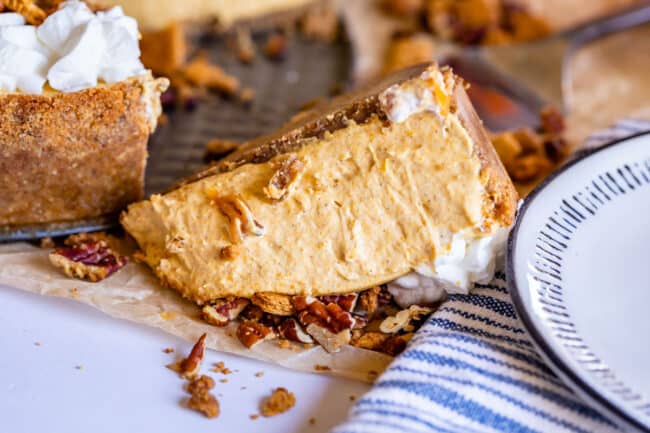 Here's what happens when you ask your husband to help you lift a slice of cheesecake out of the pan for a photo. "Stand there. No, not there, you're blocking my light. There. Yes. Okay, now hold the pie server with the slice. No not like that, put your hand further back. Can you push your sleeve up? And stop shaking. Hold it still. Okay now tilt it forward. A little more. A little more. I need the light on it. Tilt it….NOOO IT FELL!!"
It's seriously a miracle that Eric puts up with me.
Have your cheesecake and eat it too, my friends! Happy Thanksgiving prep!
More No-Bake Cheesecakes you are going to love!
More pumpkin recipes to try this Thanksgiving!
Facebook | Pinterest | Instagram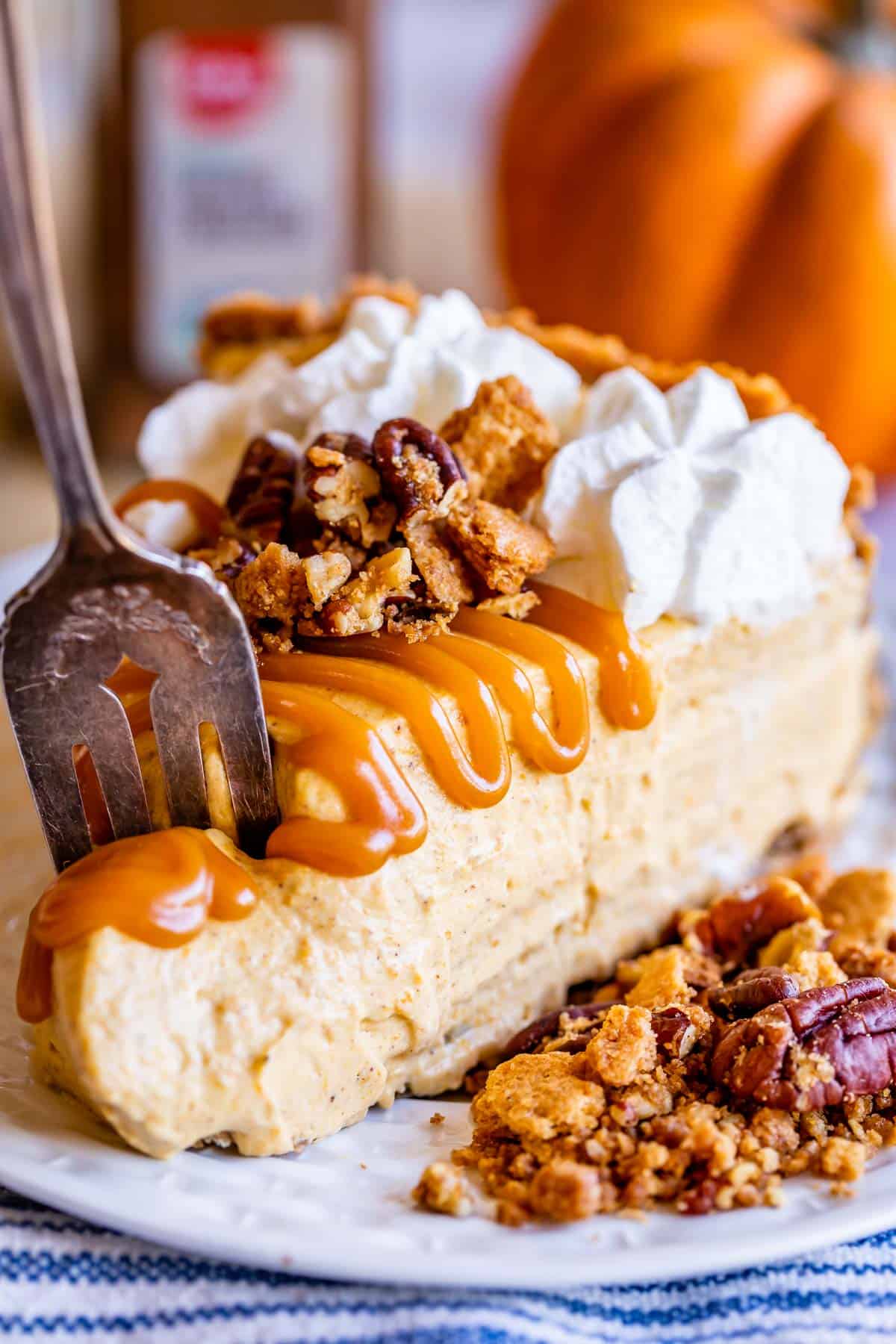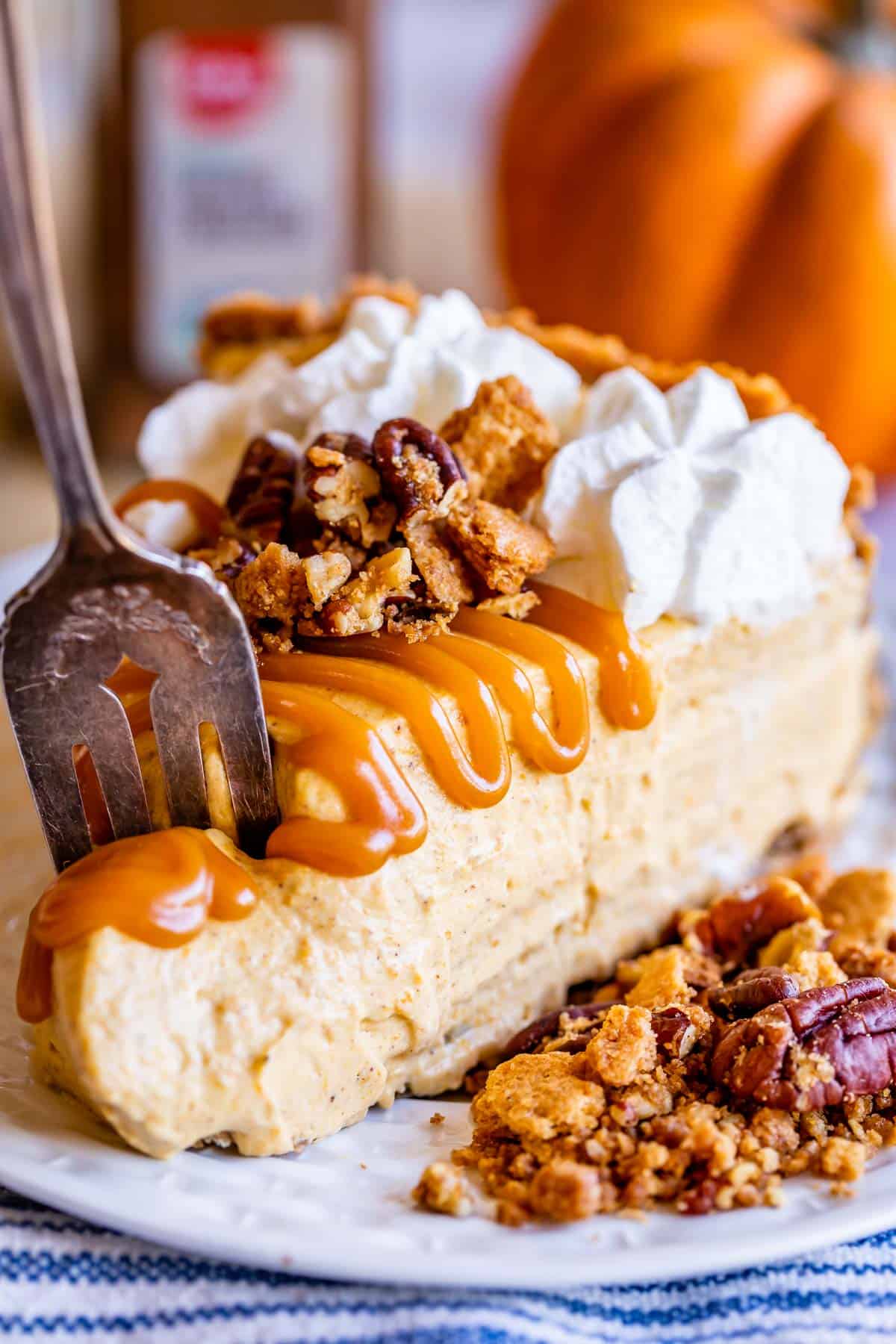 print
Did you make this recipe?
Leave a review »
No Bake Pumpkin Cheesecake
10-12
adjust servings
This easy recipe for No Bake Pumpkin Cheesecake is smooth, creamy, and perfectly pumpkin-y. There is never enough crispy crust in most cheesecake situations. I solve this problem by adding extra Pecan Graham Crumble and sprinkling it on top as a garnish! Add a drizzle of caramel sauce and you will be in fall dessert heaven. Make this ahead of time for Thanksgiving!
Ingredients
For the crust
1/2

cup Raley's chopped pecans

12

full sheets Raley's graham crackers (1 and 1/2 cups crushed)

1/3

cup Raley's dark brown sugar

1/4

teaspoon Raley's salt

1/2

cup (1 stick) butter, melted
For the cheesecake filling
1

and 1/4 cups heavy cream*

1/4

cup Raley's powdered sugar

2

(8 ounce) packages Raley's cream cheese, softened**

1

and 1/4 cups Raley's dark brown sugar

2

teaspoons Raley's vanilla

1

and 1/2 teaspoons Raley's cinnamon

1

teaspoon Raley's powdered ginger

1/2

teaspoon Raley's powdered nutmeg

1/4

teaspoon cloves

1/4

teaspoon cardamom

1/2

teaspoon Raley's salt

1

(15 ounce) can Raley's pumpkin puree
For the Pecan Graham Crumble (optional)
6

full sheets Raley's graham crackers

1/4

cup butter (half stick butter)

3/4

cup Raley's chopped pecans

2

tablespoons Raley's dark brown sugar
To garnish
More whipped cream, to decorate top*** (see notes)

caramel sauce, optional
Instructions
Make the crust. First decide if you want a true no bake situation (chilled crust) or a baked crust, which will be crispier, and in my opinion, tastier. See notes for how to bake the crust.
To chill the crust: In a small saucepan, toast 1/2 cup chopped pecans over medium heat for about 3-5 minutes, until fragrant. Be sure to stir often. Let cool. Add 1/2 cup toasted pecans and 12 sheets graham crackers to a food processor. Run the processor until they are finely crushed. (You could also seal the crackers and pecans in a ziplock and crush with a rolling pin.)
Transfer the mixture to a medium bowl (if not using a food processor). Add 1/3 cup brown sugar, 1/4 teaspoon salt, and 1/2 cup melted butter. Stir (or pulse in the processor) until everything is moistened and the mixture looks like wet sand.
Press the mixture very firmly into the bottom and at least 2 inches up the sides of a 9 or 10 inch springform pan. I like to use a measuring cup to press it into the corners. The more firmly you press your crust, the less likely it will be to crumble and fall apart on you when slicing. Put your back into it!
Chill the crust for at least 20 minutes in the fridge or freezer before adding the cheesecake filling.
Make the cheesecake filling: In a large bowl or stand mixer, add 1 and 1/4 cups heavy cream and 1/4 cup powdered sugar. Beat on high for about 2 minutes, watching it carefully to make sure you don't churn it into butter! Whip the cream until stiff peaks form, scraping the sides as necessary.
Chill the whipped cream. If you are using a stand mixer, scrape the whipped cream into another bowl and store in the fridge. Use the same bowl to make the rest of the filling (no need to clean it out). (If you are using a hand mixer, just put the whipped cream in the fridge and get a new large bowl.
Beat the cream cheese. Add 2 packages of softened cream cheese to the bowl.** Beat on medium speed for about 2 minutes, stopping to scrape the sides and bottom. Make sure there are absolutely no lumps. Keep beating until it is smooth!
Add 1 and 1/4 cups dark brown sugar, 2 teaspoons vanilla, 1 and 1/2 teaspoons cinnamon, 1 teaspoon ginger, 1/2 teaspoon nutmeg, 1/4 teaspoon cloves, 1/4 teaspoon cardamom, and 1/2 teaspoon salt. Beat for another minute or so, scraping the sides and bottom and making sure there are no lumps!
Add the 15 ounce can of pumpkin puree. Beat on low speed until the pumpkin is incorporated, scraping the sides.
Fold in the whipped cream. Put away your mixer. We don't want to deflate the whipped cream! Use a large rubber spatula to gently fold in the whipped cream that you beat earlier. Only mix until everything is combined, and then stop. You want it to stay light and fluffy!
Fill the crust. Use a rubber spatula to scrape the filling into the crust. If you are using a 9 inch pan, you might have a little extra filling. Only fill it to the point where it can be smoothed out flat. (This is the part where you scrape the extra filling into a bowl and eat it with a spoon right then and there. It's your reward for getting this dessert done ahead of time. Also, you have to test it, right?) Use an offset spatula to smooth the top of the cheesecake nice and flat.
Cover the cheesecake tightly with plastic wrap and chill in the fridge for at least 3 hours, or up to 2 days. I like to chill at least 8-12 hours before serving. That way the cheesecake has plenty of time not only to set up, but also for the flavors to deepen.
Make the Pecan Graham Crumble. (If you are dedicated to a true no bake cheesecake, you will have to skip the deliciousness that follows. Therefore, it is optional. But I feel that only a fool would make this choice. Don't be foolish now.) Preheat the oven to 350 degrees F.
Add 6 full sheets graham crackers to a ziplock bag. Use a rolling pin to break up the graham crackers. See photos. I like to leave some big chunks in there, the biggest ones were about the size of a quarter.
In a medium bowl, melt 1/4 cup butter in the microwave. Add the crumbled graham crackers, 3/4 cup chopped pecans, and 2 tablespoons brown sugar to the bowl. Mix it all together and make sure the butter is distributed.
Spread the mixture out onto a baking sheet. Bake at 350 for 9-12 minutes, making sure to stick around to open the oven and stir the mixture every 3 minutes or so. When the mixture is lightly browned and fragrant, take it out and let cool completely.
Decorate the cheesecake with whipped cream around the edges, if desired. See notes for making your own whipped cream. I used a star tip and piping bag to decorate the edges. If you are sure that you are going to eat the entire cheesecake right away, you can choose to fill the center of the cheesecake with a mound of Pecan Graham Crumble. But keep in mind that it will get soggy in just a little while, so if you are not serving the whole cheesecake, leave it off and garnish individual slices.
Serve the cheesecake. Use a sharp knife to slice the cheesecake, wiping off the knife in between cuts. Garnish each slice with additional whipped cream, plenty of Pecan Graham Crumble, and a drizzle of caramel sauce for good measure. Devour!
Store leftovers in the fridge. Cheesecake is very forgiving; it will stay fresh for 3-4 days. Do not freeze no bake cheesecakes. Baked cheesecakes are ideal for freezing, but no-bakes are quite different. It will change the texture significantly if you freeze it, so I don't recommend it.
by The Food Charlatan

If you make this recipe,
share it on Instagram
 using the hashtag
#TheFoodCharlatan
so I can see it!
We are a participant in the Amazon Services LLC Associates Program, an affiliate advertising program designed to provide a means for us to earn fees by linking to Amazon.com and affiliated sites.