Nothing could be prettier or more festive than this delicious Sparkling Christmas Slush Drink! It is super impressive to serve for dinner parties, holiday parties, bridal showers, or any other excuse you can think of!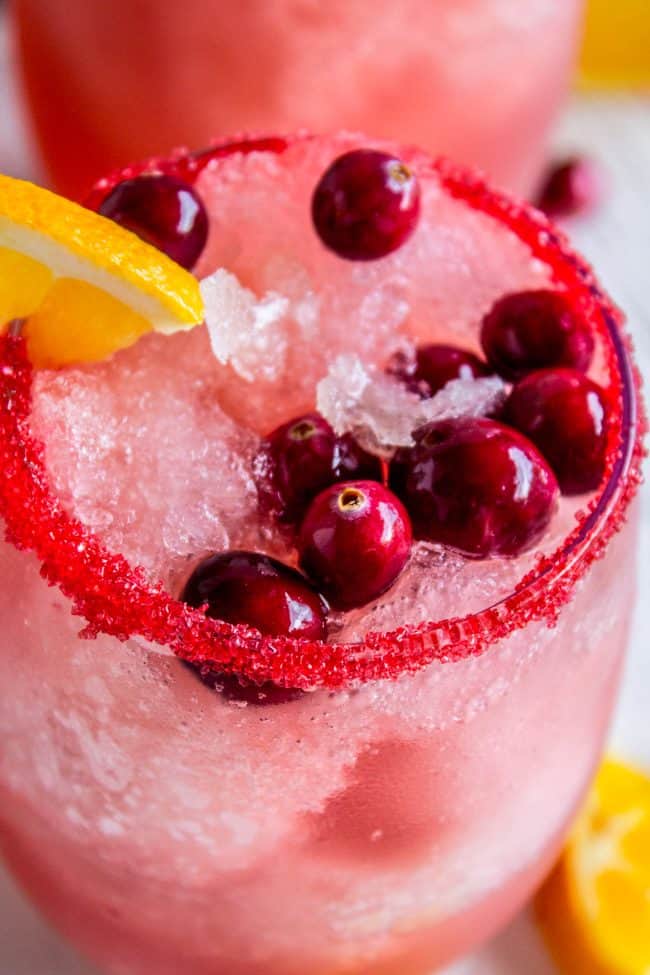 Hey guys! How was Thanksgiving yesterday? Are you eating Tums for breakfast this morning? (Thanksgiving: the great American Holiday of Indigestion.) Regardless, I know I'm still going to be eating pie for breakfast. (We have SO many leftovers. I feel it's my duty.)
It's really fun to watch what recipes you guys are making over the holidays. Did you know that for many food bloggers, the day before Thanksgiving is the highest traffic day of the year? (It was for me!) Here were my top recipes on Wednesday:
Some close runner up recipes include this Crème Brulée Pumpkin Pie that you've all had to endure me obsessing over lately (with good reason, guys) and also Cinnamon Honey Butter (for the rolls!) Save these recipes for Christmas when we do it all again!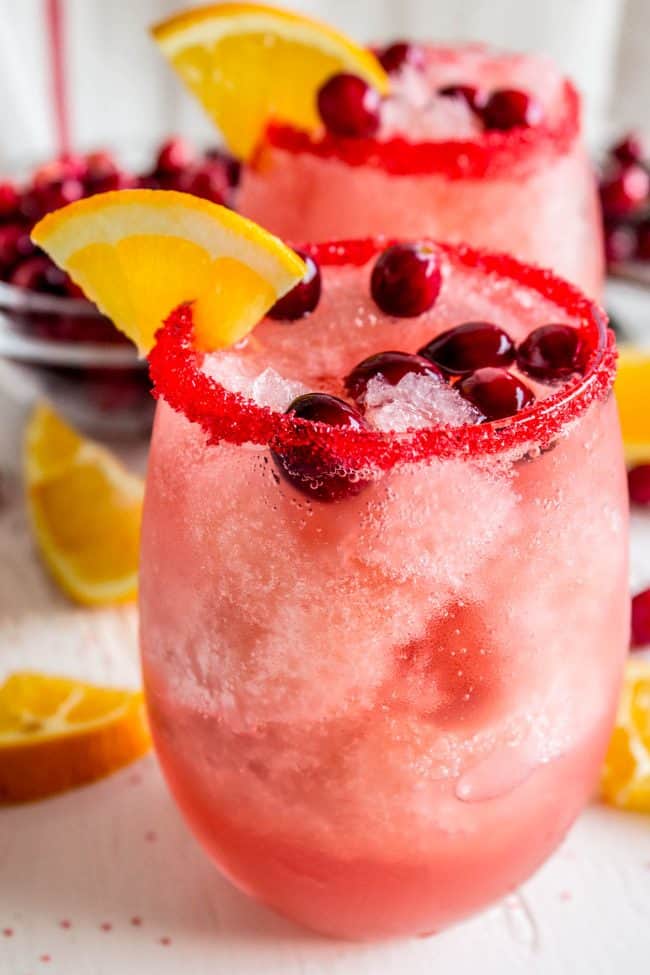 Is Mac and Cheese a Thanksgiving menu item where you're from? I had NO idea this was a thing until I started getting tons of traffic on on my Mac and Cheese every Thanksgiving. (Do you make it in place of mashed potatoes??) I asked my neighbor Tyrone what he was making for T-day and he said Mac and Cheese, HIS VERSION. Just remember, I won that contest, guys.
Then on Thanksgiving day all the traffic in the second half of the day shifts to this Turkey Broth from the Bones recipe and Leftover Turkey Barley Soup. Which is exactly what I'll be making with my turkey carcass tomorrow. Gosh, we're all just so predictable :)  Do you have a ton of turkey leftovers? You can use it for literally any recipe that calls for cooked chicken.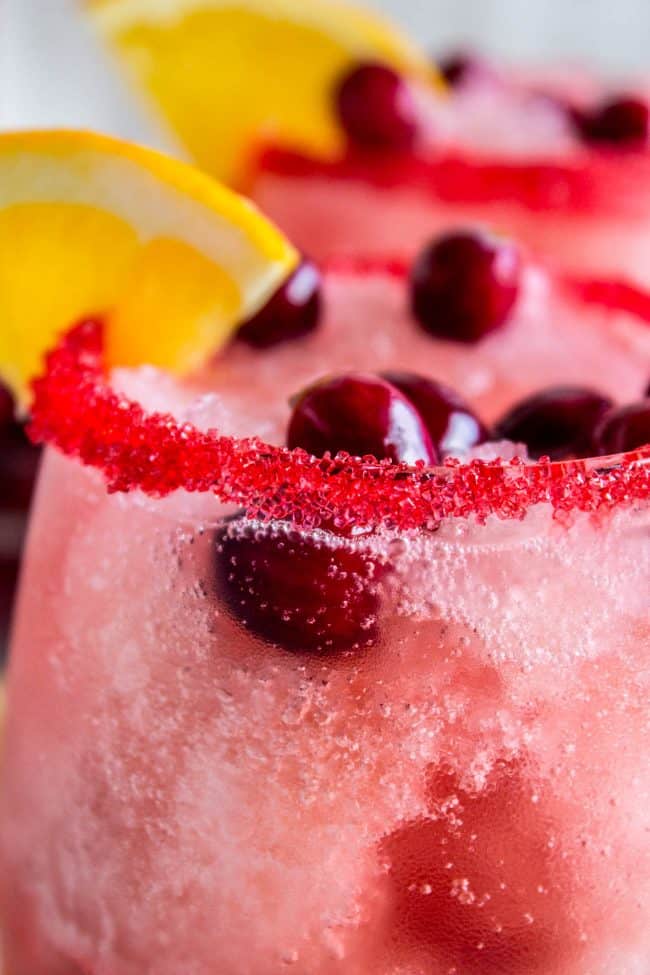 This Christmas Slush is another recipe from my Aunt Shirley! She is just full of amazing recipes. I was so excited to share this with you so that you could make it for Thanksgiving like I did, but I ran out of time! I was busy prepping for hosting. I added the recipe to my Instagram stories a few days ago. (I often give sneak peaks of upcoming recipes on Instagram stories, along with behind the scenes type stuff. Follow along, it's fun! You have to be on mobile.)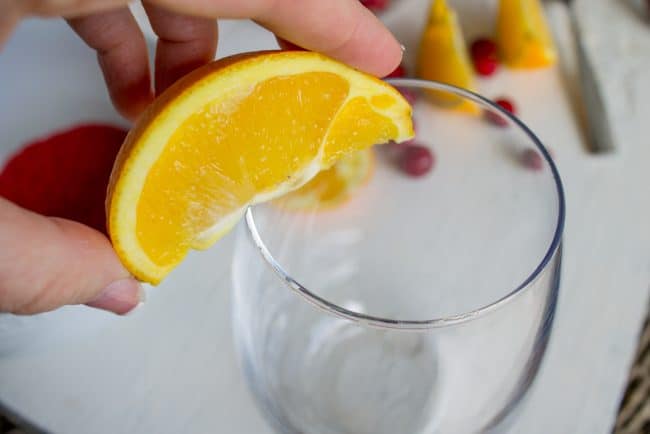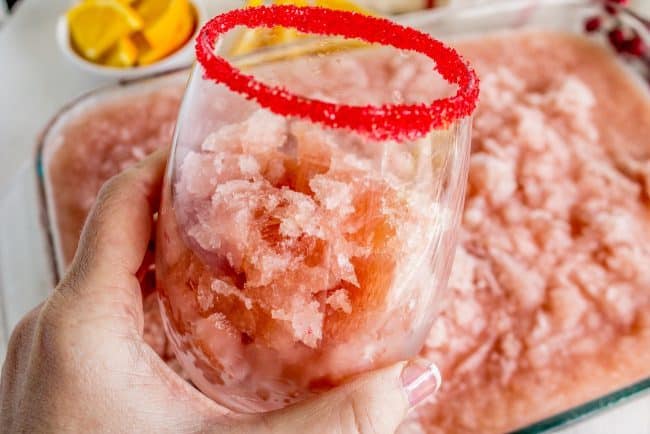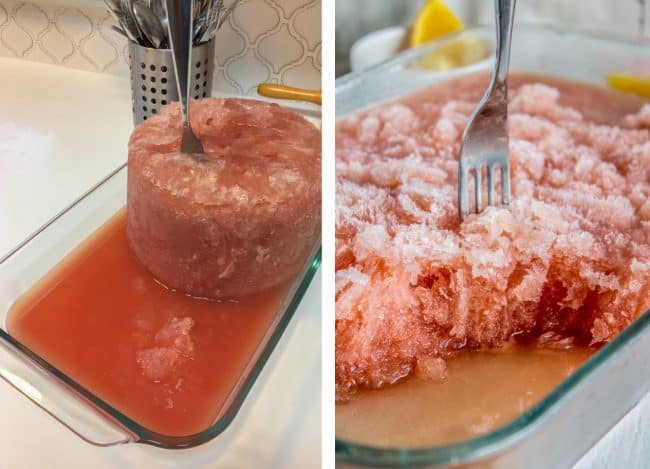 You freeze the slush in two 9×13 inch pans so that they are really easy to break up with a fork, pretty much right out of the freezer. DON'T do it in a 1 gallon ice cream bucket like I did at first (left.) It's too hard to break up.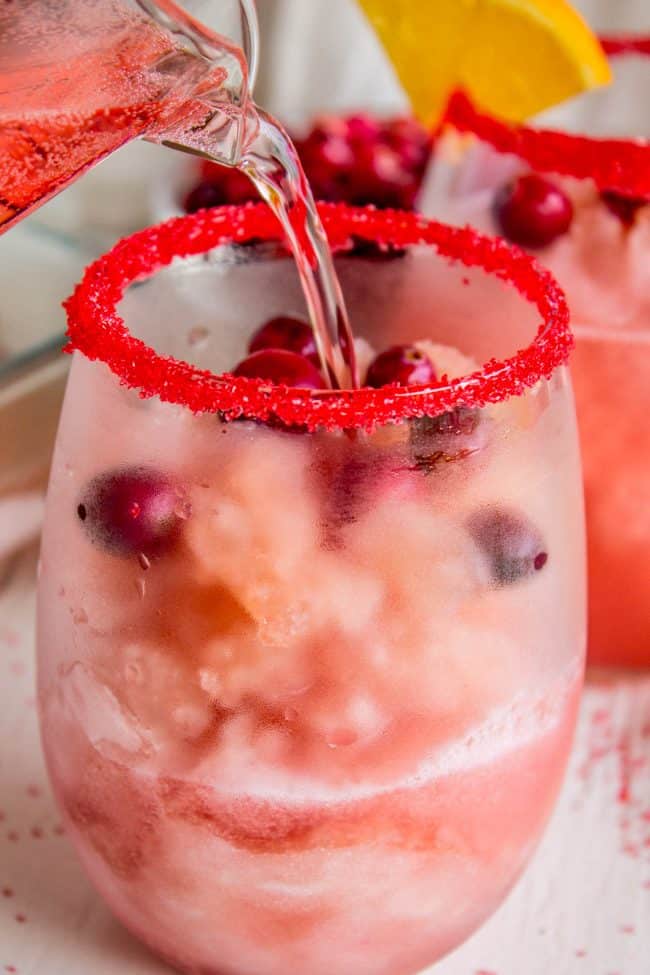 Hopefully you can use this recipe for Christmas this year. It's such a fun and easy way to make your holiday table look festive! Plus it's DELICIOUS. It's just so nice to have a special drink in a pretty glass with your dinner (I used stemless wine glasses), it makes everything feel more fancy. The sugared rims definitely ups the fancy-factor! It's super easy, all you need is some lemon juice and colored sugar.
But guys, now that Thanksgiving is over, I'm SO excited to start sharing more Christmas recipes with you! I have plans to share recipes for my Gingerbread Trifle (it's so good and super easy!), a quick tilapia dinner, Raspberry Thumbprint cookies, Classic Pot Roast, and so much more! I'm mostly sharing that last one to give you the base recipe you need for my Leftover Roast Beef and Potato Pie. I'm so excited about that one!! Have a great weekend everyone!
Facebook | Pinterest | Instagram | Twitter
One year ago:  Classic Double Crust Chicken Pot Pie (you could make this with your leftover turkey!)
Two years ago:  Roasted Sweet Potatoes and Brussels Sprouts
Six years ago: Pumpkin Chocolate Chip Cookies with Brown Sugar Icing

Sparkling Christmas Slush Drink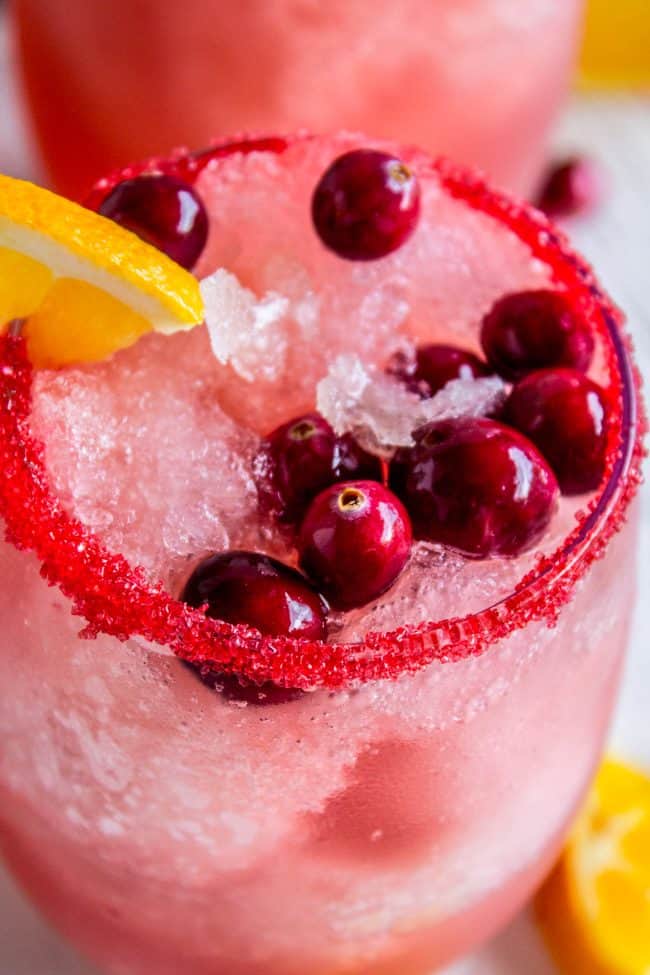 Nothing could be prettier or more festive than this delicious Sparkling Christmas Slush Drink! It is a super impressive drink to serve for dinner parties, holiday parties, bridal showers, or anything else you can dream up!
Ingredients
4

cups

water

1 & 1/2

cups

sugar

5

cups

100% cranberry juice*

2 (24-oz)

cans

frozen lemonade

3

cups

orange juice

1/4

lemon or orange

,

optional

colored sugar

,

optional

6

liters

Cherry 7Up

,

Three 2 liter bottles

fresh cranberries

,

to garnish

orange slices

,

to garnish
Instructions
In a large pot, combine 4 cups water with the sugar. Heat over high heat for 3-5 minutes, stirring until the sugar has dissolved completely.

Remove from heat and add the cranberry juice, frozen lemonade (don't make it into juice, just add it frozen), and the orange juice.

Stir until the lemonade is dissolved.

Cover and freeze until solid, at least 3 hours or up to 1 week.

Meanwhile, sugar the rims of the glasses. Pour colored sugar into a small bowl or a plate. (Any color would be fun, but I love to do red sugar. Plain white sugar would be pretty, or yellow. Green would be festive for Christmas!)

Rub the

rim of the glasses

with the lemon slice. Dip the glass into the sugar, then set aside to let dry. It's great if you can do this an hour or so before serving, but it's not necessary. You can even do it the night before your party to save time.

When ready to serve, use a fork to break up chunks of the slush and add to each glass.

Pour Cherry 7Up in each glass.

Garnish with fresh cranberries and an orange slice, if desired.
Notes
*If all you can find is a cranberry juice cocktail, that will work just fine.
If you do 8-ounce cups, you will get about 24 servings. You could fill the glasses more and add more 7Up to each glass and get more like 16 servings. It's kind of a flexible recipe. Turns out that adding sugary soda to sugary slush in ANY ratio is delicious.
The drinks have to be assembled last minute. If you want to, you can add the remaining slush and 7Up to a punch bowl set inside a large bowl of ice and let people serve themselves, but the slush melts faster this way.
Nutrition
Serving:
1
g
|
Calories:
245
kcal
|
Carbohydrates:
62
g
|
Protein:
1
g
|
Fat:
1
g
|
Saturated Fat:
1
g
|
Polyunsaturated Fat:
1
g
|
Monounsaturated Fat:
1
g
|
Sodium:
30
mg
|
Potassium:
127
mg
|
Fiber:
1
g
|
Sugar:
59
g
|
Vitamin A:
86
IU
|
Vitamin C:
24
mg
|
Calcium:
16
mg
|
Iron:
1
mg
Other party drinks you will love!
Easy Cucumber Lime Punch << this is a totally favorite of mine. It's soooo easy, and very unique!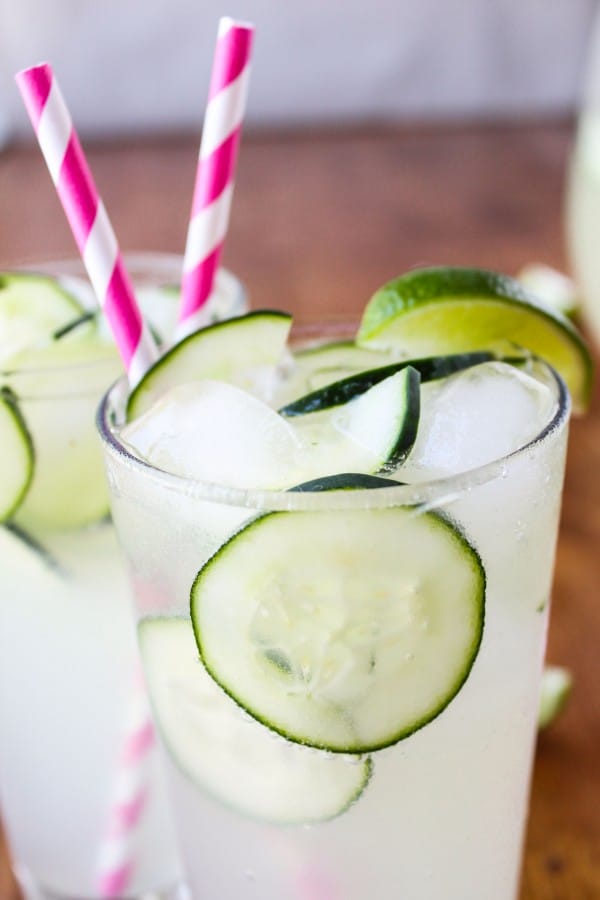 June Bug: Orange Grenadine Ginger Ale << another super tasty party drink!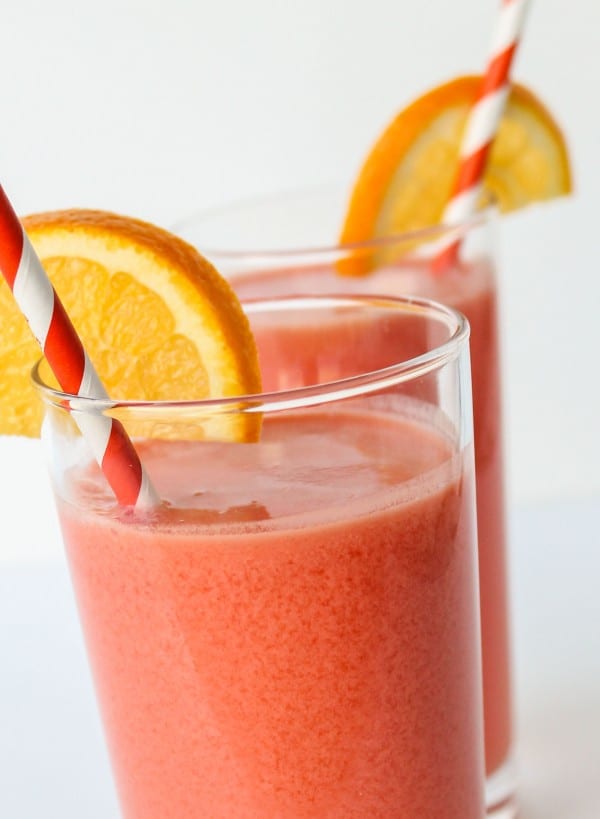 Chilled Pineapple Apple Cider << This is an old recipe (these photos! haa!) but it's a great holiday drink!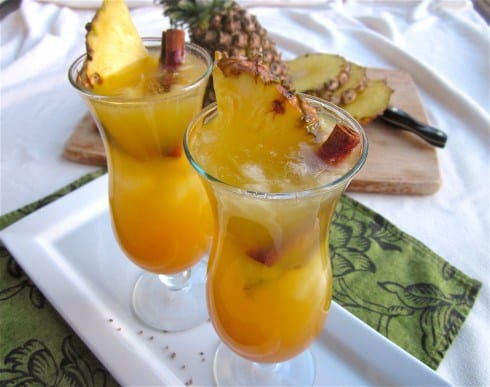 More tasty drinks from blog friends!
Cran-Pomegranate Citrus Slushie from Tried and Tasty
Easy Frozen Punch from Dinners, Dishes, and Desserts
Raspberry Sherbet Party Punch Slush from Chelsea's Messy Apron