This easy French toast casserole is easy and cream cheesy. Top it with mounds of cinnamon and syrup and we are well on our way to the best breakfast ever…in one hour.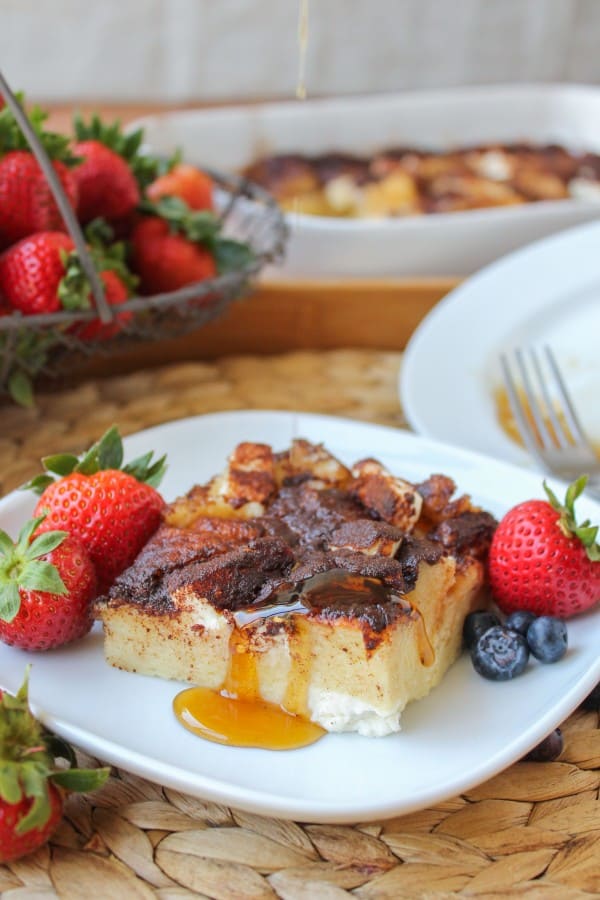 This is going to be one of those "You're an idiot" moments. Where you hand me my stupid sign and actually slap me upside the head. Because I JUST figured out why people listen to music on earbuds when they run. (Here's your sign Karen.)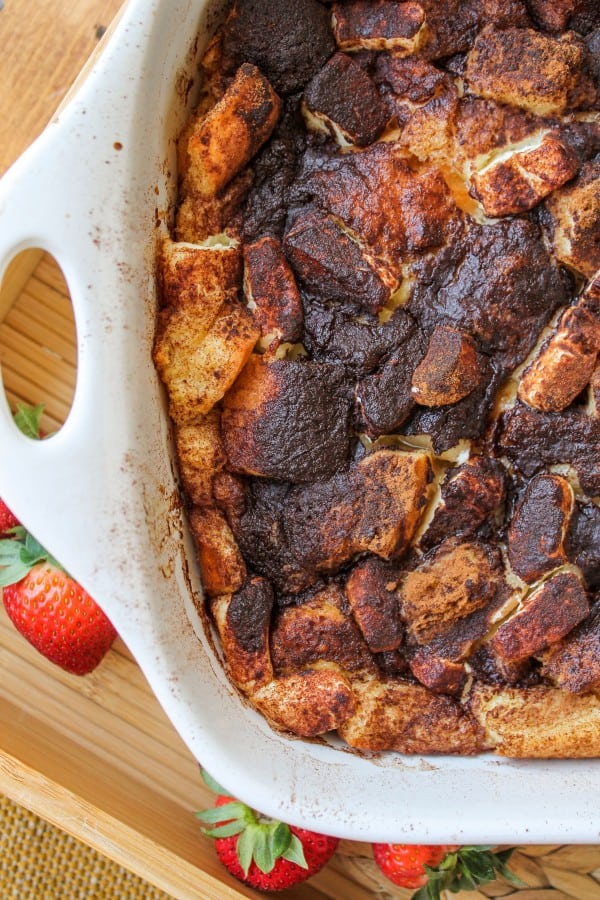 I suppose I shouldn't say I figured it out, because really I always knew. I've just finally been convinced that it's the way to go.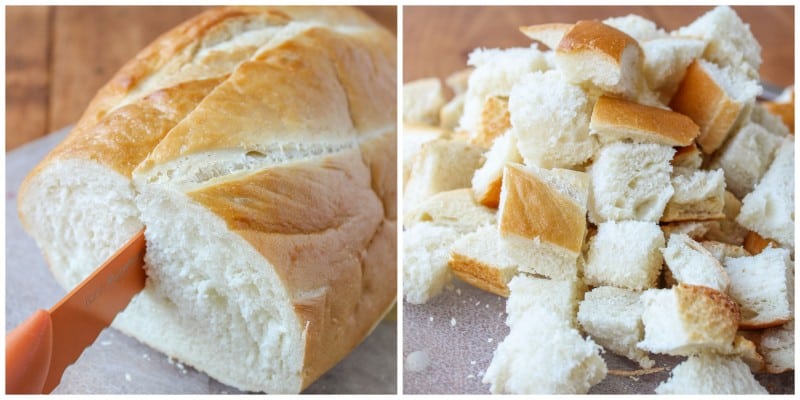 I ran 3 times longer than I usually do. 3 TIMES. (this burst of energy may or may not have been rooted in the fact that when I reached the distance that I usually run, I realized I had been jogging slowly for less than 2 songs. TWO SONGS.)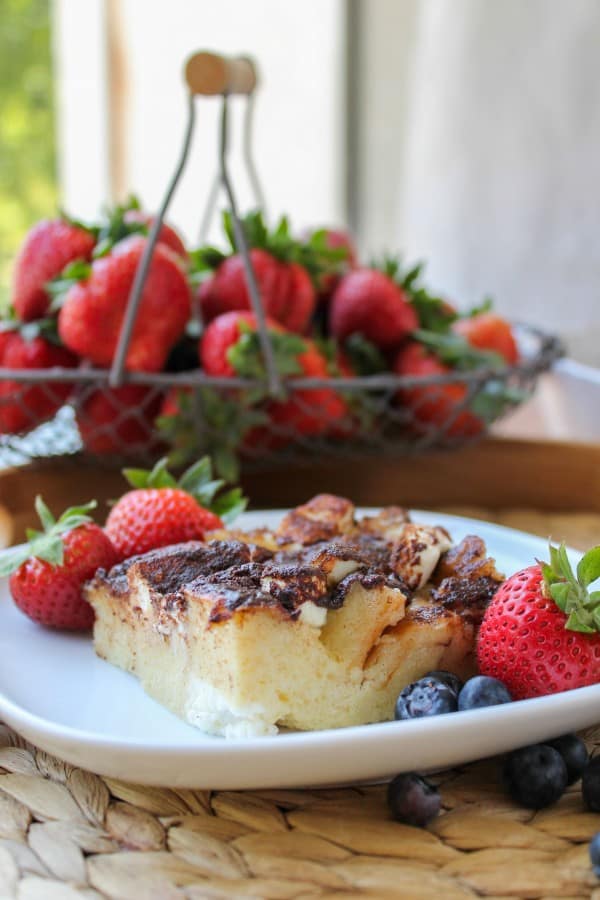 Turns out I can run for quite a while when I'm pacing myself to Cake and The Black Keys. It is SO MUCH BETTER than having to silently count each an every step in my brain: don't..die..don't..die..don't..die..don't..die..don't..die..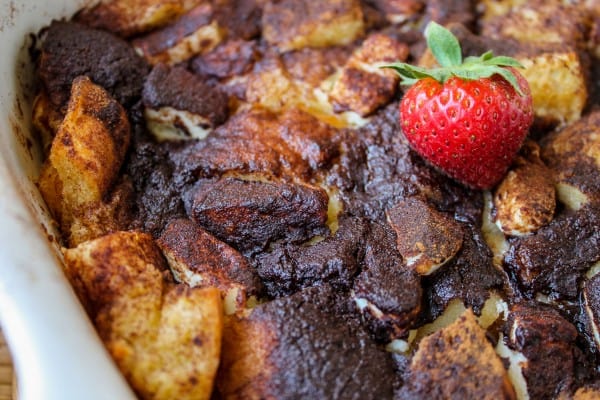 Or actually, for me, it's more like don't………….die………….don't………….die…..……..don't………….die.……. (And you thought you were slow.)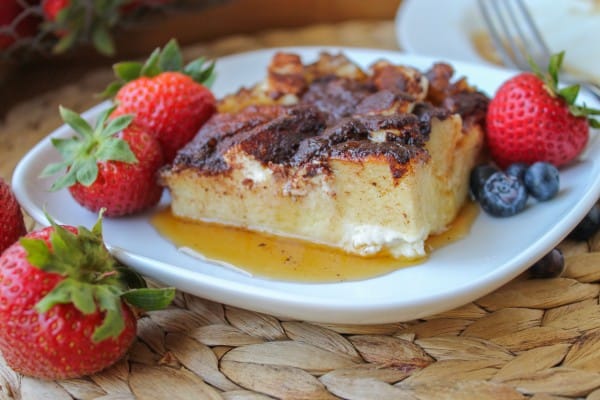 I think this earbud magic is finally going to break me out of this weird anti-running funk I've been in for the last 3…..years. #oops
I've always been resistant to wearing earbuds in public. It stems from my college days, when no one could even make it to their next class without their earbud fix. I'm scarred from one too many unrequited cheerful hellos.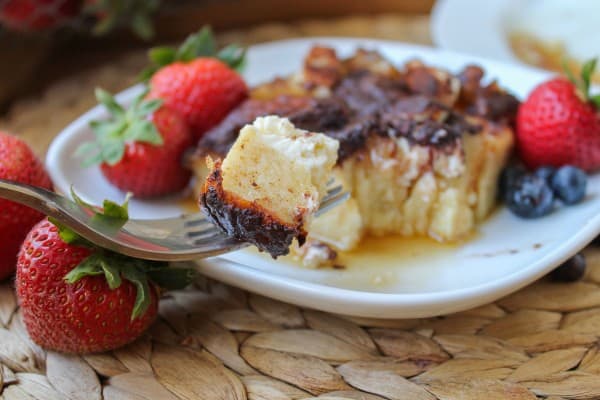 Nothing's changed. I love saying hi to people in my neighborhood, whether I know them or not. Except now when I call out a cheerful, normal greeting, really I'm yelling to half the neighborhood, "HEY, NICE NIGHT HUH??" Ah well. If you can't beat em join em.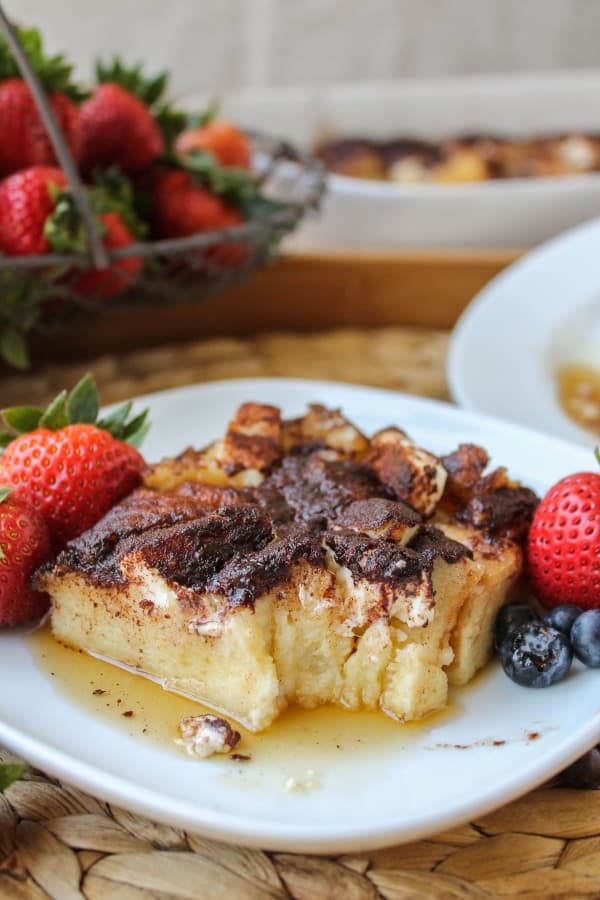 My brother Nathan (who ran an 
Ironman
, btw. Puke.) has been trying to get me to make this Cream Cheese French Toast Casserole for years. He tried it first in Chile where his mission president's wife would make it for him and the other missionaries. He has raved about it so many times. 
Well he was right, as usual. Brother knows best, right? This Cream Cheese French Toast Casserole has 8 eggs so it almost has a custard texture to it. I love it served with fresh fruit and lots of maple syrup. This would be a great breakfast to make for Dad for Father's Day this Sunday! ( I seriously think I might just make it again. And then go running. Blasting music in my ears while I yell at the neighbors.)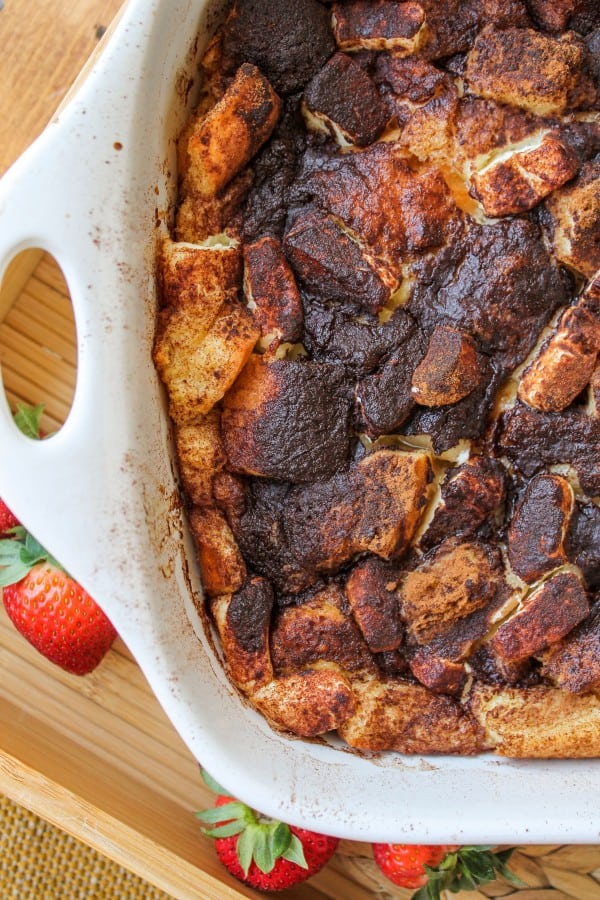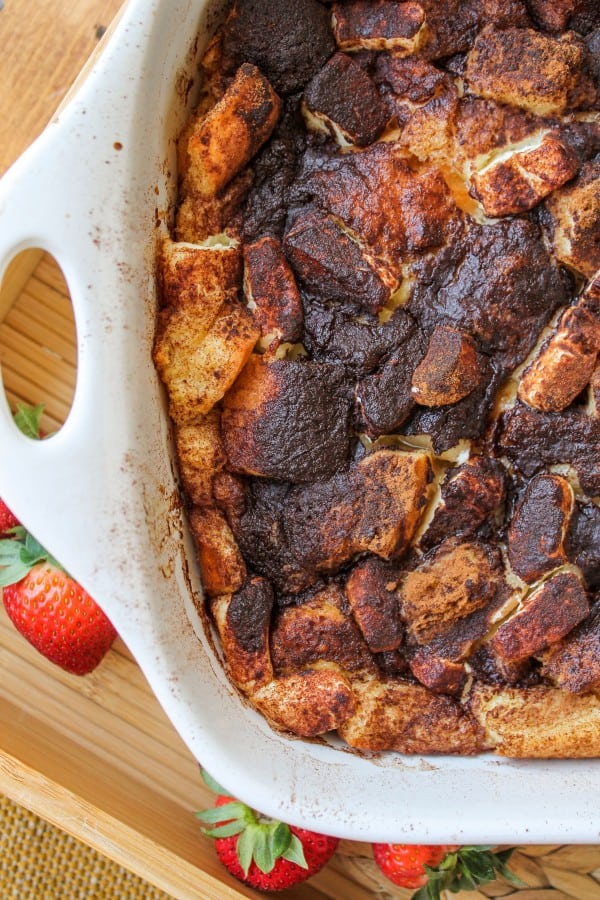 print
Did you make this recipe?
Leave a review »
Cream Cheese French Toast Casserole
Serves 12
adjust servings
Ingredients
8

eggs

1/2

cup granulated sugar

1

and 1/2 cups whole milk

2/3

cup cream

1/2

cup maple syrup

1/2

teaspoon vanilla

1/2

cup salted butter, melted (1 stick)

12

ounces (about 10 cups) french bread, cubed into bite-size pieces

8

ounces cream cheese, cubed into 1/2 inch pieces

1

tablespoon cinnamon
Instructions
Preheat oven to 350 F.
In a large bowl or stand mixer, whisk together eggs, sugar, whole milk, cream, maple syrup, and vanilla. Whisk for about a minute or two.
In a separate bowl, microwave 1/2 cup butter until melted, about 30 seconds. Add the butter to the egg mixture and whisk thoroughly, another 1 or 2 minutes.
Spray a 9x13 inch casserole dish with nonstick spray. Spread half of the bread over the bottom of the dish, then sprinkle half of the cream cheese chunks over the top. Add the rest of the bread, then sprinkle with the remaining cream cheese.
Pour the egg mixture evenly over the top of the pan, making sure to get all of the bread wet.
Sprinkle with 1 tablespoon cinnamon (I used a mesh strainer to make it more even.)
Cover the dish with foil.
Bake at 350 F for 35 minutes.
Remove the foil from the pan and bake for another 10 minutes.
Let cool for a few minutes, then serve with maple syrup and fresh fruit.
by The Food Charlatan

If you make this recipe,
share it on Instagram
 using the hashtag
#TheFoodCharlatan
so I can see it!
Source: Charlotte Openshaw (a friend of my brother's)

Bring on the cinnamon, yo.
Other fun breakfast ideas: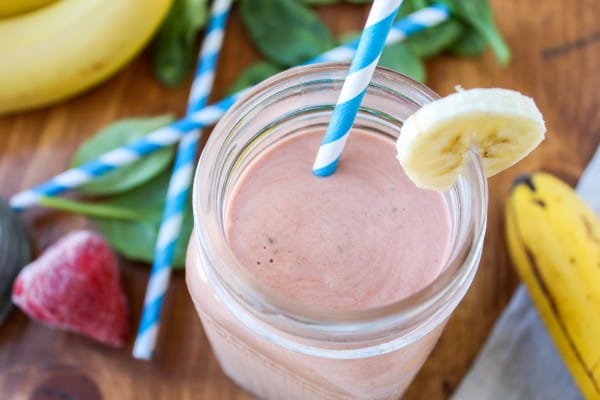 Strawberry Mango Protein Smoothie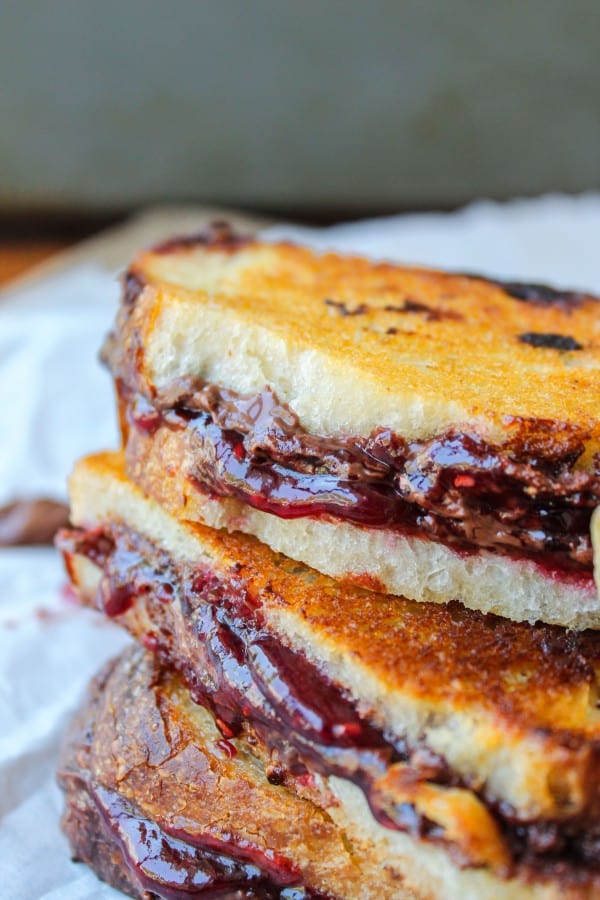 Raspberry Nocciolata Grilled Sandwich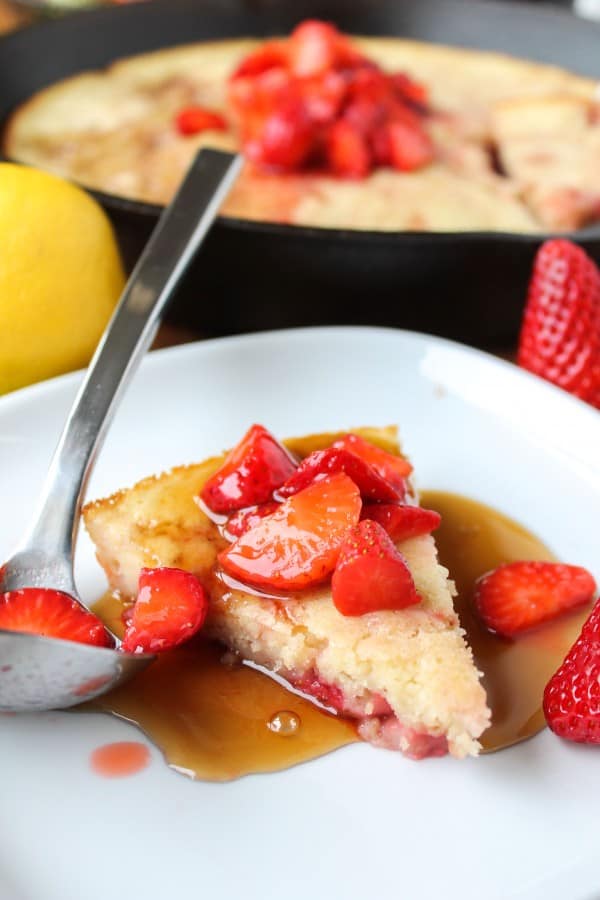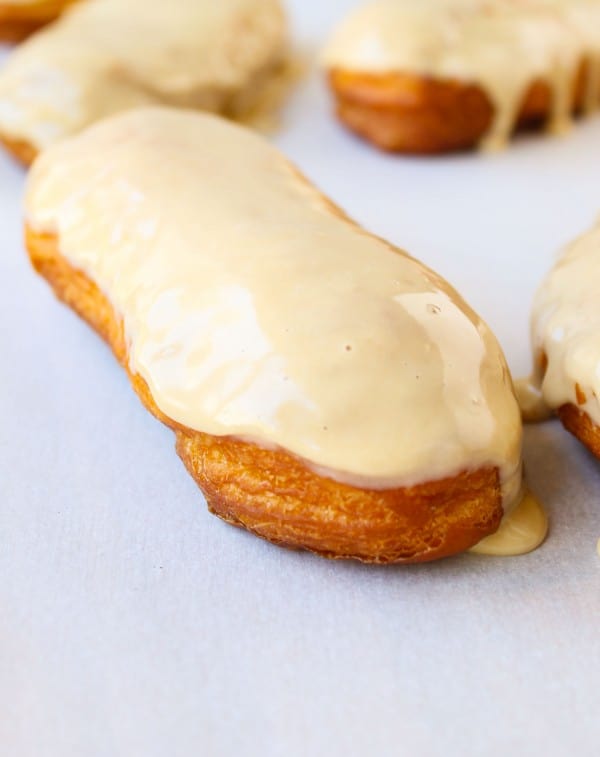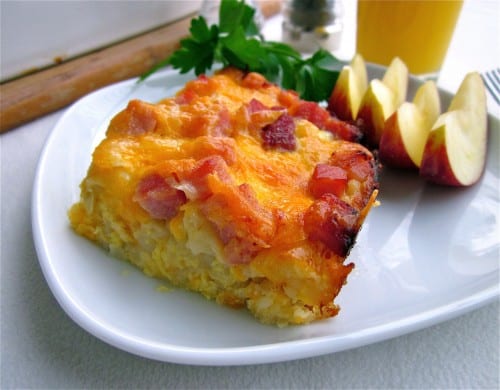 Easy Breakfast Casserole with Potatoes and Ham
Comments
comments