This Cheesecake Pecan Pie is INSANE. It's a buttery, flaky pie crust, with a layer of cheesecake, then topped with pecan pie filling. It is one of the BEST pies I have EVER had! Literally nothing could be more perfect for Thanksgiving! Plus: super duper easy AND make ahead.
Originally posted November 1, 2017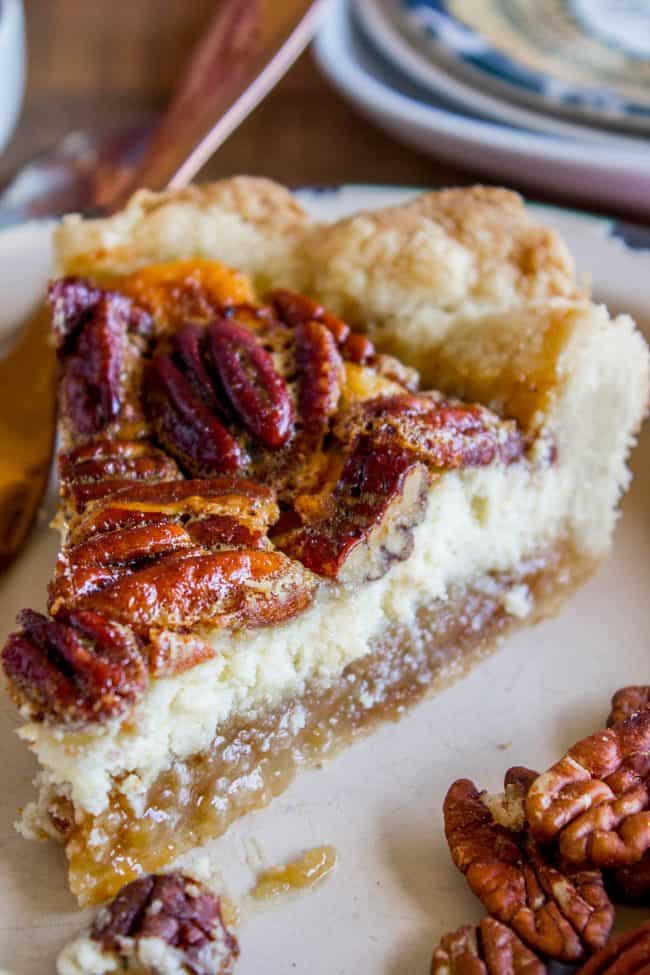 So how's that candy coma going?
No? Just me? Fine then.        (Liar.)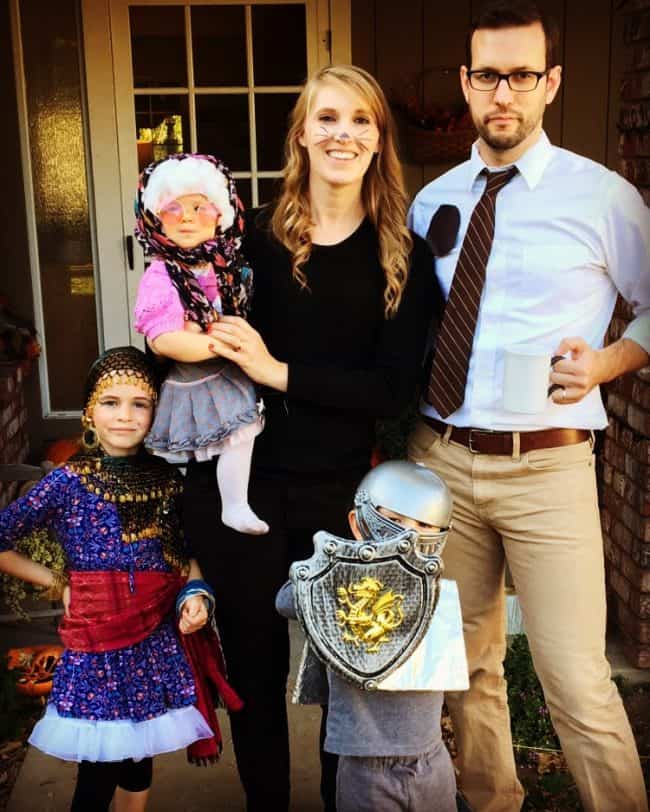 Eric and I are Jim and Pam from The Office, can you tell?? He's 3-Hole-Punch Jim!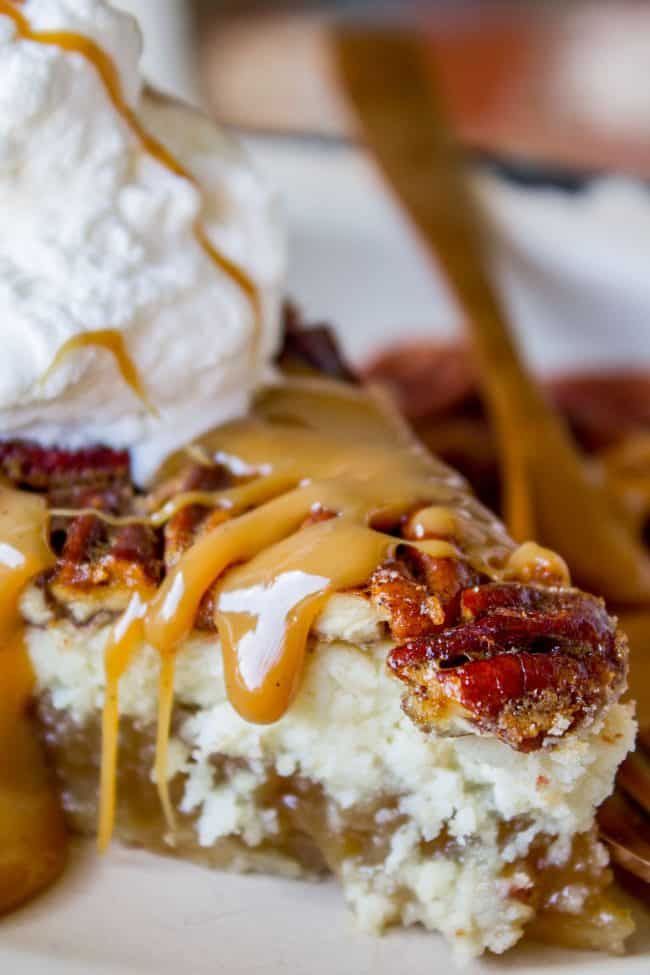 Charlotte was a gypsy, inspired by that green shawl on her head. It's from Eric's grandma, Nana. Isn't it fabulous? I can't imagine wearing something so striking that is not for a costume, but Nana did. There is definitely nothing in my current closet that my great-grandkids are going to want to wear several decades from now, costume or not!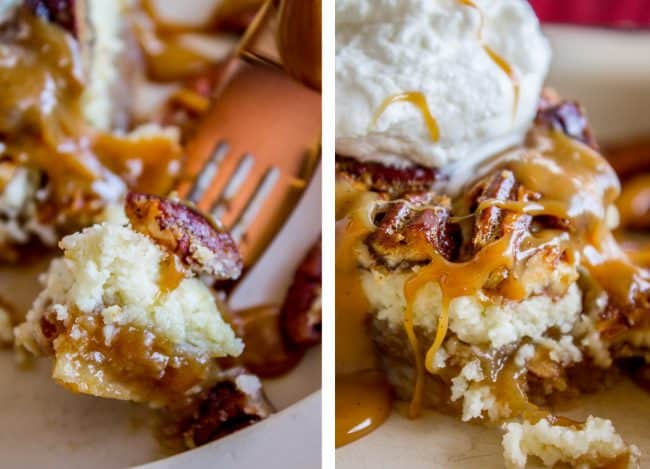 My parents saved tons of clothes from the 70s. We would always wear them for 70s day at school. I think it's because even when they were living through the 70s, they knew that maroon floral bell-bottomed pantsuits were DEFINITELY going to be mocked in the very near future.
(Seriously though, what is it going to be 30 years from now? How are people going to dress themselves up like the 20-teens?? Leggings? Skinny jeans? Man rompers??)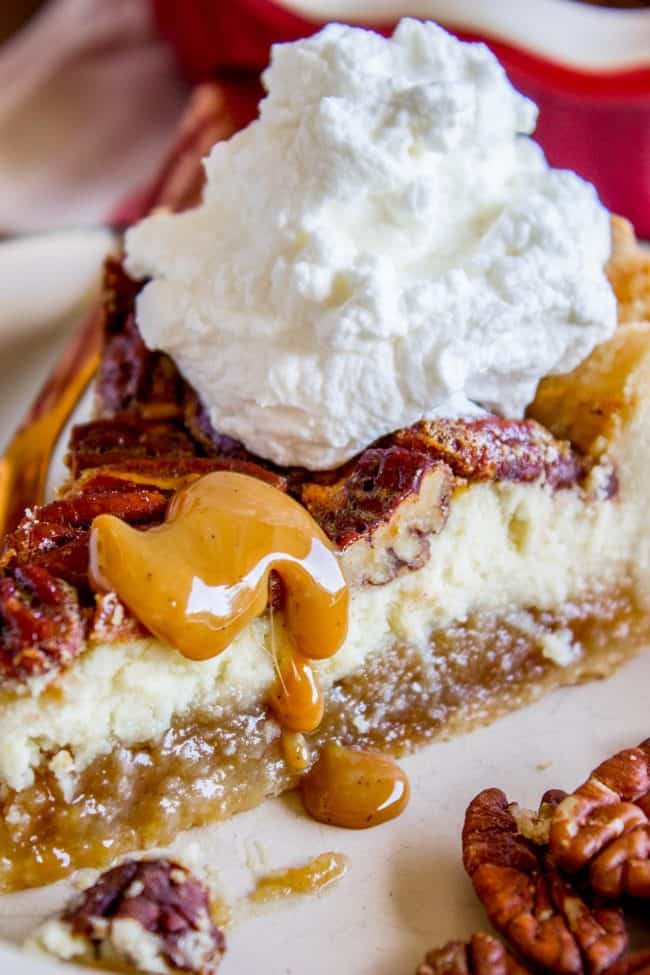 Have you guys ever visited Jocelyn's blog over at Inside BruCrew Life? She's an AMAZING dessert blogger who seriously comes up with some of the best ideas ever! And she is totally the cheesecake queen. Just look at all these!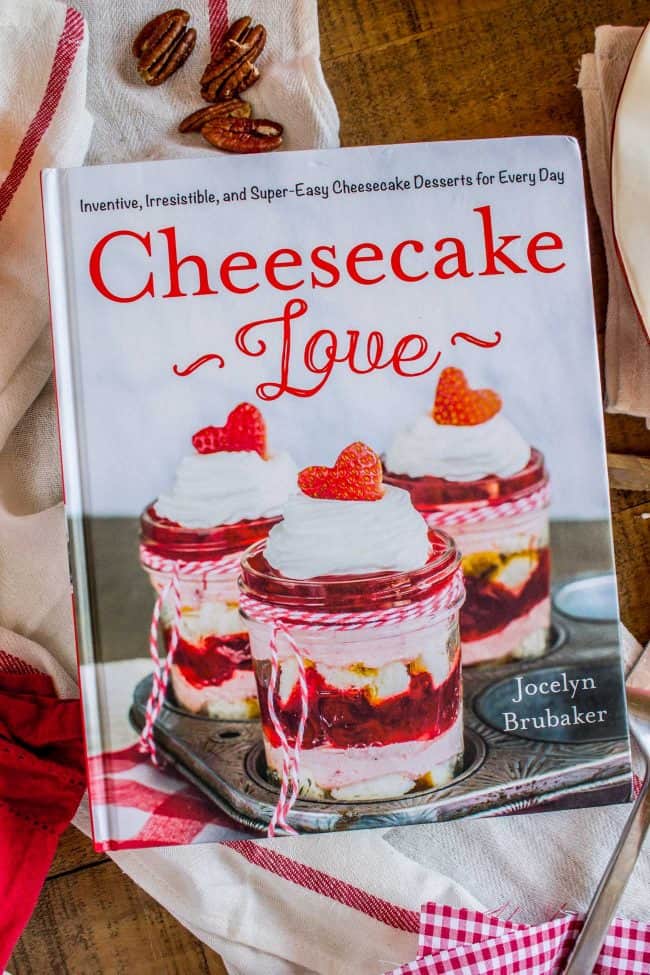 She just released her first cookbook, called Cheesecake Love. How perfect is that? You can buy it here on Amazon.
Guys, I look at a lot of cookbooks. They are not all created equal. But I'm telling you, this one is a gem. I trust Jocelyn's recipe's 100% and there are SO many amazing recipes in this book. (Triple Chocolate Mousse Cheesecake, anyone? How about Peppermint Swirl Cheesecake Brownies??) It would be an awesome cookbook to give for Christmas to your cheesecake loving friend. Or maybe to your cheesecake loving self.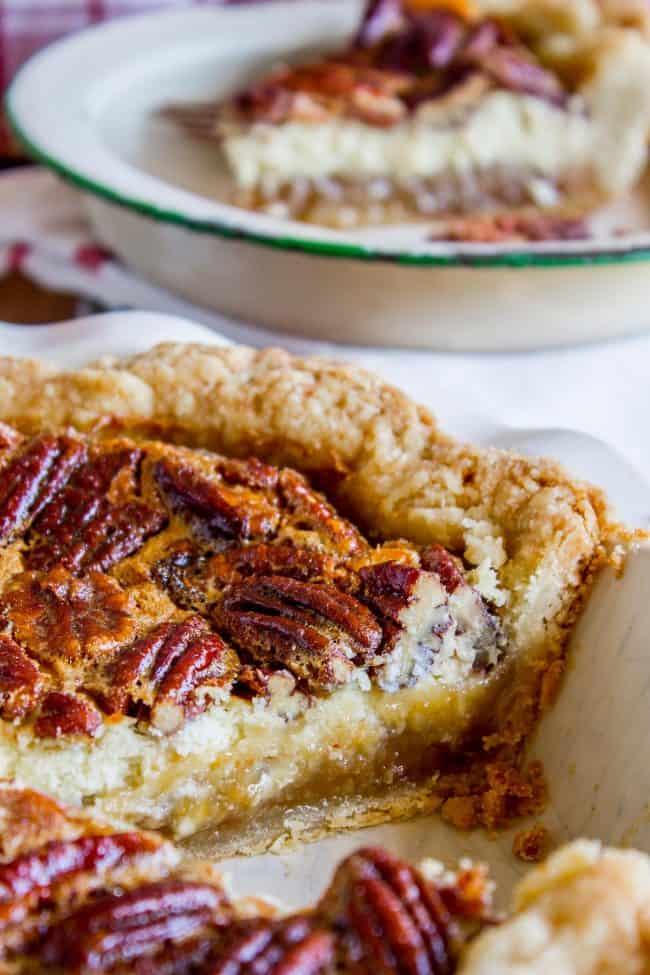 (Did you know that some people seriously get themselves Christmas presents?? And by "some people" I mean my husband. The first Christmas we were married, he started opening this present under the tree marked "To Eric" and I was like, I didn't wrap that…He's all like, 'Merry Christmas to me!' Seriously?? Have you ever gotten yourself a Christmas present?? So funny.)
How to make Cheesecake Pecan Pie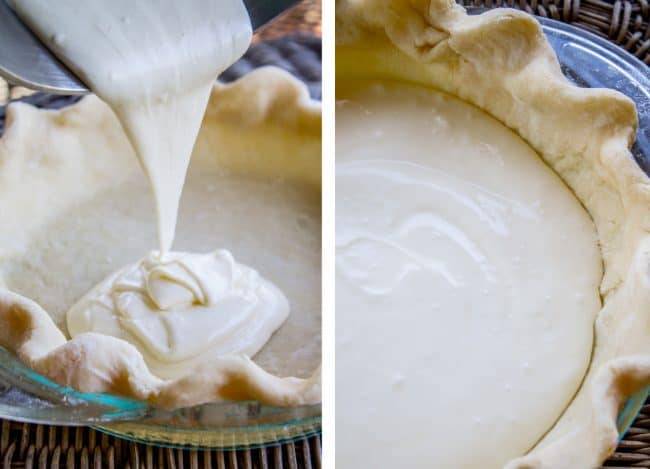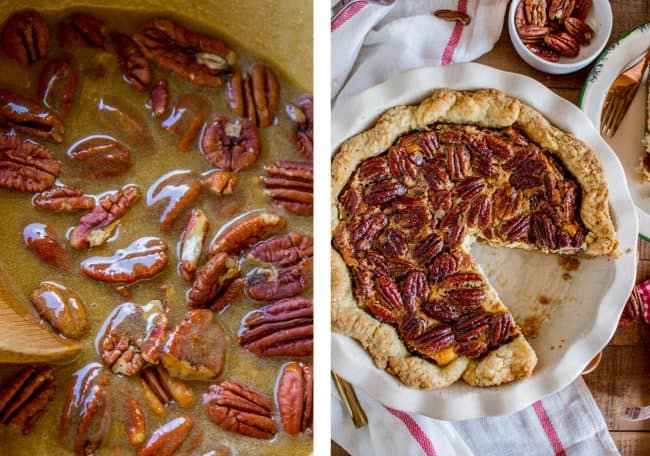 I made this pie twice, because I suck at reading instructions apparently. Here's what this pie is: crust on bottom. Then a cheesecake layer. Then a pecan pie layer on top. The instructions say to spoon the pecan filling on top of the cheesecake layer, but I poured it instead. It disturbed the cheesecake layer and made it rise to the top. It still tasted amazing, but it didn't look like a pecan pie. Don't let this story intimidate you; this really is a super easy pie. Just make sure you spoon on the pecan layer.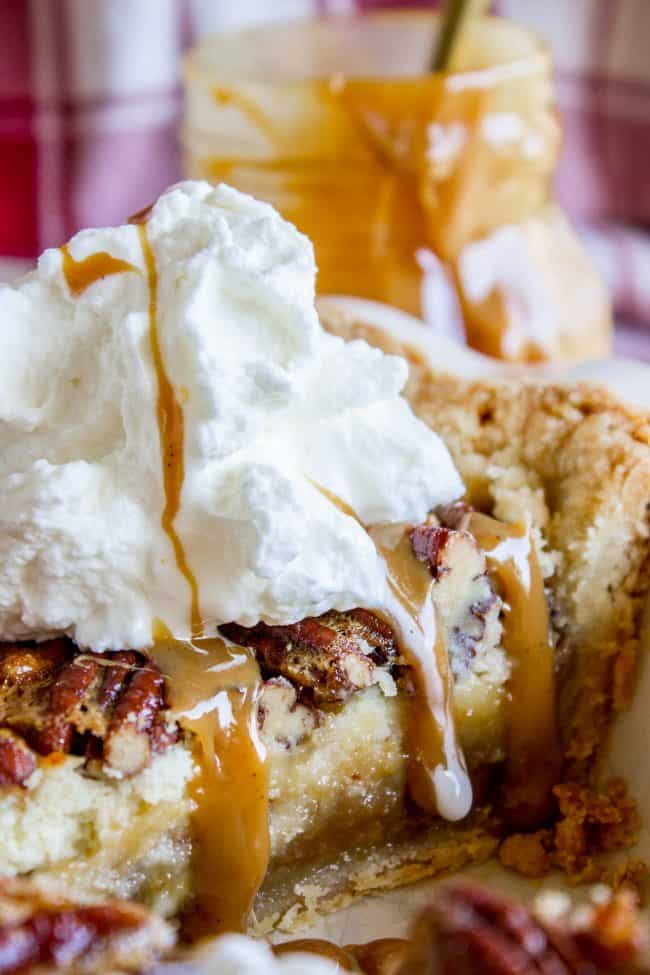 Something magical happens when this cheesecake pie is baking. The cheesecake and caramel layer flip, making it seem like a 3-decker-filling pie. There is a delicious caramel layer on the bottom that is totally irresistible.
If you really want to go all out, serve this with My Favorite Caramel Sauce and whipped cream. DELICIOUS!! Jocelyn, congrats on your book! It's amazing!
More Great Pies & Cheesecakes!
Apple Custard Pie with Cinnamon Streusel << this one has been made by a ton of people and has rave reviews! Very different.
Gooey Pecan Pie Bars << Ok, so this is another amazing delivery method for sweet, delicious pecan-ness!
Easy Pumpkin Pie Cake: << this is a classic!
No Bake Pumpkin Cheesecake with Pecan-Graham Crumble << An amazing quick & delicious no-bake
Double Layer Pumpkin Cheesecake << probably like my 5th or 6th blog post? Picture's not great but it's a legit cheesecake.
Créme Brulee Cheesecake << A showstopper dessert made to impress!
The Best Homemade Apple Pie << I'm an apple pie hater that made a version I really LOVE!
Caramel Pecan Cheesecake Tarts from Inside BruCrew Life
Almond Oatmeal Cheesecake Pie from She Wears Many Hats
Pecan Pie Cheesecake Bars from Shugary Sweets
Facebook | Pinterest | Instagram | Twitter

Cheesecake Pecan Pie (Make Ahead!)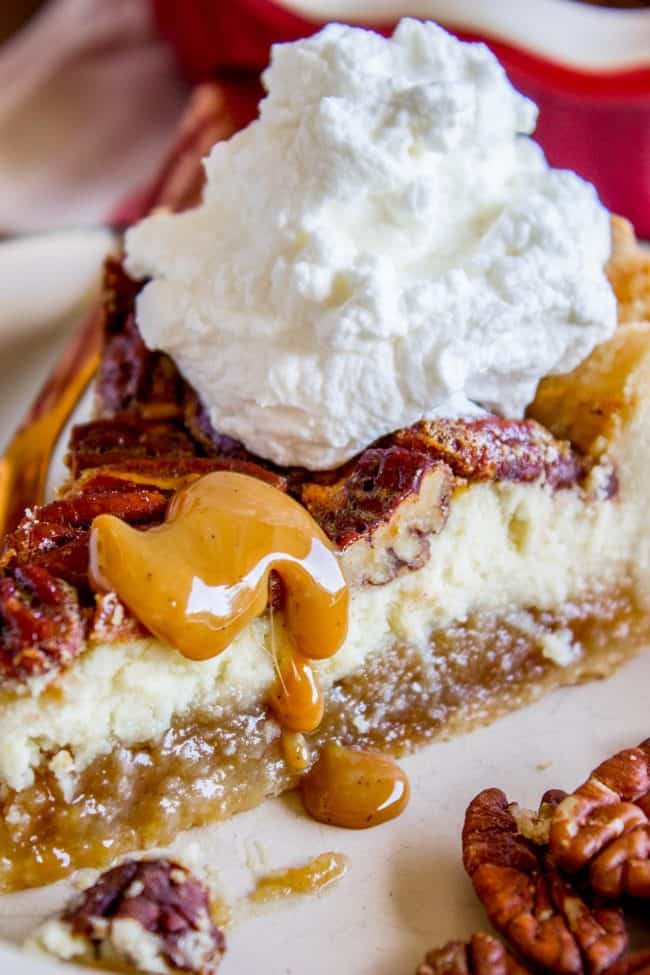 This Cheesecake Pecan Pie is INSANE. It's a buttery, flaky pie crust, with a layer of cheesecake, then topped with pecan pie filling. It is one of the BEST pies I have EVER had! Nothing could be more perfect for Thanksgiving! Plus: super duper easy.
Ingredients
For the pie crust
1/4

cup

ice water

2

cups

flour

1 & 1/2

tablespoons

sugar

1

teaspoon

salt

1/2

cup

butter

,

COLD, cut into chunks (1 stick)

6

tablespoons

Crisco

1/2

large

egg

,

beaten
For the cheesecake layer
1 (8-oz)

package

cream cheese

,

softened

1/4

cup

sugar

1

large

egg
For the pecan layer
1

tablespoon

butter

,

melted

2/3

cup

sugar

2/3

cup

dark corn syrup

2

large

eggs

1/2

teaspoon

vanilla

1

cup

pecan halves

,

toasted if you like

Caramel sauce ,

to garnish

whipped cream

,

to garnish
Instructions
First make the pie crust.* Note: this pie crust recipe makes 2 crusts and you only need one, so you can freeze one for later.

In a large bowl, whisk together flour, sugar, and salt.

Use

a pastry cutter

or fork to cut in the butter and

Crisco

. Cut until it looks like coarse crumbs. Don't overdo it!

In a small bowl beat one egg. Pour out half (into the sink or into another container, or heck, into a frying pan). You can just eyeball it. I know this is annoying, but it makes for SUCH a tender crust!

Add the half beaten egg to the cold water that you put in the freezer. Beat it together, then add it to the butter mixture. Stir until it is just coming together, then use your hands to knead it once or twice (only to make it come together). Divide the dough in half. Shape one half into a disk and put it in a ziplock bag in your freezer for the next time you make this pie.

Roll out the remaining dough on a well-floured surface. I love to use my

pastry cloth

.

Spray a

9-inch pie pan

with nonstick spray. Roll the dough loosely on the rolling pin to transfer to the pie pan. Fold the edges under and crimp/shape the crust however you want. Place the formed crust in the fridge while you make the other stuff.

Preheat the oven to 350 degrees F.

Make the cheesecake layer. In a stand mixer or medium bowl, beat the softened cream cheese until smooth. Add 1/4 cup sugar and beat. Add 1 egg and beat well, scraping sides. Don't over beat, just mix until it is well combined.

Carefully spread the cheesecake mixture into the bottom of the pie crust and spread to the edges.

Clean the bowl or get a different one. Melt 1 tablespoon butter in the bowl. Add 2/3 cup sugar and mix.

Add dark corn syrup and mix.

Add 2 eggs and beat well. I just used a spoon to mix.

Add 1/2 teaspoon vanilla.

Fold in pecans.

CAREFULLY use a SPOON to GENTLY add the pecan mixture on top of the cheesecake layer. DO NOT pour it. I made this mistake the first time I made this, and it mixed the cheesecake and pecan layer too much. It still tastes fine, but doesn't present as well.

Cover the edge of the pie crust with aluminum foil to keep it from browning. I do this by getting a square of foil the size of the pie, then fold in quarters, then cut out the middle, then unfold. You should have a square of aluminum foil with a large circle cut out. Cover the crust with it.

Bake at 350 for 50-55 minutes, until the pie is mostly set. It can be a little wiggly in the 3-4 inches in the very center of the pie, but if the whole pie is shaking, leave it in longer.

Let cool for 1 hour. Cover with plastic wrap and transfer to the fridge. Chill for 3 hours before serving.
Notes
*Of course you can totally use a store bought pie crust. I'm no judge. You will only need one sheet of pie crust. (Half a package)
Nutrition
Serving:
1
g
|
Calories:
706
kcal
|
Carbohydrates:
74
g
|
Protein:
9
g
|
Fat:
44
g
|
Saturated Fat:
18
g
|
Polyunsaturated Fat:
7
g
|
Monounsaturated Fat:
16
g
|
Trans Fat:
2
g
|
Cholesterol:
147
mg
|
Sodium:
572
mg
|
Potassium:
171
mg
|
Fiber:
2
g
|
Sugar:
49
g
|
Vitamin A:
904
IU
|
Vitamin C:
1
mg
|
Calcium:
63
mg
|
Iron:
2
mg