This dish, also known as Gnocchi alla Sorrentina, consists of fried gnocchi covered with an easy cherry tomato and mozzarella sauce with tons of fresh basil. 30 minutes, tops. Score.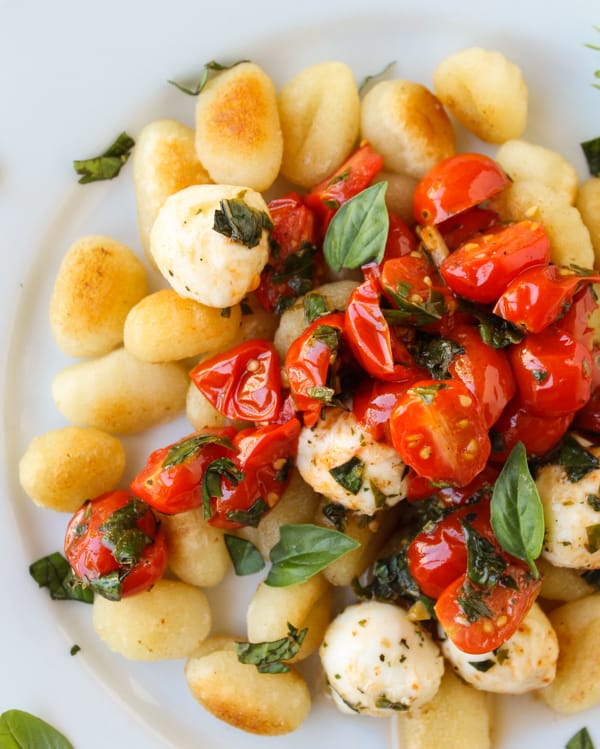 Eric: Can I get you anything?
Karen: Yes. A chocolate cupcake. Or a brownie will do.
Eric: *Looks in the fridge* Cherry tomatoes! *pops one in mouth* Want one?
Karen, totally offended: NO, I DON'T.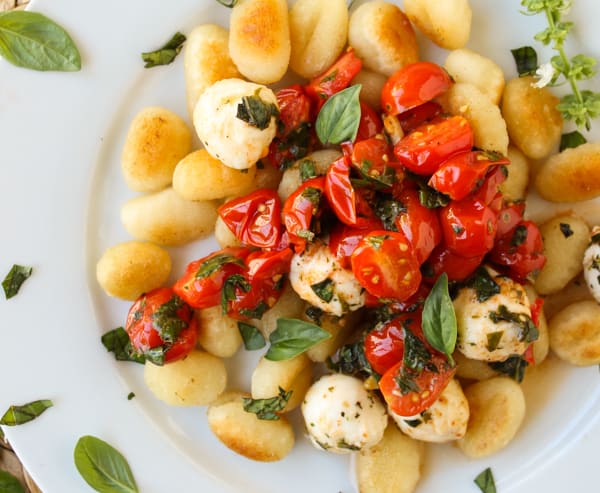 Probably there is nothing worse than someone trying to feed you vegetables, when all you want is this or this or this.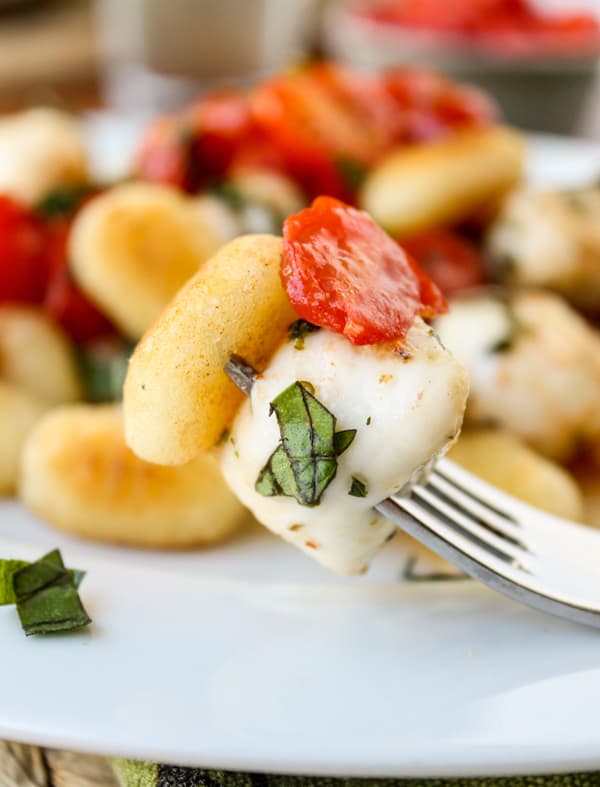 Speaking of veggie failures recently, the other night I dumped an entire bottle of ranch on my salad. It was a pitifully small salad, too, that I hadn't even served myself. Eric threw a few pieces of lettuce on my plate (as he often does) in an attempt to help me avoid getting scurvy. I was trying to douse it in ranch, true, but not THAT much. "I stand behind my decision to avoid salad and other disgusting things." Well said, Leslie Knope.
(Alright, alright, I don't really hate salad. Proof here, here, and here.)
But oh my, check out these beauties. I know I was talking smack about cherry tomatoes earlier but I actually love them when I'm not craving chocolate. Add garlic and basil and crispy fried gnocchi and fresh mozzarella? SOLD. Fried gnocchi, people!!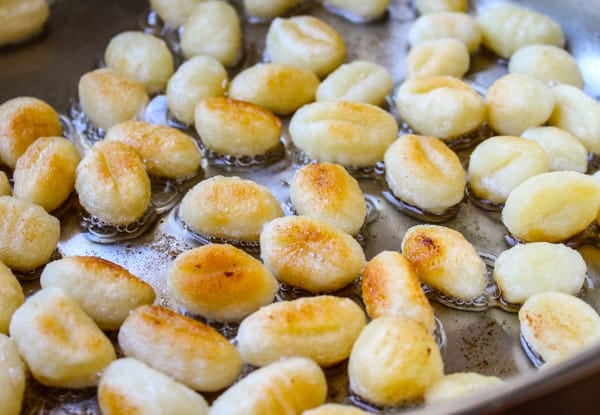 I made this recipe last summer and have been meaning to share it ever since. We always eat it too fast. It is the perfect summer meal. Full of garden goods like basil and tomatoes, and it's only 30 minutes on the stove top, so you can get back to eating popcicles outside by the pool. (At least that's what we pretend our lives are like, right??)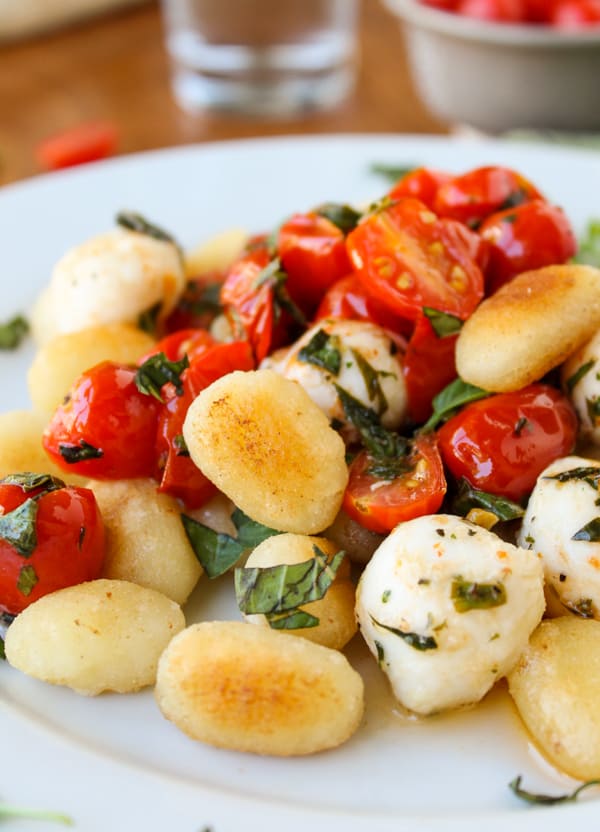 PS If you don't know what gnocchi is, that's okay we can still be friends, as long as you promise to make this like today. Gnocchi is found on the pasta aisle. It's a little mini dumpling made of mashed potato and flour.
Do you guys give up? Or are you thirsty for more?
Facebook | Pinterest | Instagram | Twitter

Caramelized Gnocchi with Tomatoes and Mozzarella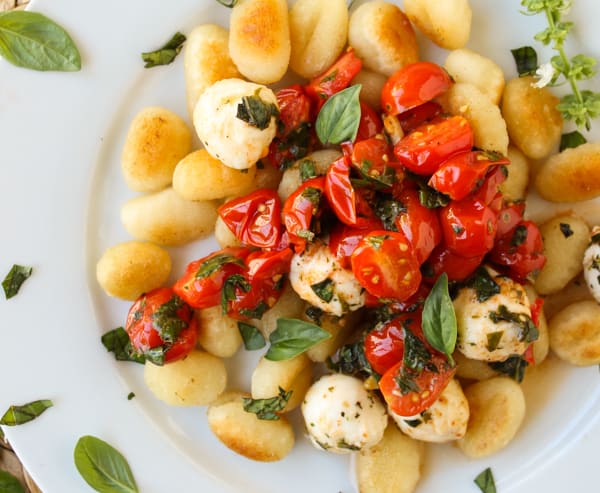 This dish, also known as Gnocchi alla Sorrentina, consists of fried gnocchi covered with an easy cherry tomato and mozzarella sauce with tons of fresh basil. 30 minutes, tops. Score.
Ingredients
16

ounces

cherry tomatoes

,

buy 2 dry pints

1

cup

basil leaves

,

packed, fresh, chopped

2

tablespoons

olive oil

2

cloves

garlic

,

fresh, thinly sliced

1/2

teaspoon

sugar

salt and pepper to taste

2

tablespoons

butter

3

tablespoons

olive oil

1

pound

potato gnocchi

,

whole wheat or regular (or homemade, recipe here)

12

ounces

marinated baby mozzarella

,

1 tub, drained*

basil

,

fresh, to garnish

parmesan

,

freshly grated, to serve (optional)
Instructions
Begin by chopping the tomatoes in half. (You will need about 1 1/2 boxes of tomatoes. No need to measure, just eyeball it.)

Clean and de-stem the basil, then chop roughly.

Pour 2 tablespoons of olive oil into a medium saucepan and set to medium heat. Slice the garlic thinly. When the oil is hot, add the garlic and saute until it has started to brown lightly, about 1 minute. Add the halved tomatoes (and any juice) and cook for 2 minutes.

Add most of the basil, reserving a few tablespoons to garnish with.

Add the sugar and season to taste with salt and pepper. Bring the mixture to a boil, then turn the heat all the way down to low.

Meanwhile, in a large saucepan, add the butter and 3 tablespoons of olive oil and turn the heat to medium. When the butter is melted and the oil is hot, add all the gnocchi. Stir with a wooden spoon to cover them with oil, then spread them out evenly so they are in one layer. Season with salt and pepper. Set a timer for 5 minutes and do not stir. You want the gnocchi to caramelize and get nice and brown. After 5 or 6 minutes (whenever they have browned), use a wooden spoon or spatula to flip each gnocchi to brown the other side. Cook for another 3-5 minutes until browned, stirring again if necessary. Remove from heat.

Turn off the burner with the tomatoes. Add the drained mozzarella balls and stir. You want to heat up the mozzarella without melting them too much--they should retain their shape. (If the tomatoes are too hot, wait).

You can either add the fried gnocchi to the pan with the tomatoes, or spoon the gnocchi onto each plate and top with tomatoes and mozzarella.

Serve with a chopped basil leaves and grated Parmesan. Eat this with a big salad and some crusty bread.
Notes
*Use the olive oil from the mozzarella balls to fry the garlic and the gnocchi! I always forget to do this!
Source: slightly changed from Divine Cusine
Nutrition
Serving:
1
cup
|
Calories:
670
kcal
|
Carbohydrates:
48
g
|
Protein:
25
g
|
Fat:
43
g
|
Saturated Fat:
18
g
|
Polyunsaturated Fat:
3
g
|
Monounsaturated Fat:
20
g
|
Trans Fat:
1
g
|
Cholesterol:
82
mg
|
Sodium:
981
mg
|
Potassium:
337
mg
|
Fiber:
4
g
|
Sugar:
4
g
|
Vitamin A:
1621
IU
|
Vitamin C:
27
mg
|
Calcium:
480
mg
|
Iron:
6
mg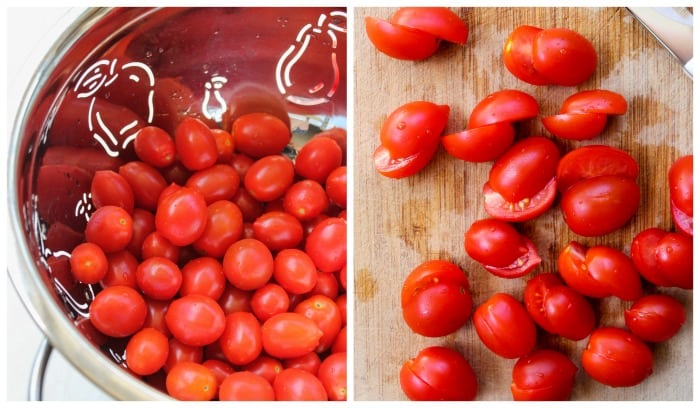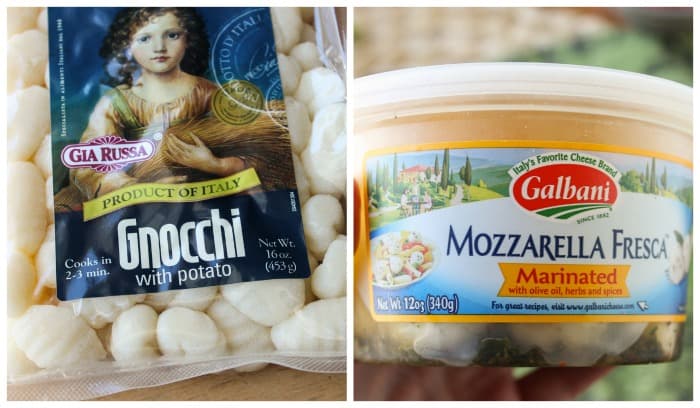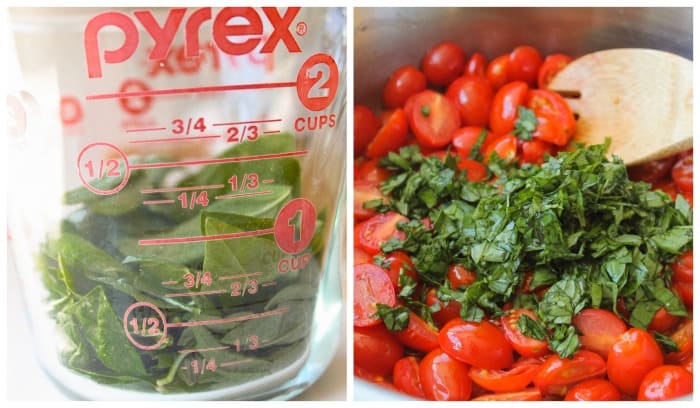 You can use as little or as much basil as you want. I can't get enough so I pile it on.
Other easy summer dinner ideas: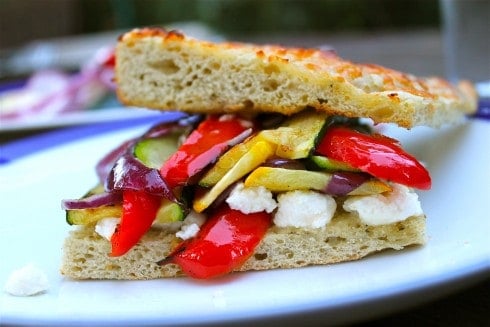 Grilled Squash, Red Pepper, and Feta Sandwich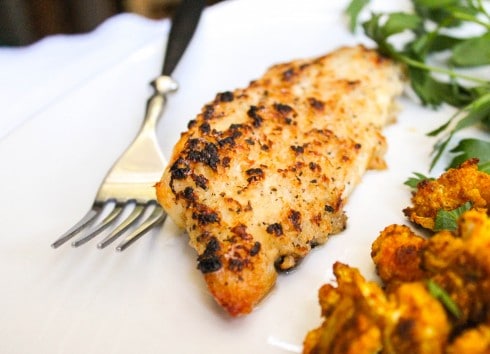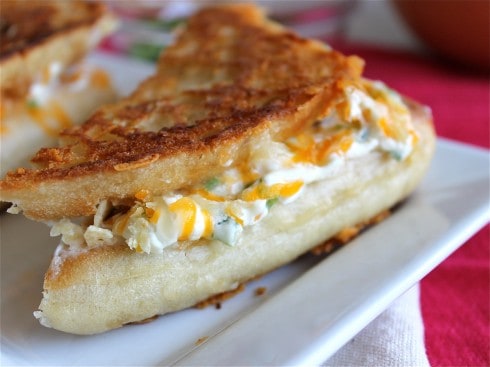 Jalapeno Popper Grilled Cheese Sandwiches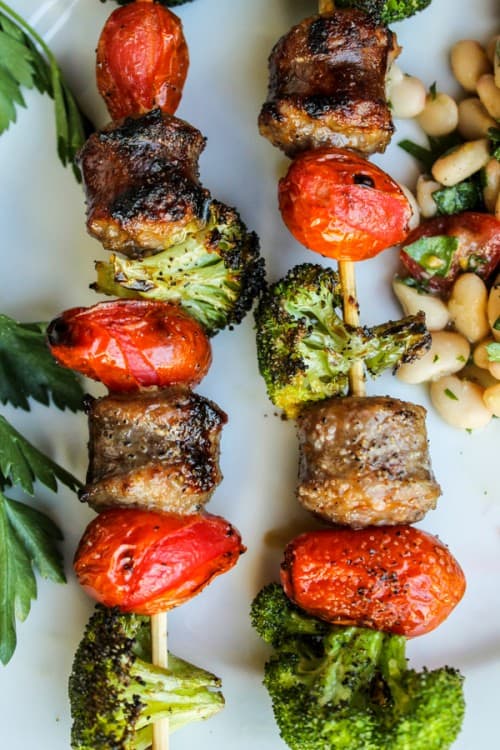 In case you missed it last week: Easy Sausage and Broccoli Kebabs
More gnocchi recipes:
Chicken Gnocchi Soup from The Food Charlatan
Italian Sausage Gnocchi Bake from Simply Gloria
Spinach Ricotta Gnocchi from Simply Recipes
Easy Ricotta Gnocchi from Budget Bytes