Oreo Truffles are SO easy and they are insanely addictive! This 3 ingredient recipe will soon be a favorite (if it's not already, have you tried them?) Mix a pack of Oreos and a block of cream cheese together, then dip in chocolate! I always eat way too many.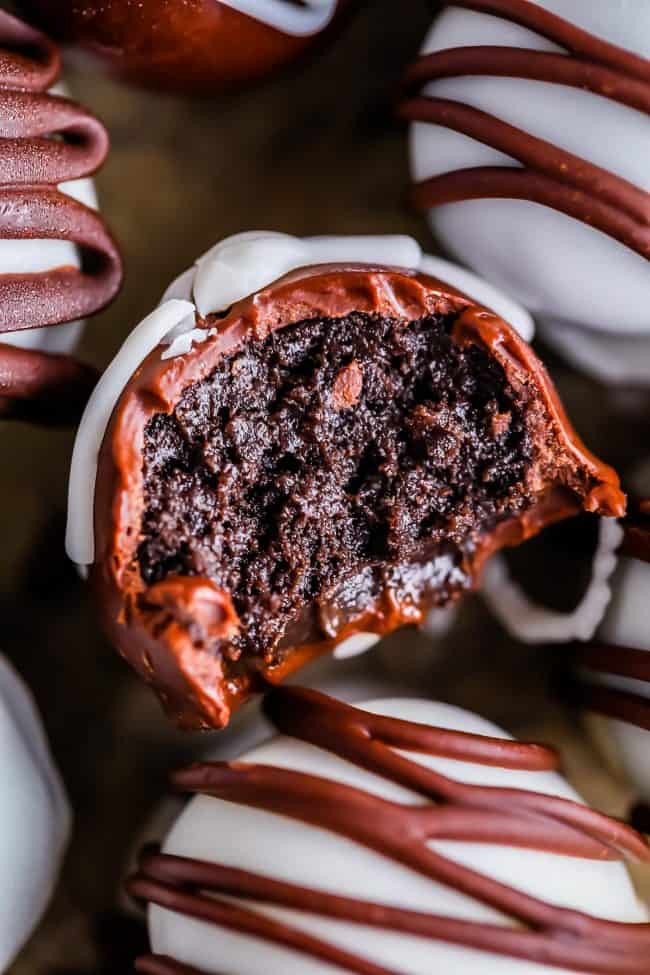 Are you a go-to-the-mall type of shopper? I'm not. I'm a grab-an-$8-V-neck-from-Target-while-running-out-for-toilet-paper kind of shopper. Bet you didn't know I was so classy.
But sometimes the mall is unavoidable. There are some pairs of jeans that just have to be tried on, and then even after you try them on and buy them and take them home, they decide that they don't actually fit your booty, and they would much prefer to go back to the mall thankyouverymuch, so back to the mall you take those ungrateful jeans.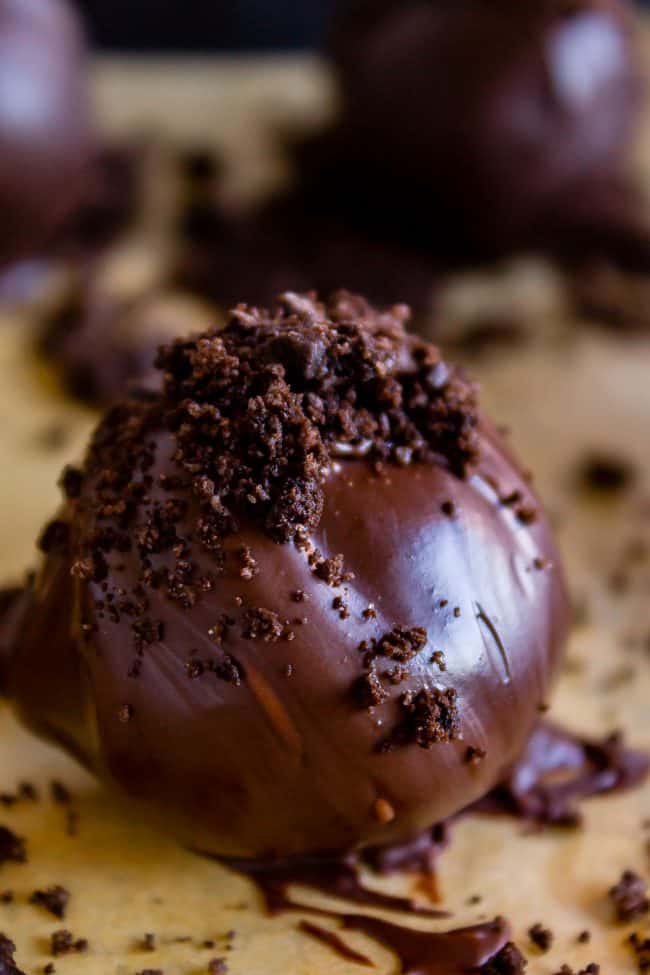 But while you're there, you stop by that one store that you know you shouldn't ever go in, because everything costs about 12 dollars and has the quality of doll clothes. (*cough* Forever 21 *cough*) Also the things in this store don't actually fit humans. They fit the aforementioned dolls and maybe small children, but certainly not well-seasoned adults with baby bumps from their pregnancy a couple years ago.
(All my several-years-postpartum mamas holla back. My Aunt Cheryl had a salesman come to her door one time and say, Oh, when's the baby due! And she laughed and said, "Oh about 13 years ago." She's nice. I would have socked him in the neck.)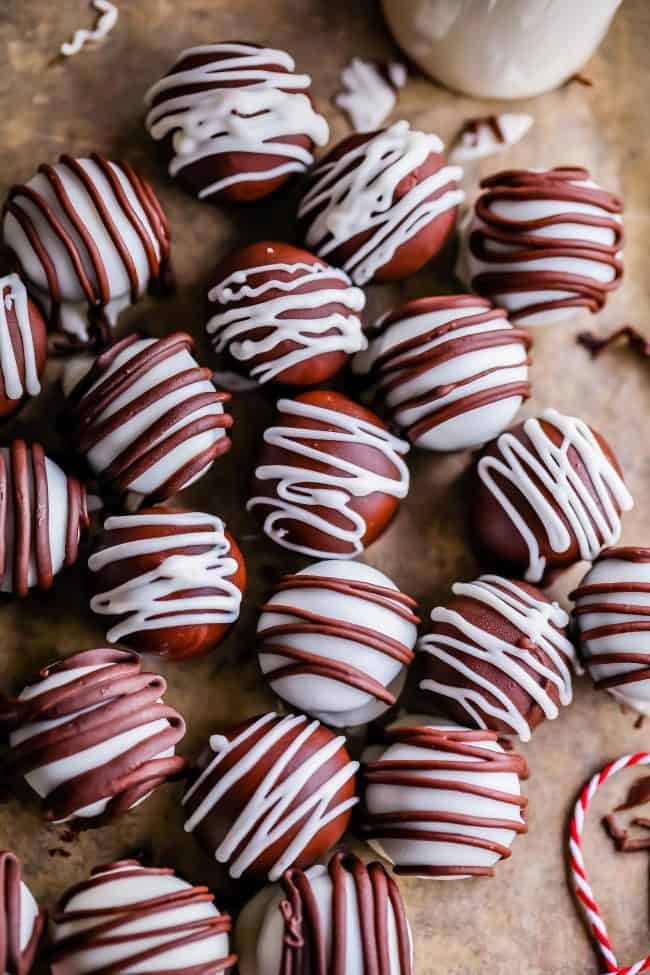 Anyway. The point is, I went in the store that sells dolls clothes and bought some XL items against my better judgment. The problem here is that I am 1000% percent positive that Karen From Tomorrow will try on the oversized doll clothes, be disgusted, and decide to return them to the store, thus necessitating another trip to the Black Hole that is the Mall. And the cycle starts all over again. Should I just cut my losses and wait for Charlotte to grow into the doll clothes??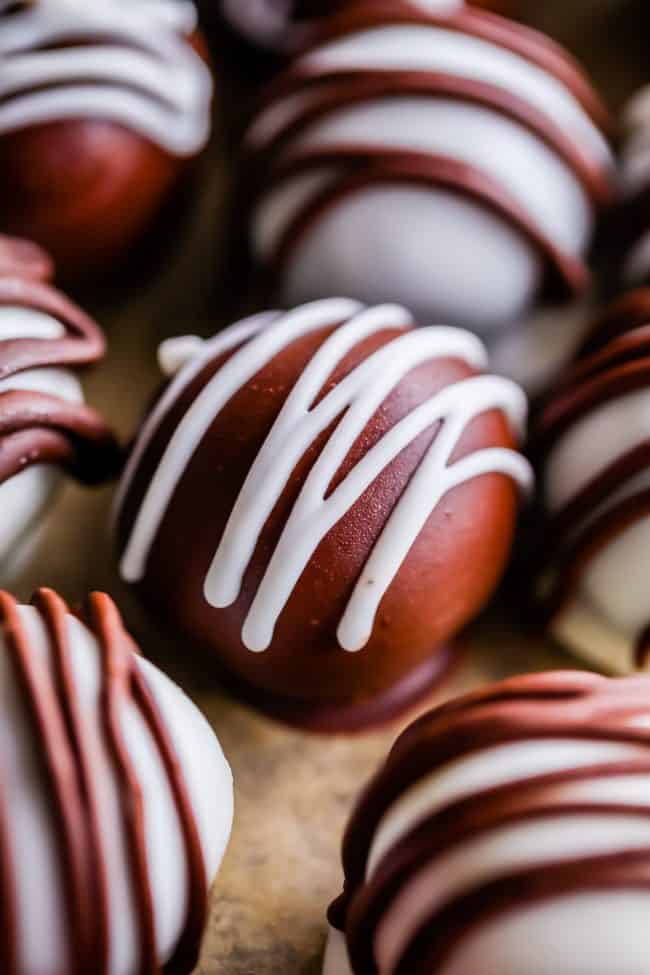 Speaking of Charlotte. The child is 8 years old this week. We had her birthday party last weekend, which involved pizza and cake and balloons and a game where you hide pieces of bubble gum on plates piled high with whipped cream, and each person has to find the bubble gum, and the first one to blow a bubble wins. It was so fun seeing all the kids covered in whipped cream! Being a kid is the best!
How to make Oreo Truffles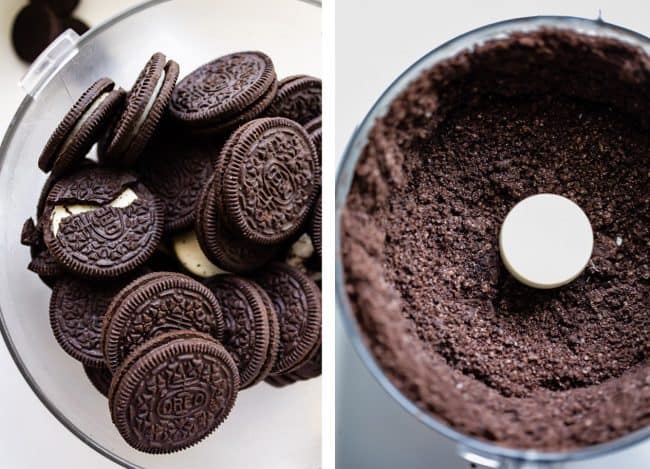 Have you ever made truffles? It's WAY easier than it looks, and the Oreo Truffles version is the easiest recipe of all. You just take a pack of Oreos and blend it up into a fine powder. (Leave in that creme!) Then you add a block of cream cheese. Mix it all up, roll into balls, dip in melted chocolate and you're done! It's so incredibly easy, and honestly, I like these Oreo truffles better than the regular ganache-filled truffles.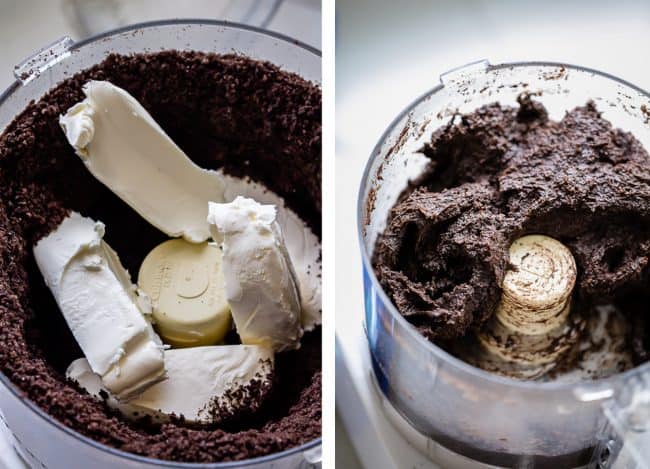 Tips for rolling truffles
I had to make these truffles twice because the first batch looked like a 5 year old had dipped them. (Also maybe I just ate a few too many…) Dipping takes some practice, I won't lie! Here's the thing though: don't be a perfectionist about it. When people see a whole tray of homemade truffles, they are going to be impressed, not nitpicking about whether they can see fork marks on the edges. This isn't Iron Chef people. There are no judges. Just eaters. And they are going to love you.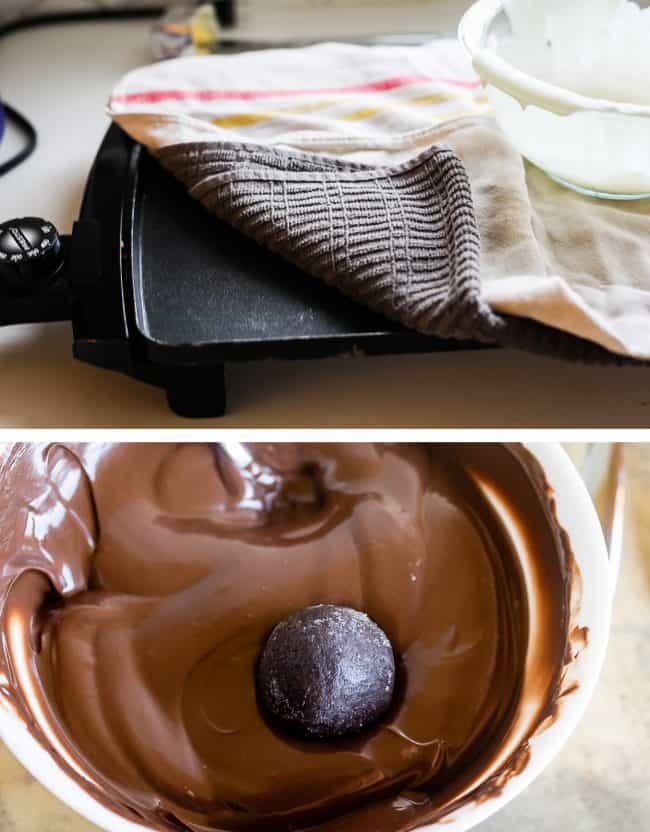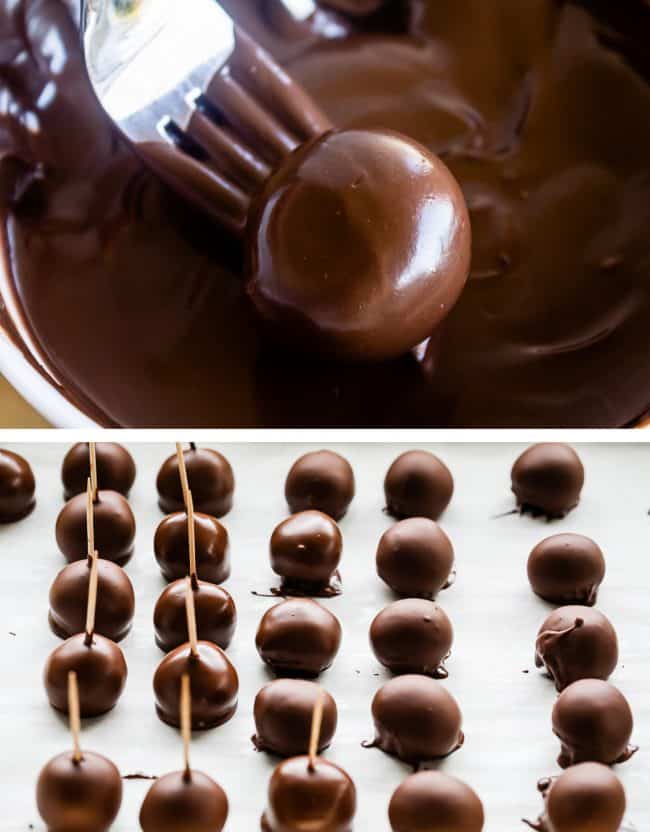 The best tip I found in my research for dipping came from my lovely friend Dorothy over at Crazy for Crust. She says she always dips truffles on an electric griddle on the lowest setting, with a couple towels on top in between your bowl of chocolate and the griddle. This keeps your chocolate nice and warm, which makes for much easier dipping and a smoother finish on your truffles. It works like a charm! I will always do this from now on.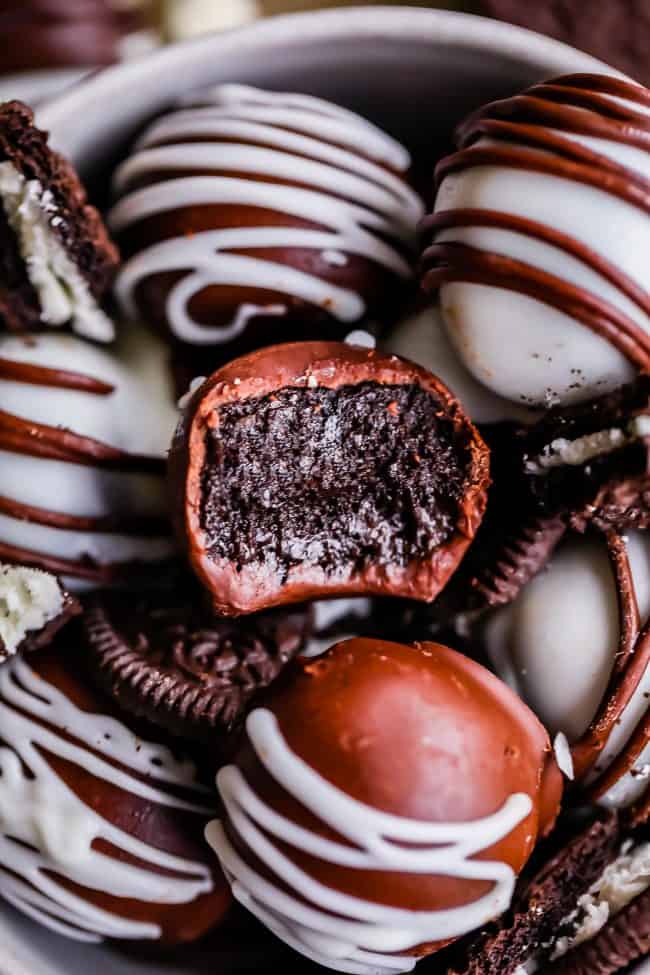 I have a lot of notes in the recipe about what kind of chocolate to use and how to get your chocolate to be the right thickness for dipping. If you are using white chocolate, try to find some Almond Bark. If you are using semi sweet chocolate, buy a well known brand like Ghirardelli, Guittard, Hershey's, or Lindt. Have Crisco on hand to add to your chocolate to thin it to the right consistency.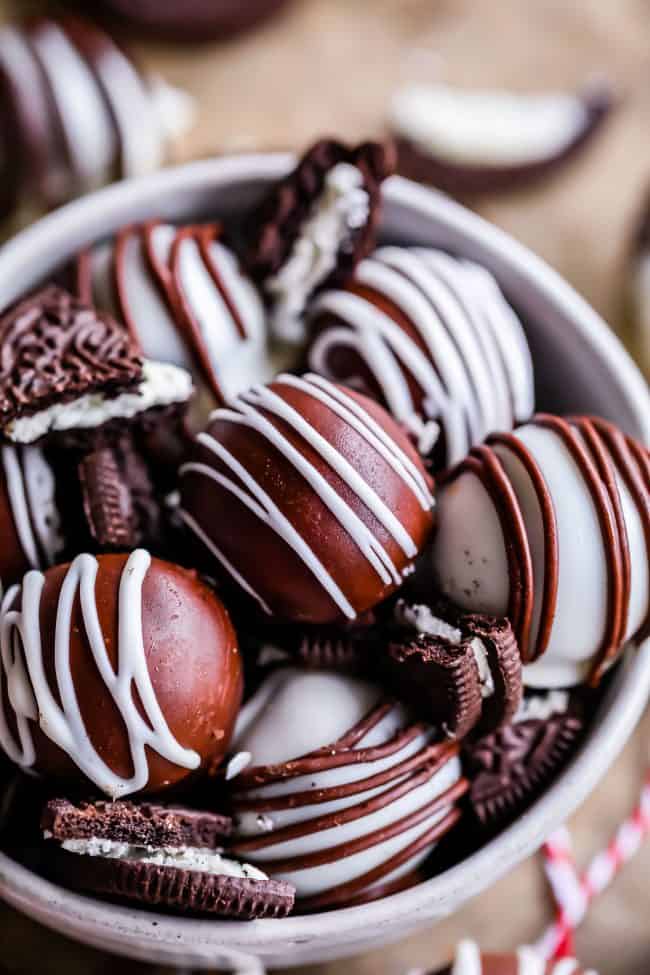 These Oreo truffles would be perfect to make on Valentine's day for your person! They are easy. It would be fun to make and dip them together on a date, too. Happy Valentine's Day!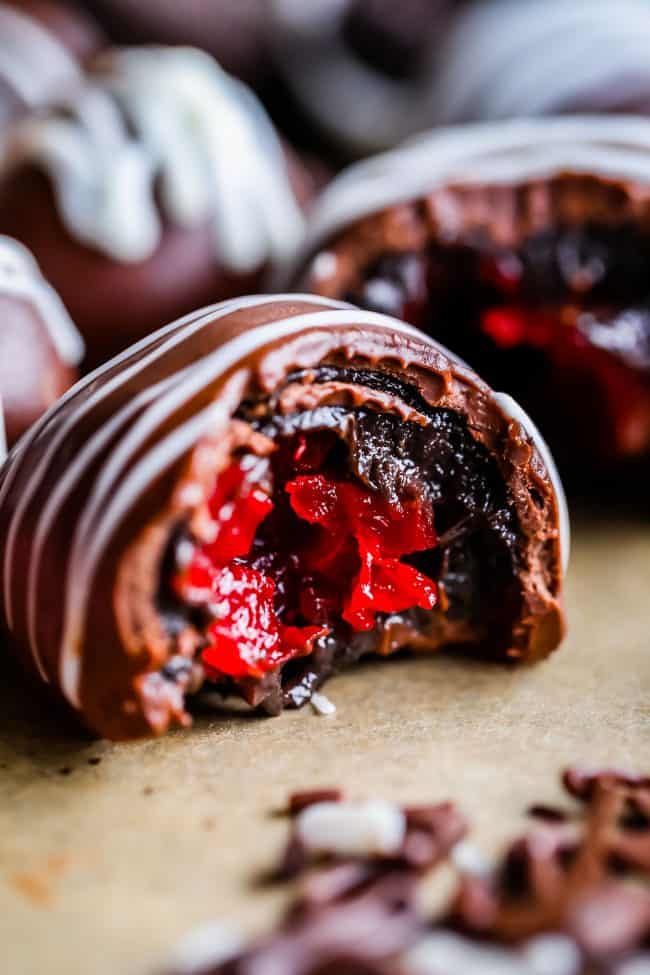 Oh I almost forgot! I wrapped a few of my Oreo truffle mixture around maraschino cherries (that I had dried off with a paper towel), and then dipped in chocolate. They were SO GOOD! Highly recommended :)
And one more thing: I've been working on a Chocolate Cheesecake recipe and I'm SO excited to share it soon! Stay tuned!
More recipes you will love on Valentine's Day!
Sensationally Smooth Chocolate Cheesecake << The texture is perfect on this decadent delight
Chocolate Stuffed Snickerdoodle Truffles 
Strawberry Truffle Cake << you get to smash an entire cake with your fist when you make this. It's awesome.
Cheesecake Stuffed Strawberries (Strawberry Blossoms) << These are so easy!
Nutella Fudge with Raspberries << Rich and fruity!
Flourless Chocolate Cake with Ganache << This one will impress anyone!
Thin Mint Truffle Pops from Lovin from the Oven
Cake Batter Truffles from Wine and Glue
Dark Chocolate Red Wine Truffles from Well Plated
Facebook | Pinterest | Instagram

Oreo Truffles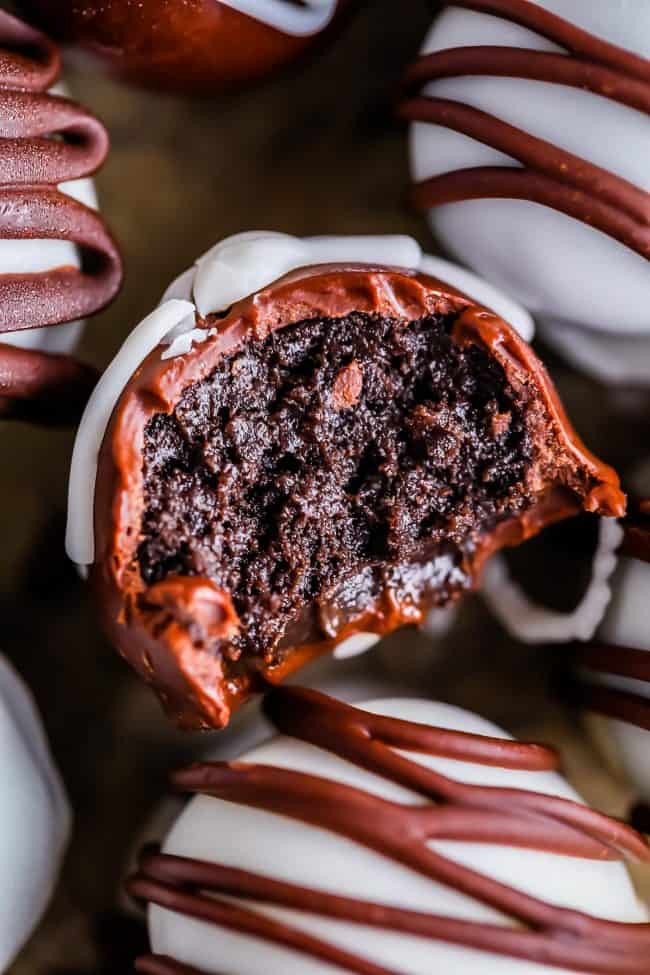 Oreo Truffles are SO easy and they are insanely addictive! This 3 ingredient recipe will soon be a favorite if it's not already. Mix a pack of Oreos and a block of cream cheese together, then dip in chocolate! I always eat way too many.

Ingredients
1 (14-oz)

package

Oreos

,

36

1 (8-oz)

package

cream cheese

,

softened

16

ounces

chocolate

,

white chocolate or semi-sweet

shortening

,

I use Crisco
Instructions
Add all 36 Oreos to

a food processor

or blender. Pulse until they are fine crumbs. Use a spoon to stir everything up a bit if you get some stubborn ones that won't break down. (You can also do this with a ziplock and rolling pin.)

(If you want to sprinkle the tops of your dipped truffles with Oreo cookie crumbs, you can remove about 1/4 cup of crumbs at this point and set aside.)

Cut the cream cheese into several pieces. Make sure it is really soft. (If not, microwave on power level 1 for a minute or two. Don't warm it, just get it soft.)

Add the cream cheese to your food processor. (If you don't have a food processor, I would add the cookie crumbs and the cream cheese to a mixing bowl and use a hand mixer to beat it together.) Don't try to add the cream cheese to a blender unless it's a really powerful one, and even then I'm not sure because I haven't tested it.

Pulse or beat the cream cheese into the cookie crumbs until a soft mixture has formed.

Use your hands or a 1-inch cookie scoop to shape the mixture into 1 inch balls. If the mixture is too soft, put it in the fridge for 15-30 minutes.

Line up the balls on

a baking sheet

. Freeze until hardened, at least 30 minutes.

In a medium bowl, melt the chocolate in the microwave in 30 second increments, stirring each time. Melt until there are a few lumps of chocolate left, then stir until smooth. Be careful, chocolate scorches very easily!

You can use semi-sweet chocolate or white chocolate. If you are using white chocolate, try to find

Almond Bark

. It melts really nicely. You can find it at Walmart usually. White chocolate chips will work too, if you add shortening.

For the semi sweet, you can use semi sweet chocolate chips or chocolate candy melts, or a semi sweet chocolate bar (Ghirardelli, Guittard, Lindt, etc. Buy a well-known brand.) You will need to add 1-5 teaspoons shortening to the semi sweet mixture. You can add a little shortening to the white chocolate too, if necessary. You want the chocolate to be nice and thin. When you dip a spoon in it, the chocolate should drizzle off of it in a smooth, thin stream, not gloop off your spoon in dollops. Use your best judgement and add shortening 1 teaspoon at a time until it is the right texture. You can also use vegetable oil if you don't have shortening.

Prepare a baking sheet with wax paper or parchment paper.

If you have an electric griddle, heat it to the lowest setting and then place at least 2 towels on top. Place your bowl of melted chocolate on top.

Dip each of the Oreo balls in chocolate one at a time. There are several ways you can dip them. The most common way is to use a fork and a butter knife. Place a frozen truffle on the tines of your fork and dip in the chocolate. Use a spoon to drizzle chocolate over the top of the truffle to cover it (don't swirl it or your truffle will start to melt!) Once it is completely covered, lift the fork out of the chocolate and tap the fork on the edge of the bowl, letting the chocolate flow out through the tines of the fork. (If the chocolate is too thick to flow through the tines when you lift and tap the fork, add a bit more shortening or oil to the chocolate to make it thinner.) Use a butter knife to gently push the truffle onto your prepared baking sheet.

Clean your fork with a towel or paper towels. Make sure there are no crumbs on your fork when you dip it again.

The other dipping method that I tried was with toothpick. This was is a lot easier, but you end up with a hole in your truffle (that you can later cover up with chocolate drizzles or sprinkles if you want.) It's simple: poke the truffle with a toothpick and dip it in the chocolate, drizzling the top with your spoon. Place the truffle on your baking sheet with the toothpick still in it. Freeze until firm.

While the dipped truffles are hot, you can sprinkle the tops with Oreo crumbs or with sprinkles. Freeze or refrigerate until the chocolate shell is firm.

Once the truffles are firm, you can decorate the top with more drizzled chocolate. Melt chocolate (or use any that is leftover), add to a ziplock bag, and snip the corner. Drizzle to your heart's content.

Store truffles covered in the refrigerator.
Notes
Source: I think this recipe is originally from Kraft, but I'm not sure! I heard about it from a friend years and years ago.
Nutrition
Serving:
1
g
|
Calories:
126
kcal
|
Carbohydrates:
14
g
|
Protein:
1
g
|
Fat:
8
g
|
Saturated Fat:
4
g
|
Polyunsaturated Fat:
1
g
|
Monounsaturated Fat:
3
g
|
Trans Fat:
1
g
|
Cholesterol:
6
mg
|
Sodium:
66
mg
|
Potassium:
62
mg
|
Fiber:
1
g
|
Sugar:
10
g
|
Vitamin A:
76
IU
|
Calcium:
10
mg
|
Iron:
1
mg