Is is a twist? A cake? A cinnamon roll? It's definitely maple so who cares about the rest. This tender, buttery bread gets twisted up with some brown sugary maple filling and before you know it, trees everywhere will be dropping their fall leaves just because they smelled this wafting from your kitchen.  Don't forget the maple glaze!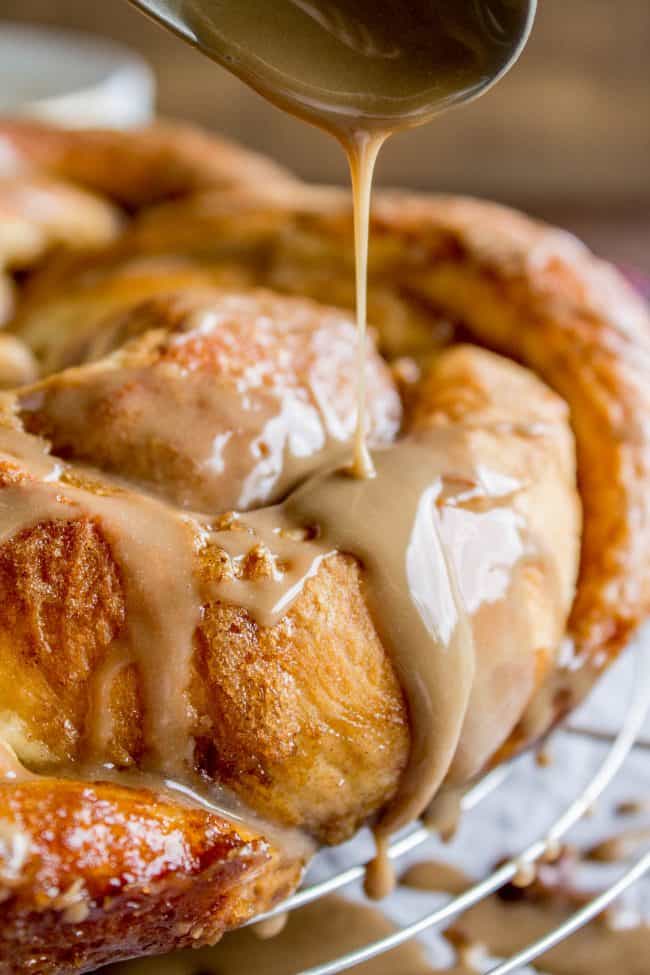 These are my final days of being 29 you guys! A few months ago I was telling my brother Nathan about my new exercise routine (that I've totally stuck with, thankyouverymuch. It's shocking.) and he was like "Oh, you're feeling that 30 coming along, aren't ya?" And I was just like no, it's because I'm feeling those post-3rd-kid love handles. No, really, they're right here, I'm not talking abstract.
Once you have 3 kids, no one thinks you're in your 20s anymore. It doesn't matter what you look like. I'm not complaining, it doesn't bother me. That's just the way it is. More and more people are starting families later in life.
When I don't have my kids with me, people assume I'm younger. Just a few weeks ago my best friend Sarah and I took a girl's trip, and we went zip-lining. We were making small talk with the guides while standing on a tiny wooden platform 150 feet up a tree, and Sarah mentioned our 7 combined children (she has 4 kids). I thought the 20-something-guide's eyes were going to pop right out. (I could tell he was 20-something because, well…I could just tell. I think this also means I'm definitely in the 30s crowd.)
So I guess I feel pretty okay about turning 30. I've kinda been here in spirit for a while anyway, and I've got the baby love handles to prove it. Bring it on, 30, I slay you.


(This is the real reason we all make homemade bread, right? The satisfaction of dough-punching?)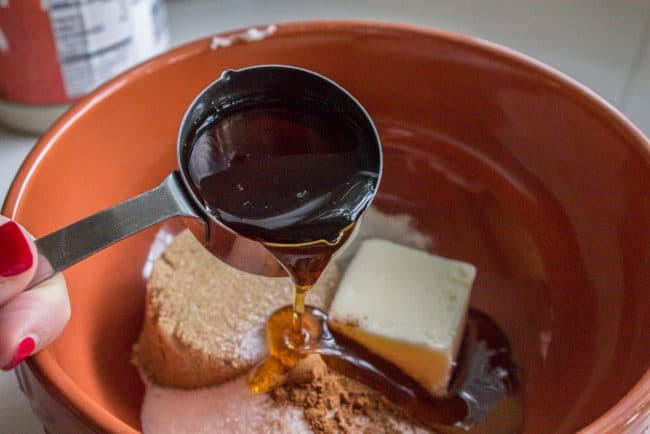 This is a classic recipe from Sarah, who's mom has been making it for years. It's kind of like a giant cinnamon roll that's the size of a cake. Oh and maple flavored. WIN! Plus, the recipe makes two cakes. Perfect, that way I can fill out each side of my love handles equally, one for each side. Just kidding. Kinda.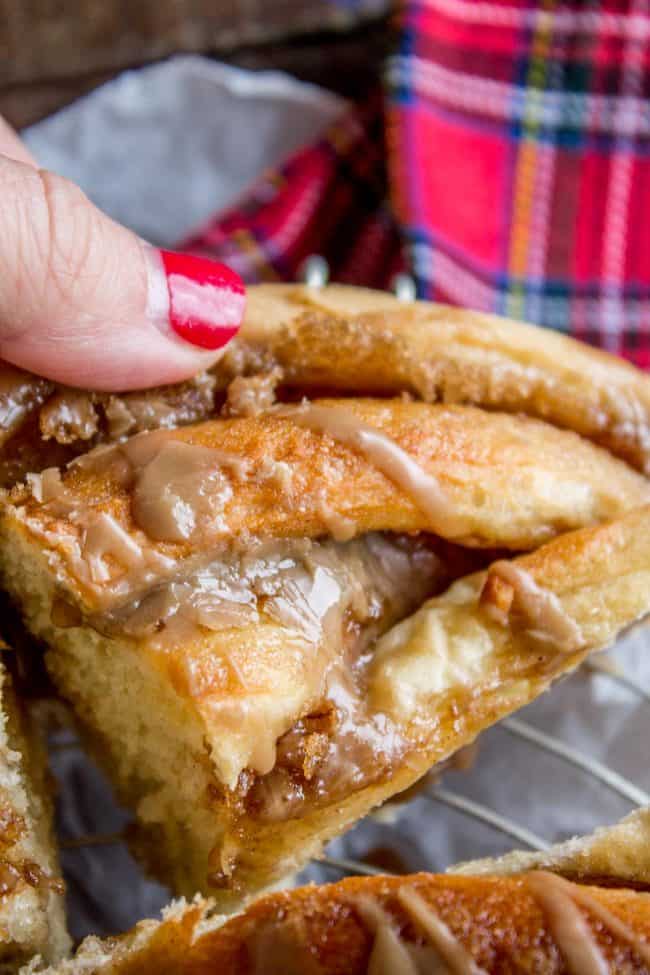 Sarah keeps trying to tell me that this coffee cake tastes better the next day, or even two days after it's made. She said that her mom (hi Anne! Thanks for the recipe!) always made it a couple days ahead, and then it would be ready for them to heat up on Christmas morning. I have NO IDEA how they managed this. This bread is so tender and sweet that every time I finish another bite that I've snatched, I'm ready to go back for more. We have some leftover and I have zero confidence that I will be able to provide you with a 2 day report.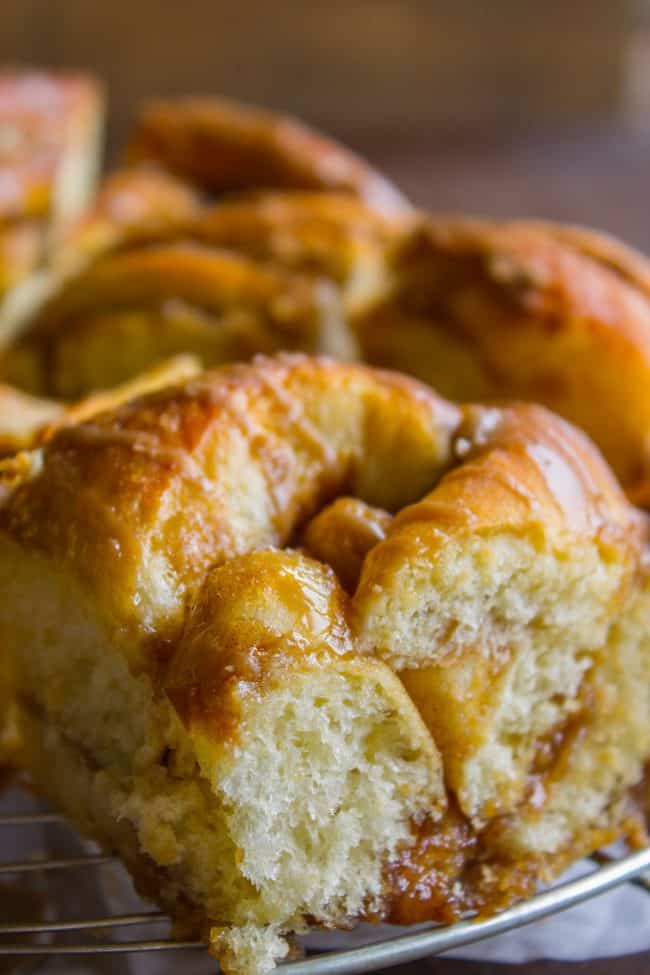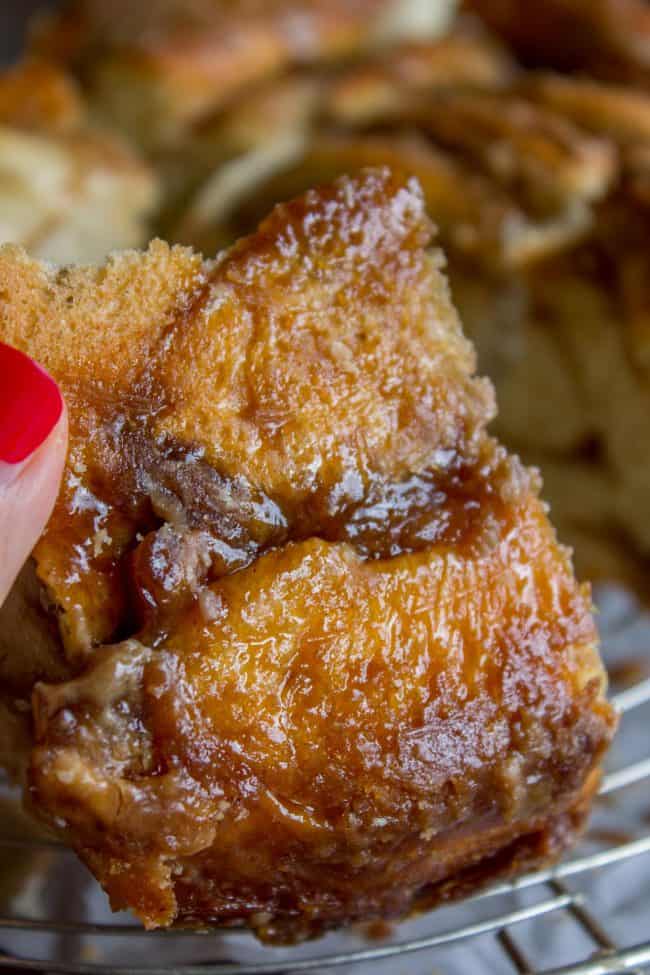 (This is the gorgeous crispy bottom edge that makes life worth living.)
Sarah lives in Japan (her husband is in the military) and she's often asleep when I'm awake. I'm sure she was glad this particular day, because she was spared the rapid fire texts I'm usually shooting any friend who gives me a family recipe. "Can I shape it in a pie pan?" "Oh no, I microwaved the milk too long and now I have to waaaaait aaah" "How do you usually slice it? Strips? Wedges?" Count your blessings Sarah.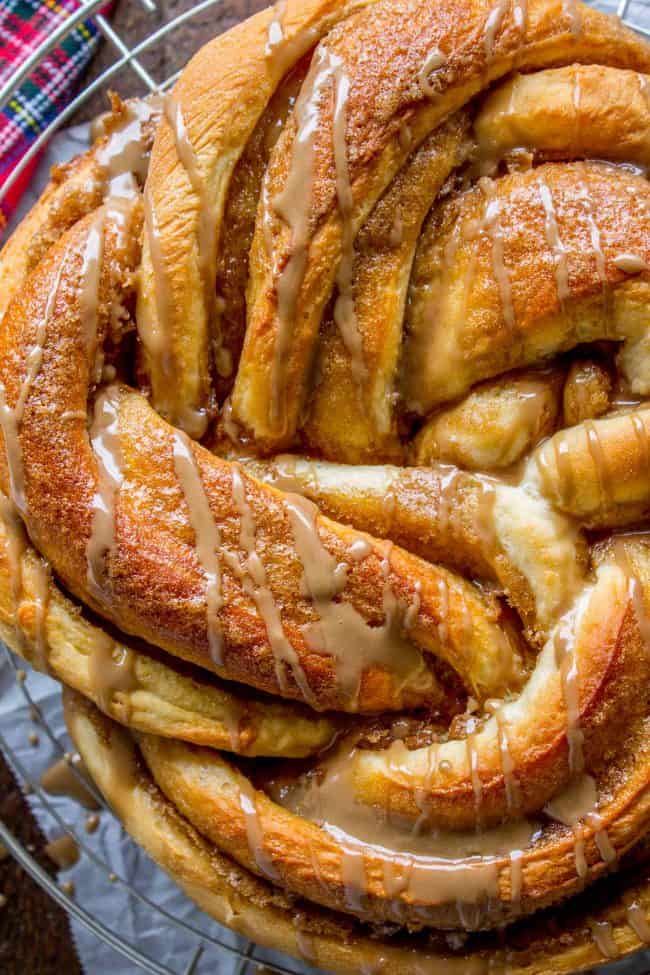 P.S. I made this recipe on my Instagram stories yesterday, if you go head over in the first half of today it might still be there. You will also get to see my neighbor Tyrone try to spell "charlatan." Haha! Why did I have to pick such a hard blog name to spell??
Facebook | Pinterest | Instagram | Twitter

One year ago: Fudgy Pumpkin Caramel Swirl Bars 
Two years ago: Ham Mac n Cheese Soup << this one's a personal fav! 
Three years ago: Blackberry Cake with Coconut Cream Cheese Frosting < this sounds complicated. Trust me, it's not!

Maple Butter Twist Coffee Cake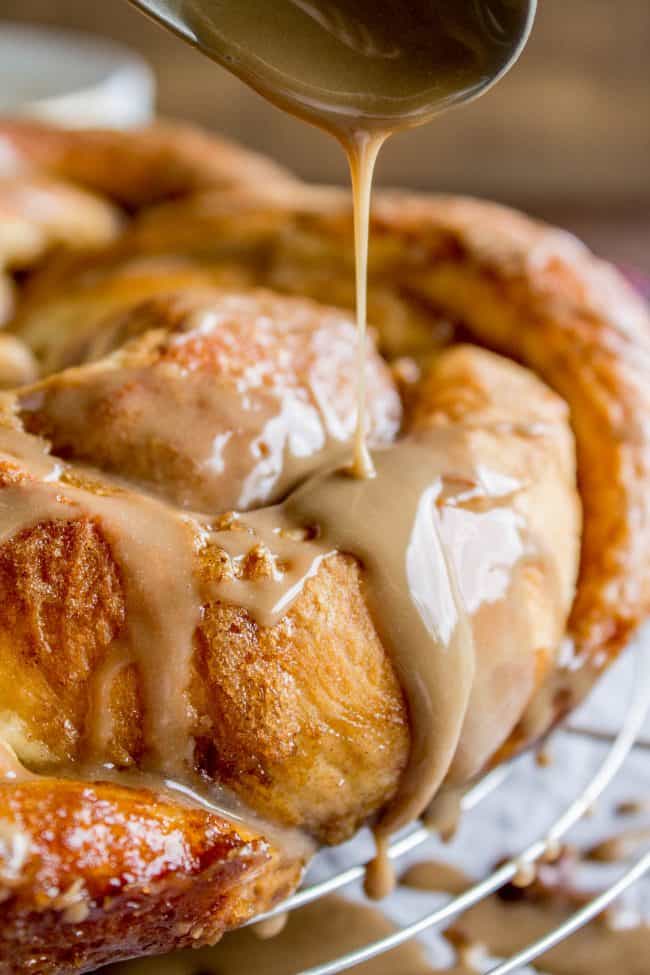 Is is a twist? A cake? A cinnamon roll? It's definitely maple so who cares about the rest. This tender, buttery bread gets twisted up with some brown sugary maple filling and before you know it, trees everywhere will be dropping their fall leaves just because they smelled this wafting from your kitchen. 
Ingredients
For the dough
1/4

cup

water

1/2

cup

milk

1

tablespoon

active dry yeast*

1/4

cup

softened butter

,

(1/2 stick)

3

tablespoons

white sugar

1 & 1/2

teaspoons

salt

2

large

eggs

3 & 1/2

cups

flour

,

spooned and leveled
For the maple filling
1/4

cup

butter

,

softened

1/2

cup

brown sugar

,

packed

1/3

cup

white sugar

1/4

cup

maple syrup

,

real grade A

2

tablespoons

flour

1/2

teaspoon

cinnamon

1/2

teaspoon

maple extract**

1/2

cup

walnuts

,

chopped (optional)
For the maple icing
1

cup

powdered sugar

1-2

tablespoons

milk

1/2

teaspoon

maple extract**
Instructions
In a small bowl or glass measuring cup, add water and 1/2 cup milk. Microwave in 15 second increments, stirring each time, until the mixture is warm to the touch. It should be pleasant, not at all like you want to take your finger out. If it gets too hot, then stick it in the fridge for a couple minutes.

When the milk and water are nice and warm but not hot, add the yeast and stir. Set aside.

In a large bowl or stand mixer, add 1/4 cup softened butter. Add 3 tablespoons white sugar and the salt. Beat with the paddle. (Or with a wooden spoon)

Check the yeast. If it is looking bubbly, then it's ready to go. If it hasn't changed at all, then toss it and start over. Better to find out now than in 2 hours when your bread doesn't rise.

Add the yeast mixture and 2 eggs to bowl with the butter. Beat well.

Add the flour, one cup at a time. I added the full 3 and 1/2 cups but you may need to add less. It should form a fairly stiff dough that is smooth and does not stick to the sides of the bowl.

Knead with the dough hook or by hand for 5 minutes.

Spray a large bowl with nonstick spray. Shape the dough into a ball and put it in the bowl. Turn once so that the top is coated in oil, then cover the bowl with plastic wrap.

Let rise in a warm place for 1 and 1/2 hours.

When the dough has doubled in size, punch down.

Divide the dough in half.

On a lightly floured work surface or a

pastry cloth

, roll one half into a 14x8 inch rectangle. It doesn't have to be perfect.

Make the filling: in a medium bowl, stir together 1/4 cup softened butter, brown sugar, 1/3 cup white sugar, maple syrup, flour, cinnamon and 1/2 teaspoon maple extract. Add the walnuts if you are using them.

Spread half of the filling on the dough.

Roll up the dough from the 14 inch edge, the long way, so you have one long strip rolled up. See photos.

Use wet fingers to pinch and seal the edges.

Use a sharp serrated knife to cut the roll in half lengthwise, all the way down the middle. See photos. I actually cut right along the seam I had just made.

Lay each half so that the filling side is facing up. Twist the strips of dough together, keeping the cut side facing up. Use wet fingers to pinch the ends together. You should have one long twist that is all sealed.

Spray

2 cake pans

with nonstick spray. They can be either 8 or 9 inch pans.

Coil the twisted dough into a circle in the prepared pan. Tuck the end underneath.

Loosely cover with plastic wrap that has been sprayed with nonstick spray. Put in a warm place to rise for another 45 minutes. The cakes should double in size.

Repeat the process with the other half of the dough.

When the cakes are almost done rising, turn the oven on to 350 degrees F.

Discard the plastic wrap at bake at 350 for 20-25 minutes. The top should be a deep golden brown and the center should be firm.

Remove from the oven and place on a wire rack to cool for 10 minutes. Set a timer! You don't want to forget. If you leave it in the pan too long you will have to battle with Maple Cement.

After 10 minutes, use a knife to loosen the edges of the pan, then use a spatula or two to help you lift the cake out of the pan onto a cooling rack.

In a small bowl, whisk together 1 cup powdered sugar, 1 tablespoon milk, and 1/2 teaspoon maple extract. Add a bit more milk if you prefer a thinner glaze.

Drizzle the glaze over the cakes.

Serve warm. If you are making these ahead, heat up individual portions in the microwave for about 10 seconds.
Notes
*Scant means not super full. Don't let this stress you out, it doesn't matter too much.
**I always use Mapleine.
This recipe is from my BFF's mom, Anne. Thanks Anne!
Nutrition
Serving:
1
g
|
Calories:
287
kcal
|
Carbohydrates:
47
g
|
Protein:
5
g
|
Fat:
9
g
|
Saturated Fat:
4
g
|
Polyunsaturated Fat:
2
g
|
Monounsaturated Fat:
2
g
|
Trans Fat:
1
g
|
Cholesterol:
39
mg
|
Sodium:
285
mg
|
Potassium:
91
mg
|
Fiber:
1
g
|
Sugar:
24
g
|
Vitamin A:
226
IU
|
Vitamin C:
1
mg
|
Calcium:
35
mg
|
Iron:
2
mg
More maple recipes you'll love!
I'm from California where you can find Maple Bars in any donut shop no matter how small. But after posting this recipe for Maple Bars several years ago, I realized it's a west coast thing (I kept getting comments from people who said they can't ever find them on the east coast.) Did you grow up eating these?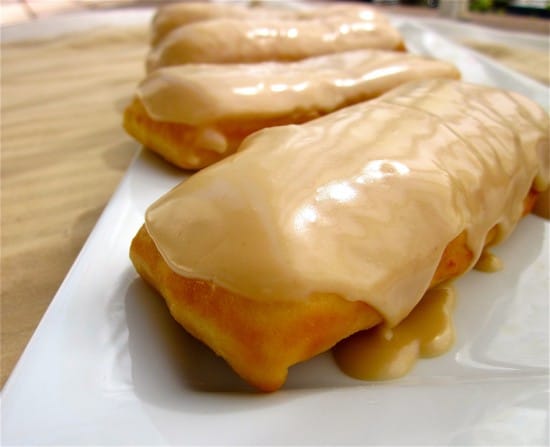 Or if you are not feeling the yeast today…try these 30 minute Maple Bars: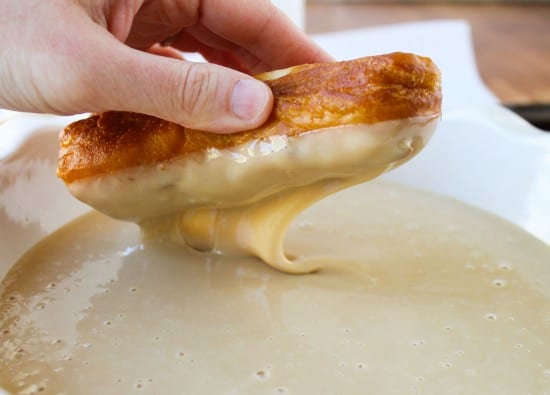 Maple Cheesecake with Roasted Pears << This is a no bake and it's deliiiish. Such a creative way to use up summer pears.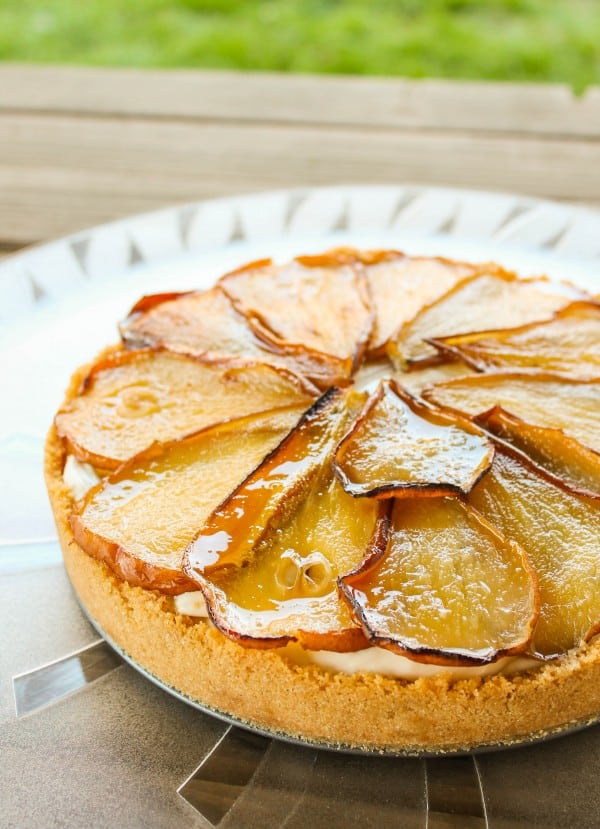 Swedish Cinnamon Buns with Cardamom << these are super fun to make!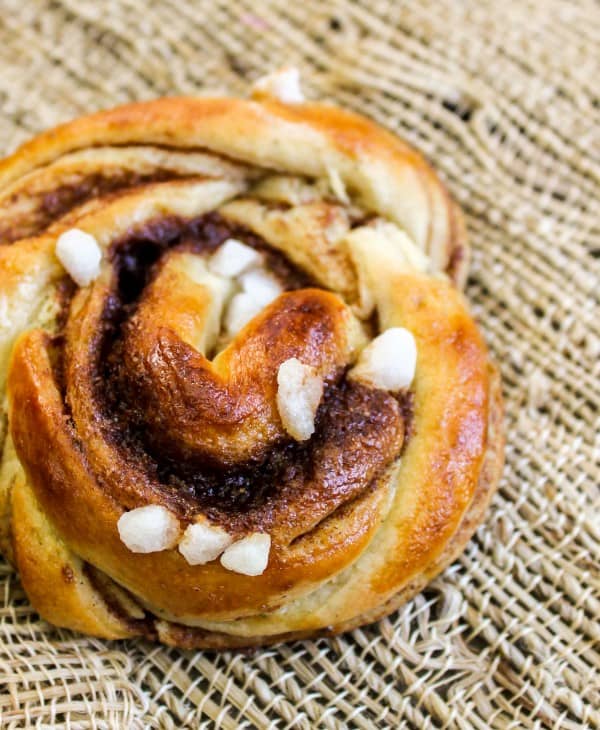 More maple recipes from other amazing food bloggers!
Maple Twists from Fake Ginger
Maple Bacon Donuts from Wonky Wonderful
Cinnamon Pull-Apart Bread with Maple Glaze from Wishes and Dishes