These Pumpkin Caramel Swirl Bars are a gooey, decadent treat! The bars are fudgy and brownie-like, and in the center is a thick layer of soft caramel that melts in your mouth. They are easy to put together and a huge crowd-pleaser!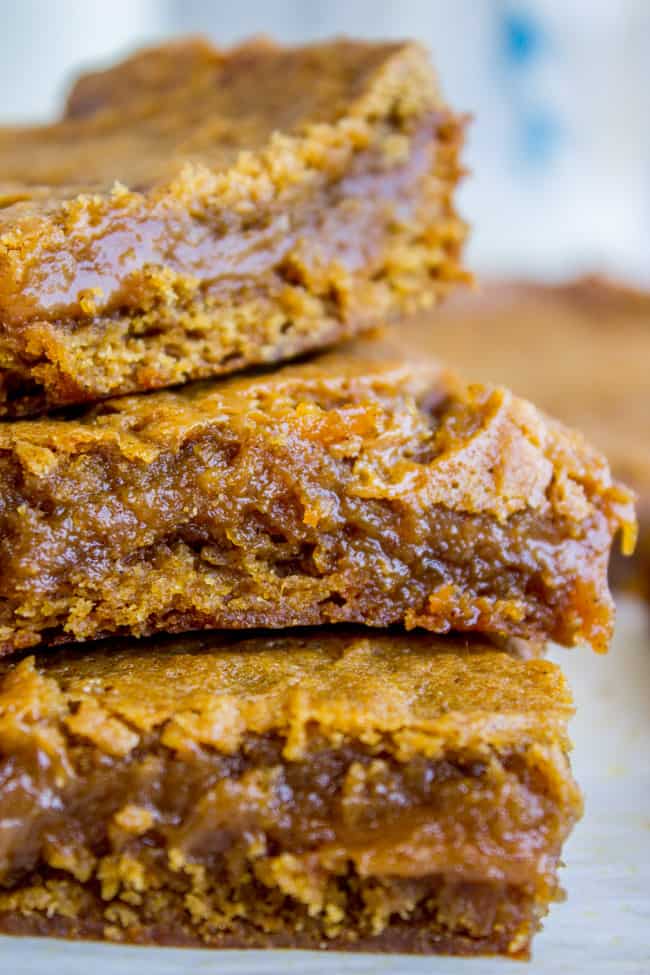 Last week Eric and I listened to this book on the long drive out to our campsite. It's called As You Wish and it's written by Wesley from The Princess Bride. (Pretty sure that's not his real name but he will always be Wesley to me.) Some facts:
The scene where Count Rugen knocks out Wesley using the hilt of his sword is totally REAL. He woke up in the emergency room.
Andre the giant could drink over 100 cans of beer.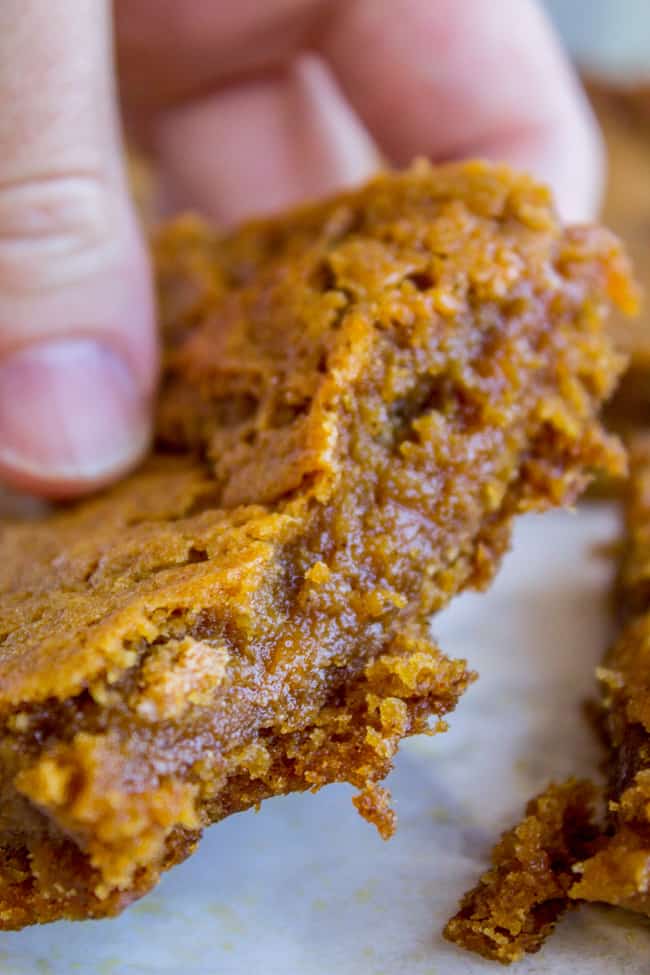 Inigo and Wesley trained for months and months for their sword fighting scene, and no stunt doubles were used.
The director was happy with the final kiss scene after the first take, but Wesley and Buttercup insisted on taking it several more times to get it just right. (I mean…wouldn't you?)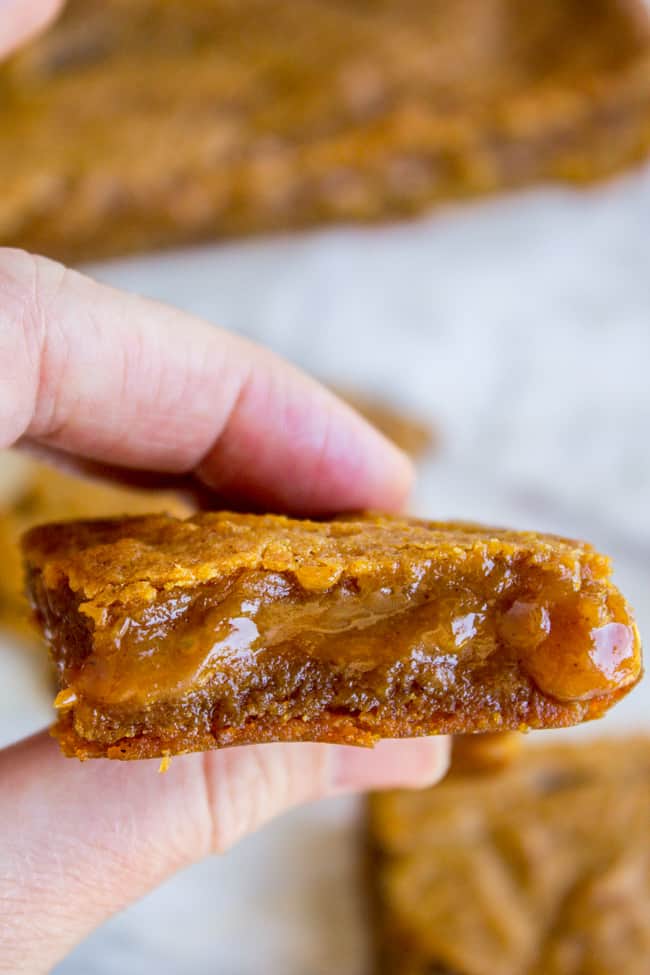 Inigo only received one injury while shooting the movie: he bruised his ribs while trying not to laugh at Miracle Max ad libbing. (The director also had to keep leaving the set because he was ruining takes by laughing.)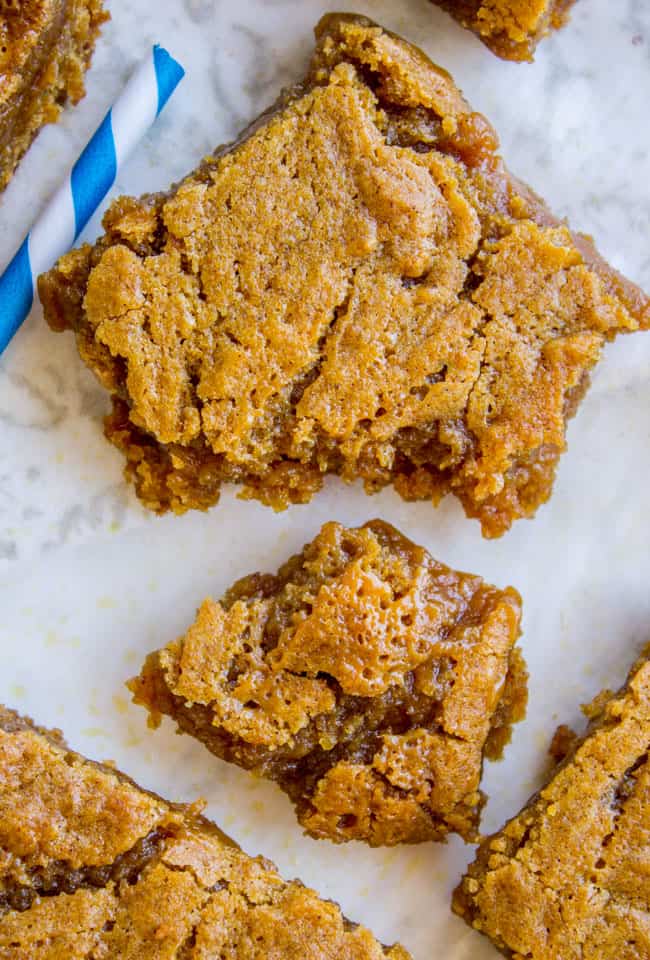 Of course we had to watch it all over again when we got home from camping. It reminded me of the time Eric and I showed it to our friend Huy, who's from Vietnam. He did NOT think it was funny and was totally bored. Maybe it's American humor?? (No more rhymes now, I mean it!/Anybody want a peanut?)
I will leave you with this gem:
Now about these Fudgy Pumpkin Caramel Swirl Bars! These are sooooo good. Imagine a bar with brownie texture, but instead of chocolate it's full of pumpkin and cinnamon flavors. Then smashed inside is a ridiculously thick layer of caramel that melts in your mouth. The top gets all crackly, the edges have this amazing caramel-y crisp thing going on, and the center is just ridiculously oozy. They stay soft for days because of the caramel.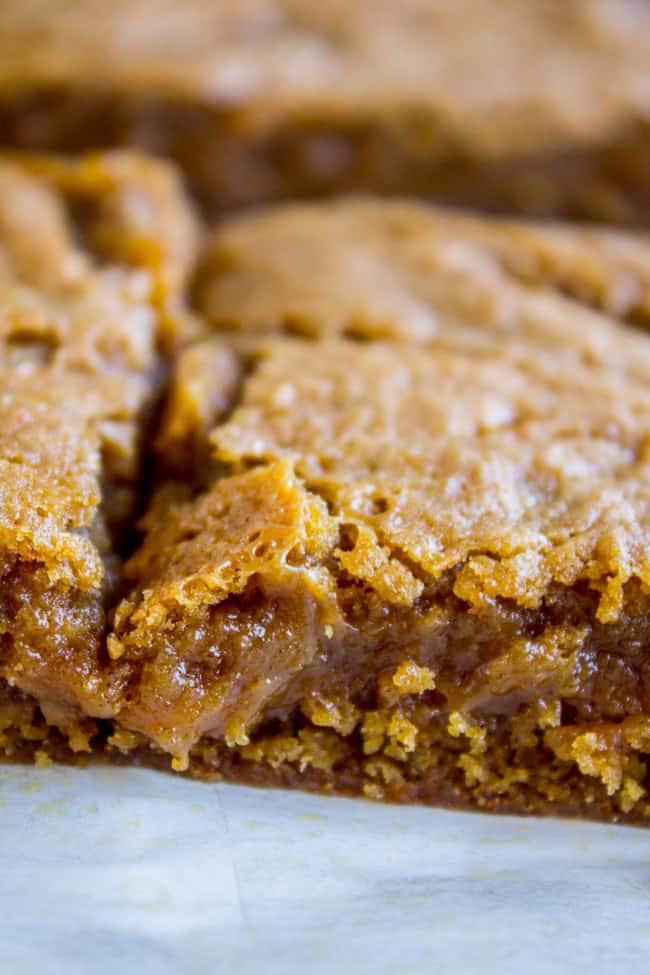 This recipe was inspired by these Cinnamon Caramel Swirl Bars, which have been a favorite of mine for years. I love the pumpkin version! The way to add pumpkin (but keep them from getting cakey) is by removing the eggs entirely from the recipe. The canned pumpkin does the job of the eggs. So this is a perfect dessert if you need to make something egg-free for a friend! The only hazard is that you will have RECKLESS ABANDON tasting the batter, because it's egg-free and you don't even have to feel guilty snatching some of it.
Facebook | Pinterest | Instagram | Twitter

Fudgy Pumpkin Caramel Swirl Bars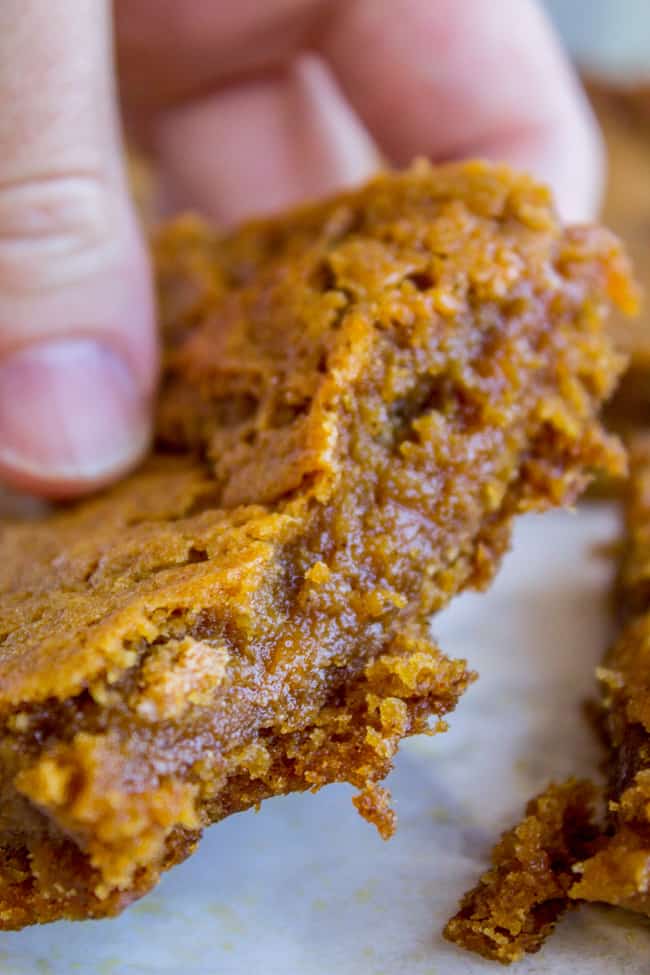 These Pumpkin Caramel Swirl Bars are a gooey, decadent treat! The bars are fudgy and brownie-like, and in the center is a thick layer of soft caramel that melts in your mouth. They are easy to put together and a huge crowd-pleaser!
Ingredients
3/4

cup

butter

,

melted

2 & 1/4

cups

brown sugar

,

firmly packed

3/4

cup

pumpkin

,

canned, NOT pumpkin pie filling

1 & 1/2

tablespoons

vanilla

,

*

2 & 1/4

cups

flour

,

spooned and leveled

1

tablespoon

baking powder

1/4

teaspoon

baking soda

1 & 1/2

teaspoons

cinnamon

1/2

teaspoon

kosher salt

1

11-0z package

caramels

3

tablespoons

milk
Instructions
Preheat your oven to 350 degrees F. Line a 9x13 inch pan with parchment paper, or grease the pan. (You can do foil too. Grease the foil).

In a large bowl or stand mixer, melt the butter.

Add the brown sugar, pumpkin, and vanilla, and beat well.

Add the flour to the bowl but don't mix. Spoon the baking powder, baking soda, cinnamon, and salt into the flour and gently stir into the flour.

Beat well, stopping to scrape the sides and bottom of the bowl.

Pour about half of the batter into the prepared pan and use a spatula to smooth it on the bottom of the pan.

Bake at 350 for about 19-20 minutes, or until a toothpick comes out clean and it is set in the middle.

Remove from the oven but don't turn it off.

Meanwhile, melt the caramels and milk in a medium microwave safe bowl. Start with 45 seconds, then stir well. Continue to heat in 30-45 second intervals, stirring well each time. When the caramels are almost smooth, stop microwaving and stir until smooth.

Pour the caramel over the hot baked layer in pan, spreading to within 1/2 inch of the edges.

Drop reserved batter by spoonfuls over caramel layer. Cut through batter with knife several times for a marble effect.

Bake a second time for 25-30 minutes or until center is set. A toothpick test won't work because the caramel layer is too gooey and will just confuse you (at least I was confused at first...). If the center of the pan doesn't wiggle when you shake it, it's done.
Notes
*Yes, tablespoons! Viva la vanilla!
Nutrition
Serving:
1
bar
|
Calories:
340
kcal
|
Carbohydrates:
60
g
|
Protein:
3
g
|
Fat:
10
g
|
Saturated Fat:
6
g
|
Polyunsaturated Fat:
1
g
|
Monounsaturated Fat:
3
g
|
Trans Fat:
1
g
|
Cholesterol:
25
mg
|
Sodium:
303
mg
|
Potassium:
129
mg
|
Fiber:
1
g
|
Sugar:
43
g
|
Vitamin A:
742
IU
|
Vitamin C:
1
mg
|
Calcium:
108
mg
|
Iron:
1
mg
Other fun fall recipes you should check out!
Cinnamon Caramel Swirl Bars <<  this recipe is so good! It's the one today's recipe is based on.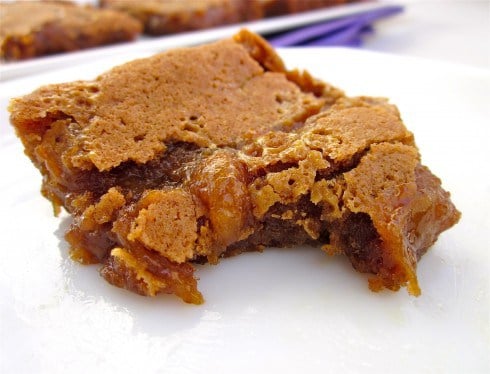 Butterscotch Pumpkin Cake << Sooo fudgy!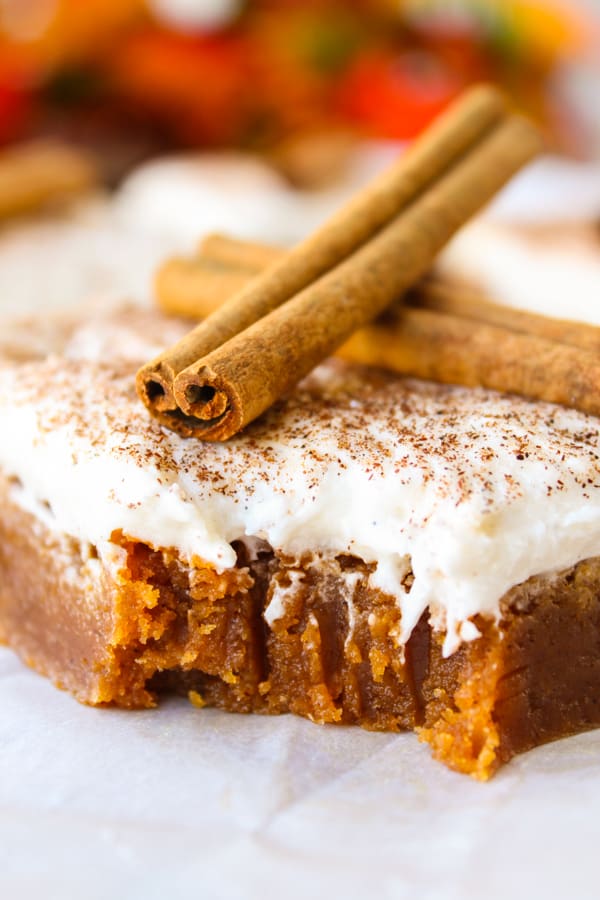 Easy Pumpkin Pie Cake << this one is a huge reader favorite!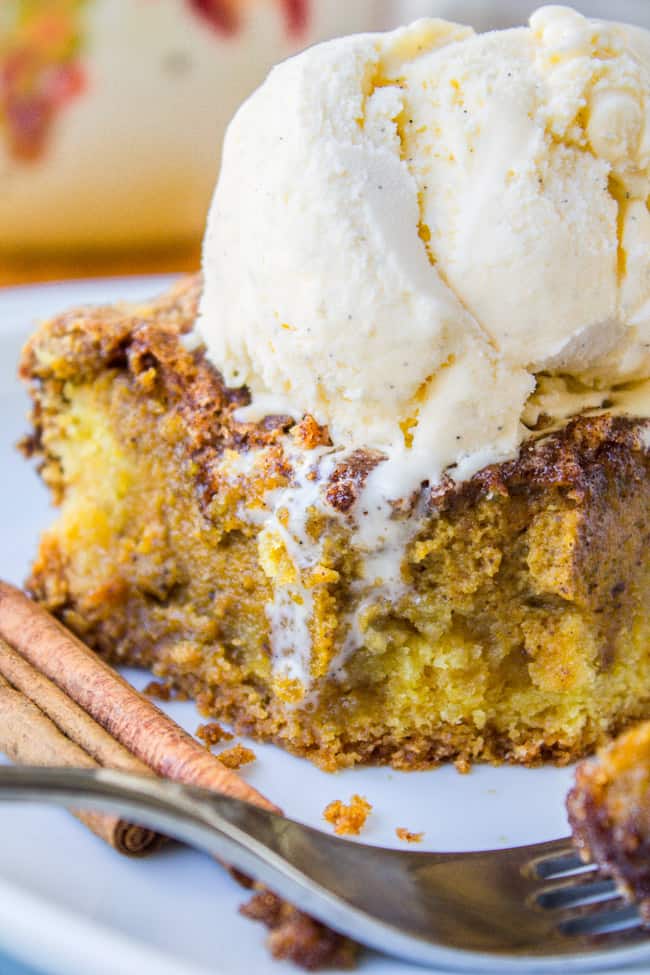 Other pumpkin caramel recipes from friends!
Pumpkin Caramel Cheesecake Bars from Chelsea's Messy Apron
Pumpkin Caramel Blondies from Will Cook for Smiles
Caramel Stuffed Pumpkin Chocolate Chip Cookies from Cake n Knife