Coconut Almond Sheet Cake
This moist sheet cake is full of almond and coconut flavor! Seriously, best combo ever. It's easy, and quick–you add the frosting when the cake is still warm, so it's a great last minute dessert! Don't let the fact that it's vegan deter you: this cake holds it's own against its butterfull fellows.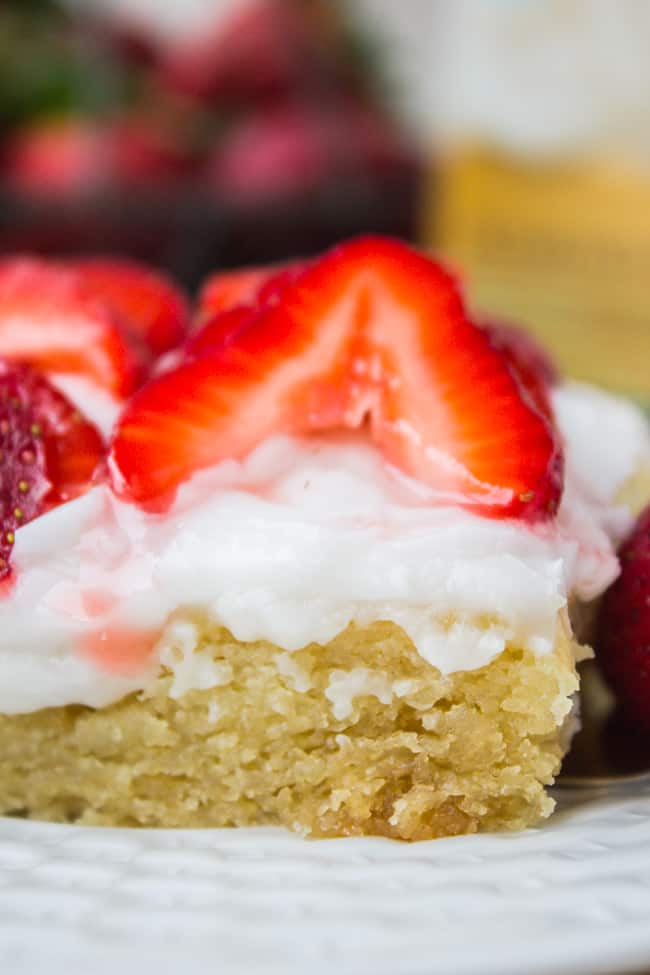 The other day my friend Kate was watching Truman, my 2-year old. I get a text: "Has Truman ever had a popsicle?"
"Uhh I don't think so."
"I gave him one and he's holding the popsicle in his hands and sucking on the wooden stick."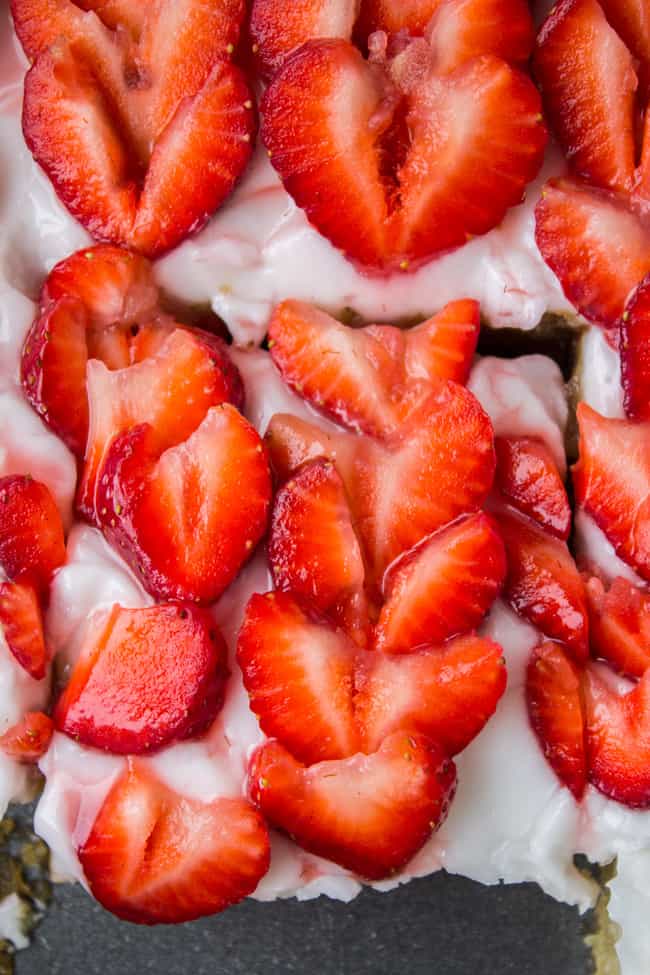 He did the same thing with rock candy a couple days later. Holding the purple sticky part in his hand, and happily licking the little wooden ball on the other end.
I'm really glad that survival of the fittest doesn't apply to us much these days. At least in the foraging-for-food way. I think Truman would be a goner.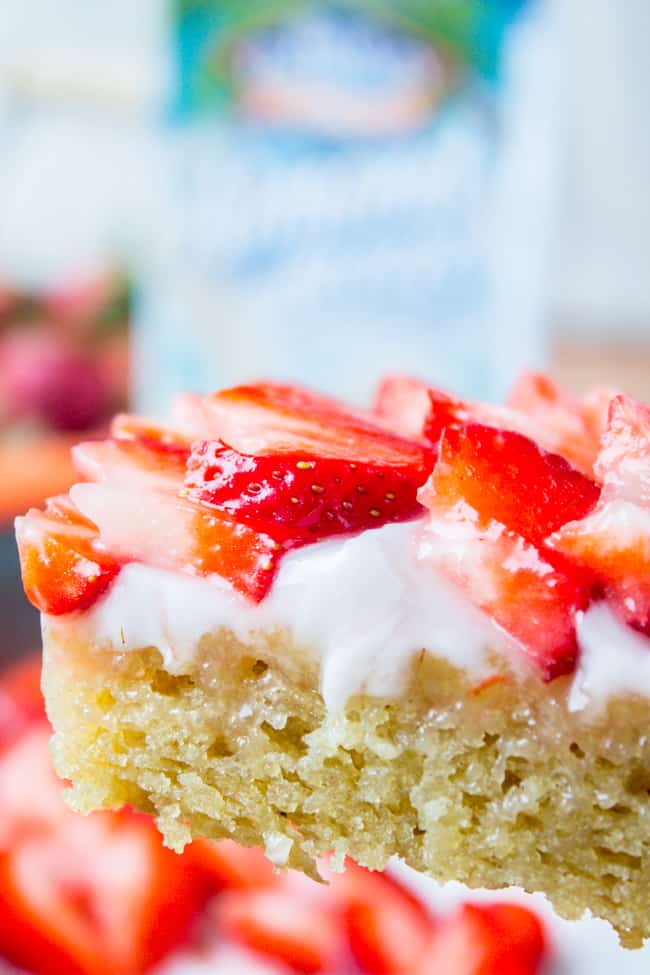 Have you guys tried almond milk? You probably couldn't find it in stores 20 years ago but now it's everywhere. I remember when Blue Diamond first came out with it when I was a kid, my family and I were so excited. We stood around our kitchen counter, huddled around the box, each of us with a cup for sampling. We thought it was so cool. Especially since we were pretty much drinking almonds straight from my grandpa's orchards.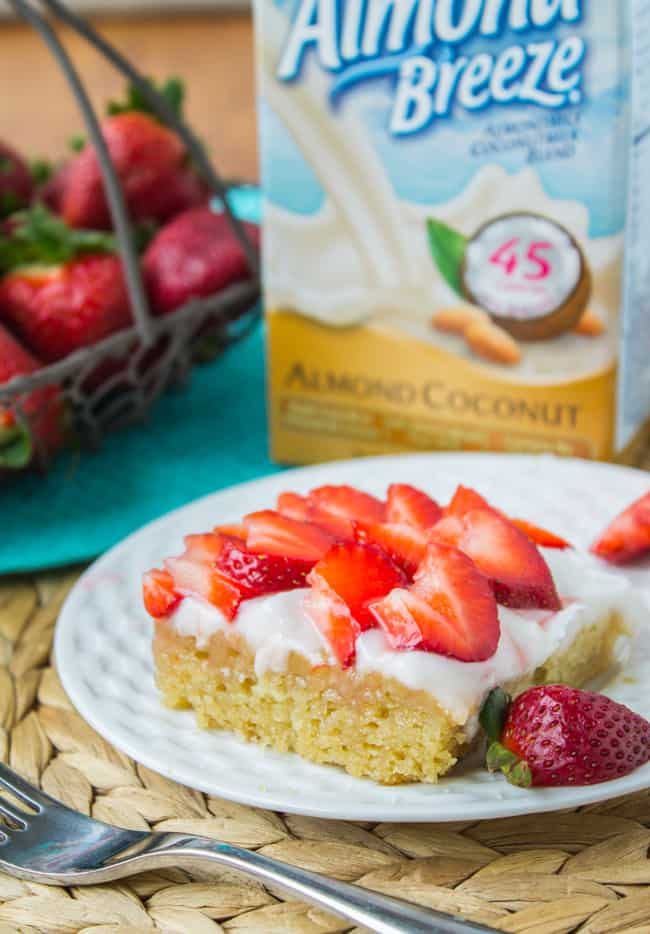 Well guess what. Almond milk is still WAY cool. And now Blue Diamond has gone where no man has gone before: they've come out with a blend of almond milk and COCONUT milk. I know, WHAT. This stuff is legit.
I decided to match those flavors up in a Coconut-Almond Sheet Cake. (A spin off of my normal Almond Sheet Cake, which I also adore.) It calls for everyday ingredients (nothing weird–promise) and yet it's VEGAN. That's right my friends, no butter, no milk. So now you have an awesome recipe up your sleeve for when you have dairy-free dinner guests. Or just regular-type dinner guests. Because everyone will love this cake.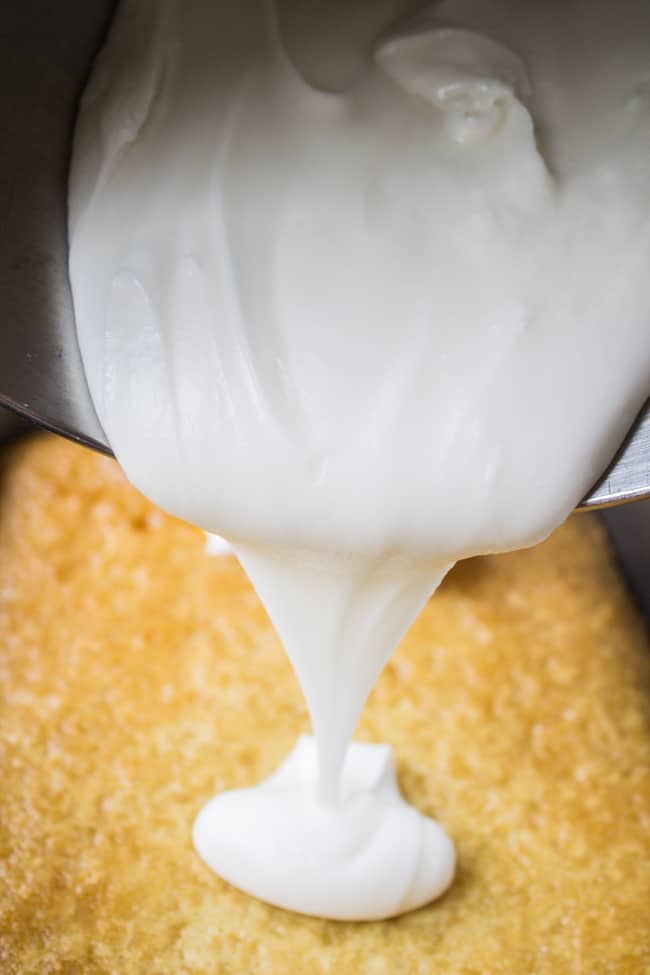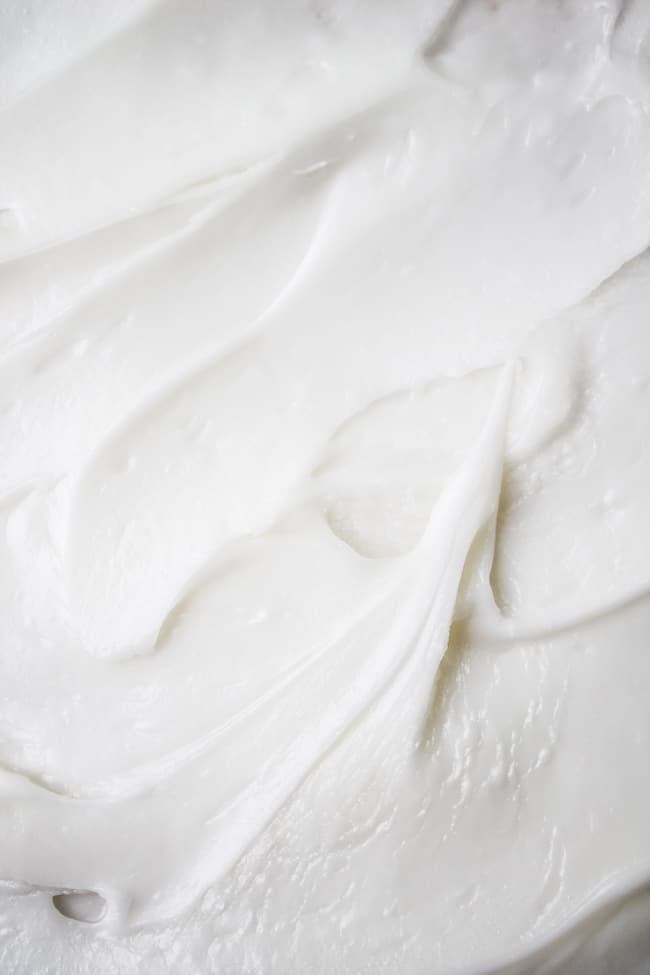 Can you guess the secret ingredient in the frosting? It's coconut oil! Oh my goodness, this frosting guys. I never thought I would cheat on butter like this. But here I go.
Do you guys give up? Or are you thirsty for more?
Facebook | Pinterest | Instagram | Twitter


print
Did you make this recipe?
Leave a review »
Coconut Almond Sheet Cake
Serves 16
adjust servings
Ingredients
For the cake
3/4

cup coconut oil

1

cup Unsweetened Almond Breeze Almondmilk Coconutmilk

2

cups flour, spooned and leveled

2

cups sugar

1

teaspoon baking soda

mounded 1/4 teaspoon salt

1

tablespoon vinegar

2

teaspoons almond extract
For the frosting
1/2

cup coconut oil

1/4

cup Unsweetened Almond Breeze Almondmilk Coconutmilk

3

and 1/2 cups powdered sugar

1/4

teaspoon salt

1/8

teaspoon coconut extract, optional

Fresh strawberries, to garnish
Instructions
For the Cake: Preheat oven to 350 degrees F. Grease a 9x13 inch pan with coconut oil.
In a small pot, add the coconut oil and Almondmilk Coconutmilk. Set over high heat to bring to a boil, making sure to stir every now and then.
Meanwhile, add the dry ingredients to a mixing bowl: flour, sugar, baking soda, and salt. Combine. When the oil-almondmilk mixture barely starts to boil, take it off the heat and pout it into the dry ingredients. Turn the mixer on and beat for at least one minute. (Don't bother washing that pot. You're going to use it again for the frosting).
Add the vinegar and almond extract, and combine immediately. Beat again for a couple minutes, scraping down the sides.
Pour the batter into the prepared pan and bake at 350 for 20-22 minutes, or until center is set and a toothpick comes out clean. Let the cake cool for 20-30 minutes before you start making the frosting.
For the frosting:
Use the same pot from earlier to bring 1/2 cup coconut oil and 1/4 cup almondmilk coconutmilk to a boil.
While you wait, measure out 3 1/2 cups of powdered sugar into your mixing bowl. When the oil-milk mixture barely boils, pour it over the sugar and beat well.
Add the salt. Add the coconut extract, if you want.
Pour the warm frosting immediately over the warm cake and spread. Serve warm or room temperature.
Garnish with fresh strawberries or raspberries, sliced.
Keep this cake in the fridge, but let sit for a half hour on the counter before serving. It's best eaten at room temperature. If you think you will have leftover cake, don't add strawberries to the part you think you won't eat. Save them in another container, the cake will last longer.
by The Food Charlatan

If you make this recipe,
share it on Instagram
 using the hashtag
#TheFoodCharlatan
so I can see it!
Here is the original Almond Sheet Cake. It's amazing!!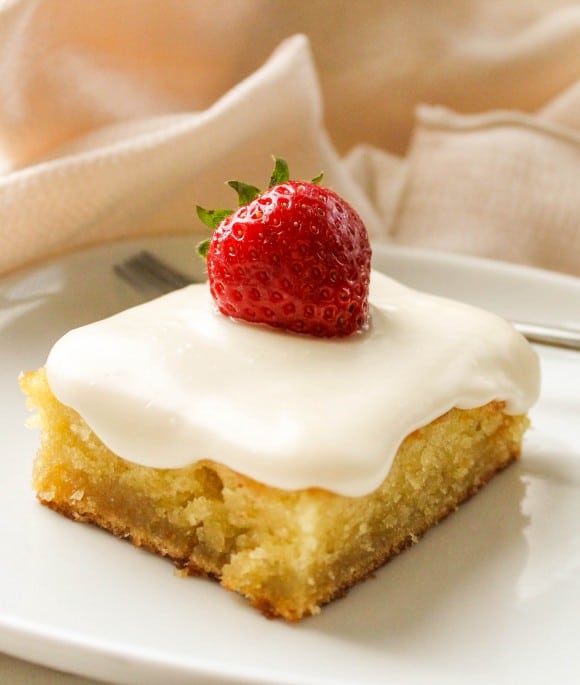 Spiced Poppyseed Cake with Almond Buttercream Frosting: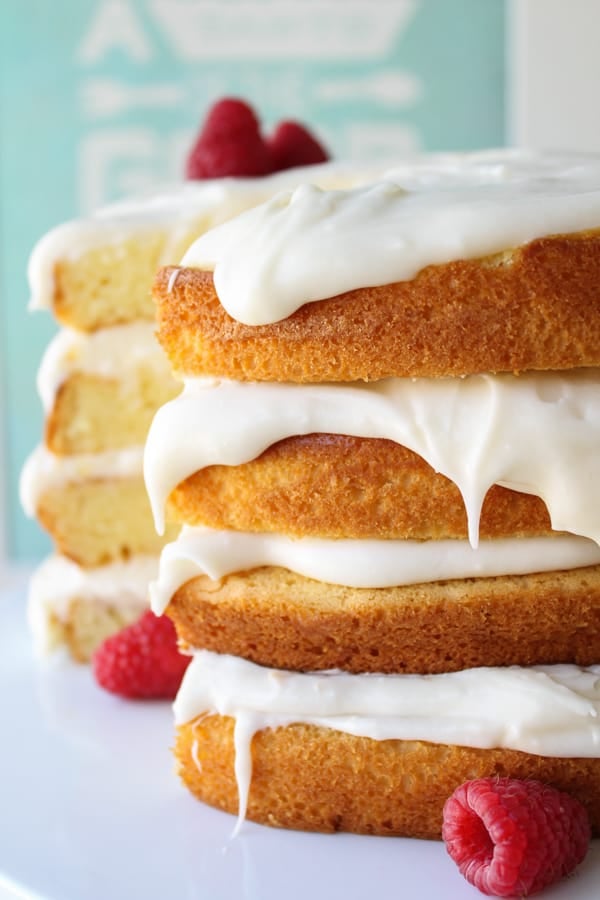 Other cakes you would never know were vegan!
One-Bowl Vegan Chocolate Cake from Minimalist Baker
Soft and Fluffy Strawberry Banana Cake from Averie Cooks
Vegan Gluten Free Carrot Cake from Gimme Some Oven
This post is sponsored by Almond Breeze Almondmilk. All opinions are my own, duh! Thanks for supporting the brands I love that help keep The Food Charlatan chugging along!
We are a participant in the Amazon Services LLC Associates Program, an affiliate advertising program designed to provide a means for us to earn fees by linking to Amazon.com and affiliated sites.