This Lemon Bread recipe really packs a punch! Lemony to the max! The loaf is moist with a tender crumb, and bursting with lemon flavor from the juice and zest. The glaze on top will make you pucker up. It's quick and easy to make! Ditch the Starbucks loaf and make this instead!
Happy February! February in California means driving around the neighborhood to see citrus trees all over the place, weighed down to the ground with lemons and oranges and limes and grapefruit. You walk in to church to see citrus piled high on the entry table, picked and ready to take home. Friends mass text, "anyone want lemons?? We're drowning over here!" and I always answer, YES give me all the lemons!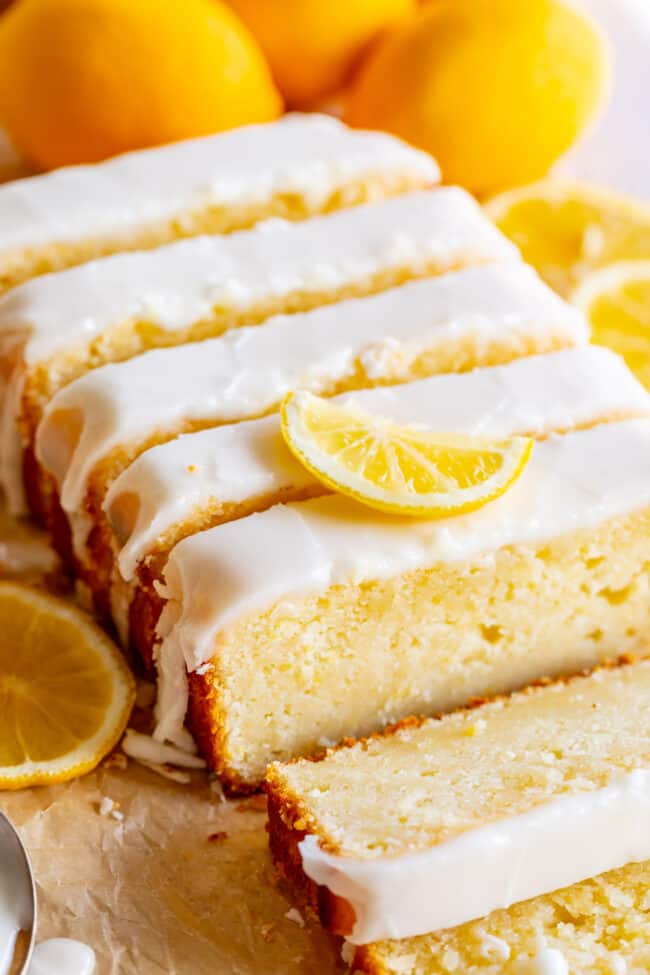 I'm not one of those good people of the world* who sees a ton of lemons in the fridge and thinks "oh awesome, now I can squeeze lemon into my ice water" or "ooh, got some lemons, gonna make myself some Lemon Glazed Carrots or maybe some Lemon pasta!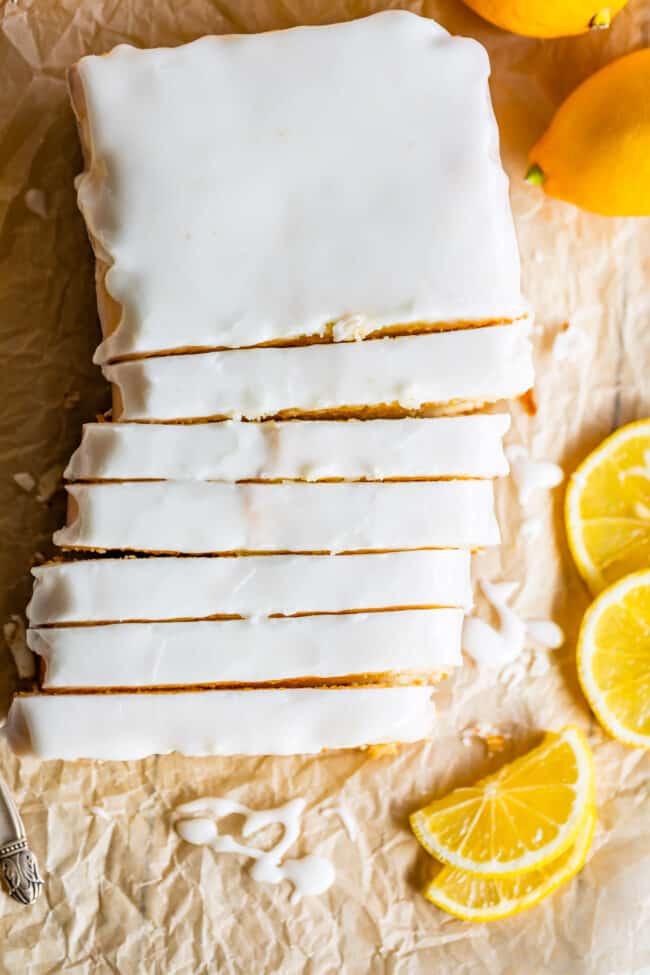 I mean. Maybe I'll get there eventually, after several days of lemon surplus…But my first instinct is ALWAYS dessert. Lemon bars, lemon curd, lemon cookies, oh my! Bring on the sugar.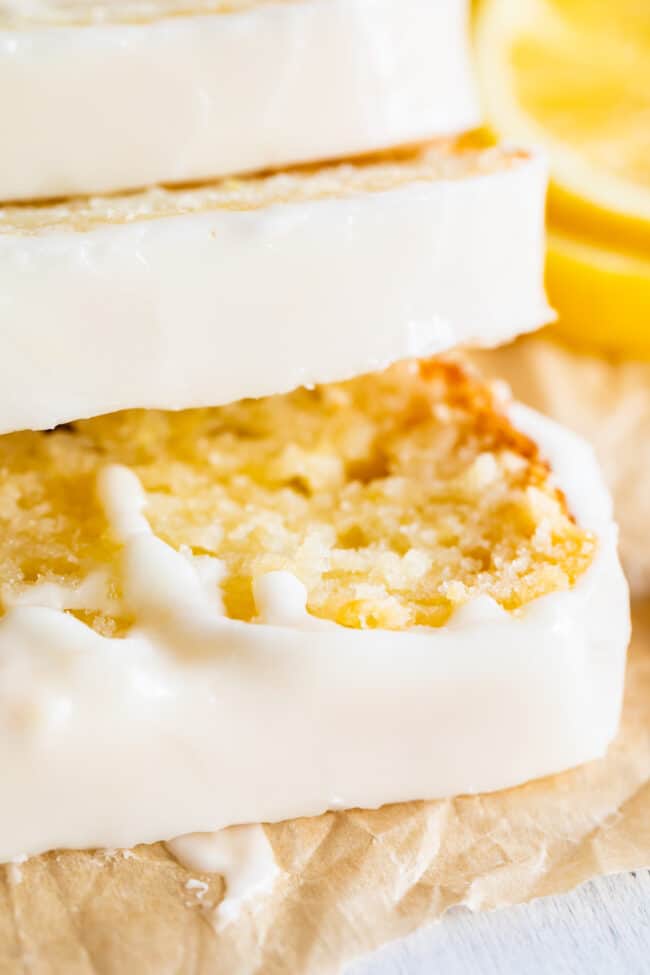 (*Every time I hear the phrase "good people of the world" I think of that song, "And the good people of the world are washing their cars on their lunch breaks, hosing and scrubbing as best they can in skirts and suits." Who can name that song?? It's a 90's classic!)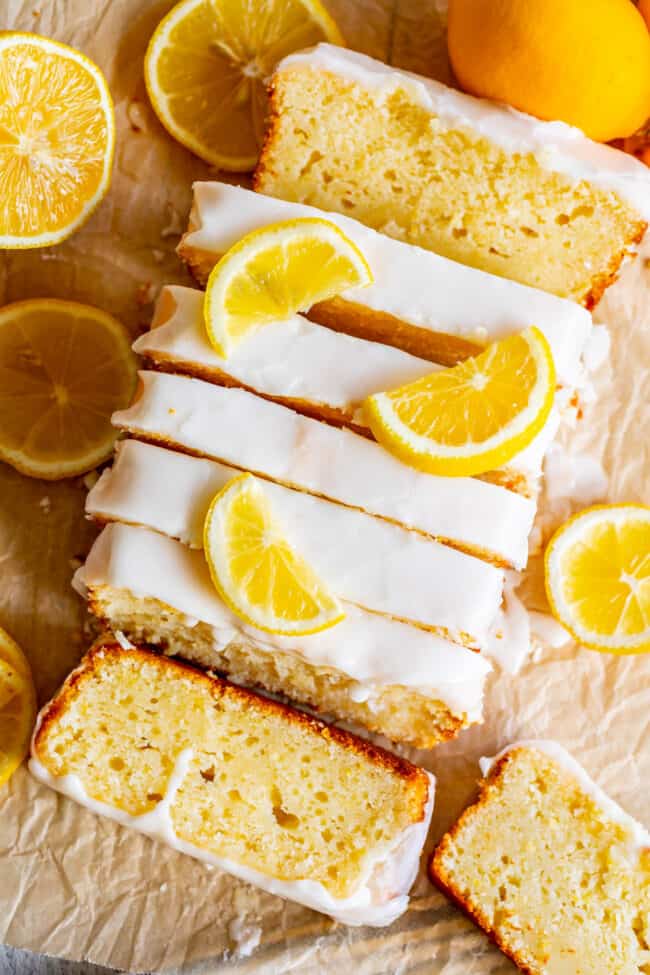 So anyway, thank you to all the lemon trees in my neighborhood (and awesome neighbors!) for bringing us this lemon bread today. Maybe I'll come up with something healthy to do with the surplus next February.
Because let's be real, this "lemon bread" business is just a front. This is basically a lemon cake. I mean, just look at it. It even has frosting on top. And if you're like me, you double the frosting and eat every piece of your "lemon bread" with a hefty dose of frosting spread all across the top.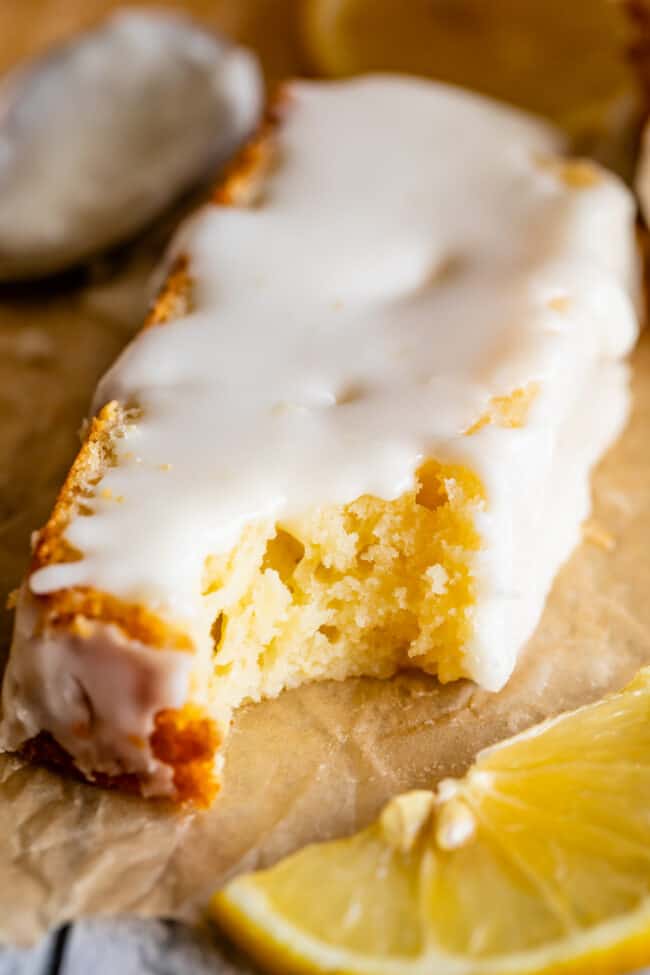 I made this on a whim one day with my lemons, and shared a photo on Instagram stories. I got so many people asking for the recipe that I decided to make it again and take photos for the blog. Thanks for the inspiration, Instagram! Getting back into sharing recipes has come slower than I would like after the baby! (Who is 6 weeks old now and starting to hold his head up more and more lately! He's so cute. Follow along on Instagram if you would like more baby updates.)
How to Make Lemon Bread
They don't call it quick bread for nothing! All you need for this recipe are a couple bowls and a spatula. You can use a mixer if you want, but an old fashioned whisk will do ya just fine.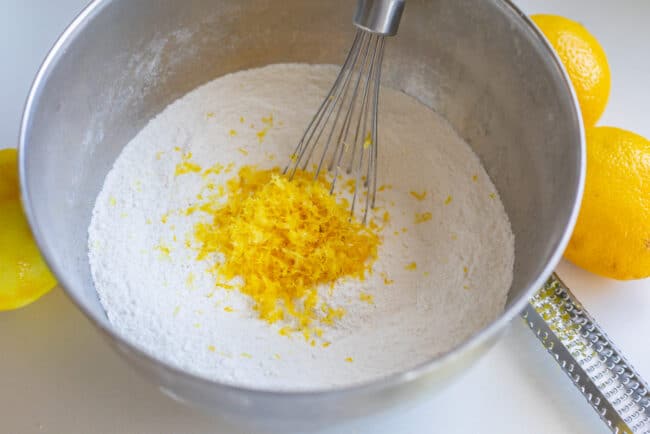 First put together the dry ingredients:
Flour
baking powder
salt
sugar
lemon zest
I know, technically lemon zest isn't a dry ingredient, but I like to stir it in so that it gets coated with flour. It distributes in the bread more evenly that way, instead of getting all clumpy.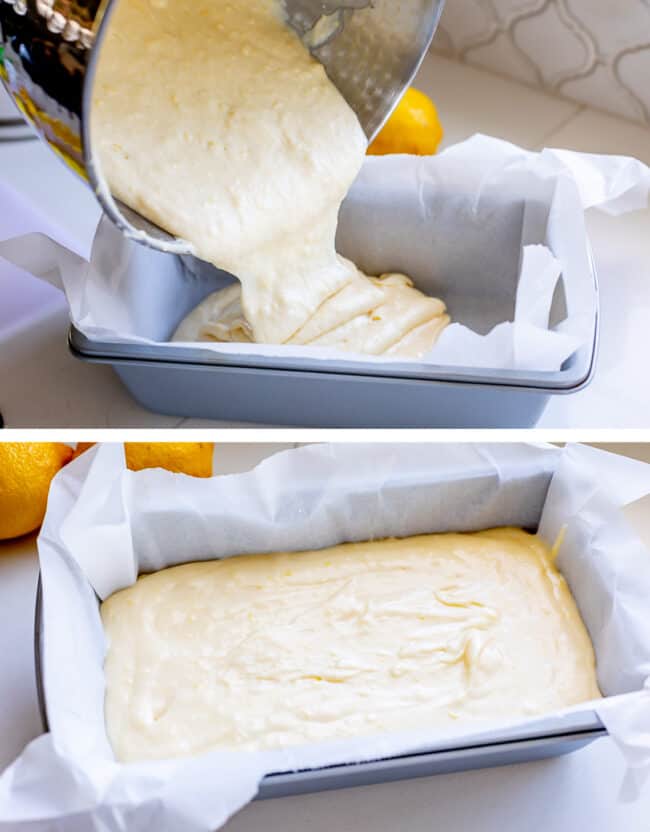 Then add your wet ingredients:
Melted butter
oil
eggs
sour cream
lemon juice
I tested this recipe using lemon extract. I know there are some recipes out there that swear by it, and you will definitely find it in that classic Starbucks Iced Lemon Loaf Cake. But it's just not my favorite flavor. It tastes more chemically than lemony to me. I prefer to just use a LOT of fresh lemon juice and a LOT of lemon zest. Lemons have tons of flavor, let's let them do the talking! (If you want to try it with the extract, replace one tablespoon of lemon juice with 1 tablespoon extract.)
Then you literally just stir together the wet and dry ingredients, and voila, batter done. Bake it up and you're almost done.
The last step is the glaze. It's TART and that's not an apology. It really takes this bread from "Yum" to "WOW yum!" And I have a trick to make sure your glaze is extra thick: add one layer of glaze and let it set. Then add another layer. Then another layer! This is the best way to get that really thick white glaze on top and still get the pretty drips down the side.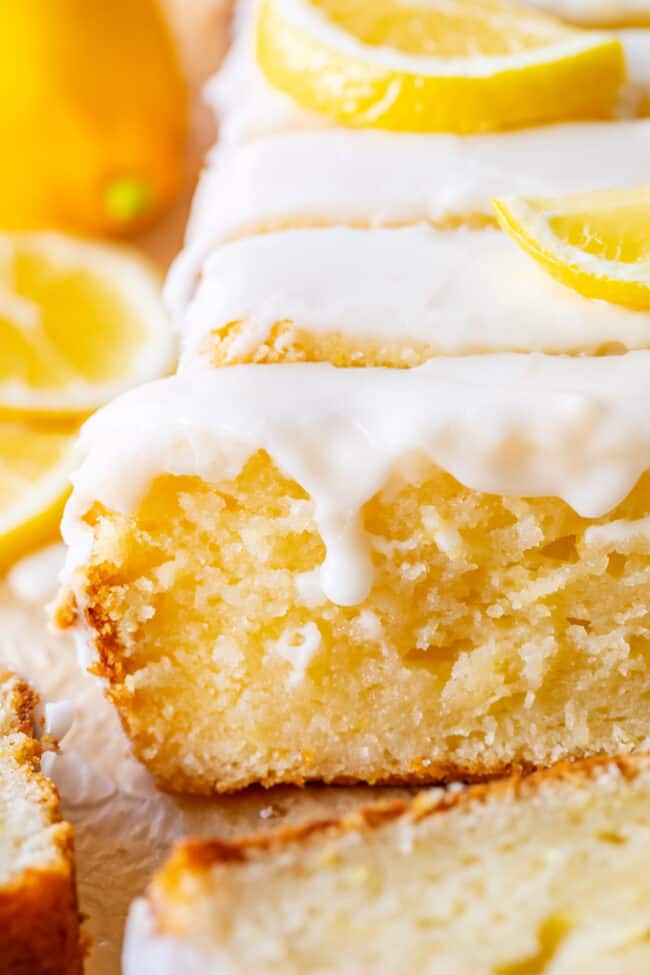 This lemon bread is really pretty for serving at baby showers or any type of potluck. It's also great to make on a random Wednesday afternoon! Makes a tasty breakfast the next morning. Happy citrus season ya'll!
More lemon recipes you are going to love!
Facebook | Pinterest | Instagram

Perfectly Moist and Tart Glazed Lemon Bread Recipe
This Lemon Bread recipe really packs a punch! Lemony to the max! The loaf is moist with a tender crumb, and bursting with lemon flavor from the juice and zest. The glaze on top will make you pucker up. It's quick and easy to make! Ditch the Starbucks loaf and make this instead!
Ingredients
Dry ingredients
1 & 3/4

cups

flour

,

spooned and leveled

1

cup

sugar

1 & 1/2

teaspoons

baking powder

1/2

teaspoon

salt

2

tablespoons

lemon zest

,

from about 2 lemons
Wet ingredients
1/4

cup

butter

,

melted (1/2 stick)

2

large

eggs

1/4

cup

oil

,

I like light flavored olive oil

1

cup

sour cream

1/3

cup

lemon juice

,

you will need at least 2 large lemons
For the glaze
2

cups

powdered sugar

,

sifted if clumpy

3-4

tablespoons

lemon juice

,

you will need at least 1 large lemon
Instructions
Preheat the oven to 350 degrees F.

Line a 9x5 in loaf pan with parchment paper for easy removal. Or you could spray the pan with nonstick spray. (Or line with foil; be sure to grease.)

In a medium bowl, whisk together the dry ingredients: 1 and 3/4 cup flour, 1 cup sugar, 1 and 1/2 teaspoons baking powder, and 1/2 teaspoon salt.

Use

a microplane grater

to zest 2 large lemons into the dry ingredients. You want at least 2 tablespoons. Whisk it all together and set aside.

In a small bowl, microwave 1/4 cup butter until melted. Set aside to cool a bit.

In another large bowl* or stand mixer, add the wet ingredients: beat 2 large eggs until combined and smooth. Add 1/4 cup oil, 1 cup sour cream, and 1/3 cup lemon juice.

Add in the melted butter. Stir it all together.

Add the dry ingredients (and then wipe out the dry bowl and put it back in your cupboard.) Stir until combined. Make sure that everything is incorporated, but do not over beat. A few lumps are ok. See photos above to see the batter.

Pour the batter into the prepared pan and smooth out the top.

Bake at 350 for about 45-52 minutes. Every oven is different, so start checking early. The bread is done when there are brown spots on top and a toothpick, when inserted in the center, comes out with no wet batter on it.

Let the pan cool on a wire rack for 20 minutes before lifting the bread from the pan. Let the bread continue cooling on the wire rack while you make the glaze.

To make the glaze, add 2 cups of powdered sugar to a medium bowl. If it looks rather clumpy, sift it through a strainer so that you don't have lumps in your glaze.

Add 3 tablespoons lemon juice to the bowl and use a whisk to combine. Add more lemon juice if necessary to get a glaze consistency that easily drips off of a spoon.

Glaze the bread in increments. Add about 1/3 of the glaze to the cooled bread and spread to the edges, letting it drip down the sides. Allow the glaze to set for 10-20 minutes until it has formed a crust. (Stick it in the fridge or freezer to speed this up.)

Add another 1/3 of the glaze and let set as before.

Add the rest of the glaze and let set completely. You don't have to add the glaze in stages like this, but it's the best way to get a really thick glaze on top of the bread.

Slice the bread and serve!

Store the bread covered on the counter for 2-3 days. After that, store in the fridge.

This bread can be frozen and served later! Let thaw on the counter in the container that you froze it in (sealed).
Notes
*This recipe is really easy to mix by hand, there is no need for a mixer unless you want to use one.
Nutrition
Serving:
1
g
|
Calories:
403
kcal
|
Carbohydrates:
63
g
|
Protein:
4
g
|
Fat:
16
g
|
Saturated Fat:
6
g
|
Polyunsaturated Fat:
2
g
|
Monounsaturated Fat:
6
g
|
Trans Fat:
1
g
|
Cholesterol:
61
mg
|
Sodium:
254
mg
|
Potassium:
87
mg
|
Fiber:
1
g
|
Sugar:
45
g
|
Vitamin A:
340
IU
|
Vitamin C:
7
mg
|
Calcium:
74
mg
|
Iron:
1
mg