Peanut Butter Sheet Cake

My sister Laura lives in outerspace Texas, and we miss each other tons. Two years ago we decided that this summer we would go camping together in Colorado, which is a one day drive for each of us. We invited any other family members who wanted to come, and since our family is awesome, it's turned into a family reunion, even though Colorado is a two-day drive for our California family. Oh wait…that's us now, as of 8 days ago. So we are driving 2 days to camp with a total of 23 family members, 13 of whom are under the age of 10. One of them is my 3 month old baby.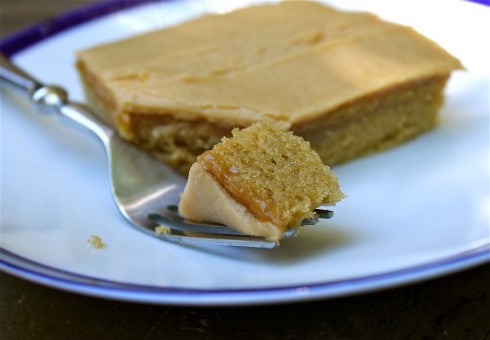 It's like Christmas all over again. My brother Eric told one of his coworkers last December that he was going to be spending the holidays in a house with 20 relatives, and after seeing the look on the guy's face had to clarify, "No, you don't understand, we actually like each other." I am so excited to hang out with my family in the middle of nowhere, dirt-smeared, booty-frozen, and sleep deprived. It's going to be epic. If you feel like sharing any tips for camping with kids, I'm all ears.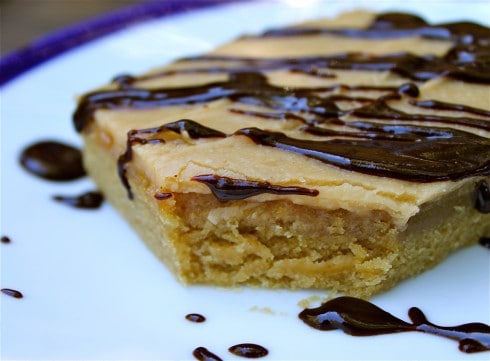 Sheet cake. It's a glorious thing. This here is a peanut butter version, and it doesn't really get any better than this. Oh wait…except when you smear melted chocolate on top of it.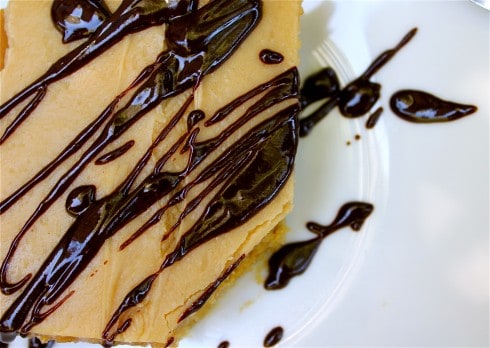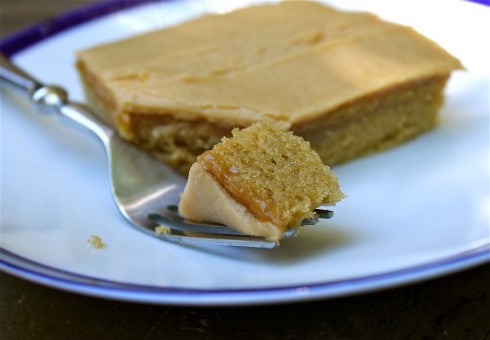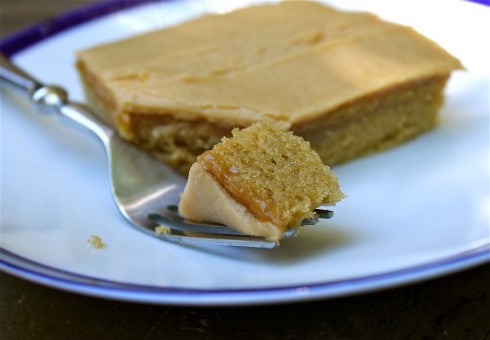 print
Did you make this recipe?
Leave a review »
Peanut Butter Sheet Cake
Ingredients
Cake
1/4

cup creamy peanut butter

1

cup water

1/2

cup butter

1

cup sugar

1

cup brown sugar

2

cups flour

1

teaspoon salt

1

teaspoon baking soda

2

eggs

1/2

cup buttermilk

1

teaspoon vanilla
Frosting
3/4

cup butter

6

tablespoons buttermilk

1/2

cup peanut butter

3 1/2

cups powdered sugar

1

tablespoon vanilla

melted chocolate, for drizzling (optional)
Instructions
Preheat oven to 375 degrees.
For the cake: In a medium pot combine the peanut butter, water, and butter, and bring to a boil. Remove from heat.
In a separate bowl, mix together the sugar, brown sugar, flour, salt, and baking soda with a whisk. Add to the peanut butter mixture and combine.
Add the eggs, buttermilk, and vanilla to the bowl and mix well.
Pour into greased or parchment lined baking sheet that has an edge, such as a 12X17 jellyroll pan. Bake for 15 minutes at 375 degrees, or until a toothpick comes out clean.
For the Frosting: In a small pot bring the butter, buttermilk, and peanut butter to a boil. Remove pan from the heat and beat in the powdered sugar and vanilla. Pour frosting over the warm cake.
by The Food Charlatan

If you make this recipe,
share it on Instagram
 using the hashtag
#TheFoodCharlatan
so I can see it!
Source:
The Girl Who Ate Everything
We are a participant in the Amazon Services LLC Associates Program, an affiliate advertising program designed to provide a means for us to earn fees by linking to Amazon.com and affiliated sites.