A delightfully peachy cake made from a cake mix and a packet of Jello, of all things! There are real peaches in the cake, which makes it super moist (ok, and a lot of oil). It is topped with a rich brown sugar frosting!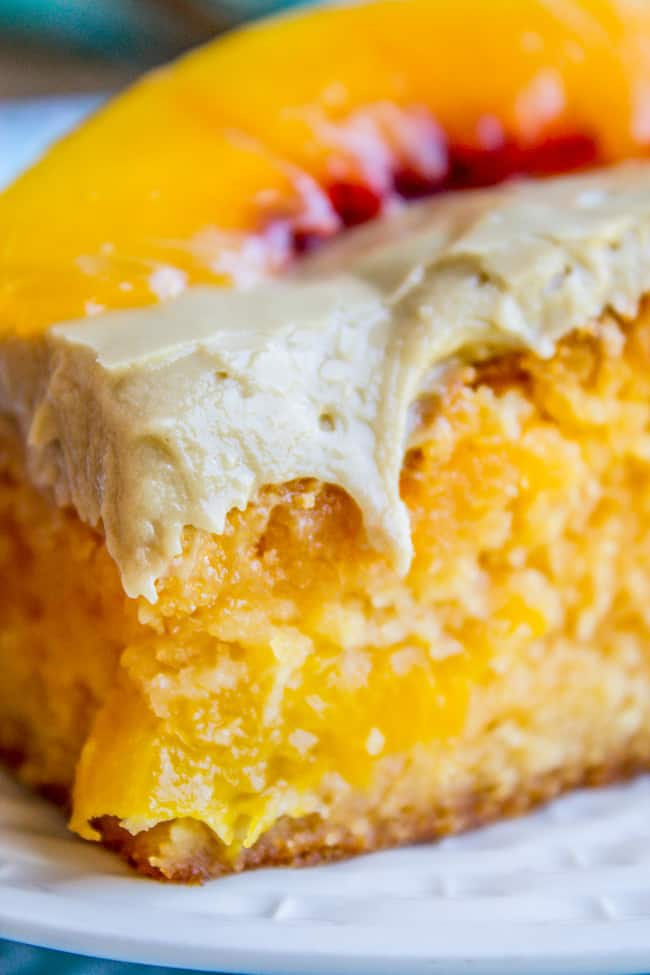 GUYS! I've been waiting for this day for years. YEARS. (I actually just stumbled on an old blog post of mine from 2013 where I talk about this day.)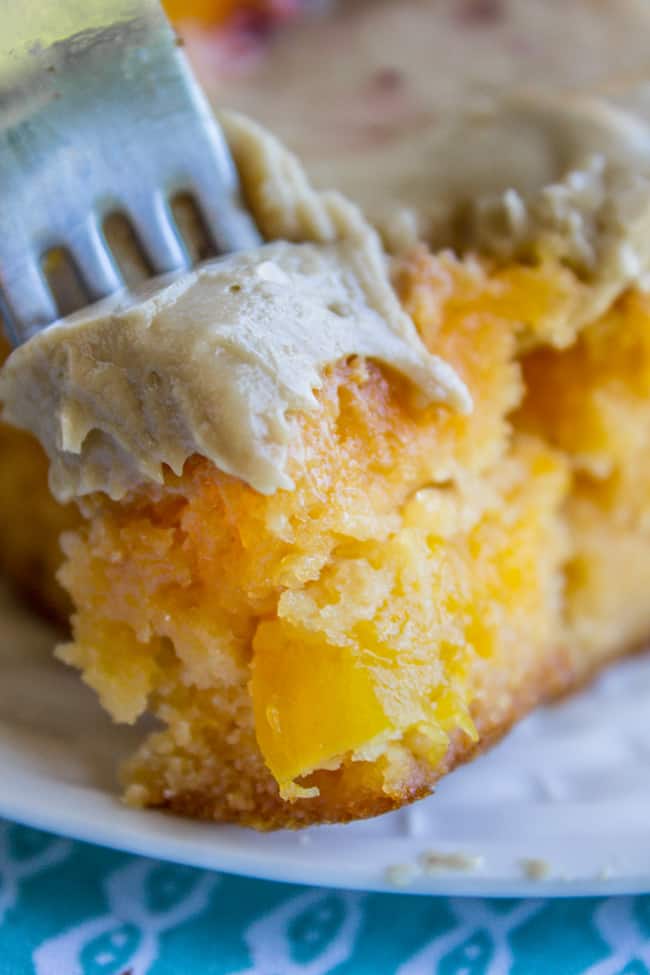 My sister Nikki wrote a book and now it's published! And it's being released TODAY! You can buy a print copy OR the ebook on Amazon.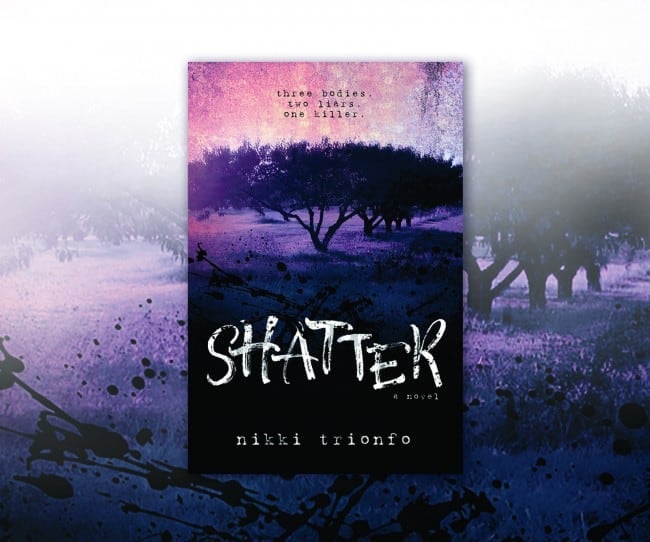 Doesn't it look so cool?
I've been reading this book from draft one. Nikki started writing it about 5 years ago and has been working to get it published ever since. It's finally here!! Want to see the back?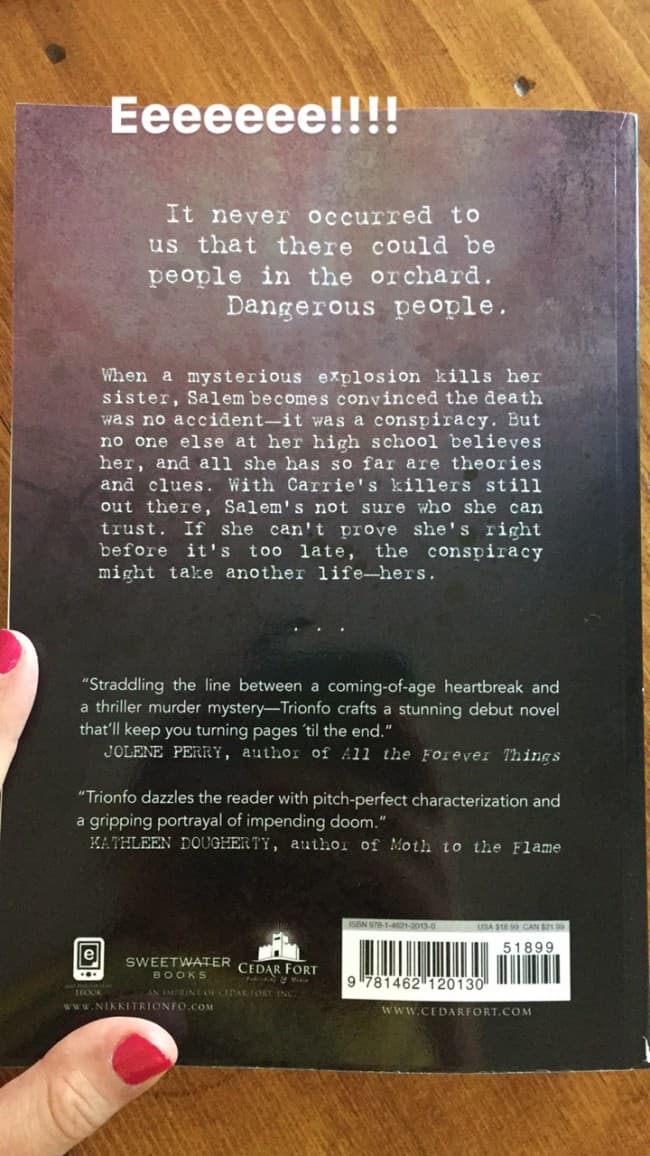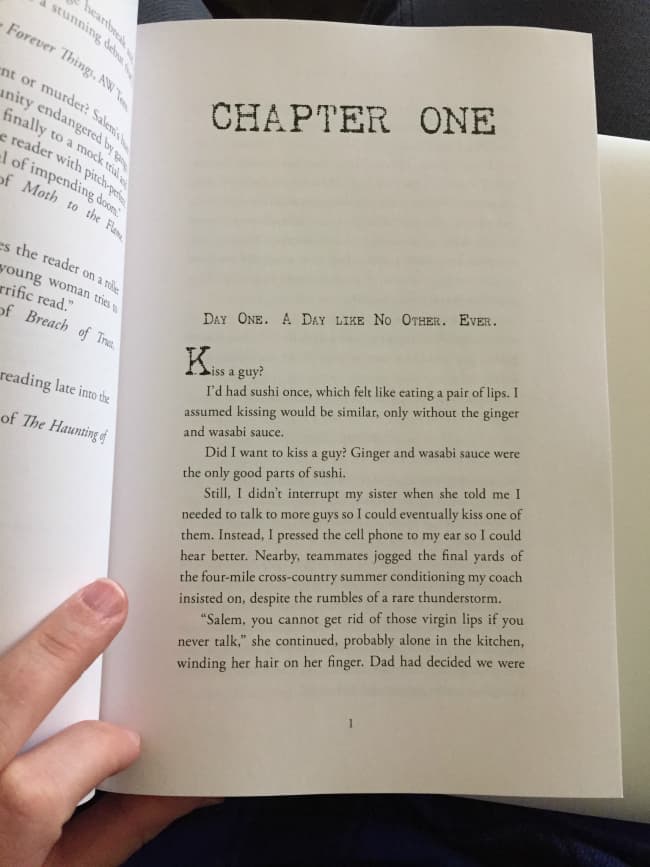 Salem is a shy high school girl whose sister (and idol) was killed in a freak gas explosion. (If that wouldn't shatter you, I don't know what would.) But she's starts to realize that Carrie's death was no accident. You can read the whole first chapter if you click the "LOOK INSIDE" link right above the book cover on Amazon.
It's so good!! Check it out! I love this story so much!

Did you know that authors often have very little control over the marketing aspects of their books? Including the back cover synopsis. What it doesn't mention is that there is a frenemy-type romance that's pivotal to the story: Cordero, super hot and mysterious gang member, who Salem's trying to get information from (to answer questions about her sister's death.) He's my favorite character!
I asked Nikki what recipe I should make for her book release, and she suggested something with peaches. In the book there is a union strike going on, so none of the peaches in the orchards surrounding the town are getting picked. They're just falling and rotting. (Spoiler alert, Salem gets rotten peaches thrown at her one time. How fun is that?? Can you imagine?)
Peach Cake with Brown Sugar Frosting
Have you ever made this Blackberry Cake with Coconut Cream Cheese Frosting? It's a yellow cake mix with a packet of raspberry jello and a pound of frozen blackberries. Sounds weird, but it's delicious and is a HUGE family favorite around here.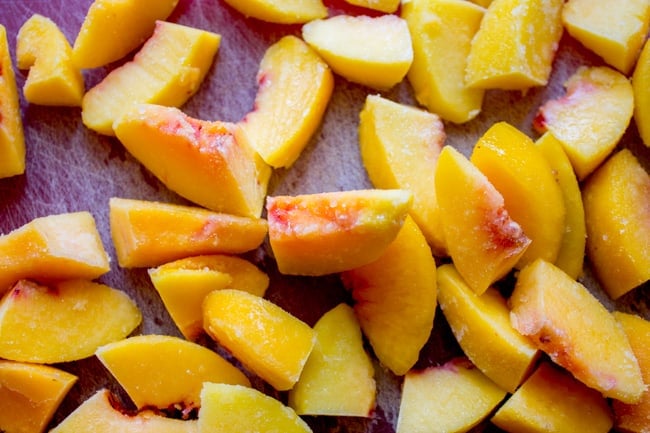 Cut the sliced peaches in half.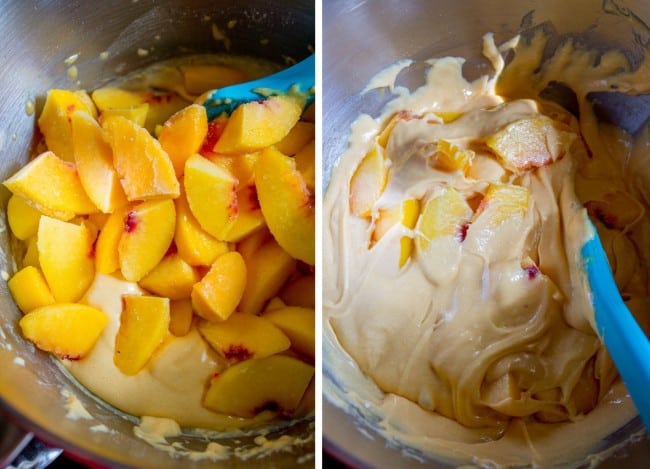 This is the frosting. Left: before ice bath. Right: post ice bath.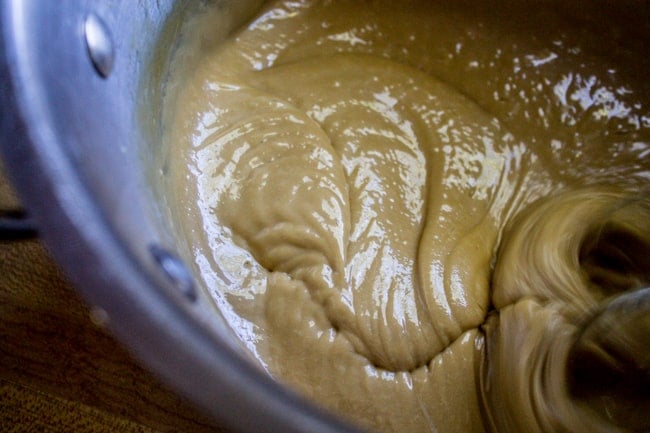 Beat 3-5 minutes.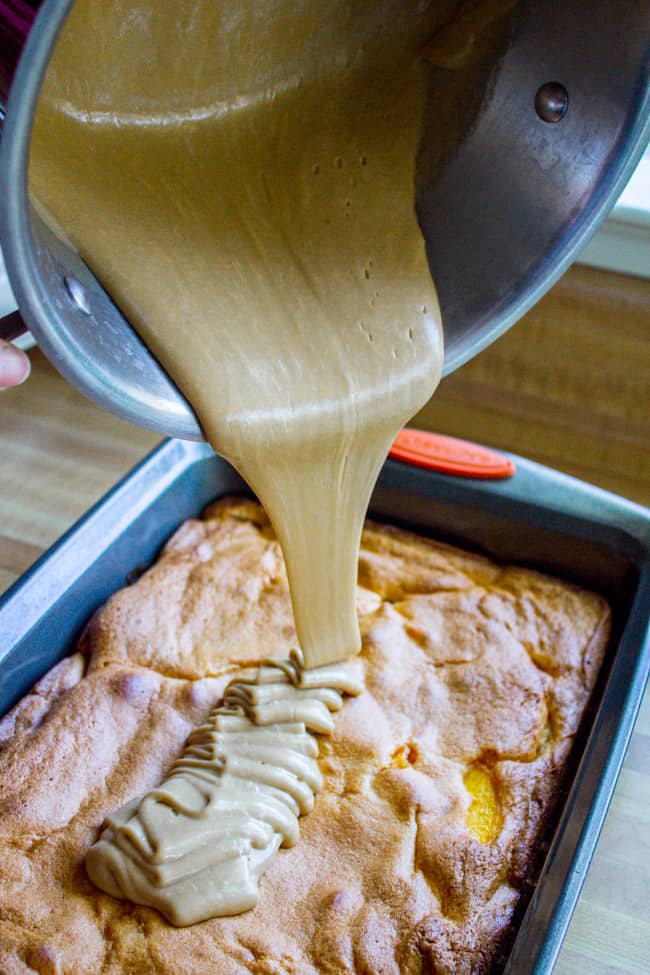 I turned it into a peach cake: yellow cake mix, peach jello, a pound of frozen peaches, and BROWN SUGAR frosting, which almost borders on caramel frosting. The jello is what makes the cake so delightfully orange (or pink, in the case of the Blackberry Cake.) The corners are my favorite part. The edges of the cake get very brown but they do not dry out. Instead they are ultra chewy, the opposite of most cakes. It's ridiculously easy to make and it's SO GOOD!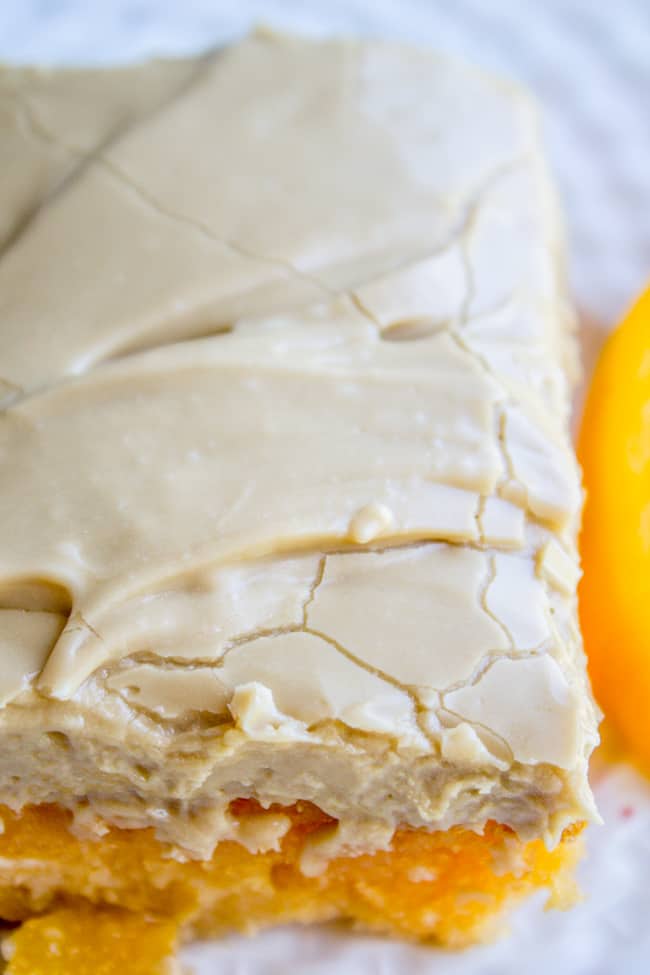 It's also super rich. The cake is sweet and the frosting is even sweeter. It is the same super fudgey frosting that goes on top of Nana's Famous Fudge Brownies, except I left out the chocolate and used brown sugar instead of white. The result is an ultra decadent, caramel-y icing.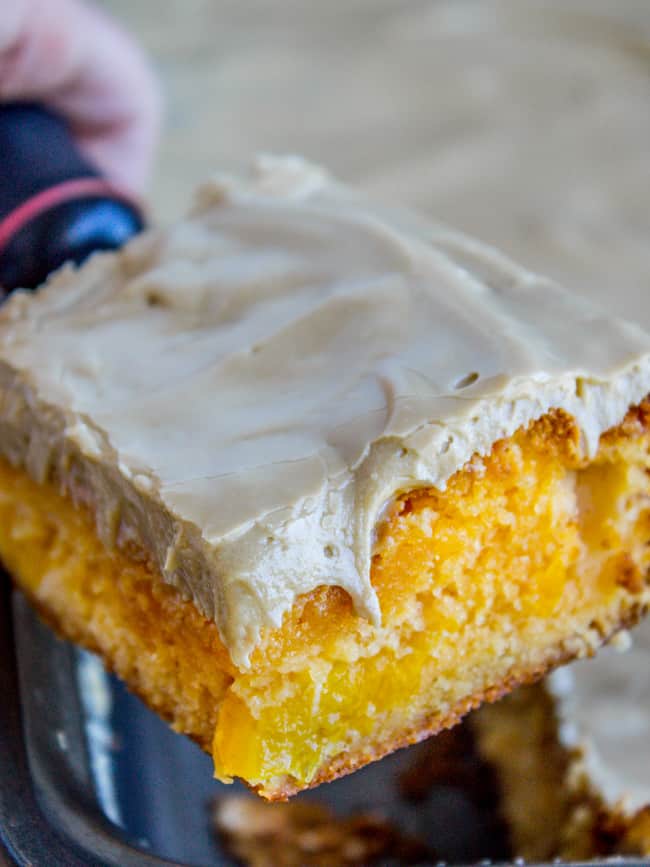 I think it's an amazing combo. Brown sugar + peaches, HELLO. But if you think it sounds overwhelming, you could swap out the brown sugar frosting for the cream cheese frosting that goes on the Blackberry Cake. (Omit the coconut extract.)
I brought this over to my friend Sarah's house today and she told me that she hates Jell-O and hates box mixes but she loved this cake. WIN!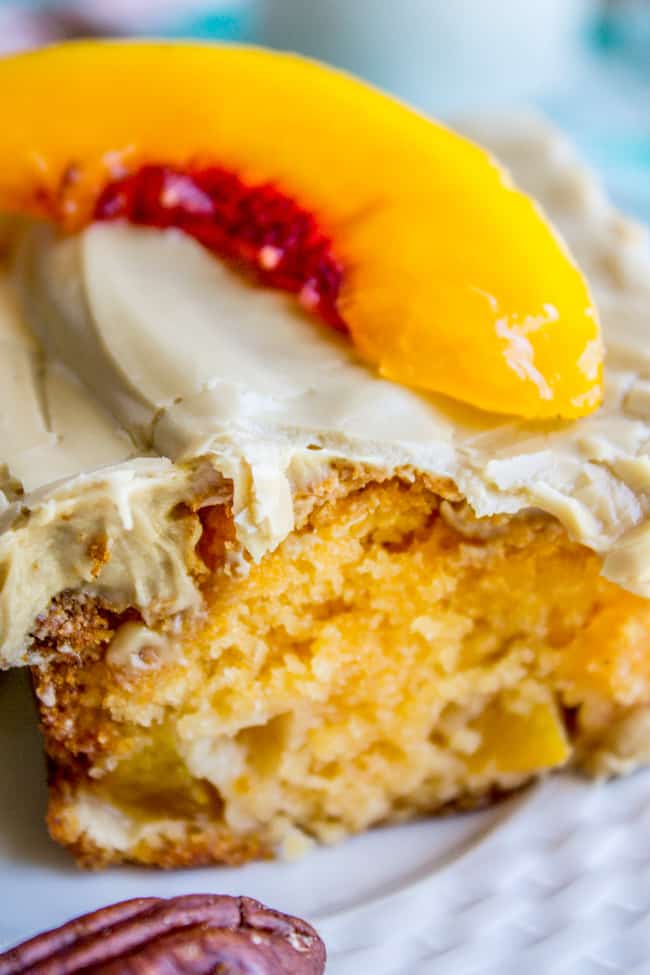 Just look at that chewy edge!!
Congrats Nikki! You did it! You are officially an author. Dreams do come true! Live it up! You deserve it! I will always be your biggest fan! (Well. Except Mom.)
Facebook | Pinterest | Instagram

Peach Cake with Brown Sugar Frosting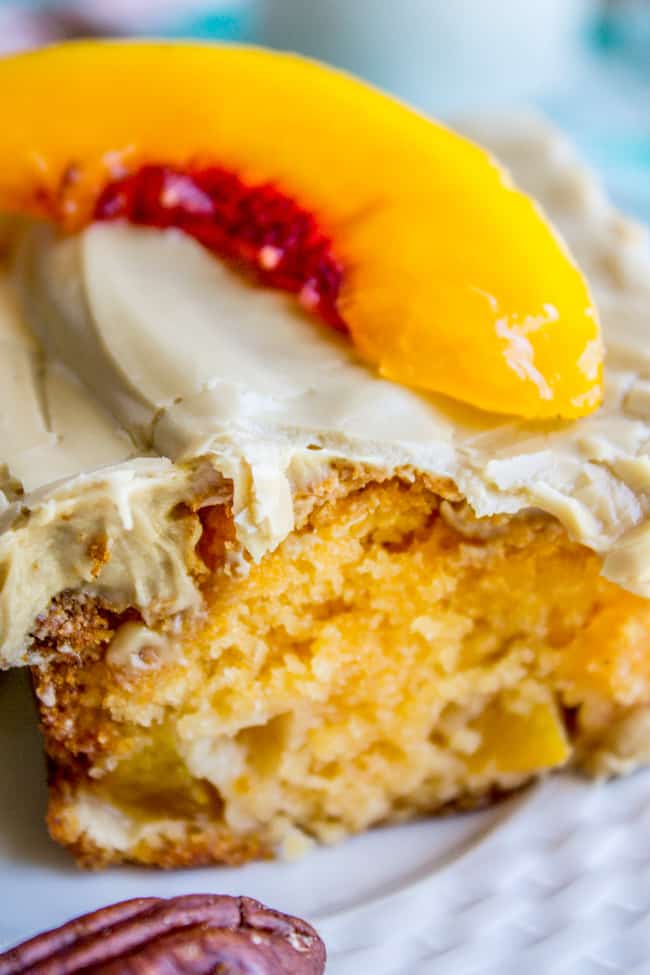 A delightfully peachy cake made from a cake mix and a packet of Jello, of all things! There are real peaches in the cake, which makes it super moist (ok, and a lot of oil). It is topped with a rich brown sugar frosting!
Ingredients
For the cake:
1 (15-oz)

box

yellow cake mix

2 (3-oz)

boxes

Peach Jell-O

,

not made

4

eggs

1

cup

oil*

1 (16-oz)

bag

frozen peaches

,

do not thaw**
For the frosting:
1/2

cup

salted butter

,

(1 stick)

2

cups

brown sugar

,

packed

2/3

cup

heavy cream

1

teaspoon

vanilla

ice water

,

for an ice bath, not to go in the recipe
Instructions
Preheat the oven to 350 degrees F.

Grease a 9x13 inch cake pan.

In a large bowl or stand mixer, beat together the cake mix, 2 boxes of peach Jell-O, 4 eggs, and the cup of oil.

Open the bag of frozen sliced peaches. Cut each slice in half so they are a little more bite size.

Use a sturdy wooden spoon to fold the peaches into the cake batter.

Pour the batter into the greased cake pan.

Bake at 350 for about 40-45 minutes. Check the center of the cake with a toothpick; if it comes out without batter it is done. (very moist crumbs are ok.) The edges will be quite brown.

Let the cake cool completely on a wire rack.

While the cake cools, make the brown sugar frosting. In a 2 quart pot, add butter, brown sugar, and heavy cream.

Stir together over medium high heat until it reaches a boil (bubbles all the way across the top). Set a timer for 1 minute and stir frequently.

Remove from heat. Stir in the vanilla.

Prepare an ice bath. Set the pot of frosting in the ice bath (don't get water in the frosting!!) Let the frosting cool in the ice bath, scraping sides occasionally, until the frosting is room temperature and much thicker. See photos.

Use a hand mixer to beat the frosting for about 3-5 minutes, until it is thicker but still pourable.

Spread the frosting over the cooled cake.

This keeps on the counter for a day or two, but after that I would put it in the fridge. Good luck keeping it around that long!
Notes
* I like to use light tasting olive oil, but you can use any vegetable oil.
**I've never tried it, but I think this would work fine with fresh or canned peaches. Just make sure they are drained VERY well. I wanted to try the recipe with fresh, but it's May and they just aren't available yet!
Nutrition
Serving:
1
g
|
Calories:
639
kcal
|
Carbohydrates:
82
g
|
Protein:
5
g
|
Fat:
34
g
|
Saturated Fat:
10
g
|
Polyunsaturated Fat:
6
g
|
Monounsaturated Fat:
16
g
|
Trans Fat:
1
g
|
Cholesterol:
93
mg
|
Sodium:
428
mg
|
Potassium:
171
mg
|
Fiber:
1
g
|
Sugar:
66
g
|
Vitamin A:
633
IU
|
Vitamin C:
3
mg
|
Calcium:
127
mg
|
Iron:
1
mg
More fruity cakes you will like I'm sure!
Blackberry Cake with Coconut Cream Cheese Frosting << this is the original cake for today's recipe. I just did peach instead of blackberry! Follow this link to get the cream cheese frosting recipe. It would taste really great on today's peach cake, if brown sugar frosting isn't your thing.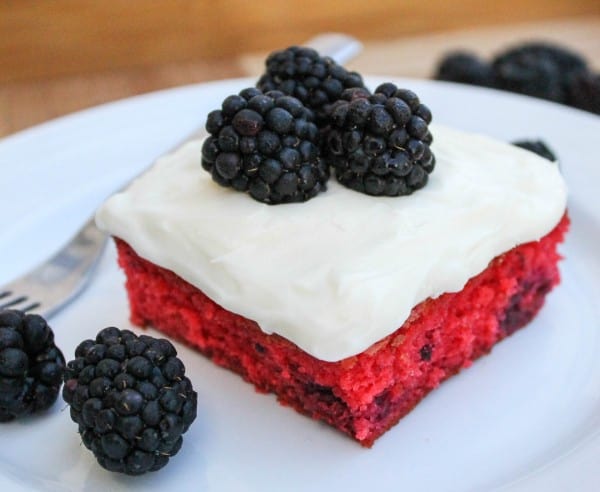 Chocolate Cherry Sheet Cake with Fudge Frosting << So decadent!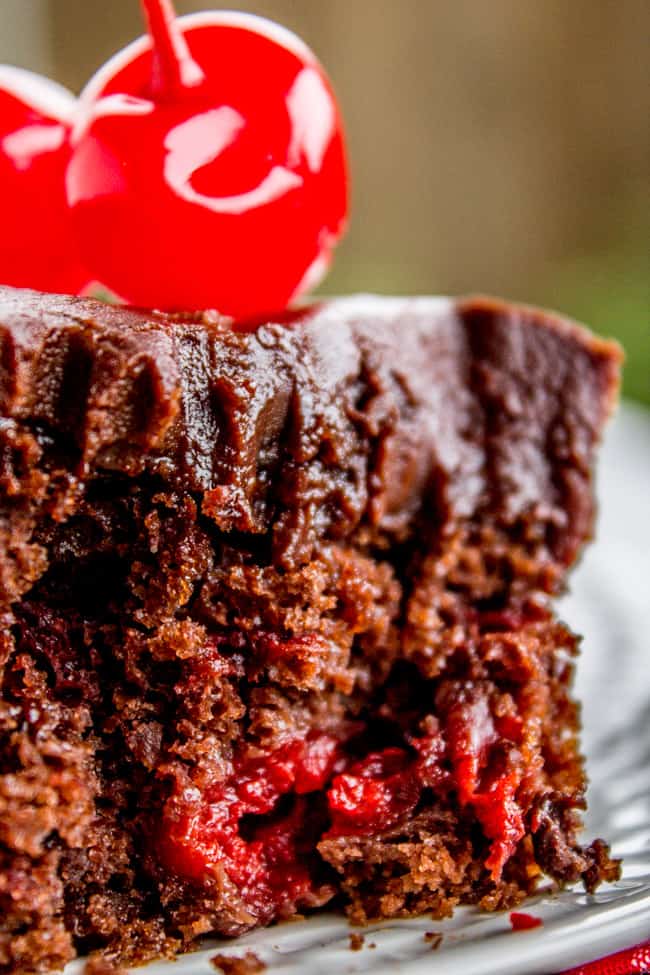 Strawberry Truffle Cake << You get to make a cake. And then smash it. Then add strawberries. So fun!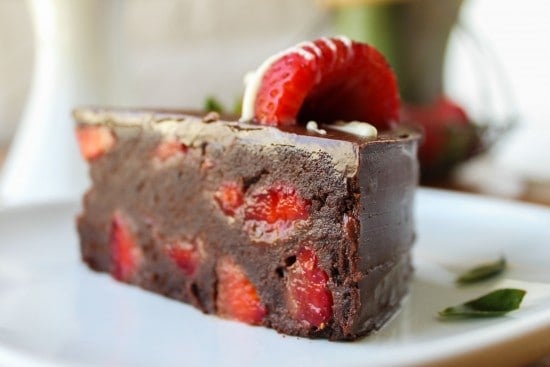 More peach cake to love!
Peach Coffee Cake from The Baker Mama
Grilled Pound Cake with Warm Peach Coulis from Noble Pig
Peach Breakfast Cake from Reluctant Entertainer