These Fresh Raspberry Lemon Cookies are absolutely bursting with flavor! It's like summer in the shape of a cookie. There are fresh (frozen) raspberries in the dough, and fresh lemon juice and zest. The glaze puts them over the top!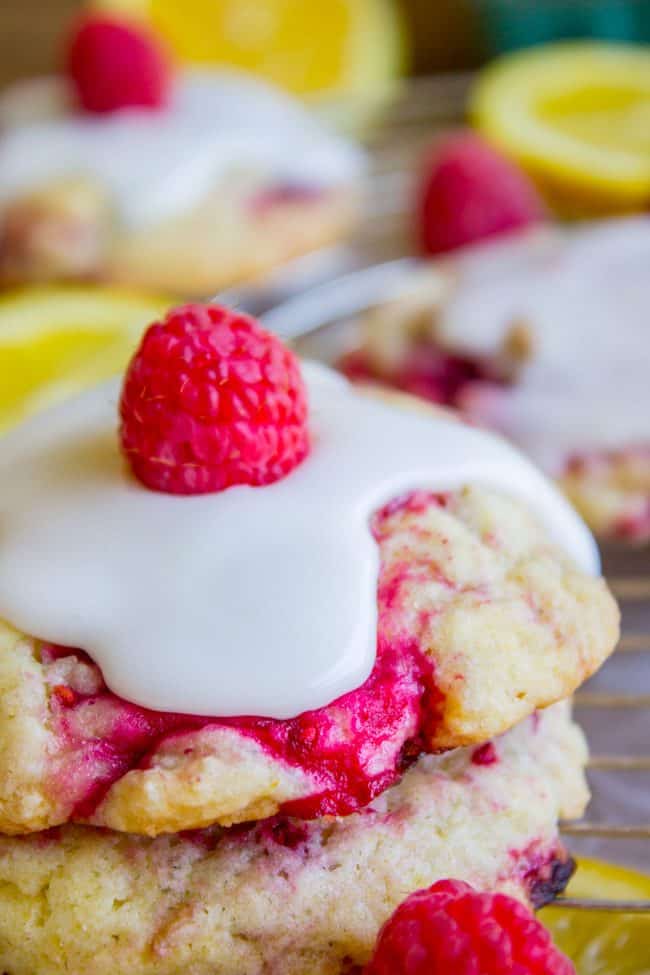 I cannot even tell you how many batches of Raspberry Lemon Cookies I have made over the past month. Sooo many. These were definitely a labor of love! My dedication to all things raspberry and lemon is strong.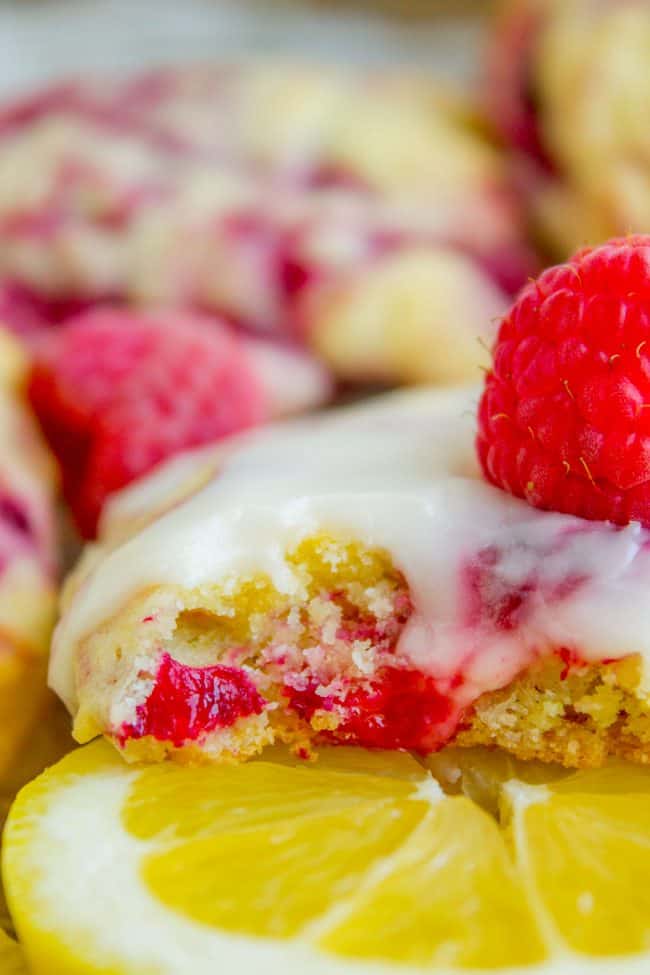 In one of my tests, I tried using lemon extract instead of fresh lemon juice. I really don't use lemon extract that much, but I had two jars of it in my cupboard: one from a couple years ago when Nielsen Massey sent me a box of different products when I was working with them on a sponsored post (I ended up using vanilla to make these Slow Cooker Brown Butter Carrots), and the other from just a couple months ago when I went to a blogging conference (Nielsen-Massey provided some products in the swag bags.)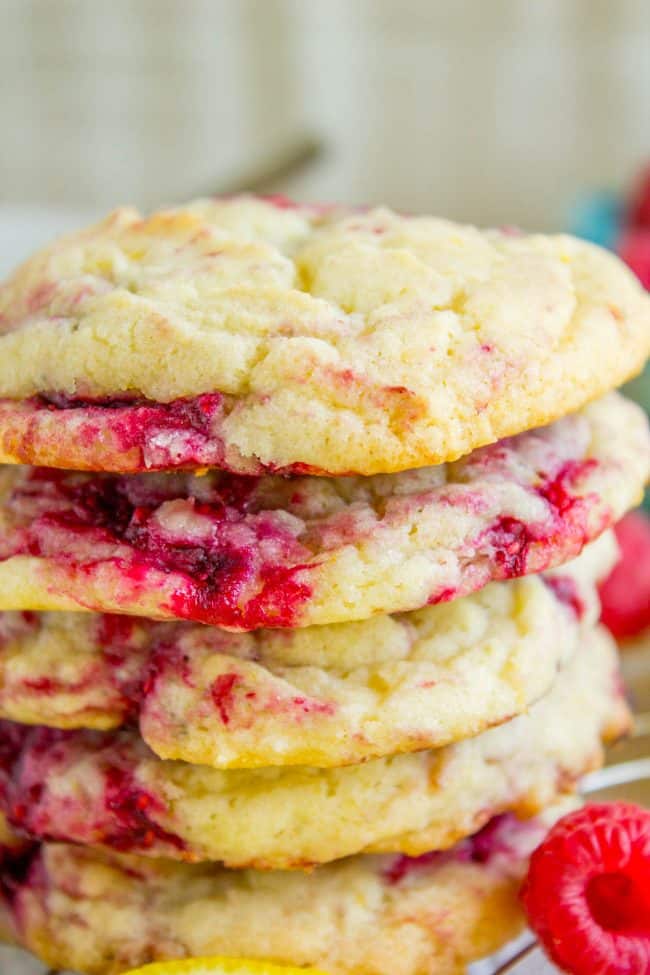 So naturally I used the older one, because my mom taught me to be frugal and responsible and all that. I measured it out and dumped it in, and as I'm mixing up the dough, I think to myself, huh, lemon extract smells kinda weird I guess. Oh well, it must be the alcohol, I'm sure it will bake off in the oven.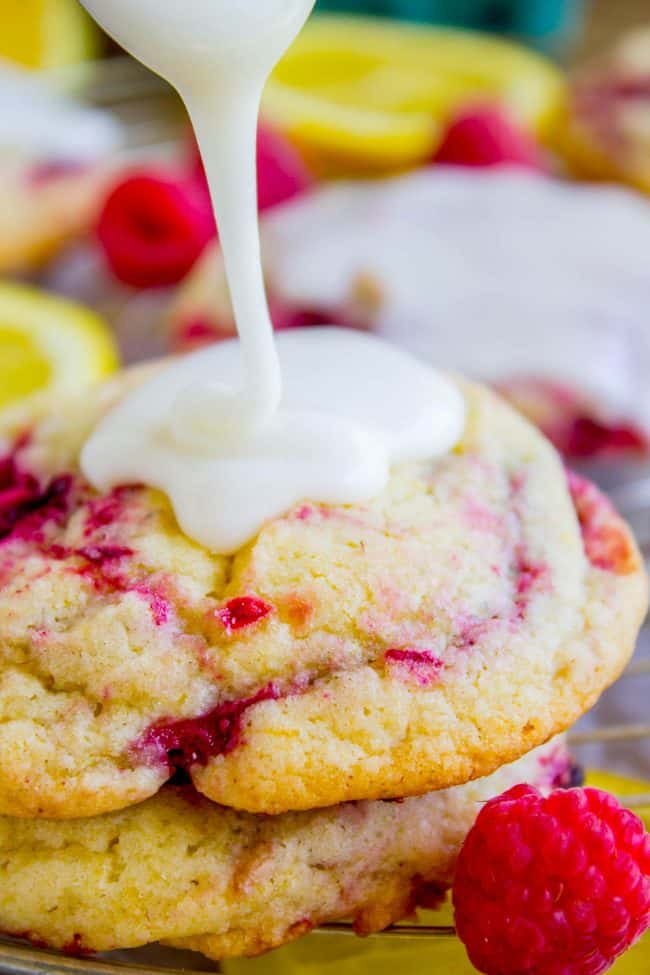 Famous last words. It did not bake off in the oven because it wasn't alcohol I was smelling, it was completely rancid. How do you not notice this?? Like seriously, sometimes my brain tries to help me out. It gives me clues, like, "dude this smells weird." Why don't I listen to it?? If something smells funny, don't put it in your cookies!!!! Moron!
The cookies were terrible and I dumped them straight in the trash. There is nothing sadder than seeing an entire batch of freshly baked, beautiful looking cookies in your trash can.
But, I persevered. I used the other jar of lemon extract on the next batch and found out that lemon extract is kinda chemically, even when it's not rancid. Or maybe I just used too much. (Do you guys have any recipes you love using lemon extract?) Anyway, the cookies didn't taste lemony enough, so I moved back to testing with lemon juice. You just can't beat the fresh, bright flavor of fresh lemon, I guess.
How to make Raspberry Lemon Cookies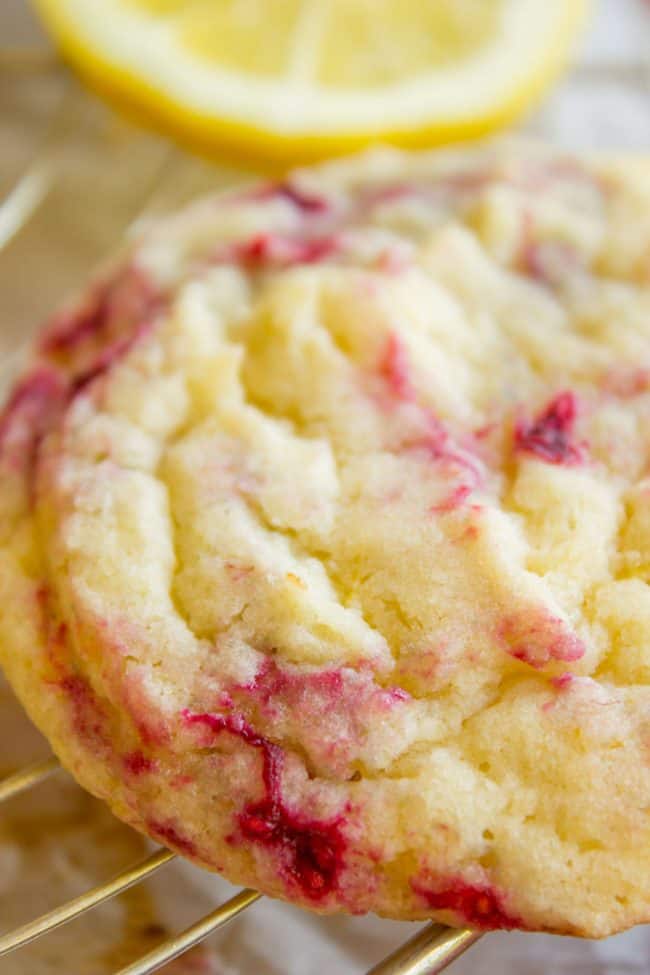 I'm doing a terrible job of telling you how amazing these raspberry lemon cookies are. I promise, the final recipe posted here is fabulous!!! It is a tender, chewy cookie that is full of buttery flavor, tangy lemon, and fresh raspberries. (And by fresh I mean frozen of course. Baking with frozen berries is always a good idea, they are usually more "fresh" than the fresh ones in the produce section, because they are picked and frozen right away.)
I love these cookies all by themselves and ate way too many of them. But when you drizzle it with lemon glaze and top it with a fresh raspberry?? These cookies are unstoppable. SO good and the perfect summer treat.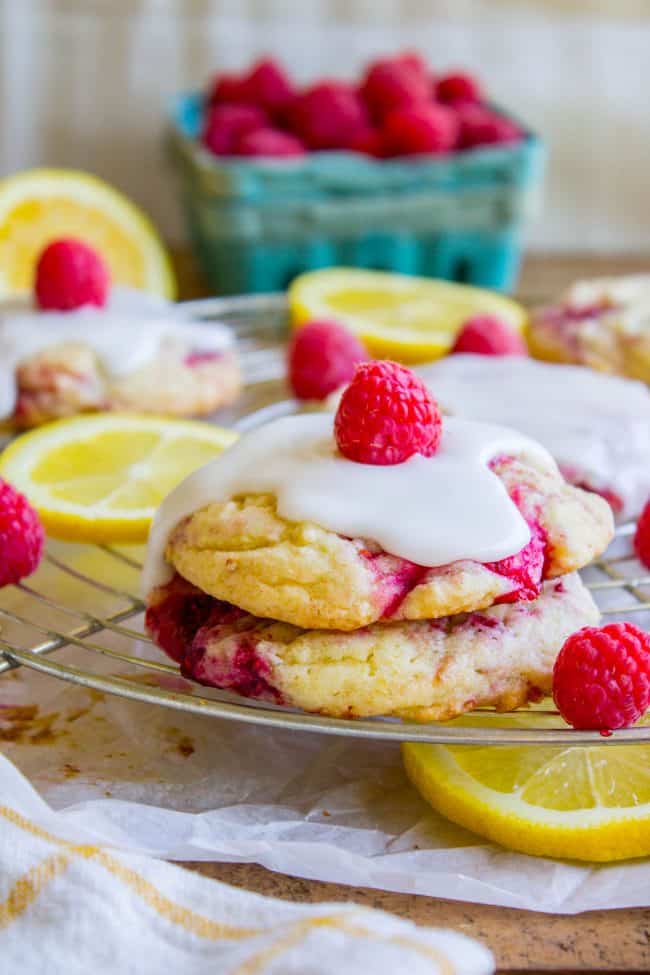 Just like I mentioned in my last cookie post for these Soft Chocolate Cookies with Peanut Butter Frosting, these raspberry lemon cookies are kind of an experience. The glaze and fresh raspberry on top make them feel super fancy. They would be great for a summer BBQ, or a bridal/baby shower, or anything where presentation is important. Just look how pretty they are!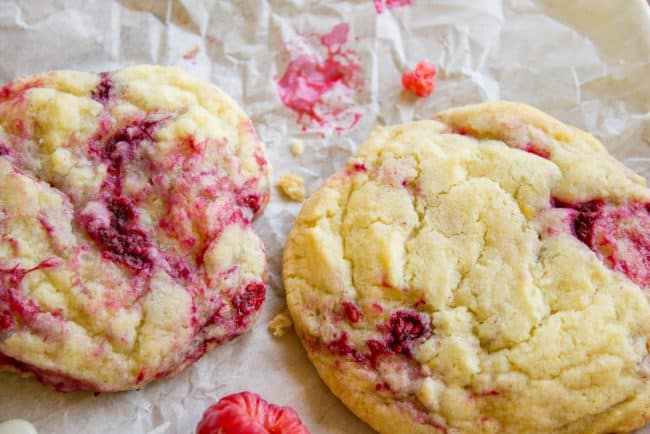 (On the left, a cookie that got pretty saturated with raspberries. On the right, a cookie that has good streaks of lemon dough. It will puff up more.)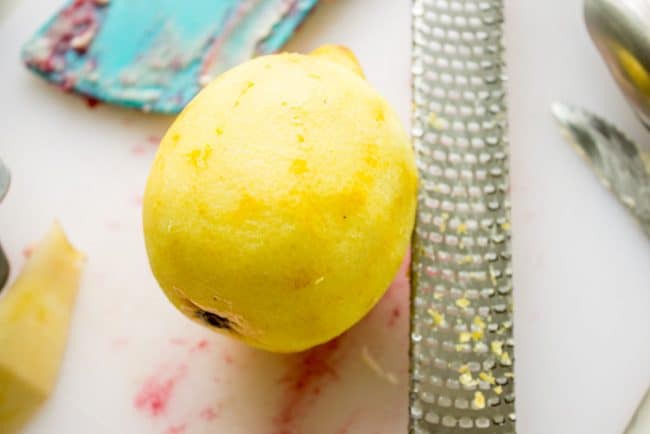 They are so easy to make. There is no chilling required for the dough, so you can go from zero to cookies in about 30 minutes. Buy a microplane grater to make zesting a manageable, even pleasant experience. It's one of my favorite kitchen tools!!
Facebook | Pinterest | Instagram | Twitter
One year ago: Chocolate Cherry Hand Pies
Five years ago: Strawberry Rhubarb Italian Sodas
Six years ago: Barbacoa Beef

Fresh Raspberry Lemon Cookies with Glaze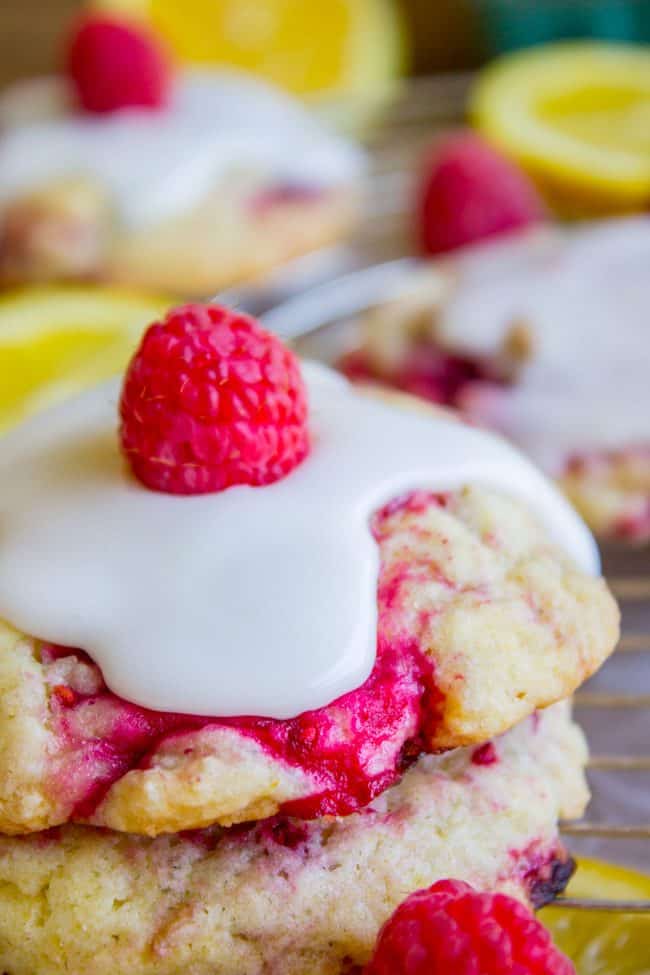 These Fresh Raspberry Lemon Cookies are absolutely bursting with flavor! It's like summer in the shape of a cookie. There are fresh (frozen) raspberries in the dough, and fresh lemon juice and zest. The glaze puts them over the top!
Ingredients
For the cookies
4

tablespoons

butter

,

softened

4

tablespoons

butter flavored shortening

1

cup

white sugar

1

lemon

Lemon Zest

1

tablespoon

lemon juice

,

fresh

1

large

egg

2

cups

all purpose flour

1/4

teaspoon

salt

1/4

teaspoon

baking powder

1/4

teaspoon

baking soda

3/4

cup

frozen raspberries

,

still frozen
For the glaze
3

tablespoons

lemon juice

,

fresh

1 & 1/2

cups

powdered sugar

,

or more

fresh raspberries

,

to garnish
Instructions
Preheat your oven to 350 degrees F. Line a baking sheet with parchment paper or a silpat. Don't get the raspberries out of the freezer yet, leave them in until the very last minute.

In a large bowl or stand mixer, beat together the butter and shortening for 1-2 minutes, scraping the sides and bottom.

Add the sugar and lemon zest and beat well, another 1-2 minutes, until fluffy.

Add 1 tablespoon lemon juice and the egg. Beat well.

Add 2 cups of flour but don't mix yet. Use a small spoon to stir the baking powder, baking soda, and salt into the flour. Beat until almost combined (It will have formed a dough but there might still be streaks of flour.)

Get the raspberries out of the freezer. Measure out 3/4 cup onto a cutting board and chop roughly with a sharp knife. You want each raspberry to be at least chopped in half but not much more than that. Break up any big clumps.

Carefully stir the raspberries into the dough with a spatula or wooden spoon. Don't over mix; you want there to be sections of lemony dough that don't have raspberries in them. If you mix too much it will turn all the dough pink.

Use a cookie scoop to immediately shape all the dough. You should get about 15 cookies. Add 6-8 to the prepared pan, at least 2 inches apart.

Bake at 350 for 14-15 minutes, or until the edges have barely turned golden. Make sure that the top of the cookie is not too shiny. If it still looks raw in the middle, leave it in for another couple minutes.

Once you have the cookies in the oven, immediately shape the other cookies and place on a plate or another prepared baking sheet, if it will fit in your freezer. Place the plate in the freezer (otherwise the raspberries will start melting and get liquid everywhere. You need them to go in the oven frozen.)

Bake the remaining cookies right away once the oven is free. Bake them the same amount of time.

If you want to save the other cookies for later, transfer the shaped dough to a ziplock freezer bag. You can freeze it for up to 2 months. (I do this with all my cookies! Cookie dough freezes beautifully.) Don't thaw before baking. Just plop them on the pan and throw it in a preheated oven. You might need to increase the baking time by a couple minutes.

Let baked cookies set on the pan for 5 minutes, then transfer to a cooling rack. Let cool completely. You can speed this up by putting them in the fridge or freezer if you want.

Make the glaze: in a small bowl combine 3 tablespoons fresh lemon juice (about 1 lemon) and the powdered sugar. Add more lemon juice or powdered sugar to get the consistency you want. (I like my glaze a little thick.)

Use a spoon to glaze the cookies. Let the frosting set at room temperature. Top each cookie with a fresh raspberry.

These cookies are best served on the day you make them. Store leftover cookies in the fridge.
Notes
*Whenever I call for shortening in a cookie recipe I get people asking me if they can replace it with butter. You always can! You will get flatter cookies though.
** I HIGHLY recommend this microplane grater for zesting citrus. It is so sharp and I use it all the time! One of my favorite kitchen tools for sure.
Some discoloration will start to happen after the cookies are baked. The raspberries turn a little purple. This is normal and they still taste great, but for that reason I recommend making these on the same day you plan to serve them.
Nutrition
Serving:
1
cookie
|
Calories:
236
kcal
|
Carbohydrates:
42
g
|
Protein:
3
g
|
Fat:
7
g
|
Saturated Fat:
3
g
|
Polyunsaturated Fat:
1
g
|
Monounsaturated Fat:
2
g
|
Trans Fat:
1
g
|
Cholesterol:
20
mg
|
Sodium:
97
mg
|
Potassium:
69
mg
|
Fiber:
2
g
|
Sugar:
26
g
|
Vitamin A:
121
IU
|
Vitamin C:
9
mg
|
Calcium:
17
mg
|
Iron:
1
mg
More delicious cookies you will love!
Raspberry Lemon-Glazed Muffins << these are the muffin version of today's recipe!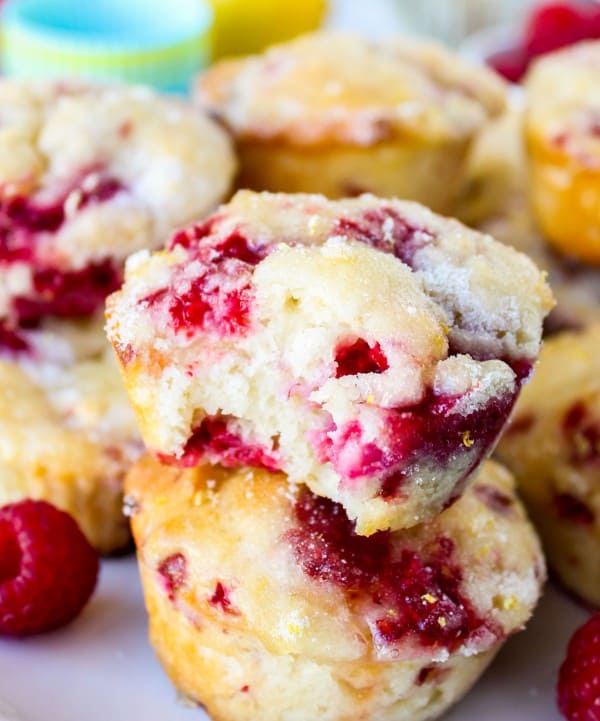 Raspberry Almond Thumbprint Cookies << these are a classic! Have you made them??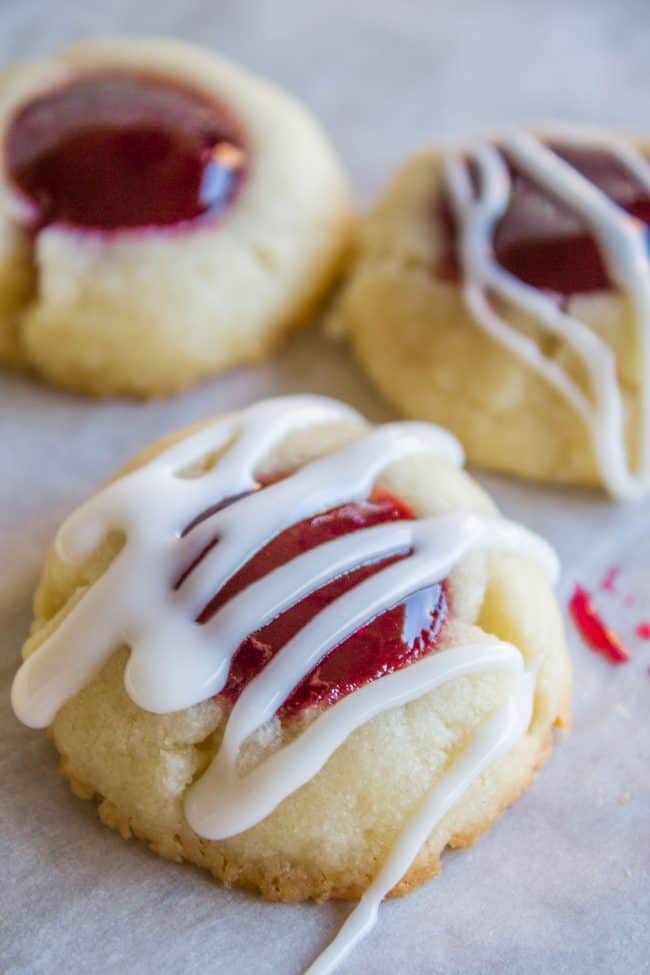 Coconut-Frosted Sugar Cookies with Strawberry Hearts << I LOVE these. Why are cookies so good??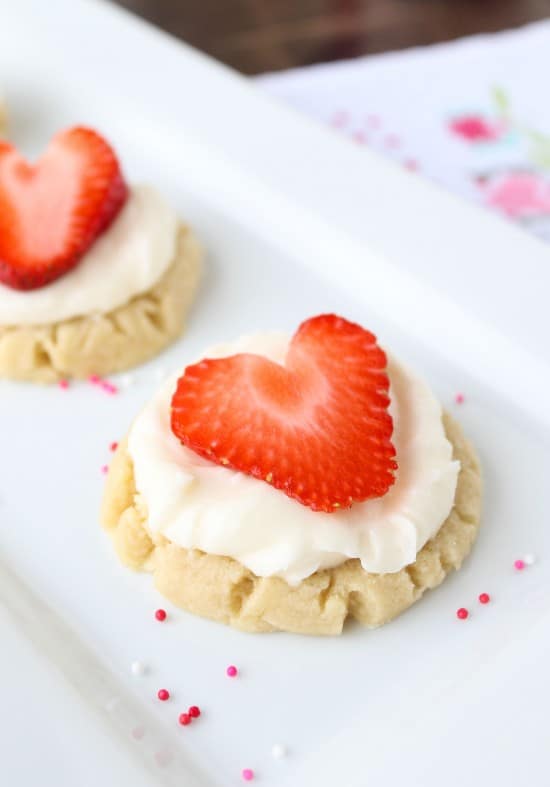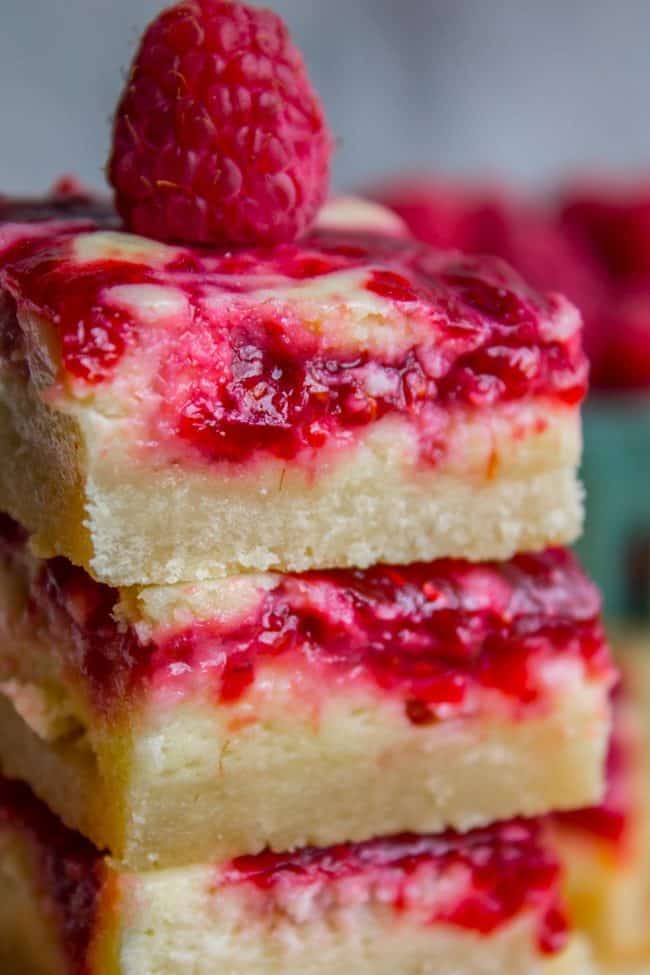 More lemon raspberry flavors from other bloggers!
Lemon Raspberry Sugar Cookies from Oh Sweet Basil
Raspberry Lemon Tartlets from Noble Pig
Raspberry Lemon Bars from Texanerin