This Cranberry Cherry Pie is just what you need for Thanksgiving! It's has perfect pops of tart from of the cranberries. The almond glaze on the top adds the perfect crunch! 
How's Thanksgiving prep going at your house? We're in full baking mode over here.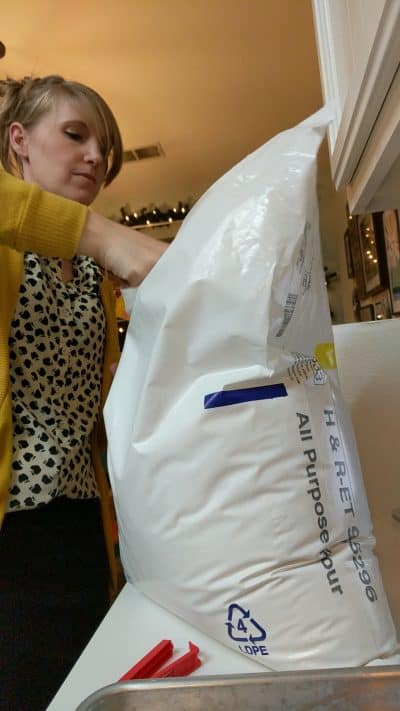 BOOM. My brother snapped this picture of me dipping into my 25 pound bag of flour. (I don't normally buy the huge bags because I hate hauling them home, but remember how I told you that Costco delivers for free now?? So I made someone else haul it. And now I have enough flour to last me through the apocalypse…or at least through Thanksgiving.)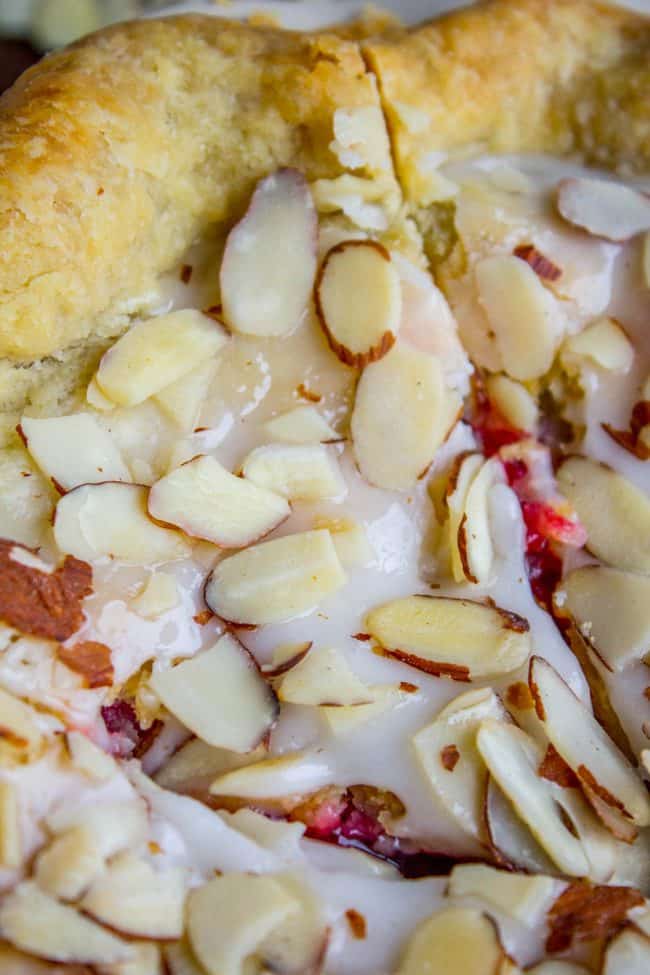 I've already made a batch of Aunt Shirley's Famous Buttery Rolls and froze them for the big day. (I actually made ANOTHER batch of those rolls and flash froze them before the first rise as described on this post. I'm super excited to see if they turn out. If not, at least I have back ups!)
I already made my Make Ahead Turkey Gravy. The turkey is thawing in the fridge. I'm planning to brine it on Wednesday and then make this Sage Butter Roasted Turkey. It's so good. I cook my turkey in a bag. It always turns out, so why not?? I just posted tons more ideas for What to Make for Thanksgiving, check it out if you need more menu ideas!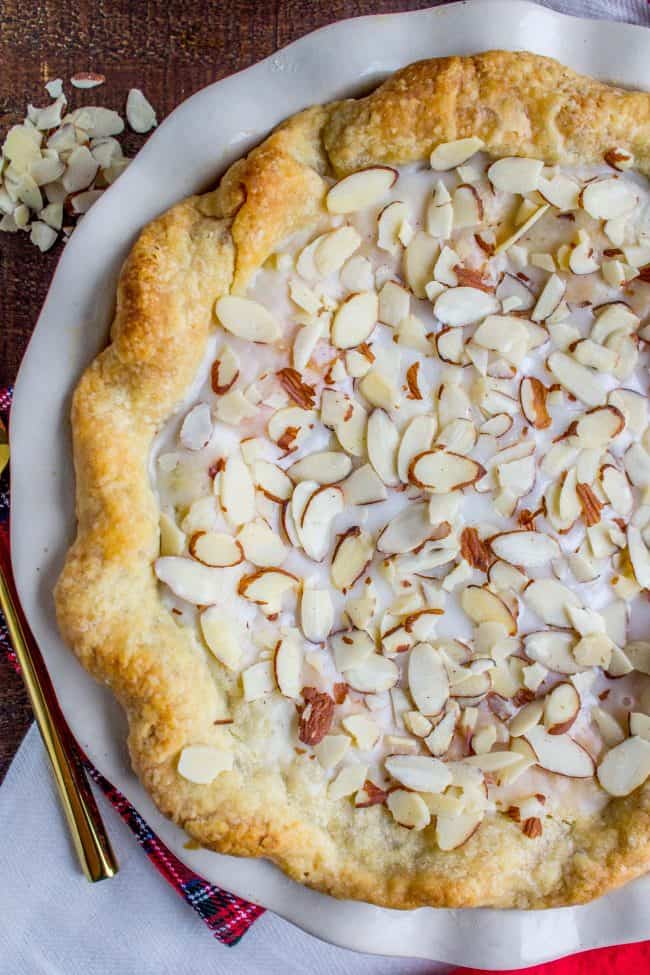 I'm bummed that I didn't get today's recipe out to you guys sooner, because it's so perfect for Thanksgiving! I mean, is there anything more gorgeous than cranberries? And it's a pie, so doubly perfect. But that's okay, if you're already done shopping for Thanksgiving you can save this recipe for Christmas. It's a great holiday pie.
My dirty secret: I use a can of cherry pie filling. What can I say guys, the stuff is delicious. (Just make this No Bake Cherry Cream Cheese Pie if you don't believe me. You will change your mind.)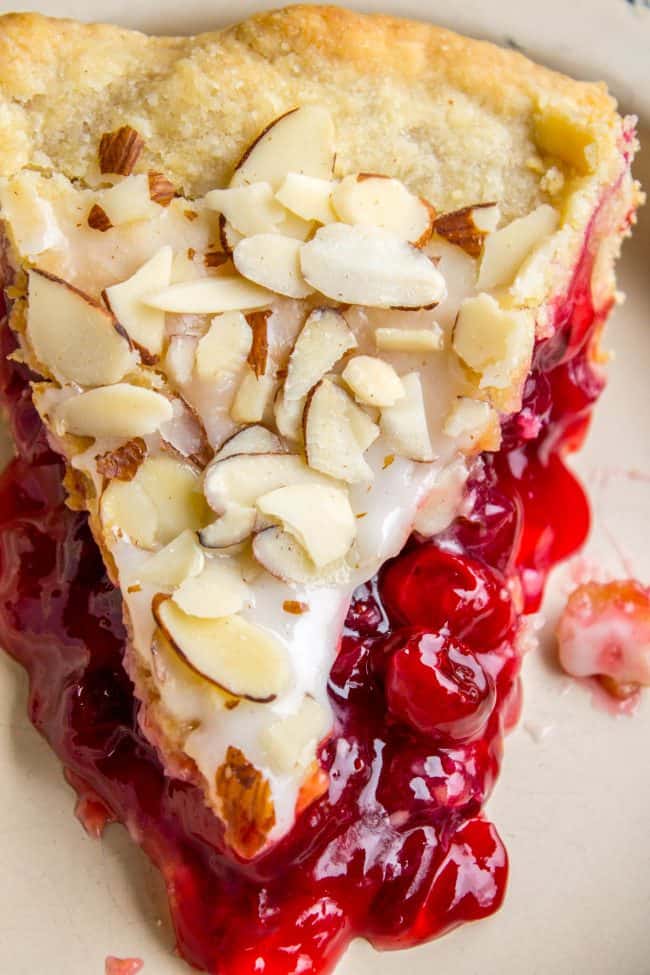 This pie will also change your mind of course. It's so good! It's basically cherry filling mixed with fresh cranberries, and then baked. The pie is sweet but still has those delightful pops of tart cranberry that I love so much. (Cranberry Custard Pie is another favorite holiday pie of mine. I can't get enough.)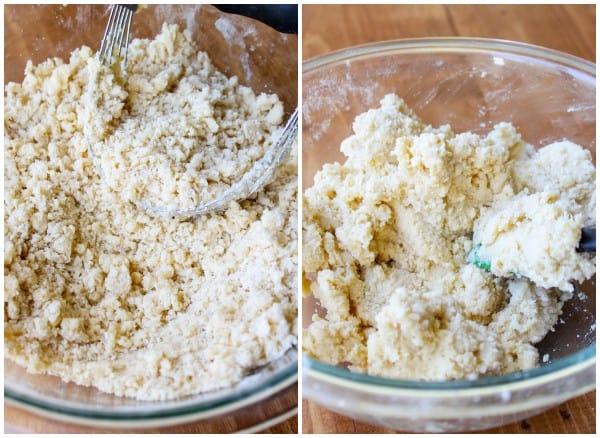 Don't overwork your pie dough!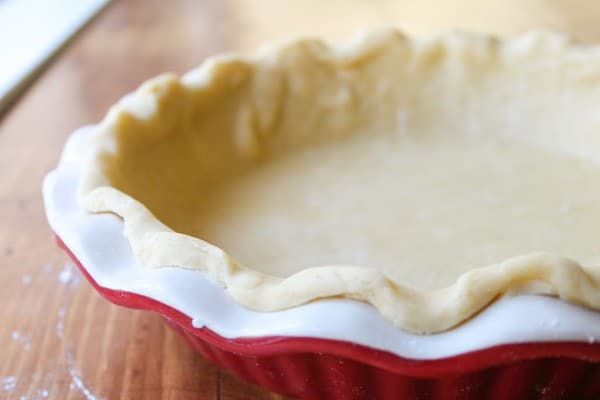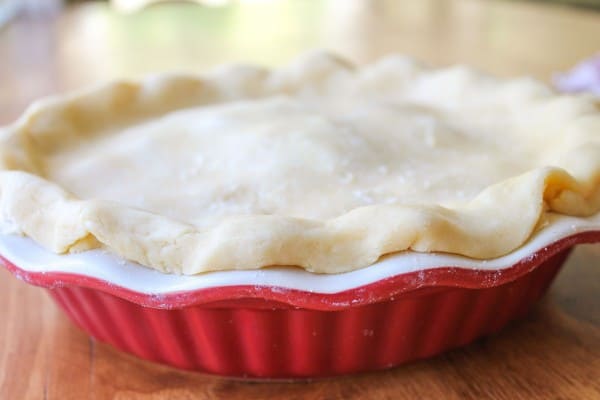 The almond glaze on today's recipe is what gets me though. I've never seen glaze on top of a pie before, but why not?? I got the idea from a pie recipe in an old Pillsbury baking pamphlet. I changed it up quite a bit, the first order of business being a homemade crust of course. You don't HAVE to make a homemade crust, but oh my goodness is it good.
I love how pretty the almonds look on top of the slice of pie. They add the perfect crunch.
This would be really fun to serve with Sugared Cranberries! It would be so pretty. Happy Thanksgiving week everyone! Enjoy the time with your family!
Facebook | Pinterest | Instagram | Twitter
One year ago: Apple Crisp, With a Ridiculous Amount of Streusel
Two years ago:  Two Ingredient Creamy Cranberry Sauce
Six years ago: Sour Cream Chocolate Drops

Cranberry Cherry Pie with Almond Glaze
This Cranberry Cherry Pie is just what you need for Thanksgiving! It has perfect pops of tart from the cranberries. The almond glaze on the top adds the perfect crunch! 
Ingredients
For the pie crust
2

cups

all purpose flour

,

spooned and leveled

1 & 1/2

tablespoons

white sugar

1

teaspoon

salt

1/2

cup

butter

,

COLD, cut into chunks (1 stick)

6

tablespoons

butter-flavored Crisco

1/2

of a beaten egg

1/4

cup

ice water
For the filling
1 (21-oz)

can

cherry pie filling

1 (12-oz)

bag

fresh cranberries

,

3 cups

3

tablespoons

cornstarch

1 & 1/4

cup

white sugar

dash

salt

1

teaspoon

vanilla

2

tablespoons

butter

,

cold and cut into chunks
For the glaze
1/2

cup

powdered sugar

1

tablespoon

light corn syrup

2-3

teaspoons

milk

1/4

teaspoon

almond extract

1/4

cup

sliced almonds
Instructions
First make the pie crust: Measure out 1/4 cup water into a

glass measuring cup

and stick it in the freezer. Or add some water and ice to a small bowl and set it on the counter. (You will need 1/4 cup ice water in a bit.)

In a large bowl, whisk together flour, sugar, and salt.

Use

a pastry cutter

or fork to cut in the butter and

Crisco

. Cut until it looks like coarse crumbs. Don't overdo it!

In a small bowl beat one egg. Pour out half (into the sink or into another container, or heck, into a frying pan). You can just eyeball it. I know this is annoying, but it makes for SUCH a tender crust!

Add the half beaten egg to the cold water that you put in the freezer. Beat it together, then add it to the butter mixture. Stir until it is just coming together, then use your hands to knead it once or twice (only to make it come together). Divide the dough in half.

Roll out the dough on a well-floured surface. I love to use my

pastry cloth

.

Roll the dough loosely on the rolling pin to transfer to a

9-inch pie pan

. Fold the edges under. Place the formed crust in the fridge while you make the filling.

Preheat the oven to 425 degrees F.

Make the filling: Rinse the cranberries and pick them over, removing any stems.

In a large bowl, stir together the cherry pie filling, cranberries, cornstarch, white sugar, a dash of salt, and vanilla.

Pour the filling into the shaped pie crust.

Sprinkle 2 tablespoons of cold butter over the top of the filling.

Roll out the other pie crust. Carefully lay it on top of the pie. Fold the edges under and crimp as desired. Use a sharp knife to vent the pie.

Bake at 425 for 15 minutes. If your pie filling looked very full, bake it on a baking sheet just in case it bubbles over.

Lower the oven temperature to 375 degrees F.

Remove the pie from the oven and loosely cover the whole thing with tin foil that has been sprayed with nonstick spray.

Return to the oven and bake for another 35 minutes.

Remove the tin foil and see how the crust looks. The edges of the crust should be golden, and the center should be under baked. Remove the foil, fold it into quarters and cut out the center (so that you have a circle of tin foil with a hole in the middle.) Cover the edges of the crust with the foil to prevent over browning.

Return to the oven and bake at 375 for 10-15 minutes, until the center of the pie is golden brown*. (The total bake time should be about 1 hour: 15 minutes at 475 and at least 45 minutes total at 375.)

Let the pie cool on a rack for several hours or overnight. Make sure you cover it after a while so it doesn't dry out.

1-2 hours before serving the pie, make the glaze. In a small bowl, whisk together the glaze ingredients.

Drizzle the glaze over the top of the pie. Use the back of a spoon to make sure it gets in every nook and cranny.

Immediately sprinkle the sliced almonds on top of the glaze. Let sit for an hour or two until the glaze hardens, then slice and serve.
Notes
*You are not going to overcook the filling on this pie, so the priority here is getting the crust browned.
You can make this pie 24 (or even 48...but 24 is better) hours in advance. Leave the glaze topping off and add it a couple hours before serving. (You want the glaze to have time to harden)
Of course you can use a store bought crust if you don't want to make your own!
Nutrition
Serving:
1
g
|
Calories:
628
kcal
|
Carbohydrates:
96
g
|
Protein:
5
g
|
Fat:
26
g
|
Saturated Fat:
12
g
|
Polyunsaturated Fat:
4
g
|
Monounsaturated Fat:
9
g
|
Trans Fat:
2
g
|
Cholesterol:
48
mg
|
Sodium:
444
mg
|
Potassium:
175
mg
|
Fiber:
4
g
|
Sugar:
45
g
|
Vitamin A:
637
IU
|
Vitamin C:
8
mg
|
Calcium:
31
mg
|
Iron:
2
mg
More pie-deas! (Get it? Pie-ideas?? I'm hilarious. (eye roll)
The Easiest Sugared Cranberries: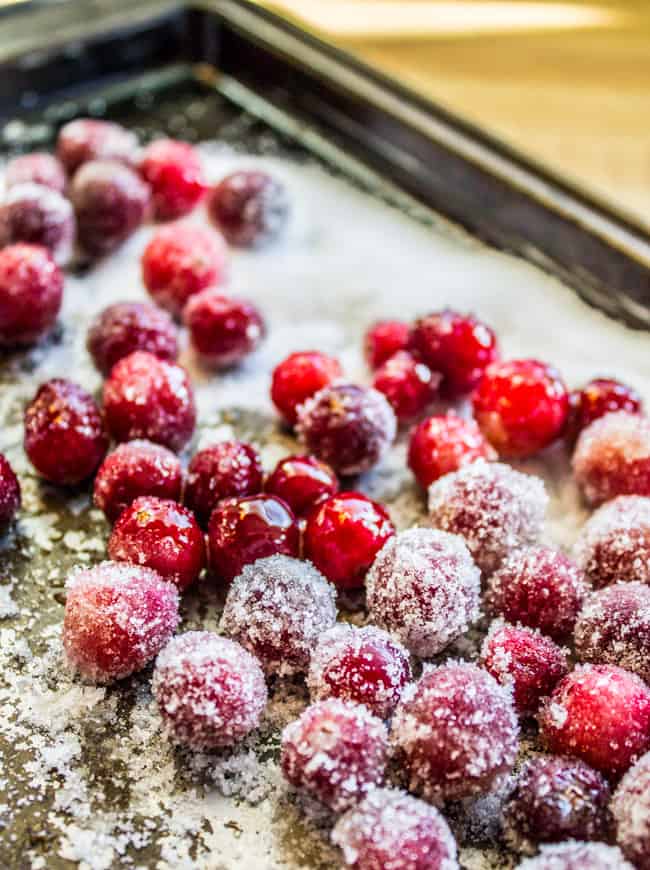 Here's my other favorite cranberry pie: Cranberry Custard Pie. Custard makes everything amazing!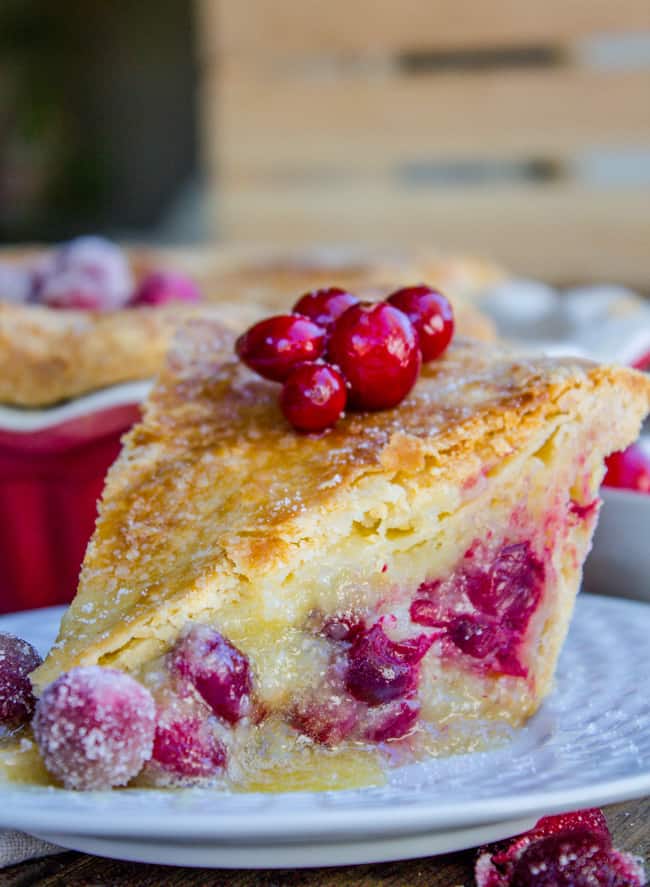 Brown Butter Cranberry Tart << this is a total show stopper.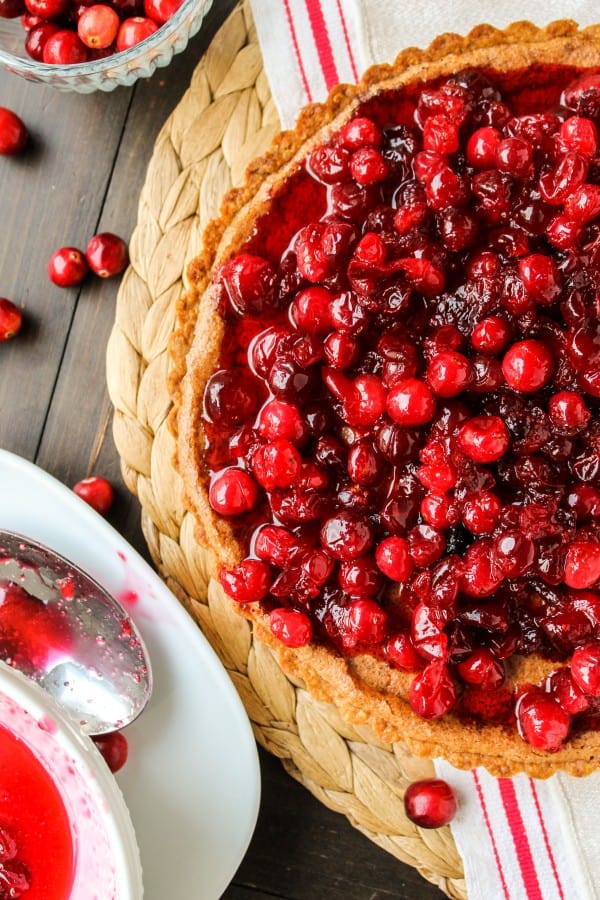 Here's the other pie I've been obsessing about this week: Crème Brulée Pumpkin Pie! That crackle, you guys!!
More cranberry pies to love!!
Cranberry GingerSnap Pie from The View from Great Island
Apple Cranberry Pie from A Beautiful Plate
Pear Cranberry Pie with Oatmeal Streusel from Noble Pig