The Easiest Sugared Cranberries
These gorgeous, sparkling cranberries are the perfect appetizer or dessert garnish for Thanksgiving and Christmas! You don't even have to make your own simple syrup (and risk popping your cranberries). This recipe is totally foolproof.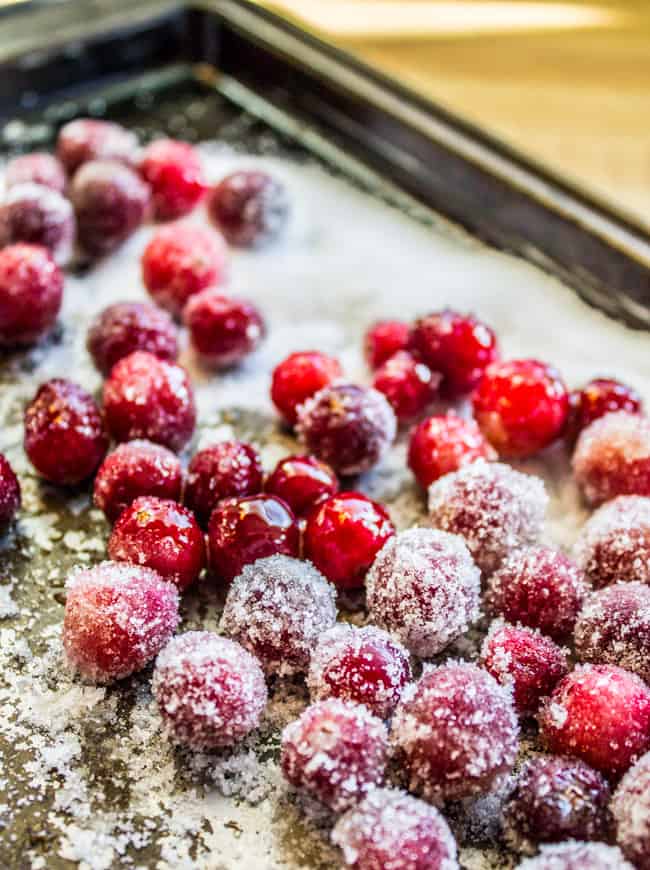 I was on TV last Friday!
And I didn't die!
And no one ridiculed my eyebrows! At least not to my face. Which is all you can really hope for in life, right?
And here is the follow up clip at the end of the show:
(If these videos don't work you can find both of them here)
After I got home from the station and had watched the clip myself, I got this text from Eric: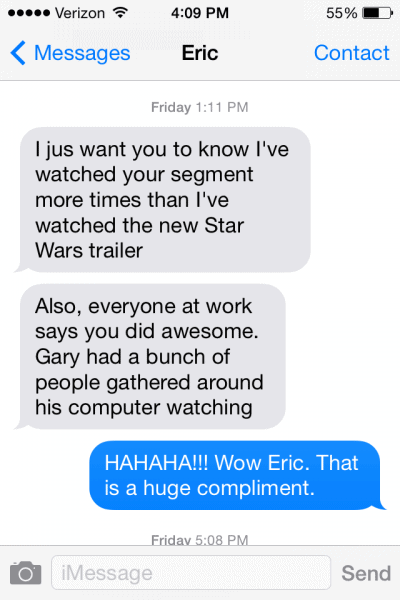 Really, I don't know how Eric could show his love for me more. When there is a choice between Karen and Star Wars, he will pick me every time. True love, guys.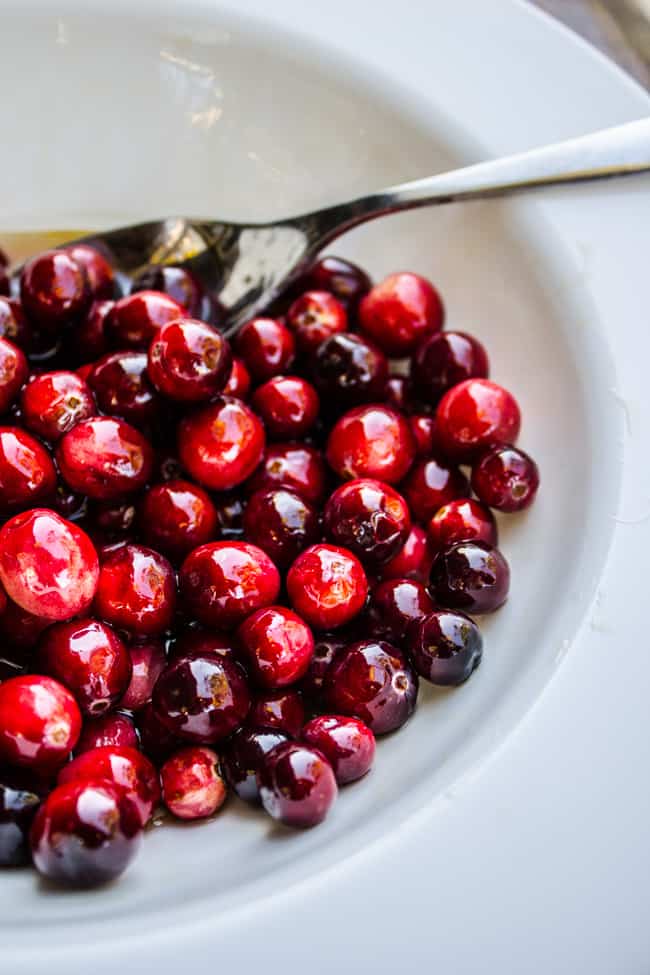 So! Sugared Cranberries! I topped the Cranberry Custard Pie that I posted last week (and the pie in the video) with these babies, and let me tell you, they are amazing. The first time I tried these was a few years ago when I made these Sparkling Cranberry Brie Bites, which is sugared cranberries, brie, and cranberry sauce on a cracker. Soooo good.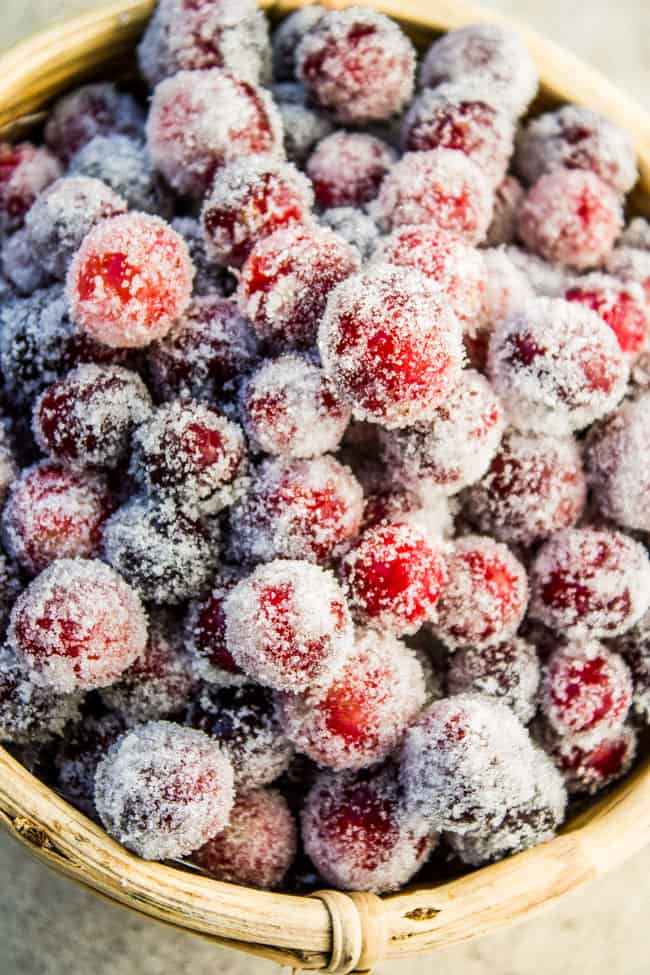 These cranberries are perfect as an appetizer or as a garnish to basically any holiday dessert. Or just as a snack all by themselves. Leave them on the counter and they will be gone in like a day and a half max. They are the perfect combination of tart and sweet. These would be a great addition to a cheese tray, or paired with candied nuts!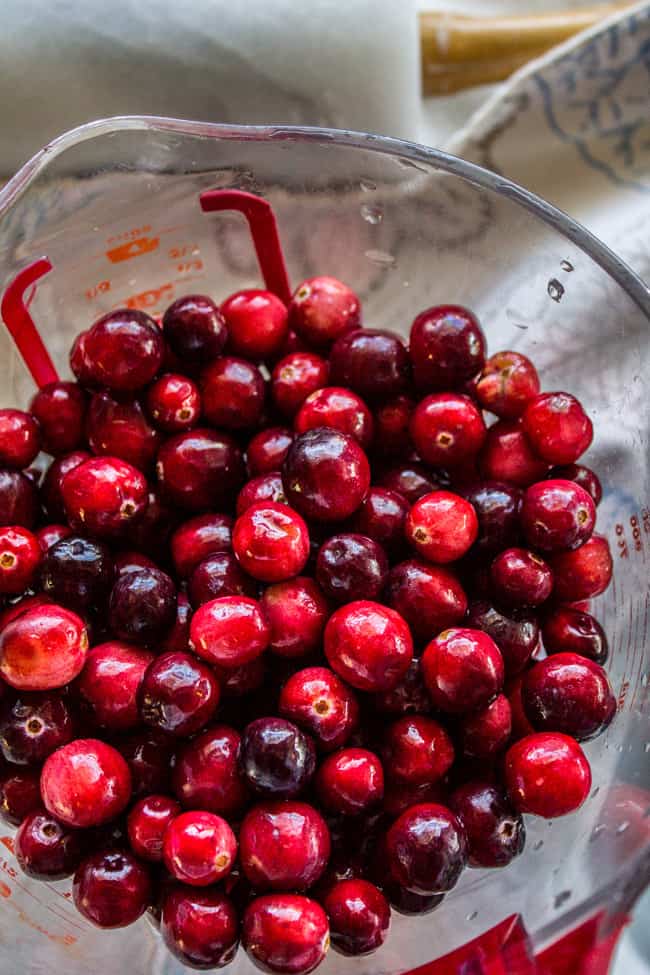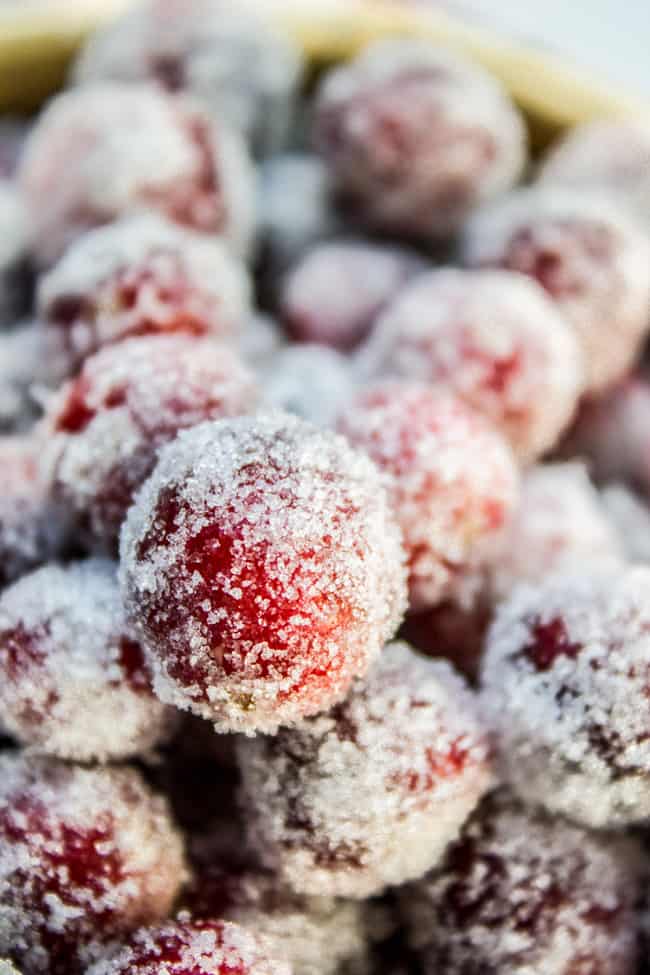 Most recipes that I've seen call for making your own simple syrup. If you are not careful, you can pop the cranberries when you add them to the too-hot syrup. Instead I soak mine in maple syrup. SO much easier! Either way you will have to soak them overnight. I tried it with the soak and without, just to make sure it was necessary, and unfortunately it is. The cranberries soak up the sugar from the syrup. Without the soak, they are edible but still too tart for me. After the soak they turn out perfectly sweet, with an awesome crunch from the sugar. Try these!
Do you guys give up? Or are you thirsty for more?
Facebook | Pinterest | Instagram | Twitter


print
Did you make this recipe?
Leave a review »
The Easiest Sugared Cranberries
3 cups cranberries
adjust servings
Ingredients
1 12-ounce

package (3 cups) fresh cranberries

1

and 1/2 cups maple syrup

1

and 1/2 cups granulated sugar
Instructions
Rinse the cranberries, discarding any that have become soft.
In a tupperware with a lid, stir together the cranberries and maple syrup.
Cover and refrigerate overnight, or 6-8 hours.
Place the cranberries in a colander set over a bowl so that the syrup drains off (save it for pancakes!)
Spread the sugar onto a rimmed baking sheet. Working in 2-3 batches, roll the drained cranberries in the sugar. Kids love this part! I love this part! Lick your fingers!
Let the cranberries dry out on the pan, or you can put them on a cooking rack so they get really crisp. Make sure none of them are touching each other.
Let them dry out for at least an hour, the more the better. Putting the pan in the fridge speeds this up.
Store the cranberries uncovered on a pan or shallow dish. If you cover them or let them touch each other, they will get soggy.
If you want to give these away as a hostess or neighbor gift, I recommend layering them in a tin lined with parchment paper. Put another layer of parchment on top before adding a second layer. Tell the recipient to uncover the tin as soon as possible.
by The Food Charlatan

If you make this recipe,
share it on Instagram
 using the hashtag
#TheFoodCharlatan
so I can see it!
Here are some ideas for what to do with Sugared Cranberries!
Sparkling Cranberry Brie Bites: <<if you only make one appetizer this holiday season, make this one! Everyone will say ooooh aaaah. Sub cream cheese, blue cheese, goat cheese….any soft cheese will do.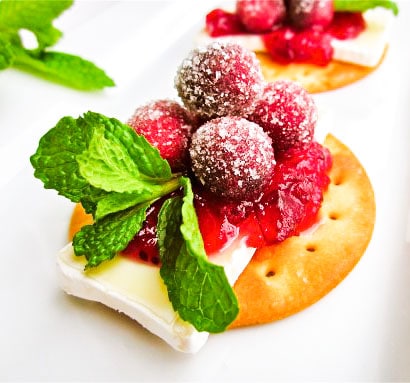 And if you only make one pie this holiday season…make this Cranberry Custard Pie!! It's the one I made on-air in the clip above. So good guys!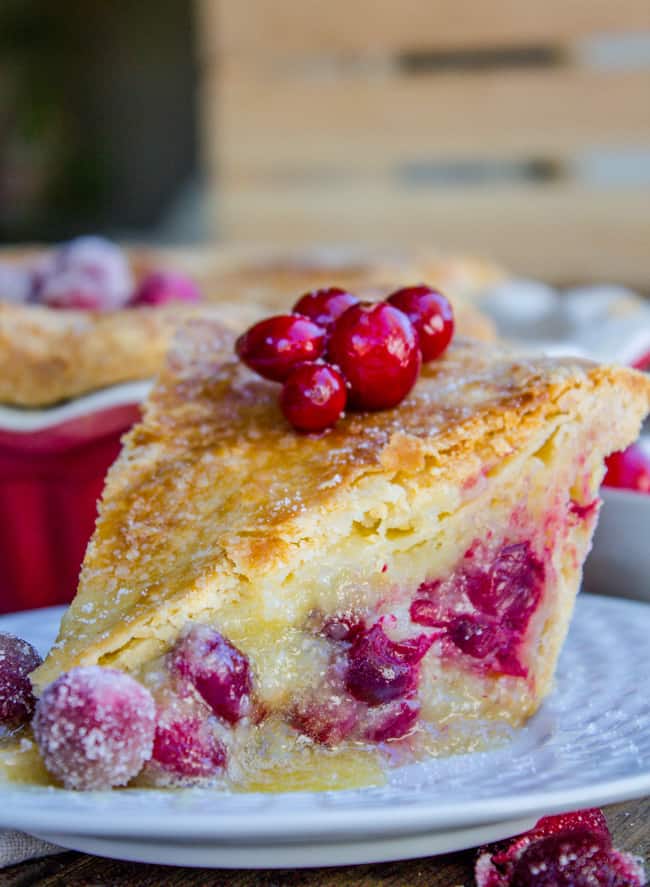 Cranberry Dulce de Leche Hand Pies: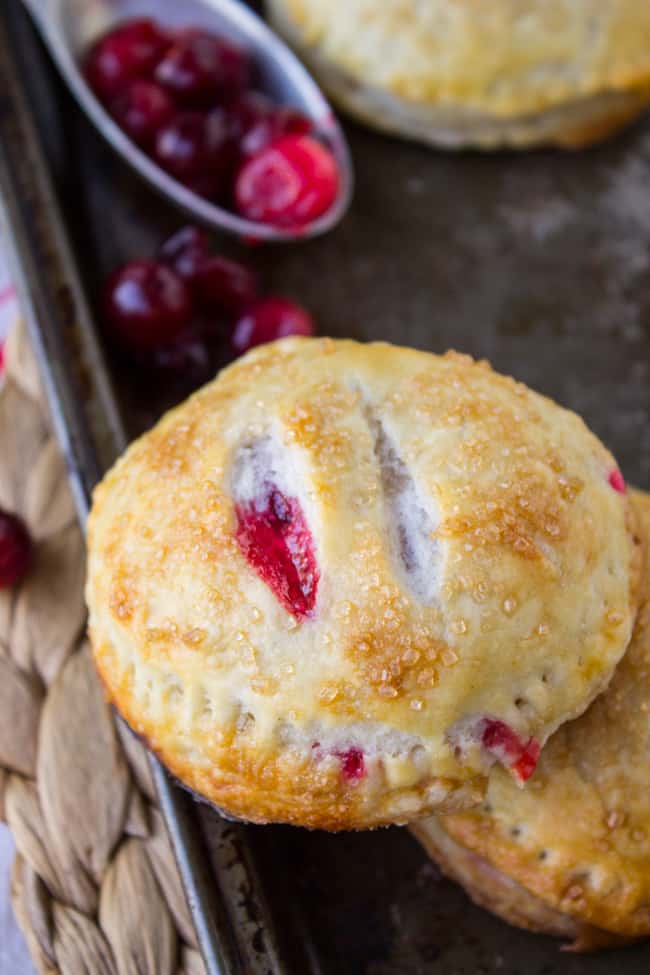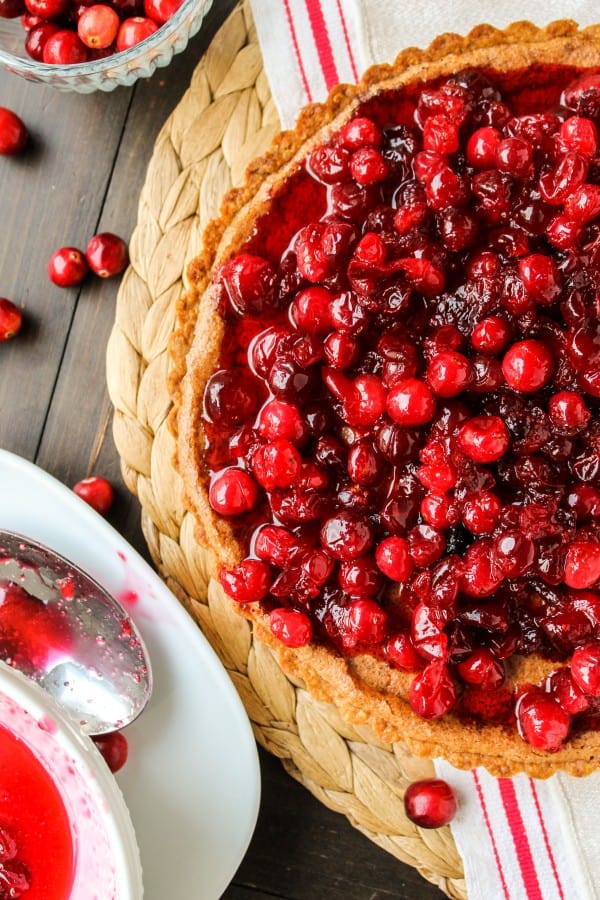 Also, this has nothing to do with cranberries, but Halloween is coming up this weekend and I won't leave you stranded! Check out these 10 Crock Pot Recipes for Halloween Night. Make-ahead ideas you can put together on Saturday morning, so that you don't eat Butterfingers for dinner. (Not that I would judge you.)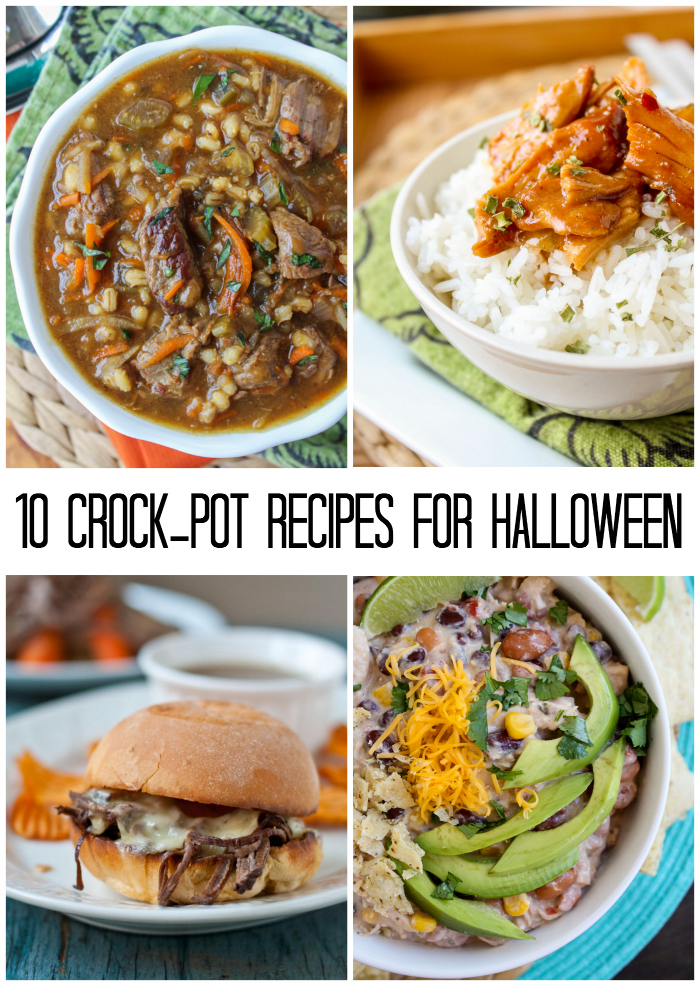 More recipes you can use sugared cranberries with!
Sparkling Cranberry White Chocolate Cake from Life, Love and Sugar
The Great Pumpkin Pie Recipe from Sally's Baking Addiction
Soft Gingerbread Cake with Cream Cheese Frosting and Sugared Cranberries from Call Me Cupcake
We are a participant in the Amazon Services LLC Associates Program, an affiliate advertising program designed to provide a means for us to earn fees by linking to Amazon.com and affiliated sites.