Apple Crisp, with a Ridiculous Amount of Streusel
Am I the only one who thinks apple crisp never has enough streusel? I fixed that. Behold: the mother-load of streusel-y goodness right here. What better way to use up those fresh fall apples? Top with vanilla ice cream and My Favorite Caramel Sauce!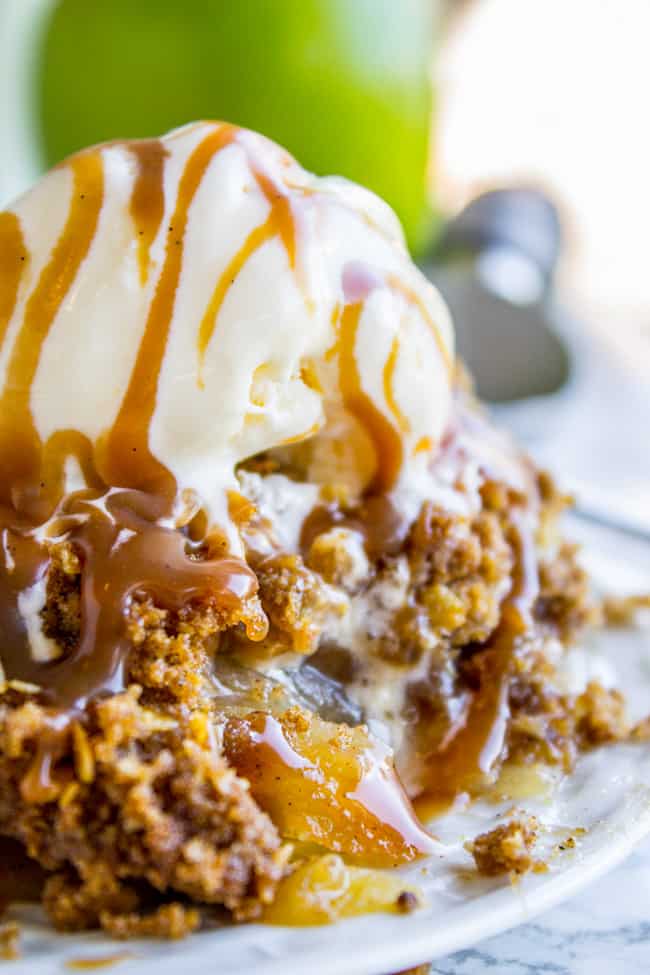 We just had our baby girl a couple weeks ago, and one of the things people always ask is how the other 2 kids are handling it. Eric and I always use the same word: OBSESSED. They love her. They love her so much that sometimes they wake her up just to let her know.
The other day Charlotte was kissing the baby, and I said, "Don't wake her up! Try blowing her kisses instead." So Charlotte brings her face about an inch away from the baby's, and starts blowing her kisses.
Just in case you were wondering, if you blow directly on a baby's face, they WILL wake up. And they won't be very happy. Details like this are lost on 5 year olds. "Why wouldn't you want her to wake up, Mom? She's so cute!" Ohhhh child.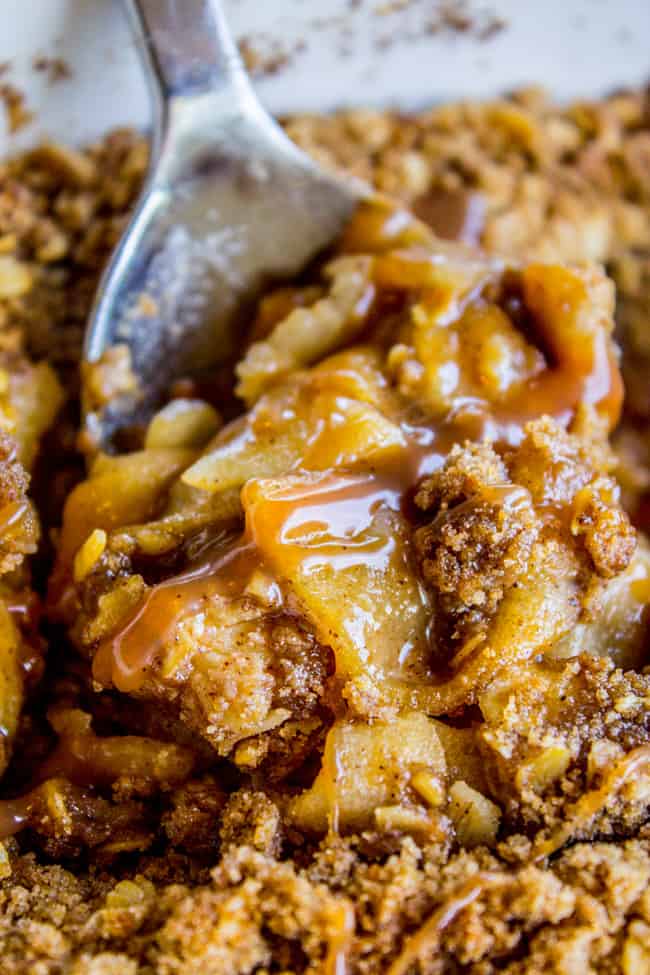 My friend Amelia made this apple crisp for a get together last year, and I still haven't forgotten about it. In your average crisp dessert, I'm usually disappointed with the ratio of fruit to streusel. (I feel like it should be close to a 1:1 ratio, kind of like how these Best Lemon Bars have an equal amount of crust to custard.)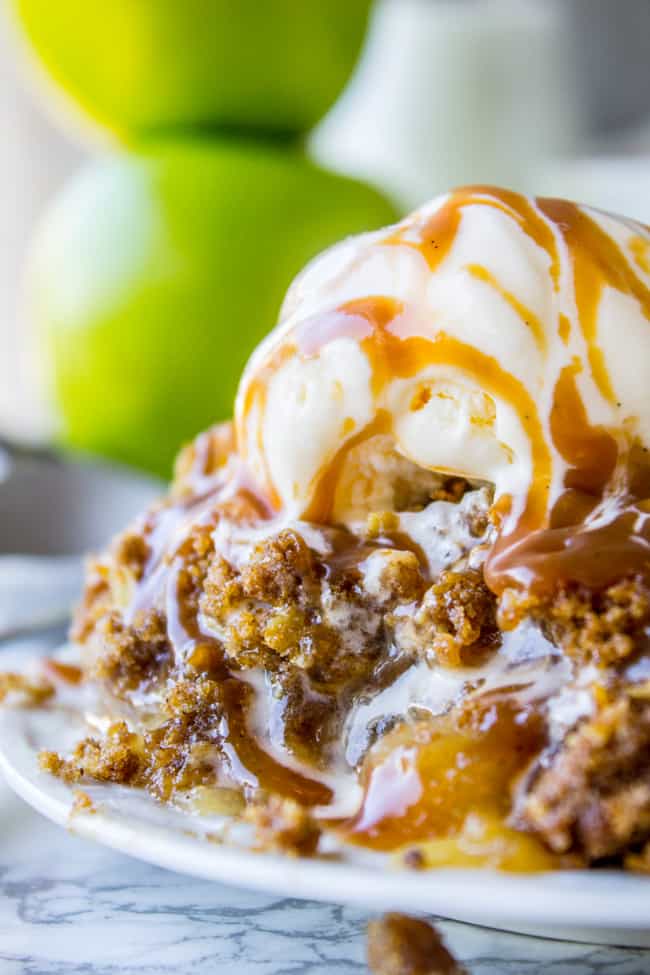 I'm always taking bites of streusel-less apples in an attempt to save the streusel for The Epic Final Bite. (Please tell me I'm not alone in meticulously plotting my food consumption so that I can have an Epic Final Bite.) But Amelia's crisp was absolutely perfect. SO. MUCH. STREUSEL.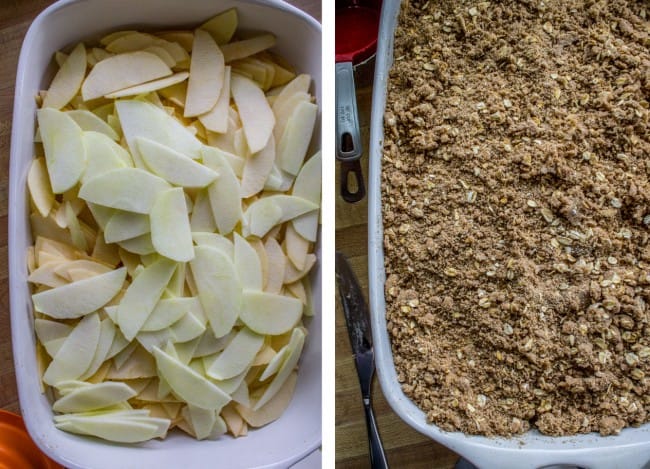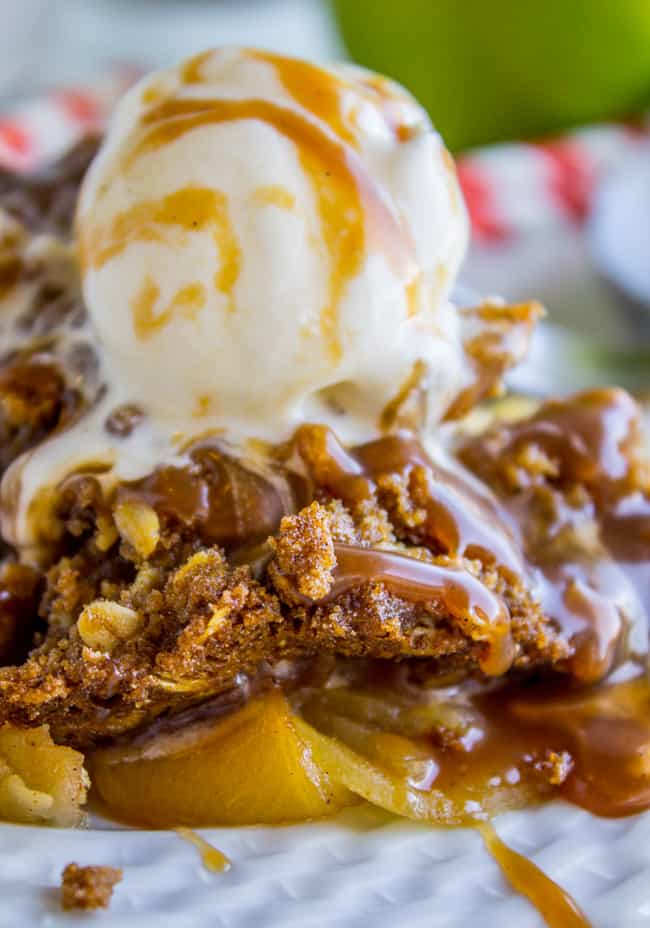 This recipe is deceptively simple; no surprise ingredients here, just about twice the amount of butter and sugar. (You weren't making apple crisp because you wanted to be healthy, right? Good.) Also this recipe definitely feeds a crowd; it makes a thick 9×13 inch pan. You can easily half the recipe to fit in a square pan if you like.
This would be a perfect (and easy) dessert to make for Thanksgiving next week! Check out my Thanksgiving board on Pinterest for more menu ideas!
Facebook | Pinterest | Instagram | Twitter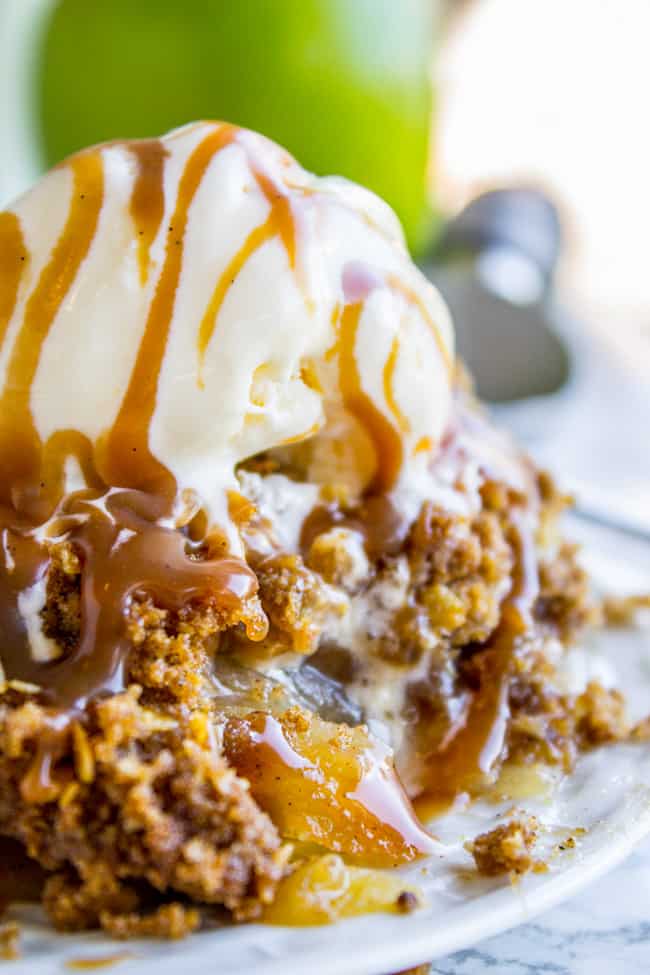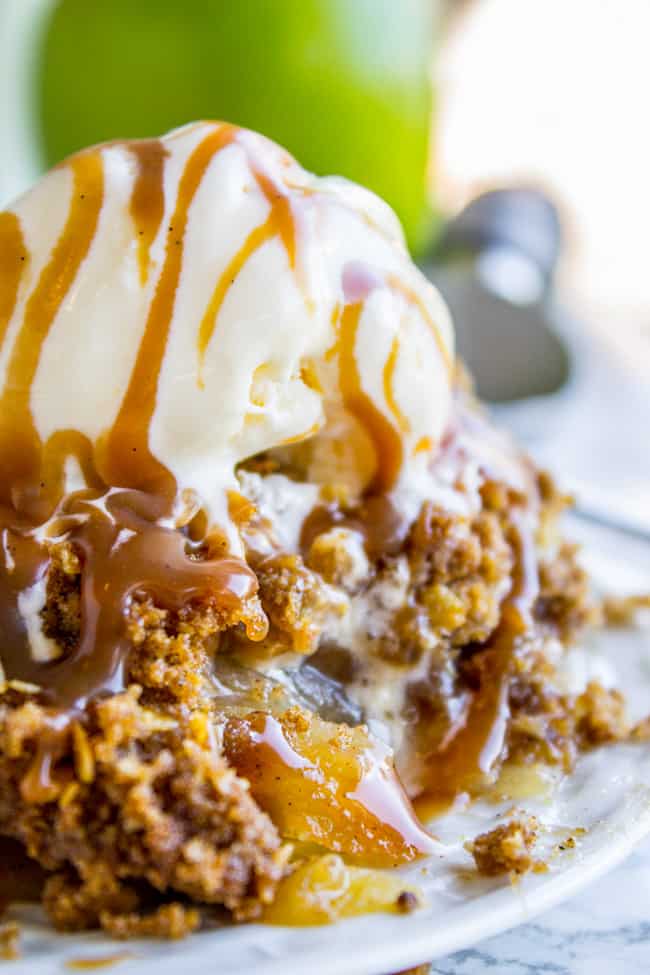 print
Did you make this recipe?
Leave a review »
Apple Crisp, with a Ridiculous Amount of Streusel
Ingredients
8

large apples

1

and 1/2 cups brown sugar

1

cup flour

1

cup oats

2

teaspoons cinnamon

1

and 1/2 teaspoons nutmeg

3/4

cup salted butter, softened

Vanilla ice cream, pretty much not optional :)
Instructions
Peel and core the apples. Use a sharp knife or mandolin to slice the apples into very thin, uniform pieces.
Preheat the oven to 375 degrees F. Grease a 9x13 inch pan.
Add the sliced apples to the pan.
In a medium bowl, combine brown sugar, flour, oats, cinnamon, and nutmeg. Use a fork or pastry cutter to stir in the softened butter.
Sprinkle the streusel over the apples.
Bake for 35-40 minutes at 375. It is done when a knife inserted in the center slides in easily (the apples should be fork-tender)
Let stand for a few minutes before serving hot or room temperature.
Serve with ice cream and this amazing caramel sauce.
Serves 12-16.
by The Food Charlatan

If you make this recipe,
share it on Instagram
 using the hashtag
#TheFoodCharlatan
so I can see it!
More fall desserts you will love!
My Favorite Caramel Sauce: << seriously guys, if you're going to make this Apple Crisp, You have to pair it with this caramel sauce!! So good.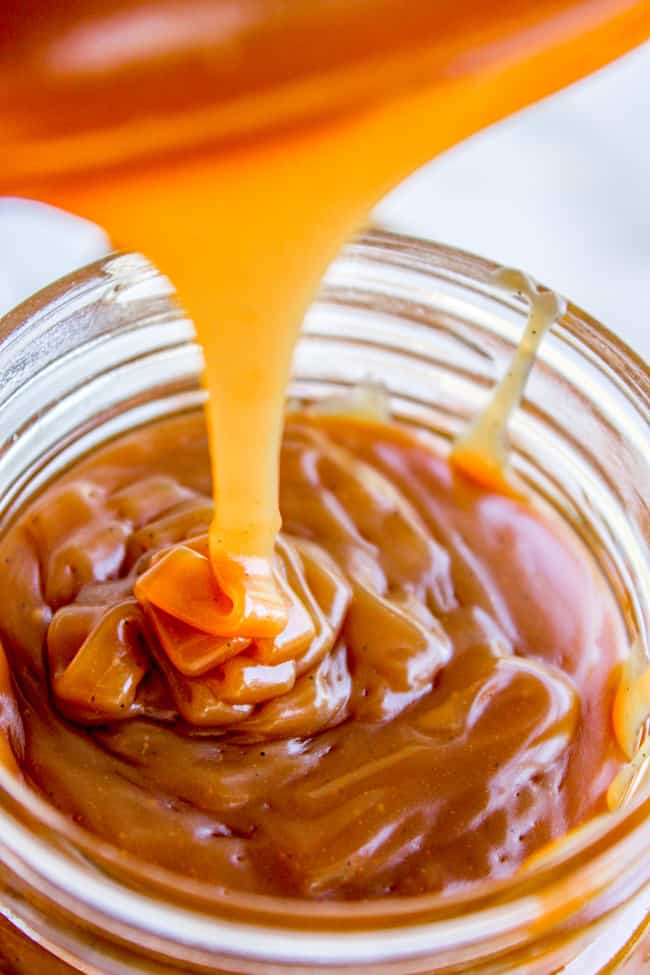 Apple Custard Pie with Cinnamon Streusel << It's an apple pie, but with CUSTARD. Way better.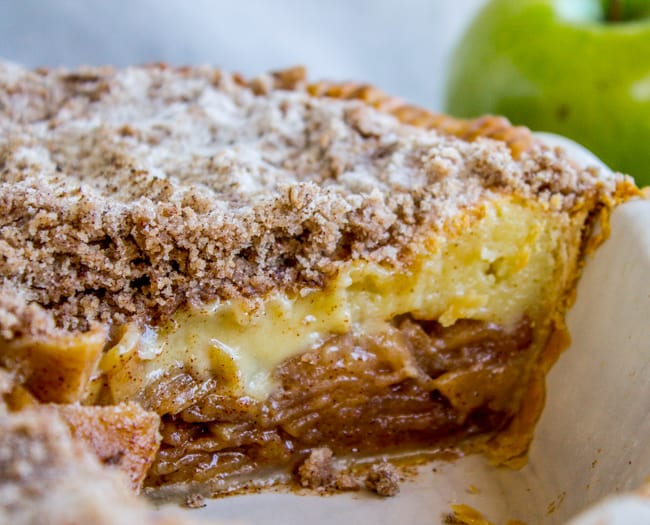 Caramel Apple Upside Down French Toast Bake: << this is such an amazing breakfast!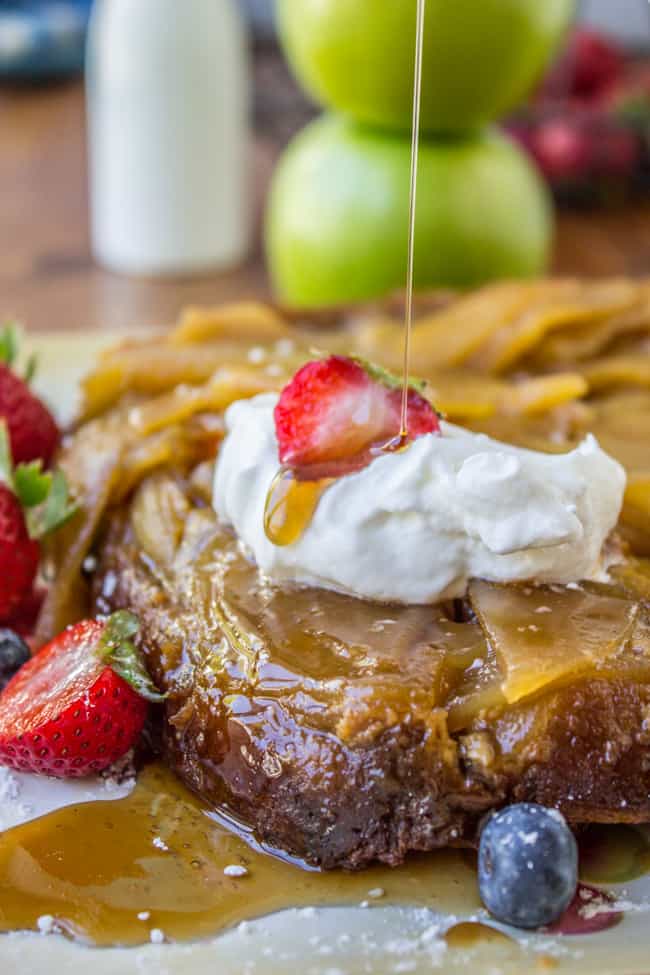 More apple desserts you will love!
Apple Pie Bread from the Country Cook
Apple Streusel French Toast Bake from Deliciously sprinkled
Shredded Apple Pie from Life in the Lofthouse
We are a participant in the Amazon Services LLC Associates Program, an affiliate advertising program designed to provide a means for us to earn fees by linking to Amazon.com and affiliated sites.