Am I the only one who thinks apple crisp never has enough streusel? I fixed that. Behold: the mother-load of streusel-y goodness right here. What better way to use up those fresh fall apples? Top with vanilla ice cream and My Favorite Caramel Sauce! Originally published November 16, 2016.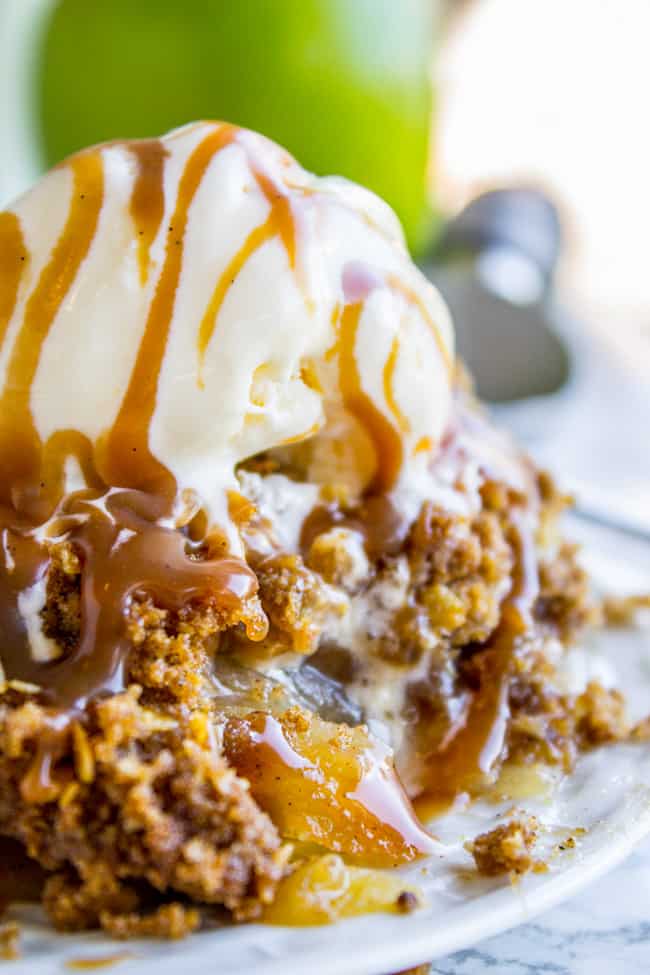 We just had our baby girl a couple weeks ago, and one of the things people always ask is how the other 2 kids are handling it. Eric and I always use the same word: OBSESSED. They love her. They love her so much that sometimes they wake her up just to let her know.
The other day Charlotte was kissing the baby, and I said, "Don't wake her up! Try blowing her kisses instead." So Charlotte brings her face about an inch away from the baby's, and starts blowing her kisses.
Just in case you were wondering, if you blow directly on a baby's face, they WILL wake up. And they won't be very happy. Details like this are lost on 5 year olds. "Why wouldn't you want her to wake up, Mom? She's so cute!" Ohhhh child.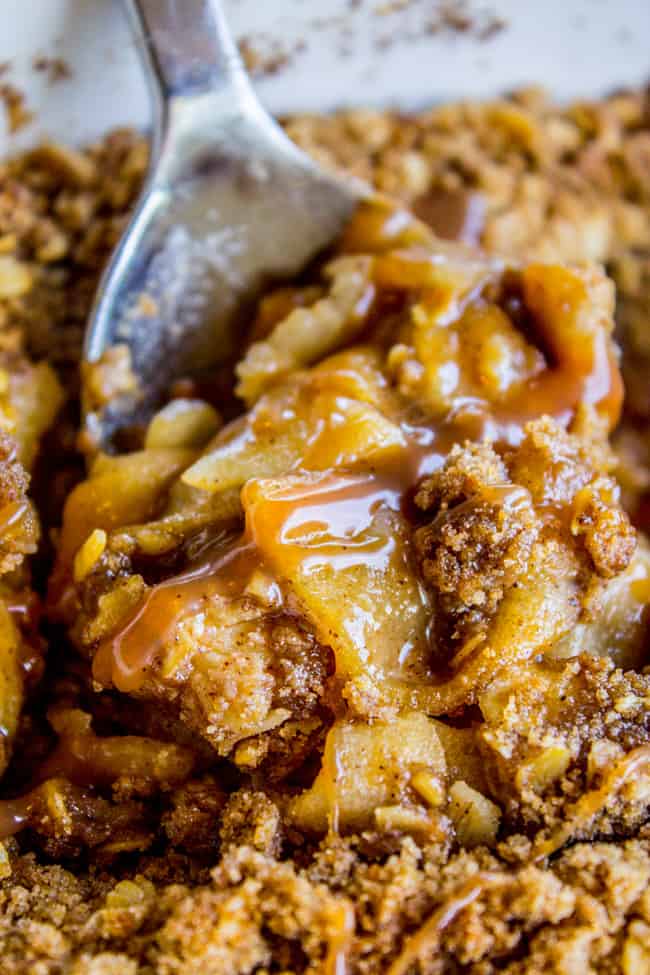 Homemade Apple Crisp with a Ridiculous Amount of Streusel
My friend Amelia made this apple crisp for a get together last year, and I still haven't forgotten about it. In your average crisp dessert, I'm usually disappointed with the ratio of fruit to streusel. (I feel like it should be close to a 1:1 ratio, kind of like how these Best Lemon Bars have an equal amount of crust to custard.)
I'm always taking bites of streusel-less apples in an attempt to save the streusel for The Epic Final Bite. (Please tell me I'm not alone in meticulously plotting my food consumption so that I can have an Epic Final Bite.) But Amelia's crisp was absolutely perfect. SO. MUCH. STREUSEL.
This recipe is deceptively simple; no surprise ingredients here, just about twice the amount of butter and sugar. (You weren't making apple crisp because you wanted to be healthy, right? Good.) Also this recipe definitely feeds a crowd; it makes a thick 9×13 inch pan. You can easily half the recipe to fit in a square pan if you like.
This would be a perfect (and easy) dessert to make for Thanksgiving next week! Check out my Thanksgiving board on Pinterest for more menu ideas!
Ingredients for Apple Crisp Recipe with Oats
This recipe for apple crisp is just about as simple (and simply delicious) as dessert can get. See the recipe card below for the complete instructions!
Apples (I like to use a variety. more on that below!)
Brown sugar
Flour
Old fashioned oats
Cinnamon and nutmeg
Salted butter
What are the Best Apples for Apple Crisp?
I love to use a mix of varieties when I am making any apple dessert! Today I used a combo of Granny Smith, Fuji, and Pink Lady. The tartness of the Granny Smiths and sweetness of the Fujis and Pink Ladies give great balance.
Using only one type of apple gives you only one flavor profile. Using a blend means your crisp will land somewhere perfectly in the middle of tart and sweet. Here is a list of common apple varieties, listed from most tart (Granny Smith) to sweetest (Fuji).
▪️Granny Smith
▪️Braeburn
▪️Macintosh
▪️Honeycrisp
▪️Red Delicious
▪️Golden Delicious
▪️Ambrosia
▪️Gala
▪️Fuji
Try to get a few tart apples, a few sweet apples, and a few in between apples.
How to Make Apple Crisp with Oats
Here's a rundown of how to make this homemade apple crisp (full recipe is below!):
Prep the apples. Peel and core the apples, then slice them into thin pieces using a knife or mandoline.
Make the filling. Add the apples to a pan. In a separate bowl, mix brown sugar, flour, oats, cinnamon, and nutmeg. Cut in the butter, then sprinkle that over the apples.
Bake until the apples are fork-tender, then cool for a few minutes and serve with an inappropriate amount of caramel sauce. And ice cream. Please, for the love, don't forget the ice cream!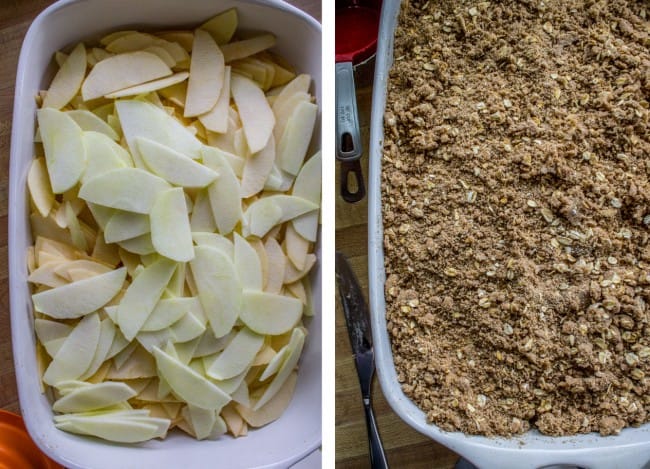 Notes on Apple Crisp Crumble topping
What is apple crisp topping made of?
The apple crisp crumble topping in this recipe is made with a combination of brown sugar, flour, oats, cinnamon, and nutmeg. So simple.
How can I make my apple crisp crispy?
If you want crispy apple crisp, you need the right ratio of sugar, flour, and oats to softened butter. The proportions of each in this recipe are perfect – no sogginess or mushiness in THIS streusel!
But here's the deal. Once you bust into an apple crisp, it's naturally going to start to soften. The moisture from the apples will start to climb up into your crispy topping. The best course of action on day 2 is to warm it up in a 350 degree oven to re-crisp your crisp. Boom!
How to Serve Apple Crisp with Streusel
With this much warm, streusel-y goodness, you pretty much need vanilla ice cream. I also like to top it with a drizzle of homemade caramel sauce.
The caramel sauce is optional; the ice cream is not. I SAID WHAT I SAID.
How to Store This Recipe for Apple Crisp
Leftovers will last covered on the counter for about 3 days, after that stick it in the fridge. You can also freeze apple crisp! Seal very well and freeze for up to 3 months. Let thaw in the fridge. Then bake it at 350 for a few minutes to re-crisp the topping.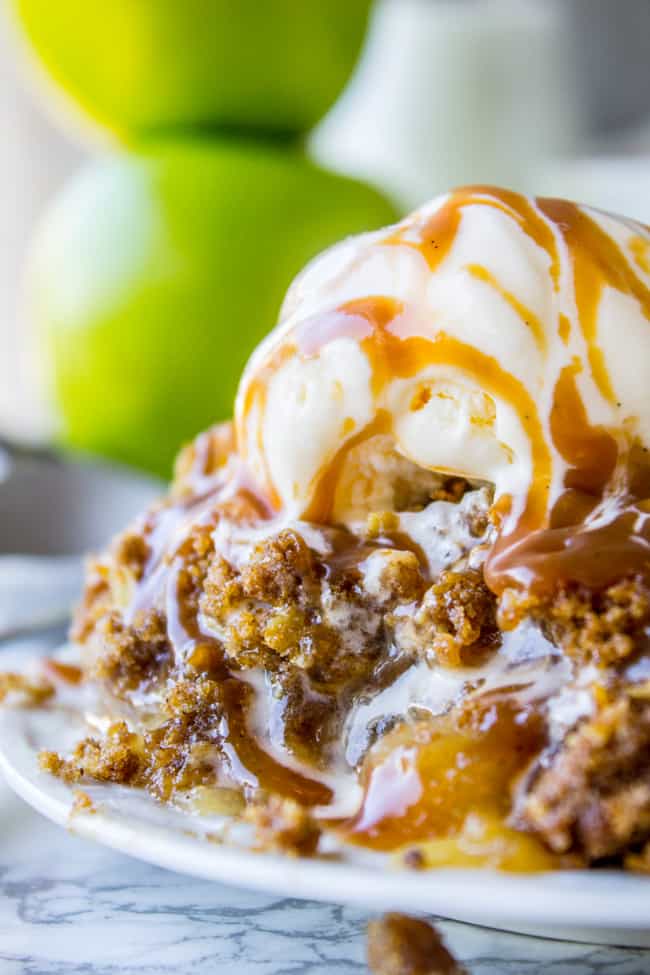 FAQ for Apple Crisp with Oats
What is the difference between apple crisp and apple crumble?
Both crisp and apple crumble start with a base of sliced apples. The primary difference between the two (very similar) desserts is in the topping. A crisp topping always includes oats and/or nuts. A crumble topping is made with flour, sugar, and butter just as the crisp is, but does not include oats or nuts. The two are definitely easy to mix up, but not quite the same!
Do you cover apple crisp when baking?
Nope! Leaving the crisp uncovered is what makes it nice and, well, crispy. If all that heat is trapped inside the pan, you'll end up with a soggy topping. Say no to the sog.
The only time I do recommend covering the apple crisp is if you notice the oats are starting to burn before the apples are cooked through. Tent with foil and you'll still get crispy streusel while the apples reach fork-tender perfection.
Do you need to peel your apple for apple crisp?
Yes!! Nobody likes tough chewy apple peels. Have you ever eaten an apple cake, crisp, crumble, or cobbler and thought "Well gosh, this is delicious, but I wish someone had put a bunch of apple peels in here?" No, of course not. I promise you guys, it's worth the effort.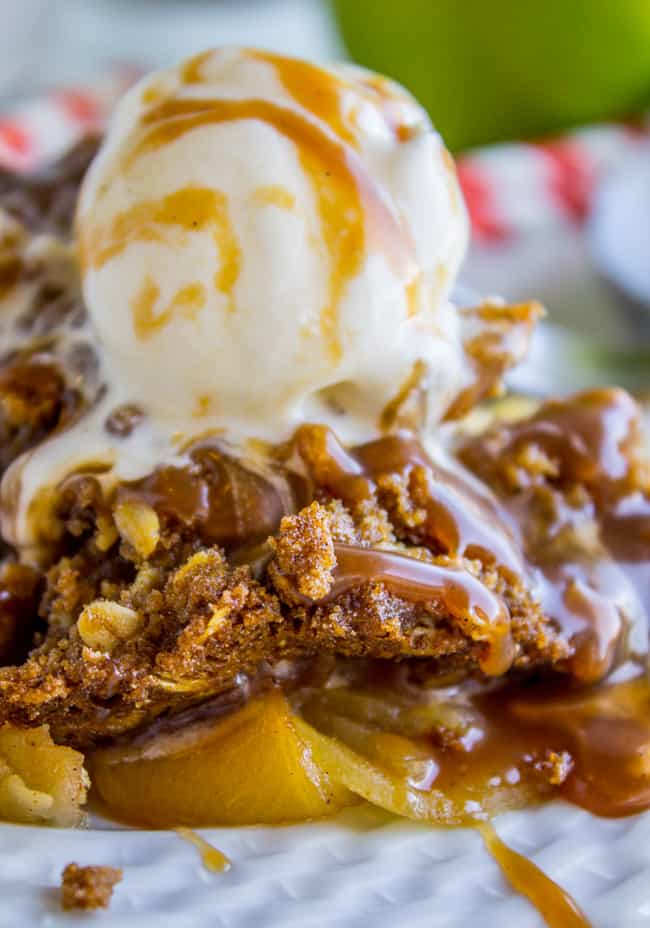 Other Recipes You'll Love
Apple lovers rejoice!! 'Tis time to bake pies, cobblers, and more from these beauties while they're in season. Try some of my other favorite apple recipes!
Facebook | Pinterest | Instagram

Apple Crisp with Oats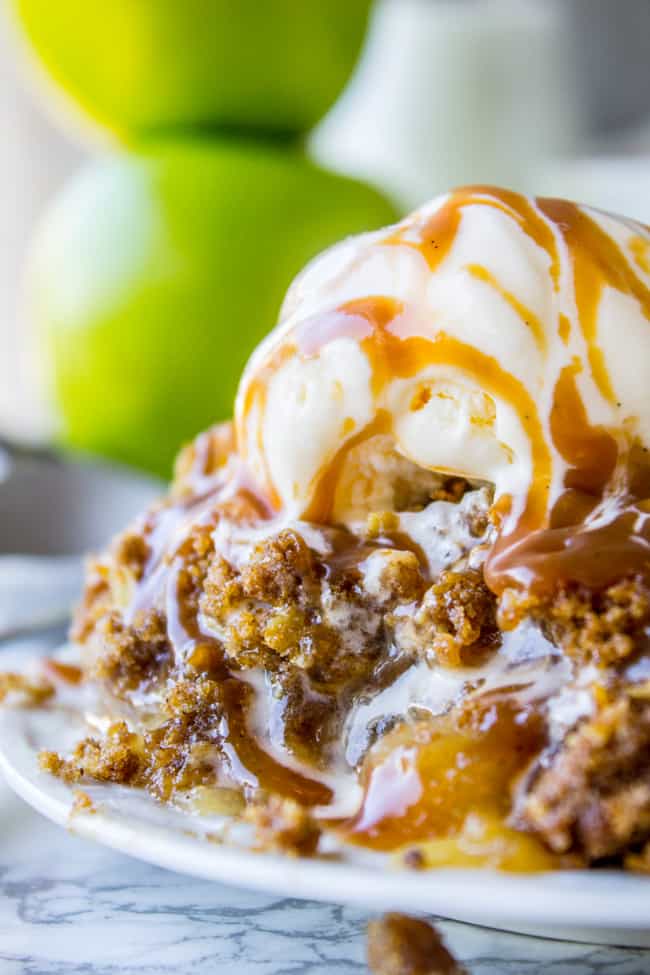 Am I the only one who thinks apple crisp never has enough streusel? I fixed that. Behold: the mother-load of streusel-y goodness right here. What better way to use up those fresh fall apples? Top with vanilla ice cream and My Favorite Caramel Sauce!
Ingredients
8

large

apples

1 & 1/2

cups

brown sugar

1

cup

flour

1

cup

old fashioned oats

2

teaspoons

cinnamon

1 & 1/2

teaspoons

nutmeg

3/4

cup

salted butter

,

softened

Vanilla ice cream

,

pretty much not optional :)

homemade caramel sauce,

click for recipe
Instructions
Peel and core the apples. Use a sharp knife or mandolin to slice the apples into very thin, uniform pieces.

Preheat the oven to 375 degrees F. Grease a 9×13 inch pan.

Add the sliced apples to the pan.

In a medium bowl, combine 1 and 1/2 cups brown sugar, 1 cup flour, 1 cup oats, 2 teaspoons cinnamon, and 1 and 1/2 teaspoons nutmeg.

Use a fork or pastry cutter to cut in 3/4 cup softened butter. (That's 1 stick plus another half stick.)

Sprinkle the streusel over the apples.

Bake for 35-40 minutes at 375. It is done when a knife inserted in the center slides in easily (the apples should be fork-tender).

Let stand for a few minutes before serving hot or room temperature.

Serves 12-16.
Notes
*A variety of apples is best. I used Granny Smith, Fuji, and Pink Lady.
**I've successfully replaced the flour with a gluten-free flour blend, if you're feeding someone who's gluten free.
I've never tried it, but Amelia's mom notes that you can also use 8 large fresh peaches, or canned peaches that have been drained well. Or try my favorite Peach Cobbler recipe!
Recipe from my friend Amelia and her mom Diane. Thanks ladies!
Nutrition
Calories:
349
kcal
|
Carbohydrates:
60
g
|
Protein:
3
g
|
Fat:
12
g
|
Saturated Fat:
7
g
|
Polyunsaturated Fat:
1
g
|
Monounsaturated Fat:
3
g
|
Trans Fat:
1
g
|
Cholesterol:
31
mg
|
Sodium:
111
mg
|
Potassium:
237
mg
|
Fiber:
5
g
|
Sugar:
42
g
|
Vitamin A:
436
IU
|
Vitamin C:
7
mg
|
Calcium:
44
mg
|
Iron:
1
mg