The peanut butter pie to end all peanut butter pies! It's frozen but still smooth and creamy, has a Nutter Butter crust (!!) and a thick layer of fudge at the bottom. Oh my! Did I mention it's a no bake??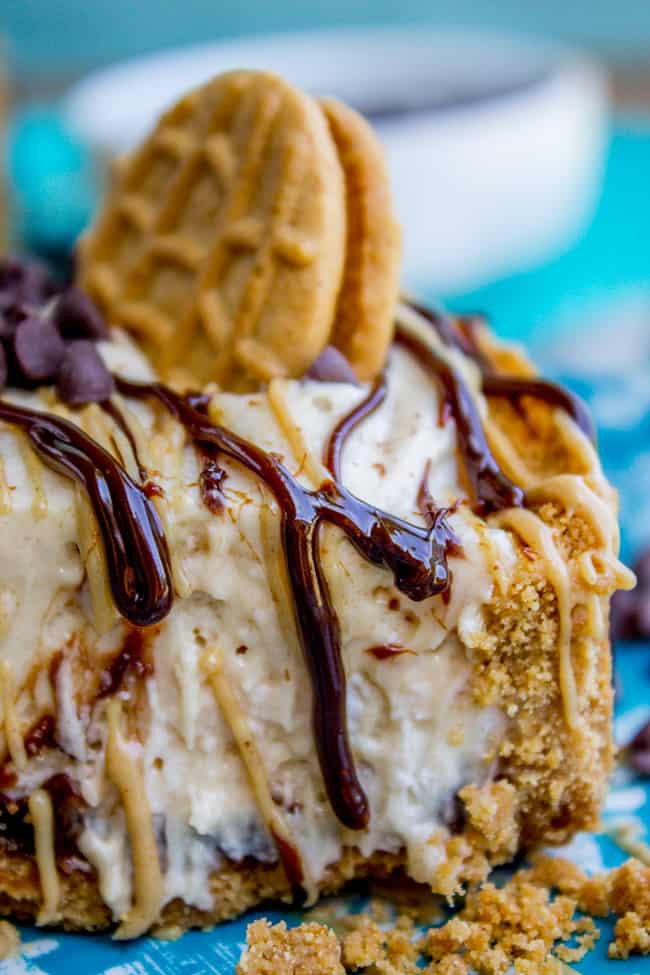 I was looking for my planner everywhere this morning and could not find it. I looked on the bookshelf where I often put it. I looked in my purse, in the car, on my nightstand. Finally I texted Eric, who had just left for a business trip. "Have you seen my planner anywhere??" He hadn't, but texted me a few more ideas: under the couch, on the dresser, under the bed?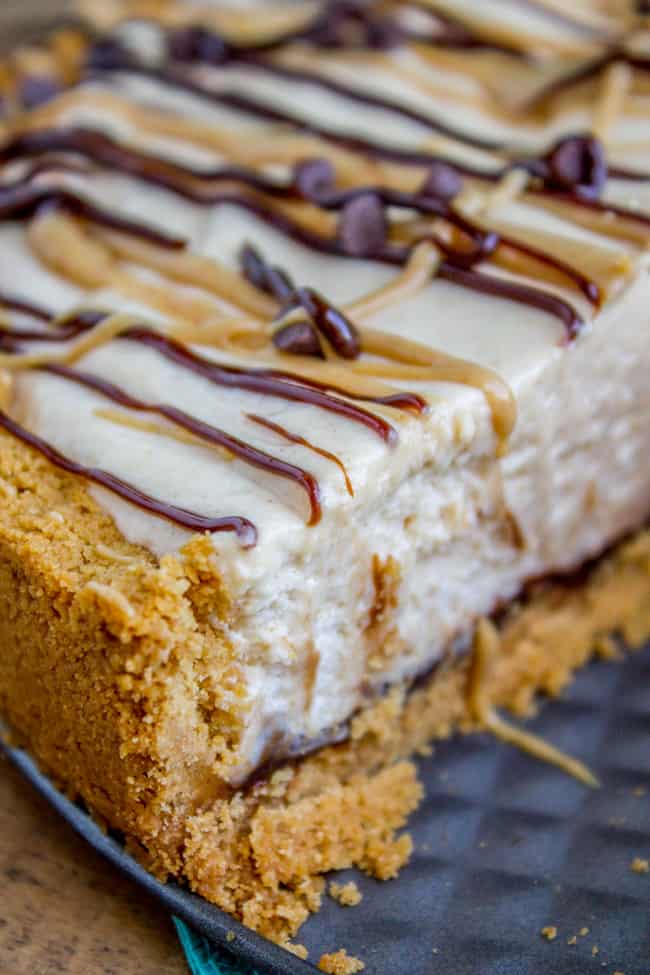 It was pretty important for me to find it because I can't make a to-do list without my planner, and without my to-do list…I don't know what to-do. I'm like a robot stripped of it's central features. What are you good for, anyway, robot? Stop eating cookies, bumping into walls, and being generally useless. Okay it's not really that bad, I can function without a list. Maybe. (Insert a Hunger Games 3-finger salute to all my stay-at-home-mom sistas out there.)
And then this: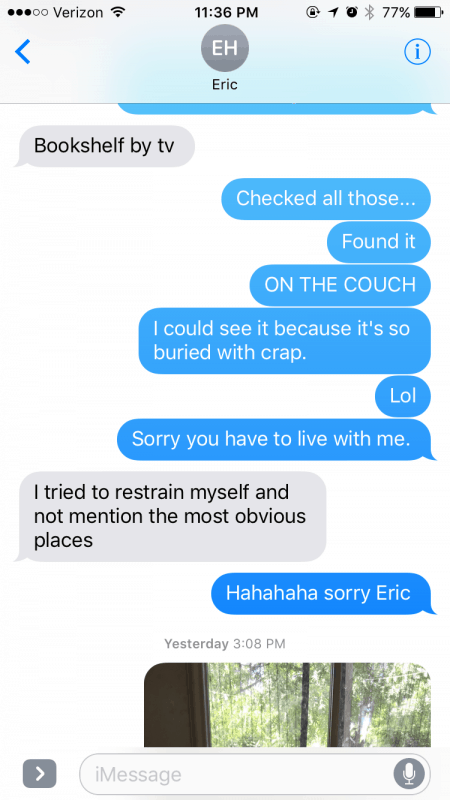 (There's a typo, I COULDN'T see it because it was so buried with crap.)
I'm the worst at covering up the couch with my junk. Laptop, notebooks, planner, computer cord, kid books, throw pillows, the remote, and a partridge in a pear tree. It's better than it all being on the floor, right? No? Okay yeah maybe not.
I just love that Eric knew exactly where it was the whole time but couldn't say "look on the couch you weirdo" because he knew I would get mad.
Later in the day I texted him again. "Where's the dustpan?" He suggested a few places to look but no luck. I finally found it in the closet, exactly where it goes, hiding under the dust mop. That's twice in one day guys. I'm pathetic!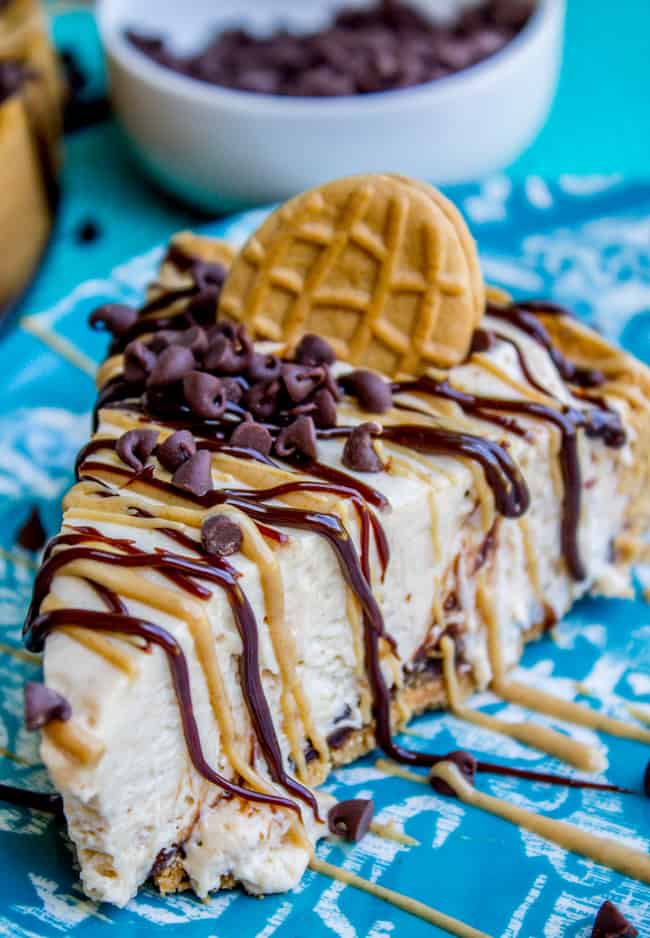 Do you see this pie!? My brother Eric (yes my husband and brother are both named Eric) told me about this amazing Frozen Peanut Butter Pie he made a few years ago, and I've had it on my list to try ever since. This summer has been a doozie weather-wise, so I'm into all things cold and no bake.
This pie starts with almost an entire package of Nutter Butters. How can we go wrong here?? I LOVE Nutter Butters. They are so perfectly peanut buttery. I crushed them up for the crust and had to stop myself from just eating giant spoonfuls of it. (Like when me and my BFF Sarah used to get to this step in a graham cracker crust and then just eat the whole thing with spoons…yeah. College: poor, impatient, and bad at cooking anyway. Buttery graham crumbs by the spoonful ftw!)

Okay so Nutter Butter crust perfection, then the hot fudge layer. Just pop open a can of hot fudge and spread it over the bottom of your crust. I used about 1/2 cup but I'm pretty sure Eric uses an entire jar…I think I will try it next time. Go big or go HOME right? 'Merica.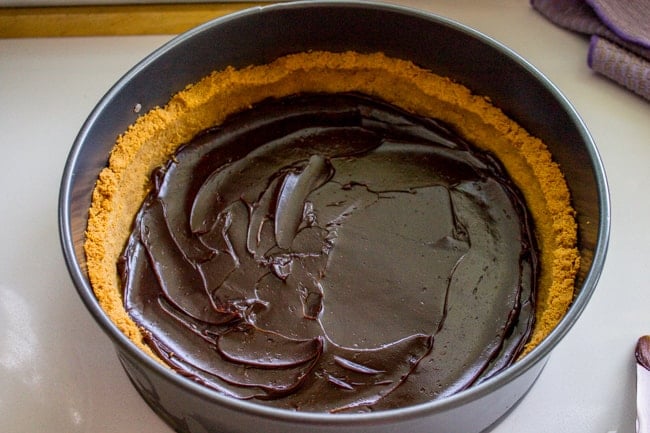 Then for the filling: peanut butter, cream cheese, cool whip, with a few other ingredients. You can of course whip your own cream if you like. Can't go wrong. I'm lazy so cool whip it is!

Spread this amazing concoction (taste it! taste it!!) on top of the hot fudge and then freeze until firm. Then drizzle with MORE hot fudge and/or peanut butter to make it nice and pretty.
It is MAJOR peanut butter overload. This pie is super rich, you only need a small slice. Unless you're me, in which case you will say on your blog that you only need a small slice but then will actually take a regular sized slice anyway. See? Transparency, people. That's why you come here.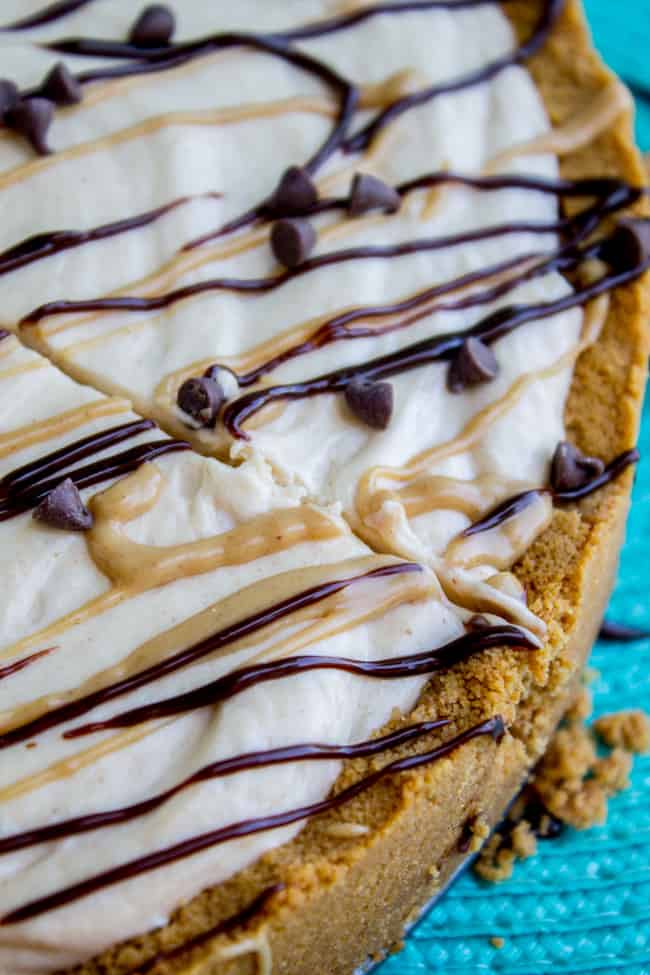 Next time I want to try this with an Oreo crust. Would that be delicious or what. Use the Oreo crust from these Oreo Cheesecake Bars if you want to try it. Of course you can do a graham cracker crust if you prefer, use the crust recipe from this No Bake Cherry Cream Cheese Pie.
Facebook | Pinterest | Instagram | Twitter
One year ago: One Hour Honey Almond Crunch Rolls
Two years ago: Easy BLT Pasta Salad
Five years ago: French Dip Sandwiches

No Bake Frozen Peanut Butter Pie with Hot Fudge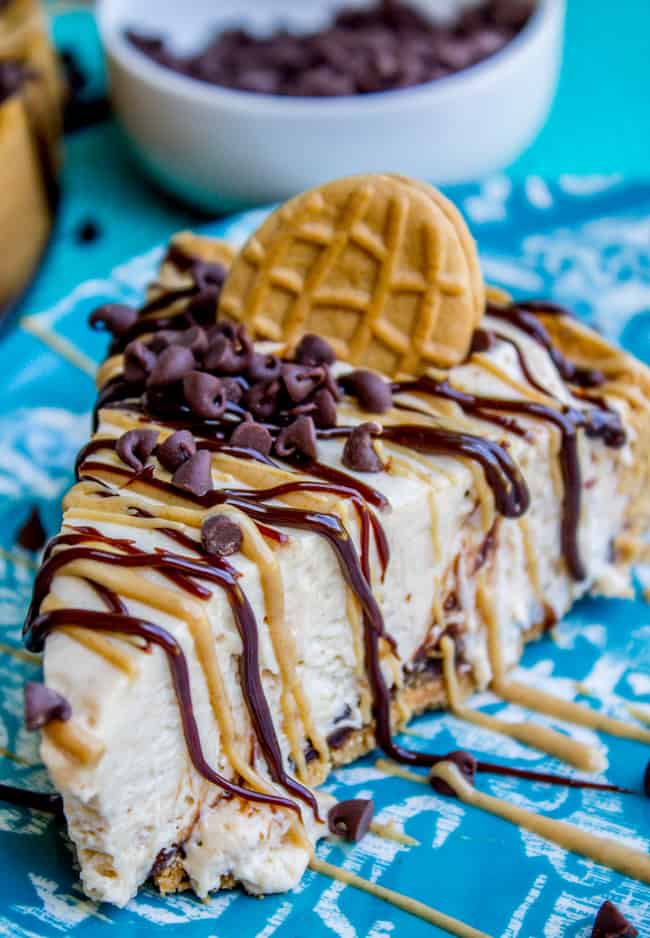 The peanut butter pie to end all peanut butter pies! It's frozen but still smooth and creamy, has a Nutter Butter crust (!!) and a thick layer of fudge at the bottom. Oh my! Did I mention it's a no bake??

Ingredients
For the crust:
23

Nutter Butter cookies*

4

tablespoons

salted butter

1/2

cup

hot fudge

,

or more to taste
For the filling:
8

ounces

cream cheese

,

softened

3/4

cup

powdered sugar

1

cup

peanut butter

3

tablespoons

milk

1

tablespoon

vanilla

8

ounces

cool whip

extra hot fudge

,

to garnish

melted peanut butter

,

to drizzle

mini chocolate chips

,

to garnish
Instructions
For the Crust:
Prepare the crust. If baking your crust, preheat your oven to 350 degrees F. (Now is also a good time to get out your cream cheese to soften)

Add Nutter Butters to a food processor and blend until they are fine crumbs. (If you don't have a food processor, add them to a ziplock and crush with the edge of a rolling pin.)

Melt the butter in a small bowl. Pour the butter into the food processor and blend well. (Mix together crumbs and butter in a bowl if you don't have a food processor.) 

Use the bottom of a glass or the bottom of a measuring cup to press the crumbs into the bottom and up the sides of the pan.

At this point you can either refrigerate/freeze the crust for 1 hour (do this if you don't have air conditioning!) or you can bake the crust for 10 minutes at 350. Refrigerating results in a more crumbly crust, baking will get a sturdier crust that is a little more crunchy. But both methods work great.

Cool the crust completely if you baked it. I put it in the freezer for a bit.
For the filling:
Put your jar of hot fudge in the microwave for 30 seconds or so, until it is easy to spread. Spread about 1/2 cup fudge on the bottom of the crust. You can add as much as you like. I think my brother adds a whole jar (!!)

In a large bowl or stand mixer, beat the softened cream cheese until it is smooth, making sure to scrape sides and bottom. Add the powdered sugar and peanut butter and beat until incorporated.

Mix in milk and vanilla.

Add half of the cool whip and fold it into the mixture. When it is mostly incorporated, fold in the remaining cool whip.

Spread the peanut butter filling on top of the hot fudge.

Cover with plastic wrap** and freeze for 2-3 hours, until firm. You can also refrigerate until firm if you aren't into frozen pies.

Heat up any remaining hot fudge. Add a little peanut butter to a bowl and melt it in the microwave. Use a spoon to drizzle peanut butter and fudge over the whole pie, or each slice as you serve it.

Garnish with extra Nutter Butters, if you haven't already eaten them all!
Notes
*Save the rest of the package to garnish the pie. Or just eat them, I'm no judge.
** My grandma Georgia taught me the trick of sticking a bunch of toothpicks into your pie and then putting the plastic wrap on top, so that it doesn't turn into a sticky mess. Genius!
Nutrition
Serving:
1
g
|
Calories:
761
kcal
|
Carbohydrates:
77
g
|
Protein:
12
g
|
Fat:
45
g
|
Saturated Fat:
17
g
|
Polyunsaturated Fat:
8
g
|
Monounsaturated Fat:
17
g
|
Trans Fat:
1
g
|
Cholesterol:
52
mg
|
Sodium:
580
mg
|
Potassium:
345
mg
|
Fiber:
3
g
|
Sugar:
43
g
|
Vitamin A:
615
IU
|
Vitamin C:
1
mg
|
Calcium:
90
mg
|
Iron:
1
mg
More delicious summer treats to make!
Oreo Cheesecake Bars and I Had a Baby << click to see a picture of Truman when he was a newborn. Dawwww!! Time flies.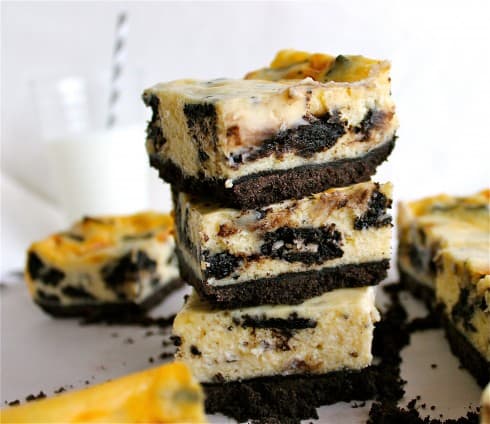 Chewy Peanut Butter Oatmeal Cookies << I'm a little obsessed with these.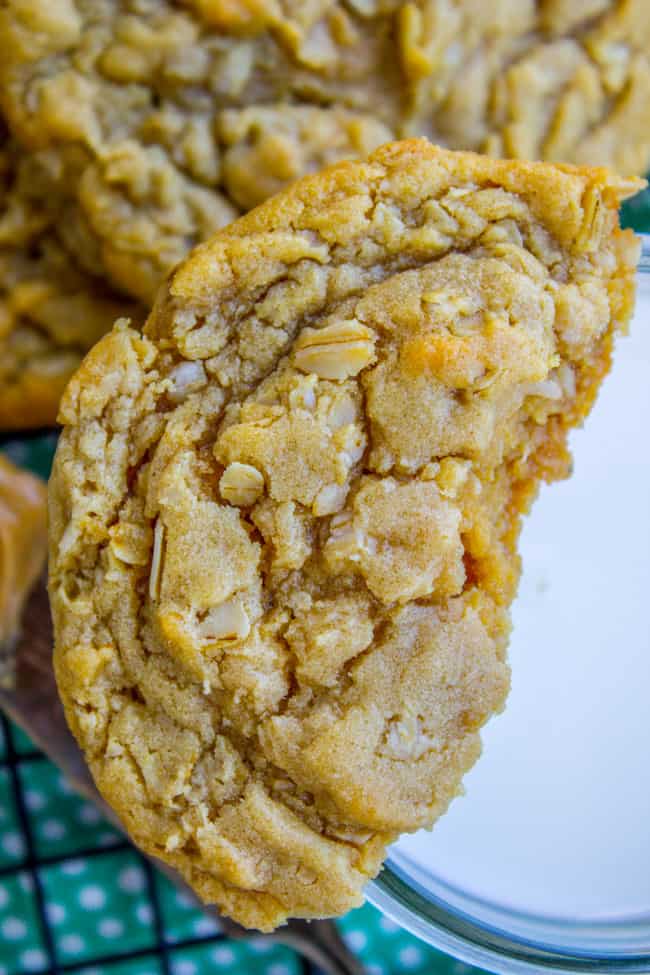 No Bake Dulce de Leche Cheesecake with Caramelized Peaches << I just made this a few weeks ago for my mom's birthday. Take advantage of those fresh summer peaches!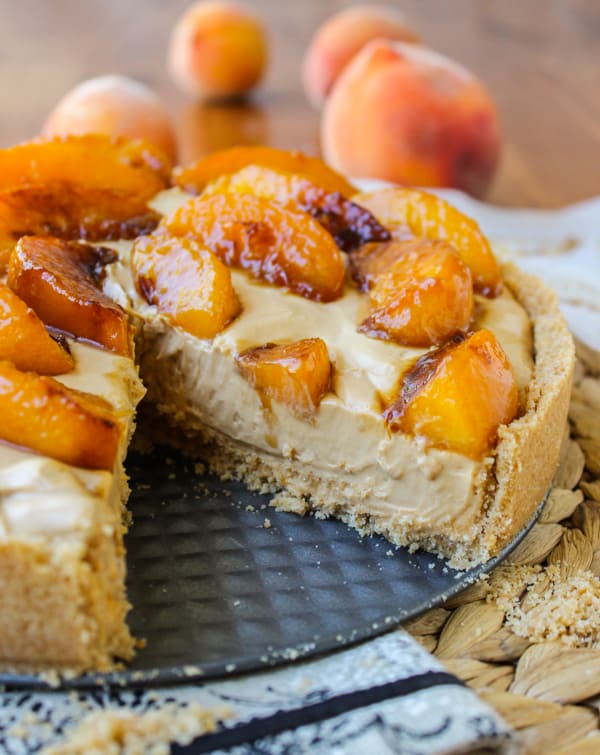 More Peanut Butter Pies from around the web!
No Bake Peanut Butter Oreo Pie from Pint Sized Baker
Over The Top Peanut Butter Pie from Melissa's Southern Style Kitchen
No Bake Creamy Peanut Butter Pie from Brown Eyed Baker