A refreshing crispy chicken salad recipe with lots of greens, fresh red tomatoes, avocados, and some cucumbers for even more crunch. All drizzled with the most amazing homemade ranch dressing! I'm not usually a salad person but honestly, you add fried chicken to just about anything and I'm in. It's so good!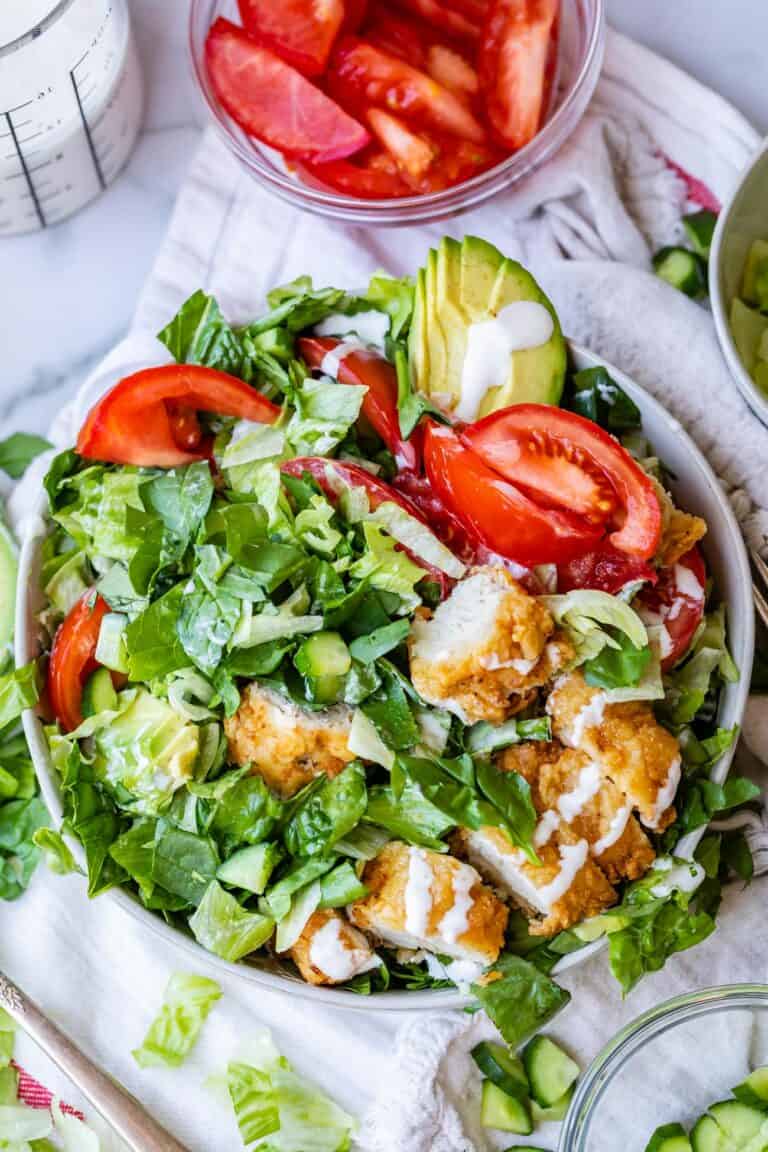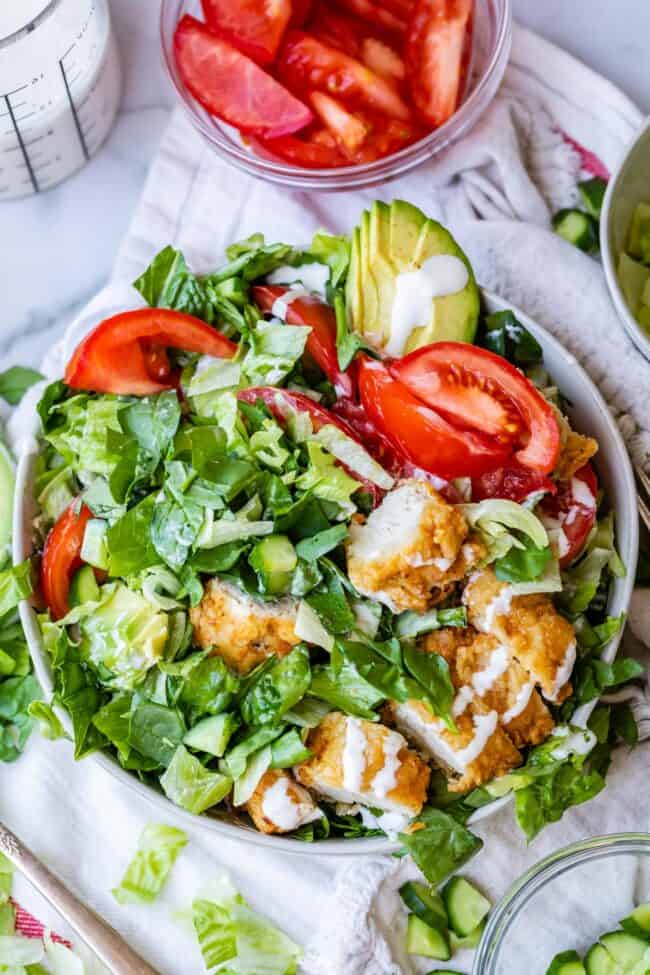 I woke up the other day with a mad craving for a McDonald's Buttermilk Crispy Chicken Sandwich. Have you ever had one of those? Or are you one of those people who thinks you're too good for McDonald's? As Jim Gaffigan says, "It's fun telling people you go to McDonald's. They're always like, Oh! I didn't know I was better than you!" See, isn't it nice to feel morally superior to me today?? You're welcome.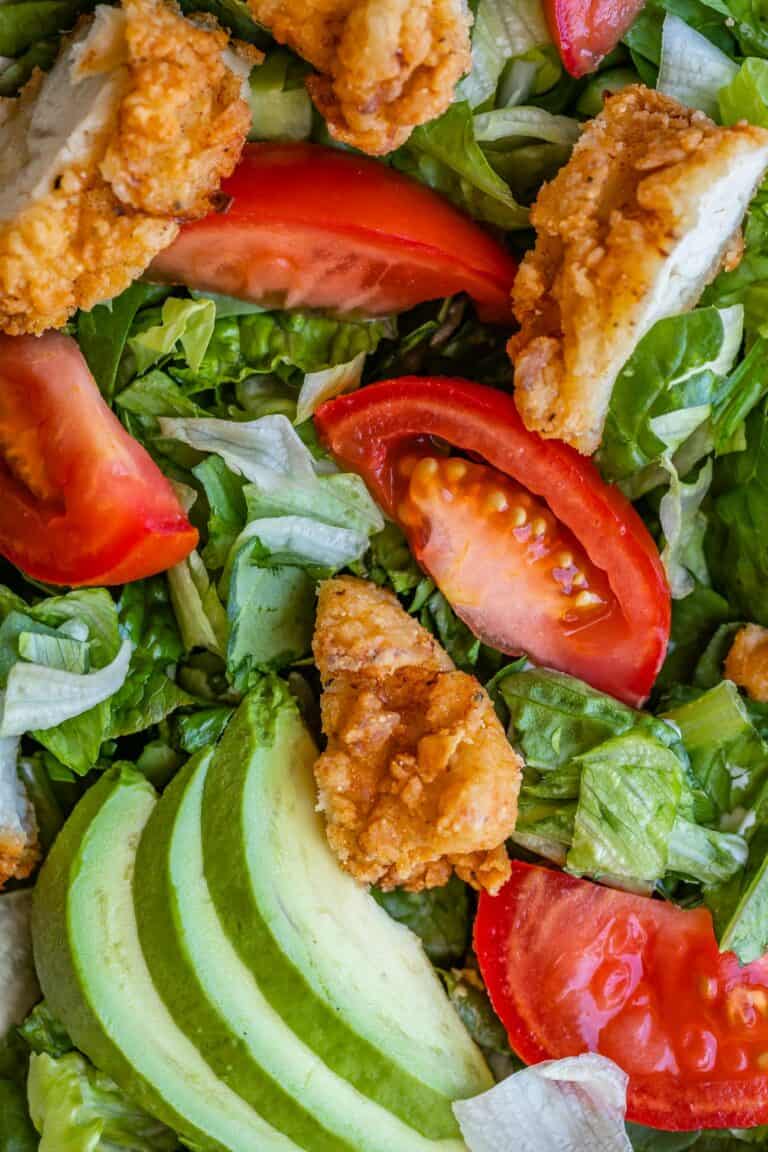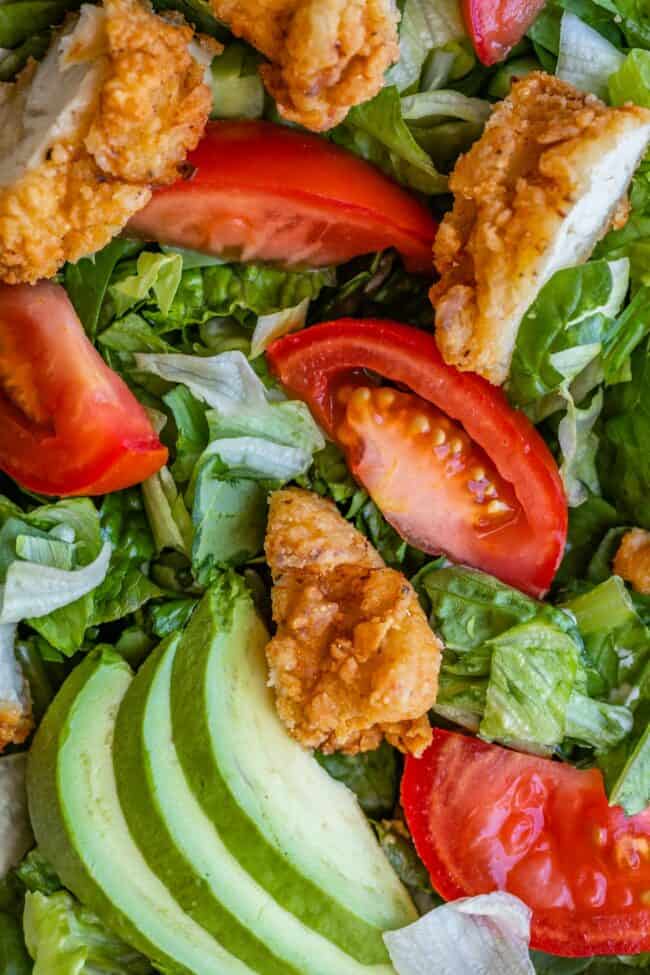 But for the REST of us mere mortals, those chicken sandwiches are freaking delicious. I am not discriminatory in my chicken sandwiches: I will take a Chik-fil-A chicken sandwich or a Popeye's chicken sandwich, or basically any chicken sandwich I can get my hands on. (My friend Melissa just told me today that Shake Shack has a killer chicken sandwich. Anyone tried it??)
But I feel nostalgic about the McDonald's one because it's my mom's go-to order and has been my entire life. I remember her ordering it, every time asking for extra mayonnaise. See, my mother raised me right you guys.*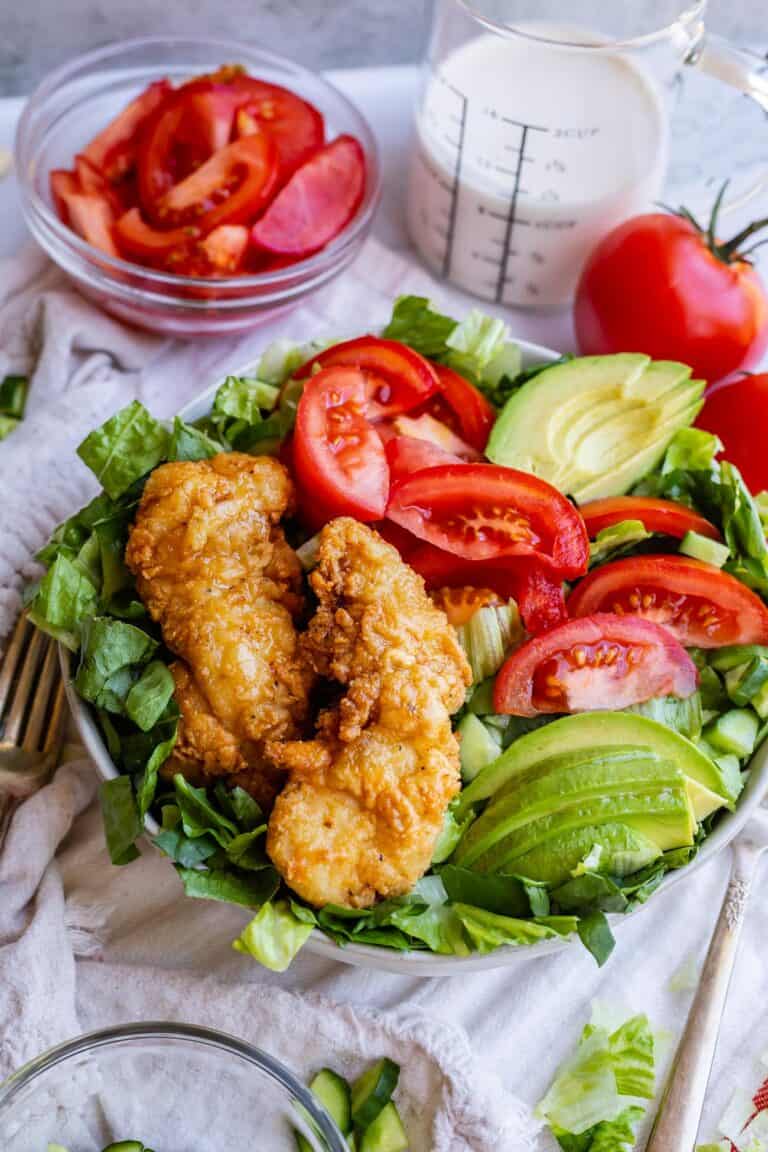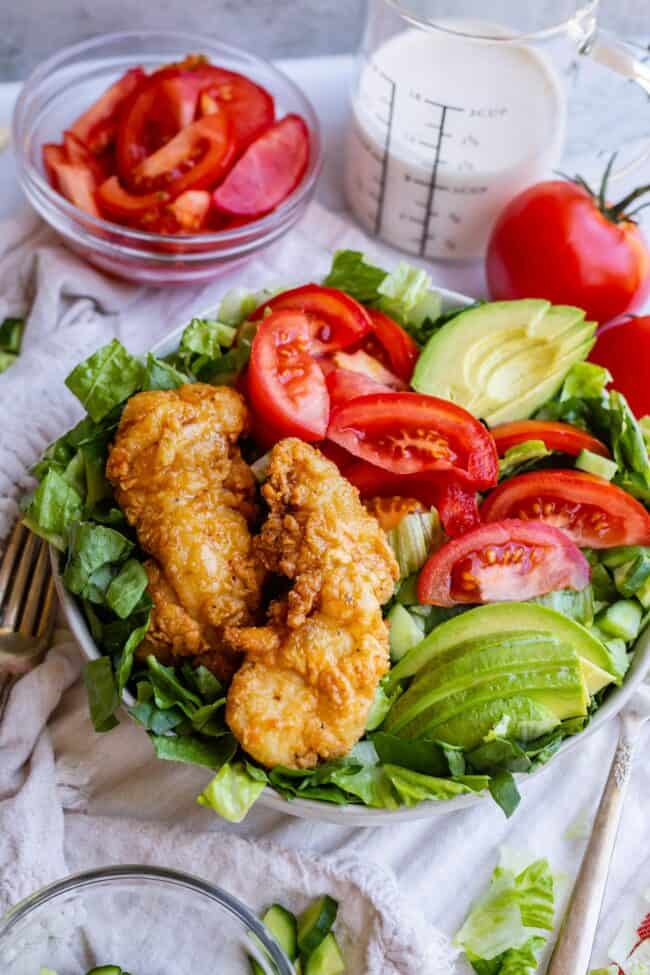 I honestly considered topping this salad version of the Crispy Chicken Sandwich with straight up mayonnaise. Mayonnaise is totally underrated in America if you ask me. I did an internship in Peru in college, and let me tell you, the Peruvians GET IT. They slap mayonnaise on everything, and it's glorious.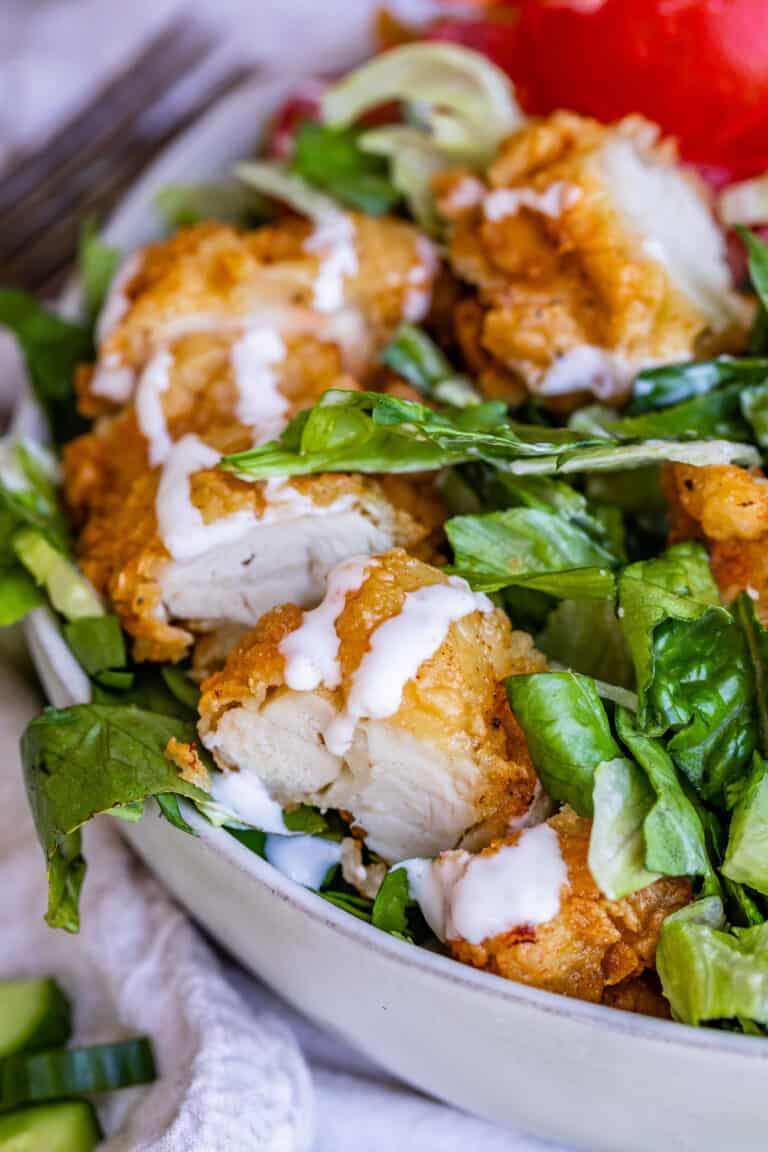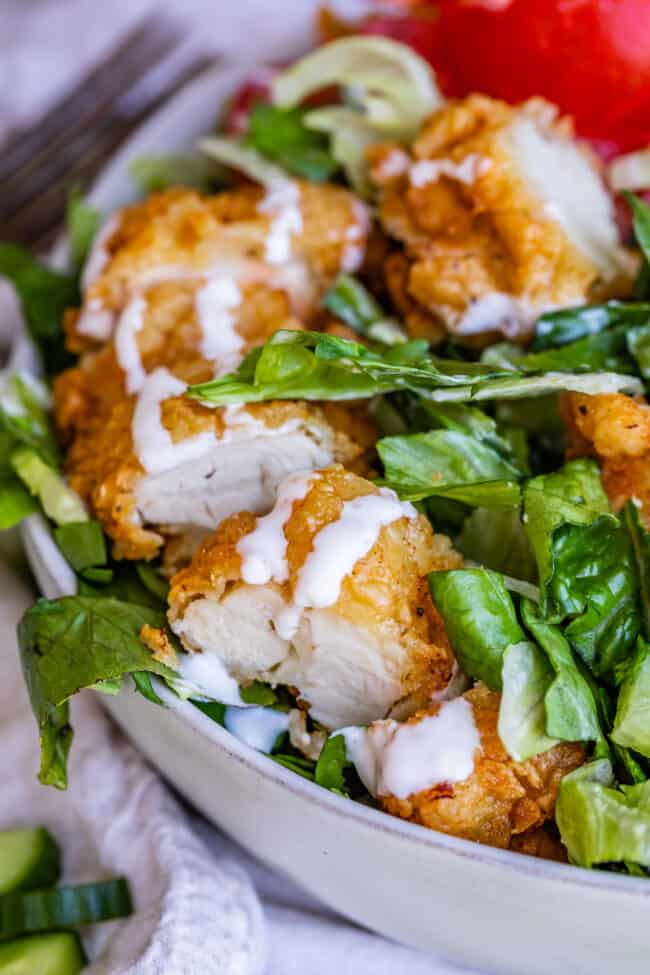 But I thought you all might seriously take issue with me dumping mayonnaise on my salad and spreading it on my fried chicken, so I used the next best thing: buttermilk ranch dressing. I did a whole post for the ranch, because the ingredient list on this recipe was getting way too long! Plus ranch dressing is amazing and deserves it's own post, so head on over for all the details.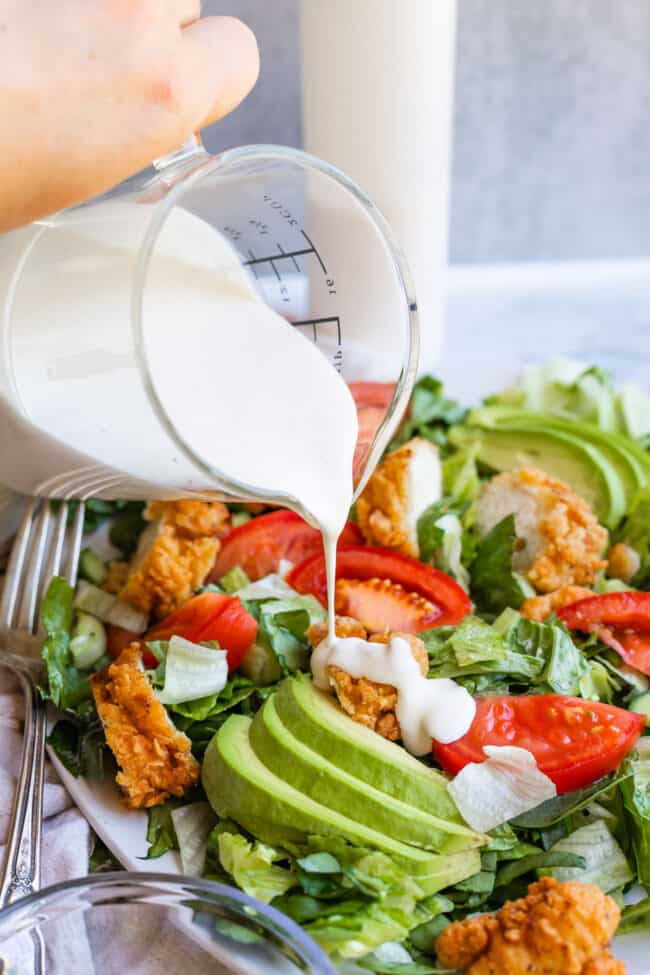 Here is the description for the sandwich: "Buttermilk crispy chicken sandwich made with all white meat chicken fillet. Layered with crisp leaf lettuce, tasty tomato and mayonnaise, all on our delectable artisan roll." Doesn't it sound so good?? I've been counting calories lately and decided to make it at home. I decided I could make do without the bun and turn it into a salad.
But there was no way I was giving up on the fried chicken. Heck no.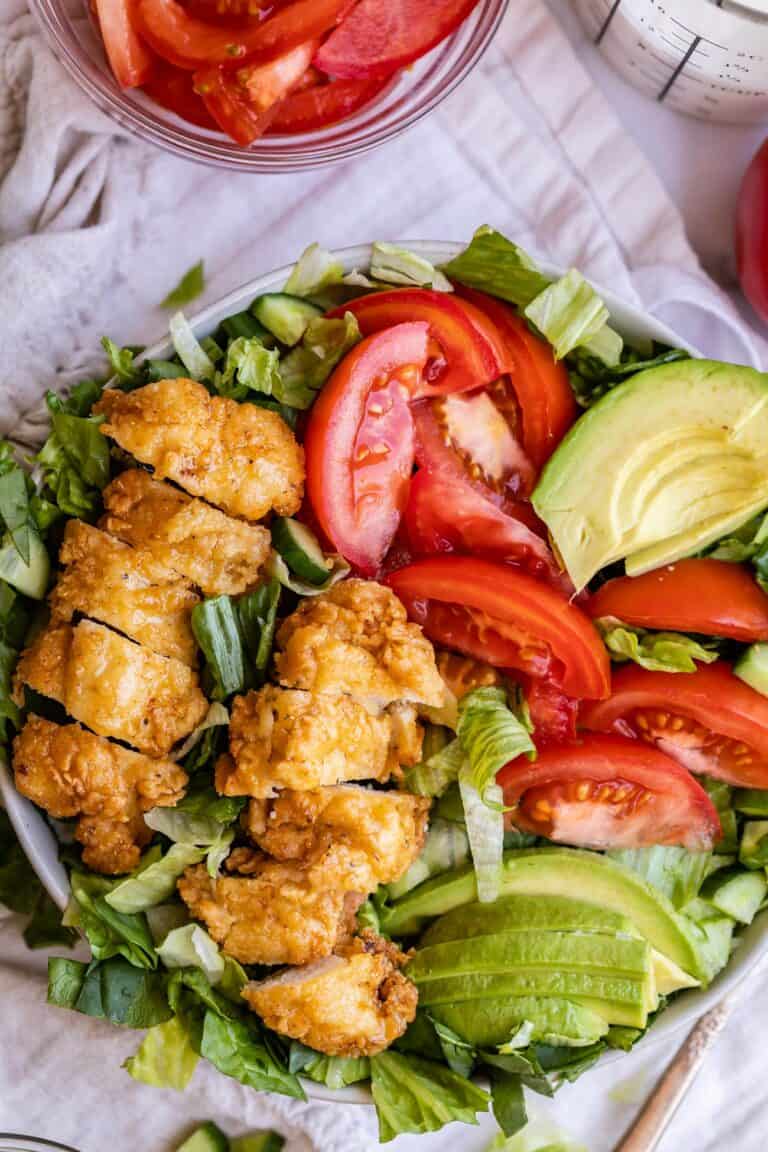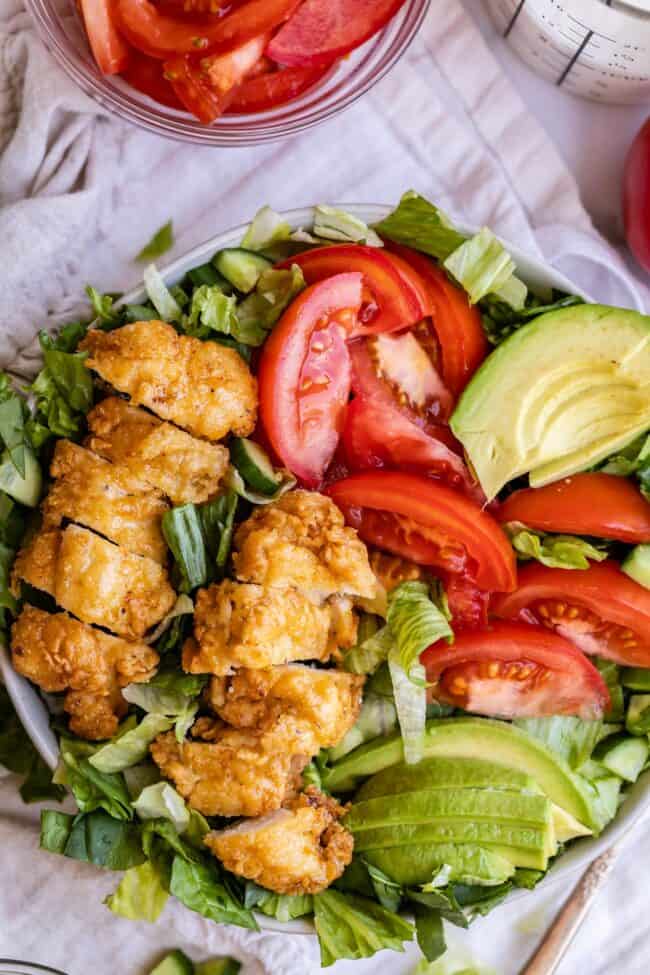 My brother came over for dinner when we had this, and said "how did you make this chicken? You don't have a deep fryer." I told him that I just poured some oil into a high-sided skillet and flipped it half way. So just in case you thought you needed special equipment to make fried chicken, good news! You don't! You just need a whole lotta oil. Yesss.
How to make Crispy Chicken Salad
It's not hard to make! Just mix up some buttermilk and spices with an egg, toss in your fried chicken, and let it marinate a while.


Then add all your dry ingredients to a ziplock bag. You only need to put it in a bowl if you plan to take a picture of it and post it on the internet so that people know what tempura mix looks like. The tempura mix is on the right in the bowl of dry ingredients, and looks just like flour. It gets you the crispiest fried chicken! But flour will do if you can't find it. Beside the bowl on the right is the dry chicken bouillon I used. It adds great chicken flavor!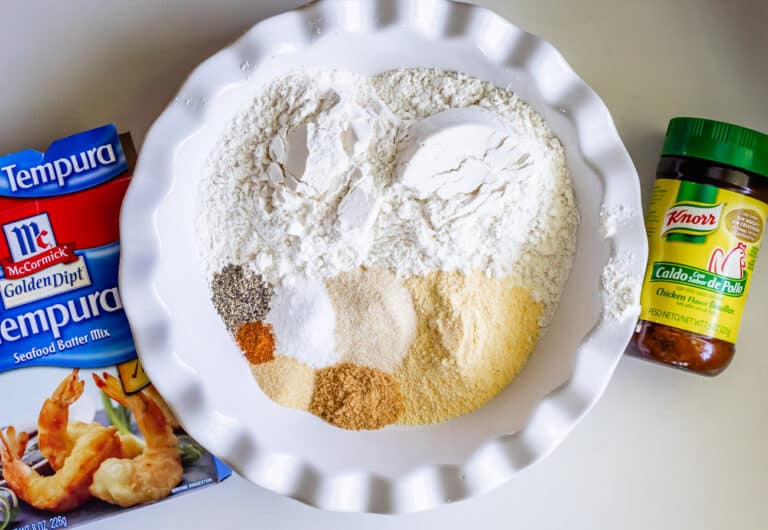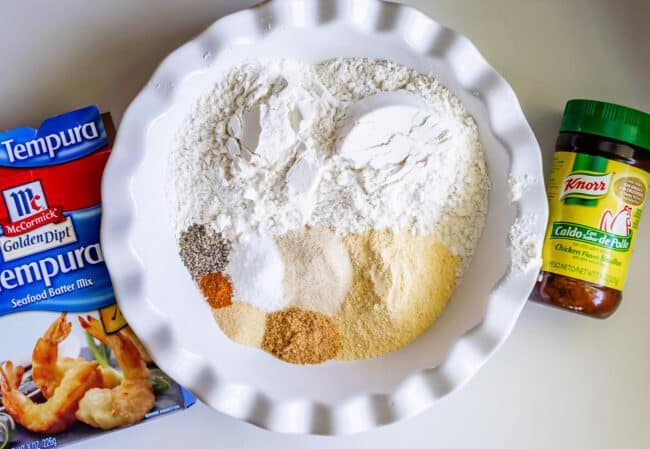 Add the chicken to the bag of dry ingredients and shake it up. Then stick it in the freezer while you let your oil heat up! Cold batter going into hot oil makes for the crispiest fried chicken, especially when using tempura batter. It also helps the batter stick to the chicken a little better.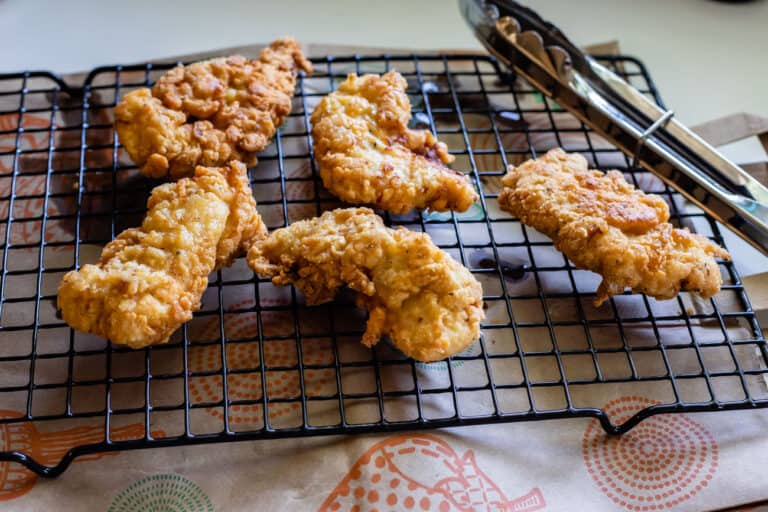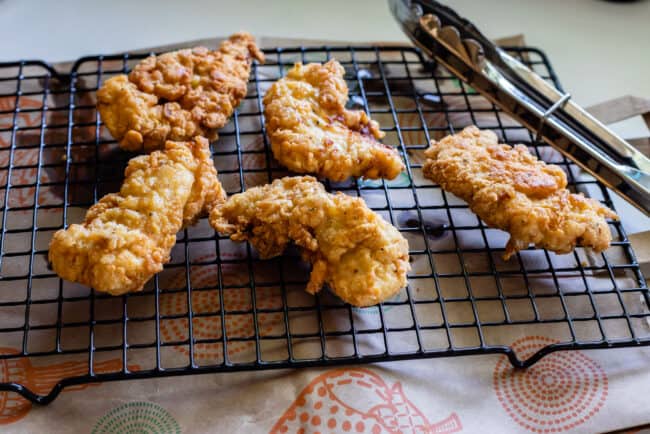 Then fry 'em up! Deep frying in a pan is not as intimidating as it seems. And it really only takes 20 minutes or so. And it's SO GOOD.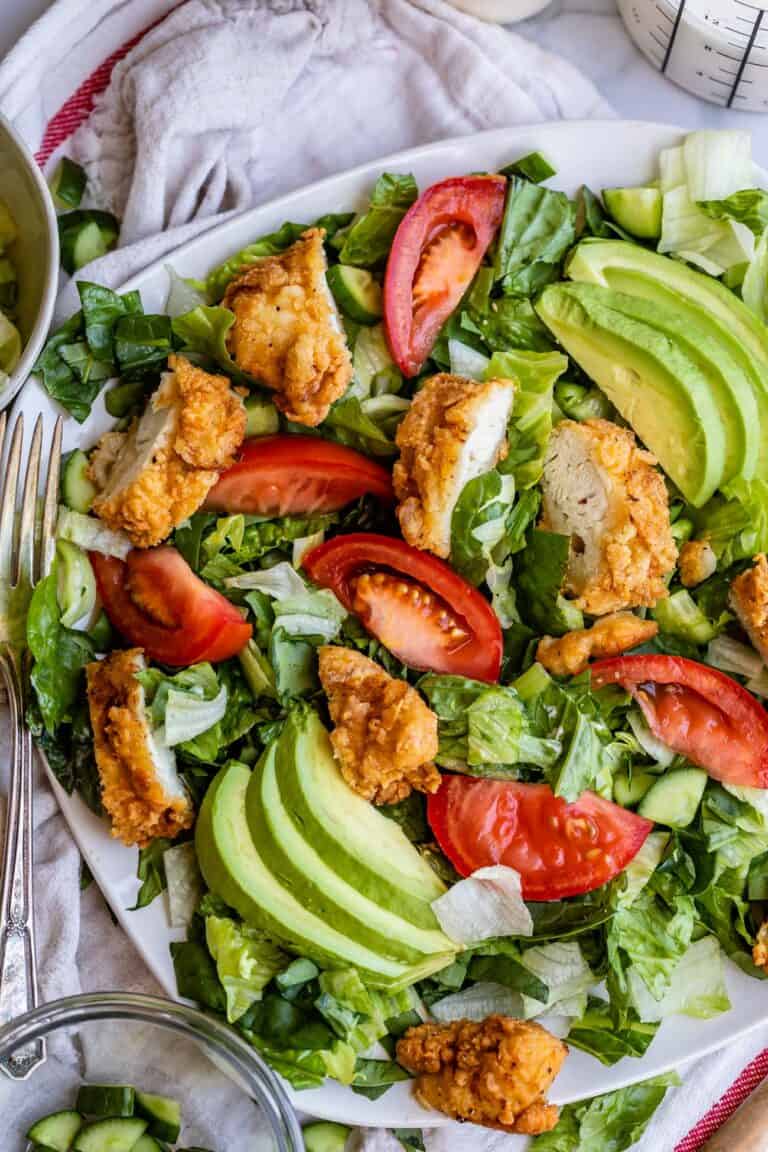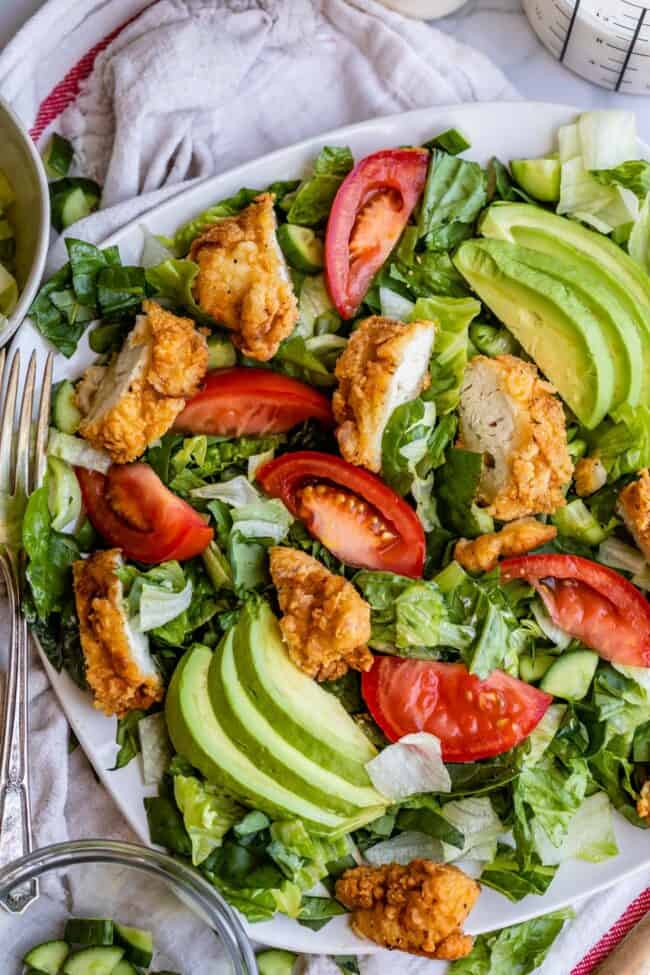 Then chop up all your veggies and devour!!
I know that most chicken sandwiches sold in fast food restaurants don't have avocado, but that's only because avocados are expensive and it wouldn't make sense for them business-wise. I mean, right? Why WOULDN'T you add avocado to your chicken sandwich if you could?? So into our sandwich-salad it goes.
Cucumber is another ingredient you won't find on a chicken sandwich, but I just love the crunch it adds to the greens section of the salad. Take it or leave it. Don't let me tell you how to make your salad. Another ingredient I didn't add but would be good: thin sliced red onion, just a little bit. Yum. It would add great color too. Why didn't I think of this before my photo shoot?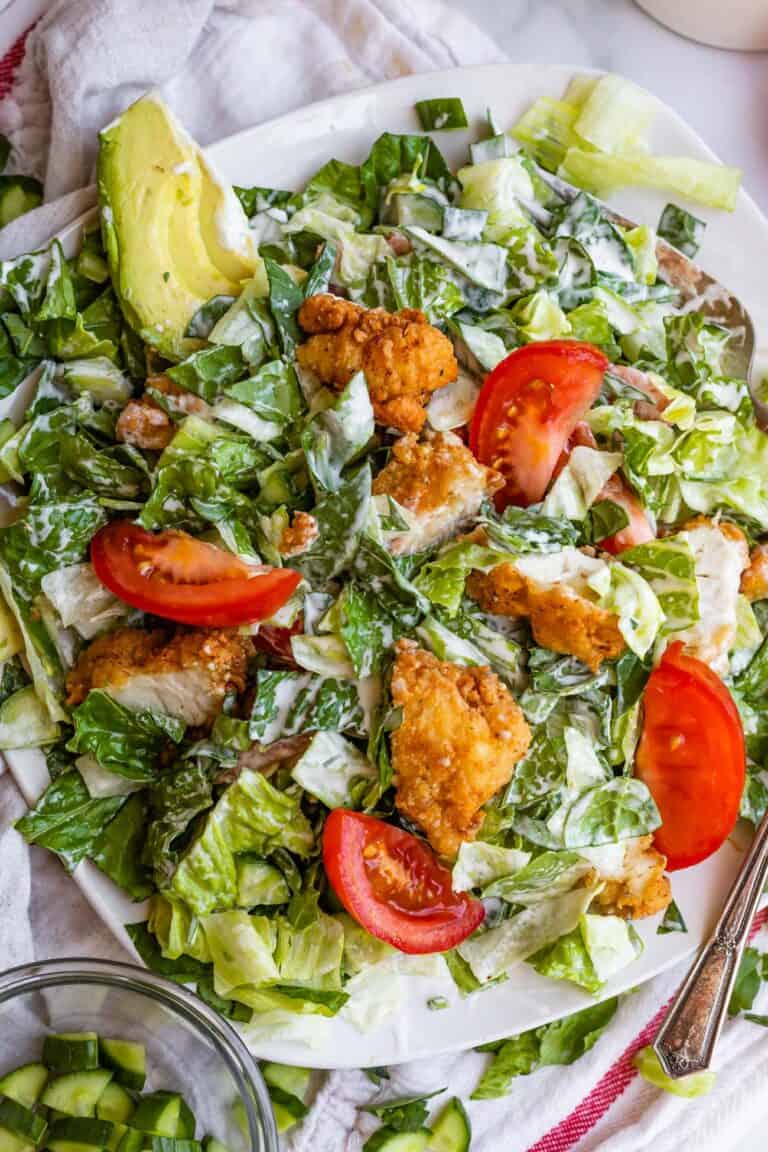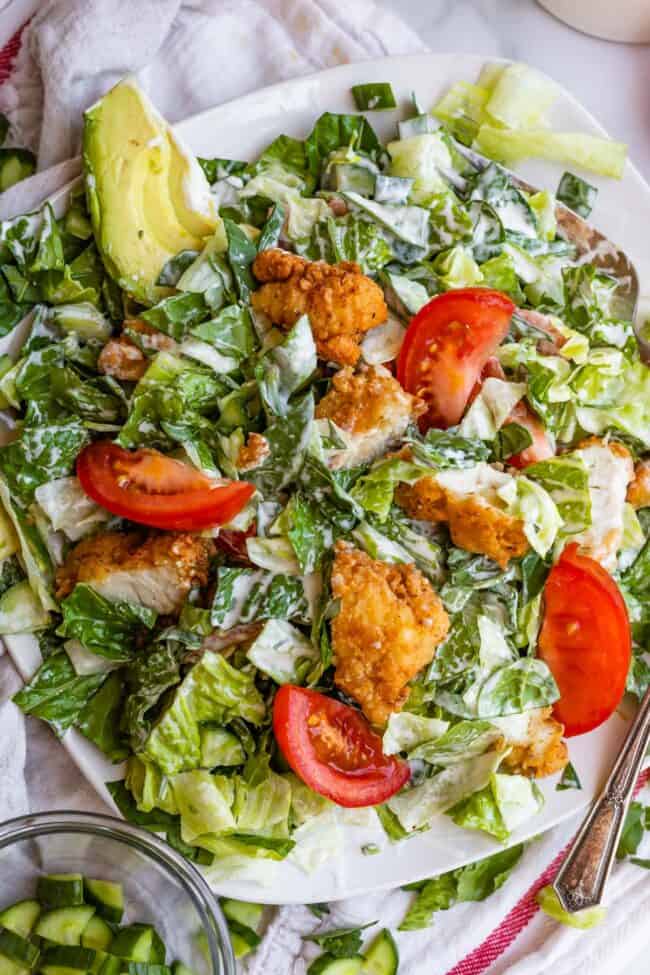 *Update: I texted my mom before posting this and randomly asked her what she would order from McDonald's if she were getting lunch. After explaining to her that no, I wasn't about to bring her lunch (sorry Mom!!) she said "A chicken sandwich, with lettuce and tomato, no mayo but ask for ranch, small fry, medium chocolate shake." So obviously I have no clue about my mother's mayonnaise preferences, have rewritten my own memories, and am clearly projecting. BUT I WAS RIGHT ABOUT THE RANCH!!
More salad recipes you are going to love!
Creamy Buttermilk Ranch Dressing << the best homemade ranch! It's the one I use for today's salad.
Crunchy Asian Cabbage Salad with Crispy Fish << Use frozen fish filets. It's so good!
Pineapple Spinach Salad << like strawberry spinach salad, but with pineapple!
Raspberry Avocado Salad << So simple and really lets the ingredients shine!
Apple Gorgonzola Salad << just like the one at Buca di Beppo!
Beer-Battered Fish Burrito Bowl with Orange Avocado Salsa << Crispy fish or chicken would be good with this!
Strawberry Panzanella Salad << fried bread. DO IT!
Sonoma Salad from A Classic Twist
Chef Salad Recipe from Diethood
Ultimate Cobb Salad from Tried and Tasty
Facebook | Pinterest | Instagram

Crispy Chicken Salad with Buttermilk Dressing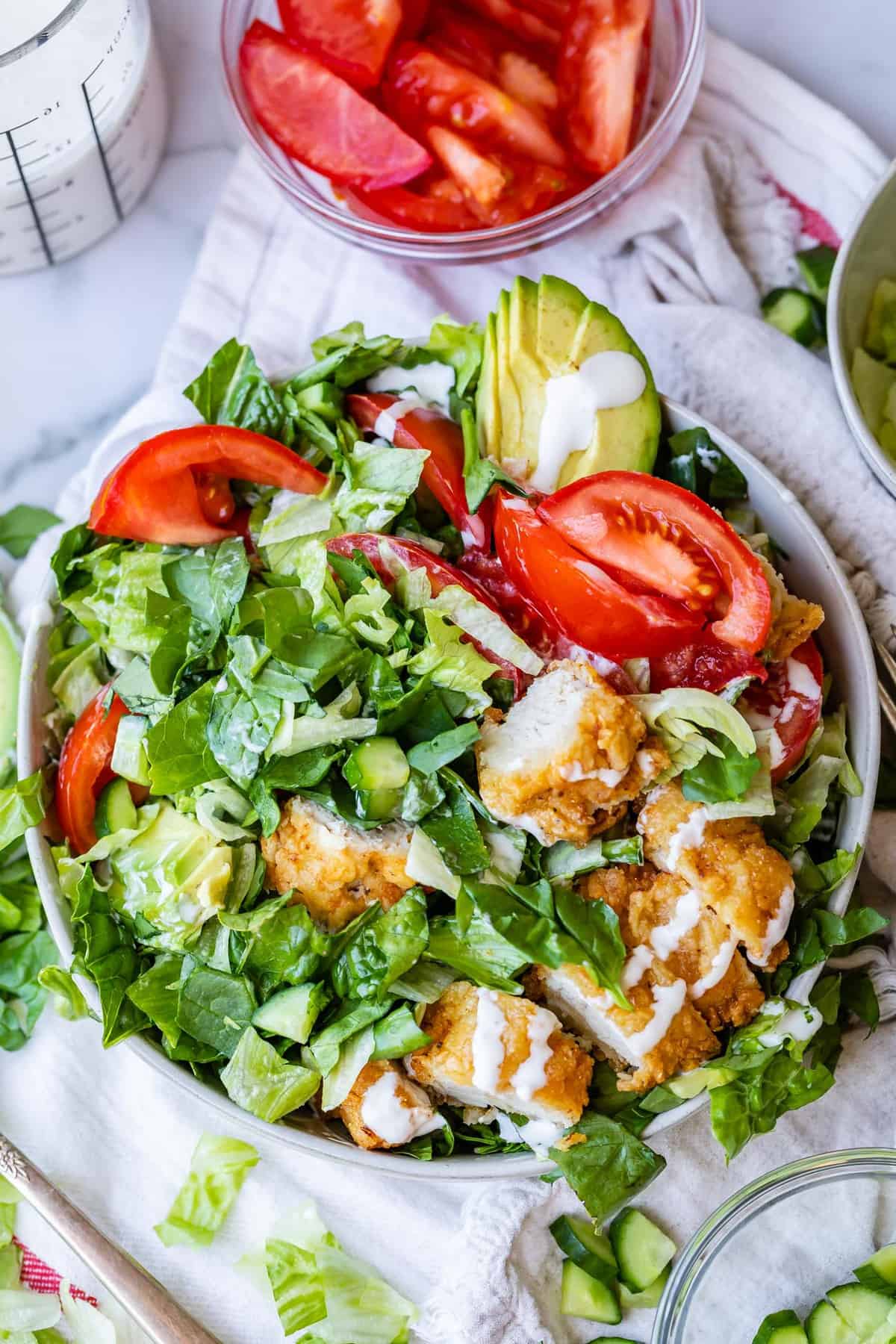 A refreshing crispy chicken salad recipe with lots of greens, fresh red tomatoes, avocados, and some cucumbers for even more crunch. All drizzled with the most amazing ranch dressing! I'm not usually a salad person but honestly, you add fried chicken to just about anything and I'm in. It's so good!
Ingredients
For the crispy chicken buttermilk marinade
2

cups

buttermilk

1 & 1/2

teaspoons

kosher salt

1/2

teaspoon

paprika

3/4

teaspoon

onion powder

1/2

teaspoon

garlic powder

1/4

teaspoon

cayenne pepper

1

large

egg

2 & 1/2

pounds

frozen chicken tenderloins

,

thawed
For the chicken shake
1

cup

flour

1

cup

tempura mix

1/4

cup

yellow cornmeal

4

teaspoons

kosher salt

2

teaspoons

onion powder

1 & 1/2

teaspoons

dry chicken bouillon powder

1/2

teaspoon

black pepper

1/2

teaspoon

garlic powder

1/8 to 1/4

teaspoon

cayenne pepper
To fry
several cups of oil

,

enough to fill a wide skillet about 1 inch high
To assemble
1

head

romaine lettuce

1

head

iceberg lettuce

3

cups

baby spinach

,

sliced

1

medium

cucumber

,

quartered and sliced

6-8

tomatoes

,

sliced into wedges

2-3

avocados

,

sliced

homemade ranch dressing,

click for recipe
Instructions
Begin by marinating the chicken: In a large bowl combine 2 cups buttermilk, 1 and 1/2 teaspoons kosher salt, 1/2 teaspoon paprika, 3/4 teaspoon onion powder, 1/2 teaspoon garlic powder, 1/4 teaspoon cayenne pepper (add more if you like it spicy), 1 large egg, and 2 and 1/2 pounds of thawed boneless chicken. I bought a bag of frozen chicken tenderloins (and thawed them first). I like tenderloins because they are nice and small. I don't like big thick pieces of fried chicken. But you can use any kind of chicken you like!

Stir the marinade together and make sure all the chicken is coated well. Let marinate in the fridge for at least an hour, or up to 24 hours.

When you are ready to fry, prepare the dry chicken shake: In a large ziplock bag, add all the dry ingredients: 1 cup flour, 1 cup tempura mix (I found it in the store next to the fresh seafood, check on the baking aisle by cornmeal as well*), 1/4 cup yellow cornmeal, 4 teaspoons kosher salt (yes really), 2 teaspoons onion powder, 1 and 1/2 teaspoons dry chicken bouillon powder, 1/2 teaspoon black pepper, 1/2 teaspoon garlic powder, and 1/8 or 1/4 teaspoon cayenne pepper. (Add 1 teaspoon or more if you like spicy fried chicken!)

Get the chicken out of the fridge. Use your hands to let each chicken piece drip off for a few seconds, then add it to the bag and move it around to coat. Add each piece one at a time, trying to coat as you go. When you've added it all, zip it up and shake it like a polaroid. Use your hands to separate any chicken pieces that are sticking together and coat them with the flour mixture.

Put the ziplock bag in the freezer for about 15 minutes or up to an hour. If there's no room in the freezer the fridge will do.

Meanwhile,

heat the oil

. In

a 12 inch high-sided skillet

, add about 1 inch of oil. Any flavorless frying oil will do: vegetable oil, peanut oil, canola oil, light-flavored olive oil (that's what I use). Turn the heat to medium high. Let the oil preheat for about 15 minutes.

When the oil is hot (you can test it by adding a little piece of bread, if it bubbles it's ready) get your chicken out of the freezer. Quickly add the chicken one piece at a time, making sure they are not touching. Let cook for about 5 minutes until golden, then flip each piece of chicken with a pair of tongs. Be careful! Cook for another 5 minutes. Each batch of chicken should cook for about 10 minutes total.

When the chicken is light golden and

a meat thermometer

registers 160 degrees F, remove each piece of chicken to a cooling rack set over a paper grocery bag, or a bunch of paper towels, to absorb the oil. (I like paper bags because they are really thick and absorbent.) Keep in mind that the chicken will rise in temperature a couple degrees after you take it out of the oil, and that the color of the fried chicken will deepen to a darker brown once removed.

I fried the chicken in 3 batches. Put the raw chicken back in the freezer (in the bag) while you wait for the other ones to fry.

Meanwhile, chop and prepare all your vegetables. Wash and chop up a head of romaine and a head of iceberg. (Don't be an iceberg hater. It's so crunchy and delicious!) Chop up about 3 cups of baby spinach. Chop a cucumber into small bite size pieces. Slice a bunch of tomatoes into wedges. Slice 2-3 avocados. (I like to toss all the greens including the cucumbers in a bowl, that way if there are leftovers you can store it in the fridge together. If you add the tomatoes and avocados it will get all mushy. Store them separately.)

Serve the salad topped with fried chicken and plenty of

homemade ranch dressing

. Or store bought ranch dressing. I mean homemade is best, but let's be real, sometimes it's just not gonna happen.
Notes
*I haven't tried it, but if you replace the tempura mix with flour it will turn out okay. Your fried chicken will not turn out quite as textured.
This seems obvious, but if you don't want to fry chicken (trust me, I get it) buy a package of frozen crispy chicken and bake it! I mean it won't be quite as amazing but will still be really good!
I save my used oil for the next time I want to fry. Wait for it to cool completely. Get someone to help you. Place a funnel over a mason jar, or the same bottle the oil came from, if it's empty. Then hold a strainer over the funnel to catch any bits. Pour the used oil in and store on the shelf. I use my frying oil at least 3 times usually.
Nutrition
Serving:
1
g
|
Calories:
1520
kcal
|
Carbohydrates:
99
g
|
Protein:
80
g
|
Fat:
91
g
|
Saturated Fat:
16
g
|
Polyunsaturated Fat:
38
g
|
Monounsaturated Fat:
28
g
|
Trans Fat:
1
g
|
Cholesterol:
281
mg
|
Sodium:
5301
mg
|
Potassium:
3101
mg
|
Fiber:
18
g
|
Sugar:
20
g
|
Vitamin A:
18736
IU
|
Vitamin C:
61
mg
|
Calcium:
349
mg
|
Iron:
8
mg