Bacon Wrapped Jalapeño Poppers
If you want to be everyone's favorite person at the next party you go to, bring these Bacon Wrapped Jalapeño Poppers! I promise they will be the first appetizer to disappear! I'll show you how to make the 3-cheese spread spiced with smoked paprika and garlic, stuffed into a jalapeño, wrapped in bacon, and baked to crispy perfection. They are irresistible!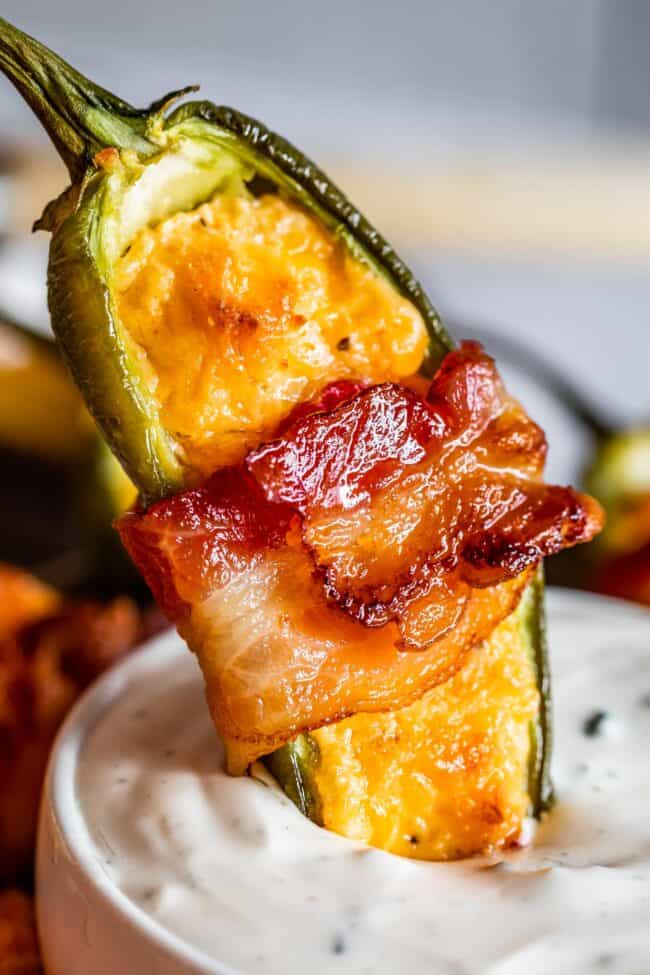 The other day our smoke alarm went off. We were all in the kitchen making dinner and I was a little confused at first, until Eric yelled and opened the oven door. There we found our pita bread, which we had put in for a quick broil. Except we forgot to set a timer and it was ON FIRE.  Gah!
We hadn't even smelled any smoke yet, and we were standing literally 2 feet from the oven. I'm sure we would have eventually, but can I just say, thank goodness for smoke detectors! Go check your batteries!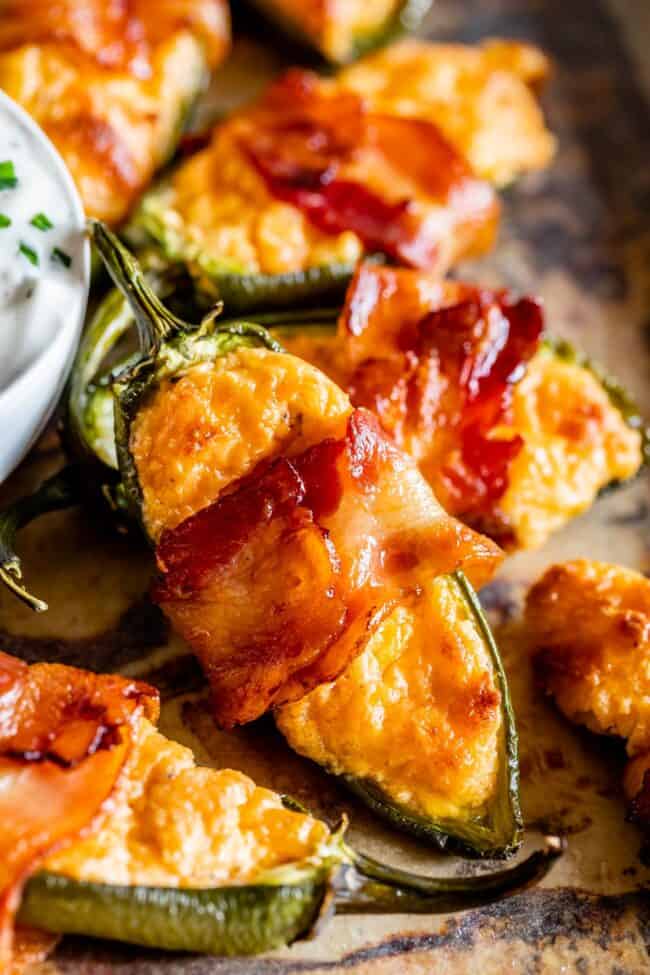 Our kids are going to start thinking kitchen fires are totally normal. I pulled these bacon wrapped jalapeño poppers out of the oven after a quick broil to brown the tops, and all the toothpicks had tiny flames on them. Valentine yelled, "birthday candles!!"
Well I might say yes to blowing out jalapeño-popper-candles instead of birthday-cake-candles on my birthday next year. These poppers are that good. (But really I'm lying. I want the jalapeño poppers AND a cake on my birthday please. Eric. Take notes.)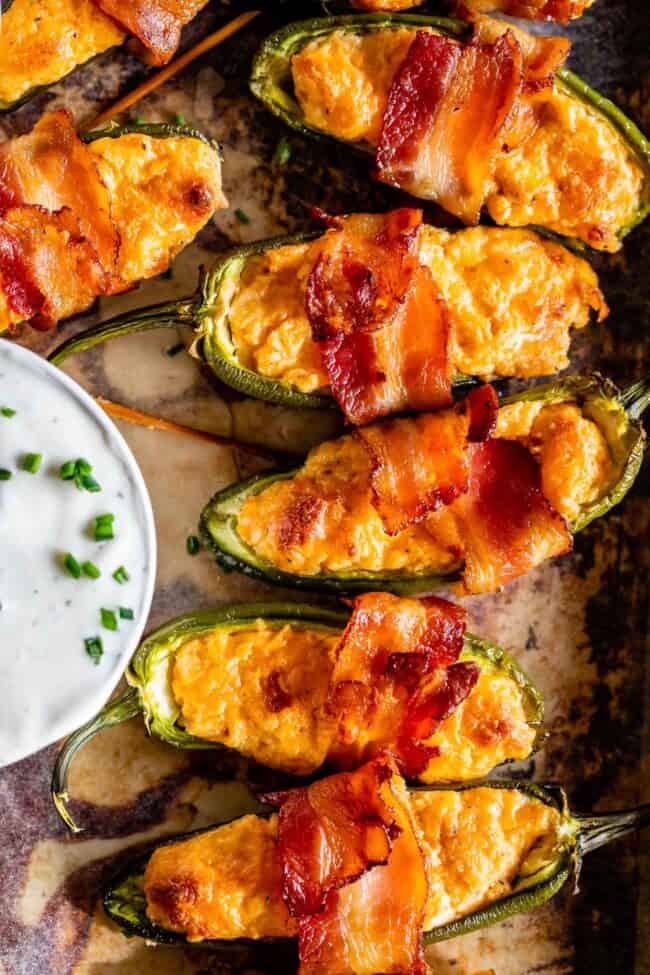 I've made these bacon wrapped jalapeño poppers multiple times for parties, and they are ALWAYS the first thing to go. I mean it's just really hard to compete with bacon, amiright? It's embarrassing how many of these poppers I can throw down.
These poppers are good served warm or room temperature, so they are perfect for setting out and forgetting about it at a holiday get together. One less thing to worry about!
How to Make Bacon Wrapped Jalapeño Poppers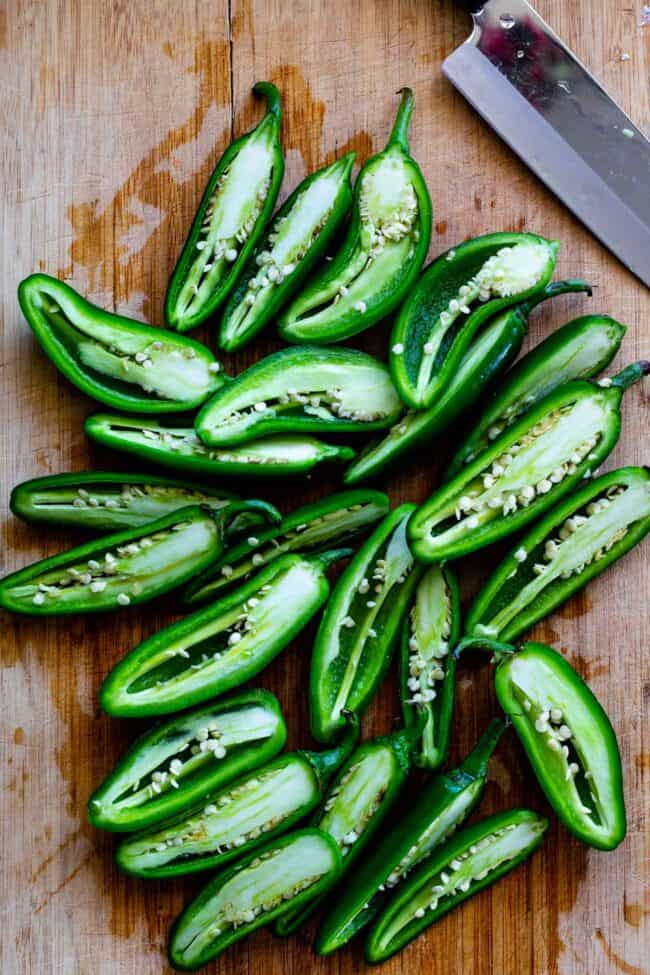 These poppers are really easy to make. First start by slicing your jalapenos in half. Don't cut off the stems! All your filling will seep out the top when it's baking. You want to keep it in a nice little boat shape.

I like to use a serrated knife to cut the thick membrane at the top, and then use a spoon to finish scraping the rest out. Do yourself a favor and buy some disposable gloves. Have you ever chopped a jalapeno and then rubbed your eye? It's so painful!!
The left pepper in the left photo is an example of a jalapeno that has not had the membranes removed very carefully. (On the right of the left photo is a very well seeded jalapeno.) The more membrane and seeds you leave in, the hotter your poppers will be!
Remember not to overstuff your jalapenos, or the filling will all spill out while baking! But then you get to eat the crispy cheesiness left on the pan, so maybe this is not a bad thing.
The Ingredients You Will Need

Cream cheese
Cheddar cheese
Parmesan cheese.
Garlic
Spices: salt, pepper, smoked paprika, and cayenne. You can skip the cayenne if you're worried about it being spicy, but I promise it's just there for a boost of flavor. Do NOT skip the smoked paprika though! Bacon+smokey paprika=heaven.
Jalapeños. Try to get ones that are about the same size. The younger and more firm your jalapeños, the more mild they will be. If you see "age lines" or stress marks on the peppers, or if they look a little wilty, they will be spicier.
Bacon. Buy regular bacon, not thick cut. Thick cut will take too long to get crisp, resulting in overcooked jalapeños.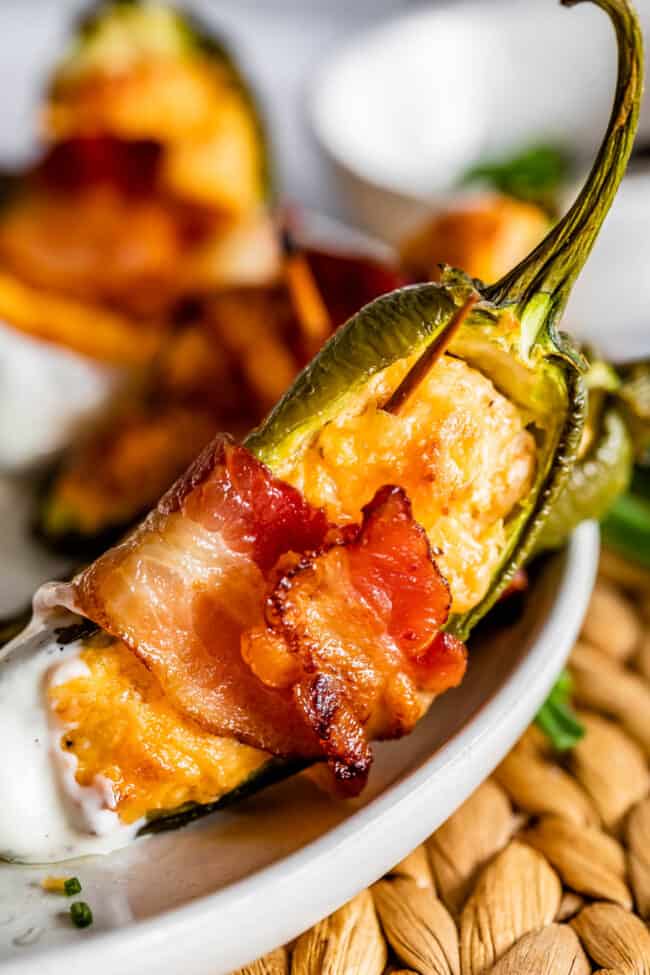 How to Make Ahead and Store Jalapeño Poppers
Make Ahead Refrigerator Instructions: After you have wrapped the poppers in bacon and toothpicked them, you can place them on a plate or baking sheet, cover well with plastic wrap (or put in a tupperware), and refrigerate for up to 2 days. Bake as instructed.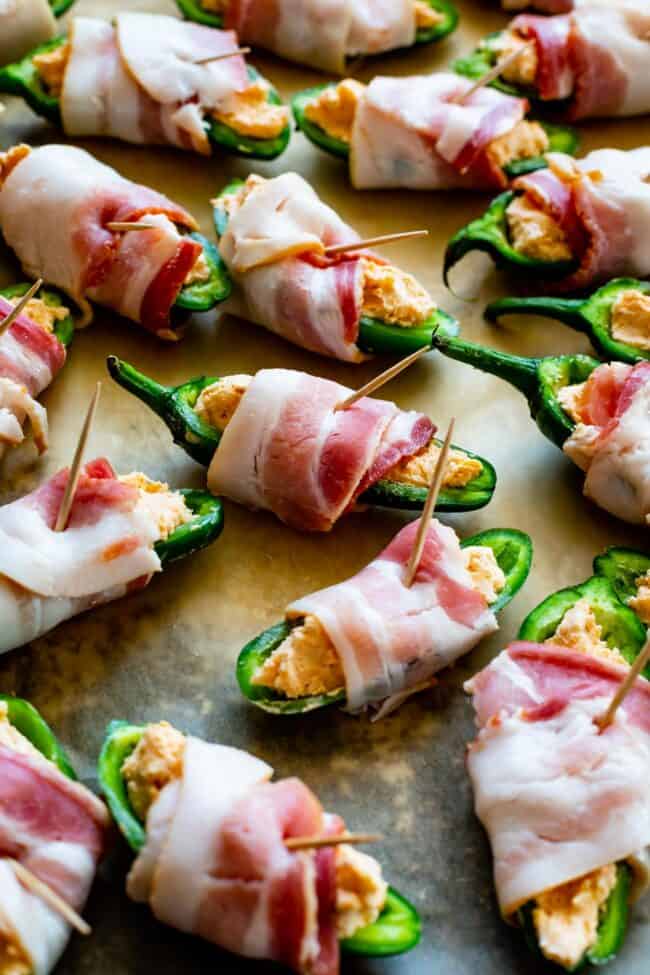 Ready to store for baking later!
Make Ahead Freezer Instructions: After you have wrapped the poppers in bacon and toothpicked them, you can store them in a ziplock or other airtight container and freeze for up to 3 months. When you are ready to bake, let them sit out of the freezer for 30 minutes, then bake as directed. Your bake times will be a little longer, start checking them at around 20 minutes. These poppers are perfect for making ahead for a party!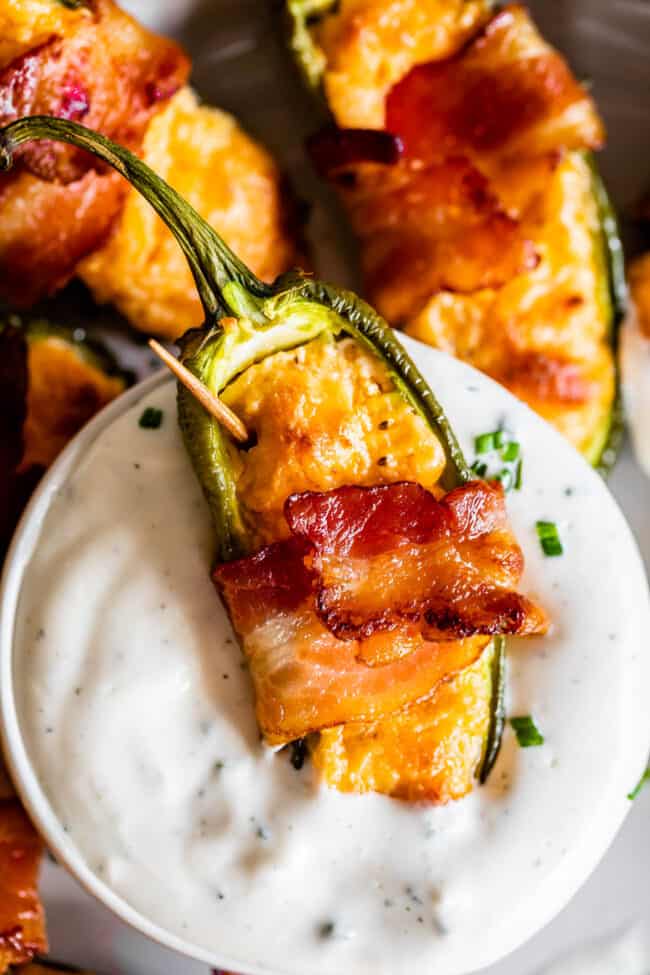 Store leftover bacon wrapped jalapeno poppers covered in the fridge.  You can reheat them in the microwave, or for crispier bacon, reheat on a pan in the oven at 350 for about 15 minutes until heated through.
Variations
You can make these with chopped cooked bacon mixed into the cheese mixture, if you prefer. But I feel like that's a lot less bacon per popper, sooo…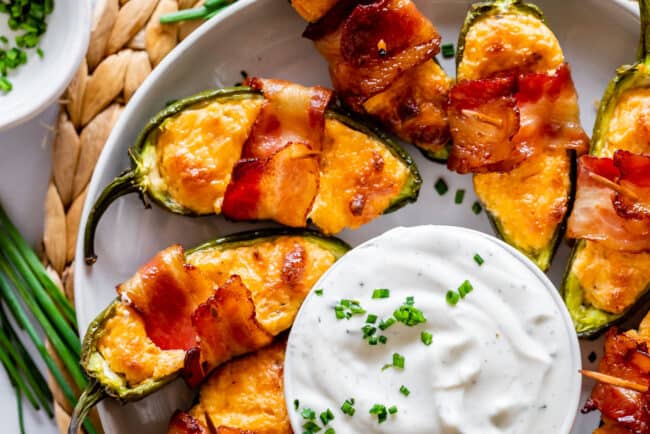 I also tested these jalapeño poppers by par-baking the bacon. This is good if you like it SPICY. I baked the half slices of bacon (here are more details on how to bake bacon) for about 5-7 minutes at 400, until they were halfway cooked. Then I wrapped them around the jalapeños and secured with a toothpick and baked for only 15 more minutes. If you choose this method, your jalapeños will be much firmer, which makes dipping easier, but also makes the poppers way more spicy. Up to you!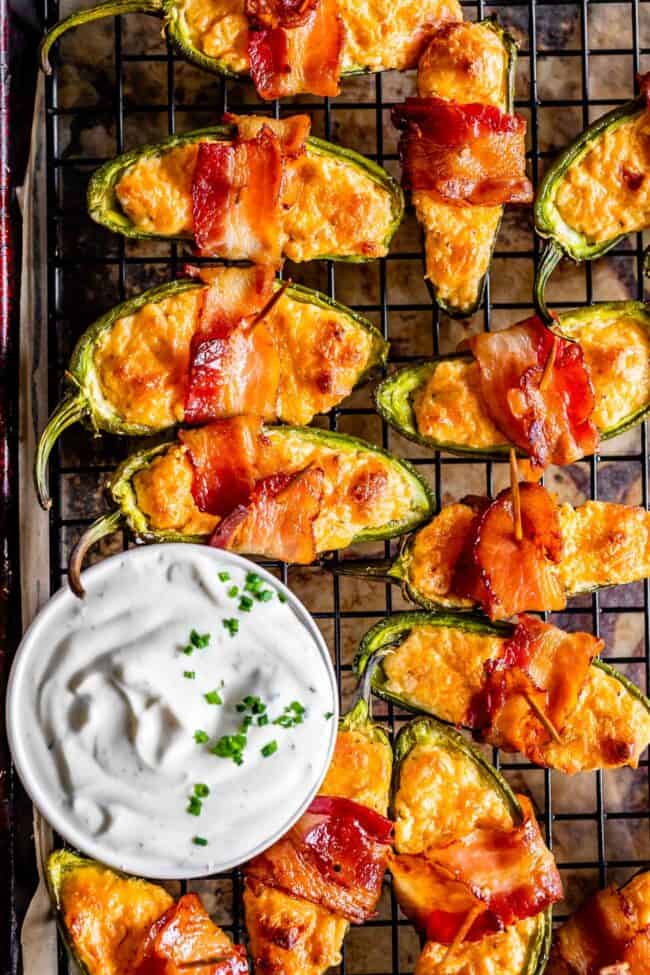 To all my keto friends: no need to change a thing on this recipe! It is the perfect keto snack!
Happy Christmas season everyone, and happy appetizing!
More easy appetizer ideas for your next party!
10 Easy Holiday Appetizers << these are all good for dipping in ranch. Everybody's favorite :)
EASY New Year's Eve Appetizers for 2019! 
Carol's Legendary 7 Layer Dip << I'm telling you, legendary. It's the mayo in the sour cream layer that does it.
Copycat Chili's Queso Dip (Slow Cooker) << this stuff disappears so fast. You won't believe it.
Bacon Wrapped Pineapple with Honey Chipotle Glaze << Bacon wrapped magic!
18 Easy Appetizer Ideas for New Year's Eve
More Jalapeño Recipes!
Jalapeño Popper Grilled Cheese Sandwiches << this sandwich involves crushed tortilla chips and it's SO GOOD.
Jalapeño Popper Cheesy Bread with Bacon << Basically, these poppers, plus bread. What is not to love here.
How to Make Authentic Pico de Gallo << one of the best ways to eat jalapenos. Amen.
Keto Cheddar Jalapeño Muffins from All Day I Dream About Food
Fresh Jalapeño Relish from Cookie and Kate
Quick 10 Minute Pickled Jalapeños from Gimme Delicious
Facebook | Pinterest | Instagram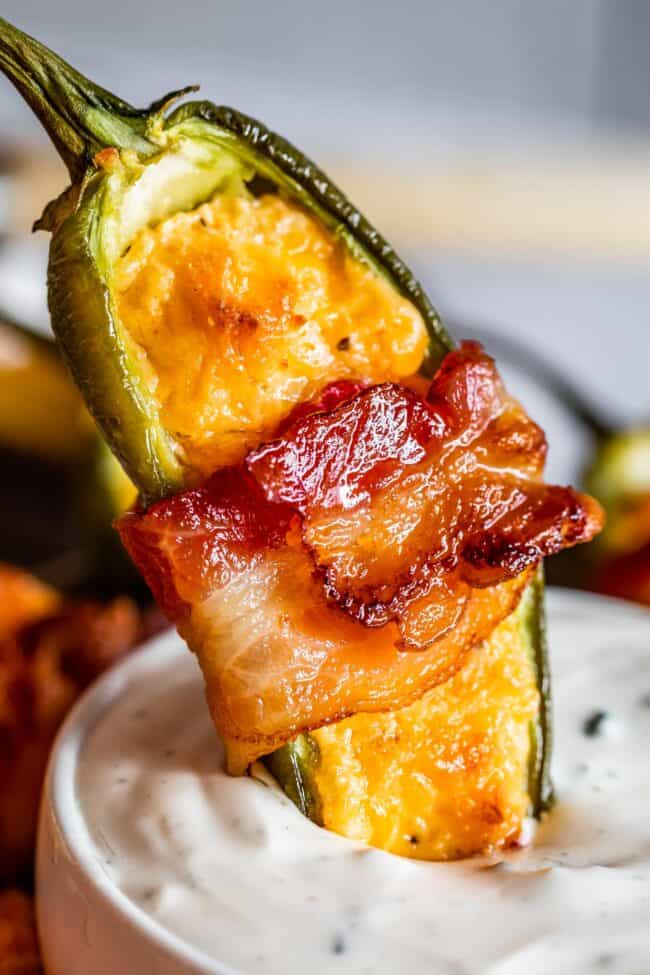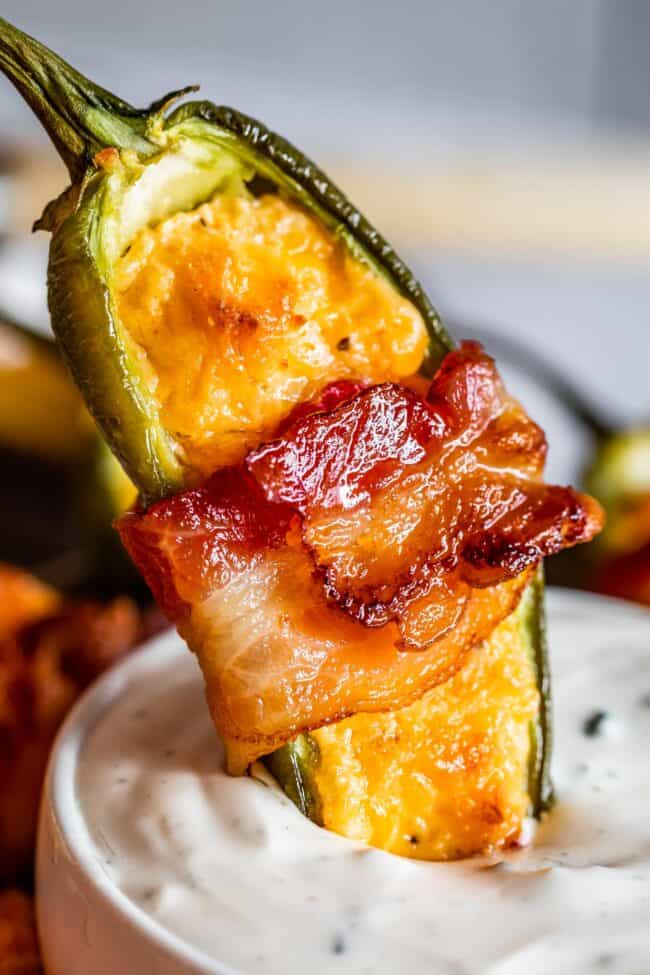 print
Did you make this recipe?
Leave a review »
Bacon Wrapped Jalapeno Poppers
If you want to be everyone's favorite person at the next party you go to, bring these Bacon Wrapped Jalapeno Poppers! I promise they will be the first appetizer to disappear! I'll show you how to make the 3-cheese spread spiced with smoked paprika and garlic, stuffed into a jalapeno, wrapped in bacon, and baked to crispy perfection. They are irresistible!
Ingredients
8

ounce package cream cheese, softened

1

cup cheddar cheese, shredded

1/4

cup parmesan cheese, shredded

1

clove garlic, smashed and minced

1/4

teaspoon salt

1/4

teaspoon pepper

1/2

teaspoon smoked paprika

1/8

teaspoon cayenne pepper

12

jalapenos

12

slices of bacon (NOT thick cut)

toothpicks

ranch dressing, for dipping
Instructions
Preheat your oven to 400 degrees F.
Line a large baking sheet with foil for easy cleanup. Place an oven-safe cooling rack on top of the baking sheet. The first time I made these, I tried it without the the cooling rack and found that the grease from the bacon soaked into jalapenos, making them soggy and overcooked. I much prefer using a cooling rack.
Begin by preparing the filling. In a large bowl or stand mixer, beat the cream cheese until it is smooth and creamy.
Add 1 cup shredded cheddar cheese, 1/4 cup shredded Parmesan cheese, 1 clove minced garlic, 1/4 teaspoon each salt and pepper, 1/2 teaspoon smoked paprika, and 1/8 teaspoon cayenne pepper. (The cayenne pepper won't make it more spicy, it just adds a boost of flavor. If you are worried about the heat you can skip it.)
Beat all the cheese together until creamy and well blended. Set aside.
Slice all the jalapenos in half vertically. Do not remove the stems, otherwise your filling will spill out the end. Be kind to yourself and wear disposable gloves for this step! Or just be very careful not to rub your eyes the rest of the day!
Use a sharp serrated knife and a spoon to remove ALL the seeds and ALL the white membranes inside the peppers. If you want your poppers to be extra spicy, feel free to be lazy on this step! Most of the heat from jalapenos comes from the seeds and membranes, so the more you leave in, the spicier they will be.
Use a small spoon or your fingers to fill each jalapeno half with about a tablespoon or less of the cream cheese filling. If you over-stuff, the filling will just overflow the jalapeno in the oven, so don't go too crazy. (Although if it does overflow, you end up with crispy cheesiness baked into the bottom of your pan, and it's really quite delicious.)
Cut each slice of bacon in half. Wrap each stuffed jalapeno half with one half slice of bacon. Secure with a toothpick and place on the cooling rack that you already prepared. (At this point you can freeze for later. See notes.)
Bake at 400 for about 17-25 minutes. Start checking early. The poppers are done when the bacon is as crispy as you like it to be. If you like them to be extra brown on top, you can move the oven rack up to the top level and broil for 1-2 minutes. Don't walk away!! Be prepared for your toothpicks to turn into little birthday candles.
Let the poppers cool slightly and serve with ranch dressing! I like to serve these at parties because jalapeno poppers are super tasty served either warm or room temperature, so letting them sit out at a party is no problem.
by The Food Charlatan

If you make this recipe,
share it on Instagram
 using the hashtag
#TheFoodCharlatan
so I can see it!
We are a participant in the Amazon Services LLC Associates Program, an affiliate advertising program designed to provide a means for us to earn fees by linking to Amazon.com and affiliated sites.