This is my new favorite salad! Grilled Tomato, Basil, & Mozzarella Salad is basically a Caprese salad recipe, but even better because we are grilling the tomatoes and ciabatta for the ultimate flavor punch. A creamy basil-lemon dressing tops it off! Hooray for summer food! Hooray for bread in salad! Because we all know that's the best part.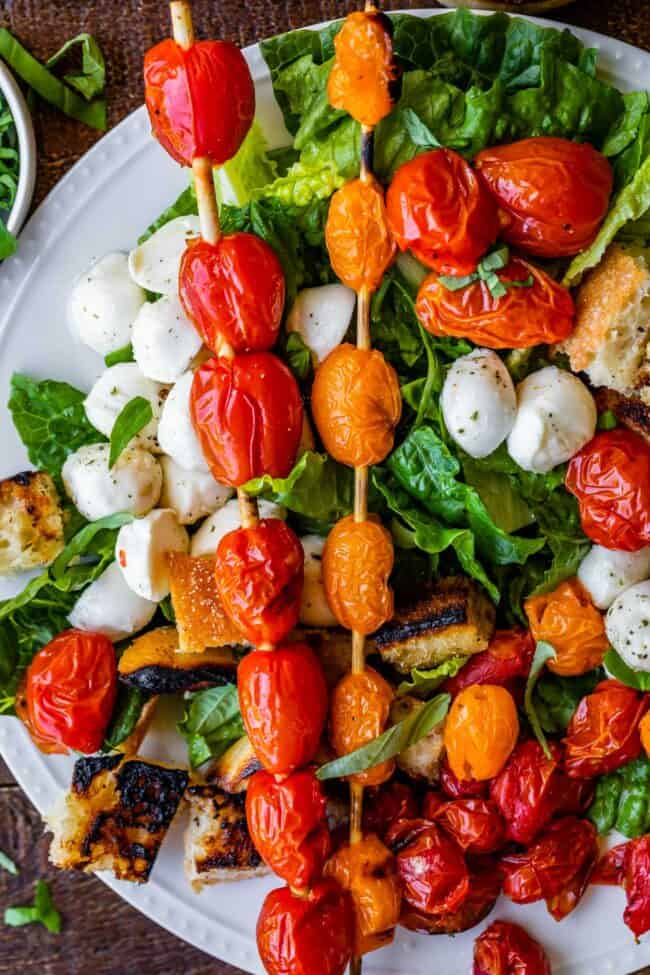 I literally made the biggest cake fail of my life this week, and it was Eric's birthday cake no less. He requested a chocolate cake with caramel frosting on the inside layers, and chocolate frosting on the outside. Sounds amazing, right?
But my caramel hardened too much and I ended up with caramel candy inside the cake instead of smooth creamy frosting. Also I broke the cakes trying to split each layer in half, so by the time I was finished it looked more like a glorified pile of crumbs than a gorgeous 4 layer cake.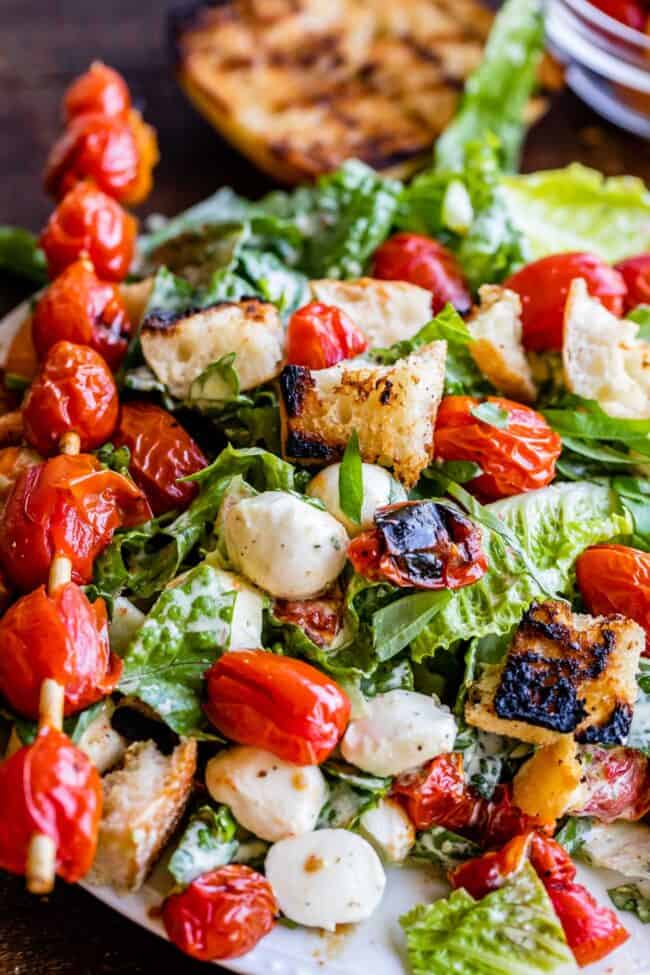 He of course doesn't care and was really nice about it (and I mean, it still tasted really good), but I did feel bad that I had such a cake failure for his birthday. I mean what is even the point of having a food blogger for a wife anyway?? ;)
So that's it. I'm swearing off cake and I'm just going to eat salad from now on.
Ha!!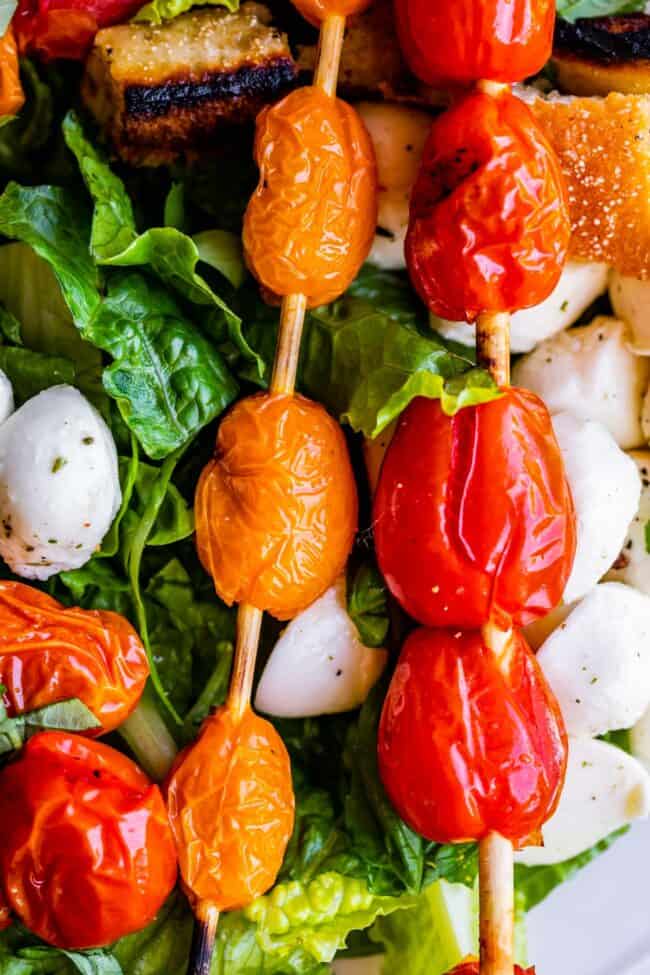 Just kidding.
I'm currently eating some of the cake leftovers for breakfast.
Grilled Tomato Basil and Mozzarella Salad
But I do think that if I could pick one salad to eat for the rest of my life, it really might be this Grilled Tomato, Basil, and Mozzarella Salad. You know why? Grilled bread. Grilled bread is why. (You thought I was going to say grilled tomatoes? You must not know me very well!) This caprese salad recipe is perfect for summer though and I basically want it every day on repeat.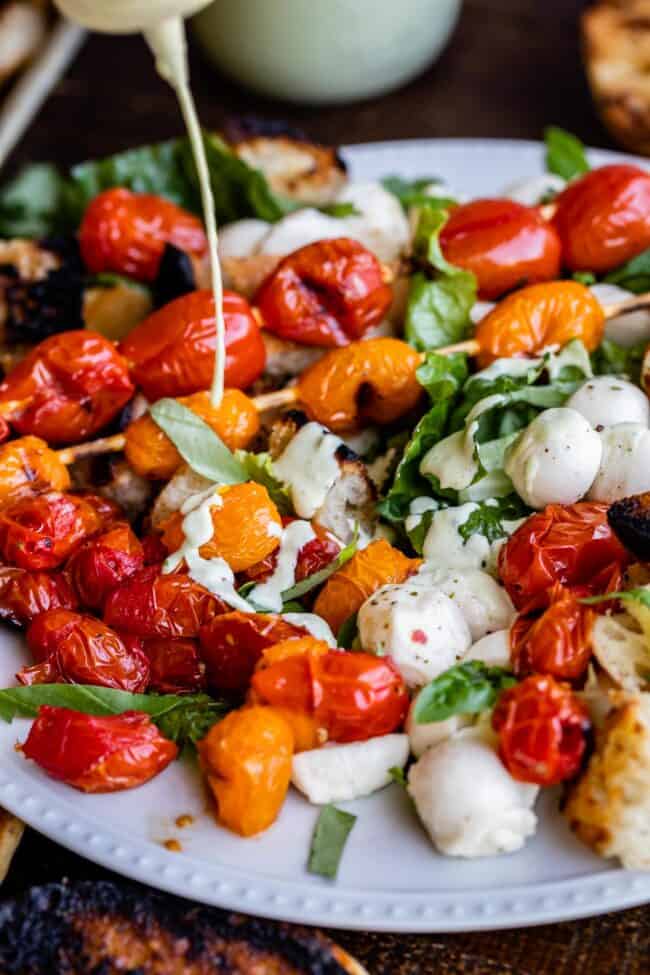 Have you ever thrown your buttered bread on the grill while finishing up your chicken or whatever your main dish is? I never think to do this (we usually toast our bread right before eating. Our family is a little obsessed with toasty bread.)
But I shouldn't have to tell you that it's amazing. You know what grilling does to food. It gives it this irresistible, charred, smokey flavor that you really just can't duplicate with any other method. And if the grill is already on for something else, it's super easy.
Caprese Salad + Grilled Tomatoes and Grilled Ciabatta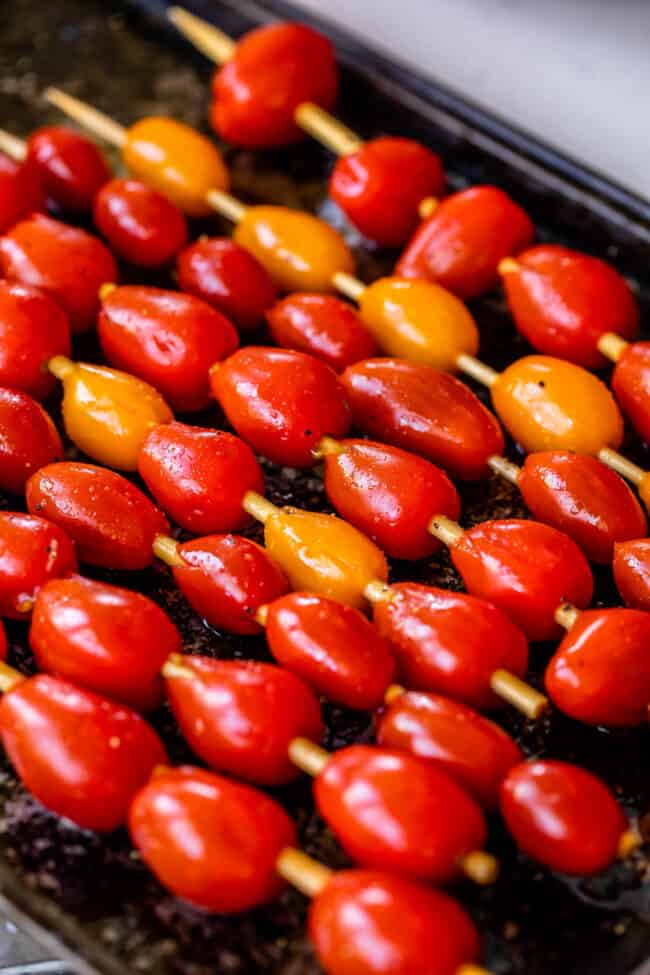 First you start by soaking your skewers, if you're using wooden ones. This will keep them from charring and falling apart on the grill. Slide a bunch of tomatoes on the skewers, leaving a bit of space around each tomato, so that they have a chance to get roasty-toasty and don't just end up getting soggy.
Add a little oil and salt and pepper, and grill on medium for a just a few minutes. Since we are using marinated mozzarella balls for the salad, I like to use the oil from the mozzarella to coat the tomatoes. It's already deliciously seasoned and everything.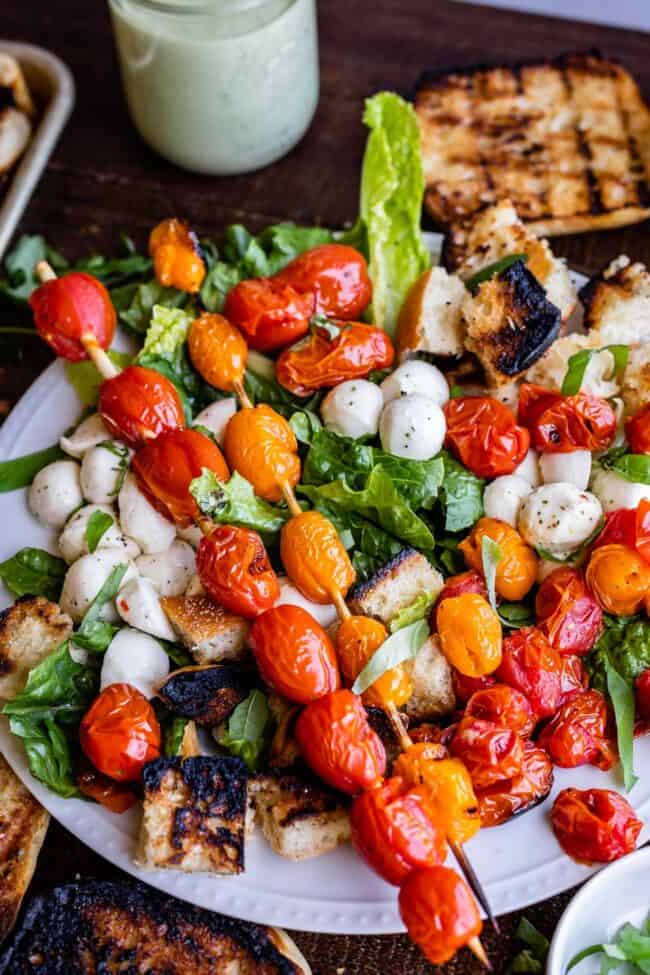 Meanwhile, cut your ciabatta lengthwise and slather some butter on the cut side. You can actually skip the butter if you want. It will char just as well without it. But. I'm just not the kind of person who says no to a little extra butter in my life.
Toss it all on the grill and just a couple minutes later (seriously, it's super quick) your salad it basically ready! Add it all to a big bowl with a bunch of romaine, basil, and mozzarella, or serve the components individually if you think you will have leftovers. Because what do you do with the leftover soggy dressed salad at the end of dinner, right?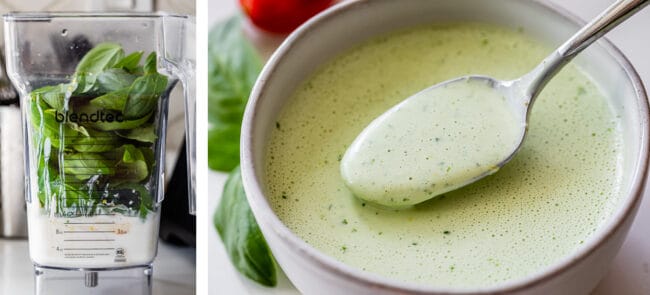 Oh, I forgot to mention the dressing. I love a good homemade salad dressing, and this creamy lemon basil dressing is totally amazing! It's really easy to put together, you just throw all the ingredients in a blender and voila, you're done. I love adding tons of basil, but you can add as little or as much as you want. If you are in a hurry, you could use a store bought dressing. Look for a creamy dressing that has herbs in it. Or ranch will do just fine.
What to serve with this salad
This is the perfect salad to make when you are already grilling your dinner. Hot dogs on the grill? Toss on some tomatoes and bread. Grilled chicken? Kebabs? Steak? This salad goes amazing with them all. If you are doing chicken or steak, you could even chop it up and add to the salad itself.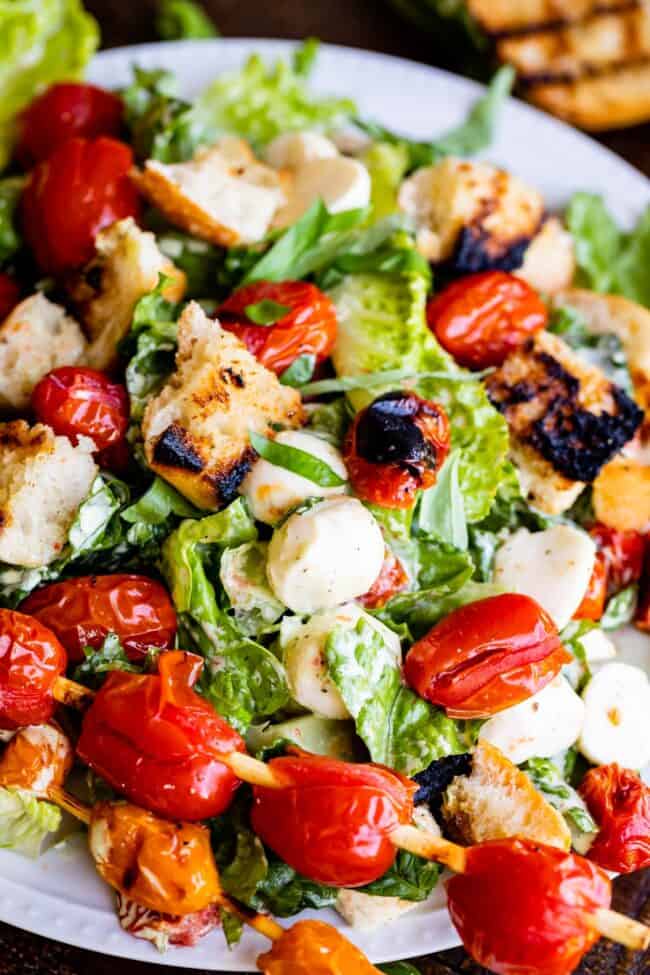 Here are some ideas:
Simply Amazing Grilled Chicken Marinade
How to Cook Tri Tip (Grilled or Oven-Roasted)
Grilled Chicken with Spicy Honey Bacon Glaze << the first time I made this salad, I served it with this.
The Best Hot Dog You Will Ever Eat (JDawg's Special Sauce Copycat)
Caprese Burger with Artichoke Pesto Sauce << bring on the basil.
Have you planted your basil yet? I kill everything but basil in one that I can actually handle. I love planting several plants so that I don't have to hold back for recipes like this. Gimme all the basil!! Just remember to pinch off the white flowers when you see them so that it doesn't go to seed.
I'm heading off to Everything Food Conference this week, and I'm super nervous! Did you know there are food blogging conferences? They have conferences for everything these days! I'll be going to classes and learning how to run my blog more efficiently, and meeting other bloggers who are in this crazy business with me. It will be fun but it's also a little nerve wracking! Eeee!
Eric is coming with me. Did you know he's been helping me with the blog for about a year now? He does behind-the-scenes-boring-website-maintenence-stuff. It's been such a huge help and relief for me, meaning I can focus more on content creation. (That's code for, I get to bake more and stare at a computer less. See? He's a dream husband.) Hopefully we come away from the conference with some good tips. Wish us luck!
More salads that will blow your mind!
Strawberry Panzanella Salad << Gimme all the mozzarella and strawberries!!
Easy Broccoli Bacon Salad << This one is a crowd pleaser
Apple Gorgonzola Salad (Buca di Beppo Copycat) << My favorite restaurant salad!!
Greek Salad Recipe with Tons of Feta Cheese << Gimme all the Greek
The Only Macaroni Salad Recipe You Need << This counts as salad, right?
Crispy Chicken Salad with Buttermilk Ranch << Crunchy and fresh!
Cucumber Tomato Mozzarella Salad from Foolproof Living
Marinated Mozzarella Tomato Basil Salad from Wishes and Dishes
Tomato, Mozzarella, and Grilled Corn Salad from Garnish with Lemon
Facebook | Pinterest | Instagram

Grilled Tomato, Basil & Mozzarella Salad (Caprese Salad Recipe)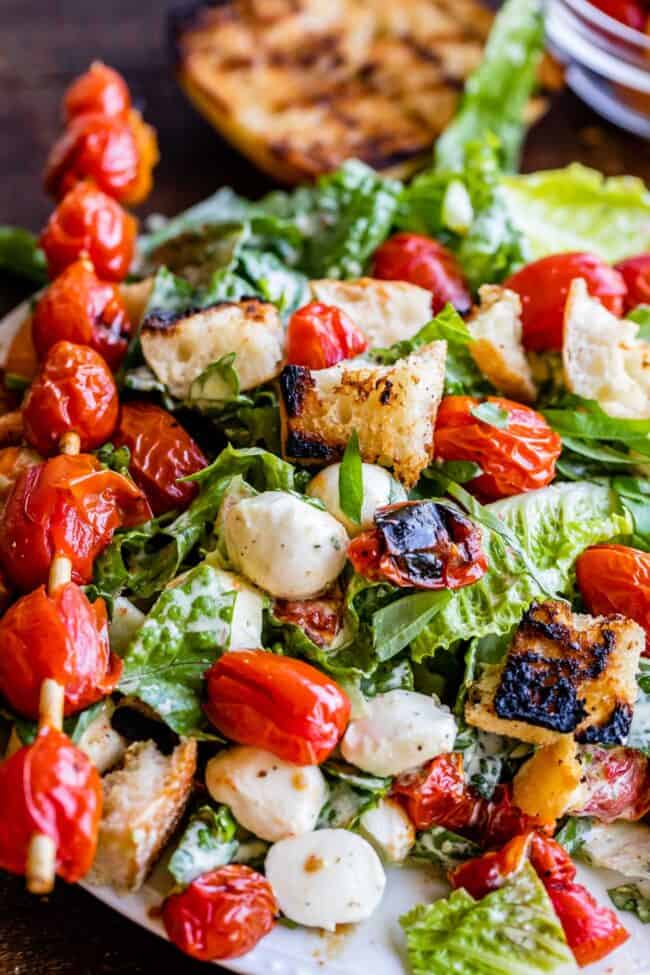 This is my new favorite salad! Grilled Tomato, Basil, & Mozzarella Salad is basically a Caprese salad recipe, but even better because we are grilling the tomatoes and ciabatta for the ultimate flavor punch. A creamy basil-lemon dressing tops it off! Hooray for summer food! Hooray for bread in salad! Because we all know that's the best part. 
Ingredients
For the dressing
1

cup

mayonnaise

2/3

cup

buttermilk

1

lemon

lemon zest

2

tablespoons

lemon juice

,

fresh

1

small

clove garlic

,

crushed with a knife

1/2

teaspoon

salt

1/4

teaspoon

cayenne pepper

1

bunch

basil
For the salad
1

head

romaine

,

rinsed, dried, and chopped

12-16

ounces

ciabatta bread

soft butter

,

for ciabatta

grilling skewers

,

metal or wood

2

dry pints cherry tomatoes

,

any color

12

ounce

tub marinated mozzarella balls

salt and pepper

1/2

cup

fresh basil

,

sliced thin
Instructions
If you are using

wooden skewers

, soak them in water for about 30 minutes so they don't burn to charcoal on the grill.

Metal skewers

work great too.

Prepare the dressing: In a blender, add 1 cup mayonnaise, 2/3 cup buttermilk, zest of 1 lemon, 2 tablespoons lemon juice, 1 small clove garlic, 1/2 teaspoon salt, 1/4 teaspoon cayenne, and all the basil in the world. Just kidding, one bunch will do. Honestly you can add as much or as little as you want. I like tons.

Blend it up until smooth and then transfer to a mason jar or

dressing dispenser

. The dressing makes a little over 2 cups.

Preheat your grill to medium heat.

Prepare the romaine lettuce. I love to wash lettuce in

a salad spinner

so that it is really dry by the time I eat it. (It makes the salad dressing coat better.) Get it all dry, and chop into bite size pieces. Add all the salad to a large serving bowl.

Split the ciabatta in half lengthwise. Spread the cut side with a generous amount of soft butter. Set aside.

Spear all of the tomatoes on several skewers. Leave about 1/4 inch of space in between each tomato so that the edges can get crisp. Place the skewers on a baking sheet and drizzle with oil, then add salt and pepper. (I like to use the oil from the tub of mozzarella balls) Rub the oil on the tomatoes with your hands.

Oil your grill so that the food doesn't stick. Line up the skewers on the grill with a little space in between each one so they have room to get crisp. If there is room, add the ciabatta on the grill as well, cut side down. (If you can't fit it just do it in batches.)

Grill the tomatoes and bread for about 2 minutes. Remove the bread once it is charred on the edges. Keep an eye on it! Leave the tomatoes in a little longer (1-3 more minutes) until they are looking nice and charred on the edges.

Remove from the grill. Chop the ciabatta into bite-size pieces. Add tomatoes and ciabatta to the bowl of romaine.

Add 1/2 cup fresh basil, sliced into thin strips. Add the drained mozzarella balls (save the oil for marinating meat!)

Toss everything together and dress with as much of the basil dressing as you like (you won't need all of it!)

Serve immediately! If you don't think you will eat it all right away, leave out some of the bread and tomatoes and store separately until you want to make a new salad.
Nutrition
Serving:
1
g
|
Calories:
444
kcal
|
Carbohydrates:
29
g
|
Protein:
14
g
|
Fat:
31
g
|
Saturated Fat:
7
g
|
Polyunsaturated Fat:
13
g
|
Monounsaturated Fat:
5
g
|
Trans Fat:
1
g
|
Cholesterol:
29
mg
|
Sodium:
607
mg
|
Potassium:
499
mg
|
Fiber:
3
g
|
Sugar:
6
g
|
Vitamin A:
7604
IU
|
Vitamin C:
33
mg
|
Calcium:
222
mg
|
Iron:
2
mg