Even if you haven't tried the Blue Cotton Candy Lemonade they serve at Disneyland, take my word for it: this homemade version is amazing. Have fun watching the cotton candy dissolve! It would be such a fun drink to serve at a summer BBQ, pool party, carnival, block party, or baby shower!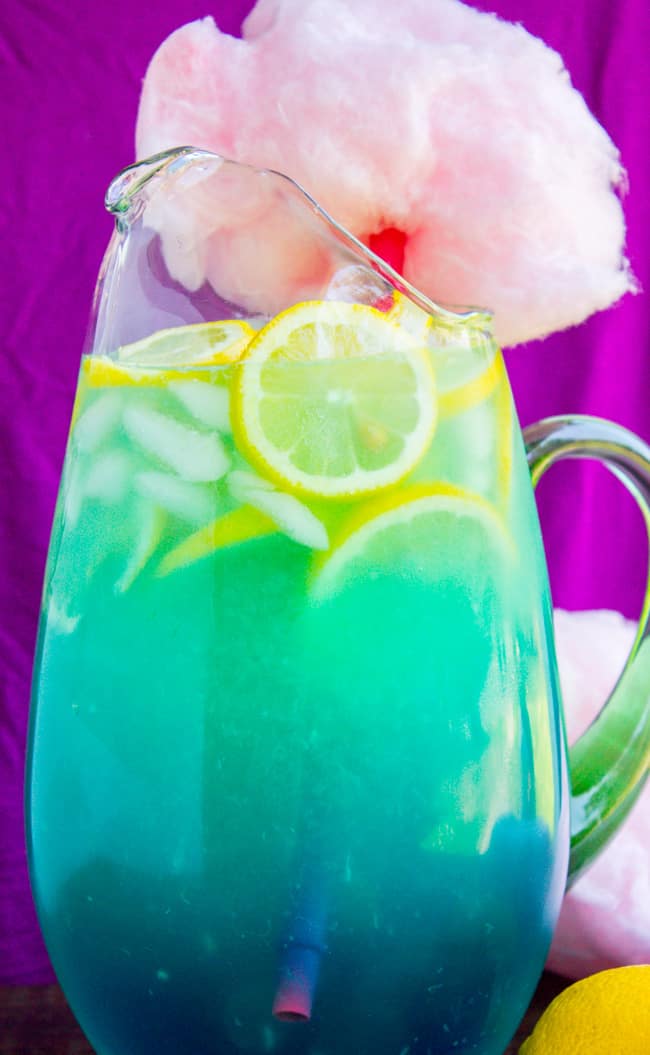 Today I dropped the kids off at my friend Melissa's house, because I had to take the car in to the shop. I get this text from her: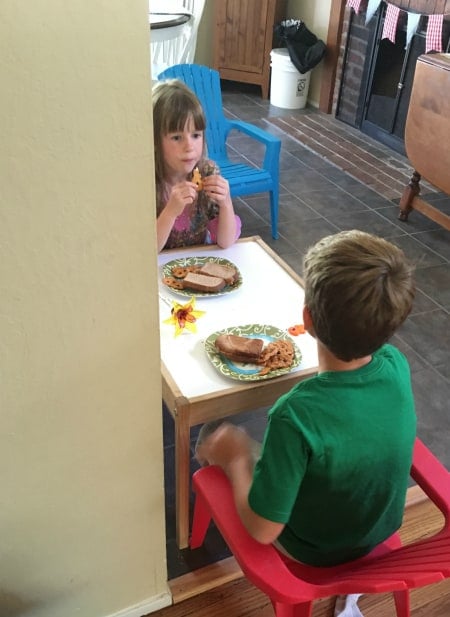 "Just having a quiet lunch together…they banished the other kids to the counter, cause they wanted to be alone. Talking about how they both like strawberries in salads, and how D can lift a 10lb weight!"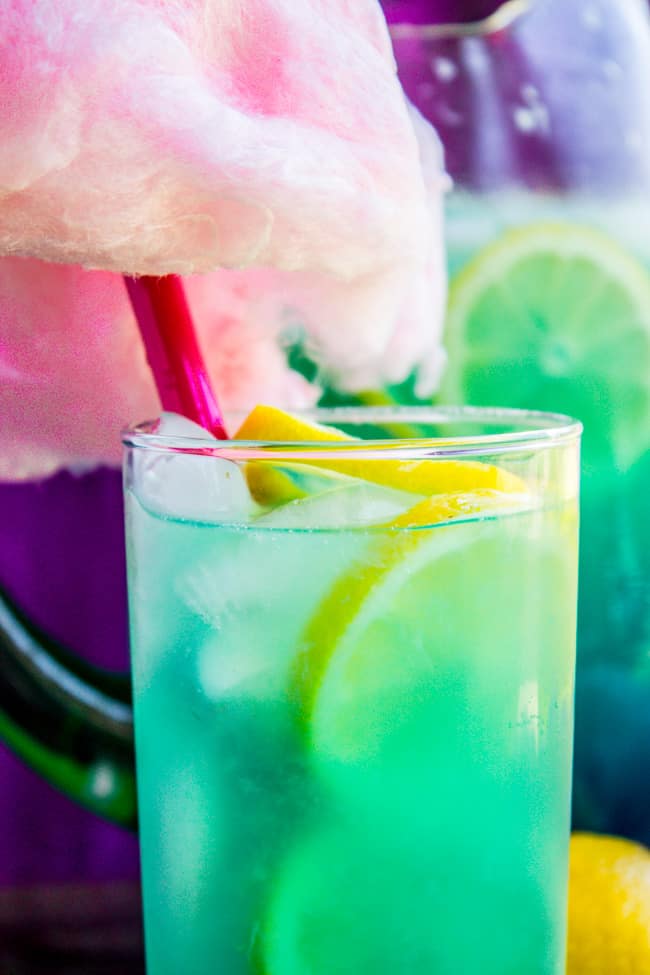 They wanted to be ALONE??? Excuse me?!?! 6 years old, going on 17. Or how bout 6 years old, going on DEAD because I'll kill her before she's ever old enough to be alone with a boy.
The secret came out a few weeks ago that D and Charlotte are going to get married. And now this, romantic discussions over peanut butter and honey sandwiches. I liked it better when Charlotte wanted to marry her dad.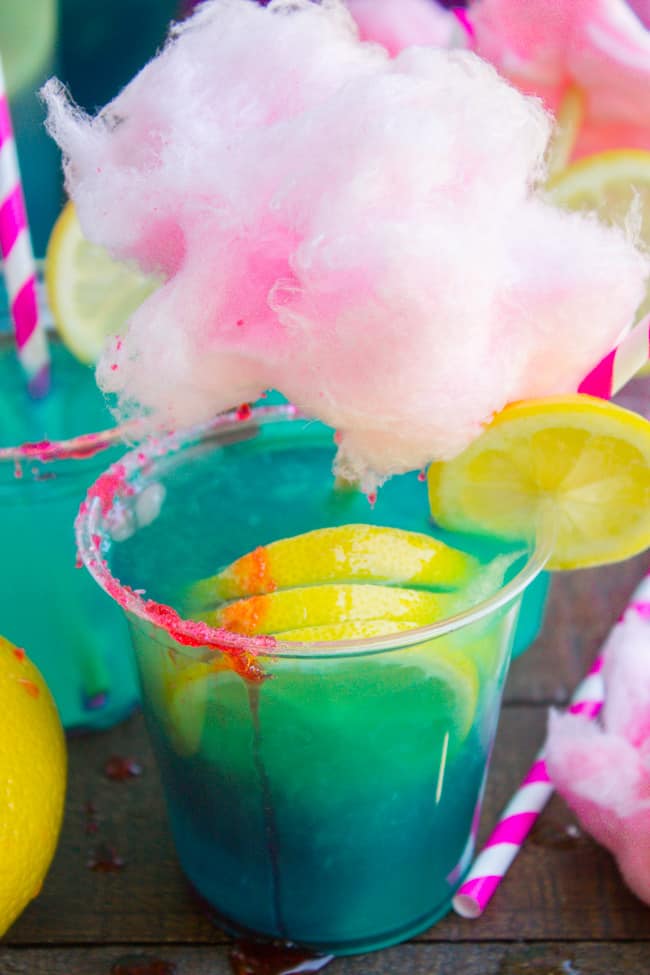 I need a drink. But not that kind… I'm all about the mocktails! Have you had the Blue Cotton Candy Lemonade at Disneyland? You can get it at The Cove Bar in California Adventures.
Last year we did Disney with Eric's siblings, parents and all the kids. It was super fun if not a little overwhelming since we were there for FIVE DAYS and I was 35 weeks pregnant. (A bit much for me. I'm definitely no Disney fanatic. In fact am a recovering Disneyland Grump.) Eric's sisters, on the other hand, really are Disneyland fanatics (you know, the ones who collect Goofy mugs and browse Disney blogs for fun) and decided to go BACK to Disneyland just this past March. Again. 6 months after we just went.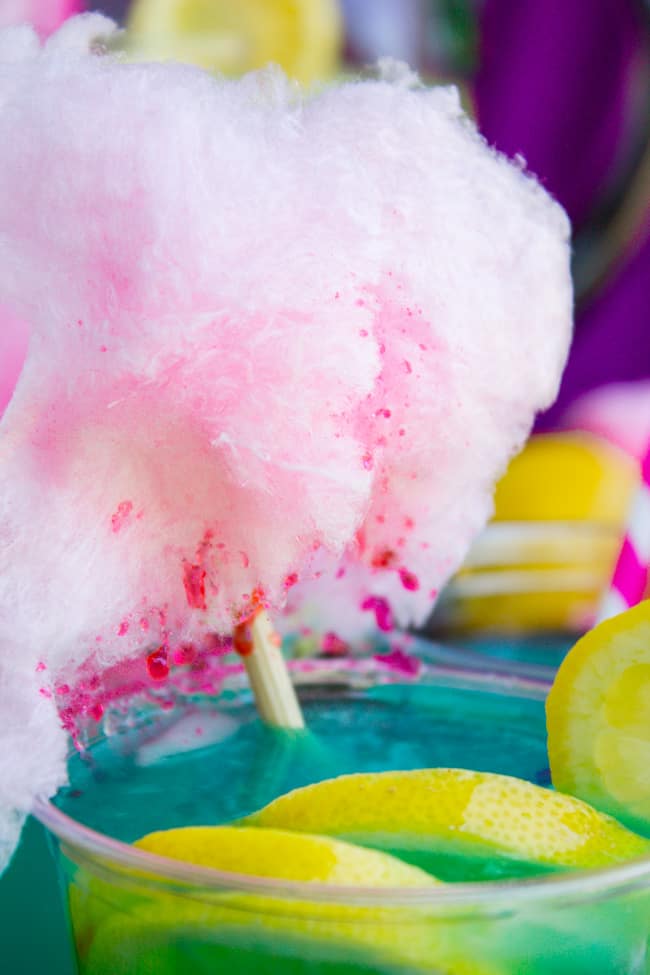 But then they told me they were basically doing a Disneyland food tour (since they went without the kids) and THAT I can get behind 100%. Jalapeno bagels? Wicked Stepmother Apple Cider Slush? Croissant cinnamon rolls? (<<already tried to recreate and failed miserably) But I was most excited about the Blue Cotton Candy Lemonade they told me about.
Basically it's a SUPER tart lemonade that is sweetened with cotton candy snow cone syrup. No boring sugar here. This way the flavor really comes through!) It's served with a giant hunk of pink cotton candy. You tear off little bits of the cotton candy and add it to your drink (where it dissolves instantly) and that is what sweetens your lemonade. You can add as little or as much as you want. Just make sure to explain to your guests that they have to add the cotton candy or they will be in for a sour punch in the mouth. Want to see it dissolve??
Cotton candy on its own is officially ruined for me forever. I only want to have it with a tall glass of tart lemonade on the side. Cotton candy is SO good, but you can't deny that it is overwhelmingly sweet. The lemonade balances it out perfectly.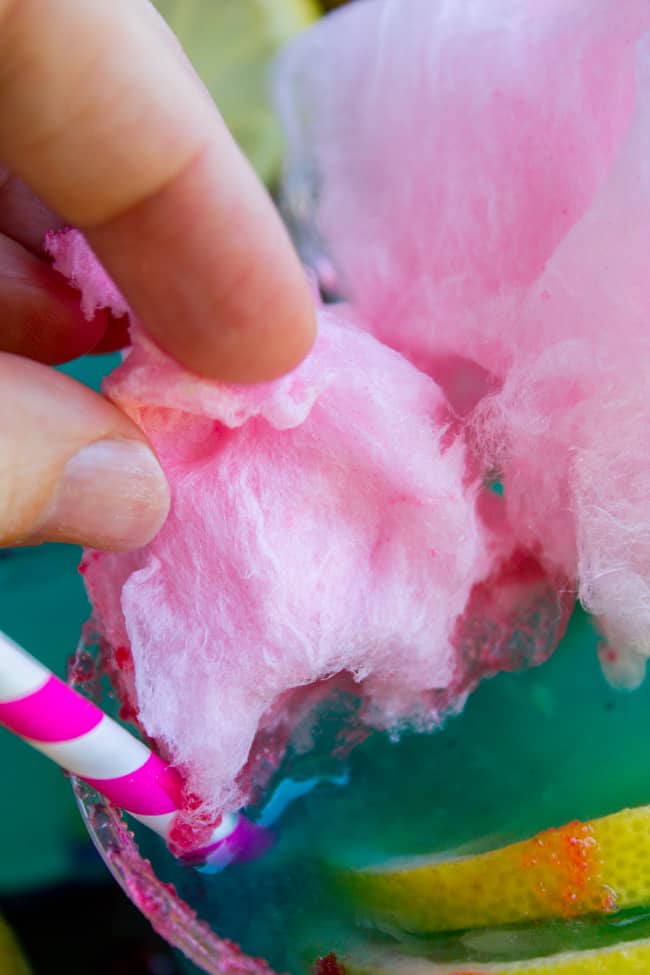 I've been obsessed with cotton candy this whole summer. Freshly spun cotton candy is not something you run into every day, and although the kind you can get at the dollar store is great flavor-wise, I wanted the puffy fluffy fresh cotton candy for these photos.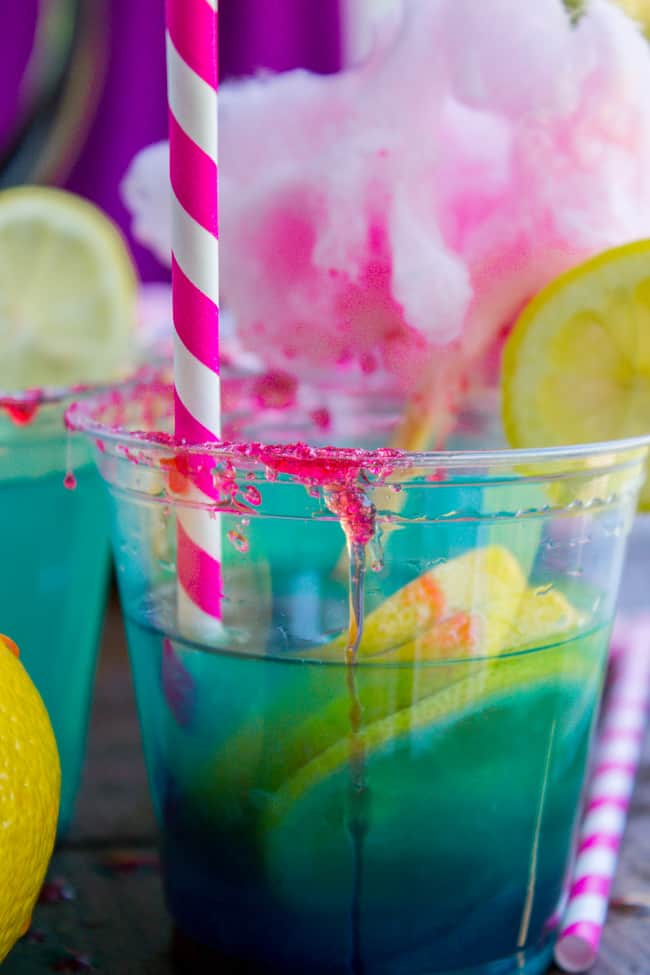 I drove 30 minutes down to Old Sacramento to a candy store (where I had called ahead), only to find that they only sold cotton candy that had been shoved in a tub. I saw some fresh cotton candy at the U2 concert we went to in May, but the stand was closed by the end of the concert. Finally we were in Santa Cruz on Saturday and I saw some for sale on the boardwalk. EUREKA!! Being a food blogger is so weird, you guys.
It's actually pretty easy to find pre-made cotton candy, and I promise it tastes just as good. Of course there's a huge selection on Amazon. But you can also find it at Target, Walmart, or any dollar store. Charm's Fluffy Stuff is a popular brand, it's in a blue bag. If you are throwing a full on carnival or block party, then rent a cotton candy machine from a party supply store. (Have you ever made it? It's actually pretty fun.)
You will also need to find some Cotton Candy flavored syrup for Snow Cones, here's the kind I bought. You can buy it in pink or blue.



That skewer is a stick for candy apples. Perfect size.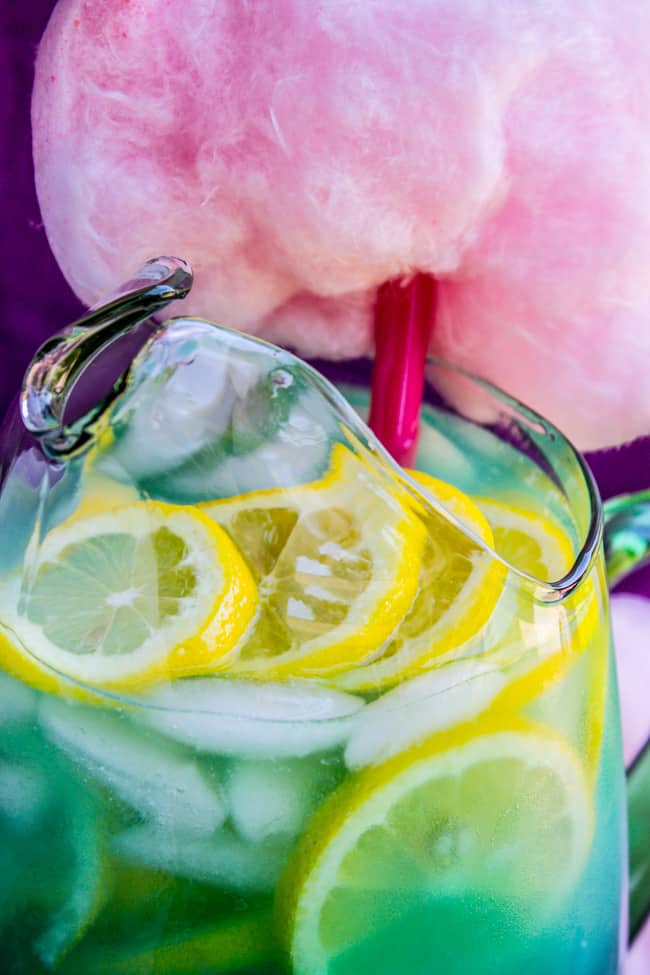 I think this would be such a fun drink to serve at parties. Kids go crazy for it (mine did. Like literally, eyes popping out of their heads. Put candy in our drink, mom??) It would be a fun and unique idea for BBQs, pool parties, anything outdoorsy or summery. Wouldn't you love to have a glass of this with a plate of Nana's ribs and some fresh coleslaw?? OR it would be super fun to serve this at a baby shower. It would work for boy or girls showers–use blue cotton candy if it's a boy, pink cotton candy if it's a girl. (If you want the lemonade to be pink too, buy pink cotton candy syrup.) Enjoy!
Facebook | Pinterest | Instagram | Twitter
One year ago: Creamy Cauliflower Alfredo Sauce
Two years ago: Black Bean Tacos with Radish Slaw and Feta
Four years ago: Olive Garden Breadsticks

Blue Cotton Candy Lemonade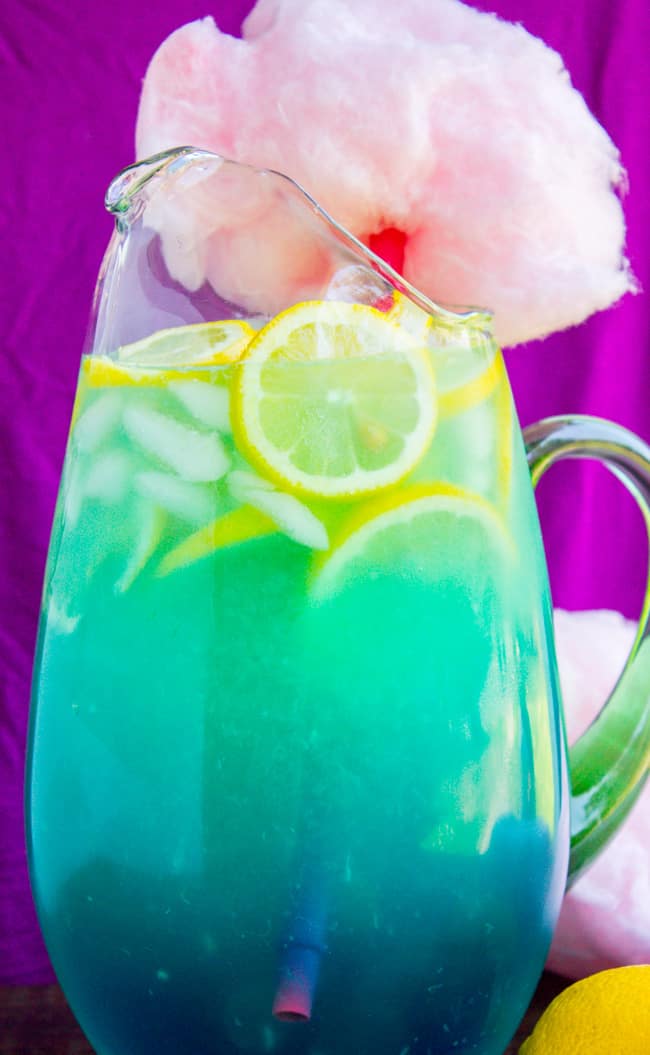 Even if you haven't tried the Blue Cotton Candy Lemonade served at Disneyland, take my word for it: this homemade version is amazing.

Ingredients
Ice

,

Lots

6

cups

water

,

cold

1 & 1/2

cups

lemon juice

,

fresh squeezed

1 & 1/2

cups

Cotton Candy Snow Cone Syrup

,

*

10

ounces

Cotton Candy

,

**

lemons

,

more to garnish

straws
Instructions
Add ice to a 3-quart pitcher.

Add 6 cups of cold water to the pitcher.

Add the Cotton Candy Snow Cone Syrup to the pitcher and stir.

Pour each glass and garnish with lemons in the glass or on the rim. Add two straws to each glass: one to sip from, and the other to spear your cotton candy. The cotton candy can't touch the lemonade, it dissolves instantly! Let your guests add the cotton candy to their glass, it's so fun. You will want about a fist size hunk of cotton candy for each glass. I used

a candy-apple stick

to hold the cotton candy in a few of the photos above, it worked great.
Notes
A large lemon has about 1/4 of juice, if you're lucky. Buy at least 6-7 lemons, 8-9 to be on the safe side (just for juicing. Buy more for garnish)
This lemonade is QUITE sour as written. The cotton candy sweetens it, so each person can adjust the sweetness level as they like. Start tart. You can always add more. (More syrup, or more cotton candy, either way.)
** Fun Sweets Cotton Candy
Nutrition
Serving:
1
cup
|
Calories:
170
kcal
|
Carbohydrates:
46
g
|
Protein:
1
g
|
Fat:
1
g
|
Saturated Fat:
1
g
|
Polyunsaturated Fat:
1
g
|
Monounsaturated Fat:
1
g
|
Sodium:
44
mg
|
Potassium:
42
mg
|
Fiber:
1
g
|
Sugar:
45
g
|
Vitamin A:
2
IU
|
Vitamin C:
16
mg
|
Calcium:
15
mg
|
Iron:
1
mg
More lemonade and fun summer drinks!
Basil Lemonade << If you think this sounds weird, you haven't had enough basil in your lifetime.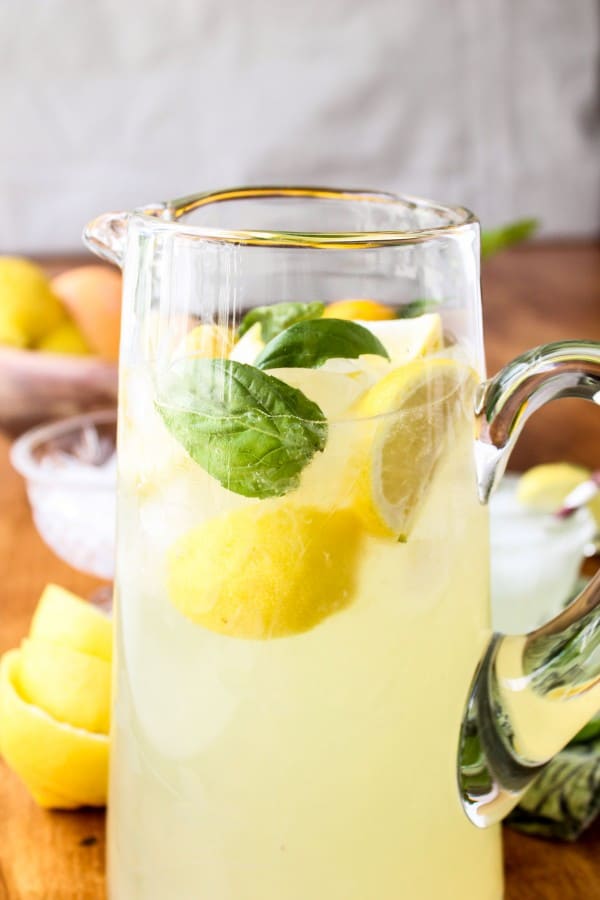 Watermelon Basil Lemonade << The basil. I'm telling you. Don't knock it til you try it.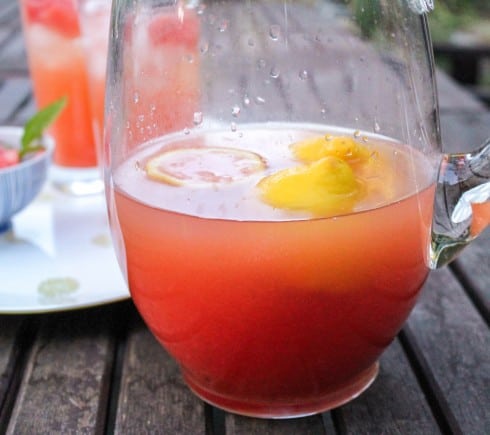 Easy Cucumber Lime Punch << this one is so easy and a serious favorite at parties.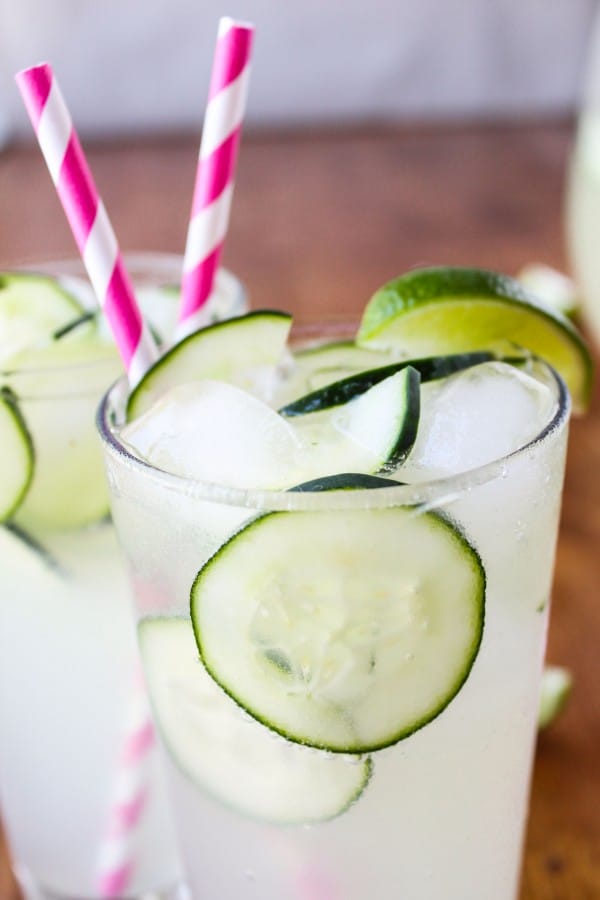 A few other bloggers have made different versions of this, check it out!
Cotton Candy Lemonade from Sweet Paul Magazine
Cotton Candy Lemonade from Create Craft Love
Cotton Candy Lemonade from Bitz n Giggles