Watermelon Basil Lemonade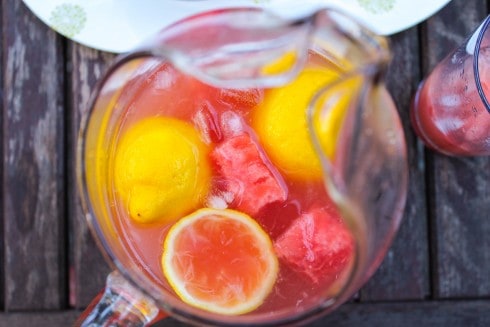 Don't you love giving all of your imminent responsibilities the finger and taking a weekend getaway? Oh wait. Except that I'm a stay-at-home-mom and my primary responsibility is taking care of my kids…here's where that analogy falls apart.
What we should have done this weekend: Put 2nd and 3rd coats of white paint on the 70s wood paneling in our living room. Taped the rest of the room. Bought gray paint. Painted. Found recruits for moving the next weekend. Found a moving truck. Tried not to strangle each other.
What we did: Dropped our kids off at my parent's. Drove to the coast. Went to a concert that we had free tickets for. Ate greasy delicious overpriced food. Went kayaking in the ocean. Went antique shopping. Ate halibut and cheesecake.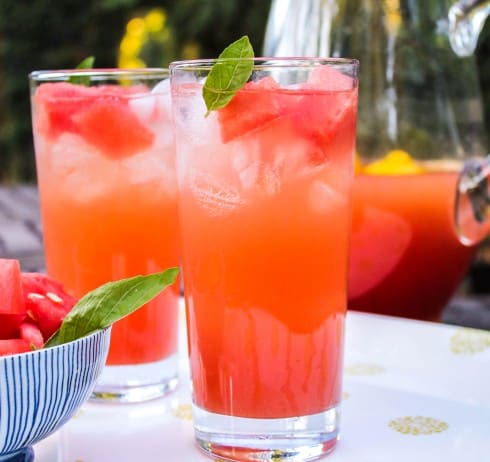 In retrospect, I have no regrets. I mean, who wants to be painting when you could be kayaking?
I still am pretty committed to getting our main living room painted before we actually move in. Now I only have 3 days left to finish. Still worth it.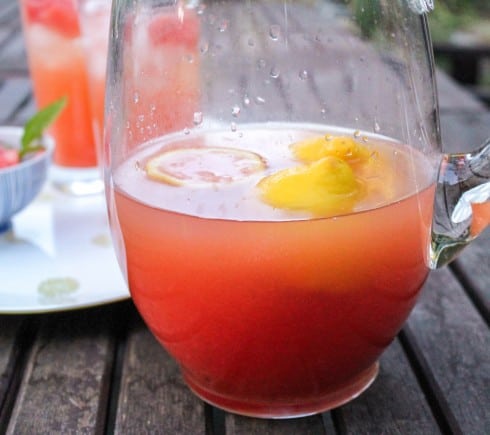 Until a few weeks ago, I hadn't jumped on the basil-is-yummy-in-sweet-things-bandwagon. It just sounded weird to me. Basil is for pesto and pizza, not dessert. But then I went to a restaurant a few weeks ago and tried their Watermelon Basil Lemonade…I'm a convert. This recipe is not light on the basil flavor, so if you are dubious you might want to decrease it a little. But try to overcome your dubiousness. I promise, it is delicious.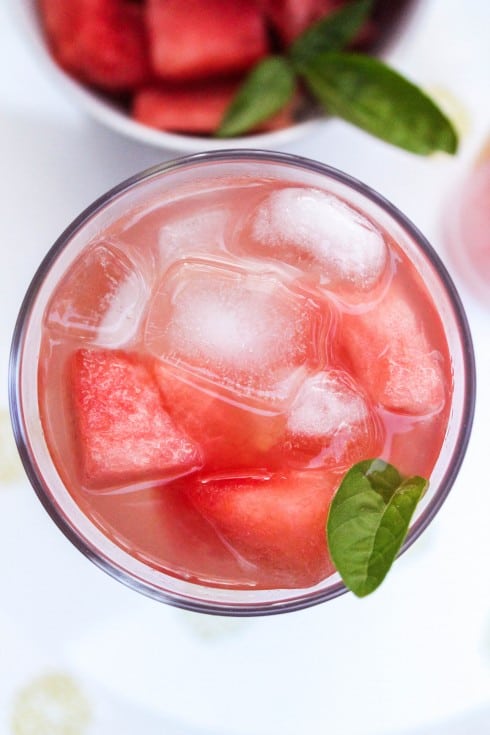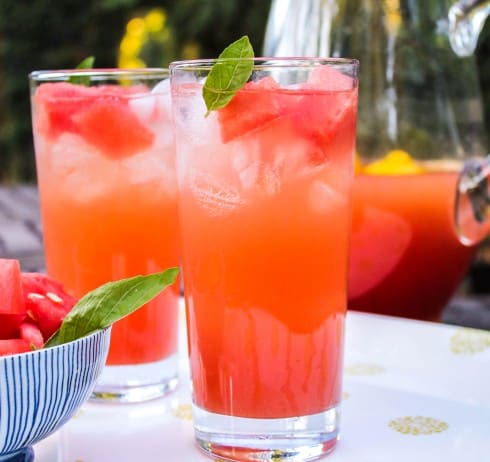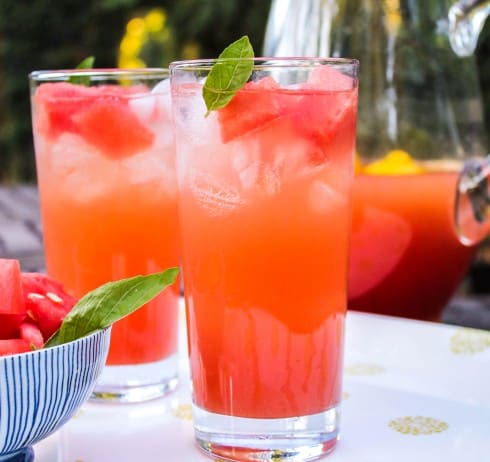 print
Did you make this recipe?
Leave a review »
Watermelon Basil Lemonade
Makes about six (10-ounce) glasses over ice.
adjust servings
Ingredients
1/4

cup fresh basil leaves, packed

1

cup fresh lemon juice (juice from 4 lemons), rinds reserved

1/2

- 3/4 cup sugar

4

cups boiling water

3

cups watermelon

fresh basil leaves, to garnish

watermelon wedges, to garnish
Instructions
In a 4-quart bowl or heat-proof pitcher, use the back of a wooden spoon to bruise 1/4 cup fresh basil leaves. Beat em up pretty good if you really like basil. Add the fresh lemon juice and the sugar and stir well. Pour the boiling water over juice mixture, and stir to dissolve the sugar.
Put the 3 cups of watermelon in a food processor or blender and puree until smooth. Pour the puree into the lemon mixture, then add in the reserved lemon rinds.
Cover and refrigerate 2 to 3 hours. Remove and discard rinds. Strain through a colander (or a mesh sieve if you want it really smooth) into a pitcher. Add watermelon wedges and fresh basil leaves. Stir before serving.
by The Food Charlatan

If you make this recipe,
share it on Instagram
 using the hashtag
#TheFoodCharlatan
so I can see it!
Source:
Better Homes and Gardens
We are a participant in the Amazon Services LLC Associates Program, an affiliate advertising program designed to provide a means for us to earn fees by linking to Amazon.com and affiliated sites.