Try out my recipe for Simple Basil Lemonade! The herb gives the lemonade a pleasant aftertaste without being overwhelming. I love this refreshing drink, perfect for a warm summer day or any time you need a bit of a cool citrus kick.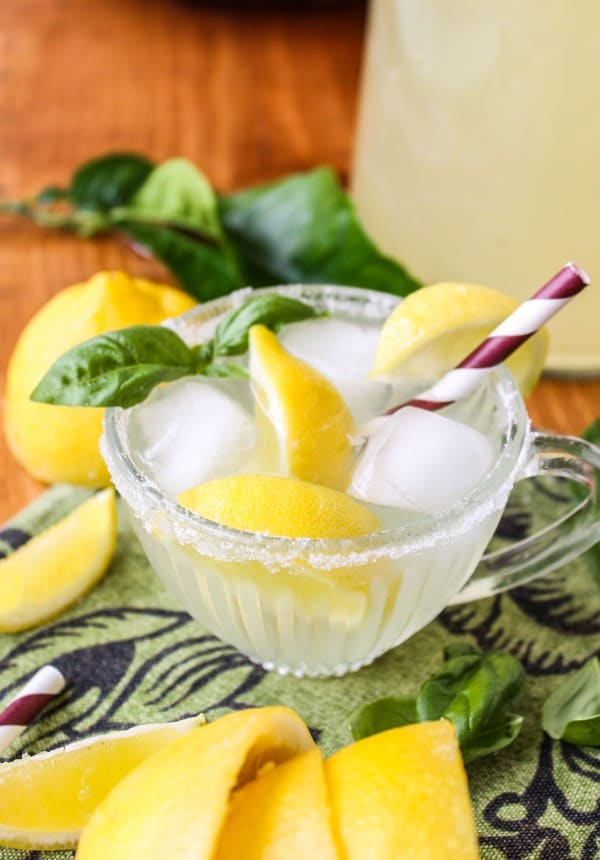 We planted a garden this weekend! Okay well 3 tomato plants. It took 2 trips to the store. And then we accidentally planted them in the
wrong spot
(too shady). And in the process Charlotte was attacked by ants. But at least it's a start!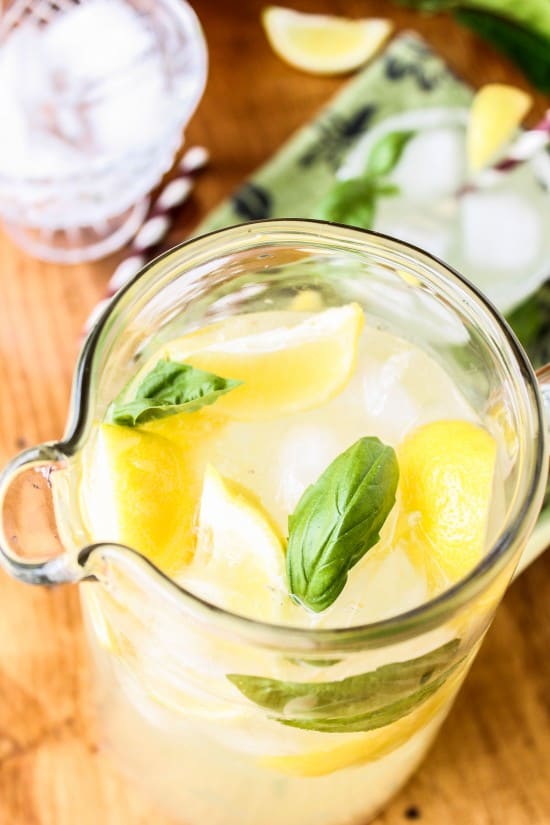 Poor Charlotte. We were digging up the ground where we were going to plant (again, in the wrong spot) and hit an ant hill. So they got really mad and decided to take vengeance on our firstborn child. She had bites all over. Who knew regular black ants could be so vicious?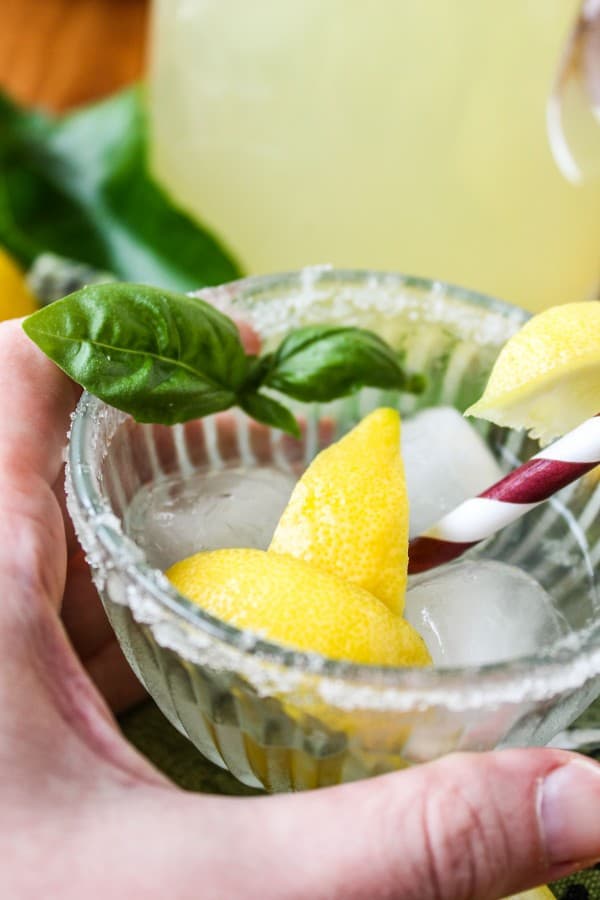 We're pretty excited about this whole garden (inthewrongspot) thing. We go out as a family to water it every day (yes, really.) But soon it will become a chore much like laundry and dishes, and then we'll see how long those little tomatoes last. I barely remember to water my basil plant and it lives 3 inches from my faucet.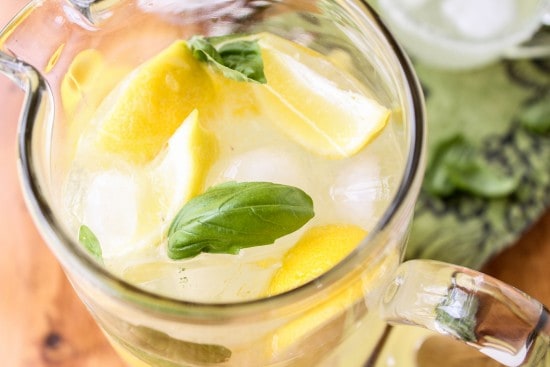 We also have a lemon tree in our backyard, hence the lemonade. It's actually the
neighbor's tree
, but it hangs over quite a bit into our yard. (I also walked over into another neighbor's yard today and nabbed some Meyer lemons. Are you packing your bags for California yet?)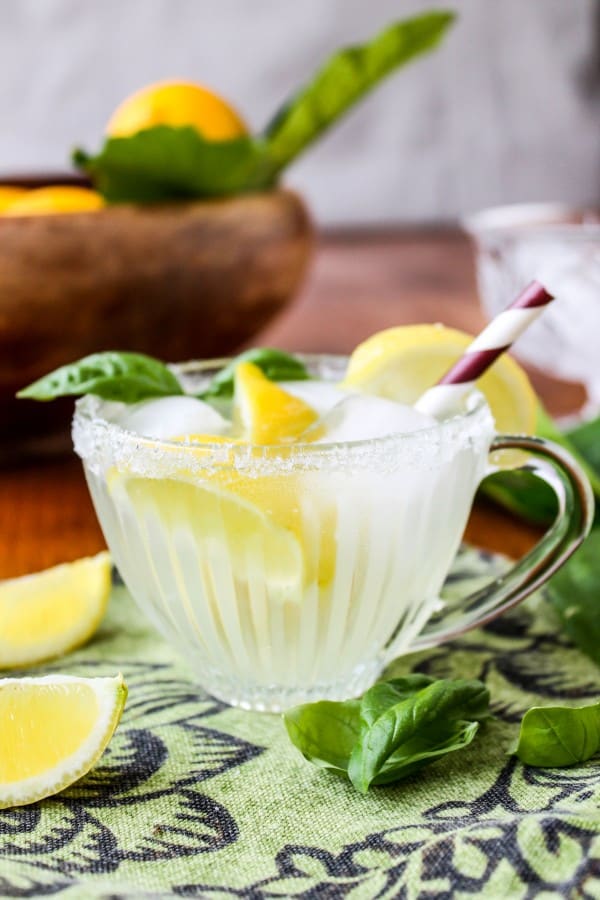 If you told me a couple years ago that I'd be making Basil Lemonade, I would have scoffed. Basil? Could you get a little more pretentious please?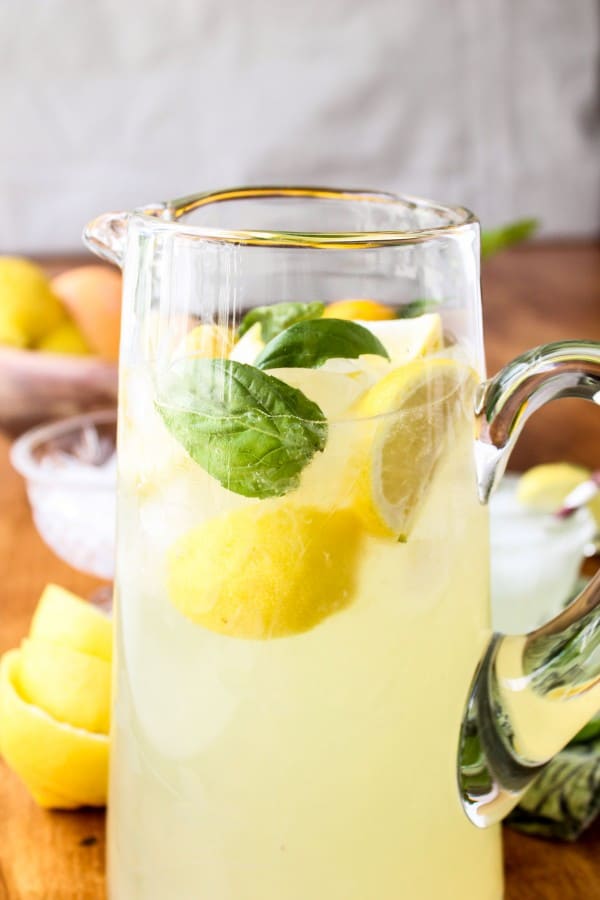 But I've changed my ways. Snootified my life, you could say. I've even started wearing polo shirts. Just kidding. But I'm telling you, Basil Lemonade is where it's at. The lemonade is perfect on it's own (feel free to omit the basil if you want to Rage Against The Prep.) The secret's in the syrup. You boil the sugar and water together to make a simple syrup, ensuring that the sugar is completely dissolved.
It's just perfect. The basil honestly doesn't complicate things too much. Just gives it a lovely aftertaste. This would be the perfect make-ahead drink for a Mother's Day brunch or lunch!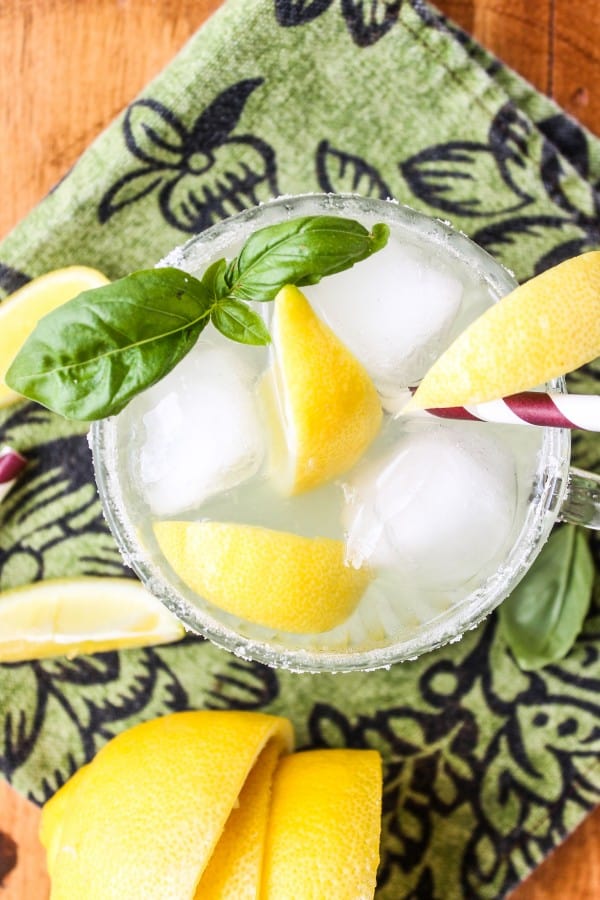 How to make Basil Lemonade
To start, measure our the basil that you need. It's important to get the full amount. Jam that basil in there!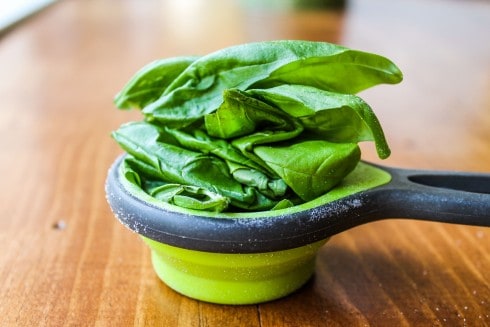 Then smash it up.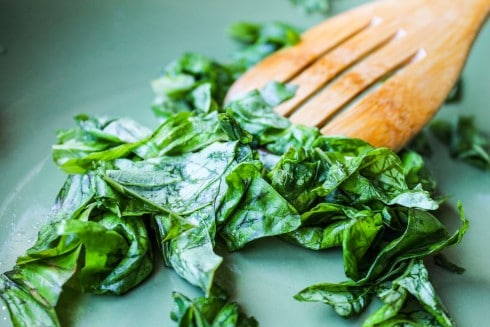 And add it to the syrup.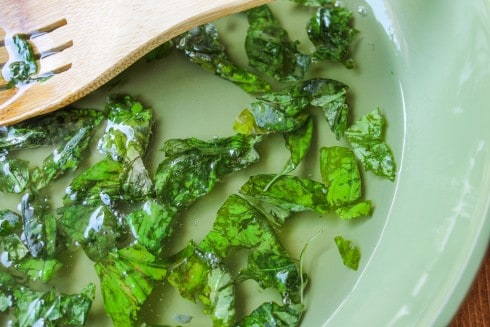 Strain it out.
Add your lemon juice. Trust me, all that squeezing will be worth it!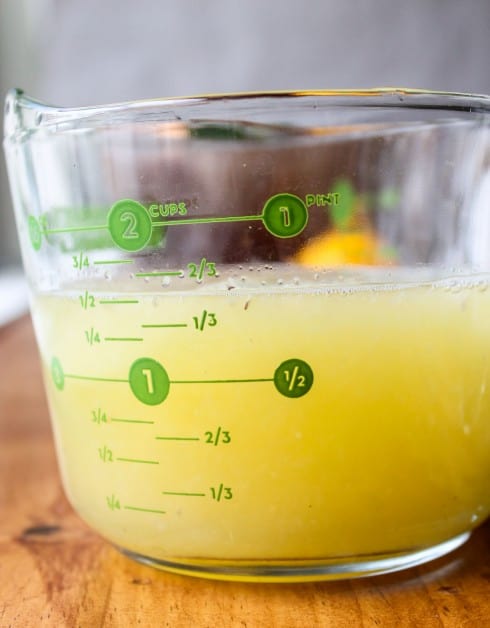 Then serve with ice and lemon slices and enjoy!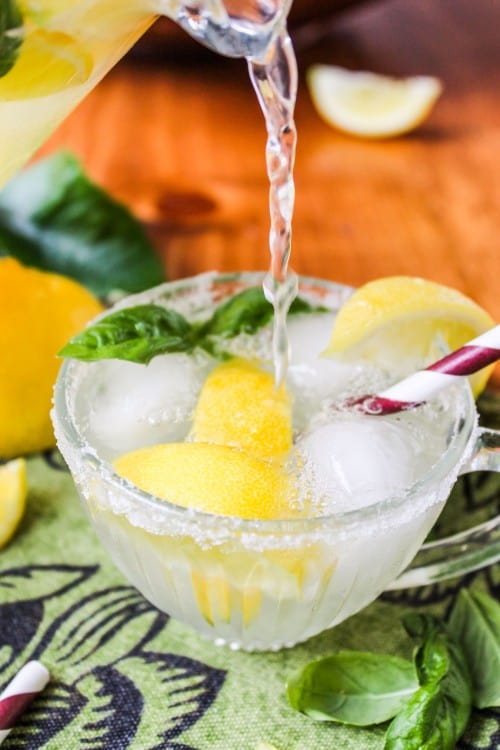 Facebook | Pinterest | Instagram | Twitter

Basil Lemonade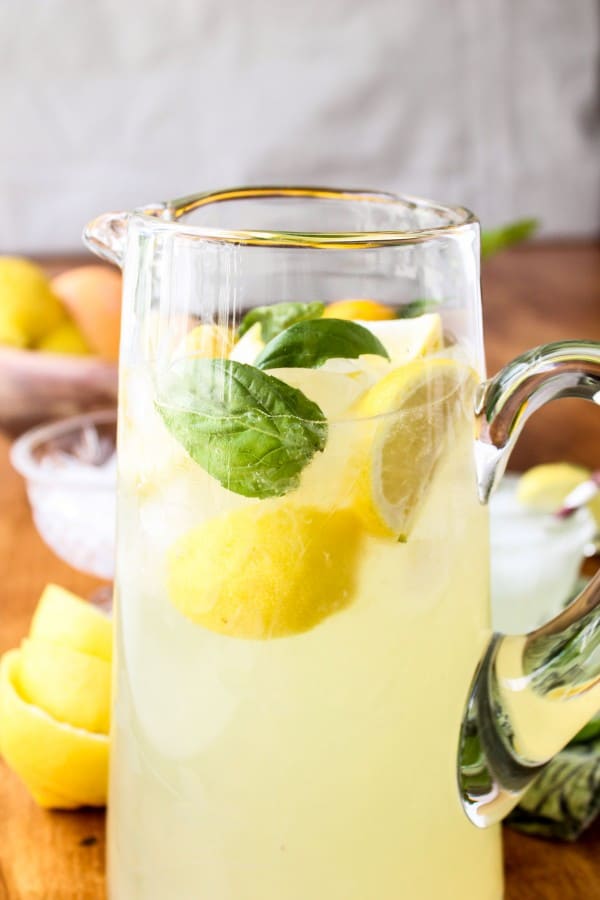 Simple Basil Lemonade. The herb gives the lemonade a pleasant aftertaste without being overwhelming.
Ingredients
1

cup

water

1 & 3/4

cup

granulated sugar

1/4

cup

basil

,

fresh, packed

1 & 1/2

cups

lemon juice

,

fresh-squeezed , 5-6 large lemons

7

cups

cold water

ice

basil

,

fresh, to garnish

lemon wedges

,

to garnish
Instructions
In a medium pot, stir together 1 cup water and 1 3/4 cups sugar. Bring to a boil over high heat. Boil until the sugar is completely dissolved, it shouldn't take more than a minute or two. Turn off the heat.

Meanwhile, in a heat-proof bowl, add the 1/4 cup packed basil. Use your hands to tear up the pieces. Use a wooden spoon to bruise the leaves against the bowl. Keep going until they are nice and dark. You want to get all that flavor.

Pour the sugar syrup over the basil leaves. Put it in the fridge for about 2-3 hours or until completely chilled. The longer it sits the more basilicious it will be.

Juice the lemons. Strain it through a colander to remove the seeds, but so that most of the pulp remains.

Add the lemon juice, 7 cups of water, and ice to a pitcher. Strain the refrigerated syrup through the colander into the pitcher. Discard basil. Stir well.

Serve with ice, fresh basil, and lemon wedges.
Nutrition
Serving:
1
cup
|
Calories:
180
kcal
|
Carbohydrates:
47
g
|
Protein:
1
g
|
Fat:
1
g
|
Saturated Fat:
1
g
|
Polyunsaturated Fat:
1
g
|
Monounsaturated Fat:
1
g
|
Sodium:
13
mg
|
Potassium:
50
mg
|
Fiber:
1
g
|
Sugar:
45
g
|
Vitamin A:
42
IU
|
Vitamin C:
18
mg
|
Calcium:
12
mg
|
Iron:
1
mg