Does this taste exactly like Alfredo sauce? Don't be ridiculous. It's cauliflower. A freaking vegetable who's just doin the best he can. But it DOES taste parmesan-y and creamy and rich and makes a seriously legit healthy white sauce for your pasta at a fraction of the calories. (I made up for those calories by adding bacon.)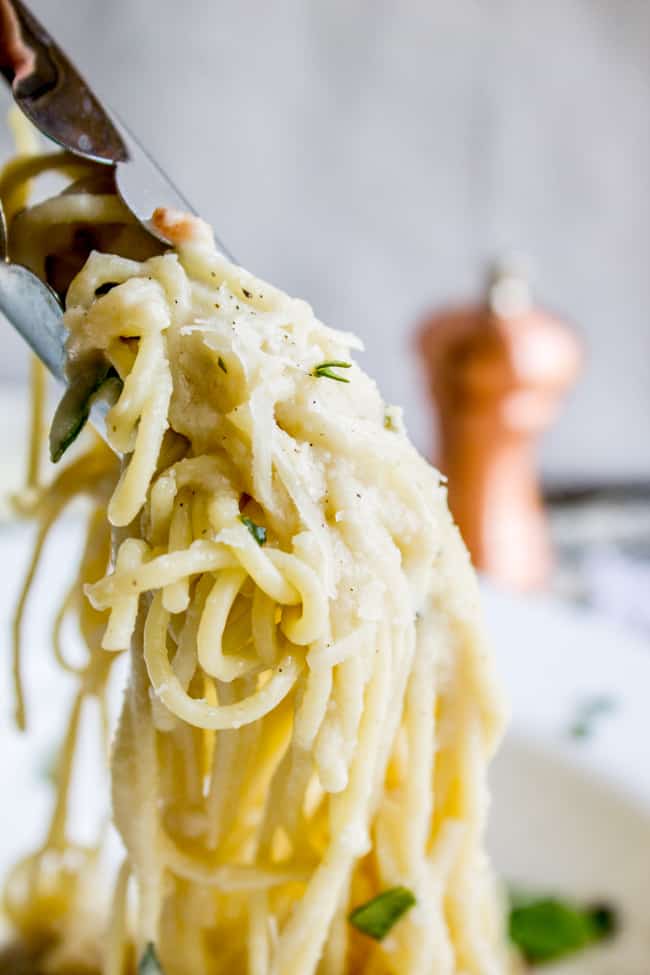 Sometimes I think of an awesome joke seconds too late. And then the moment is gone and I'm sad because there's no going back. Last week we were driving home from Utah (Eric went backpacking, kids and I went cousin-ing) and we stopped for lunch at Costa Vida. There was this teenage kid in front of me in line wearing an EFY wristband.
EFY stands for Especially For Youth. It's a church camp in Utah, I went when I was a teenager too. (So much fun!) I asked him how he liked EFY and his eyes got kind of wide and he was like, "How'd you know I was at EFY?" I pointed at his wristband.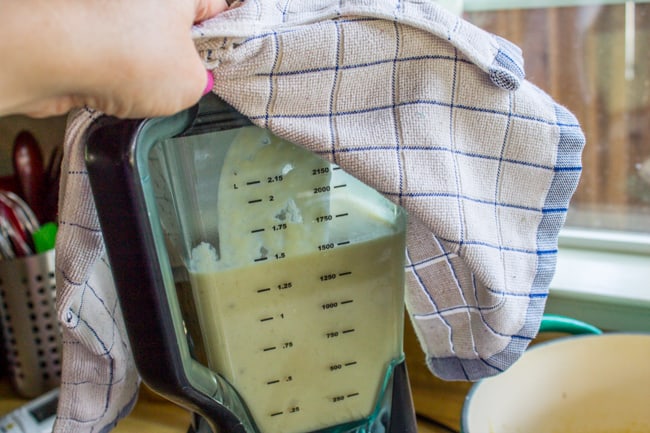 But what I SHOULD have said was that I could sense an aura, some kind of glow coming from him, and just knew that it had to be from spending a week feeling the spirit at EFY. It would have been so funny to see his face. Why don't I think of awesome stuff like this at the right time??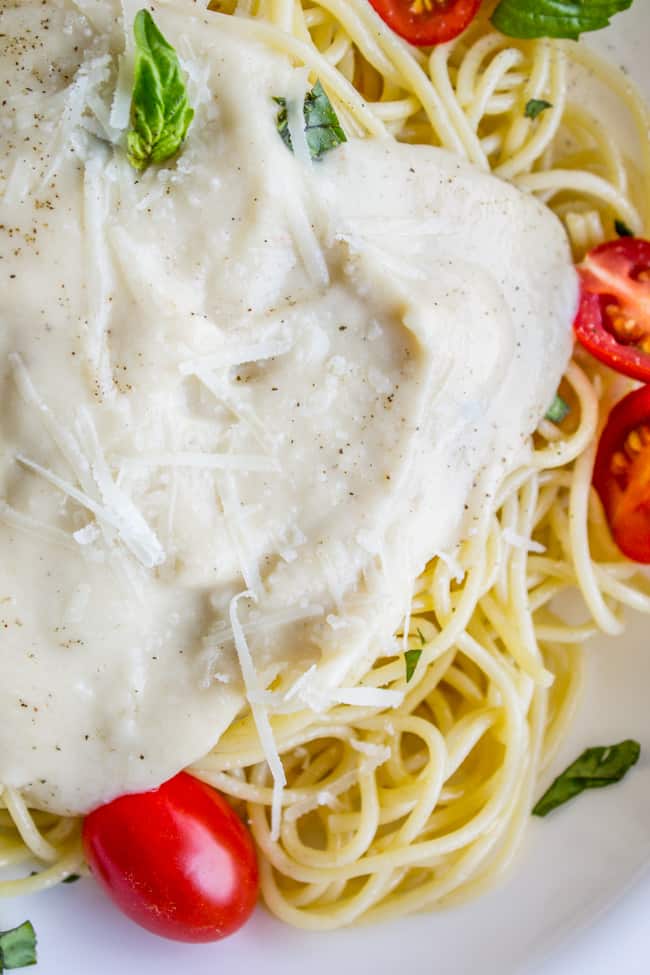 I mentioned on my recent Peanut Butter Banana Smoothie post that my favorite sponsor here at The Food Charlatan, Blue Diamond, is partnering with the USA Volleyball Team. (How awesome is that?) So they asked me to come up with some healthy recipes that will help you "Serve Up Your Best."
I must say I feel like this Caulifredo Sauce totally qualifies. After trying it out I was basically doing fist pumps. I'm eating a vegetable right now!! I wish we could get all vegetables to taste like creamy Alfredo sauce. (Or get them to taste like brownies. I'm down with that too.) Instead of feeling like you just ate an entire house after eating fettuccine alfredo, now you will be able to run marathons. (Or play volleyball :) Using almondmilk instead of regular milk cuts calories ever more.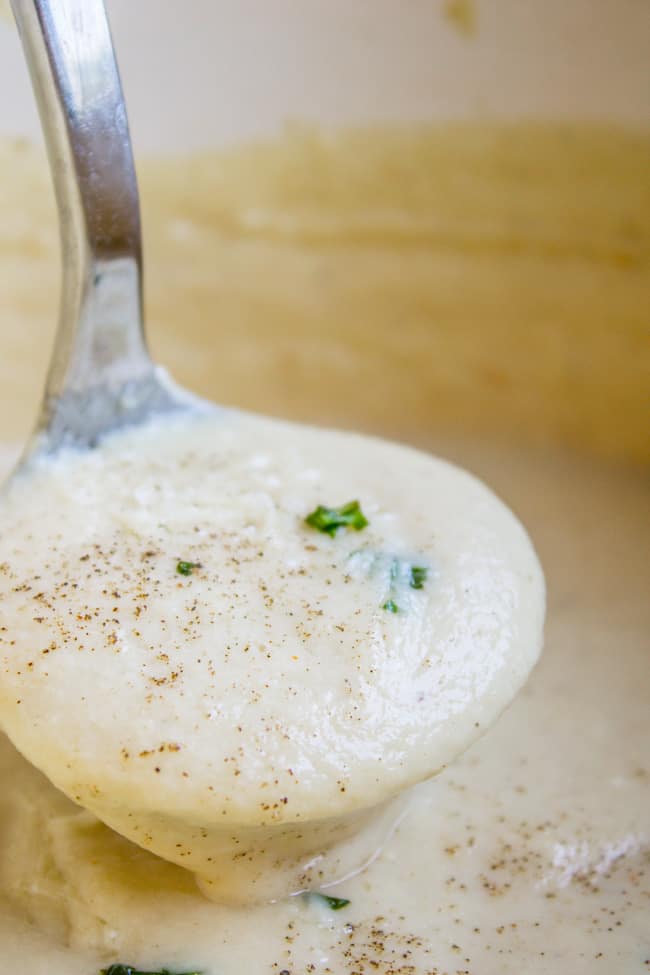 If you like cauliflower soup, you will like this sauce. In fact, if you have leftover sauce you could just eat it with a spoon, it's that good. Or you could put it over your pasta, or as the sauce on your next pizza, or add it to lasagna, or make baked ziti with it, or basically any Italian dish that sounds good with white sauce.
Here's a quick refresher on how to chop cauliflower: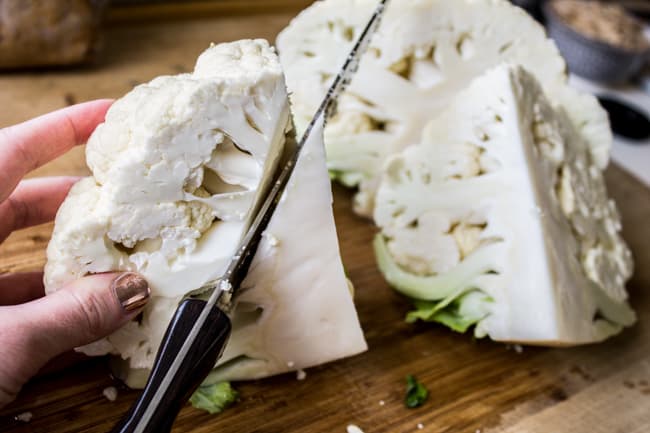 Don't bother keeping the cauliflower in floret shape. You're just blending it anyway! Let me know if you try out the recipe!
Facebook | Pinterest | Instagram | Twitter

Caulifredo Sauce (Cauliflower Alfredo Sauce)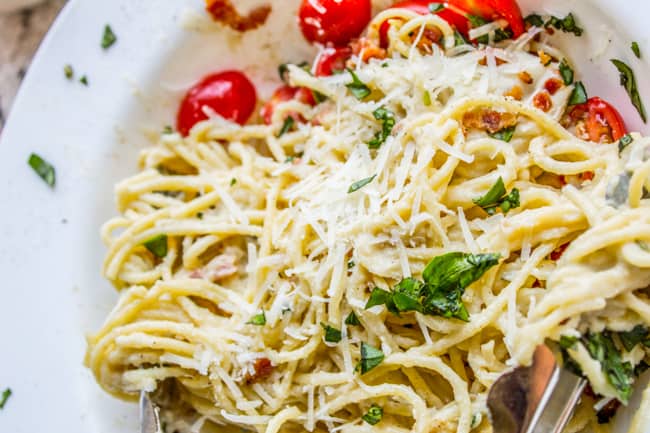 This creamy cauliflower alfredo sauce tastes parmesan-y and rich, and makes a seriously amazing white sauce for your pasta at a fraction of the calories.
Ingredients
1

tablespoon

butter

1

shallot

,

chopped

1

clove

garlic

,

minced

1

cup

cold water

1 & 1/2

cups

unsweetened almond milk

1

tablespoon

cornstarch

1

tablespoon

chicken bouillon*

1

medium head

cauliflower

,

chopped

1 & 1/2

cups

packed Parmesan cheese

,

shredded

2

ounces

cream cheese

1/2

teaspoon

kosher salt,

or more to taste

pepper to taste

,

I like lots

1 or 2

pinches

cayenne pepper

1 or 2

pinches

nutmeg
Instructions
In a wide bottom pot with a lid, melt the butter over medium heat.

Add the shallot and saute for 3-5 minutes, or until soft.

Add the garlic and saute for 1 minute until fragrant.

Meanwhile, in a glass measuring cup add water and almondmilk. Whisk in the cornstarch until incorporated.

Add the almondmilk mixture to the shallots in the pot.

Add chicken bouillon and stir.

Chop the cauliflower (see photos). Add the cauliflower to the pot and bring to a boil.

Reduce to a simmer and cover with a lid. Simmer for 10-15 minutes until very tender. Remove from heat.

Add the Parmesan cheese and cream cheese. (Or add these ingredients straight to the blender if you're not doing an immersion blender.)

Now it's time to blend: You can either use an immersion blender (won't be as smooth) or transfer it to a blender. If you are using a blender, make sure you open the cap on the top so that steam can escape, and hold a kitchen towel over it so that you don't splatter yourself with molten cauliflower lava.

Blend for at least 1 minute.

Return the sauce to the pot and turn the heat to low.

Add salt (add more to taste) and pepper to taste.

Add cayenne pepper and nutmeg. Make sure you taste it!
Notes
*I use Better Than Bouillon.
Nutrition
Serving:
1
g
|
Calories:
200
kcal
|
Carbohydrates:
9
g
|
Protein:
13
g
|
Fat:
13
g
|
Saturated Fat:
7
g
|
Polyunsaturated Fat:
1
g
|
Monounsaturated Fat:
4
g
|
Trans Fat:
1
g
|
Cholesterol:
37
mg
|
Sodium:
746
mg
|
Potassium:
355
mg
|
Fiber:
2
g
|
Sugar:
3
g
|
Vitamin A:
409
IU
|
Vitamin C:
48
mg
|
Calcium:
388
mg
|
Iron:
1
mg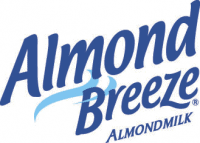 This post is sponsored by Blue Diamond Almond Breeze Almondmilk. Almond Breeze believes in the best. That's why we only use Blue Diamond Almonds to make our almondmilk and why we're proud to be an official sponsor of USA Volleyball. Visit www.ServeUpYourBest.com for a chance to win $5,000 for the ultimate beach day, learn fun volleyball moves, get Almond Breeze coupons and smoothie recipes!
Here are some other fun ways to eat cauliflower!
Asian Cauliflower "Rice" << Not rice. But whenever I prepare this alongside rice, this always disappears first. Goes amazing with this Asian Pork Tenderloin with Ginger Glaze!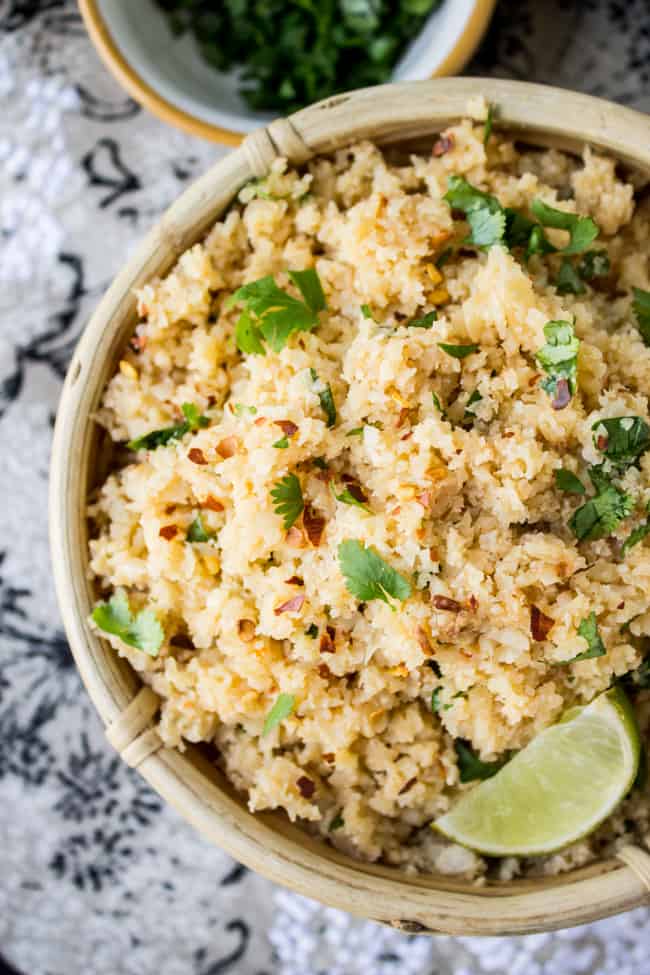 Easy Cheddar Cauliflower Soup << This soup is in my top 5 personal favorites. So good!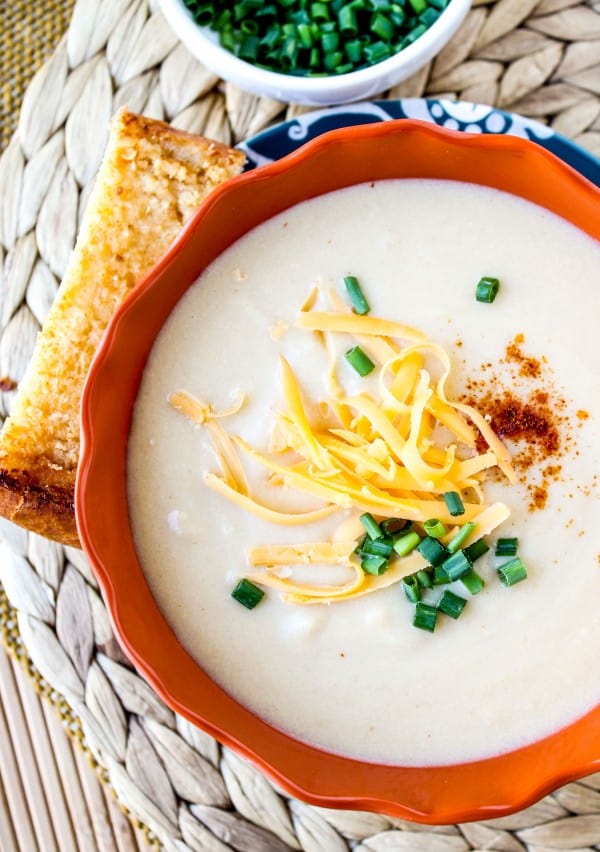 Cauliflower Rice Skillet with Zucchini and Kielbasa << a great healthy summer dinner!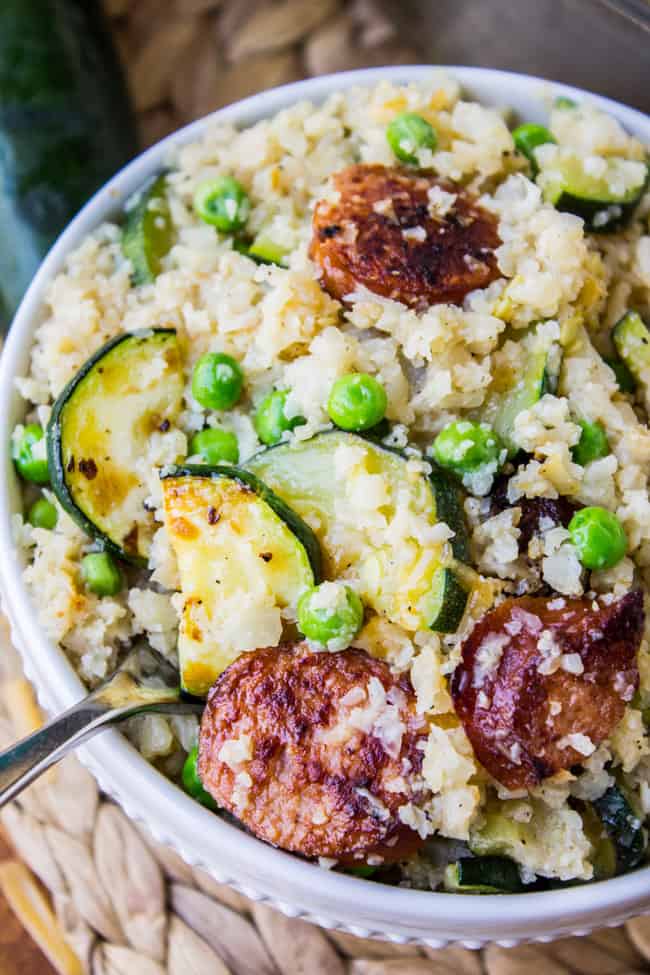 More cauliflower recipes:
Cauliflower Corn Cucumber Salad from Valentina's Corner
Cauliflower Fried Rice from Iowa Girl Eats
Chicken Pasta with Sun-Dried Tomatoes in a Creamy Cauliflower Sauce from Julia's Album