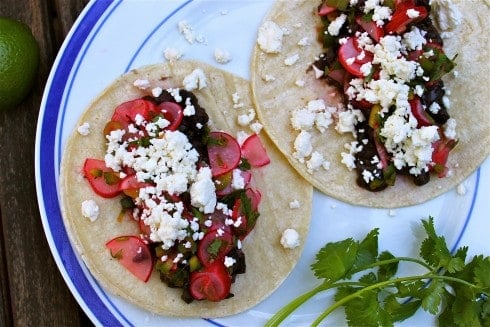 Have you ever had the kind of meatless meal where after you finish you want to take a bite out of your plate to see if maybe that will satisfy the carnivore inside you? (No, this is just me?) Well if I have any sympathizers out there, these tacos are the answer.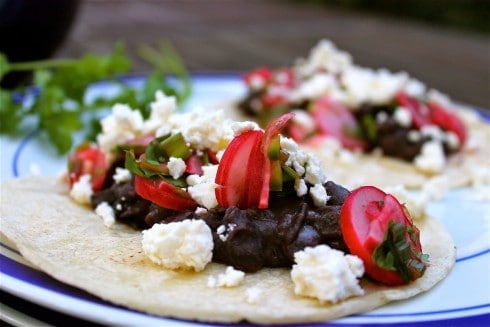 I don't know how black beans are so magical but they are. They are the base of my favorite veggie burger and I just saw a recipe on Pinterest today for black bean brownies. No joke. (I'm not sure how I feel about that but I guess I can't knock it til I try it.)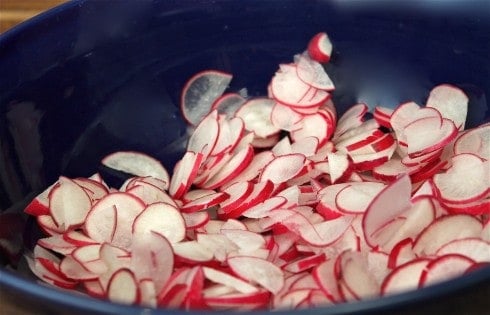 And can we get a round of applause for these radishes? Talk about getting a bad rap. Have you ever heard anyone say their favorite vegetable is a nice juicy radish? Poor little guys. (Then again have you ever heard anyone name their favorite vegetable?…Mine's corn. The only one that can be turned into straight up sugar.)
The first time I ever voluntarily ate a radish was embarrassingly recently. I was at a friend's house for lunch a few years ago and she was eating them raw, dipped in ranch, like carrots. I tried it and was pleasantly surprised. And now that I know about this radish-cilantro-lime secret, I don't think my life will ever be the same.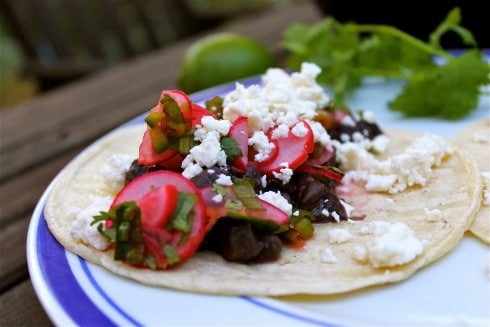 We made these twice in the last few weeks. It's hard to beat: super delicious, super cheap and done in 45 minutes or less. You can thank me later for saving your poor innocent plates from getting chomped on.

Black Bean Tacos with Radish Slaw and Feta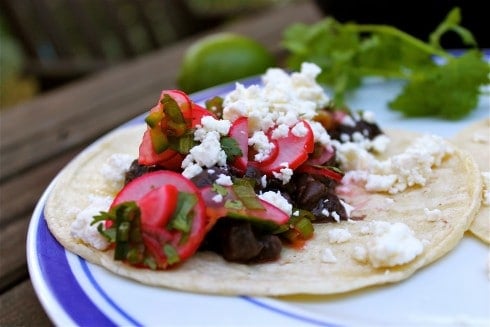 We made these black bean tacos with radish slaw twice in the last few weeks. It's hard to beat: super delicious, super cheap and done in 45 minutes or less.
Ingredients
1

tablespoon

olive oil

2

cloves

garlic

2

15-oz cans

black beans

,

undrained

2

bunches

radishes

,

about 25 radishes

4

green onions

1

jalapeño

,

or more if you want it spicy

1/4

cup

cilantro

,

chopped - plus more for garnish

3

tablespoons

olive oil

6

tablespoons

Lime Juice

,

Juice from 3 limes

15

small corn tortillas

feta cheese

salt and pepper

cooking spray
Instructions
Dice the garlic. In a skillet, heat 1 tablespoon olive oil over medium heat. Add 1 clove garlic and cook for about 1 to 2 minutes until the garlic is fragrant and barely starting to brown. Add the black beans, including the can liquid, chopped cilantro to taste, and 1/2 teaspoon kosher salt. Bring to a boil, then simmer 15 minutes until the liquid condenses.

While the beans cook, prepare the radish slaw. Thinly slice the radishes and the green onions. Seed and dice the jalapeño. Chop the cilantro, enough for 3 tablespoons for the salsa, and extra for serving. In a medium serving bowl combine radishes, green onions, jalapeño and 1/4 cup cilantro with the lime juice, 3 tablespoons olive oil, and salt and pepper to taste.

Preheat oven to 450. Arrange tortillas on a large baking sheet (they will overlap). Spray generously with cooking spray, then flip the tortillas and spray the other side. Bake for 3-4 minutes, then flip the tortillas again and bake for another 3-4 minutes. (Or if you want you can spray them and put them in the microwave.)

To serve, place beans in the middle of a tortilla and top with radish slaw and feta cheese.
Nutrition
Serving:
3
tacos
|
Calories:
283
kcal
|
Carbohydrates:
38
g
|
Protein:
5
g
|
Fat:
13
g
|
Saturated Fat:
2
g
|
Polyunsaturated Fat:
2
g
|
Monounsaturated Fat:
9
g
|
Sodium:
53
mg
|
Potassium:
257
mg
|
Fiber:
6
g
|
Sugar:
2
g
|
Vitamin A:
192
IU
|
Vitamin C:
14
mg
|
Calcium:
81
mg
|
Iron:
1
mg