Easy Swedish Meatballs Recipe (Crockpot Optional)
This Easy Swedish Meatballs Recipe is a traditional meal for our family on Christmas Eve. The flavors are divine and it comes together easy and can even be done in the crockpot. It's Eric's great grandmother's recipe so you know it's authentic and has survived generations!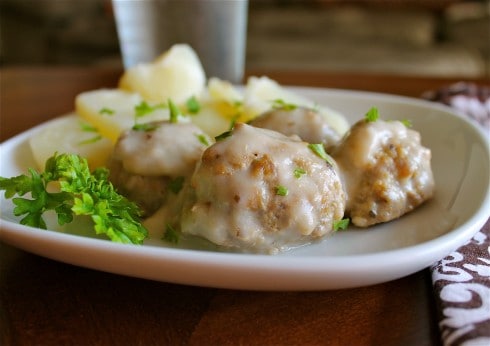 Originally posted January 23, 2013
I'm listening to Eric singing in the shower after working out at the gym. He's one of those good people of the world who exercises every day, even after a long day at work. Me? Well I'm pregnant. I know, doctors keep telling us that this is in fact exactly why I should start exercising, but we all know doctors change their minds about stuff like this every 10 years anyway. Right??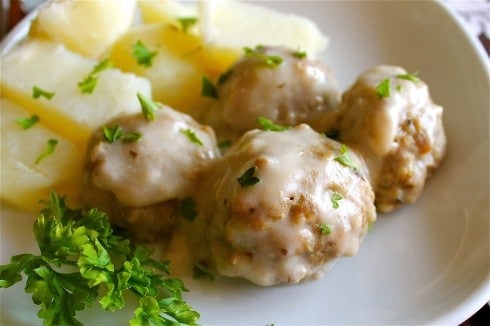 I think I might be nesting. Or maybe I'm just finally reaching what most people would consider a normal level of cleanliness. We'll see how long it lasts. Today I scrubbed my oven within an inch of its life. I deep cleaned my Kitchenaid. I did all the laundry in the house. Changed all the sheets. I even cooked dinner. Yet somehow I managed to avoid the biohazard level of dirty dishes that were literally overflowing my sink. You know those days, when the dishes are stacked so high that it's impossible to fill your water  pitcher without bailing in water from a cup, and you can't wash your hands without lifting up your elbows.
Sometimes I write about stuff on this blog that I think other people will relate to, but then I realize that no, I'm the only one in the world who is this disgusting.
How to Make Swedish Meatballs
These meatballs, on the other hand, are divine. Eric's family is Swedish, and this is the special meal they eat every year on Christmas Eve. It is a nonnegotiable family tradition hailing from his beloved Grandma Prudie. They are awesome and delicious and guess what, they are super easy. Check out the special section of the recipe with instructions on how to make them in the slow cooker.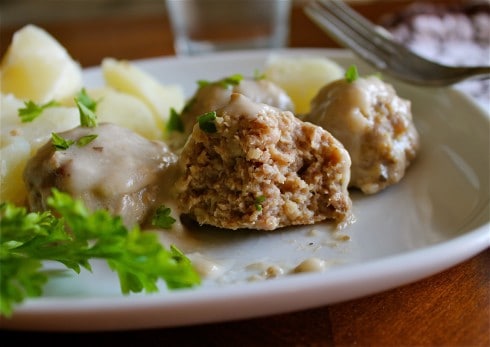 As easy Swedish Meatballs go, these are similar to the meatballs you can get at Ikea (but way better!). A few years ago we pitted it against my brother-in-law's Italian meatball recipe for the ultimate meatball showdown. But it was no context – these Swedish meatballs won hands down!
Five years ago: Swedish Cinnamon Buns with Cardamom
Six years ago: Roasted Red Pepper and Goat Cheese Alfredo
Seven years ago: Sausage, Potato, & Kale Soup
Facebook | Pinterest | Instagram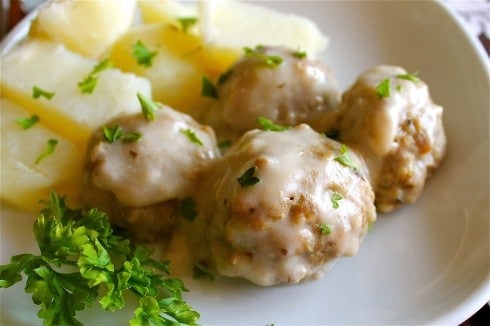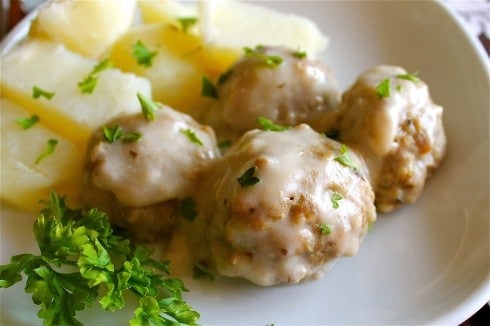 print
Did you make this recipe?
Leave a review »
Swedish Meatballs
Serves 6-8
adjust servings
Ingredients
1-1/2

pounds ground beef

1/2

pound ground pork

2

eggs

1

cup milk

1/2

cup quick oats

1/2

teaspoon dry mustard

1-1/2

teaspoons salt

1/2

teaspoon pepper

1/2

teaspoon nutmeg

3-5

dashes hot sauce

3

cans cream of mushroom soup

1-1/2

cans water

5

lbs boiled potatoes
Instructions
Combine all meatball ingredients (ground beef through hot sauce) in a large bowl. Line a rimmed baking sheet with foil, then spray lightly with nonstick spray. With moistened hands, shape the meat into balls that are about the size of a ping pong ball. (It doesn't really matter as long as they are uniform.) Place them on the baking sheet; you can put them right next to each other, just make sure they're not touching. Bake in a 450? oven for 11-16 minutes, until they are brown and starting to get crispy on top.
You can cook this in the oven or in the crock pot:
Oven directions: In a 9x13 casserole dish, combine mushroom soup with 1-1/2 cans of water. Add the meatballs and stir. Bake at 350?for 1 hour.
Crock pot: Combine the soup and water in the crock pot. Add meatballs and stir. Heat on low for 5-7 hours, or on high for 3-4. You just need it to get hot.
Serve over boiled potatoes.
by The Food Charlatan

If you make this recipe,
share it on Instagram
 using the hashtag
#TheFoodCharlatan
so I can see it!
More great Swedish recipes from Grandma Prudie:
Crispy Swedish Cardamom Cookies <—- These are one of my favorite all time Christmas cookies!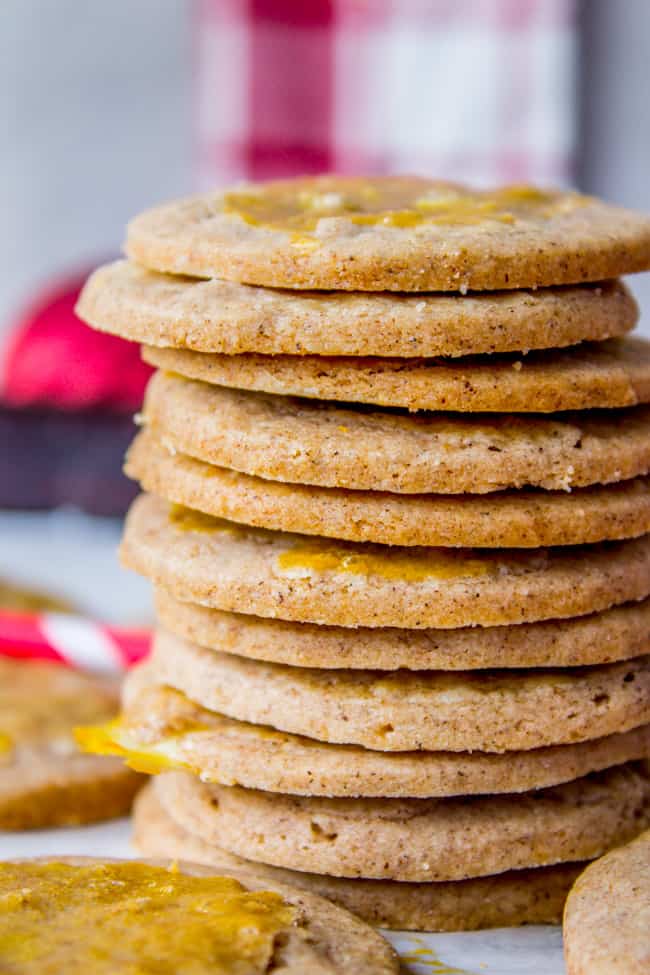 Swedish Sour Cream Twists (Layered Yeast Cookies) – These are another understated sweet pastry, perfect to go with hot chocolate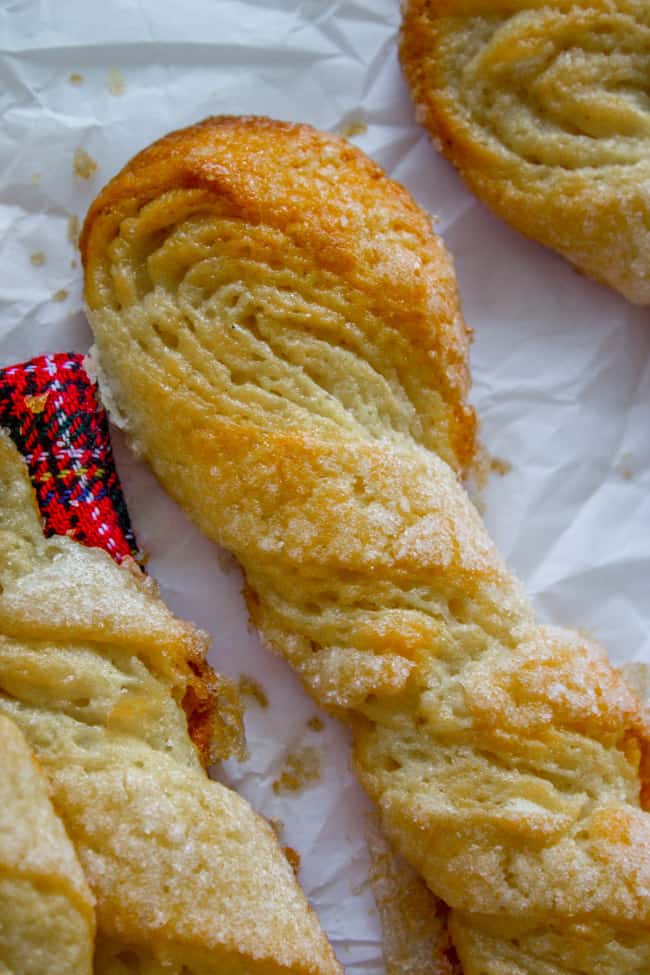 We are a participant in the Amazon Services LLC Associates Program, an affiliate advertising program designed to provide a means for us to earn fees by linking to Amazon.com and affiliated sites.