Everyone needs a killer recipe for Mexican Wedding Cookies! Do you call them Russian Tea Cakes? Or Snowball Cookies? Polvorones? Italian Wedding Cookies?? How does one cookie have so many names?? These super easy (6 ingredient!) shortbread cookies are studded with chopped nuts and rolled in powdered sugar. They are irresistible, it's no wonder every country's got their own version!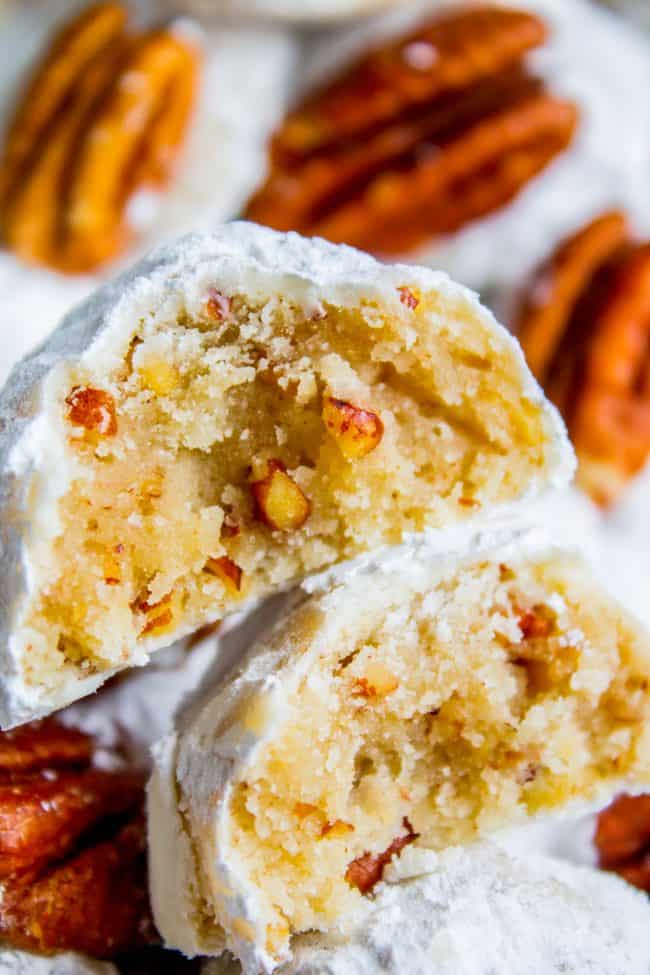 I took 7-year-old Charlotte to see the Nutcracker this weekend! She's been begging to go. We don't take the kids to performances that often, and I remembered why. She could NOT stop talking.
Literally every 30 seconds she would lean over and not-whisper in my ear, "I THINK THAT'S FAKE SNOW." And I would say, yes, you're probably right, you have to whisper Charlotte!" Then 30 seconds later, "I THINK THAT ONE'S CLARA!" "Yes, Charlotte, please whisper!!" and "THEY ARE PROBABLY CHANGING THE SET BEHIND THAT BACK CURTAIN!" Charlotte!!! Whisper!!"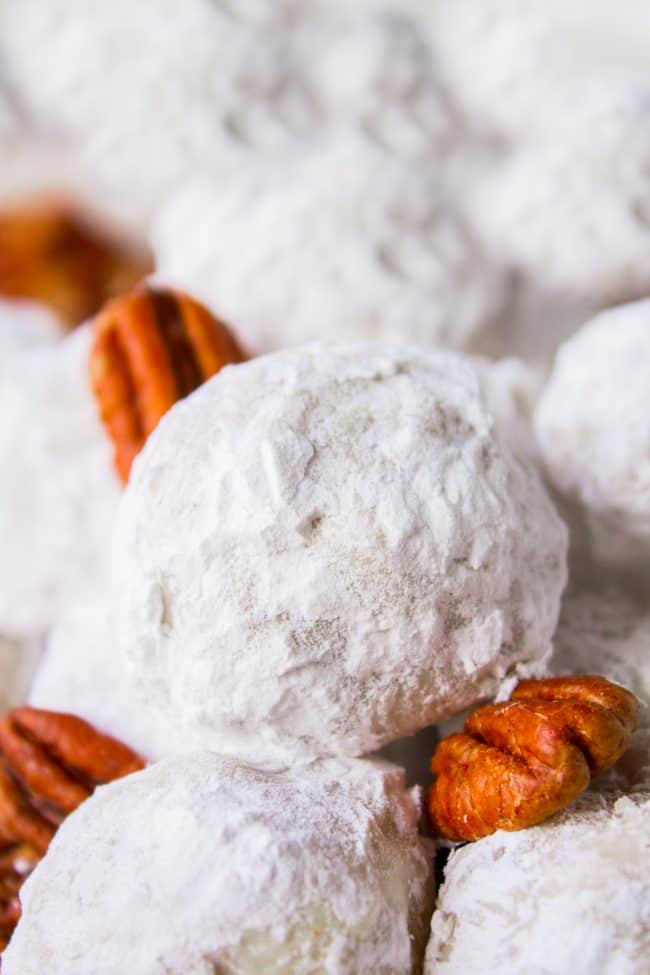 Charlotte's inability to whisper aside, it was so fun. It was also a good reminder that I am most definitely NOT a ballerina. There was an older lady sitting next to us who wanted to get up during intermission, so I stood up, but stepped directly on the program at my feet. It slipped out from underneath me, banana peel style, and I flopped back into my chair, arms flailing. The sugar plum fairy is up there personifying grace itself, and I can't even stand up over here without thrashing around like an idiot.
Snowball Cookies? Italian Wedding Cookies? Polvorones??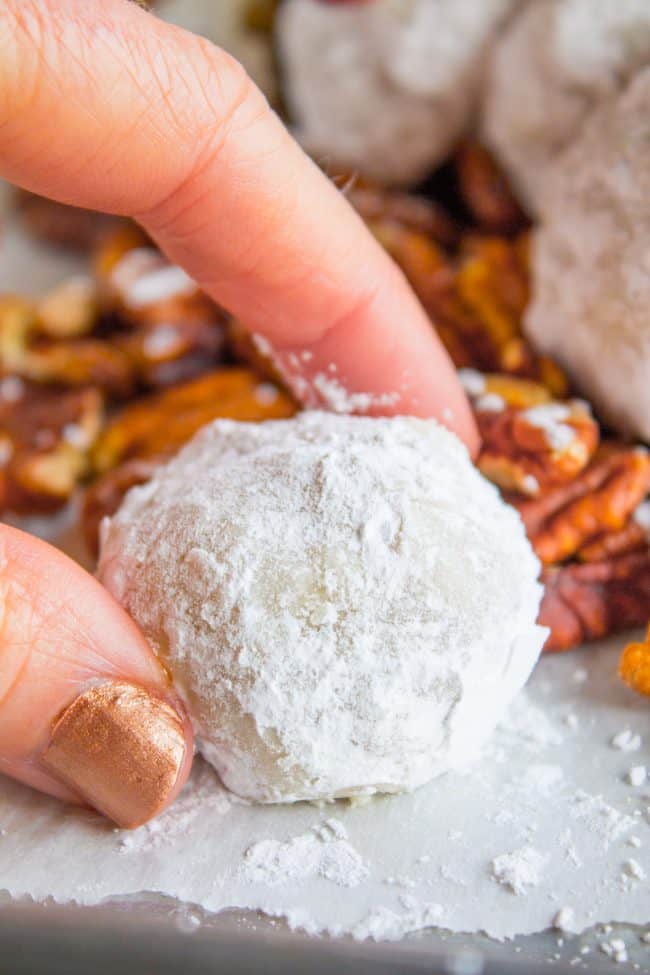 Does your family make these cookies? I feel like they are a tradition for SO many families, and every country seems to claim them. I've heard these called Mexican Wedding Cookies, Snowball Cookies, Russian Tea Cakes, Swedish Heirloom Cookies, Italian Wedding Cookies, Polvorones, and Eric's family has one more, they always call them Sweethearts.
The story is that Great Grandpa Carl always called his wife Prudy "sweetheart" when she made these, because they were his absolute favorite of all the the dozens of cookies she made every Christmas. So they just started calling them Sweetheart cookies. How cute is that?
How to make Mexican Wedding Cookies or Russian Tea Cakes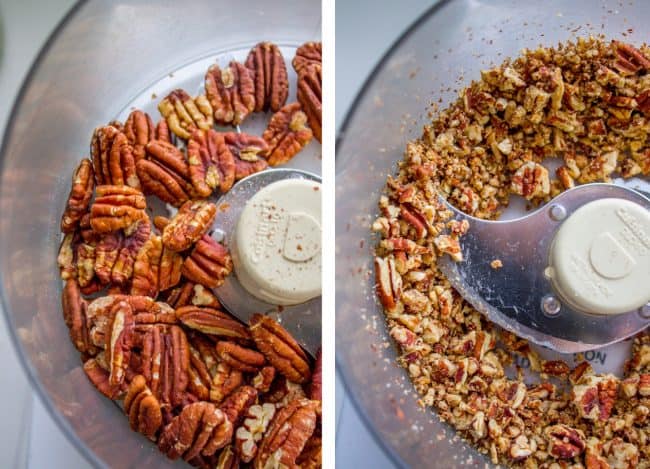 Mexican Wedding Cookies or Snowball cookies or Sweethearts, whatever you want to call them, they are all the same basic recipe: a really buttery not-very-sweet shortbread dough, with chopped nuts mixed in. They bake up into a delightful little ball of a cookie that doesn't spread much at all. (I can see why the name Snowball cookies got started!)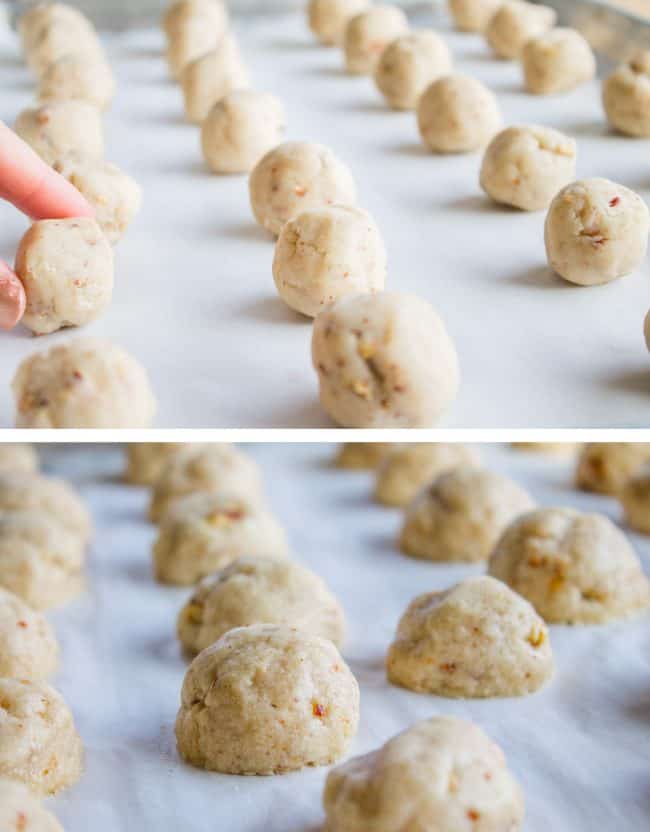 After they come out of the oven, you roll them in powdered sugar while warm. They make a giant mess when you eat them and will get all over your face and fingers and this is not an apology it's just part of the joy of Mexican Wedding Cookies. The only down side is that you can't sneak these cookies. Everyone knows you have eaten them because you end up with powdered sugar on your face no matter what you do.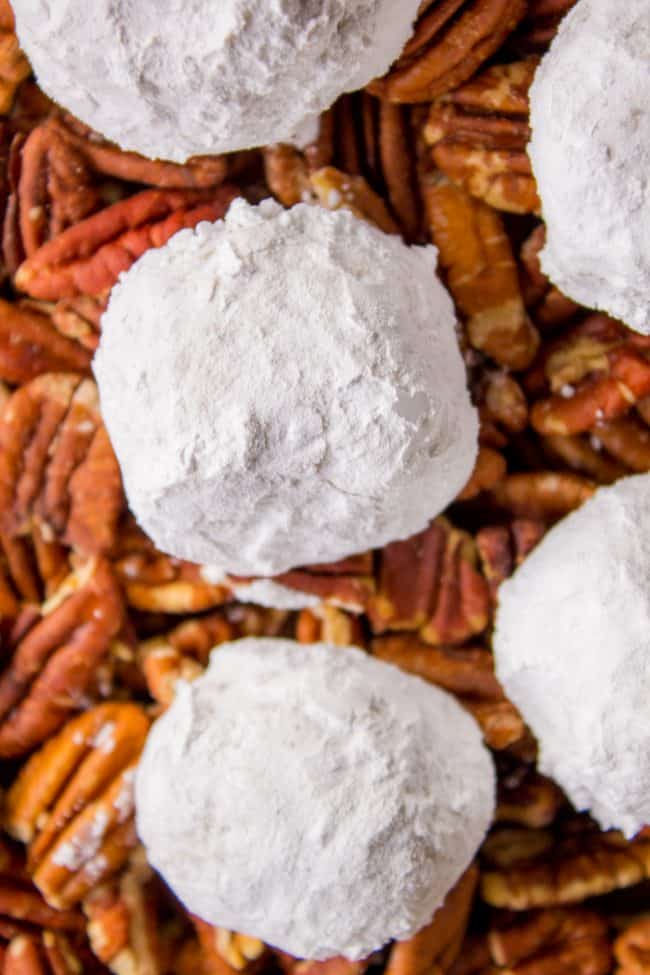 The trick to getting these Russian Tea Cakes/Snowball cookies to look ultra white and absolutely covered in powdered sugar is to roll them twice. When they are hot just out of the oven, roll them in the powdered sugar and then immediately remove them to a cooling rack. (If you leave them to cool in the bowl of powdered sugar, it will start melting the sugar and you will end up with a gloopy mess. No, that didn't happen to me at all, why do you ask??)
One roll in powdered sugar will make the cookies white but not ultra powdery, like we want. So after the rolled cookies have cooled, toss them back in the powdered sugar again. You can see here the difference between rolling once and rolling twice (the top photo below is rolled only once.)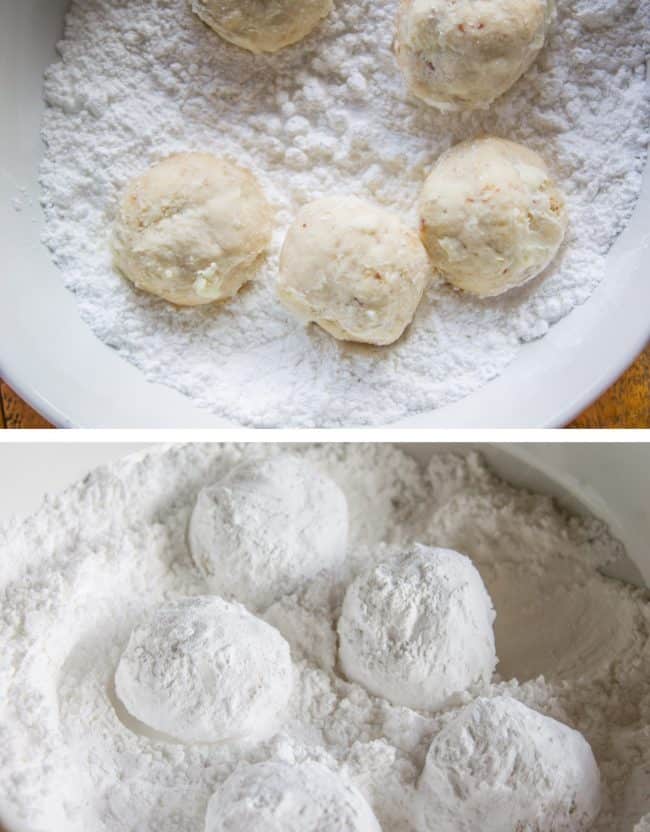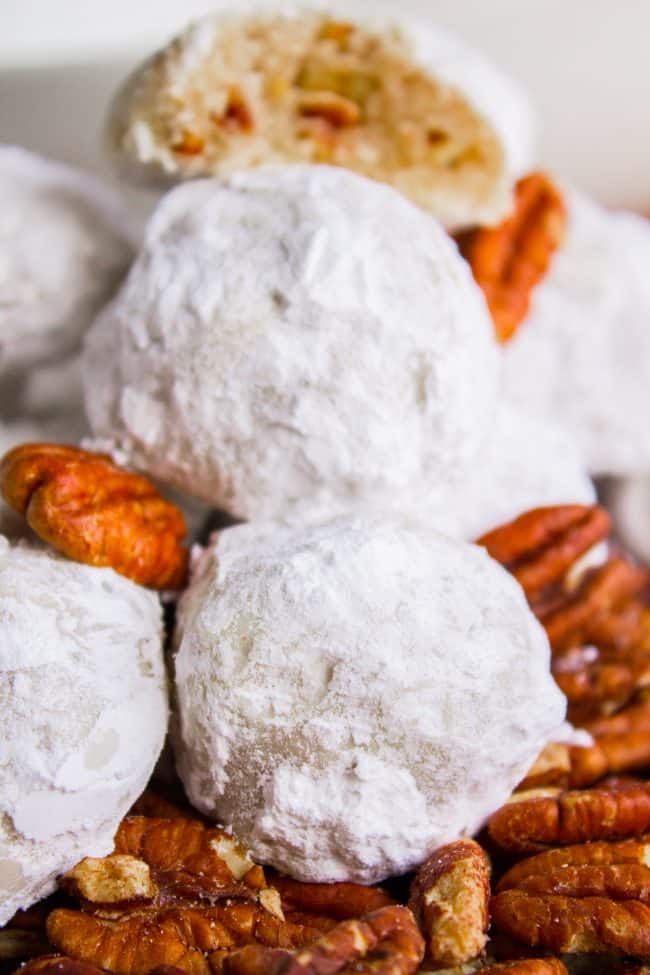 Make it your goal to choke everyone who inhales while taking a bite of these cookies; the more powdered sugar the better. If you send someone into a coughing fit, you know you've done it right. Okay I'm totally kidding, seriously don't breathe in while you take a bite of these, you will be chugging milk.
These cookies are SO fun to make for cookies trays, they add some fun color and shape. (It's nice to see white on a plate of brown cookies!) Merry Christmas baking, everyone!
More Christmas cookies you will love!
Butter Pecan Cookies << these are some of my favorites. Not too sweet, they are buttery perfection.
The SOFTEST Sugar Cookies of Your Life (That Hold Their Shape) << I will never make another recipe!
Chocolate Crinkle Cookies << sooo fudgy
Vanilla Melt Away Cookies from Bless This Mess
Italian Wedding Cookies from Little Ferraro Kitchen
Swedish Heirloom Cookies from Shugary Sweets

Mexican Wedding Cookies (Russian Tea Cakes)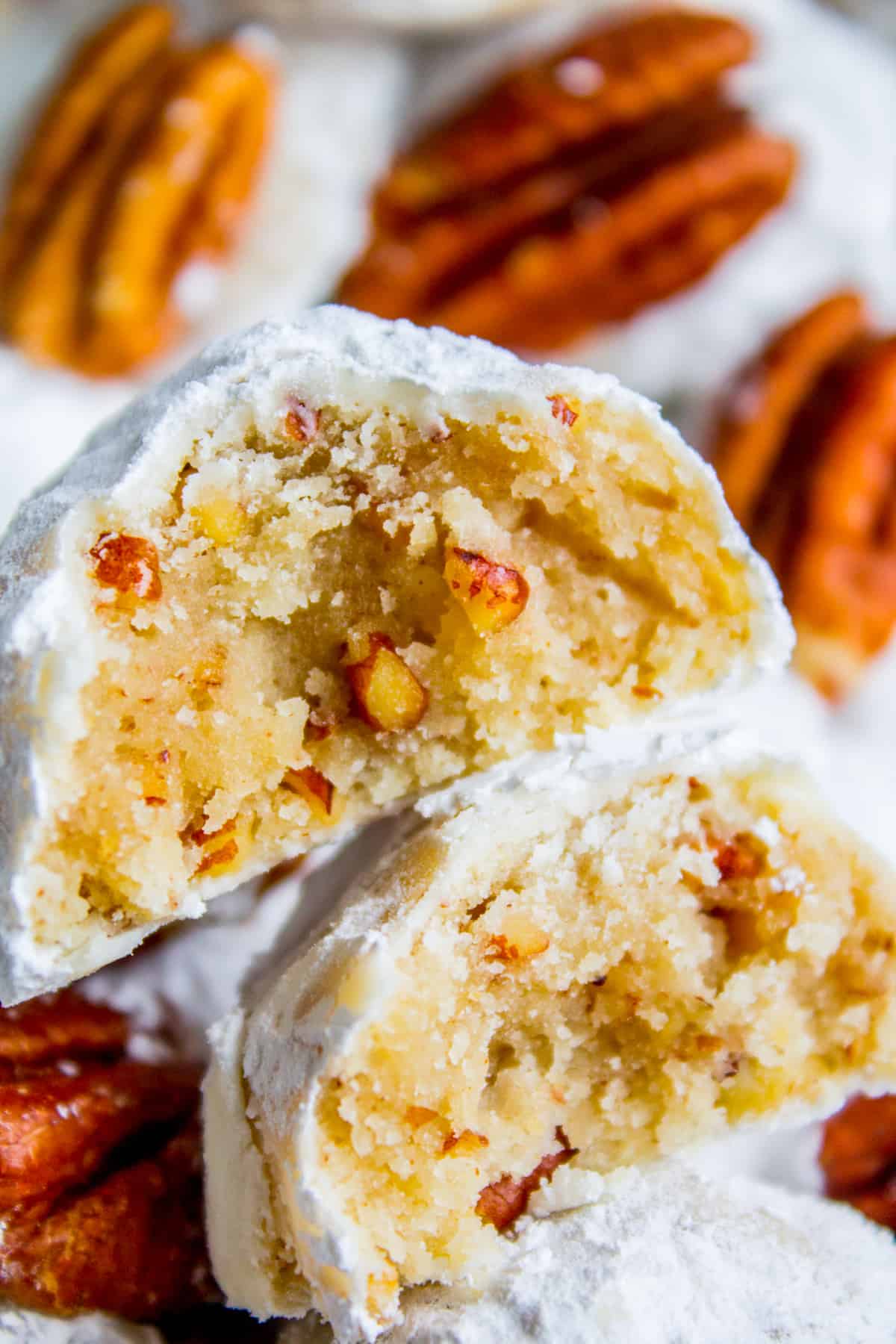 Everyone needs a killer recipe for Mexican Wedding Cookies! Do you call them Russian Tea Cakes? Or Snowball Cookies? Or Italian Wedding Cookies?? How does one cookie have so many names?? These super easy shortbread cookies are studded with chopped nuts and rolled in powdered sugar. They are irresistible, it's no wonder every country's got their own version!

Ingredients
1

cup

butter

,

softened (2 sticks)

1/2

cup

powdered sugar

2

teaspoons

vanilla

2

cups

all purpose flour

,

spooned and leveled

1/2

teaspoon

kosher salt

3/4

cup

pecans

,

*chopped

powdered sugar

,

for rolling (about 2 cups)
Instructions
For added flavor, take a few minutes to toast your nuts. Spread pecan halves (or whatever nut you would like to use) on a baking sheet. Bake at 350 degrees for about 5-10 minutes until toasty and fragrant. Keep an eye on them so they don't burn! Cool completely before adding to the cookies. I stuck mine in the fridge.

In a large bowl or stand mixer, beat the butter until it is smooth and creamy, about 1-2 minutes.

Add 1/2 cup powdered sugar and 2 teaspoons vanilla and beat well, scraping the sides and bottom of the bowl.

Add 2 cups flour and 1/2 teaspoon salt. Beat until the flour is not quite incorporated.

Add 3/4 cup chopped pecans. You can chop with a knife or give them a whir in the food processor or blender. How fine you chop them is completely up to you. See photos for how I did it. If you measure a generous 3/4 cup of pecan halves, it chops up to about the same amount.

Stir in the pecans until incorporated. Don't over mix the dough. It should come together in a ball. If your mixer can't handle it, do it by hand. If you are still having trouble, add milk 1 teaspoon at a time until it comes together.

Cover the dough and chill for about an hour or two, until the dough is a bit more firm.

Preheat your oven to 350 and line a few baking sheets with parchment paper or silicone baking mats. (Or you can lightly grease the baking sheet)

Shape the dough into 1 inch balls. You can make them somewhere between 1 inch and 1 and 1/2 inches across. Make sure they are all uniform.

Place the dough balls on the baking sheets. You can put them pretty close together, about an inch apart. These cookies hardly spread at all.

Bake at 350 for about 9-11 minutes. The cookies should be firm on the edges. Don't over bake or they will be dry.

Let the cookies set up on the pan for about 5 minutes, then remove to a cooling rack.

Add about 2 cups of powdered sugar to a shallow bowl. Roll each cookie in the powdered sugar and put it back on the cooling rack.

Once the rolled cookies have cooled for another 30-60 minutes, roll them in powdered sugar again.

Eat at least one of these warm!! It's so good!
Notes
This recipe is from Eric's great grandma Prudy. Her recipe actually calls for 2 cups of chopped nuts (you can use any kind of nut that you like!), but I prefer the cookies with fewer nuts. The amount you add is totally up to you, any amount up to 2 cups will work fine. The more nuts you add, the more likely it is that you will have to add a couple teaspoons of milk to make the dough come together.
Nutrition
Serving:
1
cookie
|
Calories:
118
kcal
|
Carbohydrates:
14
g
|
Protein:
1
g
|
Fat:
7
g
|
Saturated Fat:
3
g
|
Polyunsaturated Fat:
1
g
|
Monounsaturated Fat:
2
g
|
Trans Fat:
1
g
|
Cholesterol:
14
mg
|
Sodium:
78
mg
|
Potassium:
18
mg
|
Fiber:
1
g
|
Sugar:
8
g
|
Vitamin A:
159
IU
|
Vitamin C:
1
mg
|
Calcium:
4
mg
|
Iron:
1
mg